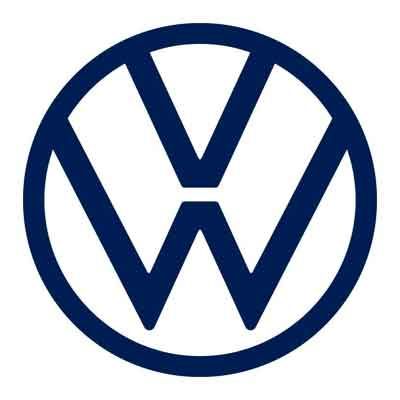 Volkswagen Golf R Review

Written by
heycar editorial team

heycar rating
Superlative fast hatch or estate
Best bits
Unflappable handling
Vault solid build
Choice of body styles
Not so great
Too subtle for some tastes
Estate is DSG-only
Late models have detuned engines for emissions
Read by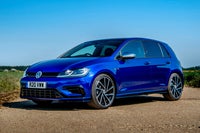 Overall verdict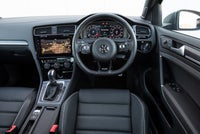 On the inside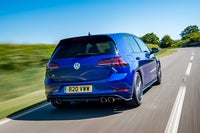 Driving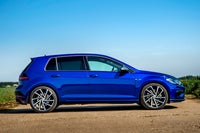 How much does it cost to run
Prices, versions and specification
Overall verdict on the Volkswagen Golf R
"If you want a car that's capable of going very fast indeed but doesn't shout about its credentials in the same manner as the Honda Civic Type R, the Golf R is an impeccable choice. Sure, it's not the last word in fun, but it's a versatile family hatch with classy looks and a superb cabin."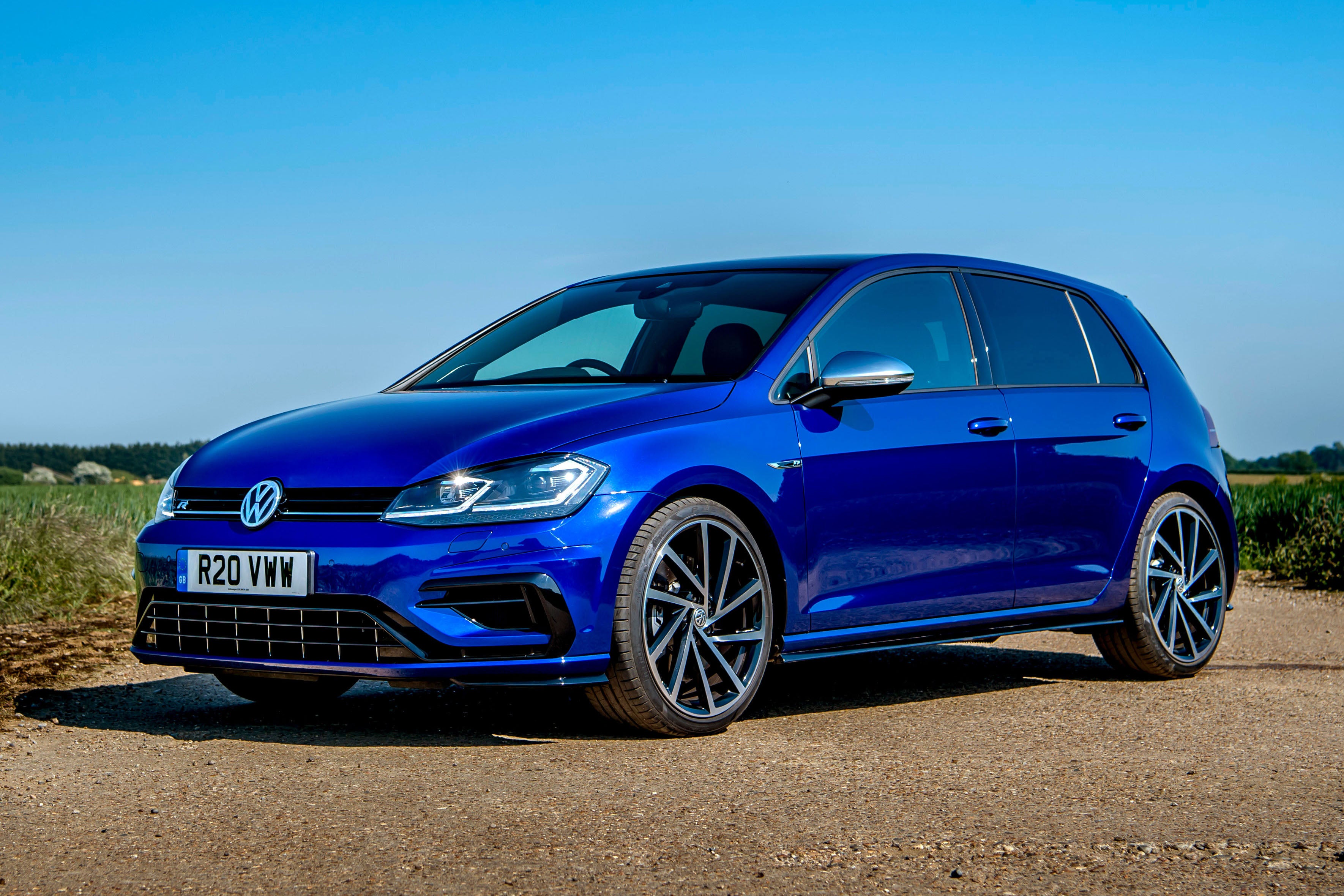 For anyone who likes the subtlety of the Volkswagen Golf GTI but wants more performance, the German firm has offered the R version for many years. Rather than a faster version of the GTI, the R is very much a standalone model and this is emphasised by this top of the tree model having 4Motion all-wheel drive where the GTI makes do with front-drive.
The R is certainly restrained by the standard of rivals such as the Honda Civic Type R or Mercedes-AMG A35, but that doesn't mean there's anything shy or retiring about its performance. When launched in 2014 it packed a 300PS 2.0-litre turbo petrol four-cylinder engine. There was also a choice of six-speed manual or DSG auto gearboxes. As well as the R version of the Volkswagen Golf, there was also a version based on the Volkswagen Golf Estate.
Under the bonnet of the Golf R is a 2.0-litre four-cylinder turbocharged petrol, putting out 300PS and 380Nm of torque. Importantly that torque is available right the way from 1800rpm to 5500rpm, so there is plenty of readily accessible overtaking performance almost regardless of which gear you are in. In 2017, power was increased to 310PS and there was also the option of a Performance Pack.
This did nothing to the power figure but relieved the R of its top speed limiter at 155mph. So, the hatch could march on to 166mph and the slightly more aerodynamic estate could hit 168mph.
The all-wheel drive system does a good job of transferring that power to the road. Acceleration from 0-62mph takes 5.1 seconds with the manual transmission and cornering grip is huge. The R can be driven with absolute confidence, despite its impressive performance, with great body control and accurate steering.
The DSG version needed just 4.6 seconds for the same sprint. In anyone's book, that makes the Golf R a very quick car indeed and one that only the very quickest of hatch rivals could get near, such as the Mercedes A35 and Ford Focus RS in its third generation with four-wheel drive and 2.3-litre motor.
Inside it's as restrained and well-made as any other Golf, with three-door, five-door and estate body styles offered. It is well-equipped, with climate control, a touchscreen navigation system, auto lights, auto wipers and cruise control included as standard, along with selectable drive modes.
It's all extremely impressive, but despite its all-round capability it lacks the fizzy, characterful personality of some rivals, most notably the third-generation Ford Focus RS. That's a very good thing for buyers who don't want quite so much attention on the road, but for others it will make the Golf R feel a little cold despite its performance.
Comfort and design: Volkswagen Golf R interior
"For the uninitiated, the Volkswagen Golf R's front cabin could be passed off as a lesser model with a couple of choice options added in. However, closer inspection reveals it to be every bit as bespoke and unique as the exterior, so it's different but just difficult to pin down why at first."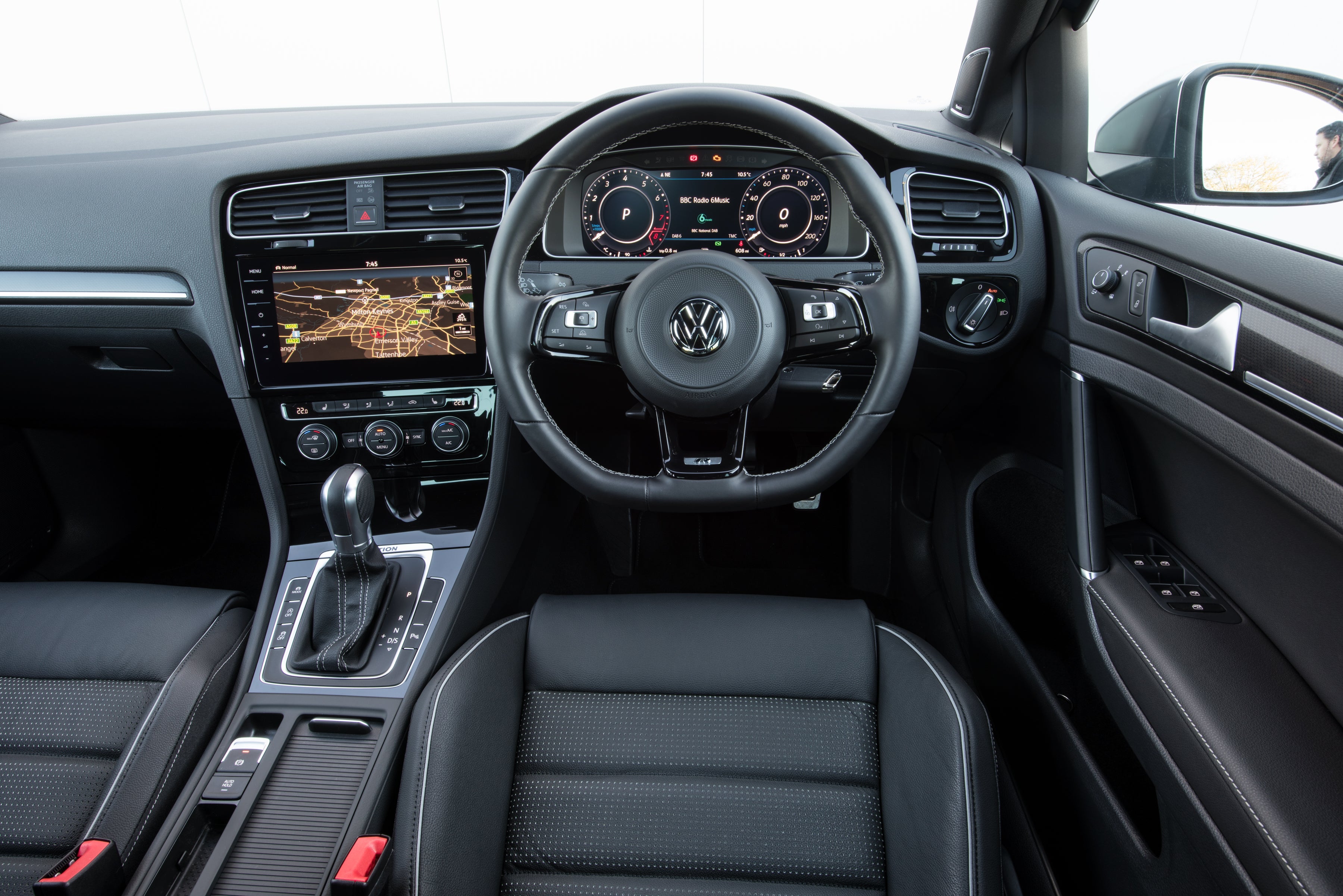 Starting with the basics, the Golf R gets it spot on with the driving position thanks to reach and angle adjustment for the steering column. The wheel itself is a flat-bottomed item and just the right thickness to feel sporty in your hands without being too chunky for a relaxed hold when cruising.
The front seats are not as heavily bolstered or sculpted as, say, a Honda Civic Type R's but they offer plenty of comfort and support. There's height and lumbar adjustment for the driver's chair and it's also set low enough for even the tallest driver to feel ensconced in the R.
Volkswagen has made sure there's ample room for heads, legs and arms in the front of the R, while vision in every direction is better than in most of the Volkswagen's rivals.
The main dials may look a little dated next to some newer rivals in the earlier versions of the Golf R, but towards the end of its life it gained the Active Info display with its 12.3-inch digital screen with configurable displays. The 8-inch infotainment touchscreen is easy to read and use, and it can be upgraded to a 9.2-inch version with Gesture Control.
Handling and ride quality: What is the Volkswagen Golf R like to drive?
"The way the Volkswagen Golf R approaches roads and corners is every bit as competent yet quietly spoken as the way the car looks. It doesn't come with a drift or track mode and nor does it boast huge flared arches to contain massively wide tyres. What the Golf does is balance every facet of its dynamic abilities to perfection."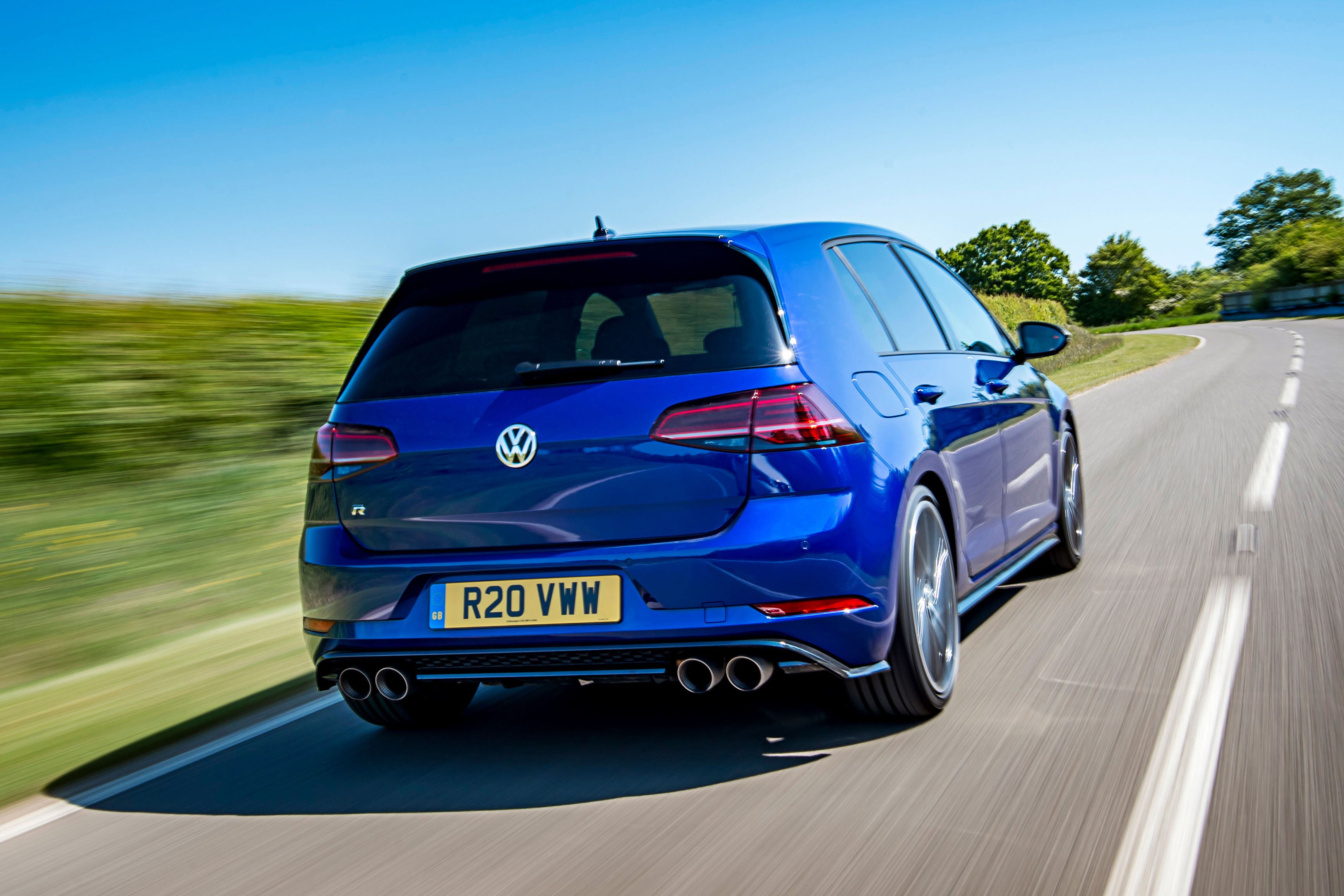 It means the Golf turns into corners with no apparent delay from the front tyres and the rear pair follow on faithfully. The power steering gives good feel and feedback, so you know what's going at the other end and can adjust the car to suit.
That said, the Golf R is less exciting and exhilarating than a Honda Civic Type R or Mercedes-AMG A35, both of which feel a little more boisterous through corners, plus they both sound better under hard acceleration. But many buyers will appreciate the Golf R for being more mature and, in fact, it's very easy to live with day to day.
Around town, it's as refined and easy to drive as any other Golf, plus it has cruise control and a speed limiter to make life on the motorway easier. It isn't even all that expensive to fuel – the official economy is just shy of 40mpg for manual models which isn't at all bad for a car with sort of power.
The ride quality is firm, but rarely ever harsh or uncomfortable, even on the optional 19-inch alloy wheels. Also, buyers can specify dynamic chassis control which adds variable damping, with Sport, Comfort or Normal settings linked to the selectable driving modes.
The drive modes tailor the car to the situation, so for town driving the Comfort setting is best, since it makes the steering lighter and softens throttle response. There is an Individual mode, which allows the driver to choose their preferences for each of the settings, including steering, throttle response and even the air conditioning.
MPG and fuel costs: What does a Volkswagen Golf R cost to run?
"For what is essentially a single model range, there is a bit of variation in the Volkswagen Golf R's fuel economy figures."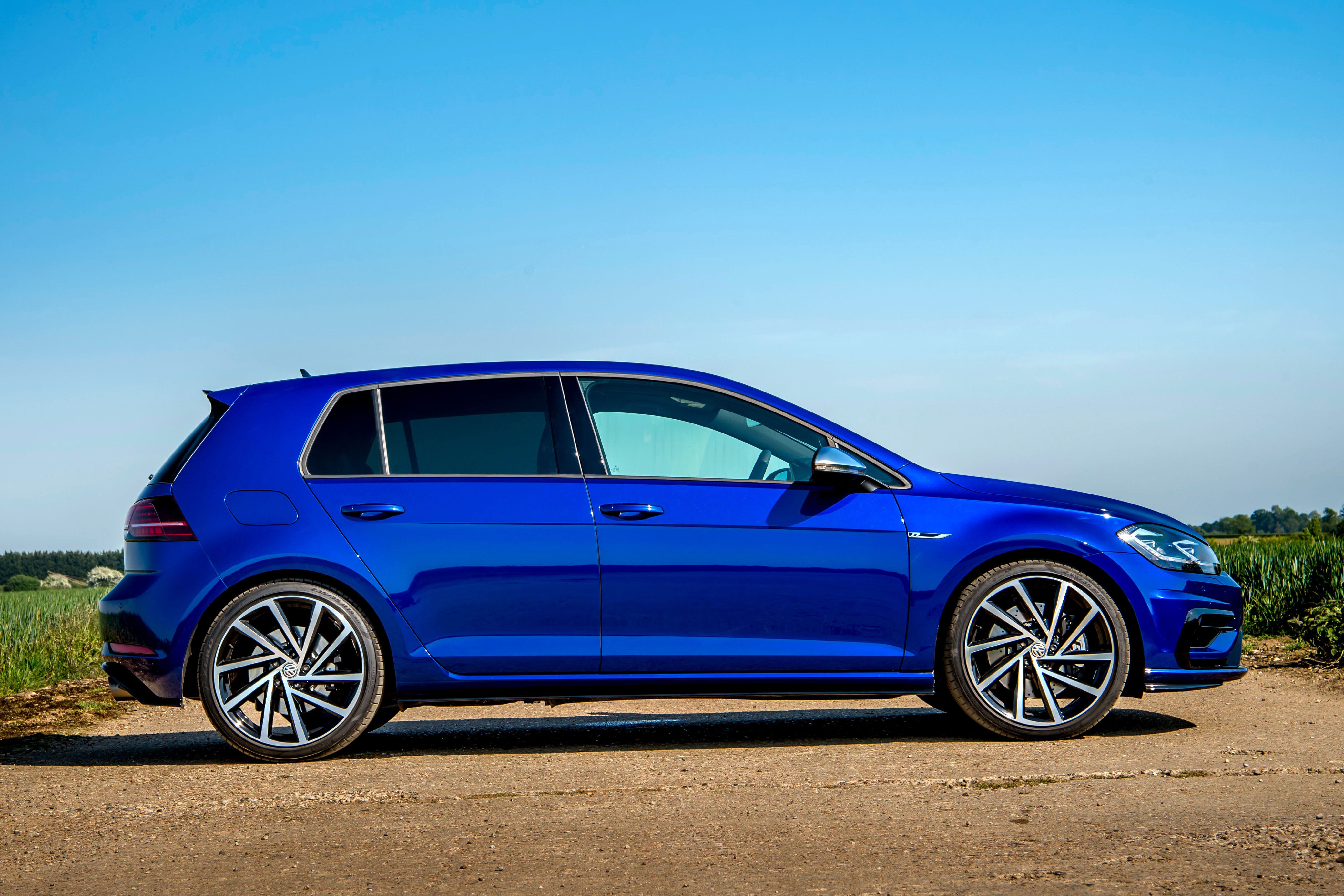 This is partly down to the three different body styles, with the hatchback the most efficient with a claimed combined consumption of up to 40.4mpg with the DSG gearbox. However, Real MPG figures show this works out to 29.9mpg in daily driving. Using Real MPG data, we can see the 310PS DSG Estate comes out best with a true number of 32.4mpg.
How much should you be paying for a used Volkswagen Golf R?
"With the last of the line Volkswagen Golf R models from this seventh generation being sold with a list price of more than £35,500, a nearly new or pre-registered model makes sense. For anyone not bothered by being the second name in the logbook, you could save £5000 on the list price with a five-door, DSG-equipped R on sale for £30,500 with delivery mileage only on the clock."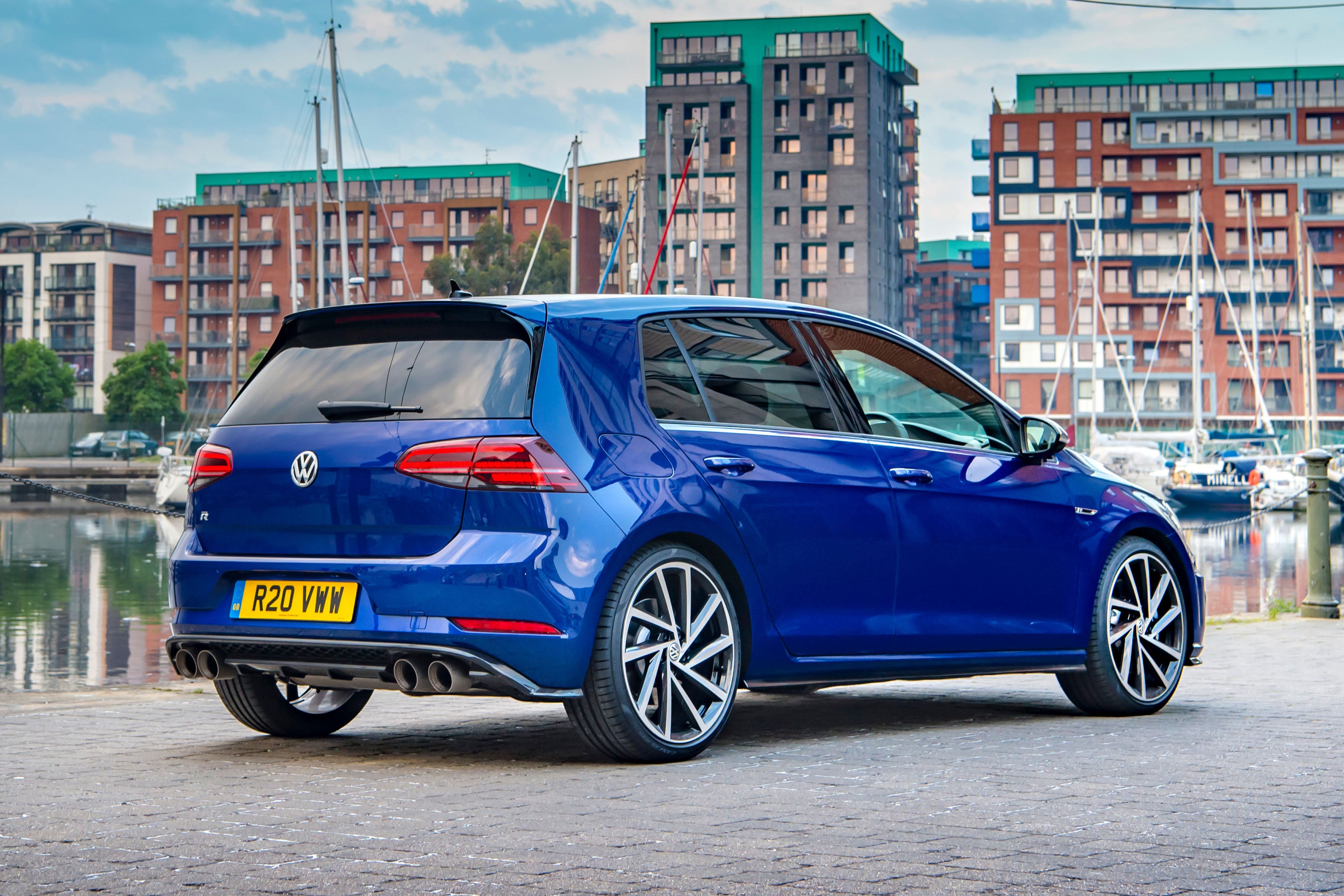 Look to older versions and a seven-year old with 70,000 miles under its grille will start at around £13,500. Move that forward to a three-year old with 30,000 miles to its name and the price will be from £20,000 whether you want a hatch or estate, manual or DSG gearbox.
Ready to get your top quality Volkswagen Golf?
All cars come with a warranty
Selected dealers only
All quality checked
Volkswagen Golf
1.4 TSI SE [Nav] 5dr DSG
Letchworth SEAT Letchworth Garden City

Hertfordshire, SG61BP
PCP: £220.64/mo
Representative example: Contract Length: 36 months, 35 Monthly Payments: £220.64, Customer Deposit: £2,216.00, Total Deposit: £2,216.25, Optional Final Payment: £6,791.50, Total Charge For Credit: £1,955.15, Total Amount Payable: £16,730.15, Representative APR: 6.9%, Interest Rate (Fixed): 6.86%, Excess Mileage Charge: 7.2ppm, Mileage Per Annum: 10,000
Volkswagen Golf
1.4 TSI SE [Nav] 5dr DSG
CMC SEAT Harlow

Essex, CM202EG
PCP: £209.33/mo
Representative example: Contract Length: 36 months, 35 Monthly Payments: £209.33, Customer Deposit: £2,099.00, Total Deposit: £2,099.25, Optional Final Payment: £6,420.25, Total Charge For Credit: £1,851.05, Total Amount Payable: £15,846.05, Representative APR: 6.9%, Interest Rate (Fixed): 6.86%, Excess Mileage Charge: 7.2ppm, Mileage Per Annum: 10,000
Is the Volkswagen Golf R right for you?
You like fast cars but don't want the attention that comes with more overt performance options? This is why Volkswagen created the Golf R almost as an antidote to the likes of the Mercedes-AMG A45 and later A35, as well as the Audi S3 and RS3.
Where these cars shout their intentions from every spoiler, diffuser and wheelarch extension, you could be excused for walking right by the Golf R without paying it another glance. For some, that will defeat the object of spending a considerable sum on a car with this sort of pace and ability. For others, it's exactly why the R fits right into their lives as it generally drives under the radar of most other road users.
Of course, those in the know will recognise the R as a seriously quick machine with all-wheel drive and superb handling. They will also know this is a car with rock-solid built quality and all of the practicality of any other Golf model, even if the hatch's boot is a teensy bit smaller than others in the Golf line-up. Heck, you can even get an estate version of the Golf R to really wrongfoot others when you make use of its full potential.
What's the best Volkswagen Golf R model/engine to choose?
The basic recipe for the Volkswagen Golf R stays the same whichever version you plump for. So, you get a turbocharged 2.0-litre four-cylinder petrol engine powering all four wheels for superb grip and traction.
However, there are variations on the theme, so you have a choice of three- and five-door hatchback bodies, and an estate model. While the wagon impresses, we'd err towards the five-door hatch as the best all-rounder, though this is a very subjective area.
You also have to decide between six-speed manual or DSG automatic gearboxes. The DSG-equipped models are fractionally quicker to accelerate from rest to 62mph, though no R is a slouch. Still, we'd take the manual for its greater engagement between car and driver, and once on the move there's nothing to separate manual and auto models.
There is also the Performance Pack fitted to some from 2017-on. It doesn't make the car any quicker, but you get the full unrestricted top speed should you find yourself on an autobahn. This model also comes with uprated brakes, unique alloy wheels and a bespoke exhaust for the hatch versions.
What other cars are similar to the Volkswagen Golf R?
The Mercedes-AMG A35 is as close as you get to a complete rival to the Volkswagen Golf R as both are more understated takes on the uber-hatch theme. The AMG also uses four-wheel drive to great effect for dealing with gnarly, twisty roads, but it is more expensive to buy than the Volkswagen.
Ford's Focus RS was a worthy adversary and the Yang to the Volkswagen's Ying thanks to its aggressive styling and the way it delivered its performance. For some, though, the RS was just too loud and proud.
That leaves others such as the Honda Civic Type R, Hyundai i30N and Renault Megane R.S. Trophy to pick up the cudgels. All are very good, but none is quite as rounded in every respect as the Golf R, which some might find as off-putting as others find it appealing about the Golf.
Quality and finish
Build quality is typical Volkswagen throughout the Golf R. Everything is solidly screwed together and material quality is excellent. The result is a car that fully justifies its added cost over other Golf models as it shows where that cash has been spent in the way it looks and feels. Even the R's doors seem to shut with a more premium thunk.
The Golf R has different seat upholstery compared to other Golfs, but otherwise there isn't much to set the R apart from any other Golf, but that's not a bad thing, especially considering the standard equipment. You do get sports front seats and a flat-bottomed steering wheel, which the GTI also has, but otherwise it's a quietly confident approach to the fast hatch theme in the R.
While some may bemoan the lack of imagination in the R's cabin design, it will still be working and looking just as good in a few years and many miles' time such is the impressive tautness of its build and manufacture.
Infotainment: Touchscreen, USB, nav and stereo in the Volkswagen Golf R
As standard, the Volkswagen Golf R came with a 6.5-inch touchscreen in the centre console to begin with. This was uprated to an 8-inch item and then, finally, a 9.2-inch version. All come with satellite navigation and are as simple to fathom and use as they are in every other Golf model equipped with this kit.
Earlier versions now feel a little dated in their graphics and how quickly they respond to the input of your finger, but they still function smoothly and can be paired with a smartphone using Apple CarPlay or Android Auto.
The last Golf R models make use of the excellent Discover Navigation Pro touchscreen with its 9.2-inch display that is a little bit easier to read on the move. It has superb resolution and clarity, and you can also use Gesture Control to work functions without actually touching the screen. However, we prefer the prod and press method or using the steering wheel's remote buttons as it's more accurate.
The screen is also used to operate the R's adaptive chassis control that lets you select from various set-ups for the suspension, throttle and steering reactions.
Space and practicality: Volkswagen Golf R boot space
With the Volkswagen Golf R, there is one small area where it cannot quite deliver the same practicality as the rest of the Golf line-up. This is the boot space of the hatch models', which is 343-litres in the R and 380-litres in the other hatch models.
That's with the rear seats up, and it's the same story when the 60-40 split and fold back seats are toppled forwards. Where other Golfs offer up to 1270-litres of capacity, the R musters 1233-litres. It's not a huge difference but it's there and because of the rear differential for the four-wheel drive that comes with the R as standard.
Even so, the Golf R can still hold all of your weekly grocery shop without flinching and, with the back seats tipped down, there is a long, flat load bay that means you can make express deliveries of all the flat-pack furniture you could ever want.
Moving round to the rear seats of the Golf R, the three-door model comes with the obvious caveat that its hindquarters require a bit more effort to access. The front seats tip and slide forwards, leaving a fair old gap for adults to pass through quite easily. Once in, they find they have the same amount of space as in the five-door or estate.
With the other two models, the rear doors open wide and give unhindered entry to the back seats. There's plenty of space for heads, legs and shoulders in here for two adults and kids will find it ideal as there's a relatively low window line to allow a good view out. You also get Isofix child seat mounts in the two outer back seats and all three pews have a triple-point belt for safety.
Whoever finds themselves in the middle seat in the back of the Golf R, they are much better looked after than in most of the Volkswagen's rivals. This is thanks to the R's flat bench and seatback that means the centre chair can carry an adult for reasonable distances in comfort, though foot space is a little limited.
What engines and gearboxes are available in the Volkswagen Golf R?
Thanks to its 300PS power output and 380Nm of torque, the Volkswagen Golf R can get from 0-62mph in as little as 4.6 seconds with the DSG auto transmission, or 5.1 seconds with the manual. That heading on for being supercar quick, which is mightily impressive in a family-friendly hatch or estate.
It's not just rapid from a standing start either. That peak torque figure is available from 1800-5500rpm, so overtaking performance is excellent. When Volkswagen increased the engine's power to 310PS in 2017, the low- and mid-rev shove remained the same at 380Nm. However, Volkswagen then had to turn the wick back down to 300PS for the Golf R to meet stricter emissions and economy targets under the WLTP testing regime.

The DSG gearbox makes the Golf R quicker off the line, but on the move there's nothing to split it and Golf R models with the manual gearbox. If you choose the estate model, you are limited to the DSG six-speeder as your only option. We prefer the manual simply because it brings the car and driver a bit closer together in the action.
Setting the Golf R apart from its GTI sibling is the 4Motion permanent all-wheel drive system, which provides excellent traction when accelerating and massive grip through corners. Even in poor weather the Golf R feels incredibly sure-footed, helped by a positive, accurate gear change, strong brakes and well-weighted steering.
Refinement and noise levels
Browse through the other sections of this review of the Volkswagen Golf R and you will quickly realise this is a very fast hatch that does a superb impression of an executive or luxury class car. It doesn't go in for pops and bangs from the exhaust, though there is some additional engine noise under hard acceleration generated by a resonator.
The Performance Pack brings a sportier exhaust to the hatch models, but it's still more than quiet enough to make pootling around town or commuting on the motorway a relaxed, refined affair. This is underlined by the smooth shifts of both the manual and DSG gearboxes, and the ideally weighted controls.
With the standard 18-inch alloy wheels, the Golf R suffers none of the road rumble that can afflict the Honda Civic Type R or Hyundai i30N on coarser surfaces. Even switching to the optional 19-inch wheels doesn't upset the inner calm of the Volkswagen.
As for wind noise, the Golf R is every bit as good at sealing out this disturbance as the rest of the Golf range, which means it's a very hushed overall package when driven normally.
Safety equipment: How safe is the Volkswagen Golf R?
Volkswagen supplies ESC stability and traction control with the Golf R to work with its 4Motion all-wheel drive. Later models gained Front Assist that comes with radar-controlled distance monitoring and City Emergency Braking to spot hazards and use the brakes if the driver doesn't react to warnings.
The R also comes with Hill Hold to stop the car rolling backwards as you get ready to pull away on an incline. There's Adaptive Cruise Control, parking sensors and Lane Assist, as well as Dynamic Light Assist and Traffic Sign Recognition. This is in addition to automatic headlights and wipers also being included in the GTI's specification.
When it was tested in 2012, the seventh-generation Volkswagen Golf scored a full five stars for safety overall. The R enjoys the same rating and ranked at 94 per cent for adult occupant safety and 89 per cent for child passenger safety. Even a few years down the line, this Golf is a very safe bet.
The R also comes with twin front, side and curtain airbags, as well as a driver's knee 'bag. Every occupant gets a three-point belt and there are Isofix child seat mounts in the two outer rear chairs.
Insurance groups and costs
For the lowest possible insurance premium, you need to look to the three-door Golf R with a manual gearbox and 300PS engine. It sits in group 34 for its cover.
Move up to the later models, especially those with the Active Info 12.3-inch main dash display and they rise up to group 39, which is much the same as for the more expensive Mercedes-AMG A35.
VED car tax: What is the annual road tax on a Volkswagen Golf R?
As the last of the R models built on the seventh-generation Volkswagen Golf platform rolled out of the showrooms, they pay first-year road tax at £1305 due to carbon dioxide emissions of 195g/km.
After that, all Golf Rs registered on or after 1 April, 2017, will pay a flat fee of £150 for their Vehicle Excise Duty.
Golf Rs registered up to 31 March 2017 will need you to stump up £305 every 12 months for road tax, though they avoid the added £325 penalty for cars with an original list price of more than £40,000 that hits the likes of the Audi S3 and some Mercedes-AMG A35 models.
Trim levels and standard equipment
When Volkswagen launched the Golf R in 2014, it came with 18-inch alloy wheels, R exterior body styling, matt chrome effect door mirrors, and dark light clusters. There were also four oval tailpipes to distinguish it from the GTI, and a black diffuser under the back bumper.
Inside, the R came with sport front seats, cloth and Alcantara upholstery, 6.5-inch touchscreen with DAB radio, Bluetooth connectivity, and navigation. You were also treated to climate control, adaptive cruise control with speed limiter, auto lights, auto wipers and parking sensors.
The Performance Pack was introduced in late 2017 for £2300 and brought 19-inch Spielberg alloy wheels, silver-painted R-Performance brake callipers that saved two kilogrammes from the overall weight of the car, and bigger front brake discs. This pack also took the limiter off the top speed that was otherwise capped to 155mph. So, the hatch could go all the way to 166mph and the estate could hit a flat-out 168mph.
At the end of its time, the Golf R came with the Active Info 12.3-inch digital display as standard in place of the usual dials. This screen can be configured to suit the driver's preferences to show speed, revs, sat-nav map and other data.
Learn more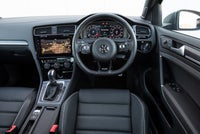 On the inside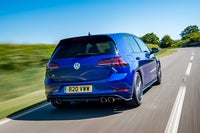 Driving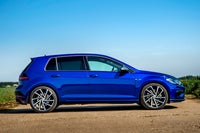 How much does it cost to run
Prices, versions and specification
Reviews of similar cars
Quality checked, all cars less than 8 years old and warranty included
Looking for other Volkswagen cars?
Quality checked, all cars less than 8 years old and warranty included