Volkswagen Golf SV Review 2022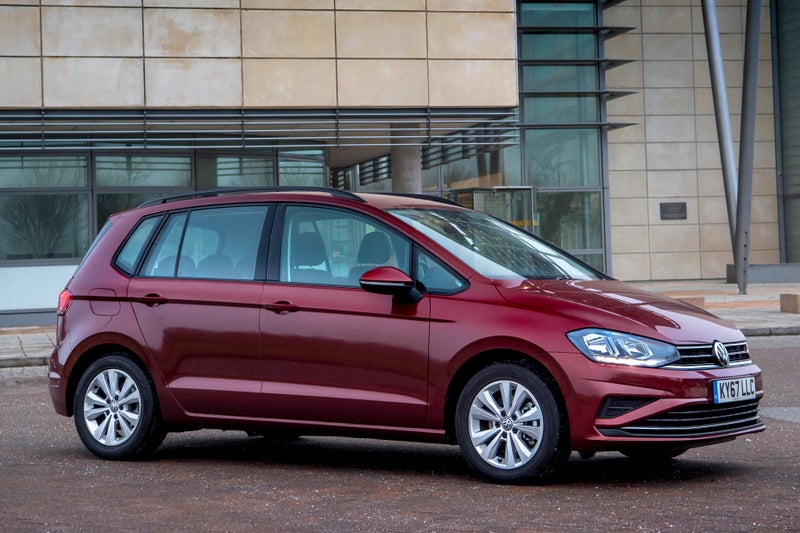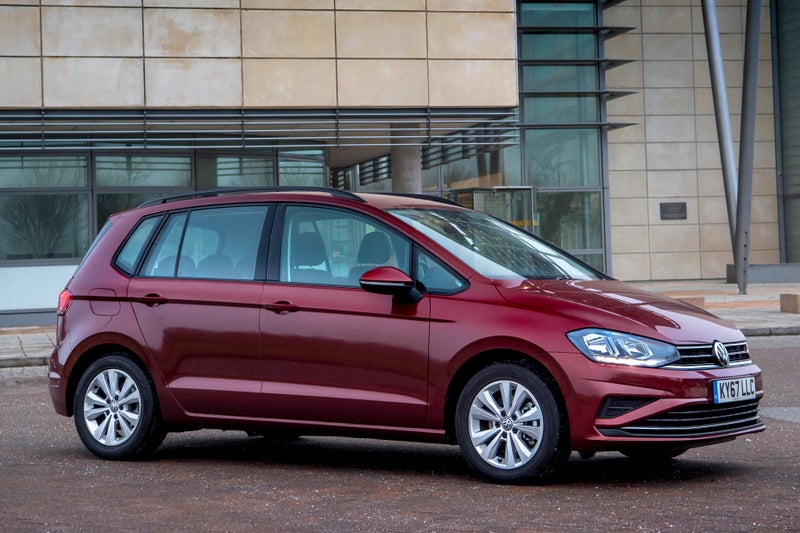 1/10
heycar rating
"A convincing MPV hatch combo"
Launched: 2014

MPV

Petrol, Diesel
Quick overview
Pros
It's space-efficient, given its dimensions
Very good rear-seat comfort
Economical engines and reasonably affordable
Cons
Neither one thing nor another
Emphasis on utility rather than excitement
You'd rather have a Golf… better still, a Tiguan
Overall verdict
On the inside
Driving
Cost to run
Prices and Specs
Common questions
Overall verdict on the Volkswagen Golf SV
"The Volkswagen Golf SV won't excite, but it will satisfy those who need a roomy family car to make daily life that bit easier. It's an authentic Volkswagen that is, well, just like a Golf… only with a bit more space and comfort for those who need it."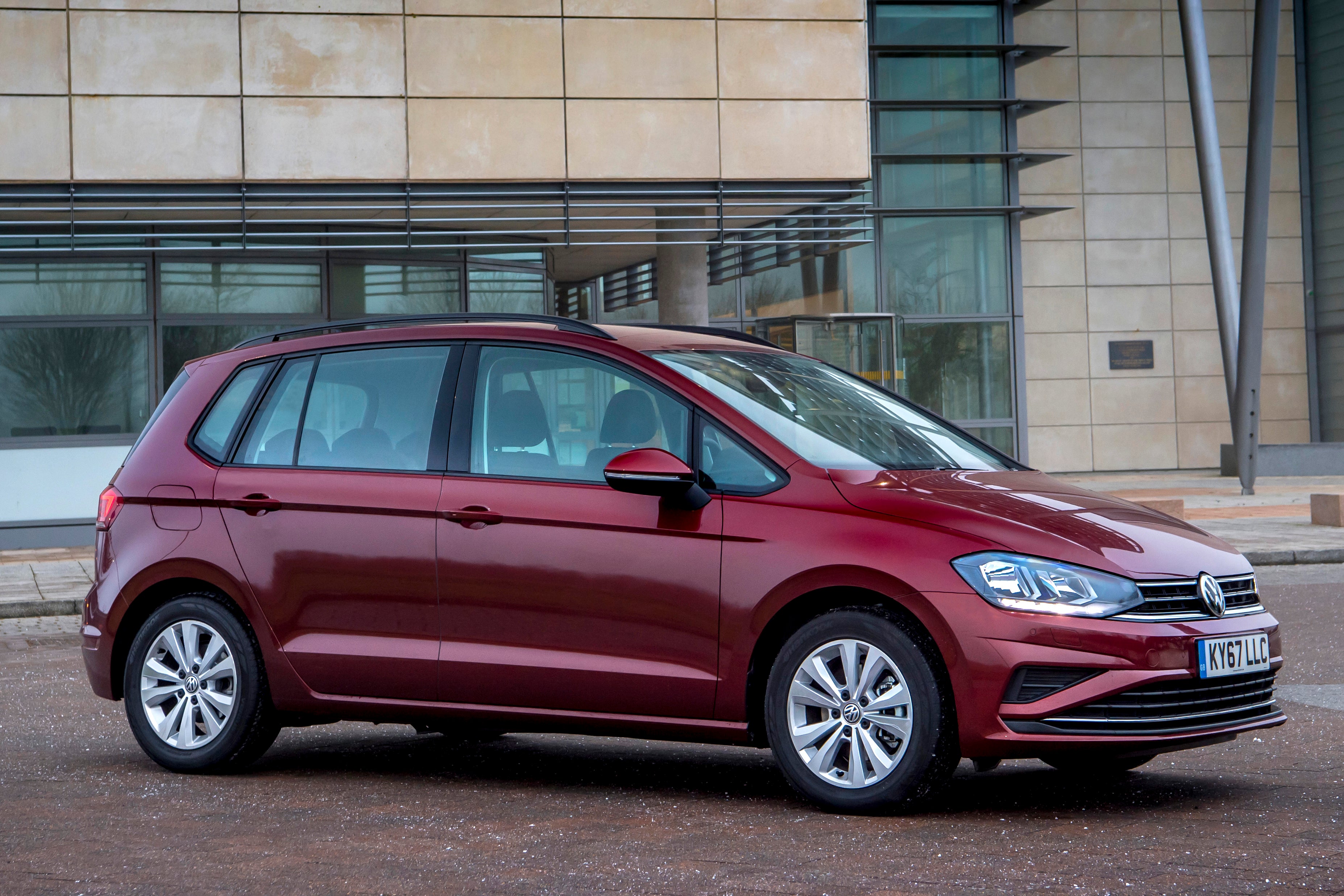 So what is the Volkswagen Golf SV? Its official name in Europe gives the game away: Sport Van. It's a model more practical than a Volkswagen Golf, but marginally more attractive than a full-on MPV. Replacing the Golf Plus, it's a sort of half-way house that only a company the size of Volkswagen can really justify making. As you'll read in our Volkswagen Golf SV review, to some people it's just the right size.
If you don't want the bulk of a Touran people carrier but need more space and practicality than a regular Golf, particularly in the rear and load bay, the Golf SV ought to be on your radar. Indeed, it places passenger comfort high on its list of priorities. Usually with regular hatchbacks, there's at least a degree of feeling second-class in the back.
Boot space is also substantially up on a normal Golf, with an estate-like 498 litres on offer. If only the outgoing Golf estate wasn't so amazingly practical, with a vast 605 litres behind its rear seats…
The boot isn't simply a decent size, though. It's also well shaped, with a low load sill so you can slide things in easily. The rear seats fold flat and even the passenger seat backrest can drop out of the way, again underlining the 'van' part of the overseas name.
Family-friendly cheeriness is the name of the game here. There is plenty of legroom and headroom in the back plus the seats themselves are more comfortable than an equivalent Golf. They're higher off the ground and more substantial, so won't start to bite after a couple of hours on the motorway. The backrests recline and the rear cabin is nice and wide, too. So it won't be too painful even when travelling three-up.
Noise levels are low, the interior is very bright and airy, and equipment levels aren't bad: load the ample glove box up with drinks or chocolate, for example, and they'll be nicely chilled for the family to enjoy thanks to an air conditioning duct that feeds in cool air. Look out for facelifted models, from early 2018, which had a much-improved infotainment system and extra safety gadgets.
It isn't particularly exciting for the driver, but frankly that's of little importance. The Golf SV is instead safe, refined and comfortable, with a nice ride quality and an impressive range of effortless turbo petrol and diesel engines. The preferred choice is the 1.6 TDI, and there's a Bluemotion version that delivers even better fuel economy.
With crisp and decidedly un-MPV styling, the Golf SV is the secret people carrier for those who need one but don't want to admit they do. It's Volkswagen-like inside, reasonably cheap to run, and much more affordable to buy than either a big people carrier or the fancy SUVs many who are bored with hatchbacks are switching into. And the extra practicality of a Golf SV compared with an SUV really is pronounced.
It almost certainly won't be the top of your shopping list, but it deserves a place on it.
Is the Volkswagen Golf SV right for you?
The Volkswagen Golf SV is a particularly family-friendly machine, like all good MPV-style vehicles. It's fully optimised for passenger space and comfort. Returning to the rear of a regular Golf hatchback will feel a step backwards for those who get used to its accommodating nature.
It's also particularly good for those who regularly carry three people in the rear, rather than just two. The middle-seat passenger won't feel like they're travelling in economy class, which may just help stem the arguments every time the kids approach the car at the start of a long trip. We can't promise, but you never know…
The fact it's a little more expensive to buy or live with than a regular Golf also works in its favour. It offers a lot of extra space without forcing you to fork out richly for it. When the family is growing and you've got umpteen other things to spend your money on rather than a new car, the fact you'll struggle to outgrow it is a big boon to those looking after the family budget.
What's the best Volkswagen Golf SV model/engine to choose?
The most popular Volkswagen Golf SV versions used to be the TDI diesels, particularly the 1.6-litre TDI. The 2.0-litre TDI offers extra pulling power, which can be handy if you regularly drive with five adults, but the smaller engine is generally fine, and a fair bit more economical.
Turbo petrols are increasingly winning fans, though, and Volkswagen's TSI engine range is among the best in the business. Maybe the 1.0 TSI 85 is just a bit too light on pulling power if you regularly stray from city limits, but the 1.4 TSI is an excellent all-rounder, with ample speed and good fuel economy. As with most Golf SV engines, you can have it with a DSG automatic as an option over the regular manual.
Entry-level S trim is perfectly decent if you're on a budget, but the Volkswagen Golf SV SE offers many more luxuries that can make the difference in daily use – from alloy wheels, to a nice leather steering wheel, to adaptive cruise control, to neat picnic tables and air vents in the rear.
What other cars are similar to the Volkswagen Golf SV?
Comfort and design: Volkswagen Golf SV interior
"If Ikea made family-sized MPVs, it would probably come up with something like the Volkswagen Golf SV: impeccably well designed, ergonomically top-notch, practical and comfortable. But decidedly not posh, fancy or overblown."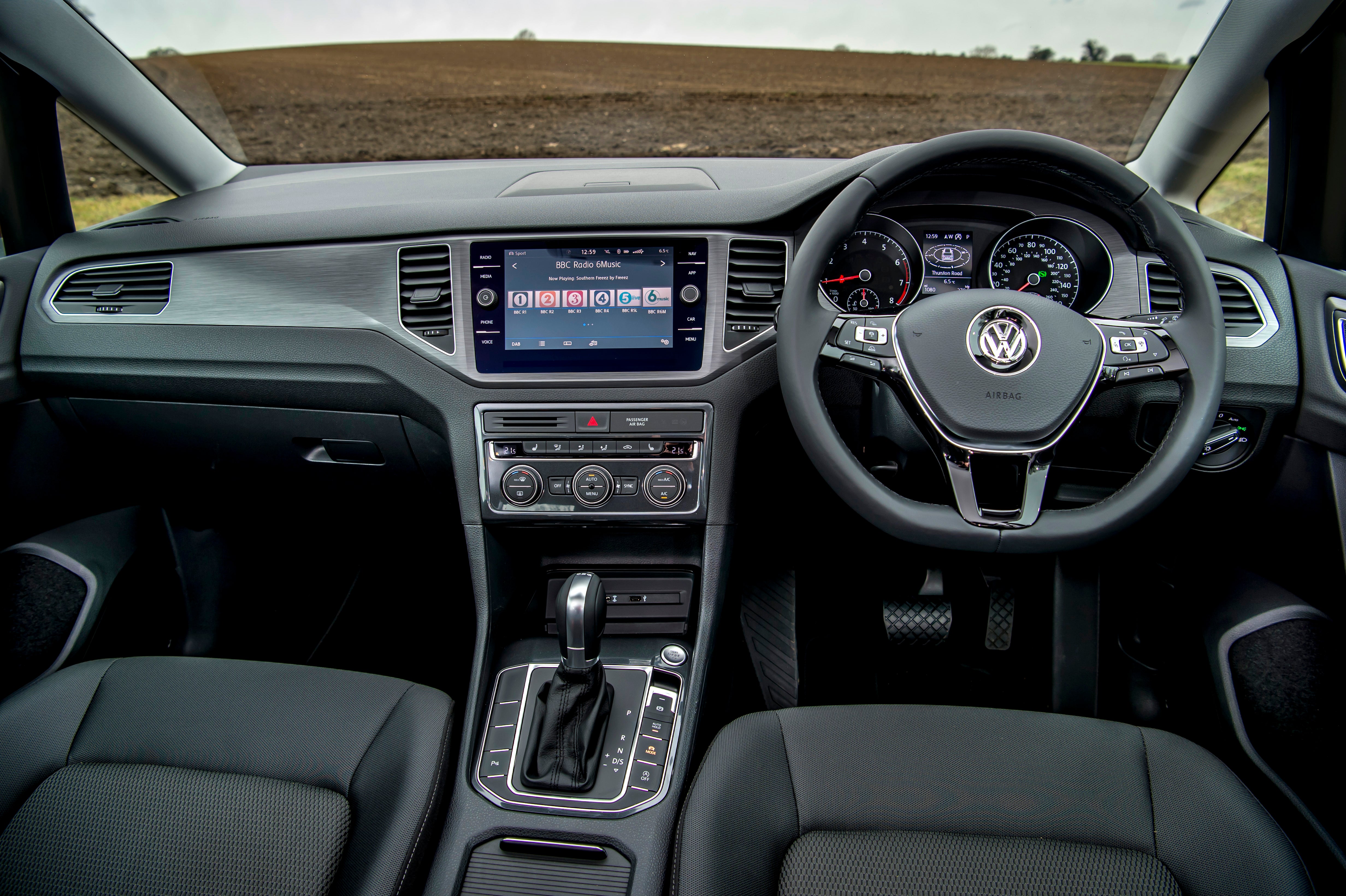 The dashboard is fairly flat and upright, with a design focused on space-efficiency and practicality rather than looking flash. As such, it's extremely easy to use – you can look at a thumb-sized picture and almost immediately work out what every control and button does. After all, families have I-Spy to play and don't want to be distracted looking for the climate control recirculation button.
The dials are big and clear, the infotainment screen is positioned nice and high so everyone can easily see whether they're nearly there yet, and even though there are a fair few buttons on the steering wheel, they're all well-marked and logical.
Colours and trims are, frankly, a bit plain and bland – we're talking black, dark grey, a sort of semi-shiny off-aluminium inlay – but it's impeccably wipe-clean and won't be ruined by a Vimto explosion or scarred for life by a bag of Wotsits. The entire design has been laid out so it's easy to use and easy to clear out. Usable practicality rather than annoying nooks and crannies.
And it's all so bright, light and airy in there. The windows are huge (the back ones, not just the front) and the low shoulder line means even toddlers can easily see out. It feels cheerful, not gloomy and moody, and this can pay dividends in making long trips less painful.
Quality and finish
Being a Volkswagen means the plastics are a notch above the norm. Again, they're not trying to be over-indulgent – but there's a robust, low-sheen, high-integrity robustness to them. Like a quality sofa, they can be bashed and battered for years yet still look good when it comes to trading in for a replacement.
The trouble is, it's not very exciting. There's little sparkle to the interior, nothing that really makes you go 'ooh'. Draw satisfaction instead from how tightly it's assembled, how flush-fit the trims around the air vents sit, maybe how smoothly the concertina cover on the centre console rolls back and forth. Nice.
Seat upholstery maybe isn't ordinarily an area you give much thought to when it comes to quality. But the upholstery in the Golf SV is tough. It's thick, tight and rich. It will take years of attacking with wet wipes to remove spilled drinks without ever tiring. That's where the built-in quality shines through.
Infotainment: Touchscreen, USB, nav and stereo in the Volkswagen Golf SV
All Volkswagen Golf SVs get a colour touchscreen display, but not all have navigation built in. The standard infotainment system is a simple affair, offering Bluetooth and DAB radio, but not going too far with the novelties and gadgets. It's much more basic than the widescreen system found in the latest Volkswagen Golf, for example.
For pre-facelift cars, it was only top-spec GT models that had nav as standard. Following the Volkswagen formula carefully, it's a good system, with swift mapping and an easy-to-use display. Entering destinations can be a bit awkward, as the screen is actually a little bit of a stretch for some, but it's foolproof once set – and instructions can be repeated on the screen within the driver's display – if you want to hand over the audio system to the family for example.
Infotainment was improved with the facelifted model in 2018. All cars now got a larger 8.0-inchscreen behind a glass-look panel. Novelties included displaying the cover art of albums being played.
The upgraded Discover Navigation system had improved mapping and even included a 3D option, plus an even more Apple-look 9.2-inch display screen (Apple CarPlay and Android Auto were fitted, too). It was a big improvement that makes facelifted cars our recommended choice, especially for those to whom infotainment is a deal-breaker.
Space and practicality: Volkswagen Golf SV boot space
This is the whole reason for buying a Volkswagen Golf SV and it doesn't disappoint. The driving position is very comfortable, with pedals that are positioned in a more car-like way than some MPVs, which can feel van-esque behind the wheel. The angle of the steering wheel feels natural and there's a good range of adjustment.
The seat has a broad range of height movement, too, meaning everyone can find a nice, lofty driving position if they wish. The view out of the Golf SV, with its deep windscreen, is that bit more commanding than the lower-slung Golf hatchback.
Rear-seat passengers will feel like they've been upgraded. The door openings are nice and wide, with lots of space to step in and out, and the sills are low to make access even easier. Adding further to the 'walk-in' feel is the high-set rear seat, which you easily slide onto, rather than plonking down upon with a click of the knees. Like the seats in the front, it is firm and very supportive, with much more padding than you normally get in the back of hatchbacks.
The tall roof, big windows and overall width of the cabin further enhance the feeling of space, and even tall people will be pleased to find such an abundance of room for knees and feet. Even the rear windows wind all the way down, provided the driver hasn't disabled the switches to stop the kids playing with them all the time.
If you need maximum boot space for the money, go for the Golf Estate. The Golf SV is about making the most of the litres it has, rather than eking out space for space's sake. The boot shape is therefore extremely well planned, with a deep load space, but with a ledge-free loading lip to make sliding heavy items in and out easy. Total space is 498 litres and it extends to 1520 litres with the seats folded.
There are Isofix mountings on the outer rear seats and it's so easy to step in and access the rear, you'll have no trouble getting kids in and out. A parent won't even complain if they're needed to sit in the middle seat to placate two babies in the rear, either – another demonstration of this clever hatchback's practicality.
If you're worried about parking the Volkswagen Golf SV, you'll be pleased to know that its footprint is barely any bigger than the standard Golf's. It measures 4351mm in length, 2045mm in height and is 2050mm wide (including door mirrors).
Handling and ride quality: What is the Volkswagen Golf SV like to drive?
"You're sat a bit higher than a regular hatchback in the Golf SV, so you will sense a bit more roll through corners. However, it still manages to feel more natural than a conventional MPV – it seems, despite its name, much less van-like than larger people carriers. It's an easier and more natural car to steer through corners, and some will find it less intimidating as a result."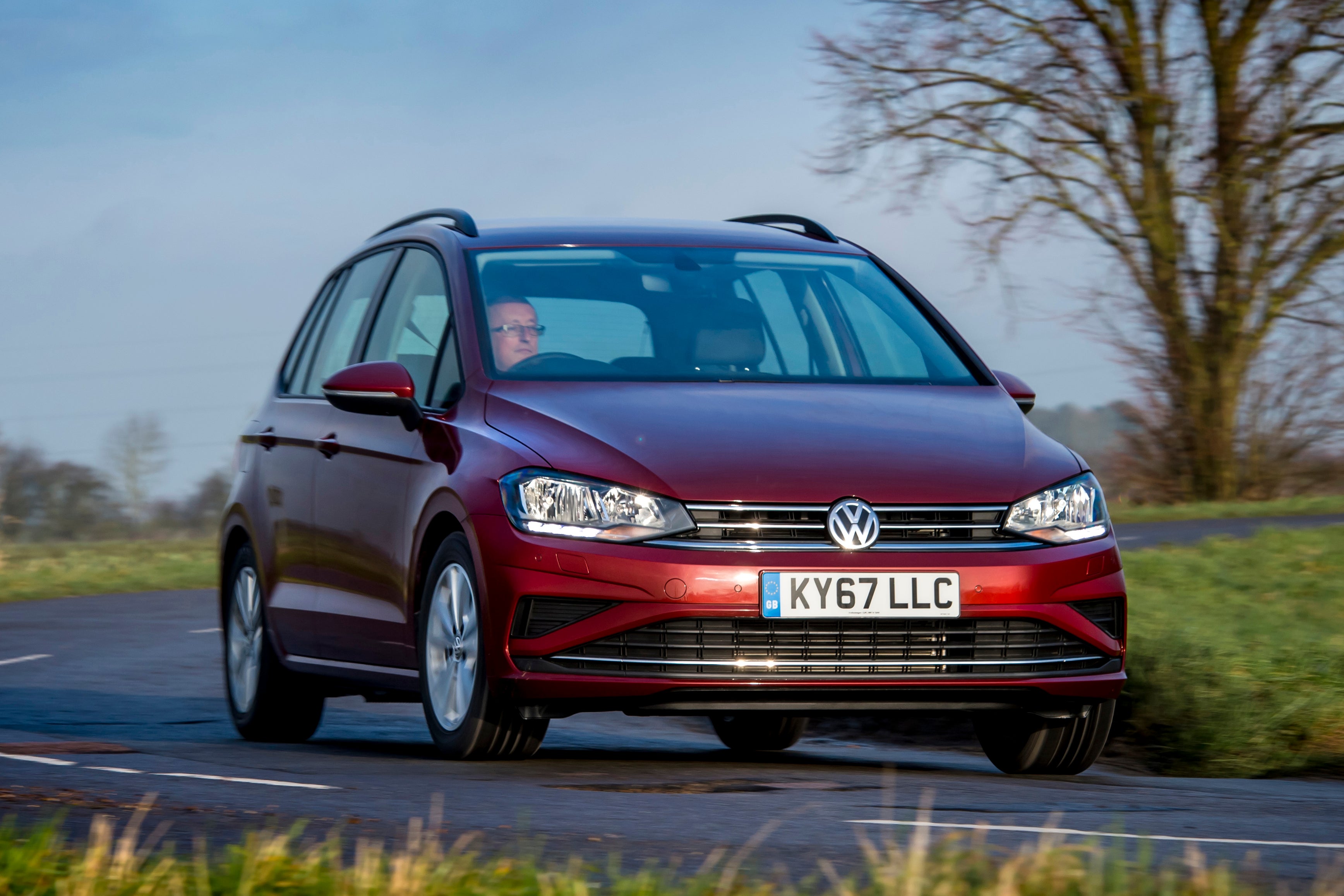 Ride quality is particularly supple on Volkswagen Golf SV S and SE models, which miss out on the 17-inch alloy wheels fitted to the GT variant. They take the edge off bumps very nicely indeed, and this non-aggressive roll-along feel really helps underline the Golf SV's long-distance credentials. The ride is also quiet, and won't bang or crash when roads get really bad.
The Golf SV GT is an oddity, lacking the cheerful balance of the regular cars. As well as the larger wheels, it also has lowered suspension, and just feels like it's trying a bit too hard. Stick with the regular S and SE models for the best-balanced Golf SV.
What engines and gearboxes are available in the Volkswagen Golf SV?
Whichever engine you choose, you can't go wrong. Okay, the 1.2 TSI and 1.6 TDI 90PS diesel are not fast, but even they will be acceptable for the undemanding. The smart money's on the 1.6 TDI 115PS, or a 2.0 TDI if you regularly take long trips with lots of people on board.
We really like the 1.4 TSI too, which came in 125PS and 150PS guises. It's a super all-rounder, and even better still is the engine that replaced it: Volkswagen's brilliant 1.5 TSI Evo, which came in 130PS and 150PS forms. Find one of these and you'll have all the Golf SV you could ever need. It even has cylinder deactivation, imperceptibly shutting down two of the four cylinders when cruising to save fuel.
The manual gearboxes are light and easy, with a nice, slick shift. The DSG automatics work well, though. This is a dual-clutch automatic design, with incredibly fast and imperceptible gearshifts and the uncanny ability to always be in the right gear at the right time.
Later on in the Golf SV's life, Volkswagen introduced a 1.0 TSI 115 Bluemotion variant. This is the ultimate fuel-saving petrol, and despite being a tiny three-cylinder engine in such a relatively large vehicle, performs far better in daily driving than you'd ever believe. It's not the prime motor for a long-distance trip to the seaside, but it's still a good option if you want to cut fuel bills without going for a diesel. You can even get it with a DSG automatic gearbox.
Refinement and noise levels
The quality build and finish of the Volkswagen Golf SV also shows through in how refined it is. The doors close with a nice, solid thunk and nothing about it seems tinny or clangy, just nicely hushed and peaceful. The engines are very subdued, even the diesels, and the 1.0-litre petrol engine is a particularly quiet runner.
Wind noise is well isolated, even at speed, which isn't always a given in tall vehicles like this. Even road noise isn't too intrusive, helped as much by the relatively sensibly-sized wheels of the lower-level Golf SVs as by the thick carpet and plentiful noise insulation.
It's a shame there's not a premium sound system option to enjoy this peace and quiet, but it does make it easier for everyone inside to easily talk to one another. Another example of how it helps breed family unity. Or arguments...
Safety equipment: How safe is the Volkswagen Golf SV?
On top of the usual haul of airbags and ESP stability control, Volkswagen fits a handy electronic parking brake to all Golf SVs. This has a built-in auto-hold function, so you won't roll back even if you don't click the switch. It also makes fully-laden hill starts that bit easier.
A bit of a surprise is the fact Volkswagen only includes rear parking sensors on the top-spec GT. We'd have preferred them to be fitted to all models as standard, particularly given how so many Golf SVs will be used in car parks and other tight spots. At least the Match Edition gets front and rear parking sensors as standard, rather than just at the front.
Other post-facelift safety features include adaptive cruise control, LED headlights, speed limit display and an autonomous emergency braking system that predicted what pedestrians might do. A driver alert system was also fitted, and speed limits were displayed in the infotainment system.
In 2014, Euro NCAP awarded the Golf SV a five-star crash safety score, with 87 percent for adult protection, 85 percent for child protection and 73 percent for safety assist, but a more middling 62 percent for pedestrian protection.
MPG and fuel costs: What does a Volkswagen Golf SV cost to run?
"Economy was broadly similar throughout the Golf SV's life, but the latest models are tested to stricter WLTP standards, so give a better indication of likely fuel costs."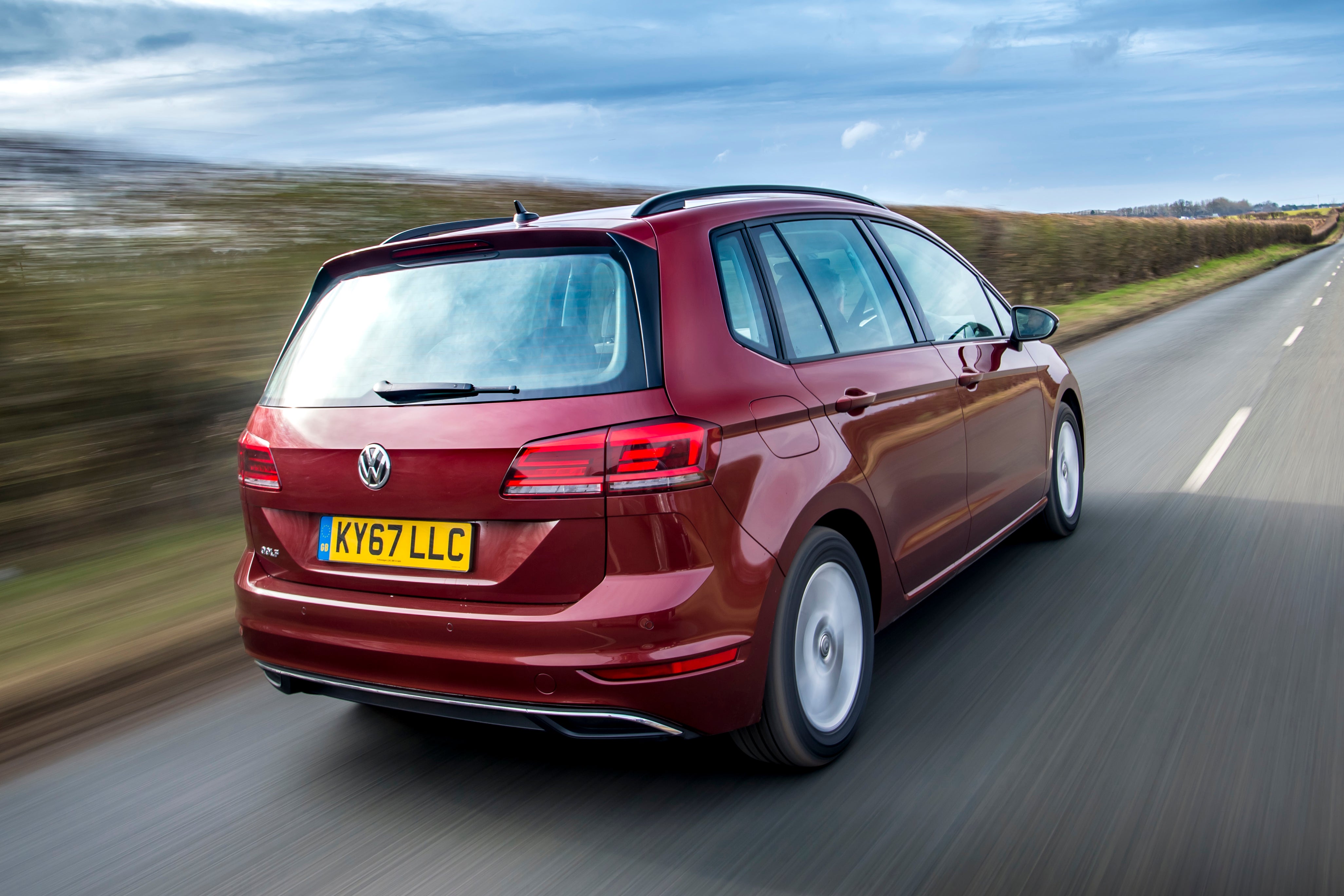 The 1.6 TDI diesel is the best, averaging between 52mpg and 54mpg, although the 2.0 TDI isn't so far behind, averaging from 50mpg to 52mpg.
The 1.0 TSI does between 46mpg and 49mpg, but the star of the show, again, is the 1.5 TSI Evo. Despite producing up to 150PS, this engine averages between 45mpg and 50mpg. The fact it has features such as cylinder deactivation could even stretch it further still for those who like to drive gently.
How reliable is a Volkswagen Golf SV?
Volkswagen came a respectable 10th out of 30 manufacturers in the latest HonestJohn.co.uk Satisfaction Index. The Volkswagen Golf SV shares a platform (and engines) with a wide range of Volkswagen Group models, so it should prove to be fairly dependable. Maintenance shouldn't be an issue, either – any reputable garage will be comfortable working on it.
Insurance groups and costs
Pick carefully and you will find the Volkswagen Golf SV a surprisingly affordable vehicle to insure. Entry-level 1.0 TSI S models come in at group 11, with the 1.6 TDI only edging up one group. The extra features of the Match Edition model do take the 1.6 TDI up another group, to 13, but this is carried over to the GT Edition, which seems fair.
The 1.5 TSI Evo is group 16, which is also to be expected – what we find unusual is the fact it leaps three groups simply for having a DSG automatic gearbox instead of a manual. Yes, power goes up 20PS, but does it really warrant such a leap?
VED car tax: What is the annual road tax on a Volkswagen Golf SV?
The low CO2 emissions of earlier Golf SV models pay dividends when it comes to VED (road tax). The Bluemotion variant of the 1.6 TDI actually came in at under 100g/km, meaning free tax, while it's only £20 a year for the regular version. Even a 2.0 TDI 150 GT only costs £30 a year. The 1.4 TSI is a bit pricier, with emissions of over 120g/km taking it into the £125 a year VED band.
All recent Golf SVs have a fixed £150 a year VED car tax bill, with first-year rates of no more than £215.
How much should you be paying for a used Volkswagen Golf SV?
"Volkswagen Golf SV prices start from less than £8000, but you'll get a better choice of 1.6 TDI SE models – and the odd 1.4 TSI SE – if you up what you spend to £9000. With a budget of £10,000, you will have a great selection of 2016 cars in all trims, with an ample choice of colours."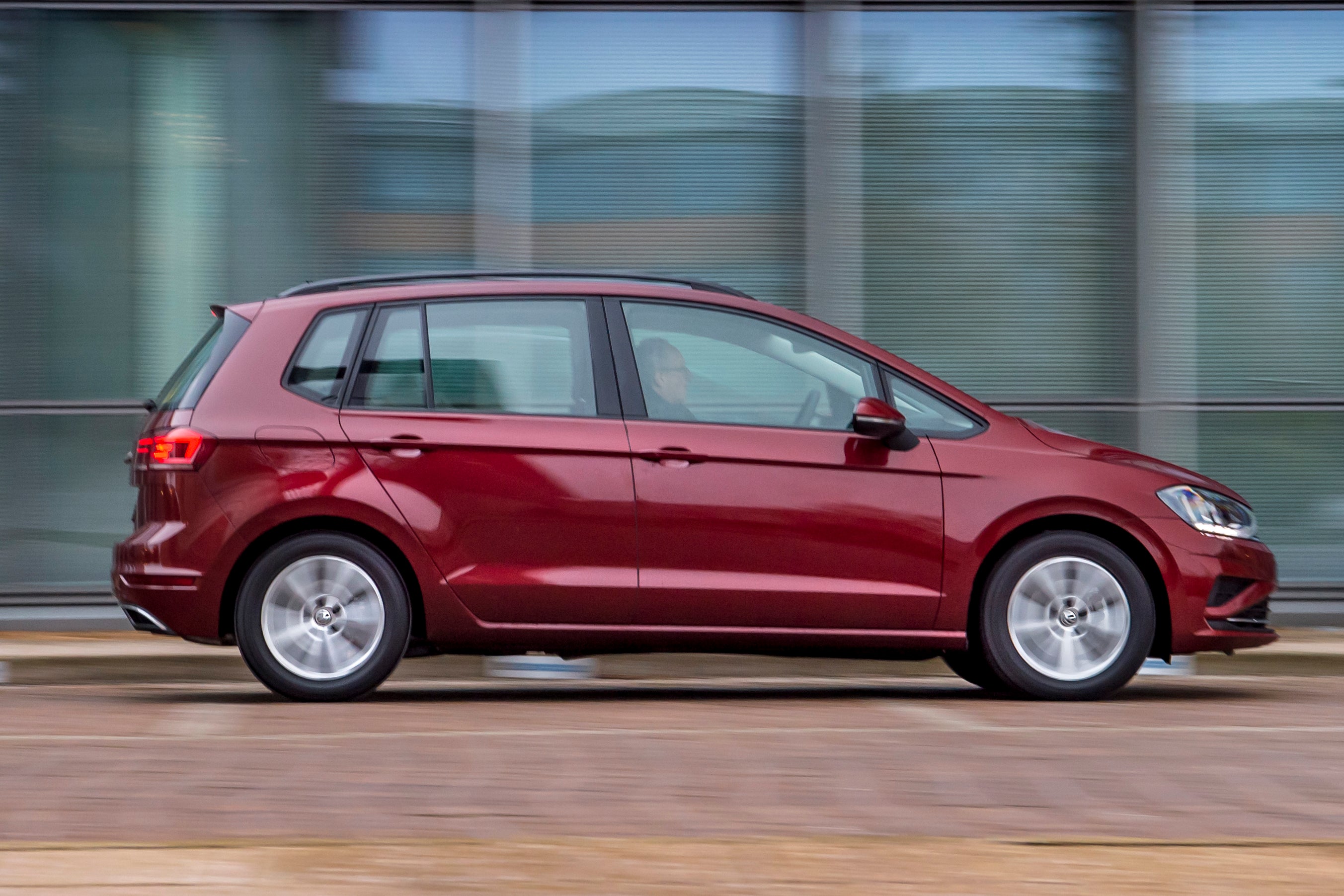 Facelifted 2018 models start from £15,000. We'd recommend searching for a 1.5 TSI Evo 130 in SE trim. There are a good number available with low mileage. Diesels are a little more expensive, but you'll get the money back in terms of fuel savings.
Trim levels and standard equipment
At launch, Volkswagen fitted a fair but hardly over-generous amount of standard kit to the Golf SV. All the hygiene factors were covered, but it didn't get much more exciting than manual air conditioning, 15-inch steel wheels (with hubcaps!), Bluetooth, front centre armrests and the 5.8-inch infotainment screen for base S buyers. At least windows were electric both front and rear.
The Volkswagen Golf SV SE was more like it, adding rear picnic tables and air vents, underseat storage, chrome interior highlights, a leather steering wheel, adaptive cruise control, driver alert system and, joy of joys, 16-inch alloy wheels. They grew to 17 inches on GT, which also had chrome exterior highlights, front sports seats, Alcantara upholstery, ambient lighting, front and rear parking sensors, and navigation.
The facelifted post-2018 models are more generous. S is still pretty basic, and still has plastic wheel trims, but it does come with an 8.0-inch touchscreen. The Volkswagen Golf SV Match Edition is the really desirable one. Despite a competitive price, standard kit includes rear tinted glass, LED headlights, fancy 16-inch alloys, Discover Navigation with Apple CarPlay and Android Auto, climate control, headlight washers and a full alarm system.
Again, Golf SV GT Edition includes 10mm lower sports suspension, more aggressive styling, ambient lighting and 17-inch alloys (we actually prefer the 16-inch design, mind).
Ask the heycar experts:
common questions
What's the difference between a Volkswagen Golf and the Golf SV?
The Volkswagen Golf SV is based on the seventh-generation Golf. It's a bit bigger and more practical than the Golf, making it ideal for families who have outgrown the popular hatchback but don't want an SUV or a full-size people carrier like the Volkswagen Touran.

Has the Volkswagen Golf SV been discontinued?
The Volkswagen Golf SV was on sale between 2014 and 2020. It was based on the seventh-generation Volkswagen Golf, which has now been replaced by the eighth-generation Golf. You can't buy a Golf SV version of the latest Golf – instead, buyers are catered for with SUV models like the Volkswagen T-Roc.

Is the Volkswagen Golf SV a hatchback or an MPV?
The Volkswagen Golf SV is bigger than the standard Golf hatchback. While it's not a seven-seater, it is classed as an MPV, sitting below the Volkswagen Touran in the brand's range.

Volkswagen Golf SV cars for sale on heycar
13,633
Number of cars available
£8.9K - £26K
Price bracket of these cars
Colours available on heycar
Keep me updated by email with the latest advice, news and offers from heycar
By submitting, you agree to our
privacy policy
.