Volkswagen Grand California Review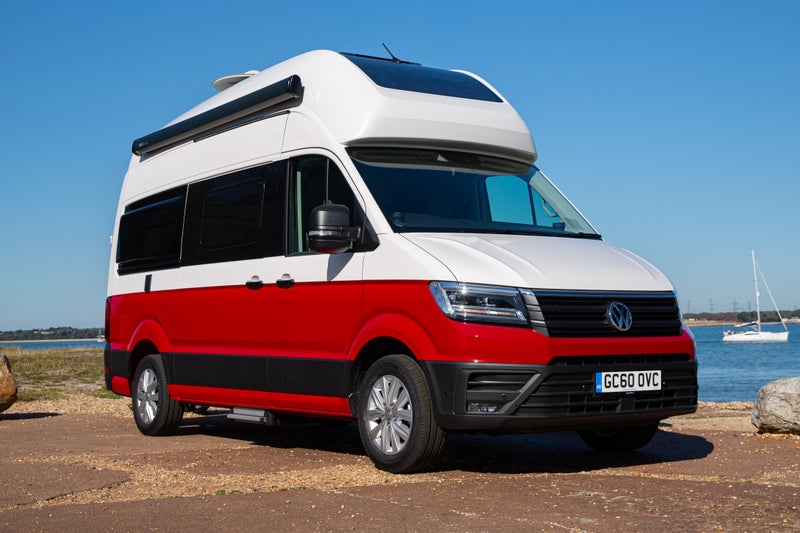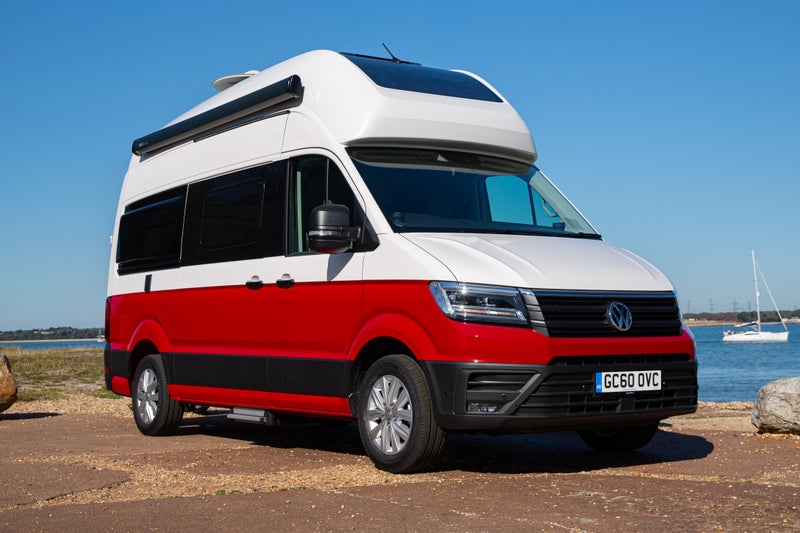 1/10
heycar rating
"Volkswagen's holiday home on wheels"
Launched: 2019

Campervan

Diesel
Quick overview
Pros
Lots of interior space
Easy to drive for such a big vehicle
In-built bathroom and shower
Cons
Expensive to buy new and used
Heavier versions can't be driven on a standard licence
Modern interior rather than homely
Overall verdict
On the inside
Driving
Cost to run
Prices and Specs
Overall verdict
"The Volkswagen Grand California is a large, desirable motorhome based on Volkswagen's large van – the modern Crafter. There have been plenty of aftermarket converters that have had a go at creating a camper using the likes of the Crafter or other large vans as a base, but this is the first time that a manufacturer has done the job itself."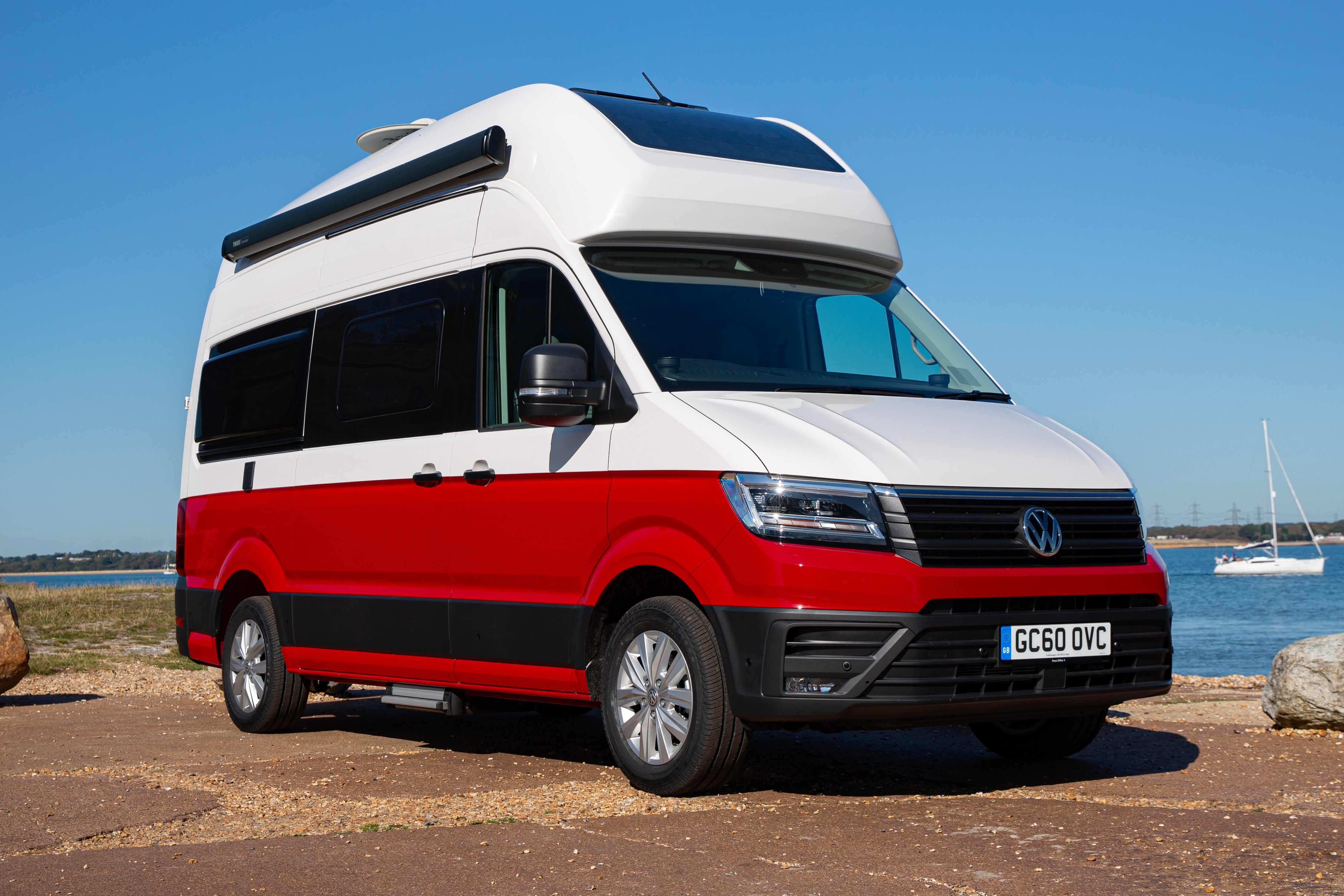 Volkswagen has form with in-house campers, with the smaller Volkswagen California using the Transporter as its base, but the Grand California takes things up a notch and into the world of motorhomes. Based on the Volkswagen Crafter, it is available in two different sizes, the 600 and the 680, with the former measuring 6m in length and offering a double bed stretched sideways across the back of the cabin. There is also the option of an overhead roof bed that sits above the cab, which is designed for children.
The 680 is longer, at 6.8m, but has a lower roof so is only available as a two-berth. Because of the extra space the bed runs lengthways in the back.
The big addition over the smaller California is the wetroom, which is available as standard in both models. This features a cassette toilet, a foldaway sink, a shower and a selection of shelves for storing toiletries. It's not a luxury hotel experience, but it adds a level of privacy and comfort as you don't have to venture out in the dark should nature call in the night while you're camping.
As the Grand California is based on a light commercial vehicle, there is a version that has a gross vehicle weight of 3.5 tonnes, which means that it can be driven on an ordinary driver's licence. However, this isn't the case for all of the versions, so drivers will need to check which model they are buying and be sure they are legally allowed to drive it.
All versions come with the same 177PS 2.0-litre diesel engine, which is paired with an eight-speed automatic gearbox as standard. The combination means it will happily sit at 70mph on the motorway and the suspension makes for a remarkable relaxed experience – handy for those long-distance cross-continental jaunts.
It might be a bit more intimidating at lower speeds, though, due to its sheer size. It's no longer than the short-wheelbase Crafter, but it is tall at 2.97m, so low car parks are a definite no.
Once you've got used to the large dimensions it is relatively easy to drive, though. The high-up seating position means you get a good view out and the large mirrors mean you can see all around with ease. There are plenty of sensors all around the van, too, which will help guide you around a busy campsite or car park.
The Grand California might look pricey on paper, with prices starting at just under £73,000 and heading up to comfortably over £80,000, but it is worth comparing to an aftermarket Crafter conversion – the latter might not work out too different. The desirability of campervans means that the normal rules don't apply when it comes to second-hand values – it won't lose value in the way that a normal car or van will, and you'll have loads of fun with it in the time you own it.
Is the Volkswagen Grand California right for you?
The Grand California is not a vehicle you buy because you need it, but it will rightly feature on lots of people's wish lists. There are very few direct rivals to it, with most campervans created by aftermarket companies that buy a base van and build onto it from scratch. The Grand California is the only one that you can get with the reassurance that it was built by Volkswagen itself.
It might not have the individuality of an aftermarket creation, but it's modern, well-built and well-designed inside and out. If ease-of-use and reassurance are things you want from a vehicle that could take you many many miles from home then the Grand California could be just the thing.
What's the best Volkswagen Grand California model/engine to choose?
The 600 and the 680 versions are more than just two trim levels. Due to the extra weight in the latter, you won't be legally allowed to drive it on a standard driving licence if you passed your test after 1 January 1997 – you'll need to take an extra test to get a C1 licence.
The 680 might come with a bit more length to give you a bigger bed and a slightly larger kitchen area, but the 600 has the added bonus of an extra over-cab bed that is perfect for kids. So long as you or your partner aren't very tall then the 600 makes more all-round sense and is better value for money.
There is only one engine on offer in the Grand California, so it matters not which one you go for – it will come with a 2.0-litre diesel and an eight-speed automatic gearbox regardless.
What other cars are similar to the Volkswagen Grand California?
There aren't any direct rivals to the Grand California – you can't walk into, say, Ford or Mercedes and buy a motorhome. Instead, you are looking at buying a base van and then taking it to a converter, or just buying straight from a company that has taken care of the process.
If you want something created by a manufacturer then the only other options are the slightly smaller Volkswagen California or the Ford Transit Custom Nugget that was created in partnership with Westfalia.
Comfort and design
"The Volkswagen Grand California is all about comfort, up front and in the back. The two front passengers get individual seats that can swivel around to serve as leisure seating. These seats are designed for you to relax in at the end of a long drive and are supportive enough to get you to your destination in comfort."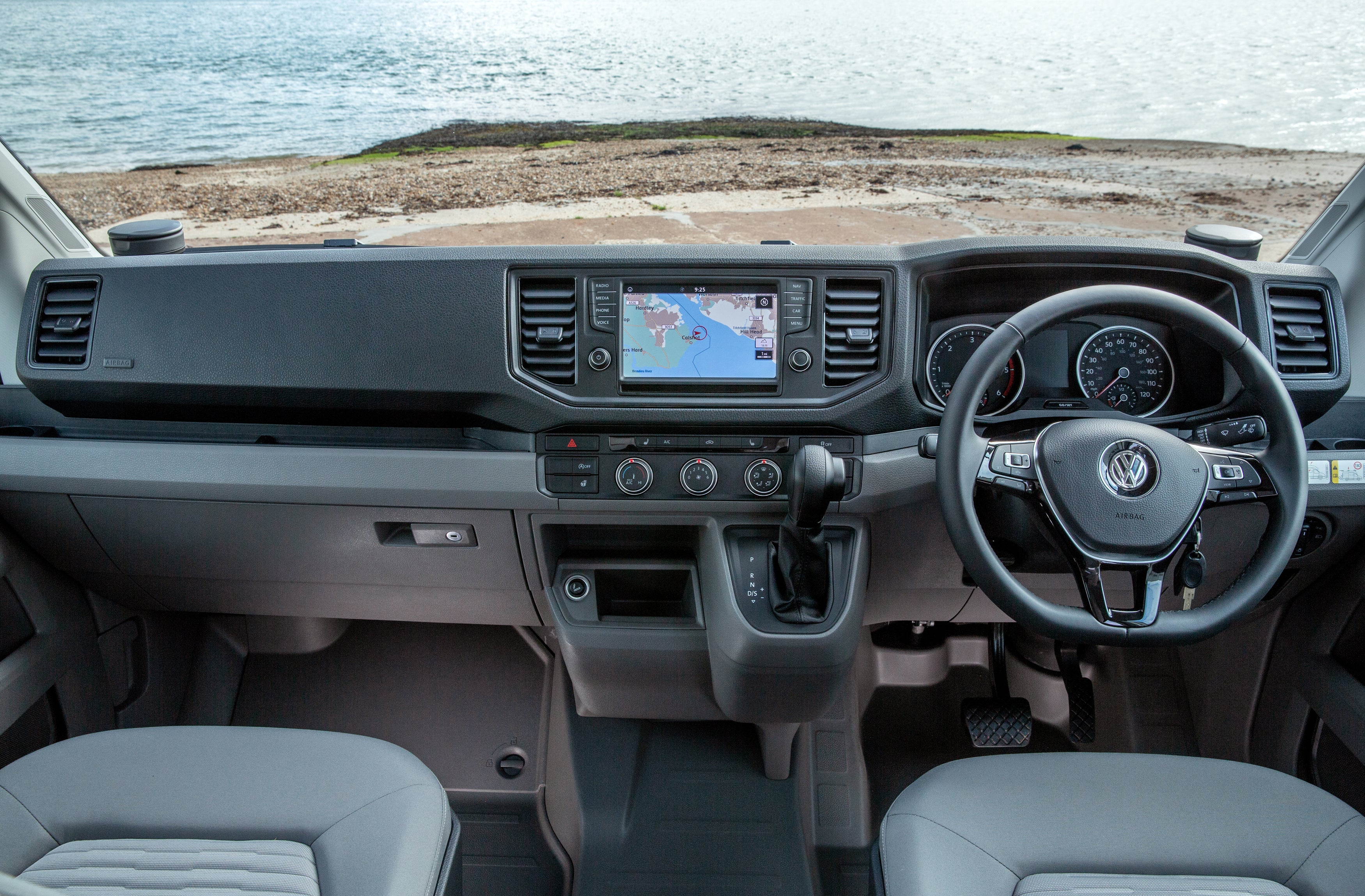 The main bed is a slightly different size depending on which version you go for. The 600 gets a double that is 1.93m x 1.36m while the 680 is slightly asymmetric, measuring 1.67m across and 2.00m long on the right and 1.90m on the left.
The mattress is 80mm thick and fitted on a sprung base. It might not be as hefty as the bed you have at home, but it is remarkably comfy nonetheless. The 600's bed layout is such that one person will have to climb over the other in the night if they need to visit the bathroom.
That bathroom is small and well designed and the same size in both versions. It is ingenious in some elements, with the pull-out sink particularly clever. The shower is easy to operate and you get a 110-litre water tank that should be good for a couple of showers. Be aware that the waste tank is only 90 litres, so you'll need to keep an eye on what goes in and what comes out.
The longer version gets slightly more kitchen space and both get a twin-hob cooker, a small sink and a 70-litre fridge with a small freezer section. The fridge can also be accessed from inside and out, which is handy for when you're BBQing and want to grab another drink.
The rear cabin gets a full heating system that is powered by either gas – there is storage for two 11kg bottles – or mains electricity. The gas also powers the hob and the hot water system. You can plug the vehicle into the mains via a hook-up plug socket at the side. The Grand California also features a second 'leisure battery' which provides enough energy for the LED interior lights over a long weekend. However, if you want to use things like the fridge and heating system when off the grid then you'll need to pay extra for the optional roof-mounted solar panels, which top up the battery automatically when the sun is out.
The 600 also gets a second bed, which is set above the cabin and is secured by a net to stop things or occupants from falling out. It's shorter on one side than the other, so it is geared more towards shorter campers.
Quality and finish
The interior of the Grand California is inspired, Volkswagen says, by a luxury yacht. We'd argue it is more like an upmarket airline cabin. This means that you get an interior that is more minimalist and clinical in its style. Instead of carpeted comfort you get wood-effect vinyl and lots of white surfaces that are easy to wipe clean.
The Grand California is designed for family life, so there is a feeling of robustness to the various elements in the living area. The ladder up to the top bunk, the doors on the kitchen and the various lockers all around the back all have a reassuring heft to them. The drawers have a soft-close action and the lighting is designed to be soft and backlit rather than bright and harsh.
Practicality isn't forgotten, with the cabin getting a rubber floor, which might not be as luxurious as carpet but it will be a great deal easier to clean out if you jump into the driver's seat after a weekend at a muddy festival or a trip to the beach.
You get the same standard kit on both models, so there are no extra touches of quality when you go for the bigger version, just extra space. The options list only adds useful functions rather than extra luxury, so if you want to make the Grand California feel homelier then it is down to how you decorate it.
Infotainment
Up front, the Grand California gets a high-spec standard-fit navigation system with an eight-inch touchscreen. This also comes with Volkswagen's App-Connect as standard so you can plug in your phone and use that as a satellite navigation or listen to your own music or podcasts. However, while the navigation system is easy to use and colourful, it doesn't automatically factor in the Grand California's huge size. This means you need to be mindful of narrow lanes and height restrictions when planning your journey.
The rear of the cabin gets a separate touchscreen panel that allows you to control the various functions, including the heater, the water supply and the batteries. It also allows you to turn off the lights in the upper sleeping area if the kids won't settle down.
There are many more plug sockets than you would get in an ordinary car or van, too, with six USB sockets for charging phones, four 230V sockets – two in the kitchen, one under the seating bench and one at the rear – and one 12V socket. You can also turn the Grand California into a Wi-Fi hotspot, but this needs a data SIM and will cost extra.
The one thing that is missing is an oven, so there's no chance of settling down for a full Sunday roast.
Space and practicality
As well as the two front seats, both versions get a small bench seat that acts as your sofa when you're parked up and as your extra passenger room. There's only space for four, though, so you can't take any guests along for a ride if you have four people away on holiday together. Both of the rear seats get three-point belts and Isofix fittings, though, which means you can take a two-parent, two-child family away on your break. It goes without saying that legroom is excellent, particularly for the rear passengers, and you can walk into the van to fit those car seats, which is easier than reaching in through the door.
The swivelling front seats get plenty of room around them, allowing you to move between them to get from the front of the cabin to the rear without leaving the van. The space in the back is good, although some taller campers may occasionally catch their head on some of the overhead fixtures.
Storage, however, is excellent. There isn't a boot as such but there are 180-litres of storage under the bed, 70 litres of space in the fridge, plenty of storage for towels and cosmetics in the bathroom, and places to slot the table and chairs away.
There are clever space saving tricks in the bathroom, too, like the fact that the sink folds away when it isn't needed and the shower head doubles up as the tap. The cupboard under the sink has a toilet roll holder tucked away inside it to keep the paper dry. The rest of the living area has lots of handy cupboards, too, meaning you can tuck valuables and clothes away from sight while parked up, and to stop them flying around on the move.
Volkswagen includes several features to help you make the most of the outside of the van while parked, too – there is a mosquito net that fits over the sliding door, a camping table and two folding chairs and an optional awning that provides a bit of shade (or rain protection) outside the main side door.
You don't get a spare wheel with the Grand California – instead it comes with a tyre sealant kit and an inflator.
Handling and ride quality
"The Grand California is based on the excellent Crafter, which is a very good van to drive, once you have got used to the size of it. With the shortest version measuring in at six metres and the taller model just shy of three metres it might well have you checking bridges or low-hanging branches with a little wariness while you adapt to it. That is the case with many large campers and motorhomes, though."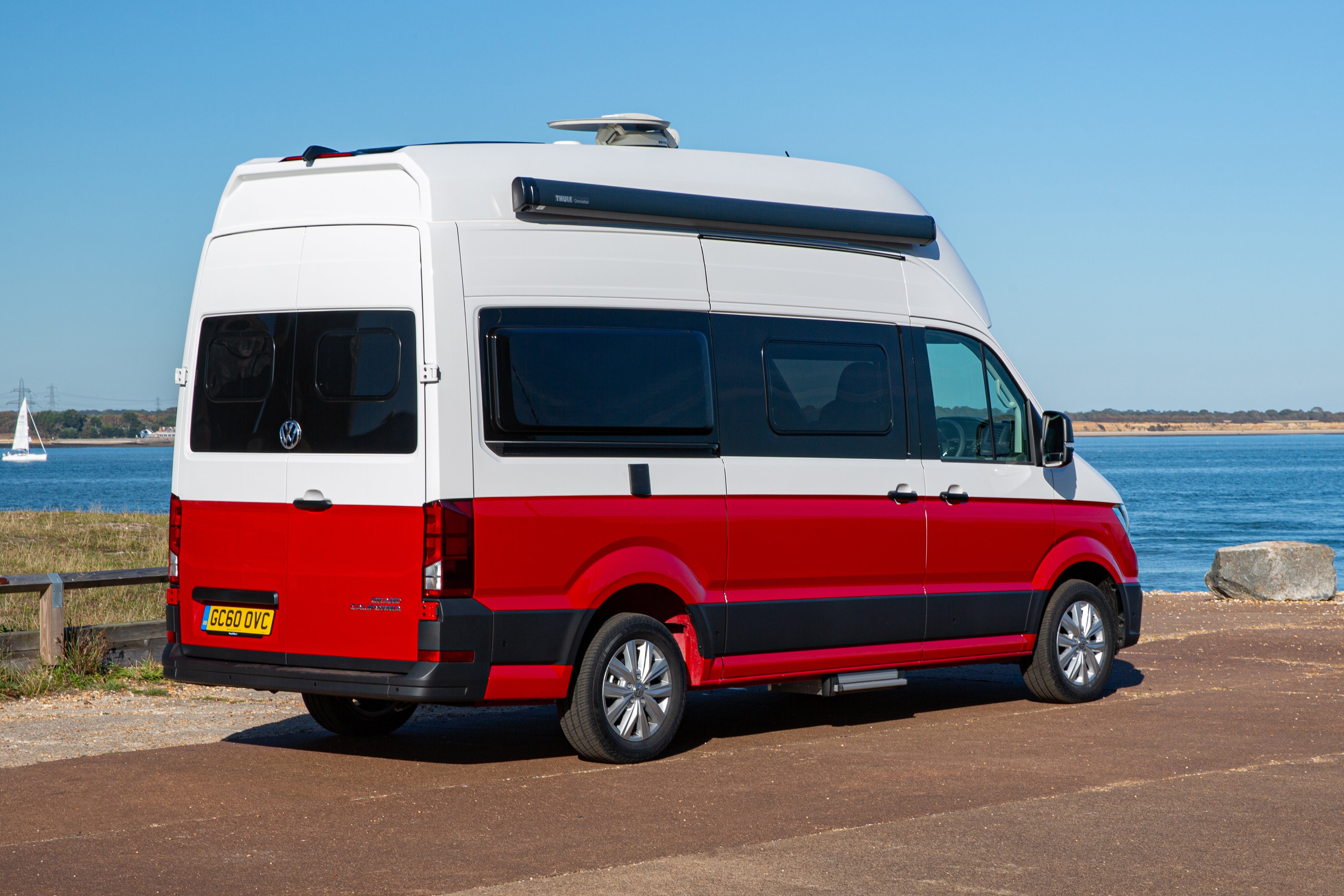 The big Volkswagen is surprisingly agile, and the suspension soaks up bumps in the road really well which minimises the chance of smaller passengers suffering from car sickness in the back seats. The hefty weight will help with that – many large vans ride at their best when you fill up the loading bay, and the Grand California comes fully laden all the time.
The steering is light, too, which makes it easy to slot it into that tight parking spot at a campsite. It is an electro-mechanical system, which means it gets a bit heavier at higher speeds, too, which helps make it more stable on the motorway. It is, surprisingly, quite nimble and enjoyable to drive.
There is inevitably a bit of lean if you barrel into the corners, but anything this heavy would suffer from that if you throw it around. It really doesn't lean much though, and it is well controlled.
Despite all the other options available on the Grand California, there is only one size of alloy wheel available. This wheel is only 17-inches in diameter, so it is relatively compact and won't compromise comfort for aesthetics.
Even though the 680 is a fair bit longer than the 600, it has the same turning circle, at 13.6m, so you should be able to manoeuvre around town just as easily in both, even if fitting into a parking spot proves a challenge.
All Grand Californias come with front-wheel drive as standard, but this is one of the few things you can change as there is the option to upgrade to 4Motion four-wheel drive. This doesn't change the way that it handles in a noticeable way but it should come in handy if your campsite is wet or muddy.
Engines and gearboxes
The engine range is another area where there is little to worry about on the Grand California – there is just the one available. This is a 177PS 2.0-litre twin-turbo diesel engine with 410Nm of torque, which is an excellent unit.
This engine is the most powerful available in the Volkswagen Crafter range, chosen because the Grand California is heavy enough that it is essentially a fully-laden Crafter, so it needs the extra oomph. This torque comes handily low down, too, with it arriving between 1500rpm and 2000rpm, so you don't need to get the revs up if you need to tow anything or get up any steep hills.
It is as powerful as you could hope for in a camper of this size and it accelerates with a handy amount of urgency – it won't be the camper that is holding up all the bank holiday traffic.
There is also only the one gearbox available, which is an eight-speed automatic. It is quick to respond, dropping down a gear or two if you need a burst of acceleration.
Refinement and noise levels
The Grand California is shaped a bit like a brick, so it's inevitable that there will be a bit of wind noise, but it is surprisingly little at high speeds. The raised roof on the version with the extra bed will kick up a bit more noise, but the insulation in the cabin is sufficient to keep the worst of it out.
The solid nature of the interior means that you won't get much in the way of squeaks and rattles from the living quarters. You're more likely to hear the things you have stored in the back moving around than any of the panels, and the soft-close drawers and many cubby holes mean that that is not very likely either.
The engine gets a bit raucous when you accelerate rapidly, but again the Grand California is better than many motorhomes on this front and having soft furnishings and fittings in the back helps soak up the noise.
The walls, floor and roof are all insulated in the back, too, although the modern design of the Grand California means that the floors are hard rather than carpeted. Some softer floor coverings might deaden the sound a little more.
Safety equipment
The Grand California's standard safety kit is decent, with adaptive cruise control, a driver alert system, city emergency braking, hill hold control and driver and passenger airbags. It is a shame that you have to pay extra to get curtain airbags, though.
You also get crosswind assist as standard, which will provide reassurance to those that are less used to driving such a big vehicle. This monitors when you have been blown off course by a gust of wind and corrects the vehicle to keep you going in the direction you intended. Front and rear parking sensors are also included.
It's a real shame that so much of the clever tech is only optional, though. You can get a blind spot monitor with rear traffic alert, a high beam assist system, park assist, lane keep assist and more, but you have to pay for all of them. Some are bundled together in a pack, which makes it easier to justify, though.
There's also no option for a spare wheel, with only a tyre inflation kit available.
MPG and fuel costs
"Fuel economy is not great on the Grand California, compared to an empty Crafter in any case. The most economical model is the lightest 600 model, and that doesn't quite manage an official fuel economy of 25mpg."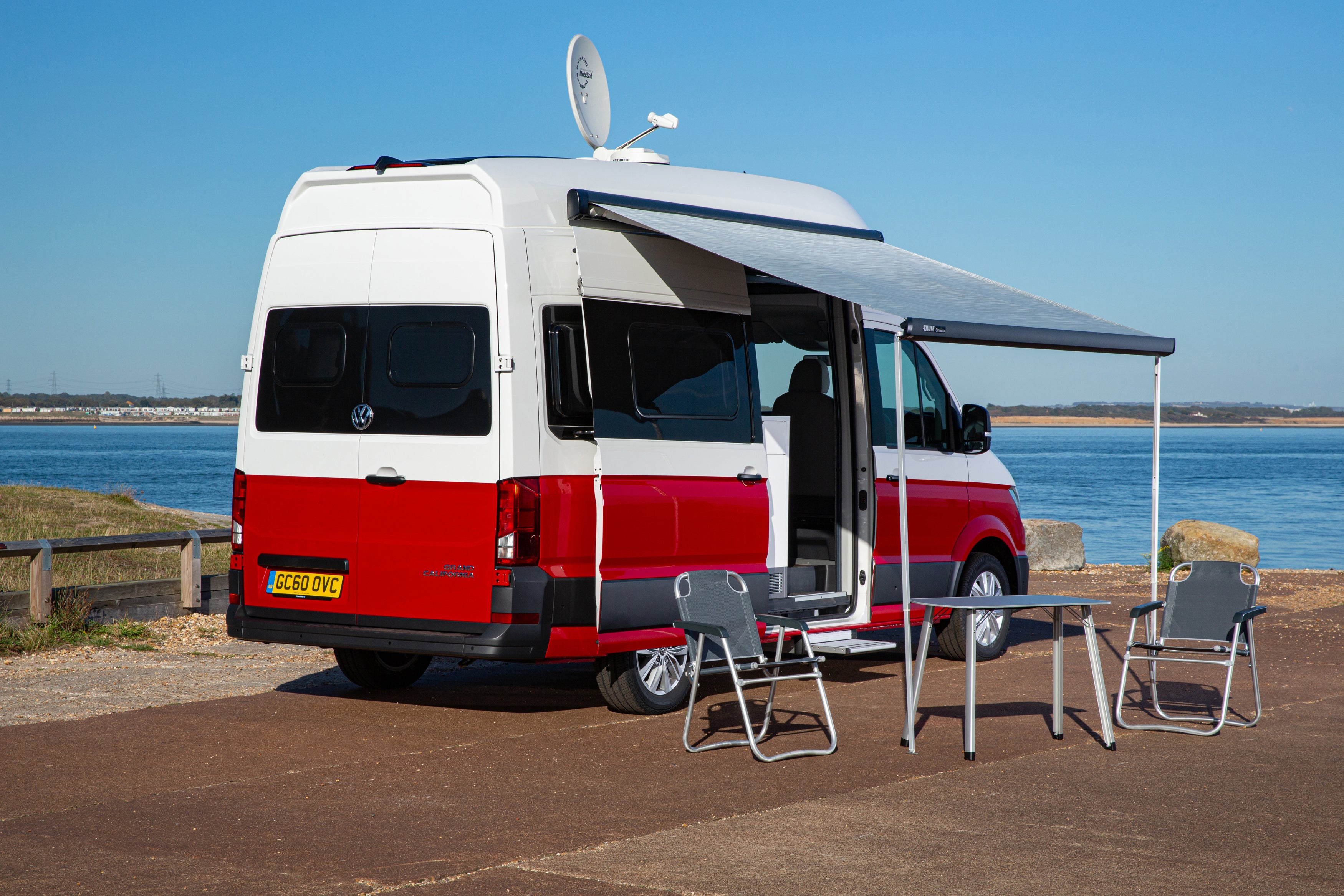 The biggest kicker to the efficiency is the 4Motion four-wheel drive system, although it only knocks a couple of mpg off the official figure.
Insurance groups and costs
Because the Grand California is classified as a motorhome and most models weigh more than the 3.5-tonne weight limit, it is not treated in the same way as cars when it comes to insurance. There are no groups as there are on cars and vans, and insurers will treat them differently as a result. As the engines are all the same, and the values are all in a similar ballpark, insuring one version of the Grand California should be much the same as the others.
VED car tax
The amount of VED that you will pay depends on whether you go for the lighter version or the one that weighs more than 3.5 tonnes. Oddly, it is the heavier of the two that is the cheaper to tax as it is classed as a private heavy goods vehicle. The lighter one is about £100 more expensive, but it is a flat rate and comparatively low compared to the car tax system. There is no penalty for the Grand California costing as much as it does to buy, either.
How much should you be paying for a used Volkswagen Grand California?
"Motorhomes hold their value like almost no other private vehicle, which makes the £70,000-plus pricing seem a little less daunting. Factor in that an aftermarket conversion will not be much cheaper and they don't come with the peace of mind that a Volkswagen creation offers."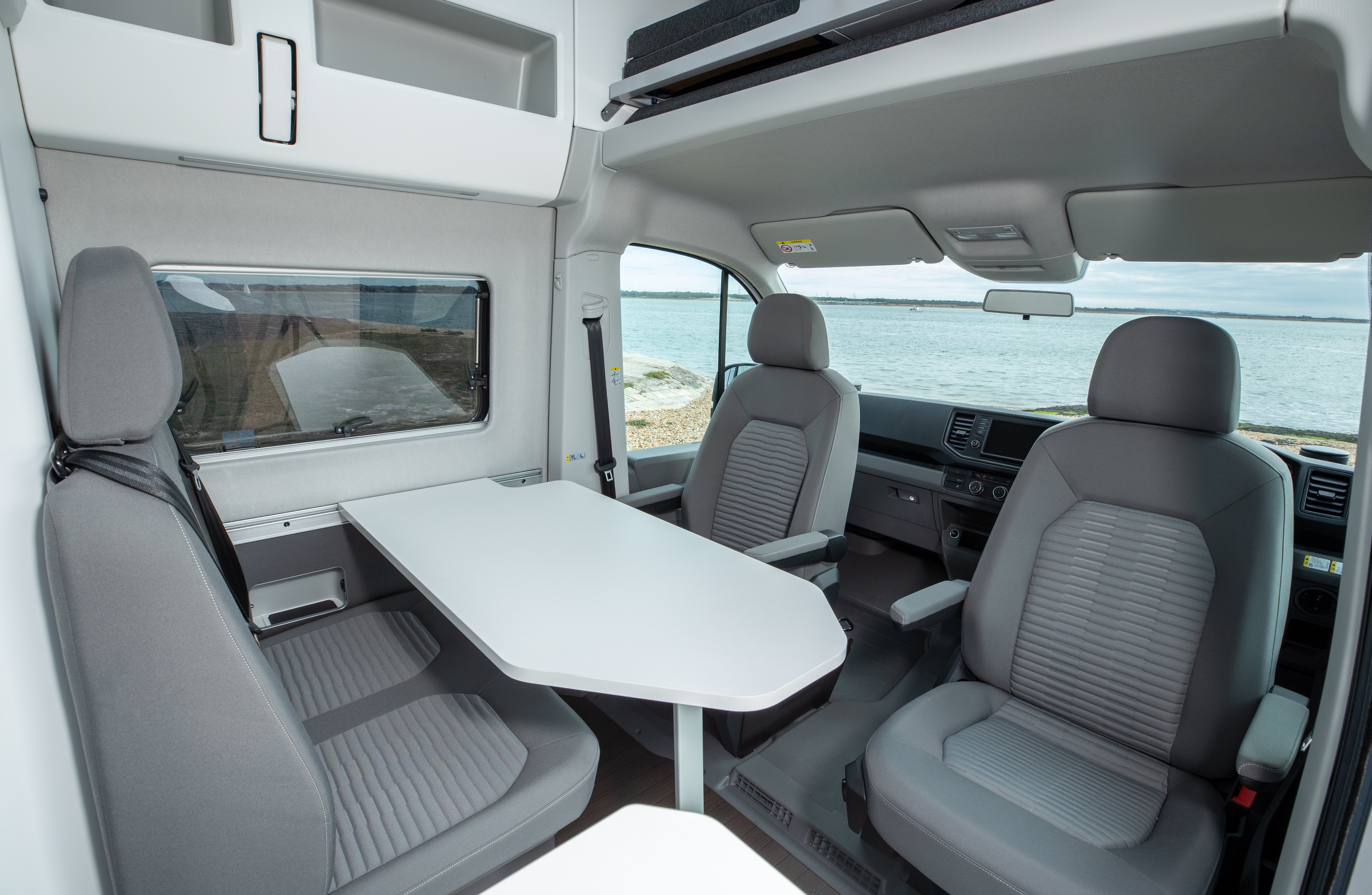 Volkswagen camper vans and motorhomes are highly desirable in the UK. The smaller California holds on to well in excess of 50% of its value after three years, so expect the Grand California to do similar.
Trim levels and standard equipment
The Grand California 680 might provide more room inside, but the 600 is the version that is more practical, more affordable and more useable.
The 600 is one that allows you to add space for an extra two people to sleep up top. It might cost a couple of thousand pounds, but that money is worth spending and isn't that much in relative terms on such an expensive van.
Most importantly, though, it is the version that you can drive on a standard licence. If you passed your test before 1 January 1997 then this might not worry you, but in the future the heavier version will have a smaller pool of potential buyers.
Volkswagen Grand California cars for sale on heycar
13,653
Number of cars available
£90K - £90K
Price bracket of these cars
Colours available on heycar
Keep me updated by email with the latest advice, news and offers from heycar
By submitting, you agree to our
privacy policy
.