Volkswagen ID.3 Review 2022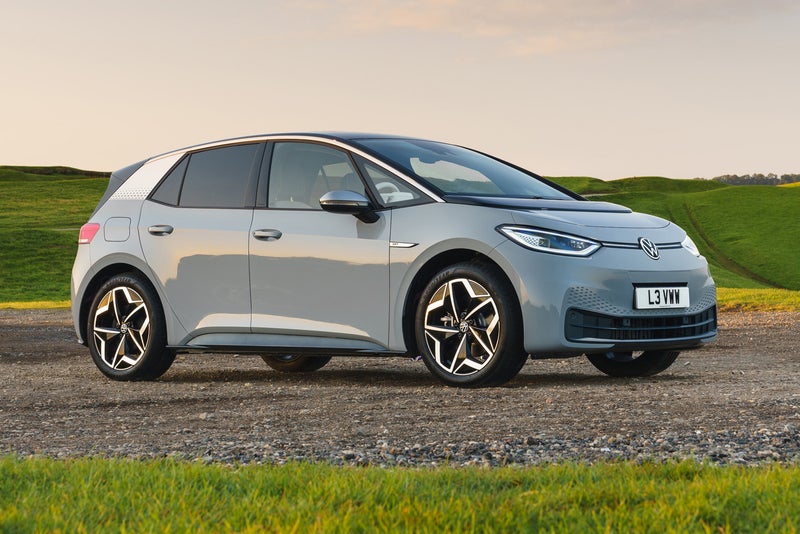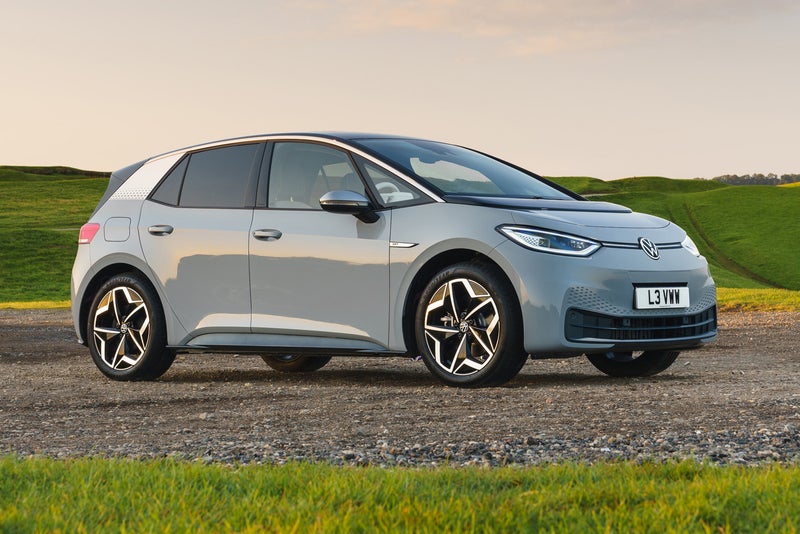 1/10
heycar rating
"Volkswagen's revolutionary EV has arrived"
Launched: 2020

Family hatch

EV
Quick overview
Pros
Excellent all-round package
Easy and fun to drive
Generous 260-mile range on mid-range model
Cons
Distracting media system
Some of the interior plastics feel a bit cheap
High-spec Tour model is nudging £40,000
Overall verdict
On the inside
Driving
Cost to run
Prices and Specs
Common questions
Overall verdict on the Volkswagen ID.3
"The Volkswagen ID.3 really is the Golf of the electric car world. It might not excel in any particular area, but you'd struggle to find a better all-rounder. It's good to drive, cheap to run and there's a model to suit every requirement (or at least, there will be). We have our reservations - namely a few cheap-feeling interior finishes and a distracting media system - but it could still make a strong introduction to electric vehicles."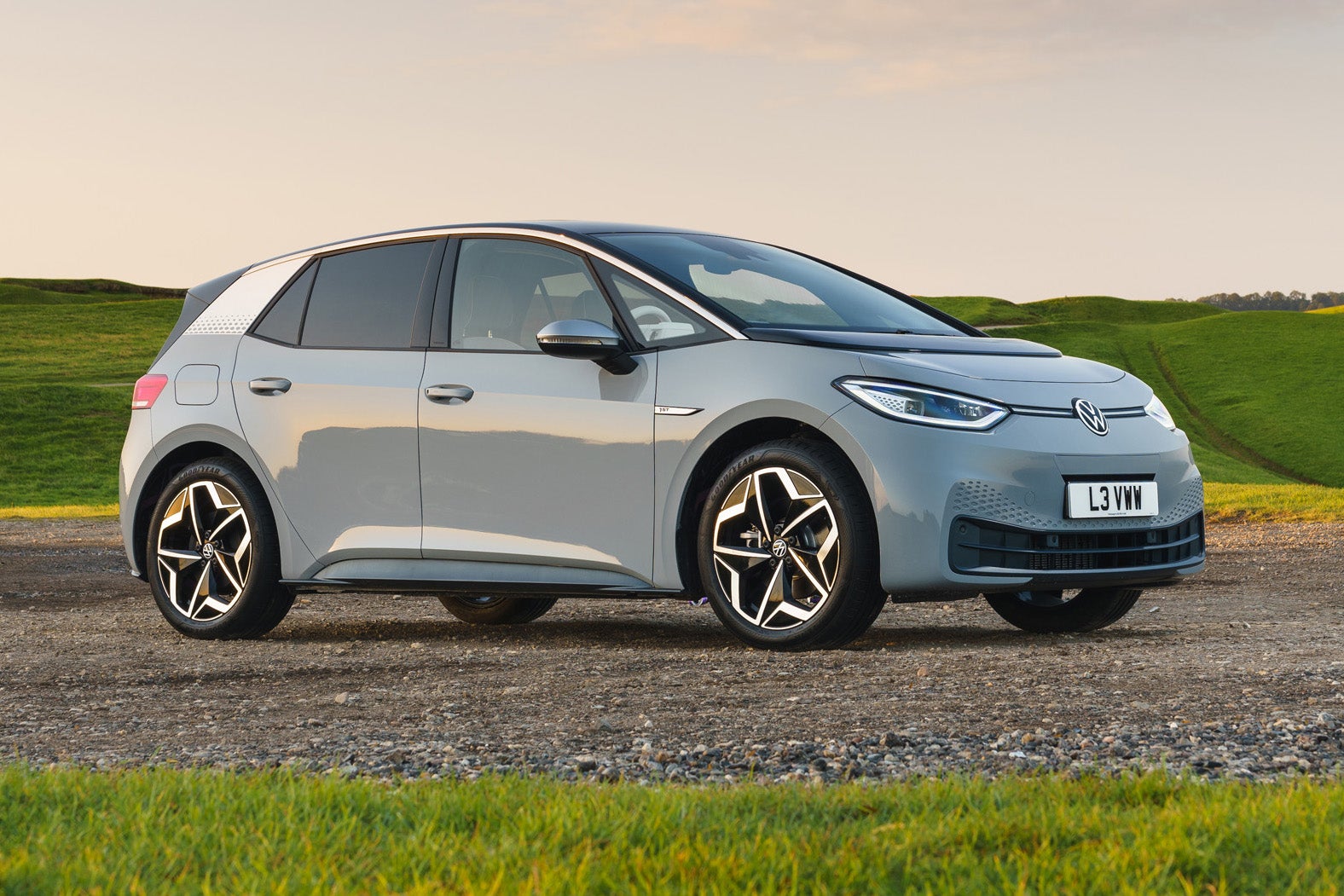 Volkswagen describes the ID.3 as its 'most important car of a generation'. It's the first in a long line of ID-badged vehicles – which include the ID.4 and soon-to-be-revealed ID.5 – all designed from scratch as battery-electric vehicles. The ID.3 is one of the best electric cars you can buy and takes on rivals like the Nissan Leaf, Tesla Model 3 and Kia e-Niro. Find out more in our 2022 Volkswagen ID.3 review
If you think of it as My First Electric Car, the Volkswagen ID.3 ticks all the boxes. For a start, it'll be cheap to run, with First Edition models capable of travelling up to 260 miles between charges. Most of us will rarely cover more than that in a day. If you do, half an hour on a rapid charger will provide an extra 180 miles of range in just half an hour.
With a bigger battery, the top-of-the-range ID.3 Tour will be able to cover 340 miles between charges, while those looking for a relatively affordable entry into the world of electric cars have the ID.3 Life - VW's basic spec ID.3 that has a range of up to 263 miles between charges.
The ID.3 couldn't be easier to drive. You don't even need to turn a key or press a button to start it - as soon as you jump in, it's ready to go. Simply select drive from the gear selector behind the steering wheel, press on the accelerator and off you go. When you're done, select park and jump out.
As you'd expect from a car without an engine, it's very quiet and refined on the move. You won't notice any creaks or rattles - the ID.3 is typically well-built for a Volkswagen (although we'll come onto the interior plastics in a moment). With the electric motor positioned in the back, it's a very agile car - with a tiny turning circle out of town and eager handling out of it.
It's also very practical. Despite being similar to the Volkswagen Golf hatchback in size, there's loads of room for a growing family inside - with space for even the tallest of adults in the rear. A high seating position means it almost feels like an SUV (although wait for the new Volkswagen ID.4 if that's what you're after), while access is easy thanks to wide-opening doors.
So what are the negatives? Well, for the time being you can only buy it in First Edition spec. This is well-equipped, but you'll pay nearly £36,000 after the government grant. It's in demand, too, so while dealers do have cars in stock, you're not going to get a huge discount on a nearly-new model.
The interior, while attractive, isn't as well-finished as you might expect for a Volkswagen of this price. We're sure it'll stand up well to day-to-day family life, but there are a few harsh finishes and flimsy plastics.
This shouldn't put you off the Volkswagen ID.3 entirely, though. It feels leagues ahead of the old e-Golf and makes the Nissan Leaf look ancient in comparison. While it doesn't do anything that other electric vehicles don't already do (the Tesla Model 3 can travel further between charges, the Kia e-Niro is more practical while the smaller Honda e has more tricks up its sleeve), it's a superb all-rounder.
That's something Volkswagen has mastered with the Golf, and is what makes the ID.3 such an appealing introduction to the world of electric cars.
What's the best Volkswagen ID.3 model/engine to choose?
Early Volkswagen ID.3 models wear First Edition badges. They used the mid-range 58kWh battery pack which suits a lot of buyers, with its 260-mile range providing a perfect halfway house between affordability and useability. If you need to travel further, the 77kWh model can cover up to 340 miles between charges while, if you only want a car for short journeys, a more affordable 45kWh version is available with a range of 215 miles.
Standard equipment of the First Edition includes the 10-inch sat-nav system, a rear-view camera and 19-inch wheels. A huge panoramic sunroof is a desirable feature fitted as standard to ID.3s fitted with the Design Plus pack, while some prefer the optional 20-inch alloy wheels which might well have a negative impact on ride quality.
What other cars are similar to the Volkswagen ID.3?
The Nissan Leaf is a popular electric hatchback that's also a bit cheaper than the Volkswagen ID.3. The ID.3 is leagues ahead in terms of design and showroom appeal, though, and can travel further between charges.
The Hyundai Kona Electric, Kia e-Niro and Kia Soul EV are three very practical, stylish electric vehicles - each with a generous range and long, transferable warranty. They're all crossover SUVs rather than hatchbacks, though, so aren't direct competitors for the ID.3 even though we'd recommend them as strong alternatives.
Then there's the Tesla Model 3. The most affordable Tesla, the Model 3 is pricier than the ID.3 and doesn't feel as well-finished. The Long Range model can travel an impressive 348 miles between charges, though, and the firm's Supercharger network makes long journeys easier.
Comfort and design: Volkswagen ID.3 interior
"On first impressions, the Volkswagen ID.3 has a cabin that looks just as futuristic as its exterior. It's nothing you won't get used to, though - there's a digital instrument pod behind the steering wheel with a gear selector on the side of it, as well as a 10-inch media system perched in the centre of the dashboard."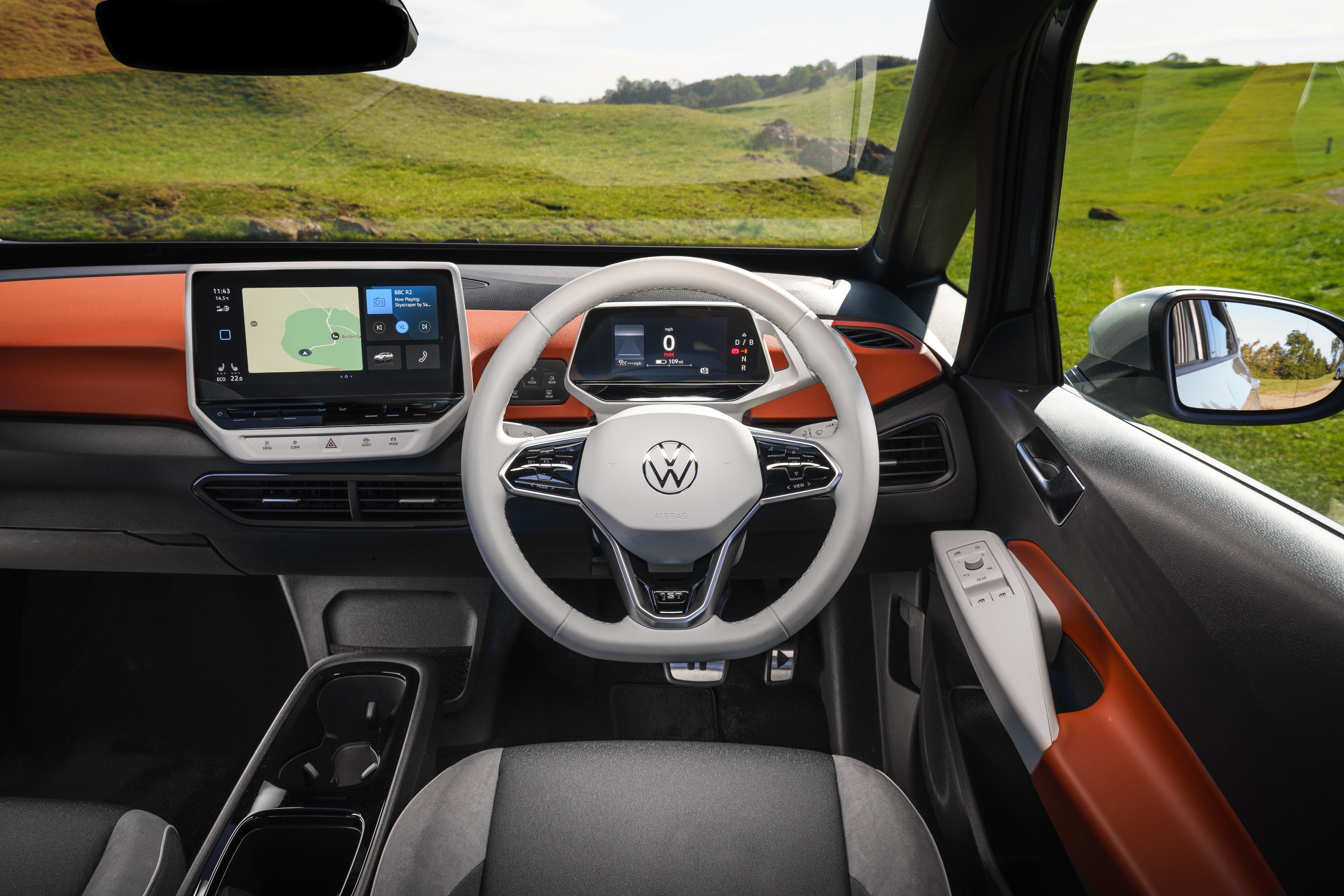 While the ID.3 isn't an electric SUV (take a look at the ID.4 if that's what you're after), you sit higher than you do in alternatives like the Nissan Leaf. Combine this with a useful armrest and excellent all-round visibility, and the cabin feels a very relaxed and pleasant place to spend time.
This is helped by a wide colour palette - as much as you can class various shades of black, white and grey as a colour palette. The white bits, including the steering wheel, do help lift the cabin, but we wonder how quickly they might start to look dirty.
With big windows and light-coloured materials, the ID.3's interior has an airy vibe about it. You can, however, spec a huge panoramic glass sunroof which, we reckon, will lift the cabin even more.
Quality and finish
Generally, the Volkswagen ID.3 feels pretty well finished. A few harsh plastics do let it down a bit - touch the centre console or tap the door card and you'll be under no illusion that this isn't an Audi.
There are a few bits that let down the 'car of the future' vibe somewhat, too. The manual seat adjustment, for example, as well as the manual steering adjustment. For the real wow factor, they should be able to adjust automatically through the power of mind control. Or at least have a little electrical switch on the side.
While the ID.3 lacks a bit of the solid finish that was once synonymous with the Volkswagen name, it still stacks up well against rivals. It's better finished than a Tesla, and feels more special than a Kia e-Niro. It also looks (and feels) at least 10 years newer than a Nissan Leaf inside.
Infotainment: Touchscreen, USB, nav and stereo in the Volkswagen ID.3
The 10-inch media system is similar to that you'd find in the latest Golf, with buttons replaced by slightly irritating touch-sensitive 'sliders'. It's not the most innovative system to use and we reckon the Tesla Model 3's media system (even with its huge 15-inch display) is actually less distracting on the move.
One way around this is to use the voice command system. This responds to natural voice inputs - tell it "my bum is cold" and it detects where you're sitting and turns on the appropriate heated seat. It's a bit gimmicky, though, and you'll soon find its limitations.
Still, the media system looks pretty sharp and responds quickly to inputs. Its position high up on the dashboard means it's easy to glance at while driving, while the cute little driver display behind the steering wheel provides important information such as your speed and range remaining.
Space and practicality: Volkswagen ID.3 boot space
For a car that's not much bigger than a Golf (the ID.3's dimensions if you're interested are 4261mm long and 1809mm wide), the ID.3 feels very spacious. There's loads of headroom in the front and it's wide enough to prevent awkward arm bashing with your passenger. There's a plethora of useful storage pockets, too, including fairly big door pockets and a huge centre console bin. There are also two cup holders up front.
Access to the rear is easy thanks to two wide-opening doors. There's loads of headroom back there and a decent amount of legroom, even for adults. Two USB-C chargers will keep the teenagers happy, while there are also two useful door bins for storing bottles of water and the like. Although there are three seat belts on the back row, we wouldn't recommend the middle seat should be used for anything other than occasional journeys as it's quite cramped. There's also a lump in the floor hindering foot room.
The Volkswagen ID.3's boot space is big enough for a car of this size, able to accommodate up to 385 litres of luggage with the rear seats in use - although a Nissan Leaf or Kia e-Niro can take more. There is quite a lip for hoisting items over, too, and you'd struggle to fit the charging cables in the small underfloor storage area. That's a bit frustrating.
If you need more room, the rear seats split 60:40 and drop easily enough, although they're far from entirely flat. With them dropped, the ID.3 can take 1267 litres of luggage.
There are ISOFIX points aplenty, making the ID.3 car an easy car for transporting young children. These are fitted to the rear seats as well as the front passenger seat.
Ride quality and handling: What is the Volkswagen ID.3 like to drive?
"With excellent all-round visibility, light steering and a turning circle that could rival a London cab, the Volkswagen ID.3 is in its element around town."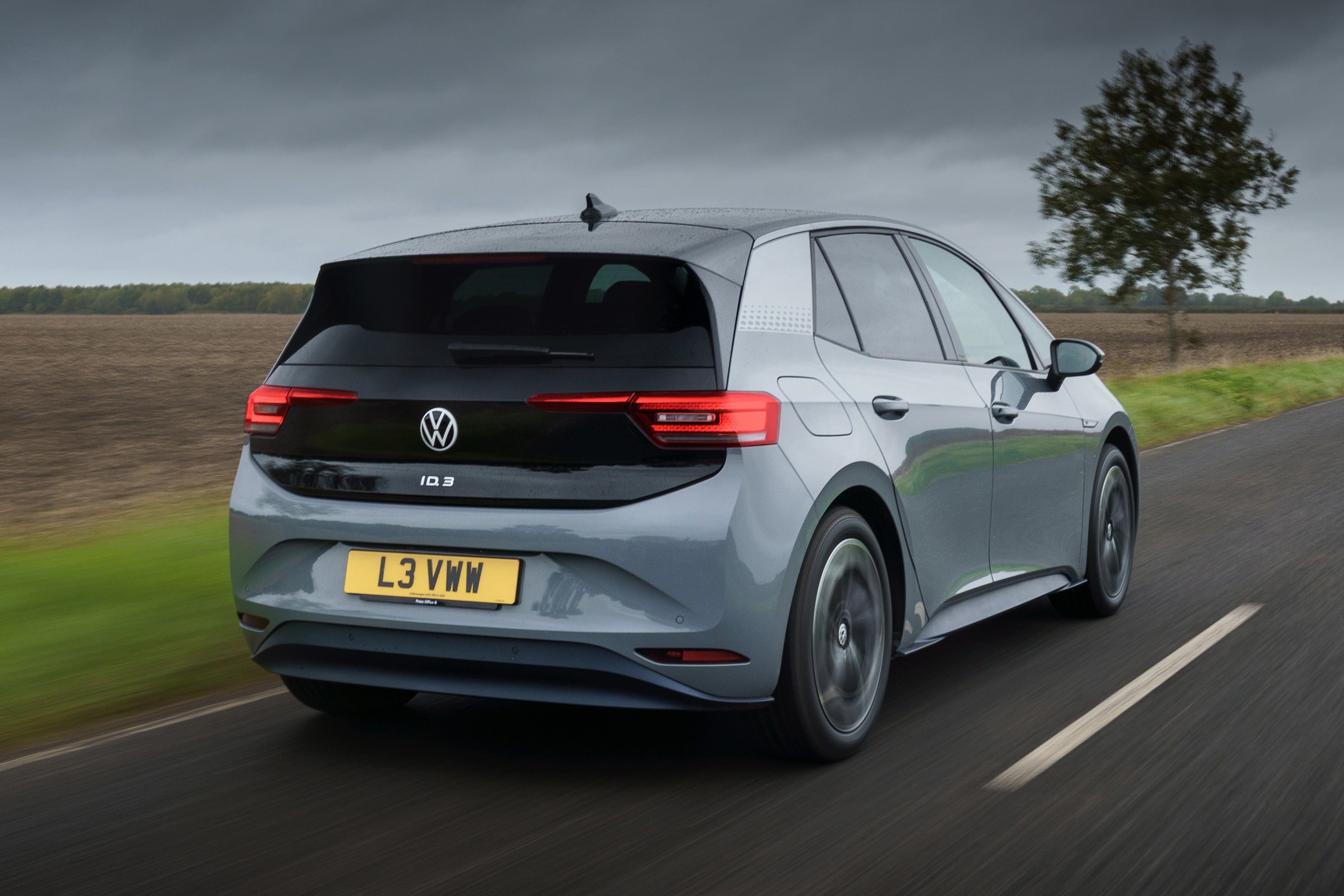 The ID.3 is bigger than something like a Renault Zoe, but there's plenty of tech on hand to make tight manoeuvring easy (First Edition models come with a rear-view camera and parking sensors as standard).
As is often the case with electric cars, the ride is on the firm side. You'll be warier of speed bumps than in a petrol Golf, for example, but it shouldn't be a deal-breaker. It's certainly more compliant than alternatives like the Nissan Leaf.
It's pretty good out of town, too. Its rear-drive layout means it feels quite agile on the open road, although the steering never really weights enough to encourage you to chuck it around. That's not a real problem in a car like this.
On the motorway, it feels very grown-up, settling down into a refined cruise easily. The tech on offer (including adaptive cruise control and lane assist) is a help rather than a hindrance, and it feels much more suited to long journeys than smaller electric vehicles.
What engines and gearboxes are available in the Volkswagen ID.3?
The Volkswagen ID.3 is now available with the choice of three motors. The lowest powered option is the 45kWh battery pack that's only available in the ID.3 Style and delivers 150PS, which is followed by a larger 58kWh battery that's available in two flavours - Pro (145PS) or Pro Performance (204PS). Then there's the large 77kWh battery that's badged as Pro S and also delivers 204PS. While the power's the same as the Pro Performance, benefit here is that the range is greater.
Our ID.3 that with drove was the 58kWh Pro Performance and accelerating from 0 to 62mph in 7.3 seconds, it feels pretty rapid. Like other electric cars, it surges forward as soon as you hit the accelerator pedal (which, incidentally, has a 'play' symbol on it - the brake has a 'pause'). A Tesla Model 3 is quicker, but no one's going to find the ID.3 lacking in everyday driving.
You can adjust the strength of the regenerative braking by selecting 'B' on the rocker switch to the right of the driver's information display. With 'B' mode selected, the car will slow down more when you lift off the accelerator. With a bit of anticipation, you can almost resort to one-pedal braking, lifting off when you want to lose speed rather than using the brake. It's not quite as severe as the Nissan Leaf's e-Pedal, though, and it's a shame there aren't paddles behind the steering wheel to adjust the level of the regeneration.
Maximum EV range in the Volkswagen ID.3
Most ID.3 models use what will become the mid-range battery pack - with 58kWh providing a range of between 258 and 263 miles according to official WLTP figures. The slight variation in range is down to the model you choose - the ID.3 Life has a claimed range of 263 miles, the ID.3 Family 260 miles and the ID.4 Max comes in at 258 miles.
The range-topping 77kWh model that's only available in the ID.3 Tour comes with a headline-grabbing 340-mile range, while the 45kWh battery in the ID.3 Style has a 215 mile range.
Refinement and noise levels
Without an engine to intrude into the cabin's pleasant ambience, the Volkswagen ID.3 is a very refined car. Sometimes, when driving electric cars, you might find yourself noticing lots of irritating noises that would ordinarily be disguised by the engine. Not so in the ID.3 - it's superbly refined with little in the way of clunks and clangs from the suspension. You'll notice a little more wind noise, particularly on the motorway, but it's fairly well hushed.
It's also very easy to drive. It won't intimidate drivers who are used to petrol or diesel models - indeed, it's probably easier, with no manual gear change to worry about. You don't even have to turn the engine on or off, or wait while the automatic gearbox decides which gear is best suited to the situation.
While a lot of electric cars have rather snatchy brakes, it's easy to bring the ID.3 to a stop smoothly thanks to a brake pedal that feels similar to that you'd find in a Golf. It's responsive enough when required, though, bringing you to a halt as quickly as necessary in an emergency situation.
Safety equipment: How safe is the Volkswagen ID.3?
When the Volkswagen ID.3 was crash tested by Euro NCAP in 2020, it received a maximum five-star safety rating. Standard equipment on the First Edition model includes a rear-view camera and parking sensors for both the front and rear. Lane Assist will nudge the steering if you venture from your lane on the motorway, while the Front Assist and city emergency braking systems can apply the brakes if it detects an impending collision.
Charging times and cost: How much does it cost to charge the Volkswagen ID.3?
"A big attraction of electric cars like the Volkswagen ID.3 are their low running costs."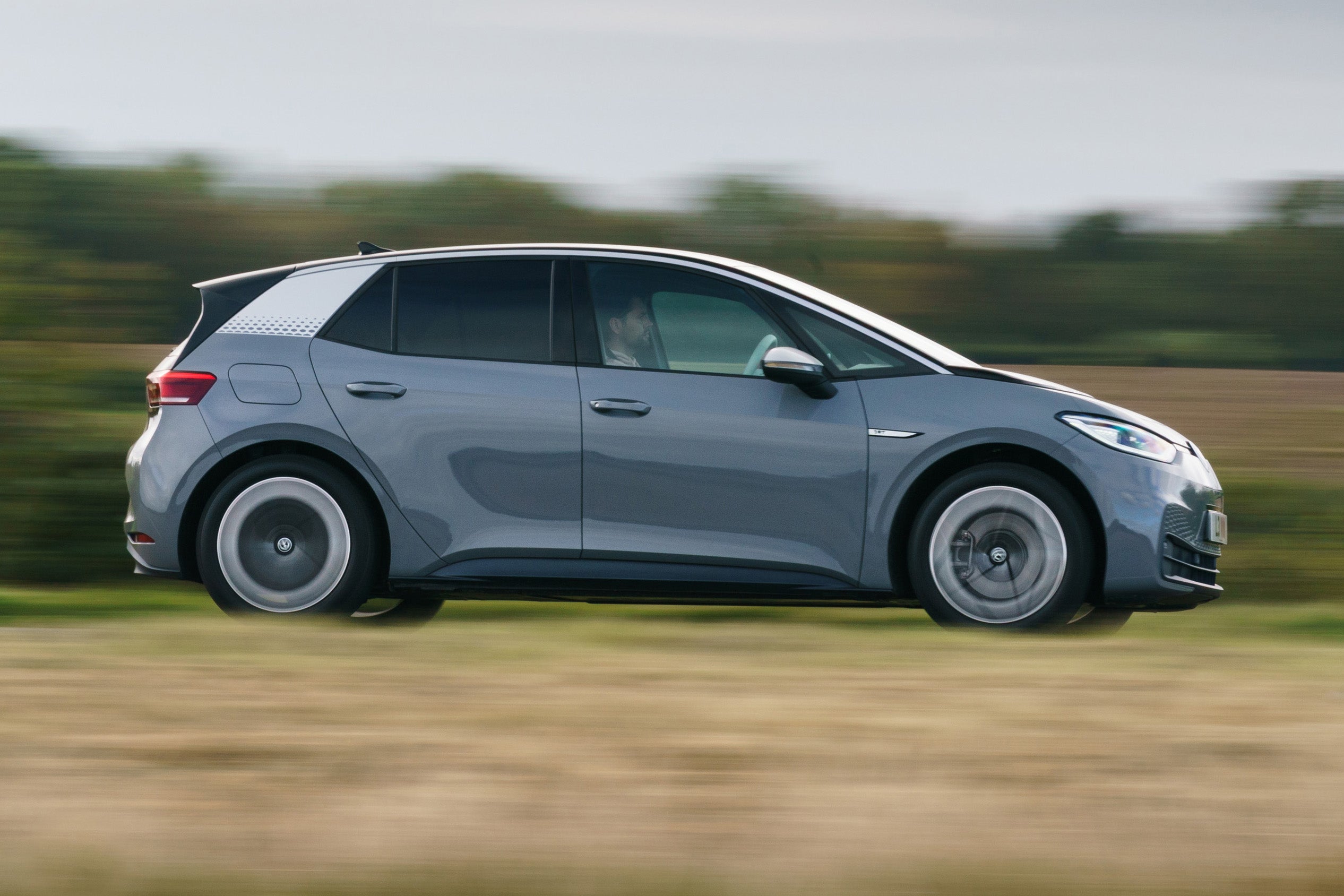 Depending on your electricity tariff, you'll pay around £8 to fully charge a 58kWh ID.3 at home, which works out at around 3p per mile. That's nothing.
If you want to venture further afield, the 58kWh ID.3 is capable of rapid charging, with a 100kW DC charger able to add up to 180 miles of range in just half an hour. That means a quick comfort break at the motorway services will give you plenty of range to complete your journey. You'll pay for the convenience, though, with rapid charging often costing upwards of 30p per kWh.
How reliable is a Volkswagen ID.3?
As the ID.3 is still relatively new, we don't have any solid data on it's reliability just yet. Volkswagen as a brand has finished a pretty underwhelming 21st out of 34 manufacturers in the Honest John Satisfaction Index last year, putting it behind the likes of Hyundai, Honda and Skoda.
Insurance groups and costs
Insurance groups for the Volkswagen ID.3 start at group 19 for the ID.3 Life and rise to 26 for the ID.3 Tour. On average that's more than a comparable VW Golf, but electric cars can cost a little more to insure than petrol or diesel alternatives so it might be worth shopping around for quotes first. You might also find our guide to the cheapest electric cars to insure helpful.
VED car tax: What is the annual road tax on a Volkswagen ID.3?
As the Volkswagen ID.3 is an electric car with no tailpipe emissions, it qualifies for free car tax (VED). All models have a list price below £40,000 so you won't pay the premium car penalty, either.
How much should you be paying for a Volkswagen ID.3?
"A Volkswagen ID.3 starts at just over £30,000 (after the Government's plug-in car grant), while a nearly new car will set you back a similar amount if you can't wait for a new one."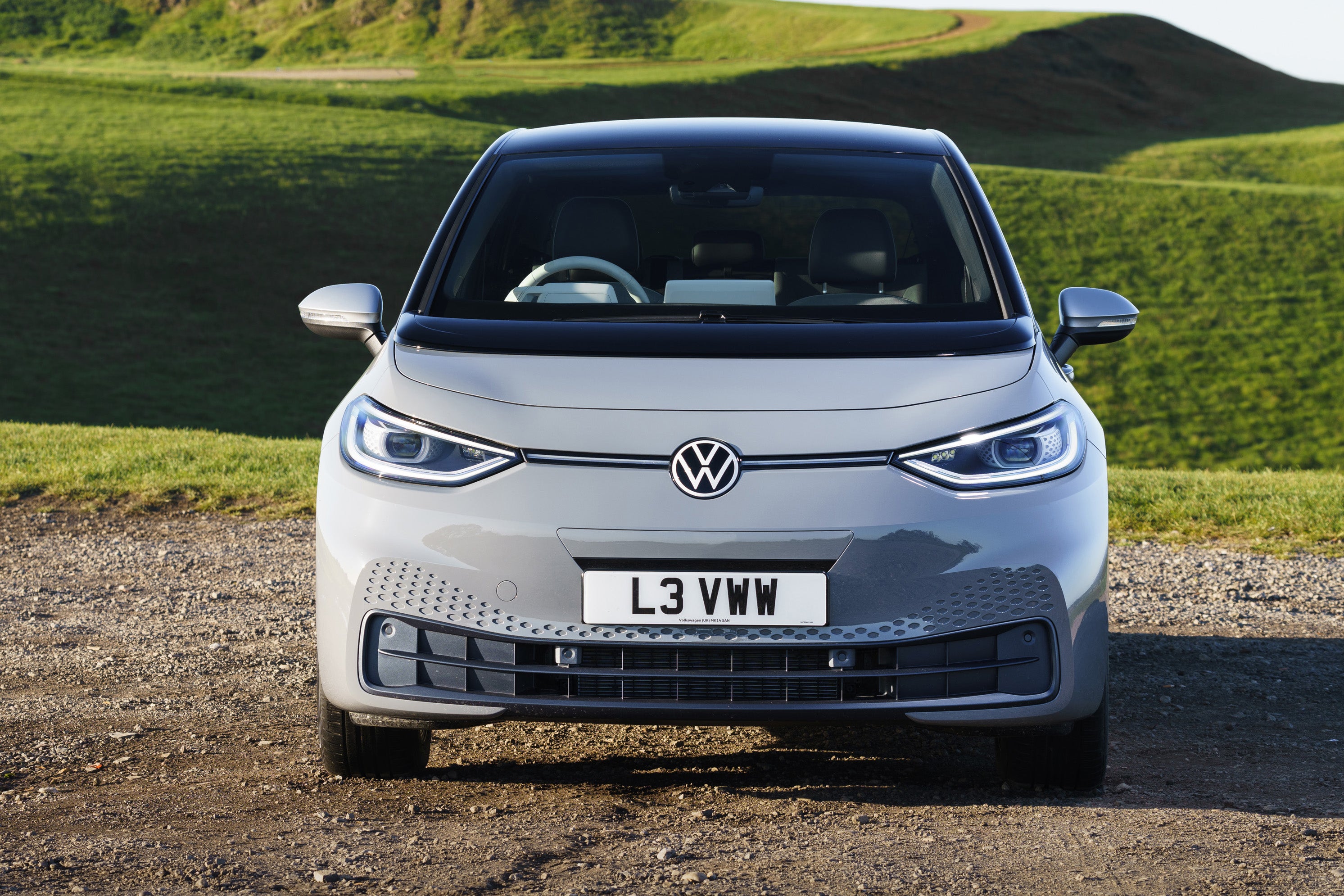 The ID.3 Life is currently the most affordable version available, costing £30,935. This is followed by the ID.3 Family at £33,655. There's then a jump up to £36,655 for the ID.3 Max, while the top-spec ID.3 Tour will cost you £38,815.
As you'd expect for an electric car as new as the ID.3, it's in high demand, so you'll struggle to save a huge amount of money by looking second-hand. That said, there are a number of examples in stock at dealers ready to drive away today.
Trim levels and standard equipment
The Volkswagen ID.3 was initially sold only as a First Edition variant. It can be distinguished by unique First Edition badging on the front wings, steering wheel and dashboard, and it additionally features the distinctive 'Play & Pause' design pedals. First Edition buyers also receive 2000kWh of free charging up to £500 with We Charge.
Standard equipment on an ID.3 includes adaptive cruise control, Discover Pro 10-inch navigation, LED headlights, 2-zone climate control, ambient lighting (with 30 different colours to choose from), heated front seats, parking sensors and 18-inch steel wheels.
Make the move up to the ID.3 Family and there's a rear-view camera and panoramic roof now as standard, while the ID.3 Max gets an Augmented Reality Head-up Display. It's only when you plump for the top-spec ID.3 Tour that you get 19-inch alloy wheels and Lane Assist, Traffic Jam Assist and Emergency Assist driver aids.
Ask the heycar experts:
common questions
Is the Volkswagen ID.3 a good electric car?
The Volkswagen ID.3 is a really good introduction to electric vehicles. It's easy to drive, has a spacious interior and represents good value for money.

How far can the Volkswagen ID.3 travel on a charge?
First Edition models can cover up to 260 miles between charges, while the top-of-the-range ID.3 Tour will be able to travel 336 miles. An upcoming entry-level model is expected to have a range of around 205 miles.

How much does the Volkswagen ID.3 cost?
The Volkswagen ID.3 starts from around £30,000, rising up to £39,000 for top-spec ID.3 Tour models.

Keep me updated by email with the latest advice, news and offers from heycar
By submitting, you agree to our
privacy policy
.