Volkswagen ID.4 Review 2022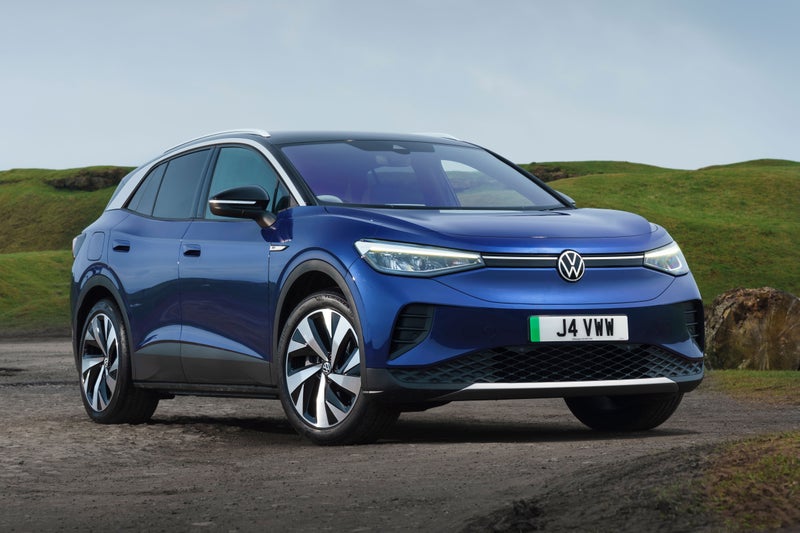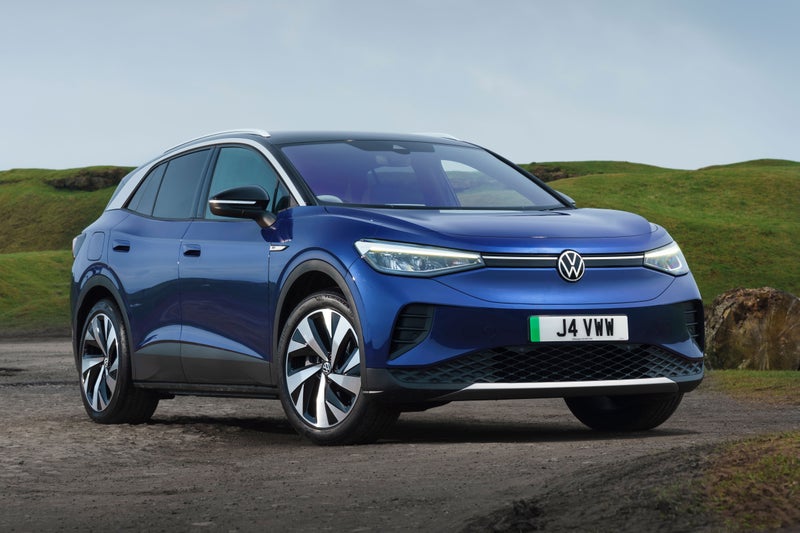 1/10

heycar rating
"Comfortable and spacious electric SUV"
Quick overview
Pros
323-mile range will make Tesla buyers think twice
Spacious enough to be your main family car
Excellent ride quality for a heavy electric vehicle
Cons
Skoda Enyaq iV does more for less
Alternatives are a bit more exciting to drive
Only the entry-level model qualifies for the plug-in car grant
Overall verdict
On the inside
Driving
Cost to run
Prices and Specs
Common questions
Overall verdict on the Volkswagen ID.4
"It's not hyperbole to describe the Volkswagen ID.4 as a revolutionary electric car. It's spacious, comfortable, has a very useable range and – crucially – isn't particularly expensive."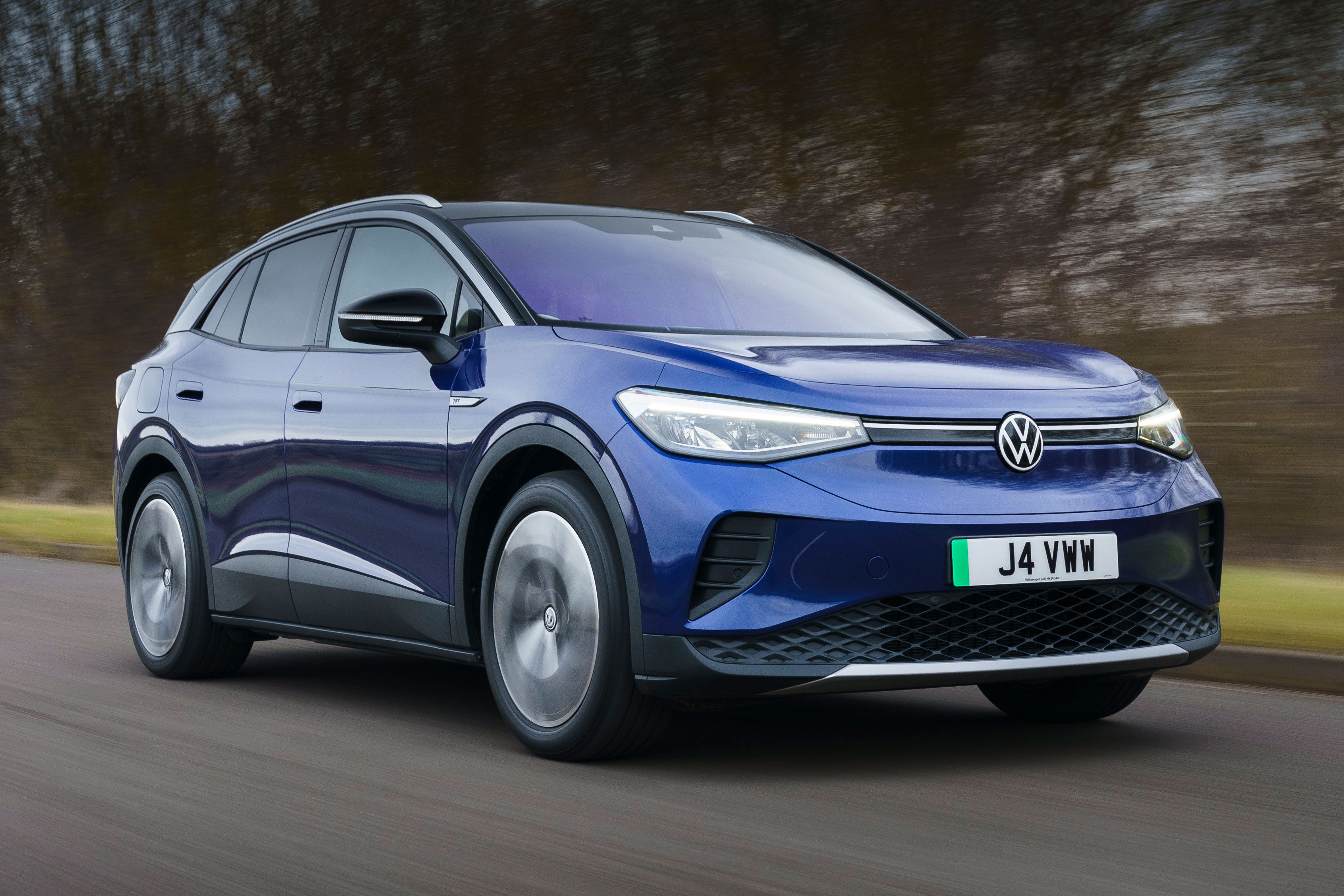 The Volkswagen ID.4 is the second electric car in the brand's ID range, following in the wake of the ID.3 hatchback. It's an SUV, similar to the Volkswagen Tiguan in size and set to rival the Skoda Enyaq iV, Kia e-Niro and non-SUV competitors like the Tesla Model 3. Let's see how it fairs in our Volkswagen ID.4 review.
The price of the most affordable Volkswagen ID.4 starts from around £32,000 and is powered by a 52kWh battery pack which allows it to cover 213 miles between charges. Upgrade to the 77kWh battery pack and you could be travelling more than 300 miles without having to stop for a charge – that's almost on a par with petrol alternatives.
The ID.4's got a spacious cabin, with a futuristic look and the latest Volkswagen Group infotainment. There's a range of trim levels available and more to come – including a hot GTX model intended to tempt current GTI buyers.
The standard ID.4 isn't particularly exciting to drive, but it's relaxed and soothing like a good electric car should be. Its ride quality is excellent and refinement levels are high, too – helped by the silent nature of the electric drivetrain.
While competitors might offer more in the way of excitement or quirkiness, the Volkswagen ID.4 is a wonderful introduction to electric vehicles. If you're a bit nervous about making the jump, the ID.4 isn't remotely intimidating and it should fit easily into your life. But then, the same could be said for the Skoda Enyaq iV, and that's more affordable....
What's the best Volkswagen ID.4 model/engine to choose?
The Volkswagen ID.4 is available with the choice of two battery packs. The lower-powered 52kWh battery pack pack is available in either Pure (148PS) or Pure Performance (170PS) configurations and both deliver an electric range of 213 miles (in the entry-level ID.4 Life).
The more powerful 77kWh battery pack is labelled as Pro Performance. Delivering 204PS, the distance you can travel between charges increases to 322 miles.
The entry-level Volkswagen ID.4 Life is the only model available with all three motors, while the Volkswagen ID.4 Style can only be specified with either of the two lower powered 52kWh battery packs. Spend a bit more and the premium Volkswagen ID.4 Family and ID.4 Max are available with the 77kWh Pro Performance battery pack.
The trim you pick will come down a little bit to your needs - if you're not going to be looking at a lot of long journeys, then the Volkswagen ID.4 Style is a pretty well-rounded package, though the Volkswagen ID.4 Family with it's longer range and additional standard features is pretty tempting.
What other cars are similar to the Volkswagen ID.4?
The Volkswagen ID.4 is pitched against a rapidly expanding line-up of large, family-sized electric cars, ranging from the Tesla Model 3 and Polestar 2 to more practical SUVs like the Kia e-Niro and the upcoming Nissan Ariya.
You may also have your head turned by the Skoda Enyaq iV which, in true Skoda form, is essentially a Volkswagen ID.4 in a slightly less attractive (but more affordable) package. If you've got deeper pockets, then there's also the Audi Q4 e-tron. Like the Enyaq, it's based on the same platform as the ID.4, but offers that little bit more in the way of luxury and badge appeal.
Comfort and design: Volkswagen ID.4 interior
"The ID.4 is certainly very comfortable and plenty of space, but the touch-sensitive controls can be frustrating to use."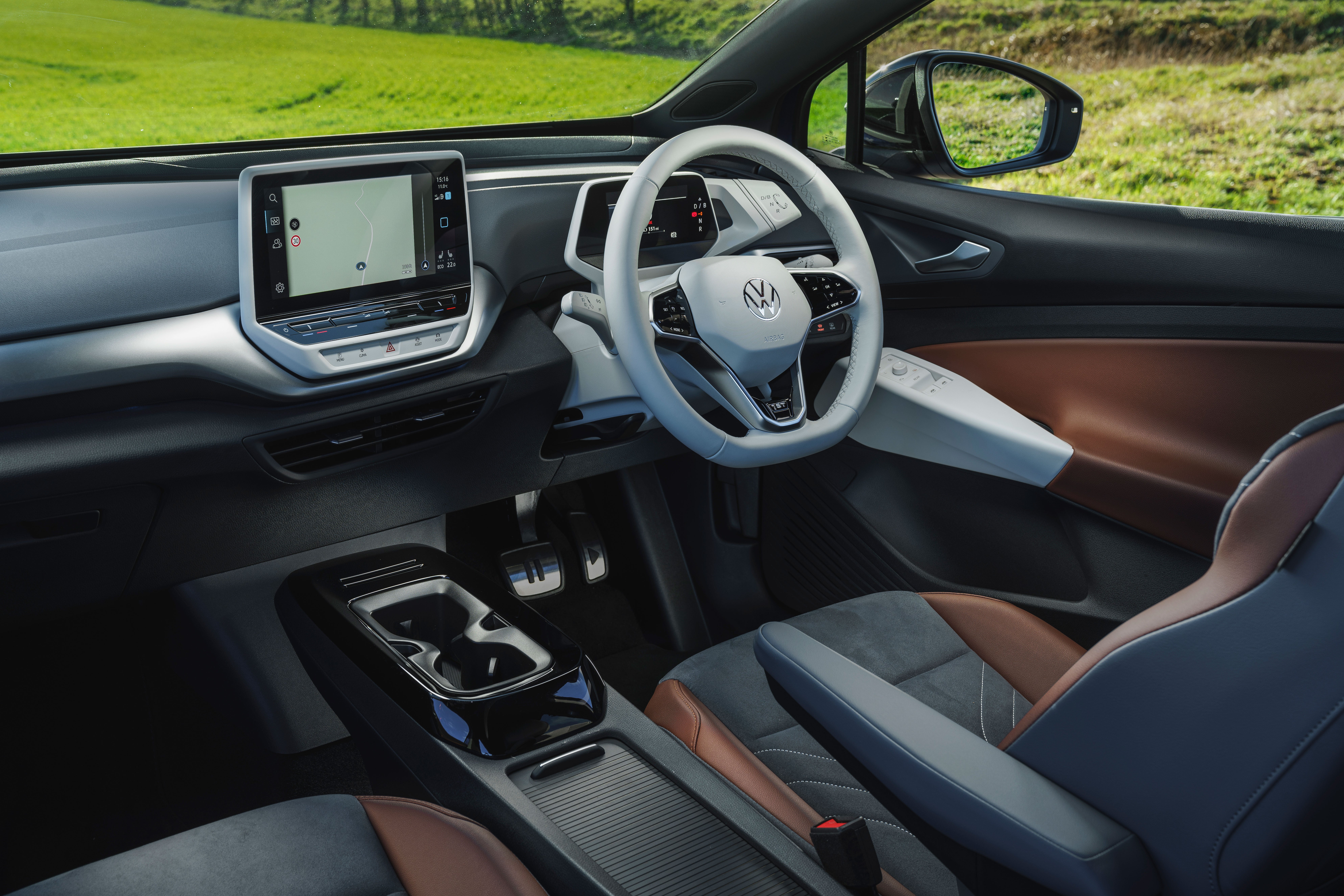 You don't sit very high up in the Volkswagen ID.4 – in fact, for an SUV, your derrière is surprisingly close to the floor. With the driver's seat in its lowest position, you could easily be in a Tesla Model 3 or a Volkswagen ID.3. Even with it cranked as high as it will go, you're hardly going to be towering over other motorists.
Manual seat adjustment feels a bit old school in the fancy electric car like this, but you do at least get armrests which add to the relaxed vibe. We quite like the Art Velours microfleece seat trim (it's kind of a faux-Alcantara), although the dog-poo-like colour of the side bolsters of our test car won't appeal to everyone...
There's no electrical adjustment for the steering wheel, either, although there's plenty of movement so finding a comfortable seating position should be a piece of cake. There's a cute little instrument cluster that moves in and out (and up and down) with the steering wheel. This doesn't do a great deal but we like its minimalist approach – just providing key information like how fast you're going and how many miles you'll cover before you run out of electricity. Which is handy to know.
Quality and finish
With such a high reputation for quality, there's a certain level of expectation when it comes to the interior finish of the Volkswagen ID.4.
While we were left a little disappointed with the interior quality of the ID.3, there's a noticeable improvement when you step inside a ID.4. There's more pleasing tactile and soft-touch surfaces, but there are still too many hard plastics dotted round the cabin.
It certainly doesn't feel any nicer than the more affordable Skoda Enyaq's interior. If you want something a little more sophisticated, then you'll have to dig a little bit deeper and splash the cash on something like an Audi Q4 e-tron.
Infotainment: Touchscreen, USB, nav and stereo in the Volkswagen ID.4
All models come with a 10-inch media system with the exception of the ID.4 Max that gets a bigger 12-inch display.
Strangely, it's a smaller touchscreen than the 13-inch display offered with all Skoda Enyaq models, but it looks pretty smart and it's something we're getting used to seeing across a range of VW models, including the latest Volkswagen Golf.
However, as we've found when we've used it in other VW cars, it does take a bit of getting used to - especially as the ID.4's button-free approach means the infotainment screen is required to control everything. If we're honest, everything seems a bit of a faff, while the touch-pad climate control buttons are a prime example of technology for technology's sake. Would a button be too much to ask for – especially when it's dark and you just want to turn the heating up?
Apple CarPlay and Android Auto are standard on the ID.4, which is really handy as you can quickly access your apps from your smartphone. It's no surprise to see there's also a DAB radio, Bluetooth and VW's on navigation if you don't want to pair it with your phone.
Space and practicality: Volkswagen ID.4 boot space
There's loads of space in the ID.4. You get chunky door bins with enough space for a water bottle or two, while there's a huge storage area in the centre console (along with a couple of cup holders in front of it). The sloped windscreen and fairly long dashboard add to the feeling of space, while there's no chance you're going to be bashing your head on the roof or clashing arms with your passenger. You don't get a panoramic sunroof in the ID.4 as standard, but it feels airy enough in the cabin.
Things are good for those in the back, too. Tall rear-seat passengers will find their knees sitting ever so slightly higher than is ideal, but that's pretty standard and there's certainly no shortage of space in the back of the ID.4. You'll squeeze three adults side by side, but whoever sits in the middle seat will have drawn the short straw – it's significantly narrower than the outer seats. The Volkswagen ID.4 isn't offered as a seven-seater - look at the (non electric) Volkswagen Tiguan Allspace if that's what you're after.
The ID.4's boot space is a pretty decent size at 543 litres (the Enyaq is 585 litres and the Q4 e-tron 520 litres) but there is a bit of a lip for lifting items over - there's no adjustable boot floor to reduce this, though there's a powered tailgate available on Style and Max models respectively. The cables for charging the car have to go in a bag in the boot with your shopping, which seems a bit of an oversight somehow.
Curious about fitting the Volkswagen ID.4 in your garage? Well, the ID.4's dimensions are 4584mm long and 1852mm wide.
Handling and ride quality: What is the Volkswagen ID.4 like to drive?
"The Volkswagen ID.4's brilliance comes in how unintimidating it is to drive. Even if you've never driven an electric car before, it's very simple and intuitive – and, of course, supremely relaxing."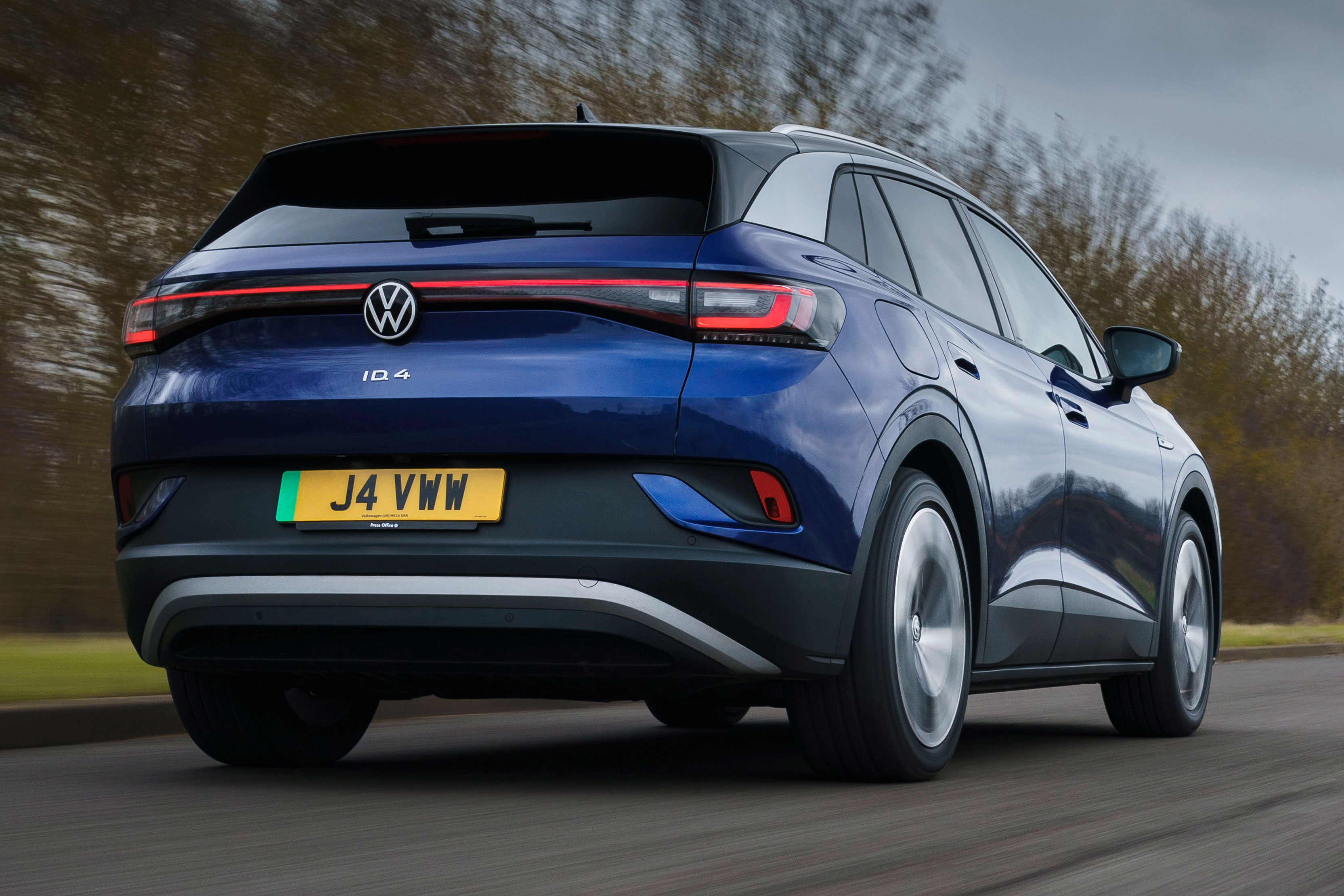 The Volkswagen ID.4's not an exciting choice – but if that's what you're after, there's always the upcoming twin-motor GTX.
If we're honest the ID.4 feels a bit like an appliance to drive. You might expect that of any car with an electric motor rather than an engine, but most EVs have their own little quirks that give them an element of personality. The Tesla Model 3 will shove you back in your seat as soon as you even glance at the accelerator pedal, while the Mustang Mach-E will defy physics when you reach a bendy section of road. Even the ID.3 feels surprisingly lithe and energetic.
There are a variety of drive modes but there's little point in using anything other than eco or comfort. There are two different regenerative braking settings, too – D for drive and B for brake. In their most severe regeneration setting, other EVs will lose speed quite dramatically as soon as you lift off the accelerator – great for one-pedal driving around town. The ID.4 doesn't, but that's not necessarily a bad thing if you're coming from a petrol or diesel car and don't want anything that feels too weird to drive.
And that kinda sums up what's so good about the ID.4. It's not trying to be quirky – EV buyers who want something gimmicky already have a wide range of cars to choose from. But it's comfortable, easy to drive and will slot into your life very nicely indeed.
What engines and gearboxes are available in the Volkswagen ID.4?
The Volkswagen ID.4 comes with the choice of either 52kWh or 77kWh battery packs, with both paired to a single speed automatic gearbox.
While electric cars have built up a reputation for being fast off the line, the Volkswagen ID.4 certainly isn't. The lower-powered 52kWh battery pack with 148PS (branded ID.4 Pure) has a 0-62mph time of 10.9 seconds, while the slightly more powerful 170PS Pure Performance sees the 0-62mph time improve to 9 seconds. Hardly impressive numbers.
Opt for the 77kWh battery and the Pro Performance battery will get the ID.4 to 62mph in a slightly quicker time of 8.5 seconds. If you're looking for something a bit rapid, then you'll want the 299PS ID.4 GTX, which will sprint to 62mph in 6.2 seconds.
Maximum range in the Volkswagen ID.4
Depending on which trim you opt for on the ID.4 will affect the maximum range you're able to achieve. If range is your main criteria, you'll want to go for the entry-level Volkswagen ID.4 Life with the Pure Performance 77kWh battery as this will achieve a claimed 322 mile electric range. This will depend on a number of criteria though and under real world conditions you can expect that to be less.
If you opt for the Volkswagen ID.4 in Family or Max trim, expect the range to be a little less at 317 and 316 miles respectively - we can put these differences down to slight variations in weight and wheel design.
If you go for the smaller 52kWh battery in the Volkswagen ID.4, expect the range to be 213 miles with an ID.4 Life and 211 miles with an ID.4 Style.
Refinement and noise levels
The suspension on the Volkswagen ID.4 does a brilliant job of soaking up jolts in the road, while the light steering and good visibility means it's easy to drive around town.
It's also supremely comfortable (it does an incredible job of hiding its two-tonne kerb weight, in fact), and also very refined. If you wish to cover the commute in serenity, with nothing more than Radio 4 taking your attention, the Volkswagen ID.4 is very good at that.
Hit the motorway in the Volkswagen ID.4 and you'll experience a bit more road noise, but VW's done a good job at keeping this in check and for our money it's that bit more refined at higher speeds that the Tesla Model 3.
Safety equipment: How safe is the Volkswagen ID.4?
The Volkswagen ID.4 features an array of standard safety equipment, including front side airbags and curtain airbags, driver and front passenger airbags with passenger airbag deactivation, lane assist and front assist with assisted automatic braking. If you're carrying children (and let's face it, you probably are if you're looking at a large family SUV), the Volkswagen ID.4 features Isofix child seat points on the front passenger seat and outer rear seats.
Just like the Skoda Enyaq, the Volkswagen ID.4 has been awarded a five star safety rating by Euro NCAP, scoring 93% for adult occupant safety and 89% for child occupant safety. The ID.4 also scored 85% for Safety Assist tech.
Charging times: How much does it cost to charge the Volkswagen ID.4?
"There are two different battery sizes available in the Volkswagen ID.4: 52kWh and 77kWh. A full charge at home will cost you about £9 (depending on your electricity tariff) for the smaller battery, and around £13 for the bigger battery."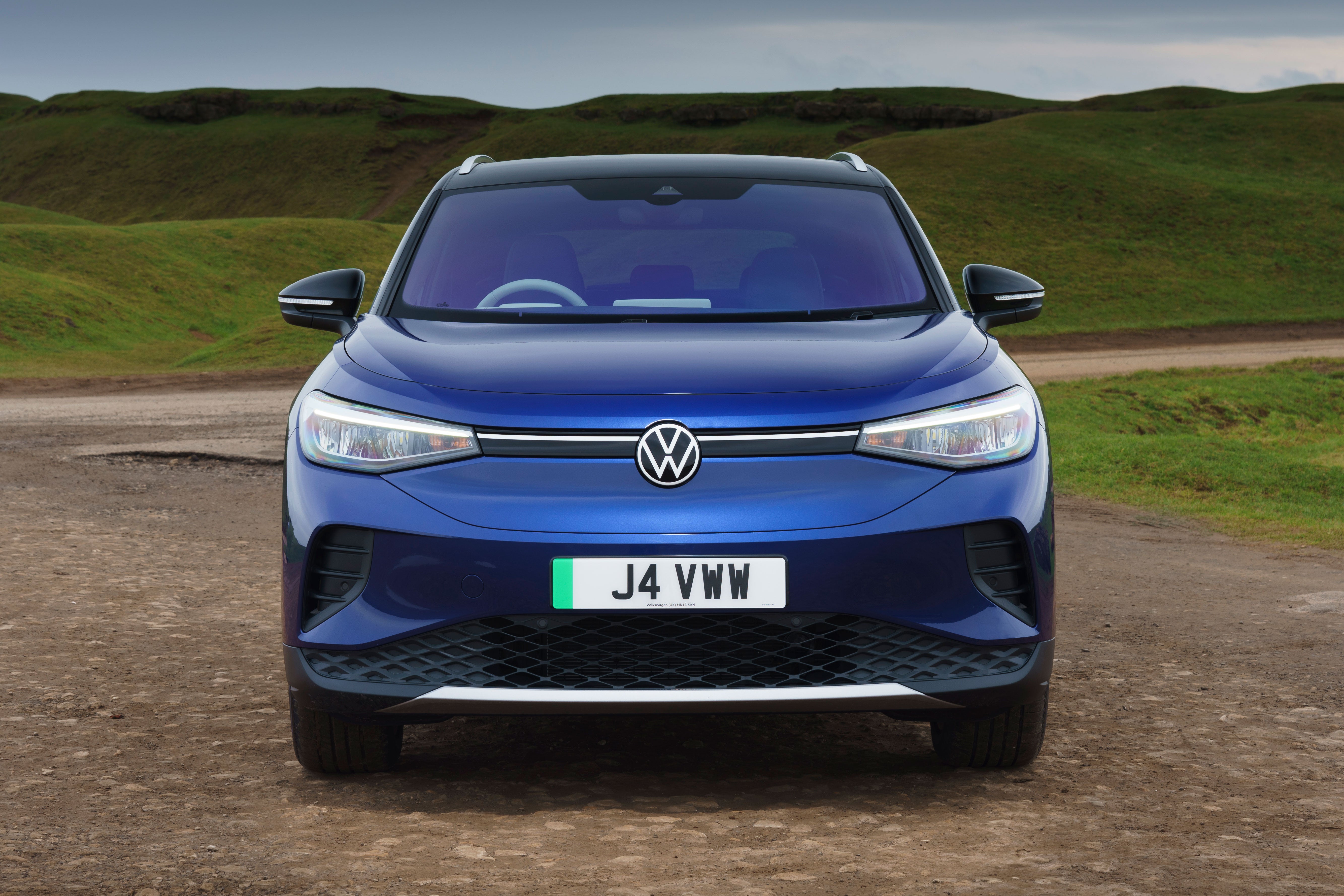 Officially, the 52kWh Volkswagen ID.4 (badged Pure) can travel up to 213 miles between charges (depending on which trim level you choose), while the 77kWh Volkswagen ID.4 (badged Pure Performance) can cover up to 322 miles.
If you're going to be charging the Volkswagen ID.4 at home without a dedicated wall charger, expect to have it plugged in for almost 40 hours before it's topped up fully. Much better to invest in a dedicated wall charger, with a 7.2kW home charger taking just over 12 hours to fully charge a Volkswagen ID.4.
If you're going to be regularly using a VW ID.4 in colder conditions, you might want to think about specifying one with a heat pump. This requires less power from the battery, delivering better range than would otherwise be possible.
How reliable is a Volkswagen ID.4?
Other than some initial software quirks that have been updated, it's still pretty early days to see how reliable the Volkswagen ID.4 will be. That said, VW is a brand that's generally reliable and scored a decent 85.7% in the 2020 HonestJohn.co.uk Satisfaction Score and ranked 21st out of 34 manufacturers (and behind SEAT, Skoda and Audi).
The Volkswagen ID.4's battery has a warranty of up to 8 years/100,000 miles, while the rest of the car's warranty is 3 years/60,000 miles. Not bad, but a little underwhelming when you compare it to the likes of Kia and Hyundai who offer a 7 year/100,000 mile warranty.
Insurance groups and costs
Insurance groups for the Volkswagen ID.4 start at group 18 for the Volkswagen ID.4 Life with the 52kWh Pure battery pack, rising to 34 for the GTX. This actually compares pretty well to the Skoda Enyaq, with the lowest insurance group of 23 for iV 60 Lodge edition.
As ever, it's worth shopping around for car insurance quotes - particularly if you're a young or inexperienced driver. You might find our guide to the cheapest electric cars to insure helpful.
VED car tax: What is the annual road tax on a Volkswagen ID.4?
If you're looking to run a pure-electric car like the Volkswagen ID.4, the great news is that they're exempt from road tax, which means you won't have to pay a thing.
How much should you be paying for a Volkswagen ID.4?
"The only model eligible for the government's plug-in car grant is the ID.4 City with the Pure 52kWh battery pack. That has a retail price of £34,650, bringing it down to £32,150 after the grant's been applied."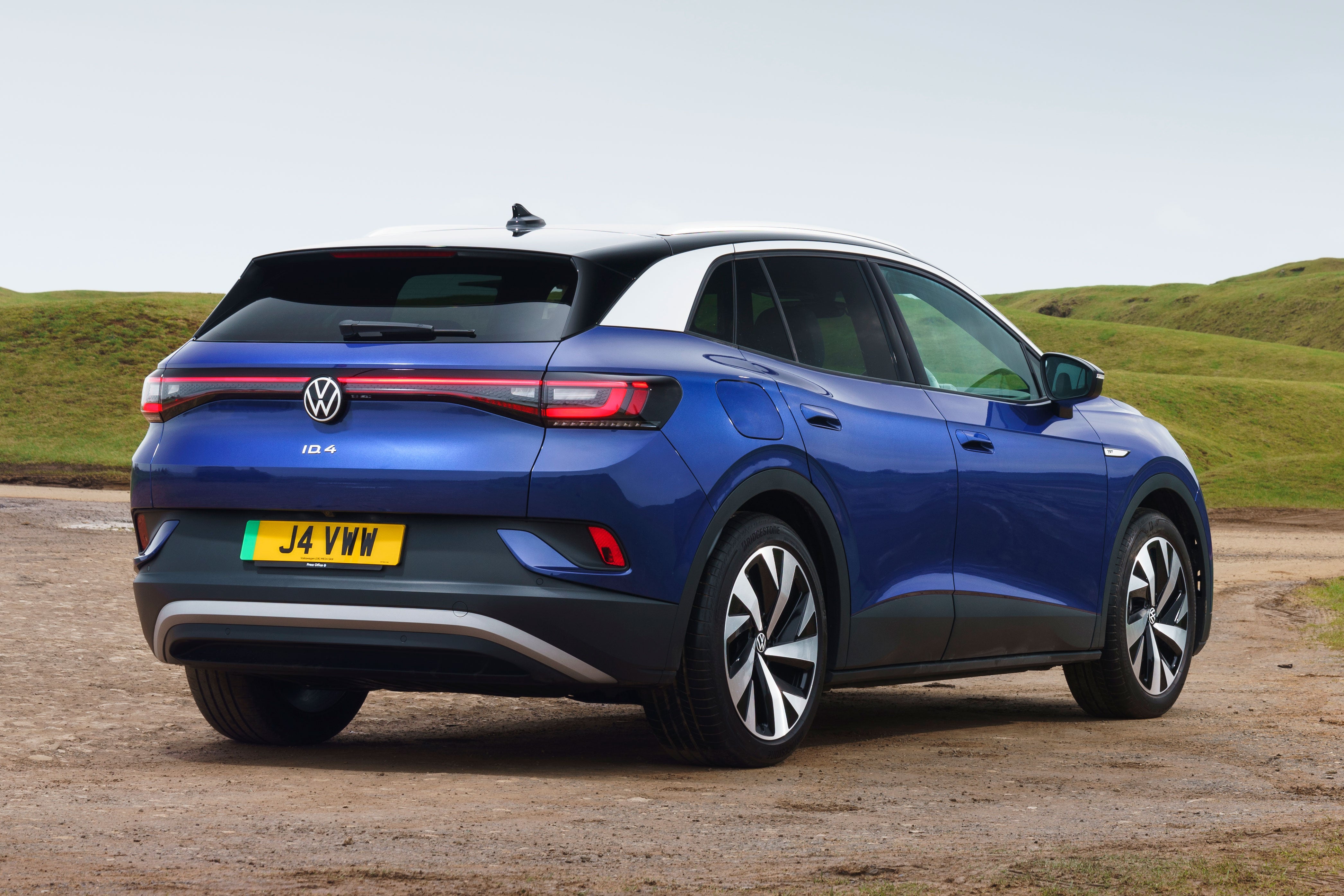 Above that, the lack of a grant means there's quite a big leap to a City with the Pure Performance drivetrain, which'll set you back around £36,000. A Volkswagen ID.4 First Edition costs close to £41,000 when new, while the top-of-the-range Volkswagen ID.4 Max is nudging £50,000.
The Volkswagen ID.4 is still a very new model, but there are a few ex-demonstrator models dripping down onto the used market. Shop around and you should be able to pick up a First Edition car for around £38,000.
Trim levels and standard equipment
Standard equipment on the entry-level Volkswagen ID.4 Life includes LED headlights, heated front seats, adaptive cruise control, 2 USB-C ports, ambient lighting, 2-zone climate control and a multifunctional heated steering wheel. What you don't get is alloy wheels, with the ID.4 Life sitting on steel wheels.
Move up to the Volkswagen ID.4 Style and 18-inch alloy wheels, LED Matrix headlights, rear tinted glass, rear parking camera, keyless entry and start and 3-zone climate control.
The Volkswagen ID.4 Family brings with it a panoramic roof and 19-inch alloy wheels, while the top-of-the-range ID.4 Max enjoys an Augmented Reality Head-up Display, a 12-inch touch-sensitive display (all the others are 10-inch) and a Area View that includes a rear view camera system.
Ask the heycar experts:
common questions
How much does a Volkswagen ID.4 cost?
The most affordable Volkswagen ID.4 you can currently buy is the City model with the Pure 52kWh battery pack. This is eligible for the Government's plug-in car grant, meaning a new one will currently cost you £32,150.

What is the range of the Volkswagen ID.4?
The range of the Volkswagen ID.4 depends on which trim level and battery pack you go for. The smaller Pure 52kWh battery pack can travel up to 213 miles between charges, while the 77kWh Pro Performance model can cover up to 323 miles.

What's the difference between the Volkswagen ID.3 and ID.4?
Both the Volkswagen ID.3 and ID.4 share the same platform (along with models like the Skoda Enyaq iV and Audi Q4 e-tron), but the ID.4 is slightly larger than the ID.3. It has a more SUV-like body, with more interior space.

Answered by
Russell Campbell
Keep me updated by email with the latest advice, news and offers from heycar
By submitting, you agree to our
privacy policy
.