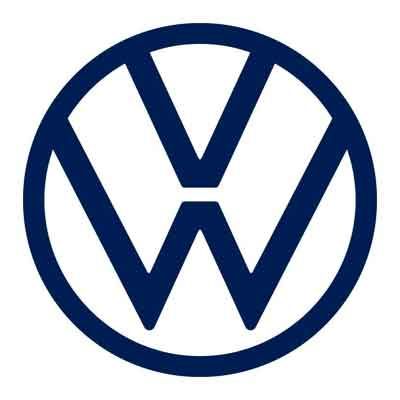 Volkswagen Passat Alltrack Review

Written by
heycar editorial team

heycar rating
Comfortable and classy rugged estate
Best bits
Comfortable and quiet
Spacious and highly practical cabin
Smart, understated styling
Not so great
Only one engine and transmission
Expensive to buy when new
Limited off-road potential
Read by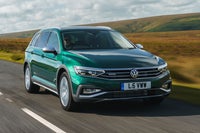 Overall verdict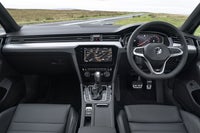 On the inside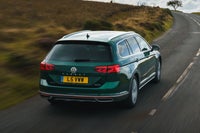 Driving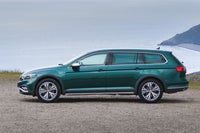 How much does it cost to run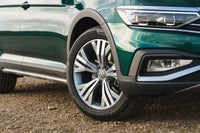 Prices, versions and specification
Overall verdict
"Not everybody wants an SUV. Cars like the Volkswagen Passat Alltrack exist to serve a small but loyal group of people who demand van-like levels of space, understated styling, plus safe and predictable handling. As a winter wagon, the Passat Alltrack holds strong appeal."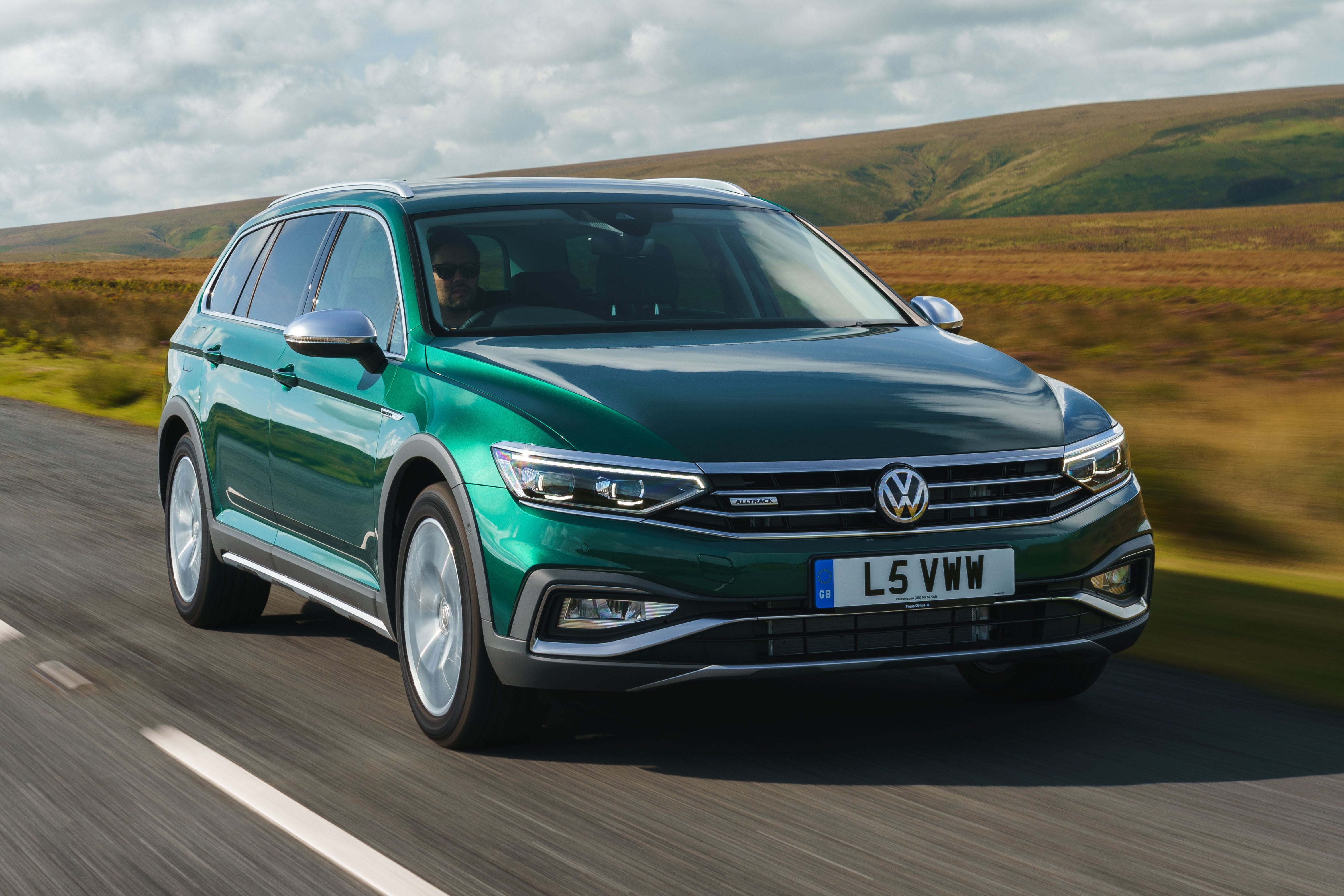 The Volkswagen Passat Alltrack competes in the small but highly competitive premium jacked-up estate sector. It's a class dominated by cars with desirable badges, such as the Audi A4 Allroad, the Volvo V60 Cross Country and the larger Mercedes-Benz E-Class All-Terrain.
It exists to serve the people who haven't bought into the SUV craze. The kind of people who demand the practicality of an estate car, the driving characteristics of a family saloon, and the rugged dependability of an off-road vehicle. You won't be chasing Land Rovers and Land Cruisers in an Alltrack, but it's up to the challenge of gravel tracks, green lanes and snowy passes.
The Alltrack is one of the most expensive cars in the Volkswagen Passat range. As such, it's loaded with the latest safety and connectivity tech, along with a host of desirable features. Heated seats, three-zone climate control, 18-inch alloy wheels, an eight-inch touchscreen, Apple CarPlay and Android Auto are just some of the highlights.
Curiously, leather is an option, but the Alltrack does boast comfortable and bespoke 'Summit' cloth seats. These are combined with unique front and rear bumpers, wheelarch cladding and underbody protection to give the Alltrack suitably rugged styling. It looks excellent, especially if you opt for the Bottle Green paint – a colour unique to the Alltrack.
Predictably, 4Motion four-wheel-drive comes as standard, but you don't get a choice when it comes to the engine and transmission. Although the combination of a 150PS 2.0 TDI engine and a six-speed manual gearbox was available in the past, the new Passat Alltrack comes with a 190PS version of the same engine and a DSG gearbox.
It's all the engine and transmission you could ever need in an Alltrack. The diesel unit delivers swift acceleration and heaps of torque, while the DSG is smooth and relaxed. It's not perfect, though: the gearbox can be slow to respond and hesitant at low speeds.
Thanks to its raised suspension, the Alltrack is the most comfortable Passat in the range. Although it's slightly stiffer, the lofty ride height helps to iron out all but the worst imperfections in the road. We'd avoid the optional 19-inch alloy wheels, as these serve to make the ride a little crashy.
Like the Volkswagen Passat Estate it is based on, the Alltrack is blessed with a cavernous boot, albeit one that's slightly smaller than you'll find in the standard Volkswagen Passat saloon. There's also plenty of room in the cabin, although it works best as a four-seater, because the middle rear seat is a little cramped.
Overall, the Volkswagen Passat Alltrack is a desirable, comfortable and subtly stylish family estate car. It only really makes sense if you need the extra ground clearance and four-wheel-drive, and even then, the price tag pitches it perilously close to the premium heavyweights.
In isolation, it's a thoroughly good car. It also makes a cracking used buy, as you can take advantage of the depreciation to grab a great deal.
Comfort and design
"We'd argue that the Alltrack is the most premium looking model in the Volkswagen Passat range. It's amazing what an increased ride height, body cladding and stylish 17-inch alloy wheels can do for a car."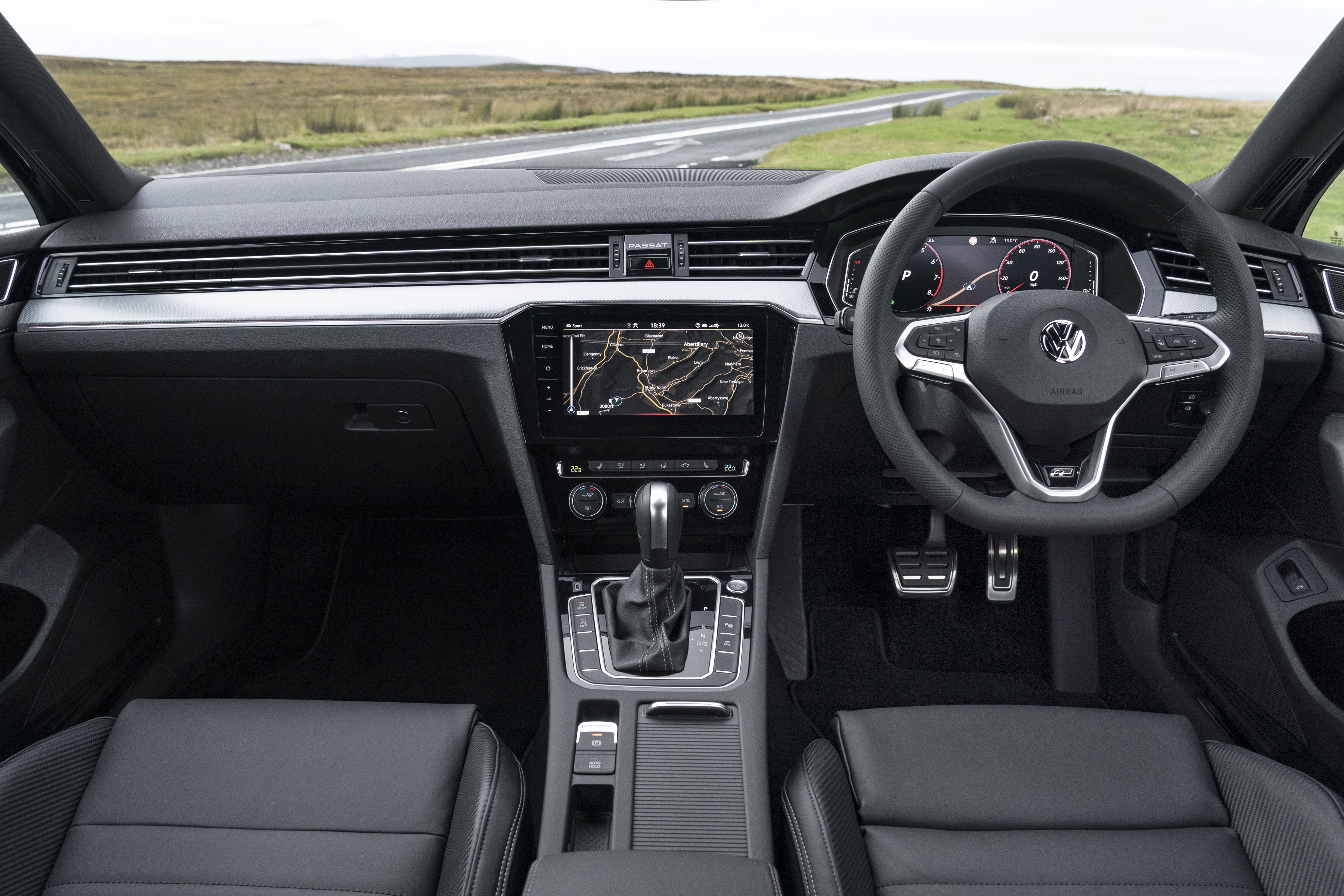 The positive vibes continue on the inside, with a cabin that feels plush and upmarket. It's not quite up to the standards of the Audi A4 Allroad, but then you're not paying the price of an A4 Allroad. Even then, the Passat Alltrack feels closer to the premium players than its price tag would suggest.
Perhaps surprisingly for a car of this price, the seats are cloth rather than leather. The 'Summit' cloth is bespoke to the Alltrack model, but you'd be forgiven for expecting leather in a car that goes into battle with cars built by Audi, Mercedes-Benz, Volvo and Subaru.
On the plus side, the seats are supremely comfortable, with both the driver and passenger side adjustable for height and lumbar. The driver's seat also boasts cushion tilt adjustment, thigh support and electric backrest adjustment, while the steering wheel is adjustable for height and reach.
Heated seats come as standard, which will be helpful when you're battling freezing temperatures in your all-weather wagon. The Alltrack also boasts ambient lighting, while the leather-trimmed steering features a tasteful 'Alltrack' badge on one of the three spokes.
Handling and ride quality
"The Volkswagen Passat isn't a car to buy if you're after precision handling and razor-sharp response times. This is a car developed for cruising the three-lane highways of Europe, with a focus on comfort and efficiency above all else."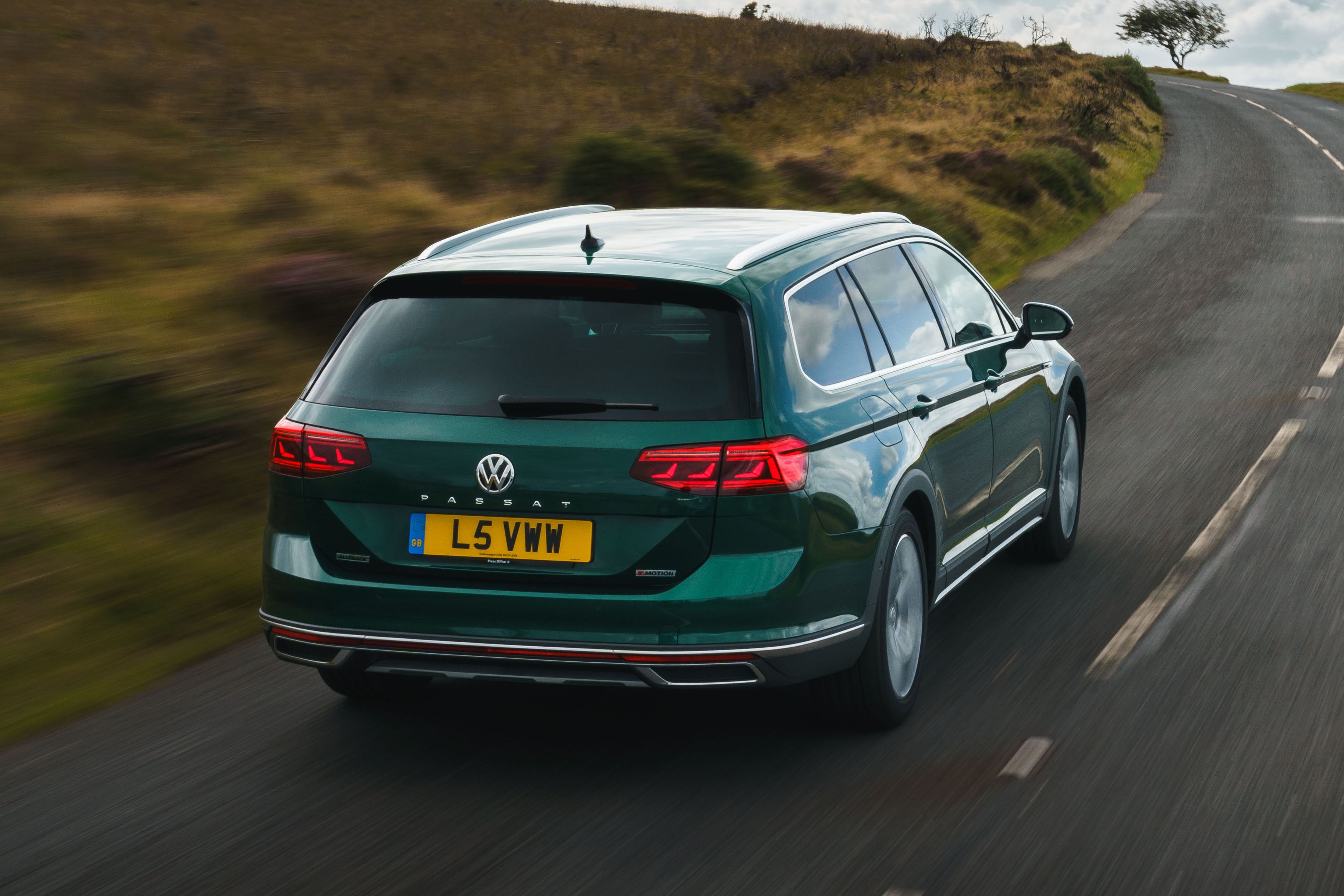 There are two words that spring to mind when we think of the Passat's ride and handling: predictable and safe. The Alltrack version does nothing to change things.
If anything, the Passat Alltrack is the most comfortable car in the range, despite the lowish profile tyres and 18-inch alloy wheels. The suspension has been raised to provide 27.5mm of increased ground clearance. This means it cushions you from imperfections in the road, creating a smooth and cosetting ride.
In a straight line, the Passat Alltrack is an easy and relaxing car to drive. It's able to retain these attributes when you're engaging in some light off-roading – just don't expect it to venture too far off the beaten track.
Things start to unravel when you throw the Passat Alltrack into a corner. The Passat leans at the best of times, but the increased ride height only serves to make things worse. It grips well, but the stiff suspension and lofty ride height serve to deliver plenty of body-roll.
Does it really matter? Few people will buy a Passat looking for flat cornering and bags of feedback from the steering. The fact is, the Passat is arguably at its best in Alltrack mode. Take it easy and enjoy the ride.
Let's remember, you'll have the last laugh when the weather turns grim and the temperatures drop to freezing. Stick a set of winter tyres on a Passat Alltrack and it'll keep going long after most family cars have given up.
MPG and fuel costs
"Considering the hardware and off-road ability, the Volkswagen Passat Alltrack boasts some impressive fuel economy figures. On paper, it should return 42.2mpg to 46.3mpg, which makes it more efficient than the small petrol variants. In fact, even the 1.6-litre diesel isn't significantly more economical."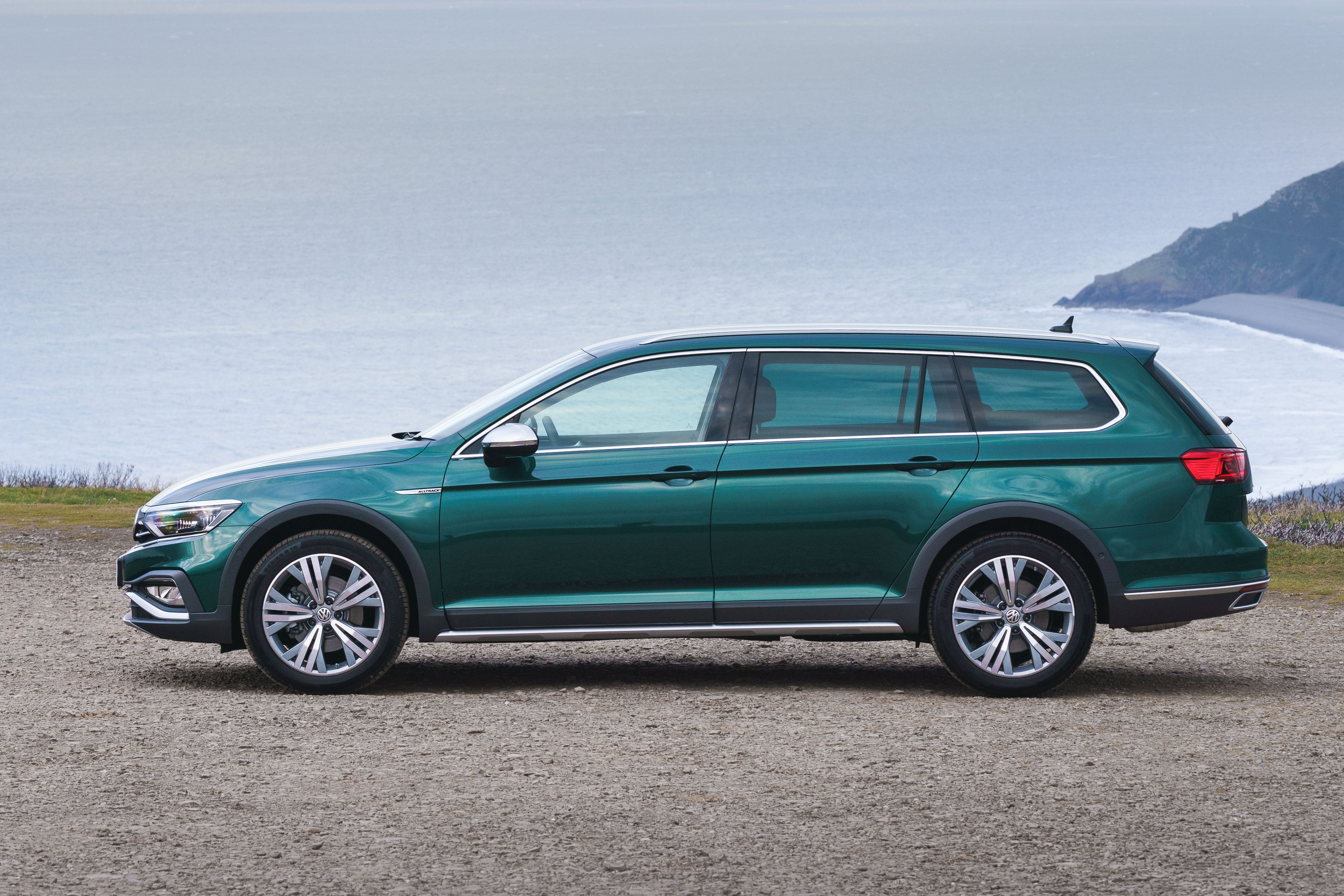 These figures are based on a new Passat Alltrack, which is no longer available with a manual gearbox. The old Alltrack with a manual 'box offered a claimed 57.6mpg, but this figure was sourced using the old NEDC test procedure, rather than the more accurate WLTP test.
How much should you be paying for a used Volkswagen Passat Alltrack?
"Used prices start from around £15,000. This represents incredible value for money when you consider that you'd spend the best part of £40,000 on a new one."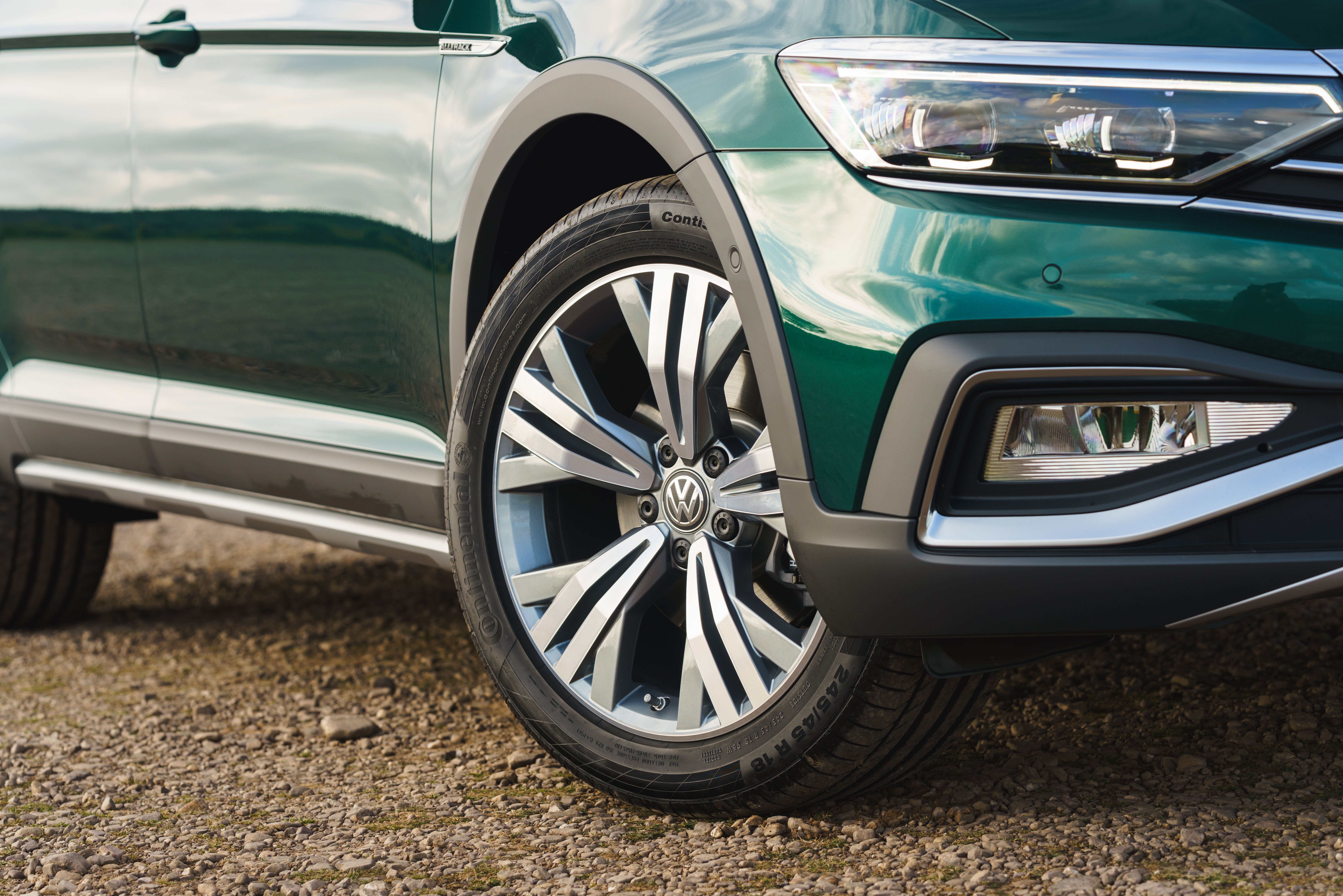 A budget of £15,000 is enough to secure a 2015 or 2016 example with around 60,000 miles on the clock. Although the Volkswagen Passat is a relatively common car, the Alltrack has limited appeal, so there are fewer to choose from.

The Alltrack commands quite a premium. If you're after an estate, but you don't require the raised driving position and four-wheel-drive, it's possible to buy a 2015 Passat wagon for as little as £5000.

It's also worth bearing in mind that a 2015 Audi A4 Allroad could cost as little as £12,500, while Subaru Outback prices start from around £11,000.

Ready to get your top quality Volkswagen Passat Alltrack?
All cars come with a warranty
Selected dealers only
All quality checked
Volkswagen Passat Alltrack
2.0 TDI 177 Bluemotion Tech 4MOTION 5dr DSG
Bristol Street Nissan Sheffield

Yorkshire, S47WW
HP: £252.13/mo
Representative example: Contract Length: 36 months, 36 Monthly Payments: £252.13, Customer Deposit: £1,389.00, Total Deposit: £1,389.45, Total Charge For Credit: £1,203.13, Total Amount Payable: £10,466.13, Representative APR: 9.9%, Interest Rate (Fixed): 9.48%
Volkswagen Passat Alltrack
2.0 TDI 4MOTION 5dr
Vertu Honda Doncaster

Yorkshire, DN25DX
HP: £440.81/mo
Representative example: Contract Length: 36 months, 36 Monthly Payments: £440.81, Customer Deposit: £2,429.00, Total Deposit: £2,429.25, Total Charge For Credit: £2,103.41, Total Amount Payable: £18,298.41, Representative APR: 9.9%, Interest Rate (Fixed): 9.48%
Is the Volkswagen Passat Alltrack right for you?
The Alltrack is based on one of the most spacious, practical and understated cars you can buy. What the Volkswagen Passat lacks in glamour, it makes up for in terms of smart styling, an upmarket cabin and value for money.
This isn't a cheap car. The price tag places the Alltrack near the top of the Passat range, so you might be wondering if it's worth upgrading to the Audi A4 Allroad. You're right to ponder, because the Allroad feels just that little bit more special.
The Passat Alltrack is a thoroughly convincing car. If you require the practicality of one of the largest boots in its class, all the equipment you could ever need, and the efficiency of a diesel engine, this is undoubtedly the right car for you.
What's the best Volkswagen Passat Alltrack model/engine to choose?
If you're buying a new Volkswagen Passat Alltrack, it's very much a case of 'take it or leave it'. Alltrack is essentially a distinct trim level in the Passat range, with equipment based on the lavish R-Line trim. This means it comes loaded with kit straight out of the box, along with the benefit of a raised ride height and some rugged body cladding.
It's a similar story when it comes to the engine and transmission, with Alltrack buyers limited to a 2.0-litre TDI engine and a seven-speed DSG transmission. Fortunately, the diesel engine provides a terrific balance of performance and economy.
At least you're able to choose the colour. The Alltrack comes in Urano Grey as standard, but there are 10 other hues to choose from. May we recommend Bottle Green? It's bespoke to the Alltrack and it suits the car's outdoor vibe.
What other cars are similar to the Volkswagen Passat Alltrack?
The jacked-up estate car market is a small but fiercely competitive sector. Although many buyers prefer the high driving position and perceived prestige of an SUV, some buyers remain loyal to the estate car.
Some of the Passat Alltrack's key rivals come from within the Volkswagen Group stable. The Audi A4 Allroad is more expensive but feels more upmarket, while the Skoda Octavia Scout offers exceptional value for money. There's also a Seat Leon X-Perience, but this has been discontinued.
Rivals from outside the Volkswagen Group include the Volvo V60 Cross Country and the Subaru Outback. You could also consider the old Vauxhall Insignia Country Tourer, although you might struggle to find one.
Quality and finish
The Passat has always felt a cut above its mainstream rivals and this feeling is enhanced in the Alltrack. It's not quite up to Audi or Mercedes-Benz standards, but you'd struggle to pick holes in it.
The doors shut with a reassuring 'thud', and there's a good use of soft-touch materials in all the right places. Sure, you'll find some cheap plastics in the lower reaches of the cabin, but that's true of most cars, even in the class above.
A leather-trimmed steering wheel comes as standard, along with ambient lighting, heated seats and three-zone climate control. Although you don't get leather upholstery, the 'Summit' cloth seats feel suitably upmarket and help to improve the ambience of the cabin.
We also think that the Alltrack looks more upmarket than the R-Line and R-Line Edition. While the Alltrack boasts classy and understated styling, the R-Line models appear aggressive and showy.
Infotainment
As one of the more expensive models in the range, the Passat Alltrack gets an eight-inch colour touchscreen infotainment system as standard. This is a far better unit than the smaller 6.5-inch unit found in the entry-level version.
It's one of the most intuitive systems on the market, with a clear and crisp display that's easy to use on the move.
The Discover Navigation system features satellite navigation, eight speakers, DAB digital radio, speed limit display, Bluetooth audio and telephone, USB charging, voice control, European mapping, 3D maps, Apple CarPlay and Android Auto
You also get a three-year subscription to We Connect Plus. This provides access to navigation-based services for traffic information, online route calculation, petrol stations, parking spaces and points of interest.
It's possible to upgrade to the Discover Navigation Pro 9.2-inch touchscreen with gesture control. This is standard on the R-Line Edition and GTE Advance, but a costly option on the Alltrack.
We'd recommend the optimal 10.25-inch digital instrument cluster. It replaces the standard dials with a configurable display, with five different modes available. It's similar to Audi's 'Virtual Cockpit' and delivers the same wow-factor.
Space and practicality
The Volkswagen Passat estate is one of the most practical cars in its class, but the Alltrack isn't quite as cavernous as its standard sibling. With the rear seats in use, the boot offers 639 litres of luggage capacity, which is less than the 650 litres you'll find in the regular estate. We doubt you'll miss those 11 litres.
Fold the seats down and you're greeted with a huge 1,780 litres of space, which gives the Alltrack the feel of an off-road van, albeit with a plush interior and bling alloy wheels. The rear seats split 40/20/40, which provides maximum flexibility.
The electric tailgate opens to reveal a large and wide opening, along with a low loading lip and a flush floor. It loses marks for the rear seats not folding entirely flat, but that's a minor annoyance. Thanks to the shape of the boot and the high roofline, you'll still be able to fit some furniture in the back.
Although Volkswagen claims the Passat Alltrack is a five-seater, it works best as an estate car with four seats. There's plenty of headroom in the back, but space in the middle seat is restricted by a high transmission tunnel and a protruding storage box. The seat sits higher than the outer pair, so it's best reserved for occasional use and small children. You'll find Isofix points on the outer seats.
Up front, there's ample headroom and shoulder room for the driver and passenger. The glovebox is of a reasonable size, but you get a pair of cupholders in the centre console, a slim storage area under the climate control dials, large door pockets and a central storage bin. There are also cupholders in the rear armrest.
It's certainly spacious, but the Passat Alltrack lacks the clever storage solutions and flexibility of a modern SUV. It also misses out on the high driving position, which somehow serves to make an SUV feel more spacious.
On the plus side, it does come with a full size spare wheel, which should be standard equipment in any car with a degree of off-road ability.
Engines and gearboxes
There's only one engine available. Fortunately it's a good one, with the 2.0-litre TDI offering a terrific blend of performance and economy. Thanks to 190PS and 400Nm of torque, it'll sprint to 62mph in 8.5 seconds, before hitting a top speed of 223km/h (139mph).
It's also remarkably efficient for a four-wheel-drive car, with the potential to return 45.9mpg on a combined cycle. This means it's more economical than the petrol engines, but only slightly less efficient than the 1.6-litre diesel available on the regular Passat.
The power is transmitted to the wheels via a seven-speed DSG transmission, with paddle shifts on the steering wheel for increased control. Although it can be a little hesitant at low speeds and in traffic, it seems to suit the relaxed nature of the Passat Alltrack.
A smaller 150PS version of the 2.0-litre TDI engine was available in the past. It could hit 62mph in 9.0 seconds, going on to reach a top speed of 205km/h (127mph). It was paired with a six-speed manual gearbox.
We actually prefer the smaller engine. Thanks to peak torque of 340Nm at 1,750rpm, the engine doesn't have to be worked hard to make swift progress, while the gear change is positive and satisfying. It's a shame that you're limited to the 190PS version and the DSG transmission in 2020.
Refinement and noise levels
Refinement is a bit of a mixed bag. The faster you go, the more impressive it becomes, but this isn't an invitation to drive everywhere at full speed.
There are two problems when going slower. The diesel engine is noisy at clattery at idle, sounding more like a taxi than a premium estate. Then there's the DSG transmission, which is jerky and hesitant at low speeds, and slow to respond to your right foot.
Things improve when you're cruising. Excellent sound insulation ensures you're cushioned from the diesel engine and road noise, while wind noise is far from intrusive. The DSG is also less of an issue – adopt a relaxed approach to driving and it's perfectly acceptable.
It also feels tight and secure when you're travelling off-road. There's no sense of the transmission sending power between the front and rear axles, while the cabin remains free of squeaks and rattles, even when the going gets tough.
Sure, the Passat Alltrack can't rival a proper off-roader, but it's more than up to the challenge of some light green laning and country pursuits.
Crucially, it's an excellent towing vehicle. In 2016, the Passat Alltrack was voted Towcar of the Year in the annual Caravan Club awards. The judges liked the trailer assist system and the visual display showing the steering angle and how alternative steering inputs will affect the route of the trailer.
Safety equipment
The Volkswagen Passat saloon was awarded a maximum five-star safety rating when it was crash-tested by Euro NCAP in 2014. Although this was based on the saloon, the rating still applies to the estate.
The individual scores were impressive: 85% for adult occupant protection, 87% for child occupant protection, 66% for pedestrian safety, and 76% for safety assist technology.
Predictably, the Passat Alltrack comes with an impressive suite of safety equipment as standard. The list includes multiple airbags, post-collision braking system, electronic stability control, pre-crash preventive occupant protection, a tyre pressure loss indicator and Isofix points on the outer rear seats.
There's also a range of driver assistance systems, including adaptive cruise control, city emergency braking, driver alert system, hill-hold function, automatic driving lights, lane assist, traffic jam assist, front and rear parking sensors, and rain-sensing wipers.
In the Alltrack, you also benefit from 4Motion four-wheel-drive, which provides added reassurance on greasy roads and during the winter months. We'd argue also that the extra cladding provides some additional reassurance – for the car, if not for you. The enhanced safety and reassurance of the Alltrack model is reflected in lower insurance premiums.
Insurance groups and costs
The Volkswagen Passat Alltrack gets an insurance group rating of 25 (out of 50). This means it will cost roughly the same to insure as a Passat diesel in SE L trim. It will cost significantly less to insure an Alltrack than a R-Line Edition (group 33). This is because Alltrack drivers are likely to be more considerate and drive with greater care. Possibly.
An Audi A4 Allroad is likely to cost more to insure (groups 26 to 41), but a Skoda Octavia Scout will be cheaper (groups 19 to 25).
VED car tax
The first-year car tax rates changed on the 1 April 2020. Thanks to CO2 emissions of 127g/km, the Volkswagen Passat Alltrack costs £215 to tax in the first year, although this is included in the 'showroom tax'.
From year two, the rate drops to a flat rate of £150, which is the same for all Passat models except the hybrid. This is the price you'll pay for a Passat Alltrack registered on or after 1 April 2017.
For Passat models registered on or before 31 March 2017, the rate varies according to the CO2 emissions. Buy a Passat Alltrack with a manual gearbox and you'll pay £125 a year in Vehicle Excise Duty (VED). The rate is slightly higher for the DSG transmission, but £150 is no higher than the cost of taxing a new Passat Alltrack.
Trim levels and standard equipment
The Volkswagen Passat Alltrack spec is based on the R-Line, but comes with a number of items that are bespoke to the off-road estate.
Highlights include 18-inch 'Kalamata' alloy wheels, a full size alloy spare wheel, off-road suspension, increased ground clearance, Alltrack styling pack, chrome radiator grille, matt-chrome effect and anthracite side sills, extra underbody protection, trapezoid exhaust pipes, Alltrack badges and wheelarch protection.
On the inside, the Alltrack features ambient lighting, 'Tracks' decorative inserts on the dashboard and door panels, and seats finished in 'Summit' upholstery. You also get 4Motion four-wheel-drive and hill descent control.
This is in addition to the equipment that is standard on the R-Line model, such as three-zone climate control, an electric tailgate, keyless entry and start, a leather-trimmed steering wheel and heated windscreen washer jets.
Learn more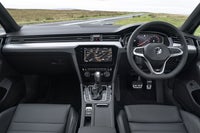 On the inside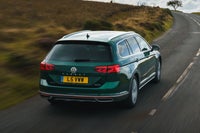 Driving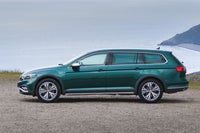 How much does it cost to run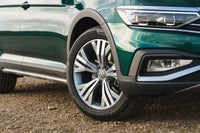 Prices, versions and specification
Reviews of similar cars
Quality checked, all cars less than 8 years old and warranty included
Looking for other Volkswagen cars?
Quality checked, all cars less than 8 years old and warranty included