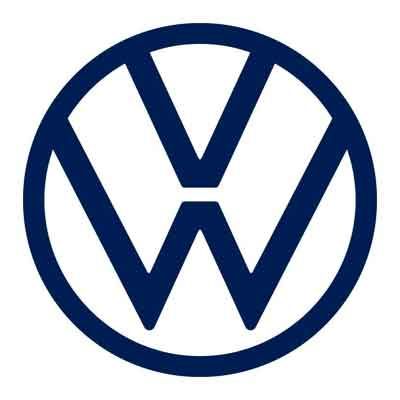 Volkswagen Passat Estate Review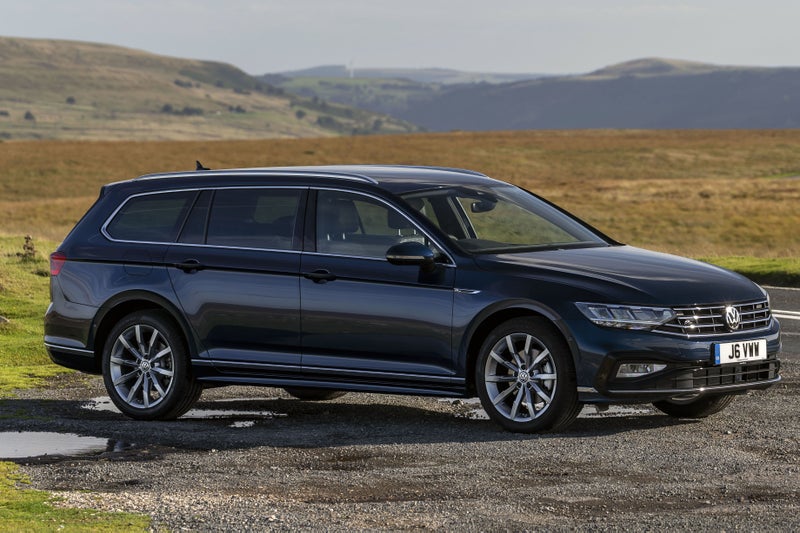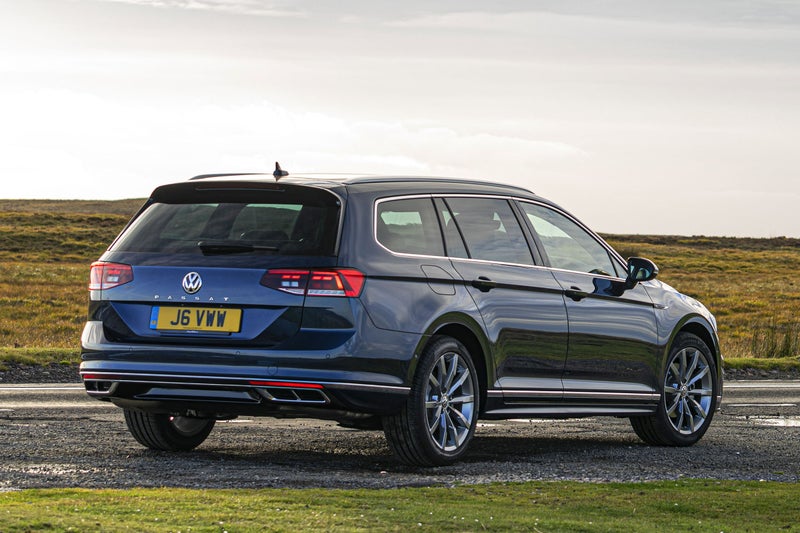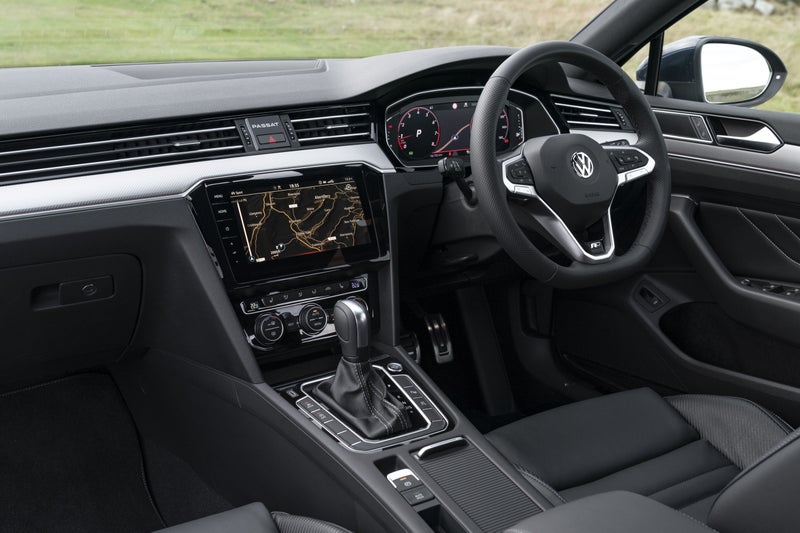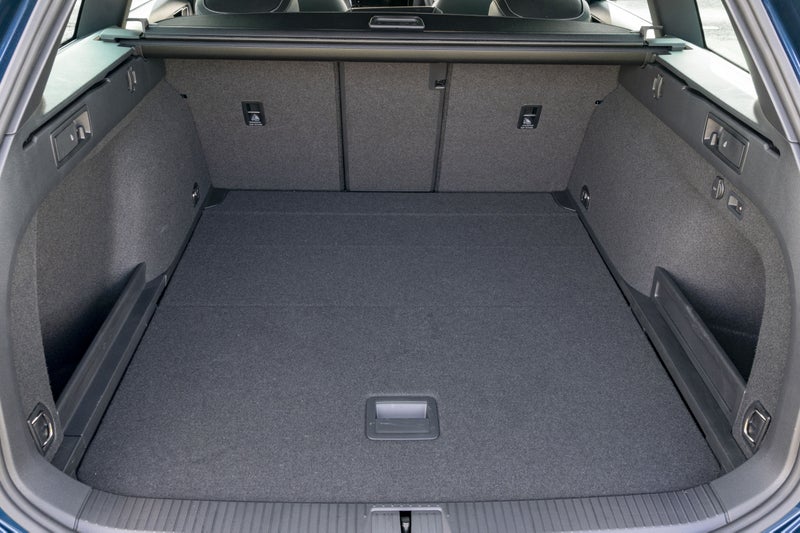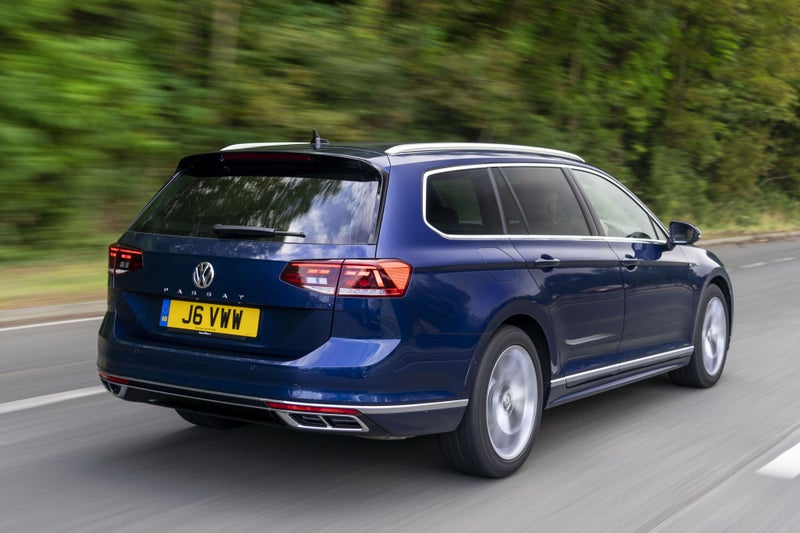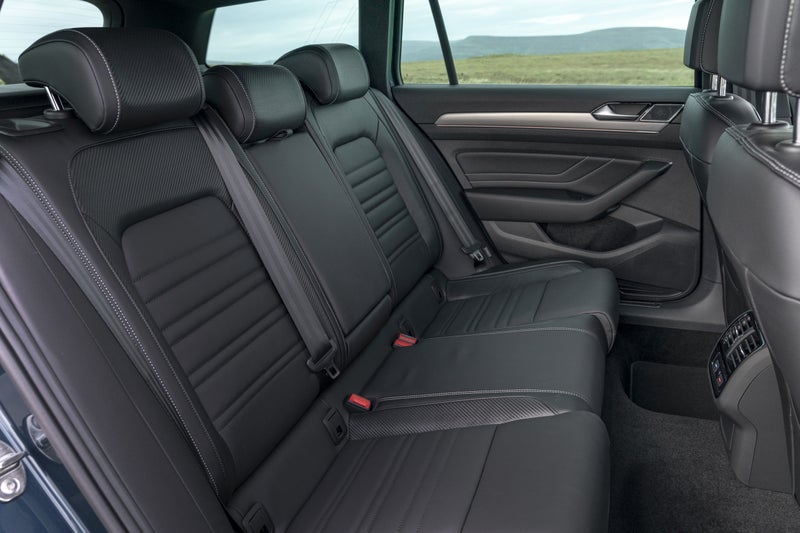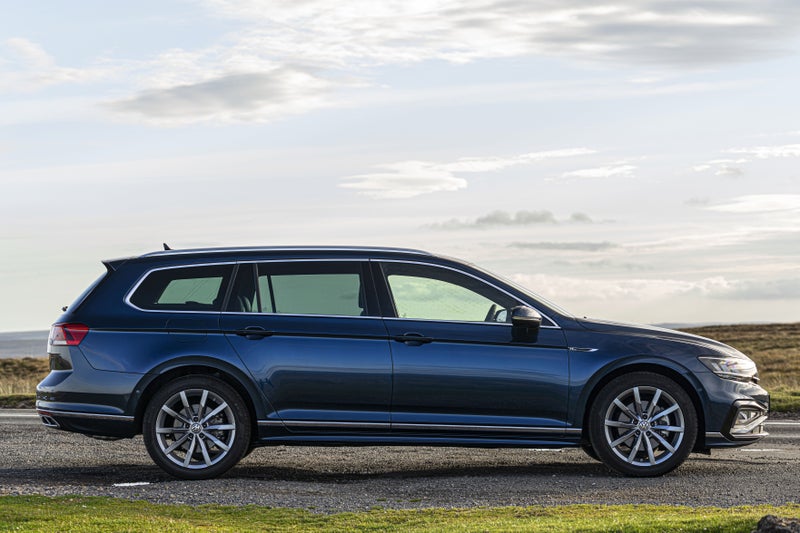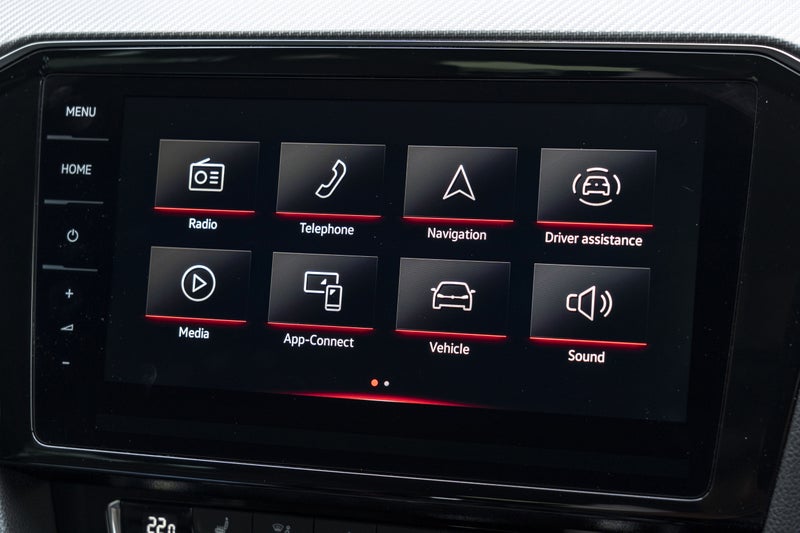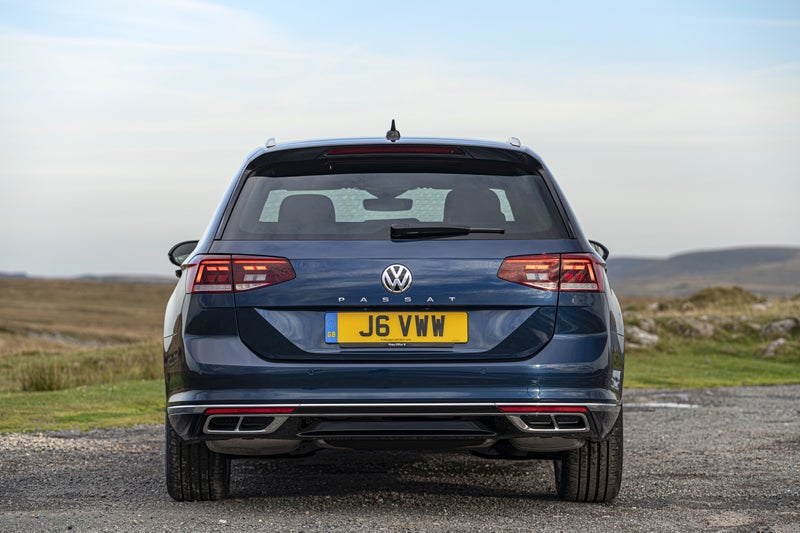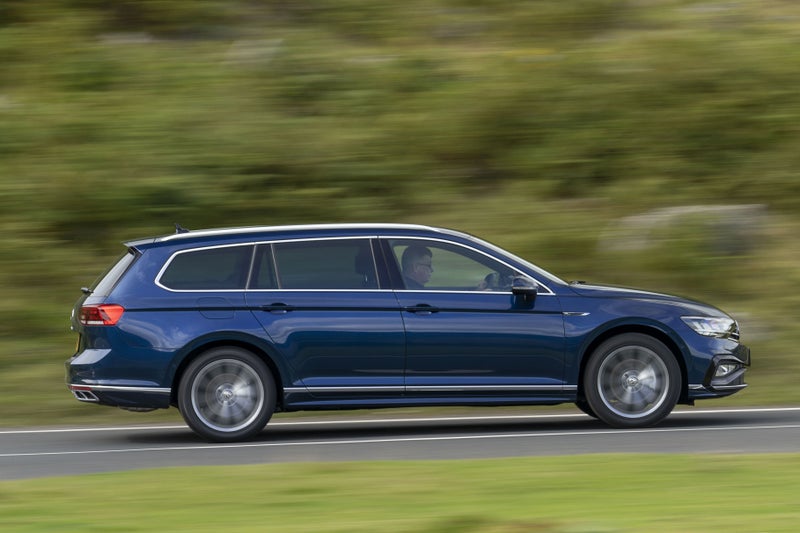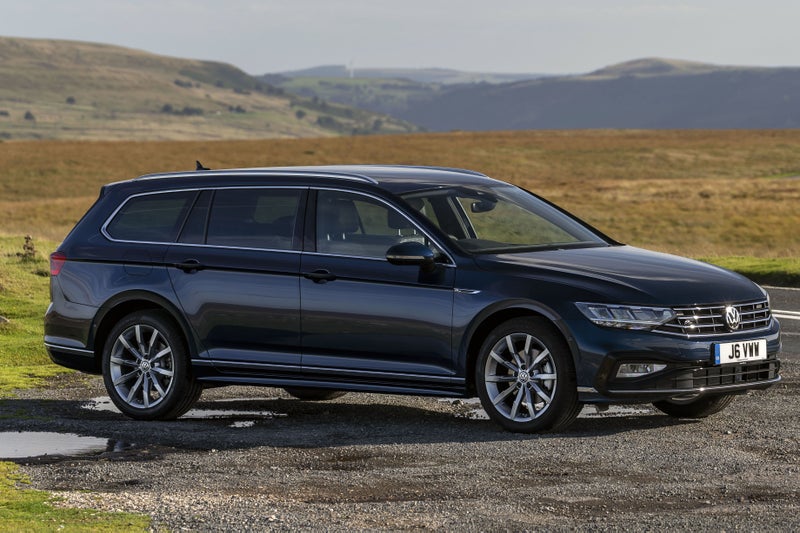 1/10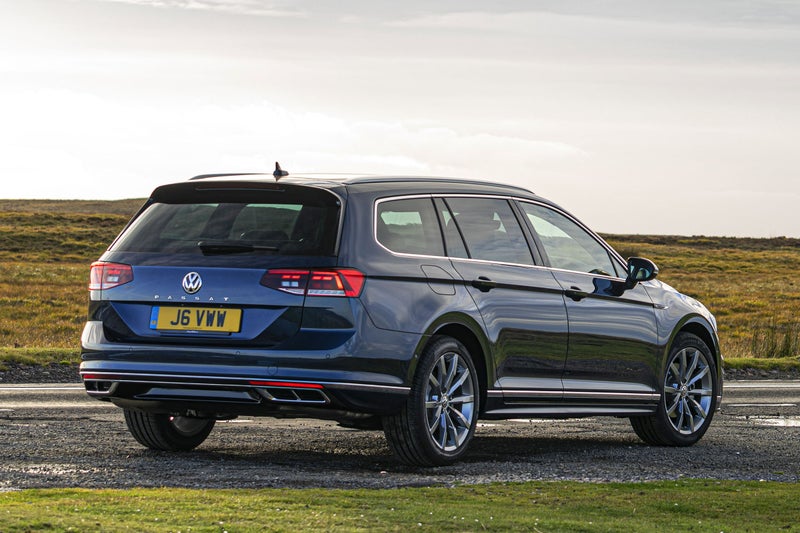 2/10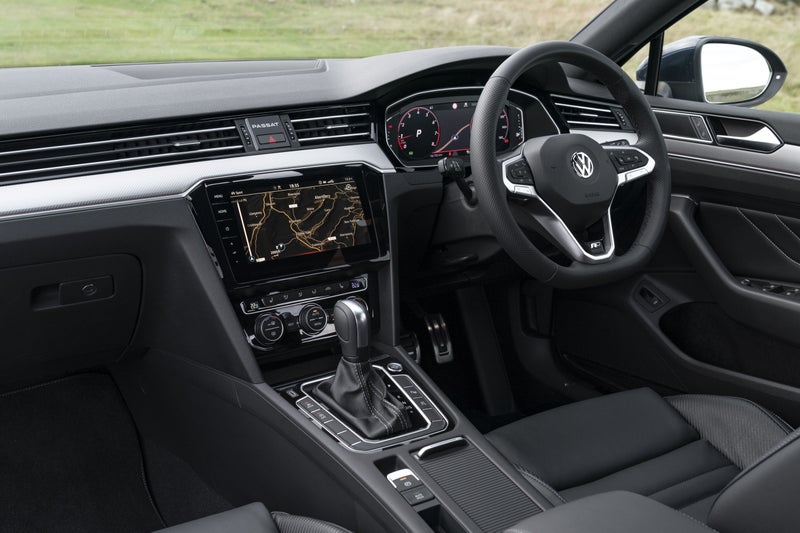 3/10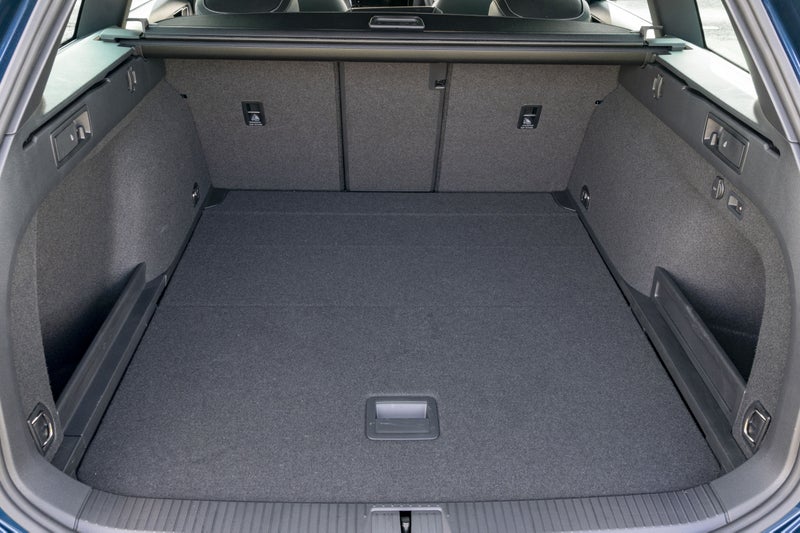 4/10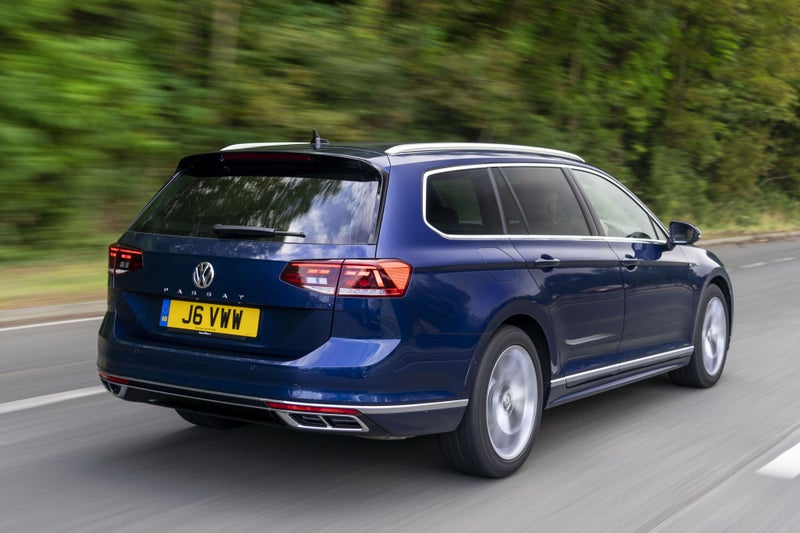 5/10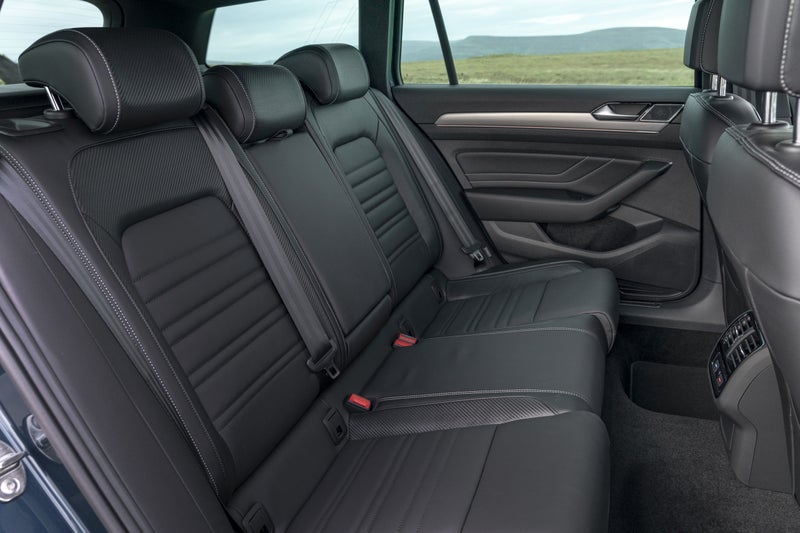 6/10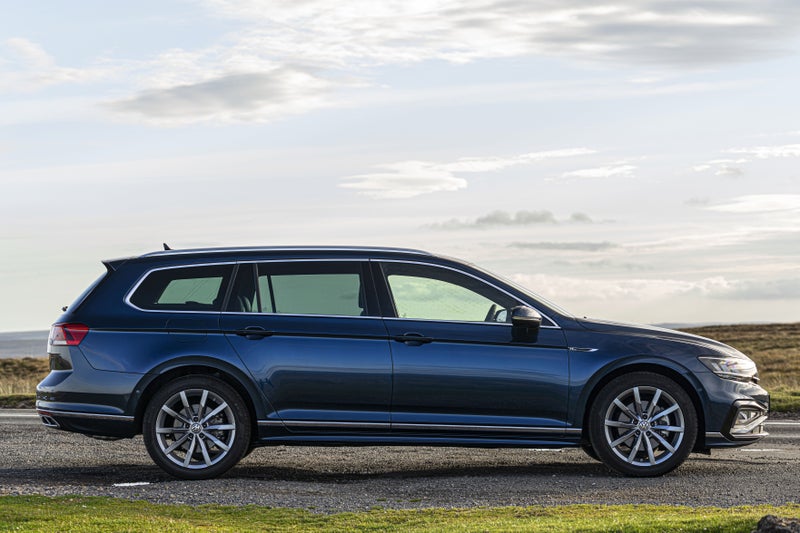 7/10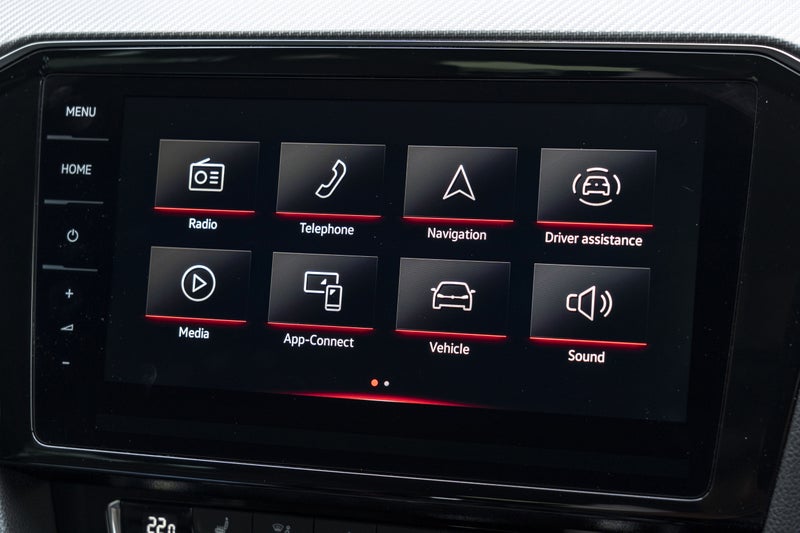 8/10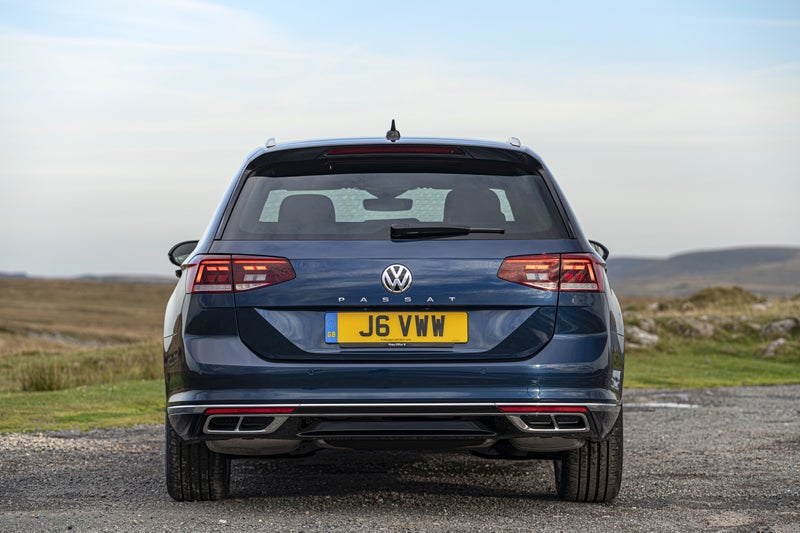 9/10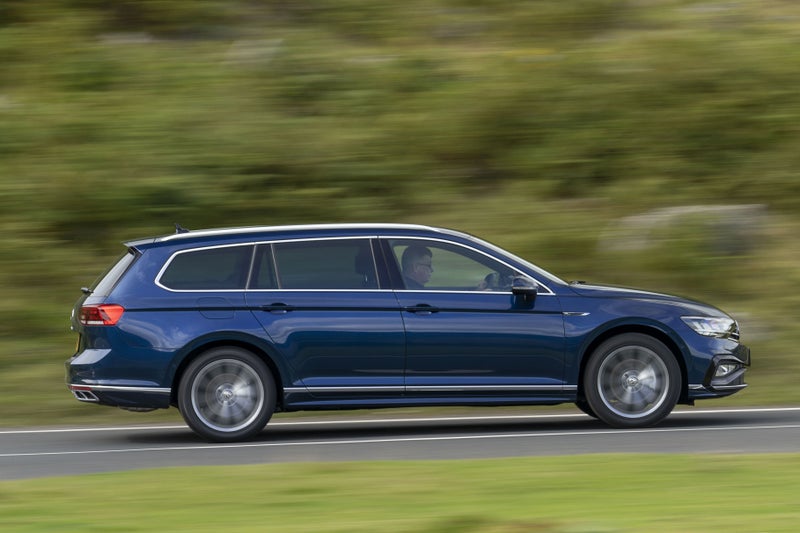 10/10
Launched in 2015

Estate

Petrol, Diesel, PHEV
Launch year

2015

Body type

Estate

Fuel type

Petrol, Diesel, PHEV

heycar rating
Possibly the best large estate
Best bits
First-rate accommodation for passengers and luggage
Broad range of engines
High quality finish
Not so great
Pricier than mainstream alternatives
Models with big wheels are less comfortable
Skoda Superb is cheaper and even more spacious
Read by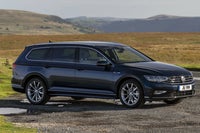 Overall verdict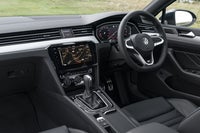 On the inside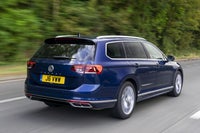 Driving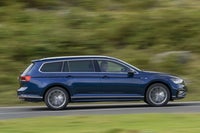 How much does it cost to run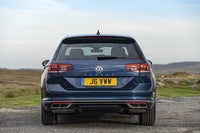 Prices, versions and specification
Overall verdict
"There's a lot to like about the Passat Estate because it is so competent in so many areas. It's very spacious, comfortable and well-finished inside. There's a broad engine range and comprehensive equipment levels. It's far from the cheapest option but you still feel like you're getting value for money."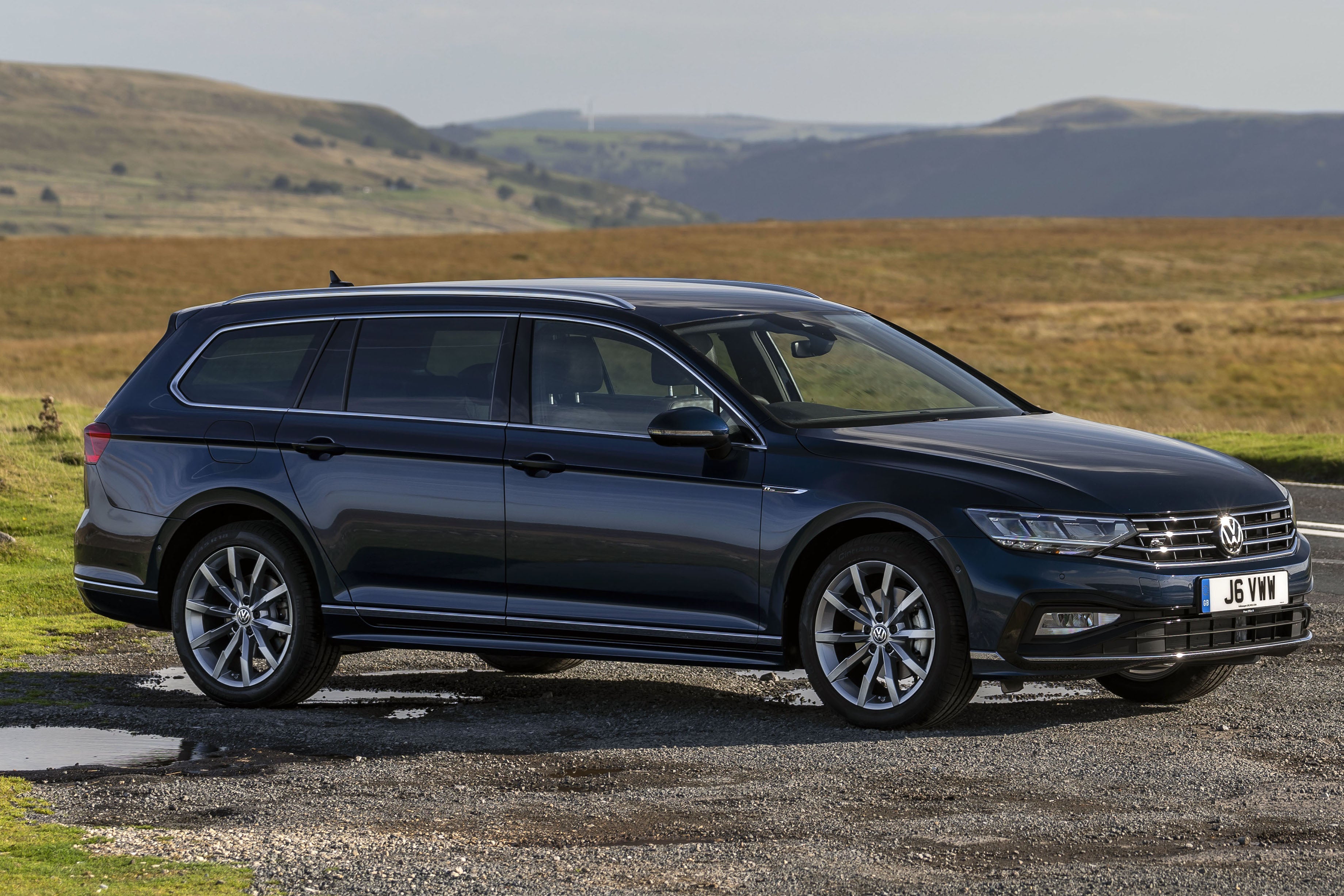 The Volkswagen Passat Estate follows the company's DNA to the letter: smart and discreet design, interior quality to keep the premium brands awake at night, more engine options than a scrapyard and all with a hefty slice of up-to-the-minute technology. It's also gained a reputation for being one of the most spacious cars of its type.
Like the Volkswagen Passat saloon, it treads the somewhat typical Volkswagen line of being subtle rather than plain. Specified on small wheels and a dull colour and you can play taxi driver to your heart's content, but go for an R Line model and the Passat looks posh enough to be compared with the likes of Mercedes-Benz or BMW.
Step inside, and you'll likely find the whole layout attractive. You can specify Volkswagen's 12.3-inch Active Info Display that replaces analogue instruments, while the central infotainment system can be anything between 8-inches and 9.3-inches, depending on the specification you go for. Aside from the fancy tech, you'll find lots of nice materials and a reassuring solidity to how everything works.
And there's no shortage of space. Lots of adjustment means you'll have no trouble getting a comfortable driving position and even if you're tall, someone of a similar height will have no issue squeezing behind you. Factor in a big and well designed boot and you'll find little to grumble about when it comes to the Passat Estate's family car credentials.
Volkswagen's also covered all the bases when it comes to engines. On the petrol side the entry-level offering is the 150PS 1.5-litre TSI EVO unit with 150PS, or you can choose from 2.0-litre models with 190 or 272PS. The latter is only available in R-Line Edition trim with four-wheel-drive and an automatic gearbox.
As for diesels, the basic offering is a 120PS 1.6-litre, while you can choose from 2.0-litre models with 150PS, 190PS or 240PS, this final engine coming with four-wheel-drive only.
If that wasn't enough, Volkswagen also sells the Passat as a plug-in hybrid called the Volkswagen Passat GTE. Its petrol engine and electric motor combine to offer 218PS and its ability to run for around 40 miles on electric power alone can slash your running costs if you have a short commute and somewhere to charge the car.
It's worth noting that the Passat's engine range has changed considerably since the car went on sale in 2015 so you'll find even more variation on the used market.
The Passat Estate's drive is similarly comprehensive. It's quiet and comfortable – though larger-wheeled models are firmer – has plenty of grip in corners and, while it won't immerse you with it's engaging driving experience, this is a car you can drive quickly with confidence.
So the Passat feels like a premium car, has great tech, a practical interior, a large range of engines and strikes a near perfect balance between being comfortable and reassuring to drive. As a result of all this, it deserves a place on your short list if you're looking to buy a large family car.
Comfort and design
"While Volkswagens are known for their smart but understated exteriors, the fan club for the interior design must be almost as big. You know you're going to get a cabin that has been ruthlessly poured over and honed to perfection."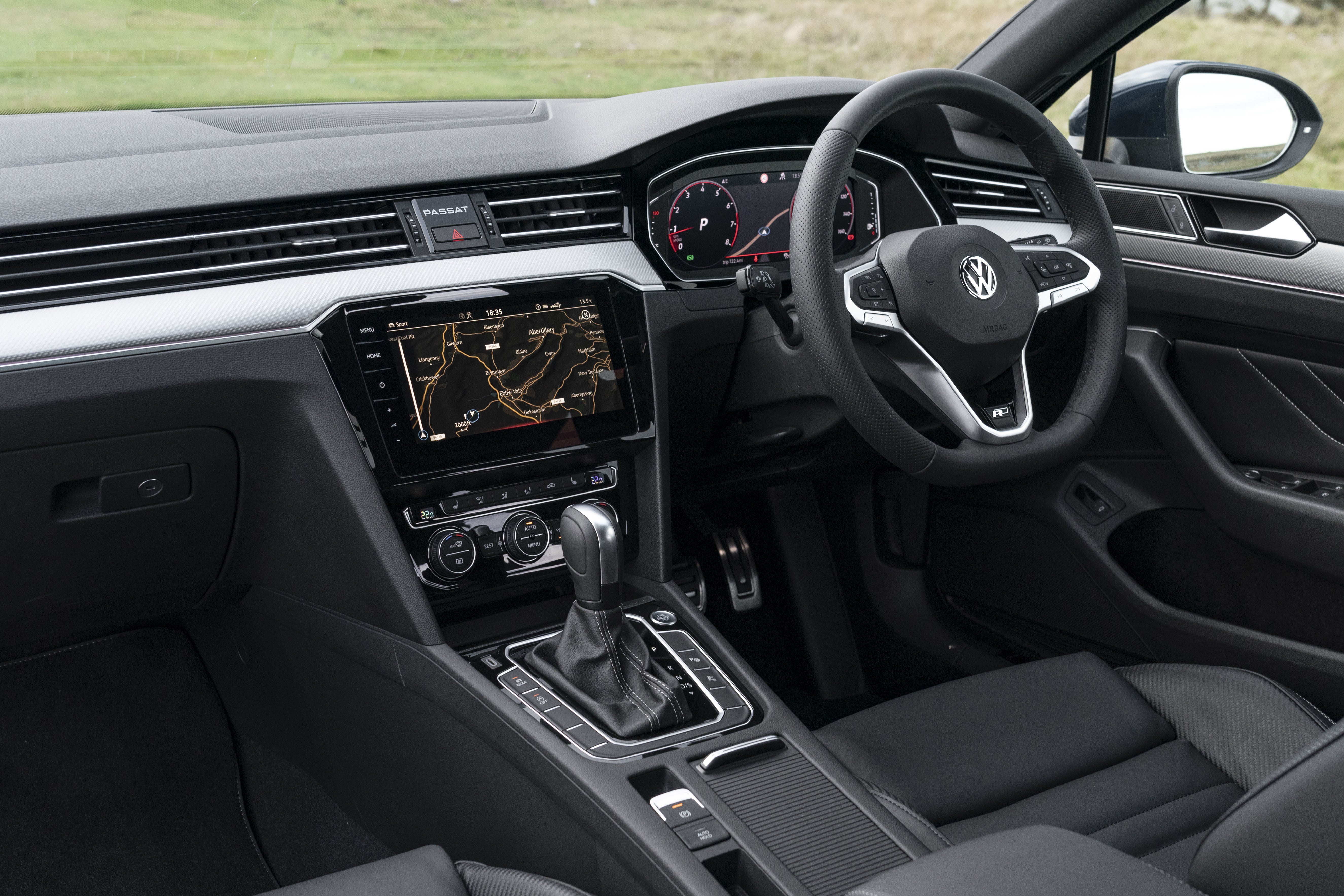 Getting comfortable should be possible for anyone. Not only is there cavernous amounts of room, but the steering wheel has a large range of adjustment and your seat does, too. Even the basic SE gets height adjustment and lumbar for both front seats, plus you get cushion tilt and electric backrest on your driver's seat.
With the optional Active Info Display and standard large infotainment screen, there's only a handful of buttons to fiddle with leaving a clean design that's easy to navigate.
Another positive about the Passat Estate is the amount of light entering the cabin – its large windows making the cabin feel pleasantly airy.
Handling and ride quality
"Volkswagen's Golf, the Passat's smaller sibling, is frequently regarded as offering the perfect blend of ride and handling to suit all kinds of buyers, but this praise has never been lavished on the bigger model."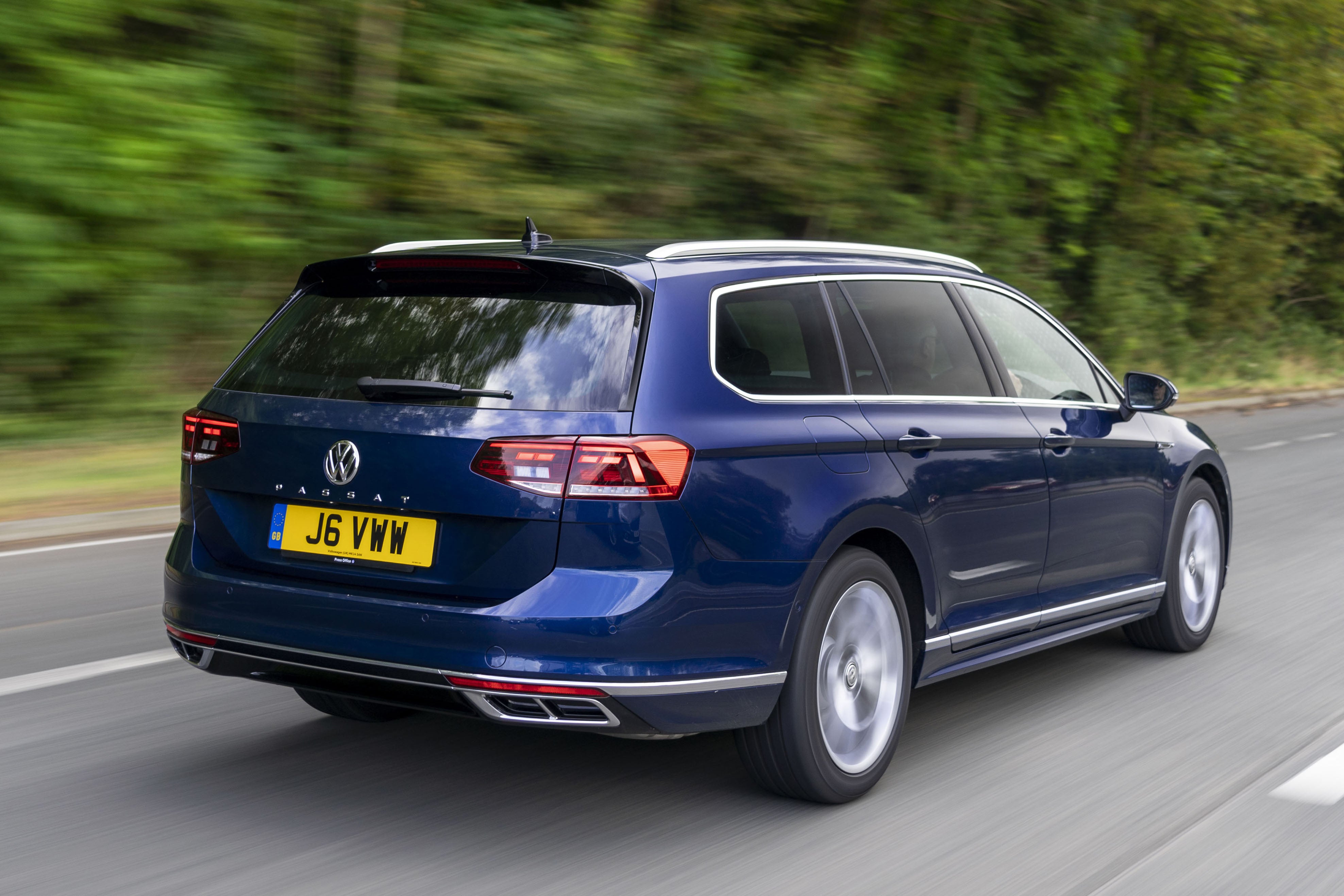 Go for an entry-spec SE model on standard suspension and smaller alloy wheels and you do get a good balance between the two. The smaller wheels don't pick up as much interference from the road surface and the suspension is slightly comfort-biased, so even bumpy roads get smoothed out.
Higher spec models are less comfortable thanks to their bigger wheels and (depending on model) sport suspension. As for handling, the Passat is safe, secure and able. The steering is light at all speeds, but keeps you in the loop so it's easy to judge how much grip the front tyres have.
Should you feel the need you can push down a country road at speed and it will grip gamely, turning into corners obediently and with surprisingly agility given its size.
If you want a sporty drive then it's worth considering the optional Dynamic Chassis Control. DCC gives you Sport and Comfort settings so you can hit a button to tighten up the suspension in a series of corners before selecting Comfort as you're settling into a long cruise on the motorway. Even with DCC, though, the Passat is never going to be as fun to drive as a BMW 3 Series Touring.
MPG and fuel costs
"Given it is quite a large vehicle, the potential fuel costs of the Passat Estate could well be lower than you think."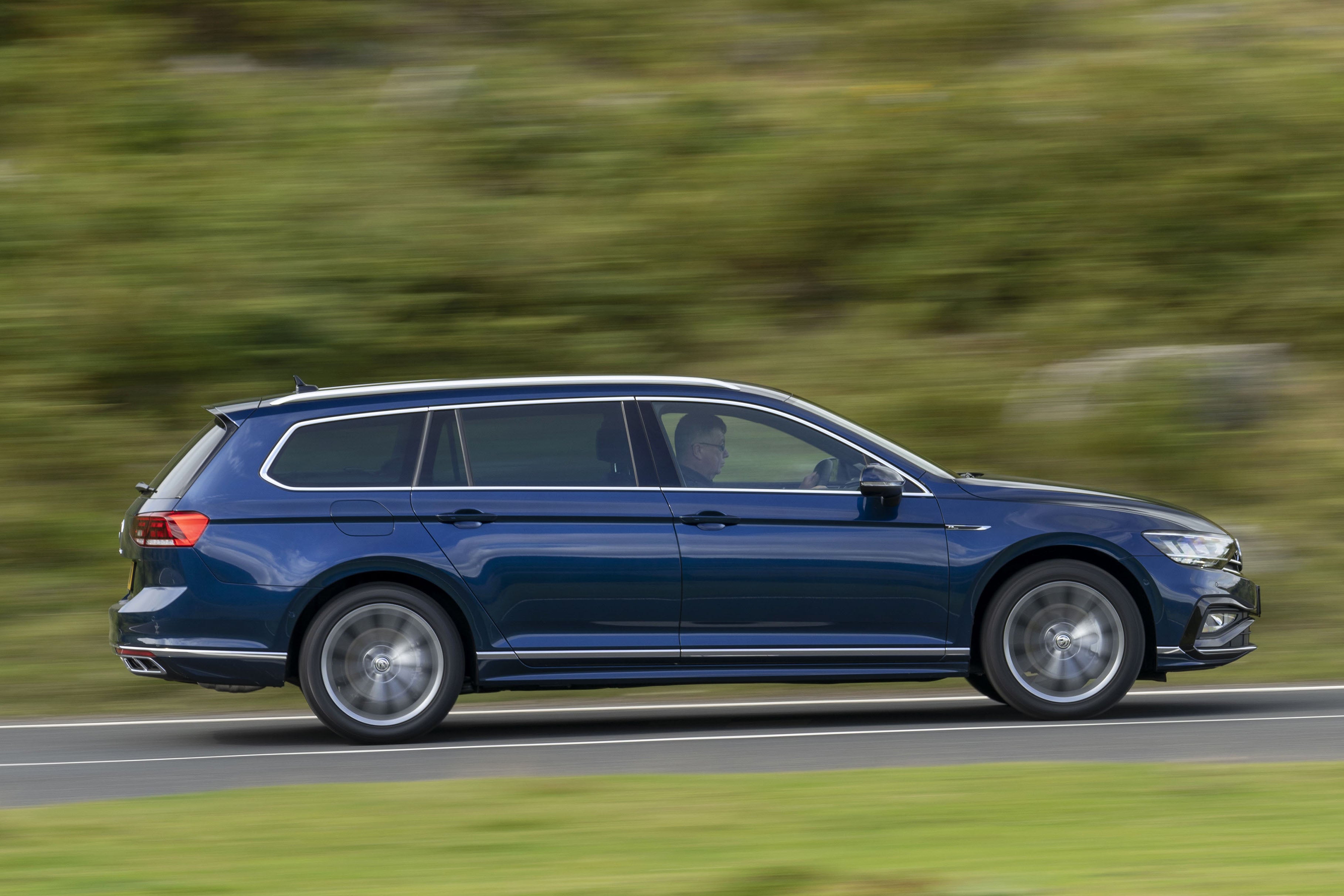 The most fuel efficient version (other than the GTE) is the 2.0-litre TDI EVO 150PS, which has a claimed maximum of 57.6mpg - you should see high 40s to low 50s in the real world if you drive with care.
At the other end of the scale, the 272PS 2.0-litre TSI petrol is the thirstiest, on account of having the most powerful petrol engine added to four-wheel-drive - but even that claims a not-terrible 33.2mpg.
How much should you be paying for a used Passat Estate?
"Because the Passat's been on sale for some years now, there's a wealth of choice on the used market."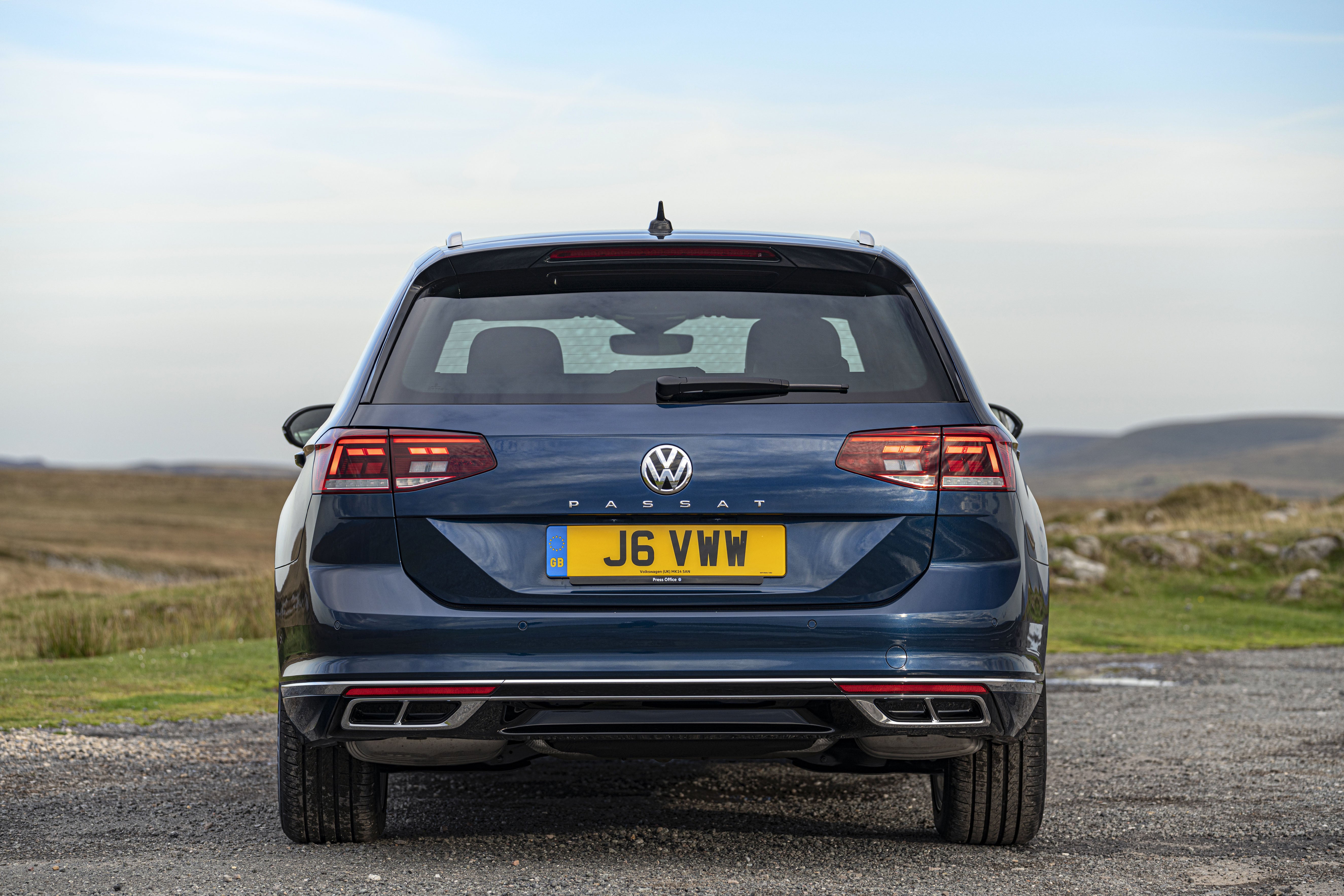 A quick search of the HeyCar classifieds turned up plenty of nearly-new examples – we found a 2020 2.0-litre 190PS diesel in SEL trim with delivery miles for just £27,000 - a saving of nearly £10,000 over list price. Or how about a 150PS 1.5-litre petrol in sporty R-Line trim, registered in 2020 with less than 20 miles on the clock for £30,000 – a saving of nearly £5000.
As for older cars, the earliest examples are under £10,000. We found a 2015 2.0-litre diesel in well-equipped SE Business trim with 90,000 miles for just over £8000, or you can have the same engine and year in sporty GT trim with 80,000 miles for £10,000.
Is the Passat Estate right for you?
If you're in the market for an estate car of this size then it's safe to assume that having a lot of passenger and boot space is a big part of the decision-making process, and on that front the Passat is only bettered by the Skoda Superb.
Like the Skoda, the Volkswagen feels very well built. Most of the interior is made from soft-touch plastics, you get plenty of pretty trim pieces to choose from and you'll love the logical layout that means operating the Passat's various systems becomes second nature in seconds.
Okay, so it's a little pricier than the Skoda, but then Volkswagen counters that by offering cutting edge tech not offered in the Superb in terms of infotainment and self-driving technology.
Factor in an engine range that covers everything from cheap to buy, economical to run, quick or great in town and, it's fair to say, there are few significant chinks to be found in the Passat's armour.
What's the best Passat Estate model/engine to choose?
With so many engine options you should be able to find one that has the right balance of performance and economy to suit your budget as well as your needs.
The 120PS 1.6-litre diesel is adequate, but if you'll regularly have the car fully loaded the 150PS 2.0-litre diesel leaves you plenty of power in reserve.
Don't fancy diesel? Then try the 150PS 1.5-litre petrol – it's a smooth and spritely performer which is packed with clever technology that makes it surprisingly frugal on fuel.
As for trim levels, the basic SE isn't short on equipment. It has adaptive cruise control that can accelerate and brake for you, automatic emergency brakes, bright LED headlights and 17-inch alloy wheels. Its 6.5-inch touchscreen includes Apple CarPlay and Android Auto, so you can use your phone's apps – including its navigation – on the car's big screen.
What other cars are similar to the Volkswagen Passat?
As is frequently the way with Volkswagen Group products, the Passat's key rival is an in-house product in the form of Skoda Superb Estate. It's even more spacious than the Passat, has an excellent standard specification and is solidly built too. You'll also pay less for the equivalent car, although the quality and the driving experience aren't quite as high level as the Passat's, though it gets achingly close.
Outside the Volkswagen products, Ford's Mondeo Estate and Vauxhall's Insignia Sports Tourer are also mainstream rivals that are quite popular choices, while the pricier Volvo V90 feels even posher inside than the Volkswagen.
Quality and finish
As soon as you drop down into the Passat Estate's driver's seat you get a sense of the quality. Whether it's prodding a button or closing the lid of the cubby under the armrest, everything clicks and slides as it should, and feels like it will continue to do so for thousands of miles to come.
Okay, so it can feel a little bit dark inside, but paler shades of plastics are optional, and there are flashes of silvered trim and slivers of metal that break up the black plastic and make the Passat feel that bit nicer to operate.
Classy leather seats are optional – and very easy to clean – but even the standard fabric upholstery looks smart and feels hard wearing.
Infotainment
The basic system fitted in the Passat from SE grade is a 6.5-inch touchscreen system with a Bluetooth wireless phone connection and audio streaming, with AUX and USB inputs.
It may be the basic system but it's all you really need because it comes with Apple CarPlay and Android Auto – which let you use your phone's music and sat-nav apps on the car's big screen. That said, it seems a little stingy that you don't get DAB radio.
SE Nav models get a larger eight-inch screen that includes built-in navigation, additional online services and traffic sign recognition as well as DAB, while R-Line Edition and GTE models get an even bigger 9.2-inch screen with gesture controls. It's an option on all but the basic Passat models.
Space and practicality
The good news is that the Passat Estate is one of the most spacious large family cars you can buy.
Those in the front can enjoy space which is not far short of what you'd expect from a luxury limousine. There's acres of legroom, roll the seat all the way back and unless you're well over six foot tall your feet won't reach the footwell, while headroom is also very generous indeed. There's also lots of steering wheel and seat adjustment - more than in many rivals - so all sizes of driver can get comfy.
There's more good news when you get to the rear seats, which are big enough to comfortably swallow taller adults even if you and your front passenger are tall. The big doors open wide – especially useful if you're regularly heaving children and car seats in and out – and there's no dipping roofline to interfere with access.
As with all cars like this the centre rear seat is compromised. It's thinner than the outer two and also loses footroom to the transmission tunnel that runs down the middle of the car. As for the boot, it's one of the biggest in the class, bettered only by the Skoda Superb Estate.
There's 650 litres of space available with the rear seats in place (10 fewer than the Superb) and this increases to a mighty 1,780 litres with the rear seats folded away. The rear seat backs split 40/20/40 for maximum versatility and, with them folded away, the boot floor is flat. You get a split-level boot floor and an electric tailgate as standard too.
Engines and gearboxes
The Volkswagen Passat Estate has more engine choices than most of its competitors. The basic 120PS 1.6-litre diesel is adequate in terms of performance and also very frugal. It's not the most refined engine option though, and if you start to load it up with people and luggage it can feel a tad sluggish.
The best real-world option is the 150PS 2.0-litre diesel, it blends useful everyday performance, with good fuel consumption. In fact, it's so well balanced in the real world, the 190 and 240PS diesels feel largely redundant.
There's good news when it comes to petrol power, too. The 1.5-litre 150PS petrol is smooth and reasonably punchy and it features cylinder deactivation technology, so it can rest half the engine when the extra power isn't needed to save fuel.
At the silly end of things the 190PS 2.0-litre is quick but quiet but thirsty on petrol, while the 272PS four-wheel-drive version is a hilarious rocketship in a subtle disguise.
Finally, there's the GTE hybrid. It combines the 1.5-litre petrol engine with an electric motor to produce 218PS combined, so it feels pretty quick. It's party piece, however, is its ability to travel around 40 miles on battery power alone, meaning you can get to work on cheap electric power if you have a short commute. That said, the GTE only really makes sense if you have somewhere to charge it battery.
Refinement and noise levels
How quiet your Volkswagen Passat Estate is depends on what engine you choose.
Bottom of the pile is the noisy 1.6-litre diesel, which needs to be worked hard to deliver decent performance. The 2.0-litre diesels are a lot better. They're not only quieter and smoother but, because they're also more powerful, you don't have to work them as hard to make decent progress.
The petrol options are better still, whether that's the 1.5-litre or 2.0-litre options. They're smooth and quiet, and even when extended there's more of a distant noise than any significant intrusion.
Quietest of all is the GTE version thanks to its ability to run on silent electric power for short periods of time. As for other noise sources, road noise is quite well suppressed although the larger wheels you have, the more intrusion there is. Wind noise is kept at bay though, allowing the Passat to cruise comfortably and quietly at higher speeds.
Safety equipment
The Volkswagen Passat was tested by Euro NCAP in 2014, and while it was the saloon version that was tested its five-star rating can be applied to the Estate model.
As standard, all Volkswagen Passats are fitted with front airbags including a knee airbag for the driver, side chest and pelvis airbags for the front seat passengers, side chest airbags for outer rear passengers and curtain airbags for front and rear passengers. Seat belt pre-tensioners are fitted to both front seats, with seat belt load limiters standard for all seats.
Isofix child seat mounting points are fitted in the outer rear seats as well as an airbag deactivation switch for the front passenger seat, with ESC as standard on all models.
All Passats are fitted with adaptive cruise control that incorporates automatic emergency braking and lane assist that gently steers the car in lane.
Models equipped with the DSG transmission also benefit from Traffic Jam Assist which can stop and set off in traffic without you having to operate the accelerator and brakes. There are few safety options available, other than 360-degree cameras, park assist that can park the Passat Estate for you and a head-up display that projects vital information onto the car's windscreen.
Maximum EV range
The GTE model is the only hybrid model in the range and has a claimed electric range of around 40 miles in the city. This is on a par with similarly-sized plug-in hybrids, and as with many such vehicles, the range is only really sufficient for driving into and out of towns and cities.
Insurance groups and costs
If you're planning to run the Passat on a tight budget you may be pleasantly surprised to learn just how low insurance groups can go.
The 1.6 TDI in SE trim manages to get into the relatively-lowly Group 12, although the same trim jumps up to Group 20 with the 150PS 1.5-litre petrol engine and 21 for the 2.0-litre 150PS diesel.
Move up to SEL models and it's Group 15 for the 1.6-litre TDI, 20 for the 1.5-litre petrol and 25 for the 190PS petrol.
Meanwhile, the expensive GTE hybrid sits in Group 28, while the powerful 240PS 2.0-litre BiTDi and 272PS petrol are both in Group 33.
VED car tax
The Passat sits across two tax regimes so how old your car is will affect your annual bill.
Buy a new Passat Estate, or one registered from April 2017 onwards and you can expect to pay a consistent rate of £150 per year after the first year largely irrespective of which engine and trim level you go for.
Cars registered before April 2017 are different. The 120PS 1.6-litre diesel engine attracts a charge of just £20 per year if you go for a car registered before 31st March 2017, while the same engine in Bluemotion trim can be taxed for free.
Trim levels and standard equipment
SE models get 17-inch alloy wheels on the outside, as well as brushed chrome details and a leather-trimmed multi-function steering wheel on the inside. Kit includes a 6.5-inch touchscreen with Bluetooth, eight speakers, keyless start, two rear Isofix mounting points, air conditioning, electric front and rear windows and LED headlights.
SE Nav trim adds the 8.0-inch touchscreen, DAB, navigation, and a three-year subscription to online services, while SEL adds unique 17-inch alloy wheels, heated leather front seats and tinted glass.
R Line models look sporty. They get 18-inch alloy wheels, lowered suspension and an R-Line styling pack. In terms of kit, you get ambient lighting, Nappa leather, stainless steel pedals, three-zone climate control, a boot that you can open by waggling your foot under the rear bumper, heated washer jets that won't freeze in winter and an XDS differential that gives you more grip powering out of corners.
R-Line Edition sits right at the top of the range and can be spotted by their 19-inch alloy wheels and body kit. They get the Dynamic Chassis Control we talked about earlier along with powerful LED matrix headlights, a 9.2-inch infotainment system with gesture control and an Active Info Display digital display in place of conventional dials.
Learn more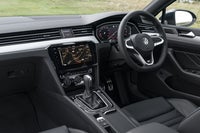 On the inside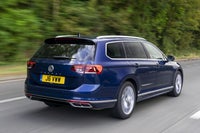 Driving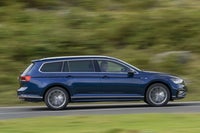 How much does it cost to run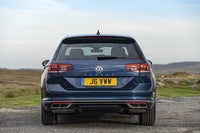 Prices, versions and specification
Ask the heycar experts:
common questions
What is the most efficient version of the Passat Estate?
The Passat GTE is one of the quickest versions, yet also one of the most frugal too. How? Well, it's a plug-in hybrid, so it comes with an on-board electric motor and battery pack that need recharging from a wall socket or public station. Combined with a gutsy 1.4-litre turbo petrol engine, this system has a combined output of 215PS, but emits just 39g/km of CO2.

Does the Passat Estate make a good used car?
Passat Estates are often used as workhorses, so the most popular used models are diesels that will often have covered many miles, so if your budget allows, then we would opt for the 2.0-litre model in at least SE trim, since the entry-level 1.6 TDI in S trim is not the smoothest.

What is the difference between the Alltrack and the standard Estate?
The Alltrack model bridges the gap between the Passat and Volkswagen's SUVs with a standard four-wheel drive system, automatic gearbox, raised suspension, and tough exterior styling that includes extra underbody protection and plastics cladding around the wheels.

Answered by
Russell Campbell
What size is the boot on the Passat Estate?
Few cars can carry as much as a Passat in estate guise, and the latest model is no exception, with a 650-litre capacity with the rear seats up. That amount swells to 1780 litres with the back bench folded, although the four-wheel drive Alltrack can't carry quite as much.

Reviews of similar cars
Quality checked, all cars less than 8 years old and warranty included
Looking for other Volkswagen cars?
Quality checked, all cars less than 8 years old and warranty included
Keep me updated by email with the latest advice, news and offers from heycar
By submitting, you agree to our
privacy policy
.