Volkswagen Polo Review 2022

Written by
heycar editorial team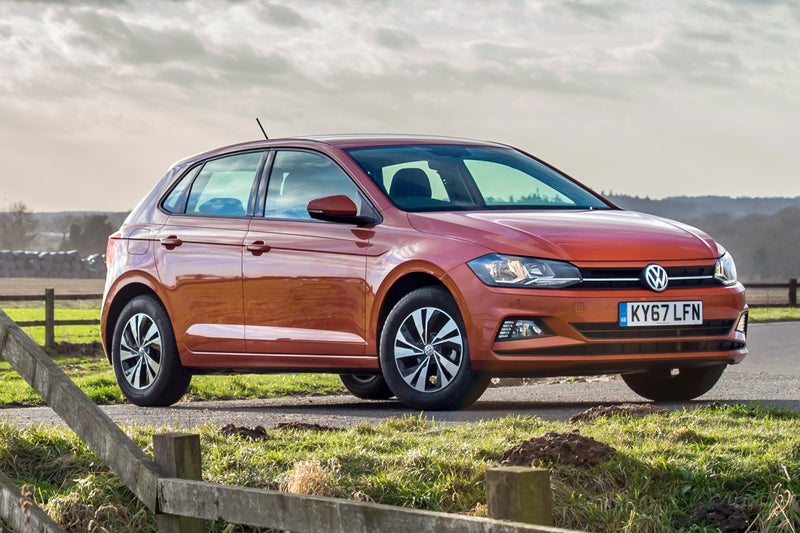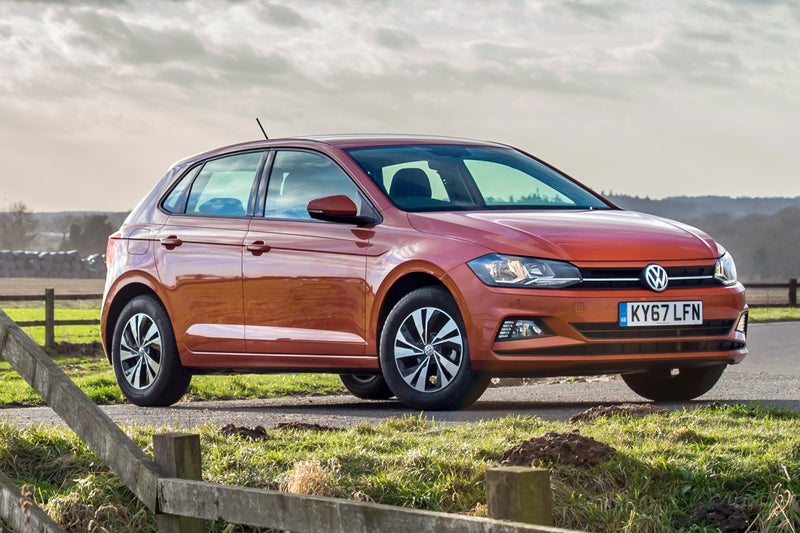 1/10
heycar rating
"Sweet smell of hatch success"
Launched: 2017

Small hatch

Petrol, Diesel
Quick overview
Pros
More than ample cabin space
Superb refinement
Cushy ride
Cons
Pricier than most rivals
Not as sharp to drive as a Fiesta
Larger wheel options spoil ride
Overall verdict
On the inside
Driving
Cost to run
Prices and Specs
Common questions
Overall verdict on the Volkswagen Polo
"Effortless to drive, spacious and backed by an excellent range of petrol engines, the Volkswagen Polo is the best excuse you'll ever need for downsizing your daily driver. Admittedly, it's a bit pricier than many of its talented rivals, but the refined and practical sixth-generation Polo is one of the most accomplished cars in its class."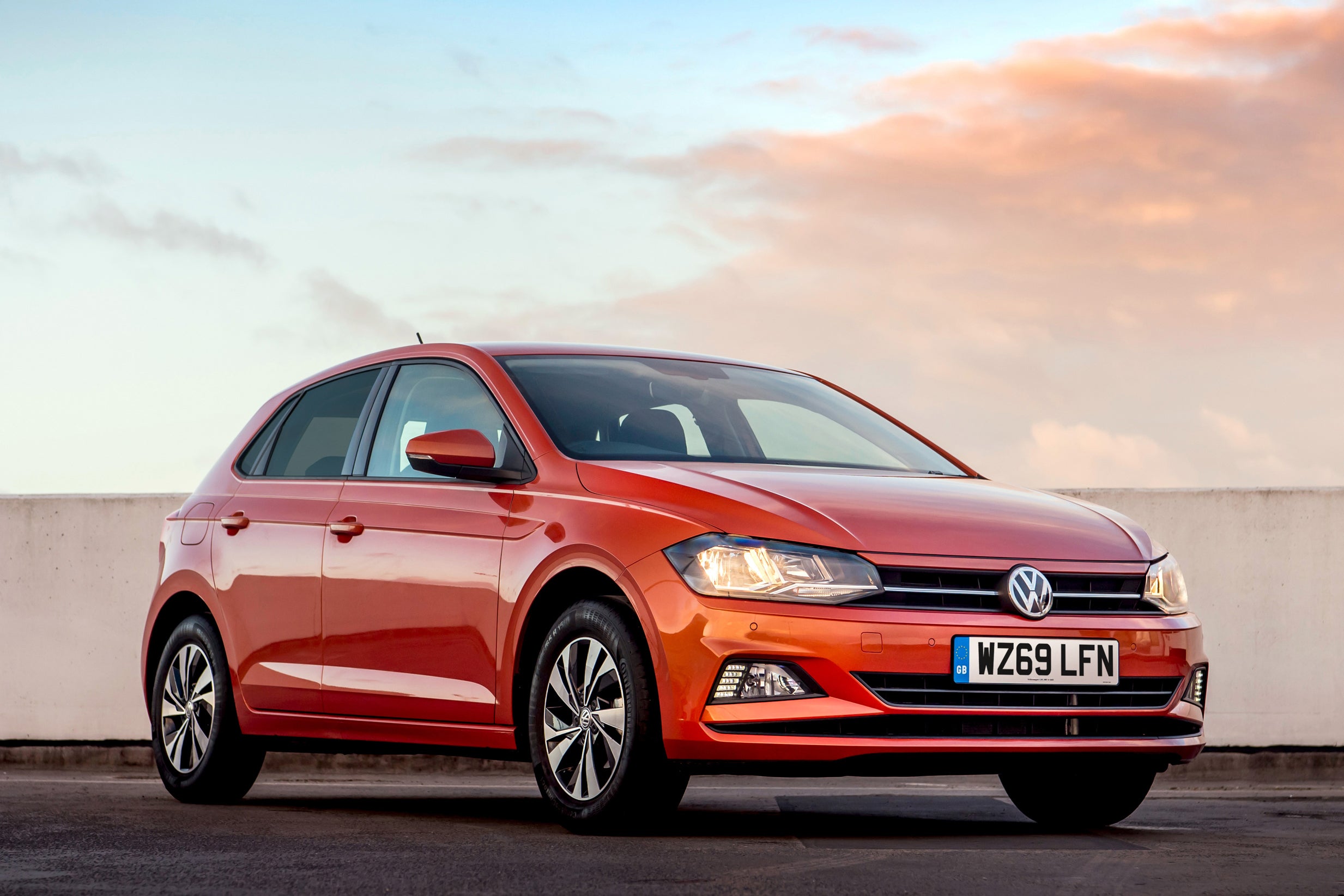 For as many years as the Volkswagen Golf has been a default choice for many in the family hatchback class, the same has applied to the Polo. In this review we'll explain why it's still at the top of its game, and our favourite small car.
Mechanically speaking, the Volkswagen Polo is pretty much identical to the latest SEAT Ibiza and Skoda Fabia. However, while it uses the same platform and engines as its Spanish and Czech stablemates, the Polo feels distinctly more upmarket, with higher quality cabin materials and better soundproofing.
The cabin is one of the most spacious and practical of any small hatchback, with a Tardis-like interior that provides comfortable transport for up to four large adults. The boot is huge too and far superior to anything you'll find in the Vauxhall Corsa or Ford Fiesta when the rear seats are in place. In fact, with 355-litres on offer, the Polo is only a shopping bag short on the 381-litres you get in its big brother, the Golf.
There's plenty of semi-autonomous safety tech, with Front Assist allowing the car to automatically apply the brakes if it detects a potential low-speed impact. The Polo has a five-star Euro NCAP rating, while adaptive cruise control and blind spot detection make it to the options list, along with rear traffic alerts that warn the driver of approaching vehicles when reversing.
The Polo isn't as fun or as involving to drive as the Fiesta, with its steering lacking the weight and sharpness of the Ford. However, the Volkswagen is safe and predictable in its handling, while its refined and quiet nature give it the feel of a much larger car on the motorway. The suspension absorbs most road imperfections, but cars on larger 17- and 18-inch wheels will still transfer a few lumps and bumps into the cabin.
The best engine in the range is the 1.0 TSI petrol. In our view, it's one of the best turbocharged three-cylinder petrol engines you can buy, with lively performance and claimed economy exceeding 60mpg. A performance-focused GTI model is also available, with a 2.0 TSI engine and 200PS. Only those covering long distances on a daily basis will need to consider the 1.6 TDI diesel.
Efficient, comfortable and practical, the Polo is more Golf-like than ever before and certainly raises the bar for the once humble supermini sector. Admittedly, the Fiesta and Ibiza nudge ahead on driver involvement and value, with both getting better levels of standard equipment for similar money, but the classy Polo is an easy car to recommend for those who don't mind paying a little more for comfort and refinement.
If you're looking for the older version, you need our Volkswagen Polo (2009-2017) review.
Is the 2022 Volkswagen Polo right for you?
The Volkswagen Polo is as close as you get in the supermini sector to a one-car-does-it-all policy. This is thanks to the Polo scoring well in every area where a compact hatchback must, as well in some areas where they are usually not so strong.
Among those strengths of the Polo that most of its rivals cannot match are the amount of cabin space it offers. The interior is also a cut above when it comes to the quality of its materials and construction, giving the feel of a premium car that only the Audi A1 and MINI hatch are on a par with.
All of this space, comfort and quality comes at a price that's a little higher than most of its rivals, yet the Volkswagen Polo is worth it. This is reflected in strong used values that mean you don't lose out when buying a new Polo either outright or with a finance deal.
If you do need a bit more practicality, why not check out the similarly sized (but taller and slightly roomier) Volkswagen T-Cross?
What's the best Volkswagen Polo model/engine to choose?
There's no point beating about the shrubbery here, the best engine in the Volkswagen Polo range is the superb 1.0 TSI turbo petrol. It comes in 95- and 115PS versions and each can be had with either a six-speed manual gearbox or seven-gear DSG dual-clutch automatic.
The 1.0 TSI is a punchy engine that delivers strong, linear performance yet it also keeps itself quiet and refined even when worked to its limit. We reckon it's the best of the current crop of three-cylinder small capacity engines used in most superminis now.
All Polos come with a five-door body now, so that just leaves the trim to pick and we'd head for the mid-level Match that provides ample safety equipment, including autonomous emergency braking. It also comes with the Plus version of the Polo's 8-inch infotainment touchscreen so you get Car-Net to quickly pair with the apps on your smartphone.
What other cars are similar to the Volkswagen Polo?
Biggest threat to the Volkswagen Polo is the Ford Fiesta. This pair have been going head to head for years and the Fiesta has an edge when it comes to driving fun. The Ford is also available as a three-door, which some buyers will prefer.
Vauxhall's Corsa is another serious rival to the Polo and has a wide variety of trims and engines to choose from, as well as an all-electric version. You should also consider the SEAT Ibiza for its all-round talents, while the Audi A1 and MINI Hatch give the Polo serious competition for who has the classiest cabin atmosphere.
But perhaps the Polo's biggest thorn in its side is the new Skoda Fabia. While it's not as posh inside, it gets the same engines and platform, more space and practical features, most of the Polo's tech and is available for a chunk less money.
Comfort and design: Volkswagen Polo interior
"No matter how tall you are or what shape your body is, the Volkswagen Polo will accommodate you with ease."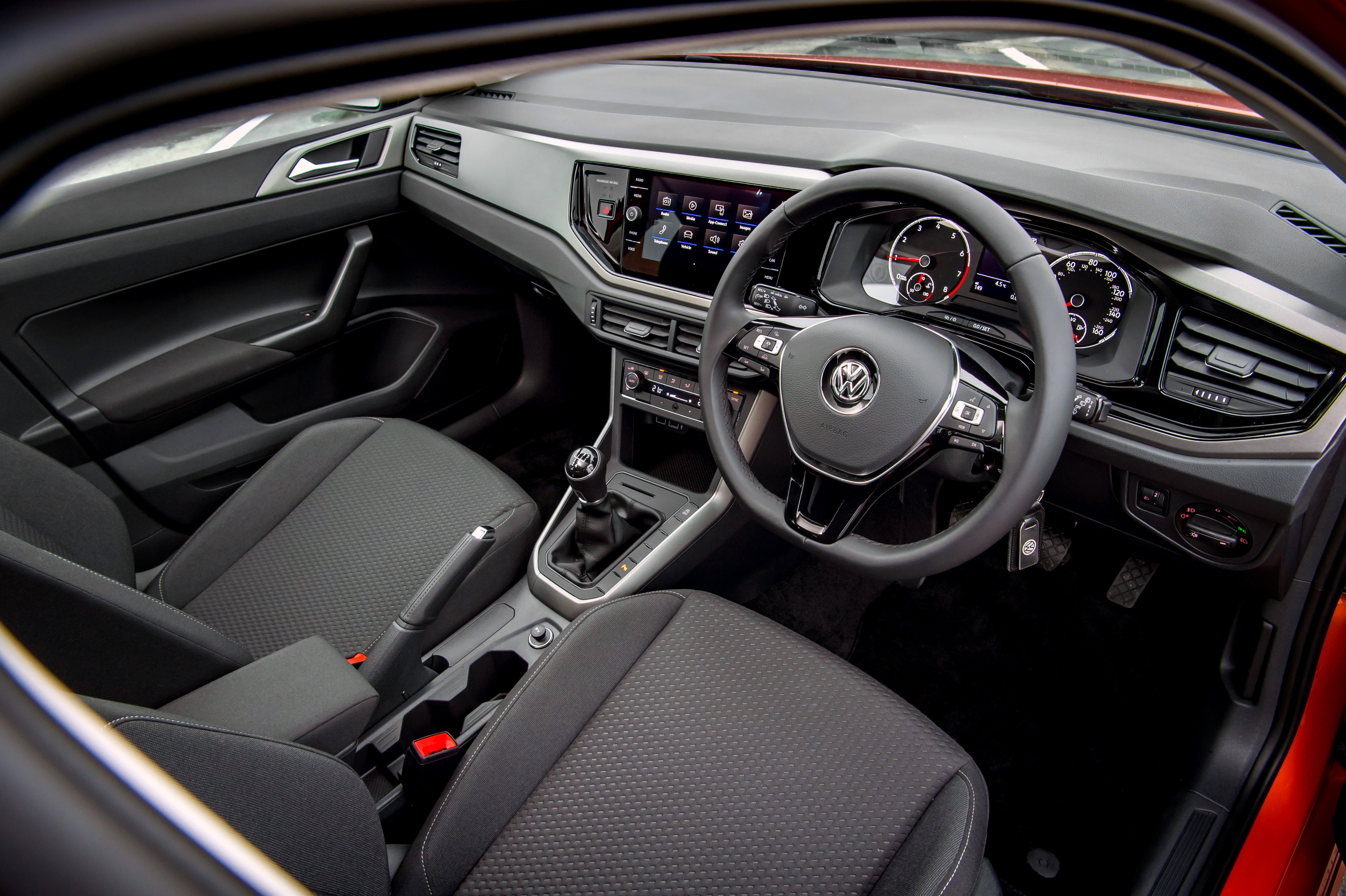 The VW Polo's driver's seat has standard height adjustment on all versions and the steering wheel can be altered for height and depth, so find the perfect seating position is very simple. Whether you're short, tall, large or slim, you should be able to get comfortable.
Once you've honed this to your ideal seat placing, you will find the Polo also provides ample vision in all directions for the driver. Even the rear three-quarters view that is often limited by thick rear pillars in most superminis is better in the Volkswagen thanks to small additional windows let into the metal to improve sight lines.
The feeling of space inside the Polo is accentuated by lots of head, leg and shoulder space for those in the front. You'll also find the seat gives support in all the right places for day-long comfort. When you first sit in the car, the cushions can seem a touch on the firm side, but this is much better than them being all squashy. The result is the Volkswagen's pews keep you comfortable and held in the right place without pinching.
As a five-door only, the front doors can be opened wider than its three-door rivals to help with entry and exit in tighter parking spots. You'll also appreciate the way Volkswagen arranges all of the controls, which have a satisfyingly solid action and are all easy to use when driving. We especially like the rotary dials for the heating that mean you don't have to take your eyes off the road to adjust the cabin temperature - even the VW Golf doesn't have these any more.
Quality and finish
This is the area where the Volkswagen Polo pulls out a very clear lead over its rivals. Everywhere your eyes or hands come to rest, the Polo's interior reeks of build quality that is a cut above the common herd of superminis. There are thickly padded surfaces on the dash-top and doors, while the other areas such as the door handles and steering wheel enjoy a classy feel most of the competition just cannot get close to.
The same is true when you reach further down in the Polo, so even the seat bases and door pockets have neatly returned, smooth edges. All of this is underpinned by careful build quality that means there's no risk of a rattle or squeak interrupting the cabin's harmony. If anything, Volkswagen has hit this particular nail on the head with a good deal more accuracy and success than its cousin, the Audi A1, which is as much an accolade for the Polo as it is a concern for the Audi.
Rounding off the Polo's impressive showing for its build quality is the easy to use infotainment screen that comes as standard in all models.
Infotainment: Touchscreen, USB, nav and stereo in the Volkswagen Polo
Every model in the Volkswagen Polo range comes with the Composition Media 8-inch colour touchscreen to operate the infotainment. The screen has clear, bold graphics that are easy to read and the system is one of the best to respond to the touch of your finger.
Included with the infotainment is a Bluetooth connection, DAB radio, USB connection and six speakers. Pairing your phone is simple and quick. You also get the 'Think Blue Trainer' to encourage more efficient driving behaviour.
With all but the base S model, the Polo also comes with Car-Net that uses Apple CarPlay, Android Auto or MirrorLink to let you access apps from your phone through the touchscreen. However, only the SEL trim comes with integrated sat-nav as standard.
You can also choose the optional Active Info Display for all but the S version. It brings a 10.3-inch colour display in place of the standard dash instruments. You can configure this screen to show a variety of information such as navigation, speedo, journey time, fuel, driver assistance systems or phone calls.
Space and practicality: Volkswagen Polo boot space
Out of all the cars in the supermini class, only the Kia Rio and latest Skoda Fabia can come close to matching the Volkswagen Polo for rear seat space. The German car is truly generous in the amount of room it offers and a pair of taller adults can easily sit back here in complete comfort, which is not something you can say of many superminis or even a number of cars from the class above.
Access to the rear seats is good through the back doors as they swing open to almost 90-degrees. The aperture is large and offers sufficient room to lift your legs in without any acrobatics. Once in, the bench is fine for two but the raised centre section makes it uncomfortable for anyone in the middle pew unless they are very small. Still, all three rear occupants get a three-point seat belt and there are twin Isofix mounts for child seats in either outer chair.
As well as excellent room for shoulders, the Polo is notable for the amount of knee and head space it offers its rear passengers. Add in the window line being lower and not sweeping upwards as it goes back like so many superminis and the Polo's rear quarters enjoy an airy, open feel that is ideal when carting the kids on a long journey. They will also be able to stash their toys in reasonably large door bins or the pockets set into the backs of the front seats.
For bigger items, the Volkswagen Polo's boot is among the more generous in the sector. With 355-litres of capacity on offer in normal use, the Polo's cargo bay is not far short of that of the Golf's. It's also well shaped to make fitting in bigger items very easy through the large tailgate opening and lower than class norm load sill.
Volkswagen provides a 60/40 split and tumble back seat in all but the base S that is simple to work – the S makes do with a single-piece back seat. With the back seats both dropped down, the Polo opens up to a maximum of 1125-litres, again making it more spacious than most, including the Vauxhall Corsa or SEAT Ibiza. There is a slight step in the load floor when the rear seats are folded, but Volkswagen provides a filler piece to bridge the gap that helps here. However, when tipped down, the rear seats do not fold flat, which can make it trickier when pushing bulkier boxes into the boot.
What shows how well packaged the VW Polo is is that its exterior dimensions are about average for the class. At 4,053mm long, 1,751mm wide and 1,433mm tall it's only sightly larger than the Ford Fiesta, and smaller than the Vauxhall Corsa/Peugeot 208.
Handling and ride quality: What is the Volkswagen Polo like to drive?
"The Volkswagen Polo might not be as fun to drive as some of its rivals, but it's a comfortable and refined companion over long distances. It's also silky smooth on the motorway, with virtually no road or wind noise making its way into the cabin."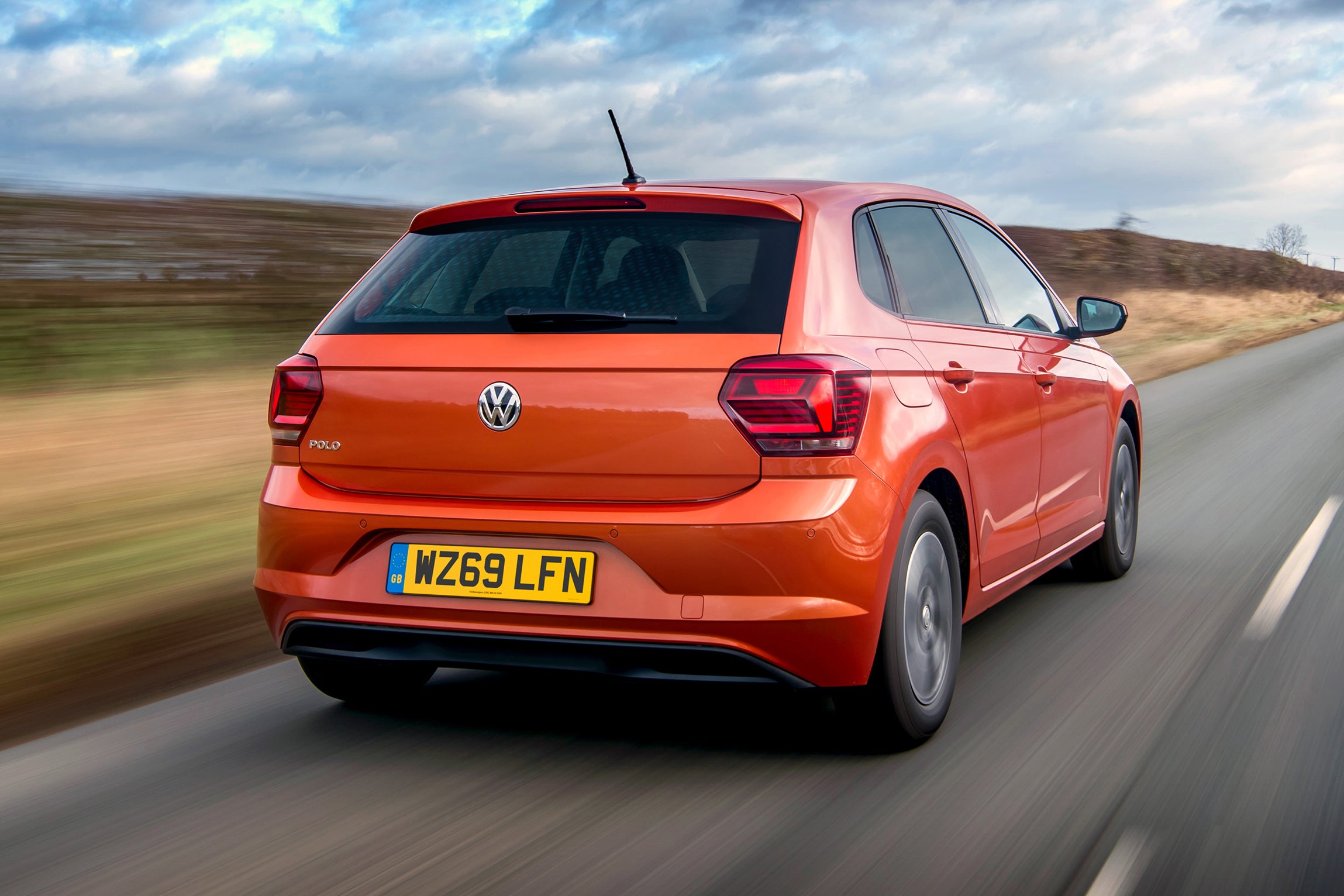 The VW Polo's steering doesn't have the same weight or feedback as that of Fiesta, but it's an easy car to use on a daily basis and the handling is accurate and predictable. If that sounds like we're damning it with faint praise, that is not the case. Instead, we'd say Volkswagen has judged the Polo to perfection for its intended buyers who will value ease of use and consistency of feel over the more overtly sporty feedback of the Ford Fiesta.
In town, the Polo is nimble so you can guide it into a small parking space or perform a tight turn without having to make lots of annoying small corrections. Even without rear parking sensors fitted, it's easy to guide into a bay thanks to the short rear overhang and good vision out of the rear window.
At roughly four metres long, the Polo is larger than its predecessor and only slightly shorter than the fourth-generation Golf, but it still has the feel of a small car, with light steering and responsive pedals that only require a deft touch. Unfortunately, parking sensors are only fitted as standard to cars in high-level SEL trim.
The suspension is supple and cars on 15-inch or 16-inch wheels will provide a soft and comfortable ride quality on British roads. The Polo can also be specified with 17-inch or 18-inch wheels, but these convey more bumps and lumps into the cabin and should be avoided by those who prioritise comfort over style.
What engines and gearboxes are available in the Volkswagen Polo?
The Volkswagen Polo has some of the best petrol engines in the business. The most-popular is the turbocharged 1.0-litre TSI petrol with 95PS, which returns official consumption of up to 51.4mpg and maximum 128g/km of CO2.
It's surprisingly refined for a three-cylinder unit and doesn't have any of the traditional rattles or vibrations that you get with most small petrol engines. A five-speed manual gearbox is fitted as standard and thanks to the engine's flexibility you don't miss the sixth gear that comes with the more powerful version of this engine.
The 1.0 TSI can also be specified with 115PS, which gets a six-speed manual. This doesn't change the official economy, but emissions can creep up to 138g/km on trims with the bigger alloy wheels. All versions of the 1.0 TSI engine can be fitted with an optional seven-speed DSG automatic. A non-turbocharged version of the 1.0-litre engine is available with 80PS, but it's not recommended owing to the fact that it's quite noisy and slow in comparison to the TSI.
Diesel options are limited to a single 1.6 TDI, with 95PS, which replaces the previous 80- and 90PS versions. It's only offered in the SEL trim and only with a five-speed manual gearbox. There isn't loads to be gained in economy, emissions or performance by choosing this diesel engine, so you're as well off sticking to the petrol motors. Unsurprisingly, Volkswagen echoes this sentiment as it says less than five per cent of Polos sold are with the diesel.
 Refinement and noise levels
The three-cylinder petrol engines used in the Volkswagen Polo are all very unassuming when it comes to noise interference at typical driving speeds. They can be heard when working them hard to get up to speed, but they remain smooth and more at ease aurally than most of their competitors. Even when they can be heard, it's a pleasant offbeat three-cylinder hum rather than anything coarse or jarring.
Switch to the four-cylinder diesel engine and it's a different matter. It has a whiff of the farmyard about its refinement, or shortage of it. At cruising pace on the motorway, it's fine, but using it in town or to accelerate harder shows up a noisy character that is at odds with the rest of the Polo's sophisticated manners.
This is thrown into sharper focus as the Polo refuses to let much in the way of wind or road noise enter the cab in most versions. However, if you take one of the higher trim versions that sit on bigger alloy wheels, some din from the tyres as they pass over the road's surface is kicked up and into the cabin, though it's still not as rowdy as most of the Polo's rival superminis.
Safety equipment: How safe is the Volkswagen Polo?
Whichever Polo you choose, Volkswagen fits it with autonomous emergency braking called Front Assist. It includes City emergency braking and Predictive Pedestrian Protection, which means it spots hazards in the road ahead and stamps on the brakes if it thinks the driver has not reacted in time. There is also Post collision Braking to reduce the effects of an impact, while a Driver Alert System aims to tell the driver to take a break in order to avoid fatigue.
All Polos have twin front, side and curtain airbags, along with ABS anti-lock brakes, ESP traction and stability control, and a tyre pressure monitoring system. There are also headrests for all five occupants and triple point seat belts for everyone in the car. You also get two Isofix child seat mounts on the two outer rear seats. A Hill Hold function is also standard to prevent the car rolling backwards down a hill as you prepare to pull away.
All of this has earned the Polo a five-star rating from Euro NCAP in its crash test assessments. It did this with a superb 96 per cent rating for adult occupant safety and 85 per cent score for child occupant safety.
Further safety features can be added to the Polo as options, including adaptive cruise control, Lane Assist with Blind Spot detection, and front and rear parking sensors. There's also the option of plain old cruise control, and a rear-view camera. Park Assist helps parallel park the Polo into a bay by working the steering while the driver takes care of the accelerator and brake pedals.
MPG and fuel costs: What does a Volkswagen Polo cost to run?
"No Volkswagen Polo is exactly thirsty. The petrol engines manage around 50mpg, with the diesel nudging 60mpg."
The most economical Volkswagen Polo is the 1.6-litre TDI diesel motor that returns an official maximum combined consumption of 57.6mpg. That's decent but not class beating and few will choose the diesel, so the best of 51.4mpg offered by the 1.0 TSI turbo petrol is more representative of what most Polo drivers can expect.
In Real MPG conditions, we've found this engine achieves 52.4mpg. The non-turbo 1.0 EVO engine also gives 51.4mpg at its most efficient in the combined WLTP tests. In Real MPG terms, this works out at around 50mpg to make it easy on the wallet.
How reliable is the Volkswagen Polo?
Volkswagen scraped into our top 10 brands in the latest HonestJohn.co.uk Satisfaction Index. Owners find the cars dependable and well-made, with over 88% of owners saying they're satisfied overall.
The VW Polo has been on sale for a number of years now with no major issues reported. All of the engines are well-proven, while the relatively simple mechanicals should mean the Polo is a dependable car. Having said that, there is a lot of technology on board these days, so it might have a few more software glitches than Polos of old.
Insurance groups and costs
Choose the Volkswagen Polo with the 1.0 EVO 80PS (or the rather gutless earlier 65PS) non-turbo petrol engine and you could enjoy insurance premiums based on the lowest group 1 banding. This depends on which trim level you opt for, but it still makes the Polo one of the cheapest superminis to get cover for.
A 95PS 1.0 TSI SE model falls into a reasonable group 8 for insurance purposes, while the most expensive non-GTI model to get cover for is the 115PS 1.0 TSI R Line version. None should be particularly pricey, although young drivers are best opting for lesser engines and trims.
 VED car tax: What is the annual road tax on a Volkswagen Polo?
Most Volkswagen Polos with either of the 1.0-litre petrol engines will fall into Band G for road tax that will cost £175 in the first year and £155 for each subsequent year. If you opt for the seven-speed DSG gearbox or one of the higher trim levels with bigger wheels, this will push the Polo into Band H and a £215 first-year Vehicle Excise Duty payment.
The most expensive of all Polos for road tax is the 1.0 TSI engine with DSG gearbox in the Match or Beats where it can trip into Band I with 151g/km to raid your wallet of a hefty £540 in the first year.
How much should you be paying for a used Volkswagen Polo?
"A used Volkswagen Polo from early on in this generation's life cycle in 2017 will come in at around £10000 for a car with 40,000 miles. This will be for one of the more basic trims and with the less powerful petrol engines."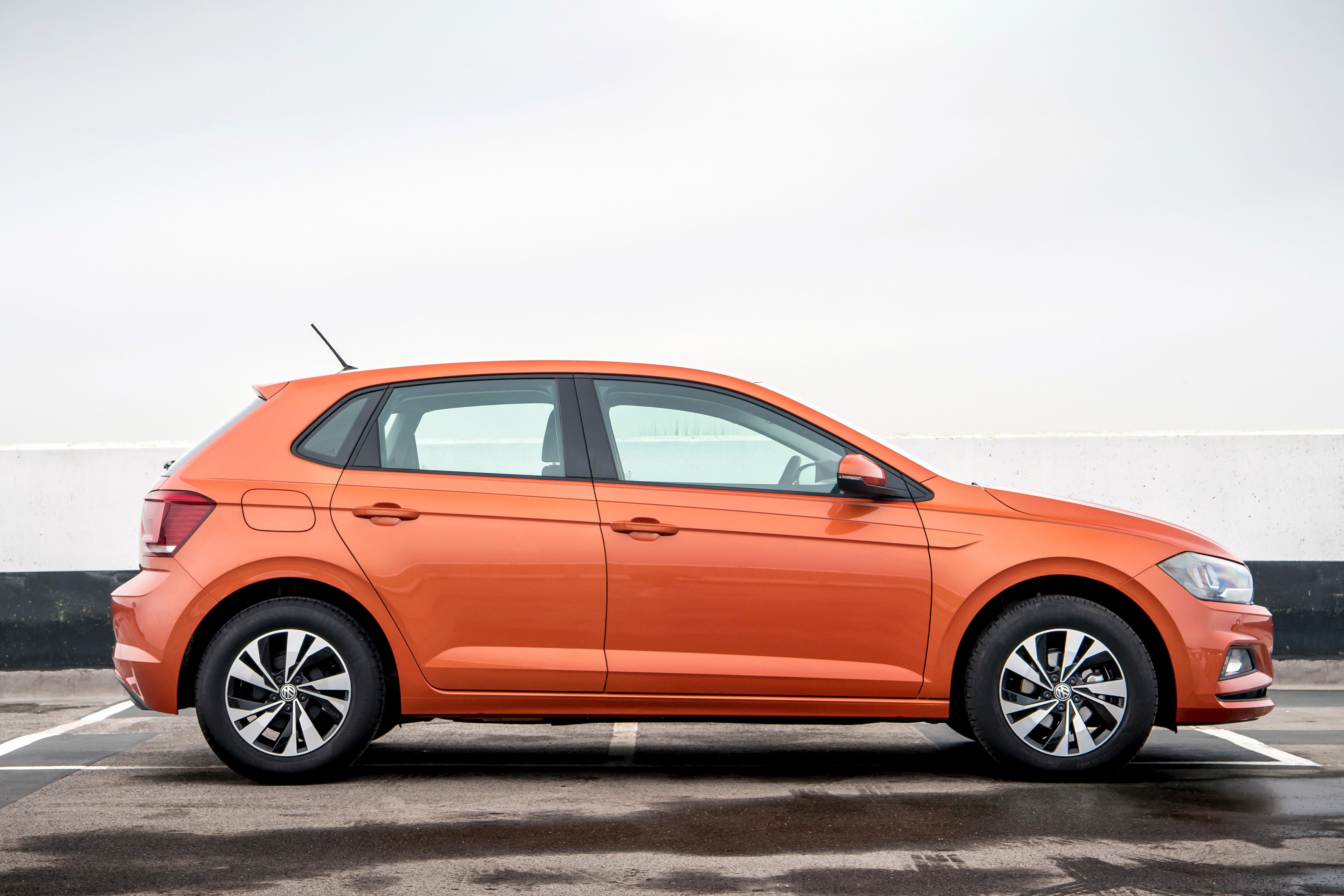 Seek out a two-year old 95PS 1.0 TSI SE and you'll pay around £13,000, which shows how well the Polo hangs on to its value in the used market.
Look for a nearly new or pre-registered Polo in the same specification and you'll be paying approximately £15,500, which is a £2000 saving over a brand new version.
 Trim levels and standard equipment
The Volkswagen Polo range starts with the S that has 14-inch steel wheels and a full-size spare wheel. Inside, there's cloth upholstery, the 8-inch Composition Media infotainment touchscreen, air conditioning, electric front windows, and the We Connect Go DataPlug that uses Bluetooth to send information to your phone for servicing, available parking spaces, fuel cost monitor and it can even set you fuel efficiency targets.
The SE gains 15-inch alloy wheels and body-coloured door handles, while inside there's different cloth upholstery and a drawer under the passenger's seat. Electric rear windows are useful, while the Car-Net App Connect allows you to access apps from your phone through the infotainment screen. On top of this, the Match version has front and rear parking sensors. SE or Match models are probably the pick of the range on the balance of kit and price.
Choose the Beats model and you have 16-inch alloys, rear privacy glass, and front foglights. It also has unique cloth for the seats, Velvet Red dash inserts, paddle shifters for those with the DSG automatic 'box, and an uprated stereo with eight speakers.
The upscale SEL model has chrome details inside and out, plus parking sensors front and back. There's ambient interior lighting, climate control, rain-sensing wipes, and a front centre armrest. You also get Discover Navigation for the infotainment.
The sporty R Line has a unique 16-inch alloy wheel design, chrome exhaust surround, and sports body kit. Carbon Flag cloth is used inside and there are sports front seats, stainless steel pedals, and a black headliner.
Ask the heycar experts:
common questions
Is the Volkswagen Polo a good car?
Yes - in fact it's probably the best small car on sale right now. With a classy and roomy interior, comfortable and refined drive and a range of punchy and smooth engines, it's a great overall buy.

Which Volkswagen Polo model is best?
If you're looking to perfectly balance price, performance and fuel economy, you really can't go wrong with a 1.0 TSI petrol version, Whether it's the six-speed 110PS or the five-speed 95PS model, both are refined, decently punchy and should return over 50mpg.

Answered by
Lawrence Allan
How much is a Volkswagen Polo in the UK?
Prices start at around £10,000 for this generation of VW Polo on the used market. Recently facelifted, the new version starts at £17,500. Polos are more expensive to buy than many rivals, but hold their value well.

Volkswagen Polo cars for sale on heycar
13,425
Number of cars available
£7.9K - £33K
Price bracket of these cars
Colours available on heycar
Keep me updated by email with the latest advice, news and offers from heycar
By submitting, you agree to our
privacy policy
.