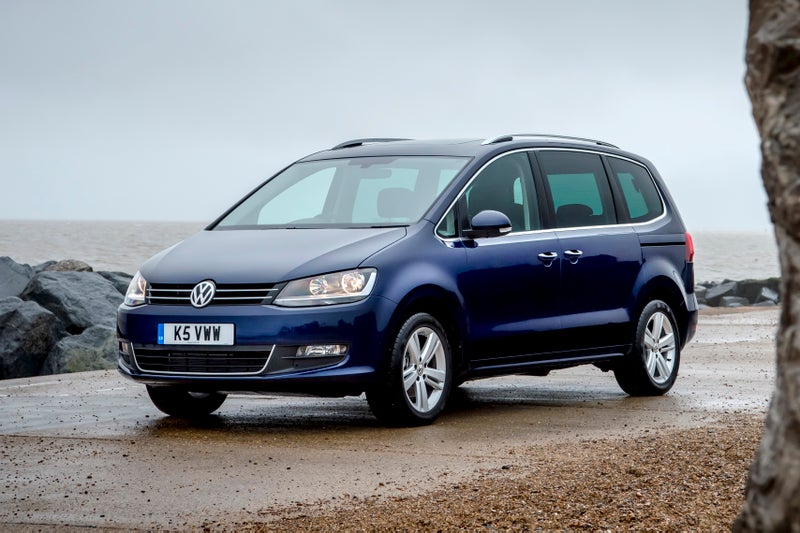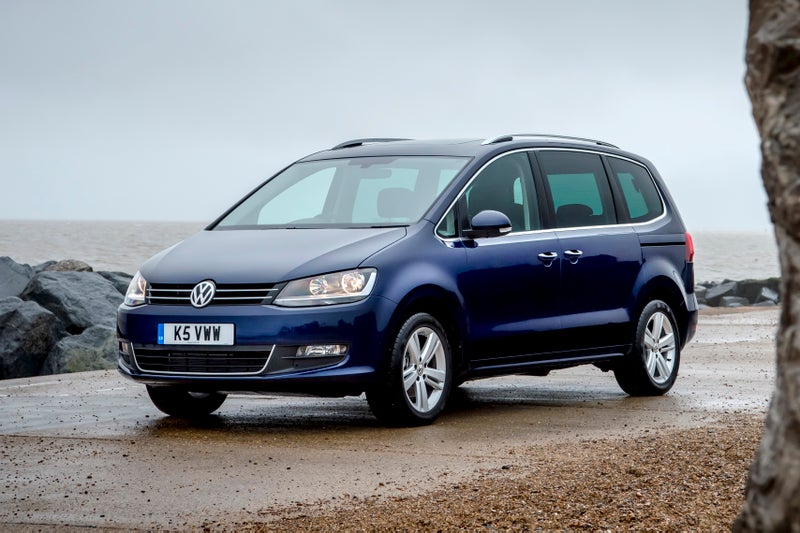 1/10
heycar rating
"Spacious, roomy, cumbersome to drive"
Launched: 2010

MPV

Petrol, Diesel
Quick overview
Pros
Huge interior, very flexible
Seats five very comfortably and seven well
Upgrades in 2015 and 2019 brought big improvements
Cons
Can be cumbersome to drive
Can be expensive to run
Long running model - feeling old
Overall verdict
On the inside
Driving
Cost to run
Prices and Specs
Overall verdict
"The Volkswagen Sharan has been a mainstay in Volkswagen's range since 1995, a model that's been popular with larger families looking for something that's roomy, well-equipped and incredibly practical."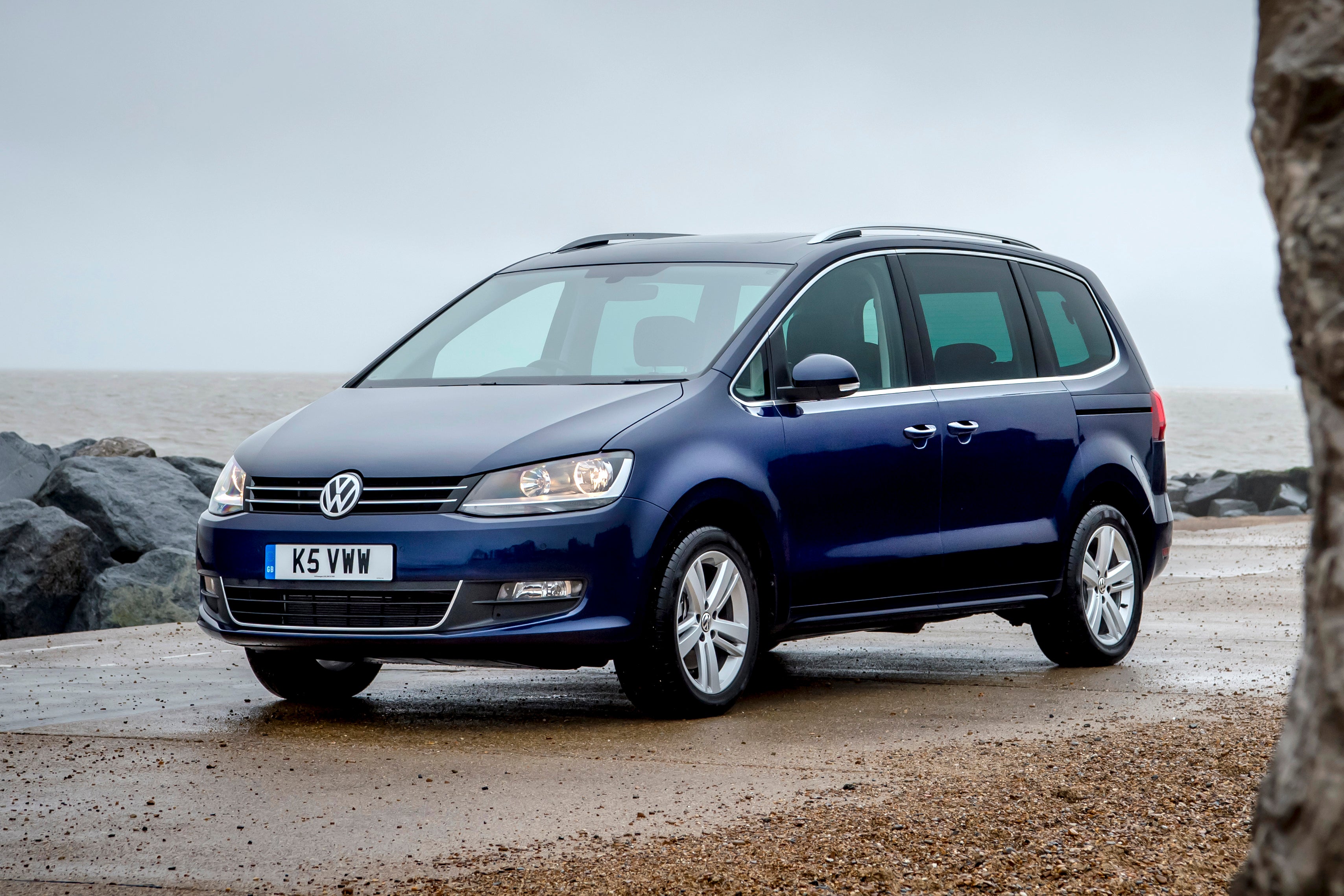 It's now becoming something of a unicorn in the car world. People carriers (or MPVs as they're sometimes known) have fallen out of favour in recent years, with buyers preferring to opt for things like The Skoda Kodiaq, Peugeot 5008 and Volkswagen's very own Tiguan Allspace, which all offer seven seats in a more conventional bodystyle.
As a result, many car manufacturers have discontinued their people carriers, which means the Sharan is one of the last options if you're looking for a 'proper' people carrier, and something with two sliding side doors, but don't want to buy something that's based on a van (for instance a Ford Tourneo Custom or Volkswagen Caravelle). As a result, it's a really good used buy and one that you shouldn't discount just because it's slightly unfashionable these days.
There's a reason why Sharan is one of the last standing - it's always been one of the very best. This version, originally launched in 2010 and substantially upgraded in 2015, is no different.
Part of the Sharan's appeal is the ease in which it can be transformed from a seven-seater, to five seater to two-seater. If you've ever owned an older people carrier, you'll be well aware about what a faff it can be to remove seats - both in how heavy and awkward they are and also how difficult they can be to store.
Not so with Sharan. Since launch the rear five seats fold effortlessly to create a flat floor and an incredibly useful load area. It's easy to do, too, by just pulling a couple of handles and straps. Of course, should you need the space, those seats can come out too (but, be warned, they are heavy).
There's also a neat option where the middle seats have a built-in booster seat. Pull a handle at the base of the seat and the squab will rise up - a demonstration that the Sharan has been designed with a sharp focus on families. Opt for a car with a panoramic glass roof and the interior feels even more spacious, thanks to the amount of light that fills the interior.
Now, back to that 2015 facelift. Initially there was a choice of two petrol and two diesel engines, with the 140PS 2.0-litre TDI being described as the most efficient engine to be fitted to a car of this size and was a popular choice. However, buyers opting for the refreshed option benefit from a host of changes from under the bonnet. Engines were upgraded and all of the diesels were revised and brought up to Euro 6 standard, which means they are more powerful, more economical and emit less CO2.
On the road, it's as you'd expect for a car of this size. A bit of a handful around town or tighter roads, but nothing that should put you off, and much more happy and confident on the motorway. Steering is light, it corners well for its size and the ride soaks up all but the very worst lumps and bumps in the road.
From the exterior, you'd struggle to tell the facelifted Sharan apart from its predecessor. In fact, from the front, it's almost impossible to tell the two models apart. Tweaks included new bumpers and lights, and new rear light clusters which feature LEDs.
Inside, there's more standard equipment, including touchscreen infotainment, three-zone climate control, Bluetooth and automatic post-collision braking.
Sharan benefited from a range of further upgrades in 2019, designed to prolong the model's life into the early 2020's. Discover Navigation is offered as standard across the range, there's a blind spot monitor with rear traffic alert and lane assist - ideal as the car is so long - and dynamic road sign assist that brings up things like speed limit signs onto the info screen on Sharan's instrument cluster.
Worth noting that this Sharan - originally launched in 2010 - has been around long enough to be Euro NCAP crash tested twice, once in 2010 and again in 2019 - it's pretty unusual for a model to be tested twice in its lifespan. First time round, it was a five star car, but was only rated as four-star by 2019 - the goalposts had shifted by this point and gaining that five-star rating was much, much more difficult.
Because it's been on sale for so long, Sharan offers a lot to many buyers in this market, with a wide range of trims, engines and price points. If you're after a car for a larger family, this may just be it.
Is the Volkswagen Sharan right for you?
The Volkswagen Sharan is an attractive proposition for anyone looking for either a seven seat car or, specifically, a people carrier. Its styling may not be as appealing as more modern seven seat options, but the Sharan is very practical, very flexible and has been around long enough to appeal to almost every budget.
Its size will be off-putting to some, both in how cumbersome it can be to drive and the obvious knock-on effects with running costs (i.e fuel consumption, road tax and insurance). The smaller seven seat alternatives from Volkswagen like the Touran and Tiguan Allspace are likely to be more appropriate if you only need seven seats very occasionally. But, if you need those seven seats almost all the time, then the Sharan is for you.
Go for a Sharan that was registered after 2015 if you can - these cars benefited from a major facelift.
What's the best Volkswagen Sharan model/engine to choose?
If you've got a decent budget, then any Sharan after 2019 is preferable - this is when it received a series of upgrades and improved equipment. SE Nav and SEL are the two trims to go for. On older Sharans, look for the SE trim. This got chrome roof rails and tinted rear glass, front and rear parking sensors and cruise control among other items, which made driving a Sharan - especially if you're not used to the size - much easier.
For engines, look for something that's post-2015 if you can. This is when Petrol (TSI) and diesel (TDI) engines were redesigned. These turbocharged direct-injection engines were up to 15 per cent more fuel-efficient, and all conform to the Euro-6 emissions standard. TSI petrol engines are better if you're covering lower mileages (less than 12,000 miles per year), go for a diesel if you're doing the miles to justify it.
What other cars are similar to the Volkswagen Sharan?
Comfort and design
"Every Sharan has twin sliding doors (on better-specced cars these are electric, too), which to certain buyers will be a real boon. It makes it much easier to fit and remove child seats, get kids in-and-out of the car and, if you are less able or mobile, it makes getting into the car much, much easier. Some people will opt for the Sharan for this alone. "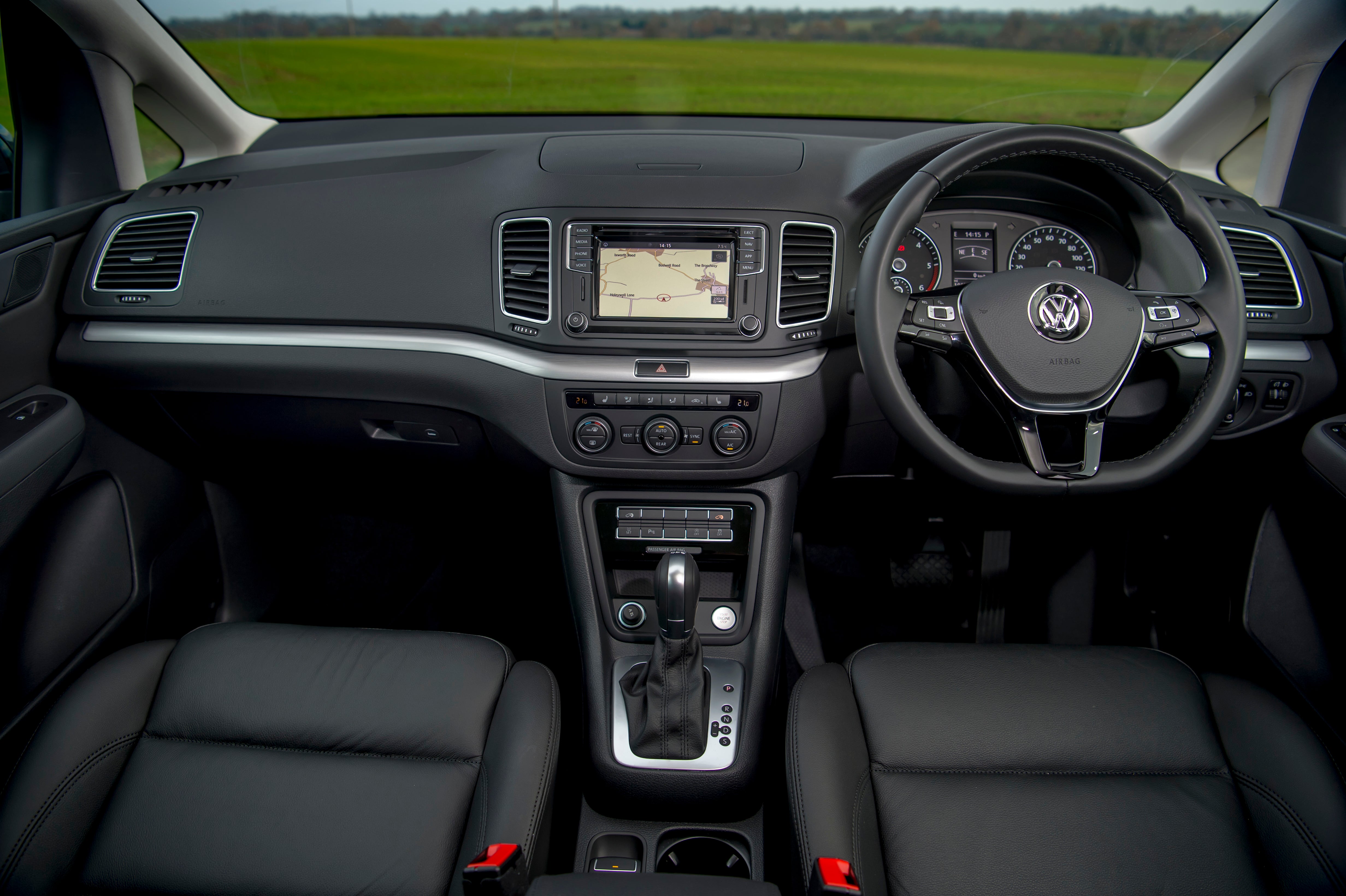 If you're familiar with some of Volkswagen's other large cars, you'll feel at home with the Sharan. It looks a lot like the interior of other large Volkswagen's, including the Passat and Touareg, has a smart fascia, well-chosen plastics and fabrics and high quality switches and dials. It feels roomy and light, even when fully loaded, thanks to big windows and the option of a large sunroof that runs for much of the length of the roof, bathing the cabin with light.
With all the rear seats folded, there's up to 2430 litres of space, which is more than enough for the needs of most families. One of the most innovative features of the old Sharan is carried over to the new one - child seats can be incorporated into the main seats in the third row (simply pull out the centre cushion of the seat to reveal child straps), eliminating the need for separate child seats.
Quality and finish
The infotainment that's on offer to you as a Sharan buyer depends very much on its age. Cars made between 2010-2015 have a sat nav system that is very much feeling its age - the world just moves on too quickly - imagine using an iphone from the early 2000's now… In addition, Bluetooth was not available across the board and the standard way to connect a phone was through aux-in.
The facelift in 2015 brought things more up to date, with better connectivity, better sat nav and a larger screen. The infotainment system began to feel as though it was connecting you and your phone to the car - rather than being something to work around. It's a simple system to use, with a mixture of side buttons and a clear screen. It connects to your phone via Bluetooth simply and - if you have a car with sat nav - it works well, with easy to understand directions.
Sharans from 2019 get one of Vokswagen's snazzier sat navs and a system that reads road signs to tell you of upcoming changes to speed limits.
Space and practicality
This is the area where Sharan simply excels. If you're looking for space, practicality and flexibility, then Sharan is pretty hard to beat. There's plenty of space for five adults and their luggage or for seven adults to be seated. It's roomy too.
The shape naturally lends itself to good headroom, but there's also plenty of leg and shoulder space too in the first and second rows, though the two seats in the back are best for kids - a couple of adults will be fine for shorter trips. Interior space is much better than the Citroen Grand C4 Spacetourer or smaller Volkswagen Touran.
Sharan's seats split and fold in a 40/20/40 configuration and there's plenty of space for luggage. With all seven seats up, there's enough room for shopping or small cases. Drop down the two seats at the rear into the floor and the boot is huge, while folding the three in the middle row creates the kind of space you'd expect from a van.
With all the rear seats folded, there's up to 2430 litres of space, which is more than enough for the needs of most. A particularly innovative feature is that child seats/boosters can be incorporated into the main seats in the third row (simply pull out the centre cushion of the seat to reveal child straps).
Other storage in the Sharan include cubbies beneath the front seats and in the floor beneath them, fold-down picnic tables on the back of the front seats and integrated sun blinds in the rear doors.
The driver gets a comfortable driving position, with a good amount of adjustment options for the seat and steering wheel. The pedals, steering wheel and driver's seat are well aligned and not at an awkward angle and the switches and buttons are well situated and easy to use on the move.
Handling and ride quality
"You get a more car-like drive with the Sharan than almost any other people carrier of this size - only the Ford S-MAX is comparable. It corners well and has good steering - though it could be a little responsive."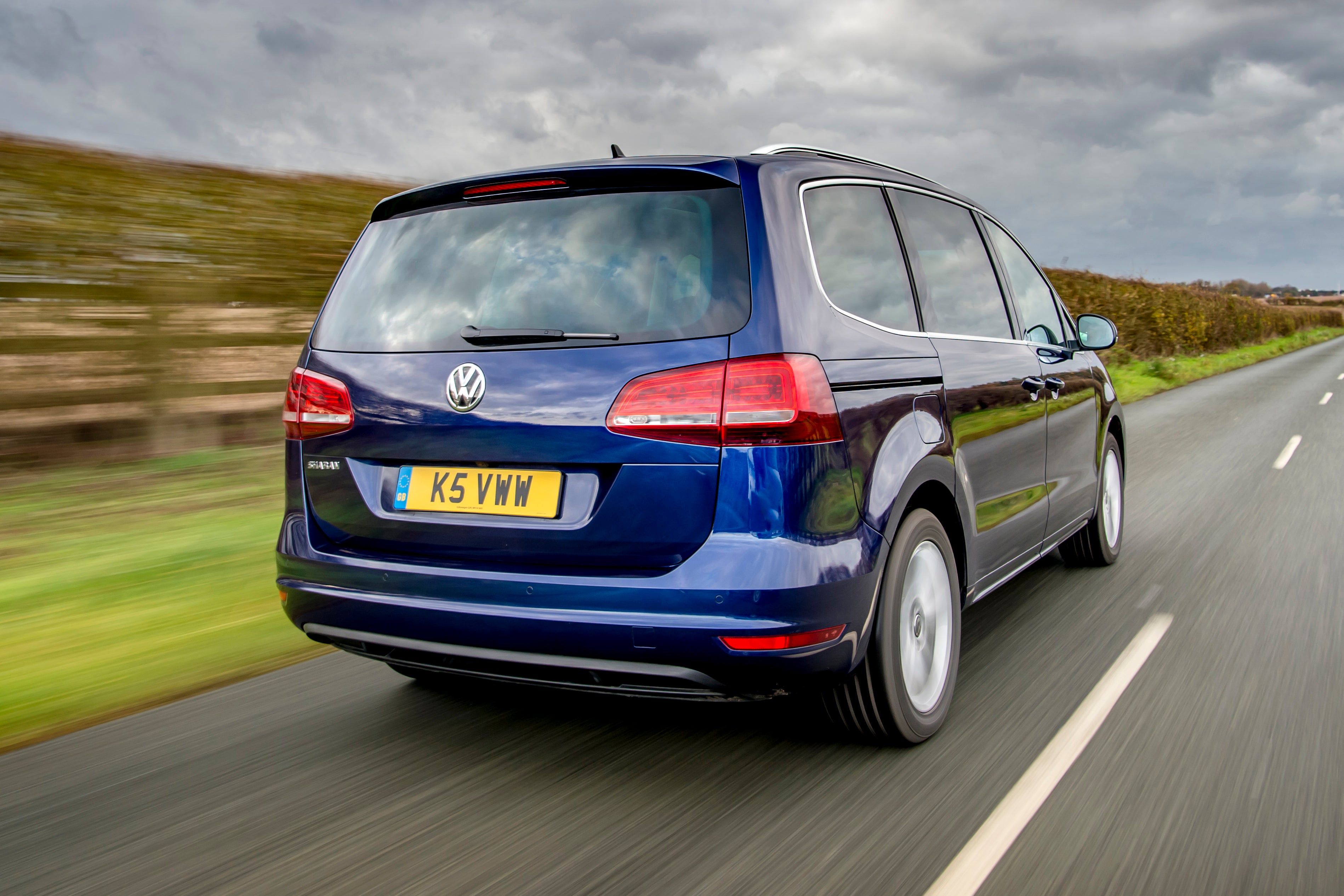 Sharan ride comfort is good, absorbing all but the very worst lumps and bumps in the road. DCC adaptive chassis control is also available as an option, which improves the ride comfort and allows you to soften or stiffen the suspension as you wish. It is a little on the pricey side and it's questionable as to whether it's necessary on a car of this sort.
Engines and gearboxes
Original engines from launch for the Sharan included a 1.4-litre TSI petrol, which sounds a bit on the small side for something the size of a Sharan. However, as it was turbocharged to deliver 150PS (around the same as a normally-aspirated 1.6-litre petrol), it had more than enough poke. The more popular option of the early engines was a 2.0-litre common rail diesel, producing 140PS or 170PS.
It may not have been the most powerful, but it did offer a decent amount of pulling power and never appears to be over-whelmed by the car's size. The gears are spaced to aid efficiency, which means that you may find yourself in a lower gear than expected on occasions, but otherwise it's a fuss-free engine choice. The 170bhp version swaps efficiency for a little more power.
All of the original engines have the choice between a six-speed manual and smooth dual-clutch DSG gearboxes, with the exception of the 2.0-litre petrol with 200PS which has DSG only.
A 2015 revamp saw revisions to all of the diesels, bringing them up to Euro 6 standard. That means they are more powerful, more economical and emit less CO2. As a result the 2.0-litre TDI gets a 10PS power hike to 150PS, while emissions drop and fuel economy improves.
The 2.0-litre diesel engine is responsive and refined, with 340Nm of torque from 1750rpm, which means the you're never short of low-gear pull. The Sharan can be fitted with either a six-speed manual or DSG automatic gearbox, with both working well to distribute power evenly across the ratios.
In short, all of the engines feel well-suited to Sharan, though the diesels offer more punch and better flexibility for different types of driving.
Refinement and noise levels
Volkswagen has done a decent job in suppressing wind and road noise - the cabin is very quiet on the move and the car is most at home on the motorway. Here, your passengers can be assured of smooth, pleasant and quiet journeys.
You get decent ride comfort, too. The suspension does an excellent job of soaking up all but the worst lumps and bumps on the road surface. DCC adaptive chassis control is also available as an option on the Sharan. This improves ride comfort further and allows you to soften or stiffen the suspension as you wish.
Safety equipment
Sharan has always been packed with safety equipment - further cementing its family car reputation. There's a comprehensive list of standard safety features, including curtain airbags, knee airbags, Isofix child seat anchor points (plus built-in child seats and booster seats on some versions), and tyre pressure monitoring.
Auto-dipping headlights, lane-keeping assistance, parking assistance, automatic Post-Collision Braking System, which automatically initiates braking after a collision. Options include an ambient traffic monitoring system, Front Assist with integrated City Emergency Braking, lane-keeping Lane Assist, Adaptive Cruise Control (ACC), 3rd generation Park Assist (for assisted parking and exiting from parking spaces) and Blind Spot Monitor, which warns of vehicles in the blind spot when changing lanes.
Sharan has been crash-tested by Euro NCAP twice, once when it was originally launched in 2010 and then again in 2019. First time around it scored five stars, but the goalpost had moved nine years later, with stricter criteria, and Sharan was awarded only four stars.
It's worth noting that the second crash test generated a few headlines as the side door of the Sharan being tested fell off on impact. Euro NCAP docked the model one point for this flaw and said that although the overall performance of the vehicle was not compromised, there could be, in extreme circumstances, a risk of ejection.
No Sharan has either a full-size or spacesaver spare wheel. Instead, they come with a compressor and a repair kit. This is fine for smaller punctures, but could leave you stranded if there's more substantial damage.
MPG and fuel costs
"On paper, the diesels are capable of at least 50mpg. In reality, you'll be looking at mid-30's, maybe 40mpg, if you're on a long motorway run. But, for a car of this size and weight, that's perfectly respectable."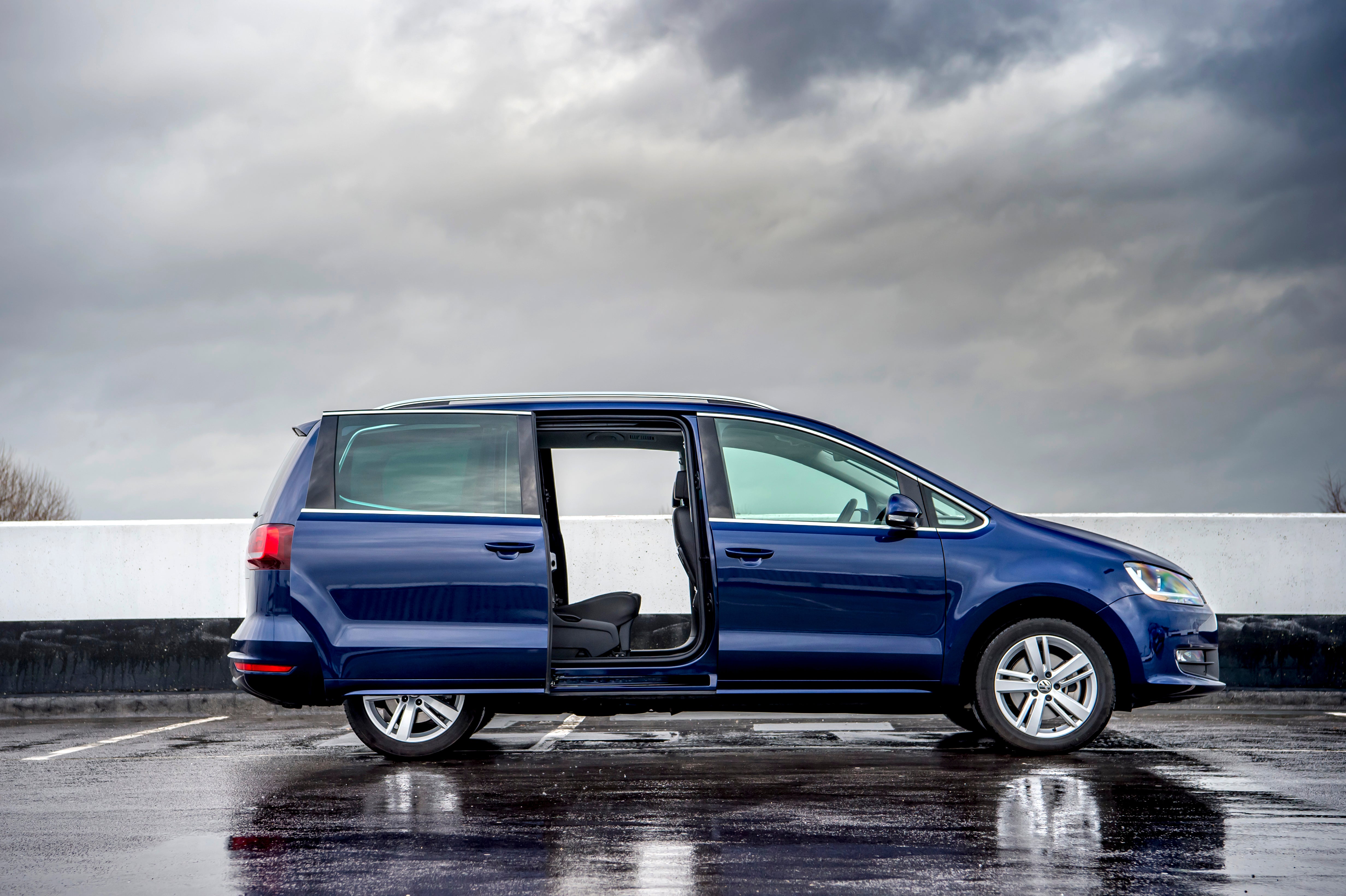 This is a car that's capable of long distances without having to fill up. With a 70l fuel tank and 40 mpg, you can expect it to go 750+ miles between refills.
Insurance groups and costs
There's a narrow band of insurance groups for Sharan, ranging from 19 for the least powerful to 25 for the cars with larger and more powerful engines. That compares well to similar models like the SEAT Alhambra and Ford Galaxy.
VED car tax
Sharans are available under both the older and newer VED road tax systems.
Under the older system, which ran until early 2017, Sharan engines fell into bands D-J. It's worth paying attention, as that's a wide spread. At the power end, you'll be looking at just over £100 a year in road tax, but at the upper end it's in excess of £300.
Under the newer two-tier flat-rate system, almost all Sharans are in the lower tier. But, there are some that sneak in above the £40,000 threshold and will be much more expensive to tax.
How much should you be paying for a used Volkswagen Sharan?
"Sharan has been on sale since 2010 - more than a decade - so there's a wide spread to suit many budgets. New prices started between £25,000 and £40,000, though as the Sharan became less desirable among new buyers, big discounts were common. "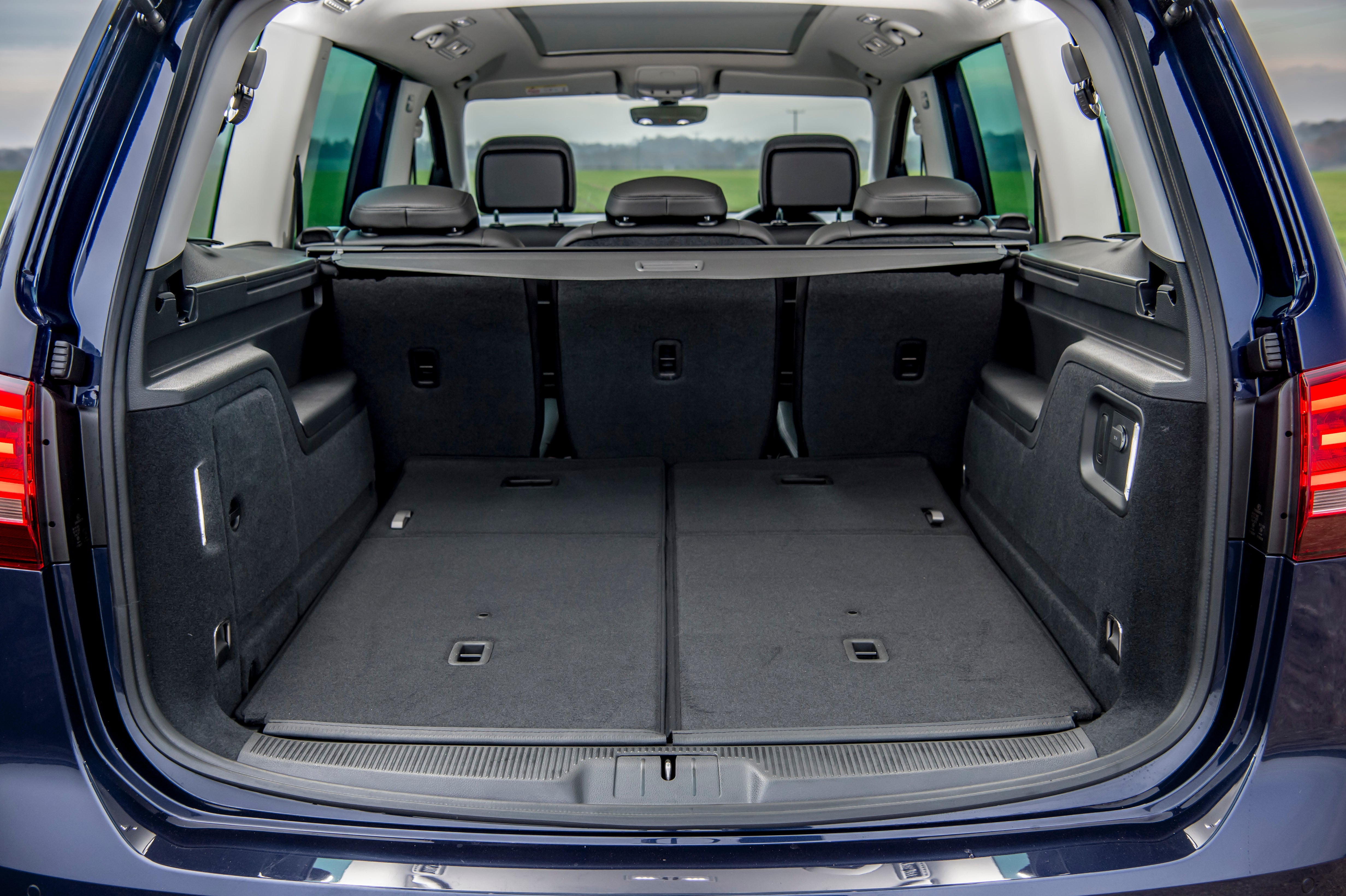 If you're looking for an earlier Sharan - something from 2012 onwards - expect to pay somewhere in the region of £8,000. Those more desirable cars from 2015 onwards tend to be in the region of £15,000 and you should be able to buy a nearly-new example with the latest engines and features for £20,000-£25,000.
Trim levels and standard equipment
Trims from launch were S, SE and SEL.
S is the entry-level model and has an alarm with interior monitoring, parking brake with auto hold, electric child locks on the rear doors, front and rear electric windows, driver and front passenger airbags, driver's knee airbag, side airbag along all three rows of seats, driver's seat-height adjustment, front centre armrest, Climatronic air conditioning front and rear, a CD stereo with eight speakers, connectivity, DAB digital radio receiver and 16-inch alloy wheels.
SE models benefit from a multi-function steering wheel, auto dimming rear-view mirror with rain sensor, under-seat drawers for the driver and passenger, height adjustment for both seats with electric back rest adjustment, 'load-through' function for front passenger seat, front and rear parking sensors, Bluetooth, chrome trim and 16-inch 'Memphis' alloy wheels.
SEL is the range-topping model and adds sport comfort seats with Alcantara upholstery, heated front seats, tinted glass, heated windscreen washer jets, brushed aluminium inserts, cruise control, a CD autochanger, front fog lights, panoramic sunroof, chrome roof rails and 17-inch 'Sydney' alloy wheels.
From 2015, Automatic Post-Collision Braking System, Bluetooth phone connection and three-zone Climatronic air conditioning became standard across the range, SE trim gained chrome roof rails and tinted rear glass, front and rear parking sensors and cruise control among other items, while the range-topping SEL trim got Front Assist and Adaptive Cruise Control, panoramic sunroof, Alcantara upholstery and Discover Navigation with CarNet Guide and Inform. The SE Navigation model joined the range. Based on the mid-range SE trim it added Discover Navigation with CarNet Guide and Inform for an additional £675.
A further refresh in 2019 brought Discover Navigation as standard across the range, plus a blind spot monitor with rear traffic alert including lane assist, and dynamic road sign display. Due to the standard fitment of Discover Navigation, SE trim was removed, meaning the Sharan range from this date begins with S and moves up to SE Nav then SEL.
Volkswagen Sharan cars for sale on heycar
13,557
Number of cars available
£19K - £36K
Price bracket of these cars
Colours available on heycar
Keep me updated by email with the latest advice, news and offers from heycar
By submitting, you agree to our
privacy policy
.