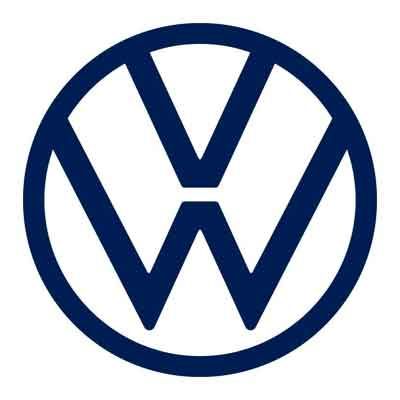 Volkswagen T-Cross Review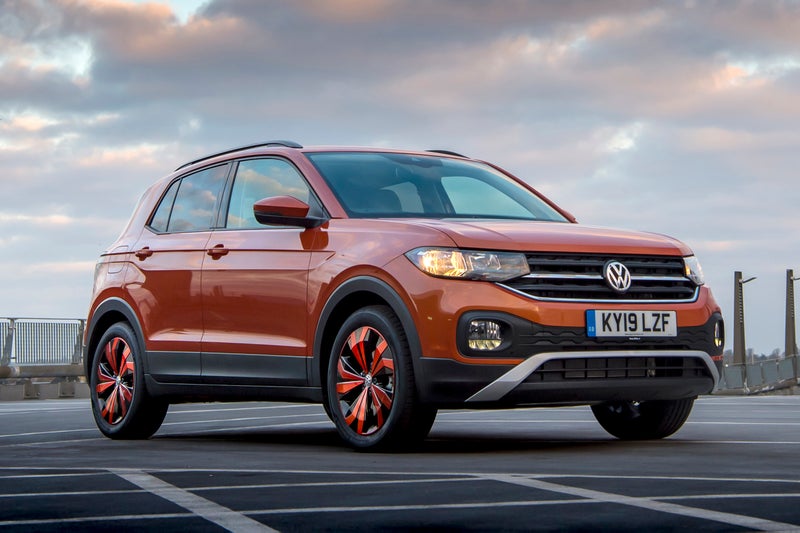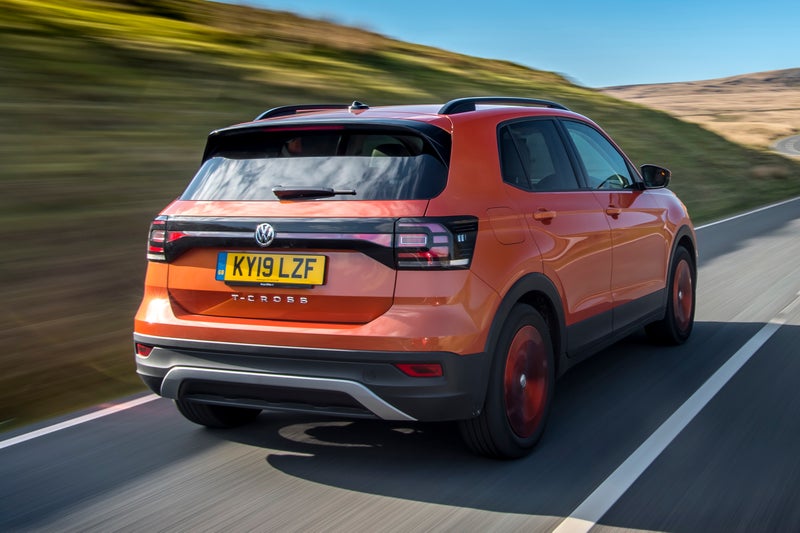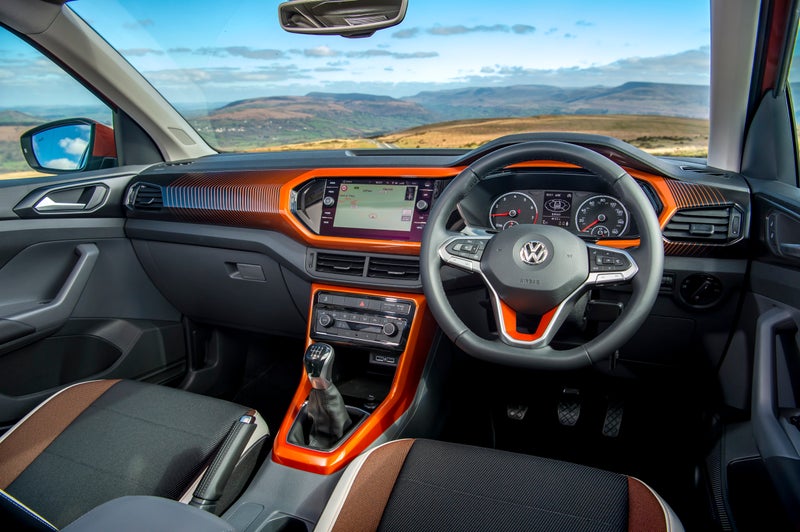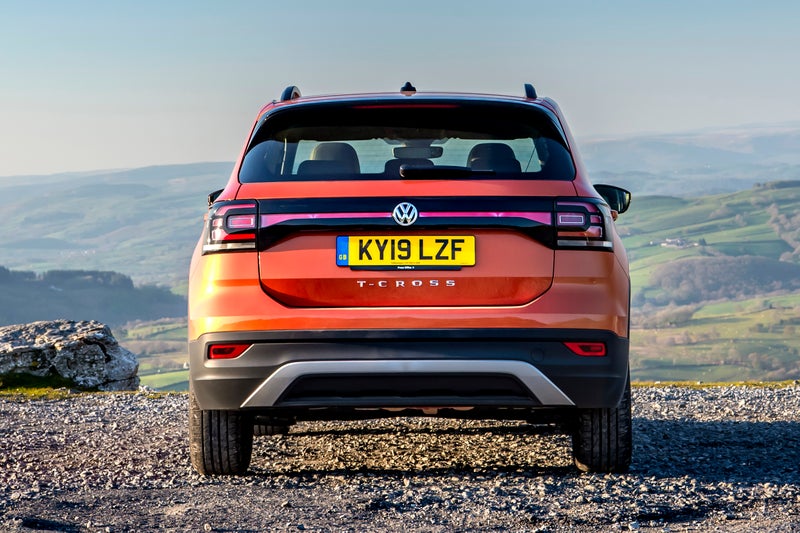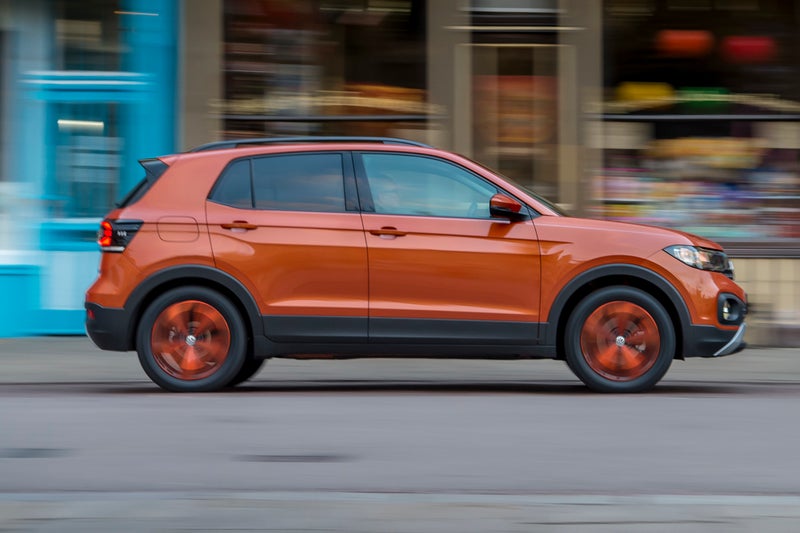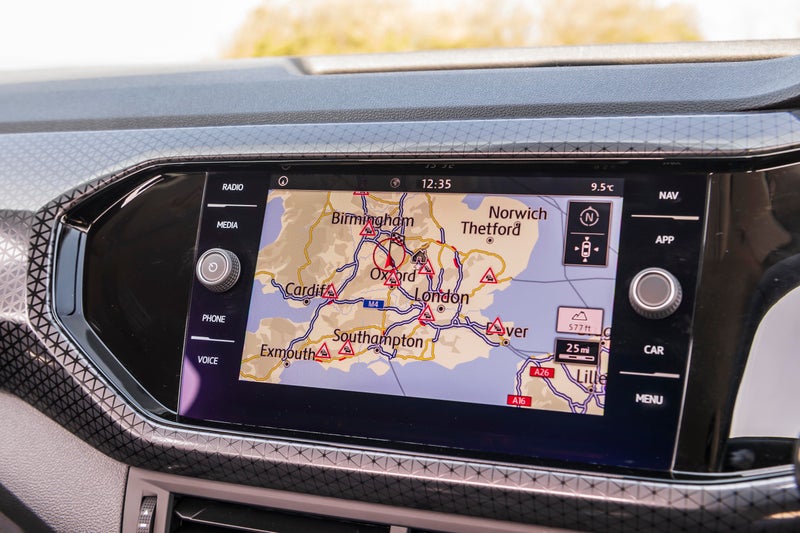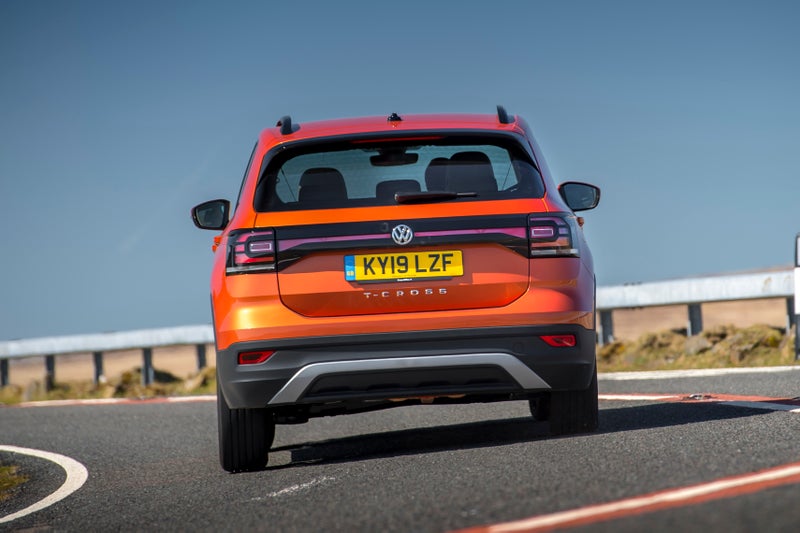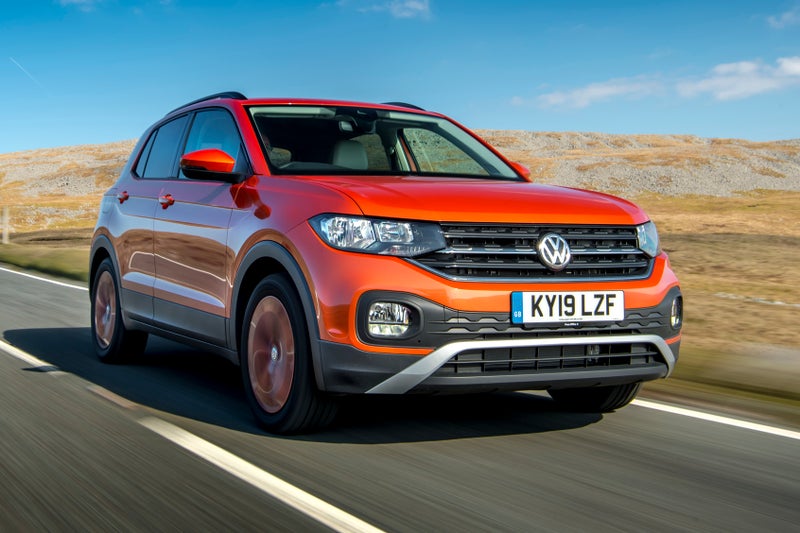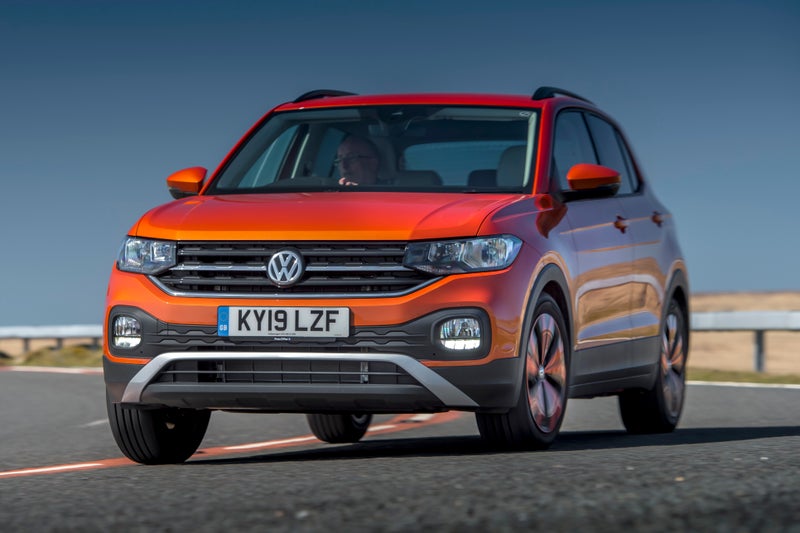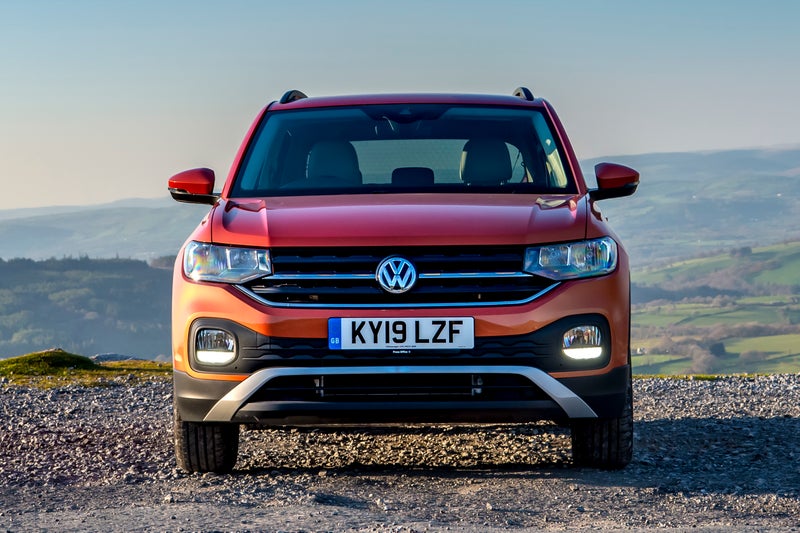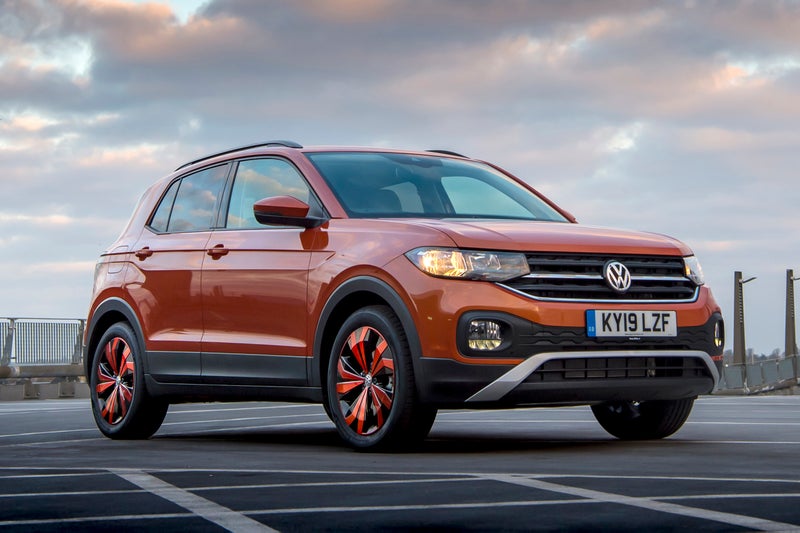 1/10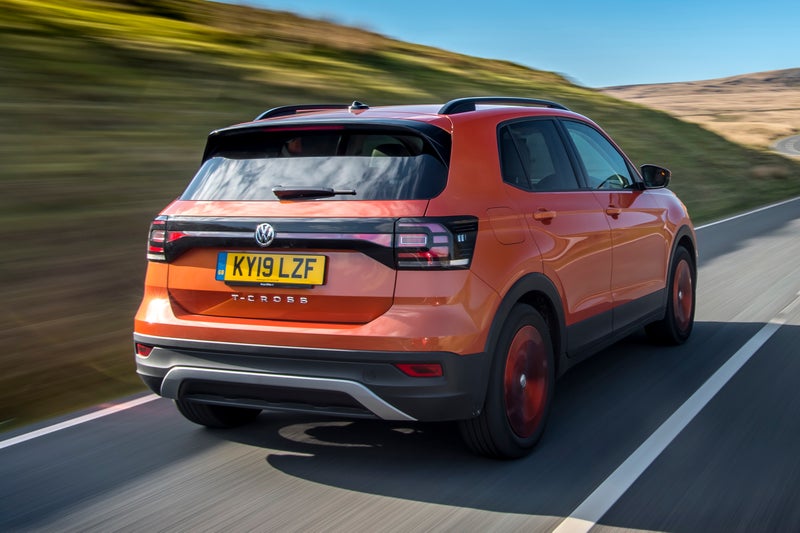 2/10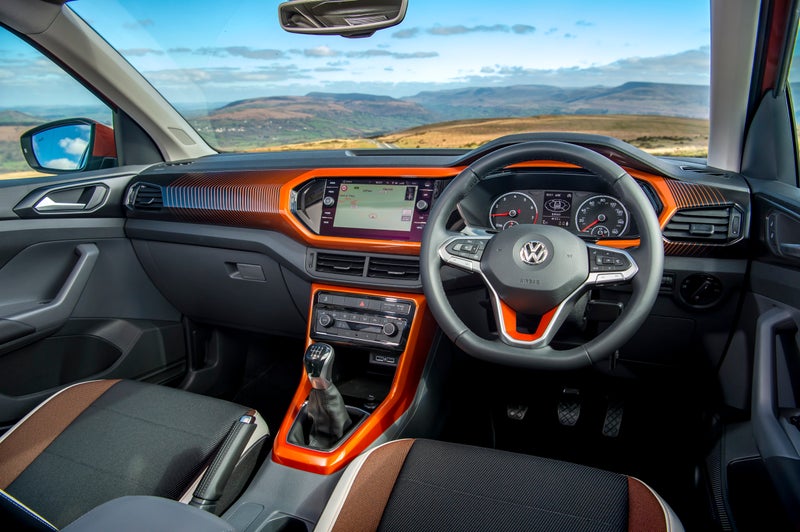 3/10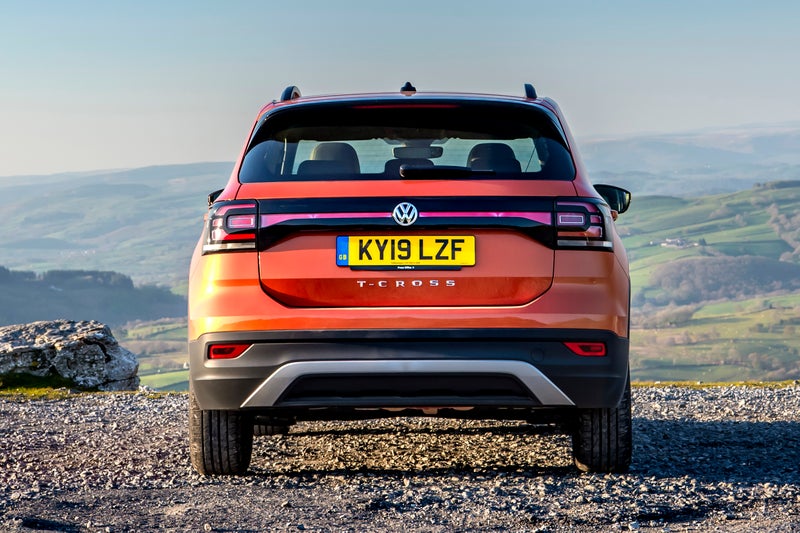 4/10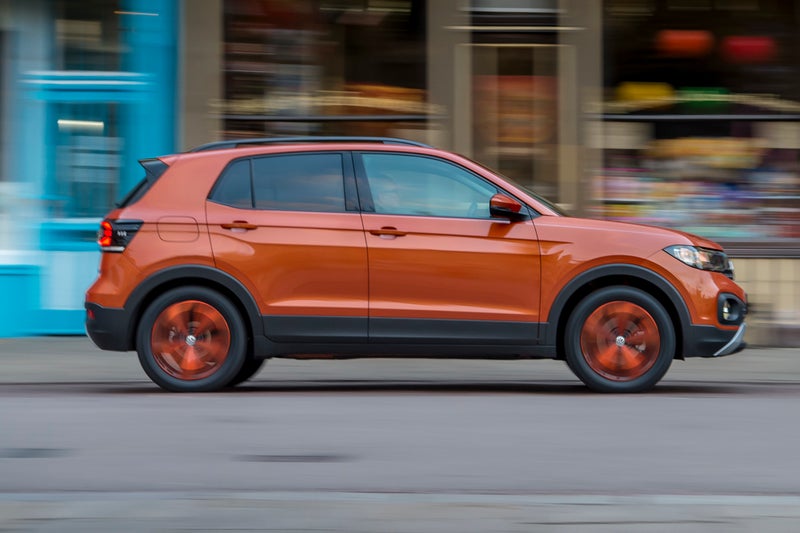 5/10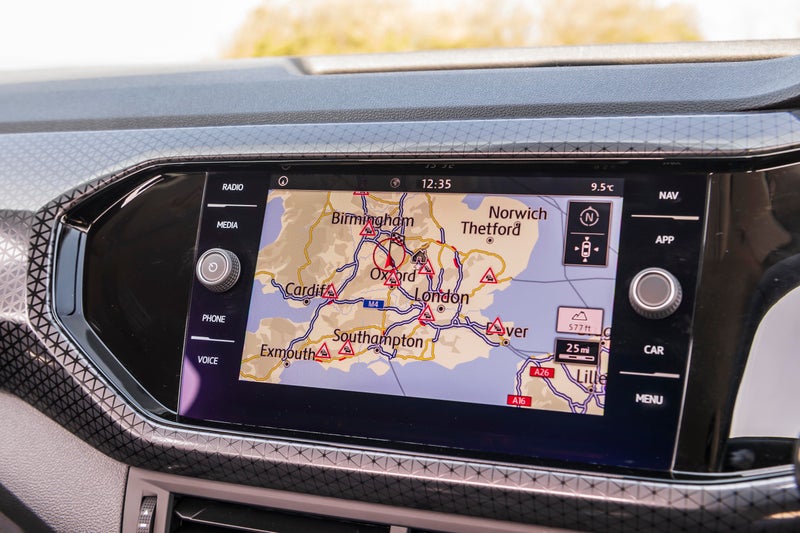 6/10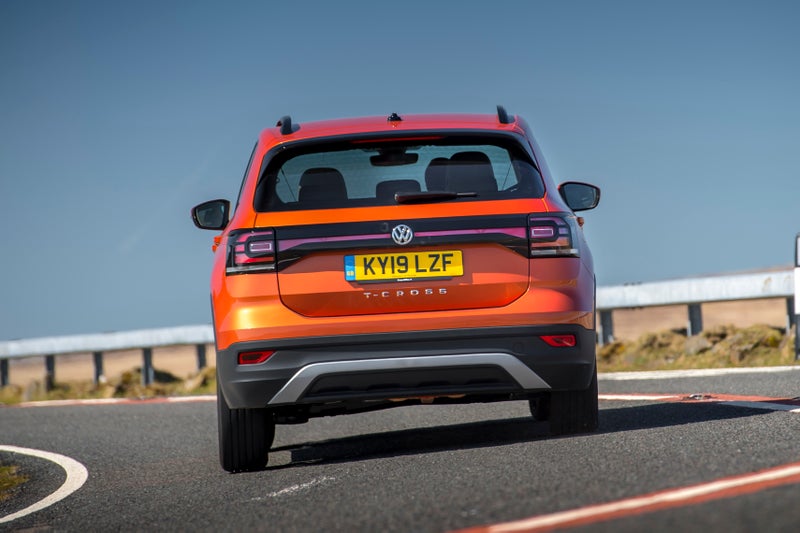 7/10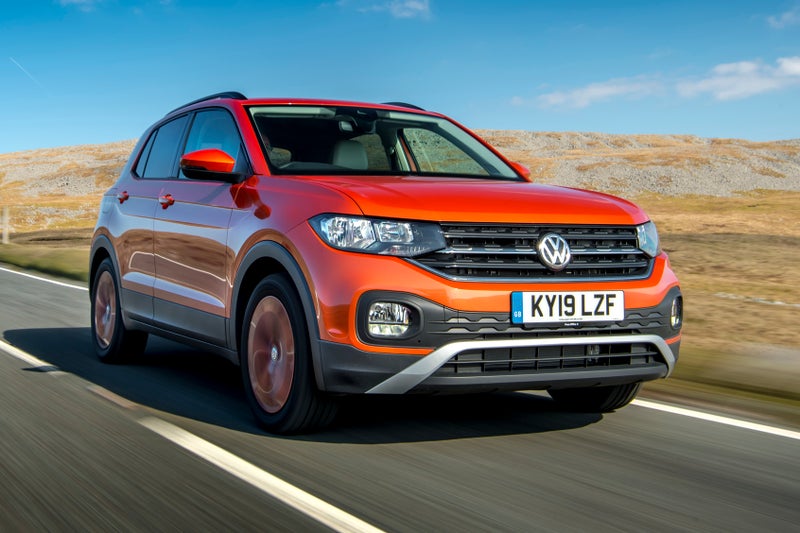 8/10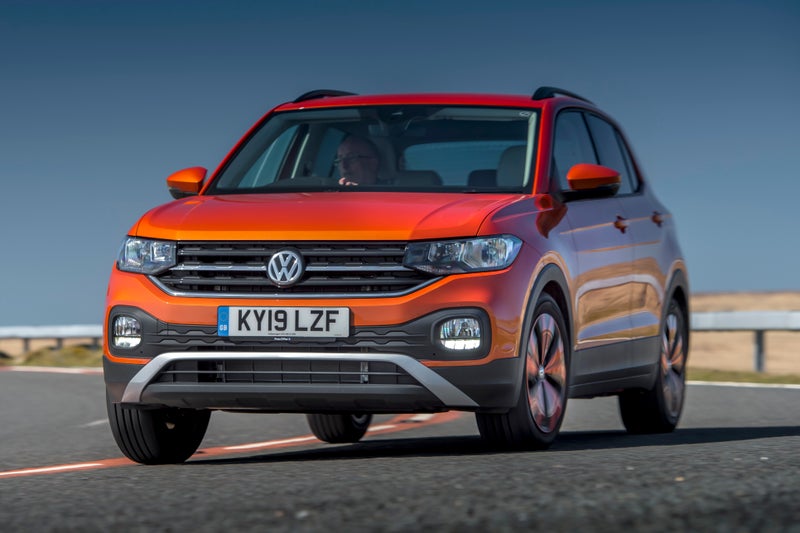 9/10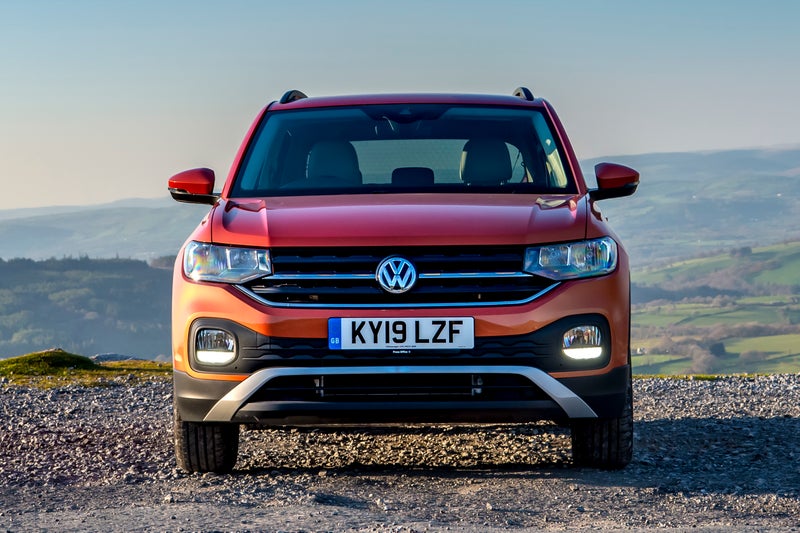 10/10
Launched in 2018

Small SUV

Petrol, Diesel
Launch year

2018

Body type

Small SUV

Fuel type

Petrol, Diesel

heycar rating
Good drive but cheap plastics
Best bits
Big on comfort
Practical space for people and luggage
Perky 1.0-litre turbo petrol engines
Not so great
A few too many hard interior plastics
Noisy diesel engine
A touch pricier than some in the class
Read by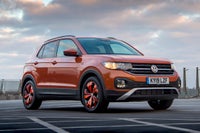 Overall verdict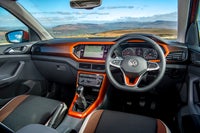 On the inside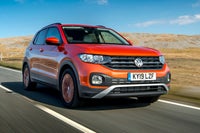 Driving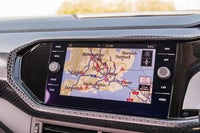 How much does it cost to run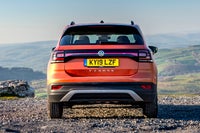 Prices, versions and specification
Overall verdict
"The T-Cross is Volkswagen's answer to the likes of the Nissan Juke and Peugeot 2008. It's a small SUV that's designed to be practical, good to drive and have a dash of style too. It looks like a tiny SUV but costs the same to run as a normal car"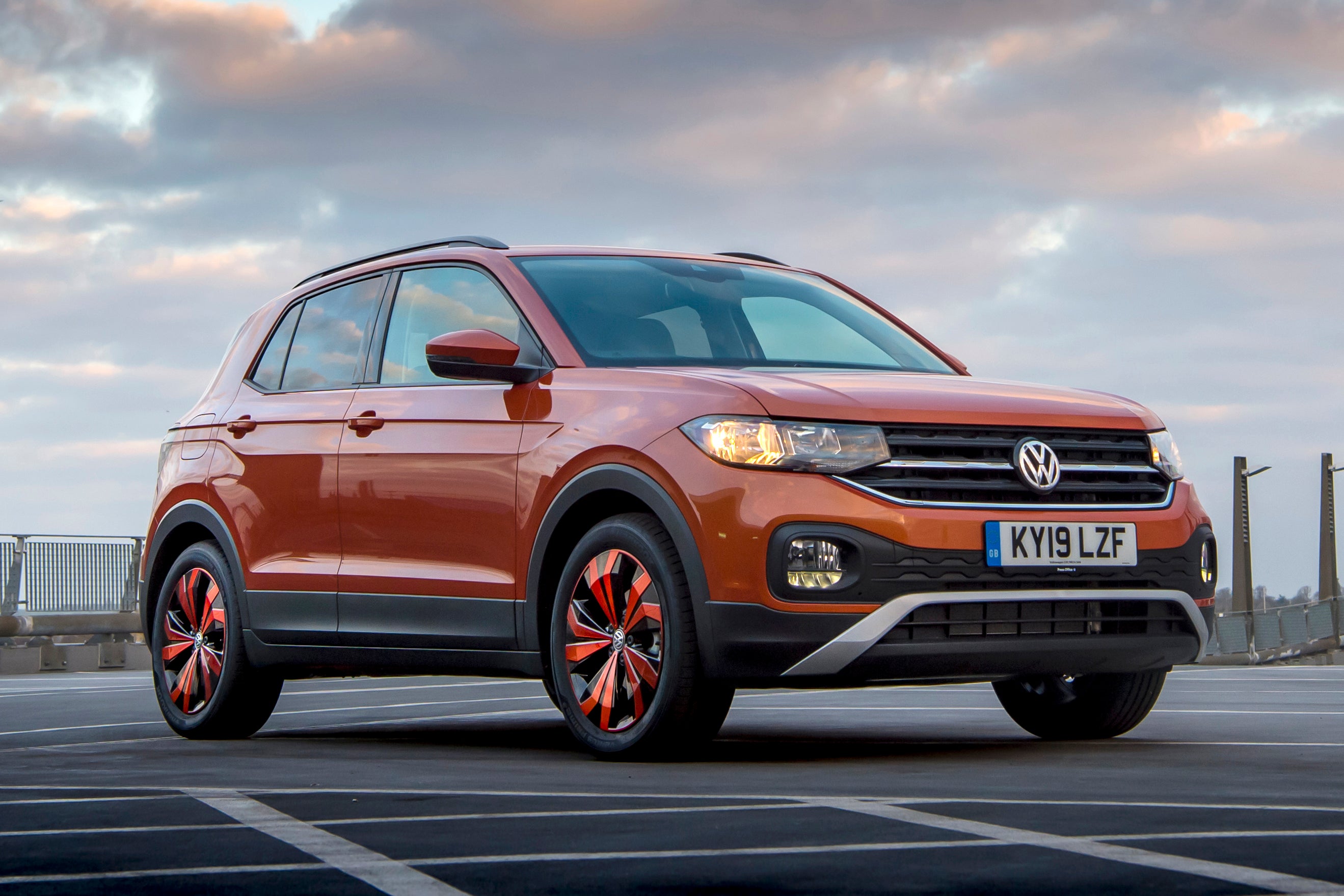 Of course, there's no shortage of small SUVs on the market, so the T-Cross makes a strong case for itself as one of the best around with a practical interior, excellent refinement and a great 1.0-litre engine.
It's even reasonably priced against the competition, with prices starting at around £17,000, so it might not be the cheapest but this is balanced out by strong residual values thanks to that Volkswagen badge to offset its list price and keep lease costs reasonable.
Think of the T-Cross as a small SUV crossover version of the Polo and you get the idea of its size. While its small size makes it great in supermarket car parks, it's big enough inside to make this a viable family car with space for kids in the back and a decent sized boot too, which is larger than a Ford Focus' in fact thanks to the car's high roof.
While the interior is solid and well built, there's quite a lot of hard plastic which is a little disappointing given the 'premium' image that comes with the Volkswagen badge and the T-Cross' pricing. There are a few other small things like the exposed bolts for the base of the back seats.
Thankfully, driving the T-Cross is an easy, pleasurable experience. It handles in a safe, predictable manner and feels very reassuring at motorway speeds where it happily cruises along with little road or wind noise. But what makes the T-Cross stand out is the excellent 1.0 TSI engine - available with 95 or 115PS.
The three-cylinder unit gives the T-Cross some much needed character and has a surprising turn of pace for such a small engine. Combined with a slick manual gearbox, it means the T-Cross can be fun to drive.
There is also a 1.6 TDI turbodiesel but unless you're doing mammoth mileages – where you can make the most of its excellent fuel economy – it's not worth bothering about and Volkswagen reckons juts five per cent of T-Cross customers will choose it. It's also not particularly refined, with lots of noise and vibration making its way into the cabin.
The T-Cross will tick a lot of boxes for buyers who want a vehicle that is comfortable, practical and enjoyable to drive but still compact in size. It makes an ideal family motor and is cheap to run too. We think it's the best small SUV on the market right now.
Comfort and design
"It may be a compact crossover, but the Volkswagen T-Cross makes a fair stab at giving you the sense of being in an SUV thanks to its driving position. "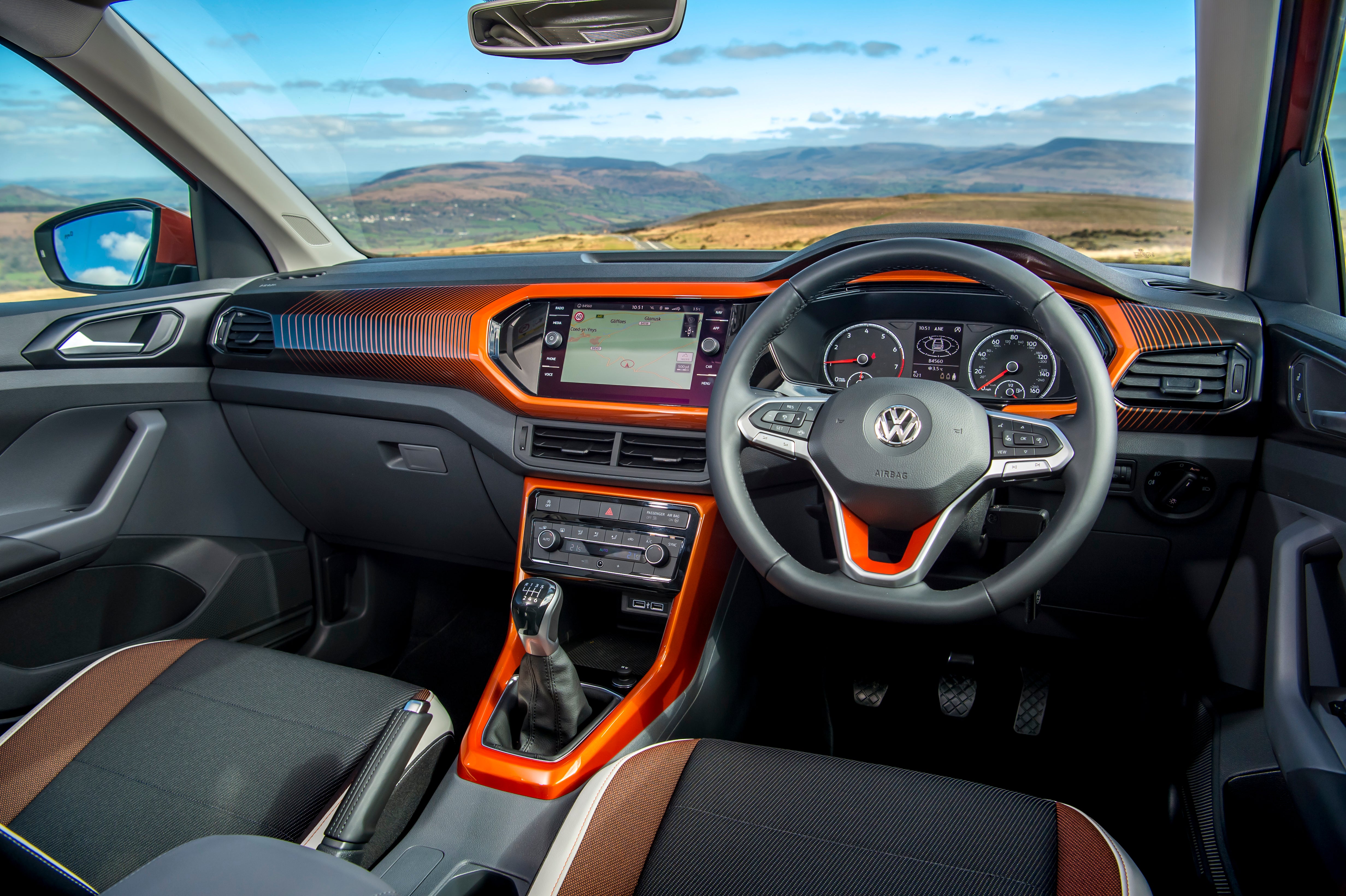 It's a little more elevated than the likes of the Nissan Juke or Ford Puma, helped by the more upright seating position in the Volkswagen. This means you sit with hips and knees more at right-angles, which is good for comfort and helps create more legroom within the Volkswagen's compact dimensions.
There is height adjustment for the driver's seat and the steering wheel moves for angle and depth, so finding the ideal seating position is easy. There's also lumbar support on all T-Cross models to further add to its comfort quotient.
All of the main instruments are easy to read and the integrated infotainment screen is simple to use and navigate through. We also like the simple rotary controls for adjusting the temperature that mean you don't have to take your eyes from the to alter the heating intuitively.
Another plus with the T-Cross is its thinner than normal front windscreen pillars. They permit more vision than we've become used to in modern cars, which is a boon when pulling out of junctions. It's a shame the driver's view over his or her shoulder is not as good due the thick pillars and thin back window. However, it's not expensive to add parking sensors to any T-Cross model that doesn't have them as standard.
Handling and ride quality
"The T-Cross is easy to drive and pleasantly smooth, even at higher speeds. In fact, despite its compact size, the T-Cross feels very assured and stable at motorway speeds, happily keeping up with fast flowing traffic."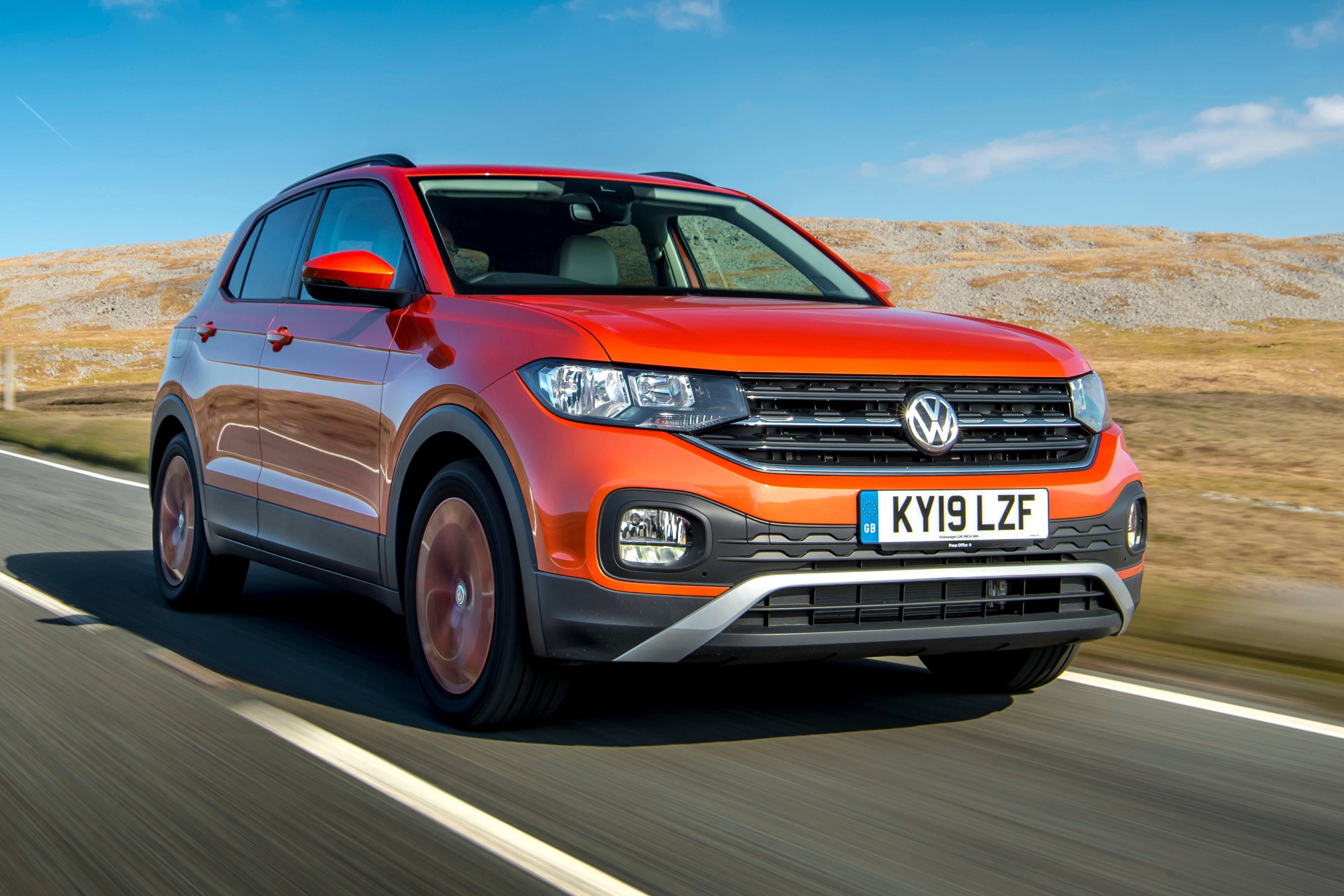 Here it's very quiet and relaxed, adding to the feel that it's a compact crossover capable of being used as your only family car and on longer trips without it leaving you worn out.
Models with larger 18-inch wheels do not have their ride quality undermined by the bigger rims. Even so, we prefer the extra comfort and absorption provided by the 17-inch wheels used on the SE and SEL models. The base S has 16-inch wheels that are even more adept at soaking up the lumps and thumps thrown up by the road surface, though most will understandably want the extra luxuries provided the higher trim levels.
Overall, the T-Cross has perhaps a softer set-up than the SEAT Arona or Ford Puma and is better controlled than a Kia Stonic, so it deals well through undulations and over crests. There's also plenty of grip in corners to make it decent fun when you want it to be, and the steering has a satisfying weight to it. As for the brakes, they work reassuringly strongly with a firm, measured pedal action.
Around town the T-Cross comes into its own thanks to its raised driving position, good all-round visibility and responsive yet light steering. The thinner than usual windscreen pillars help here, especially when pulling out of junctions. The compact dimensions mean you won't struggle when it comes to getting into a tight space, although you have to go to an SEL model to get parking sensors as standard.
MPG and fuel costs
"The most frugal Volkswagen T-Cross models come with the 1.6-litre turbodiesel engine. It can offer up to 54.3mpg when coupled to the five-speed manual gearbox, though this drops if you choose the seven-speed DSG auto."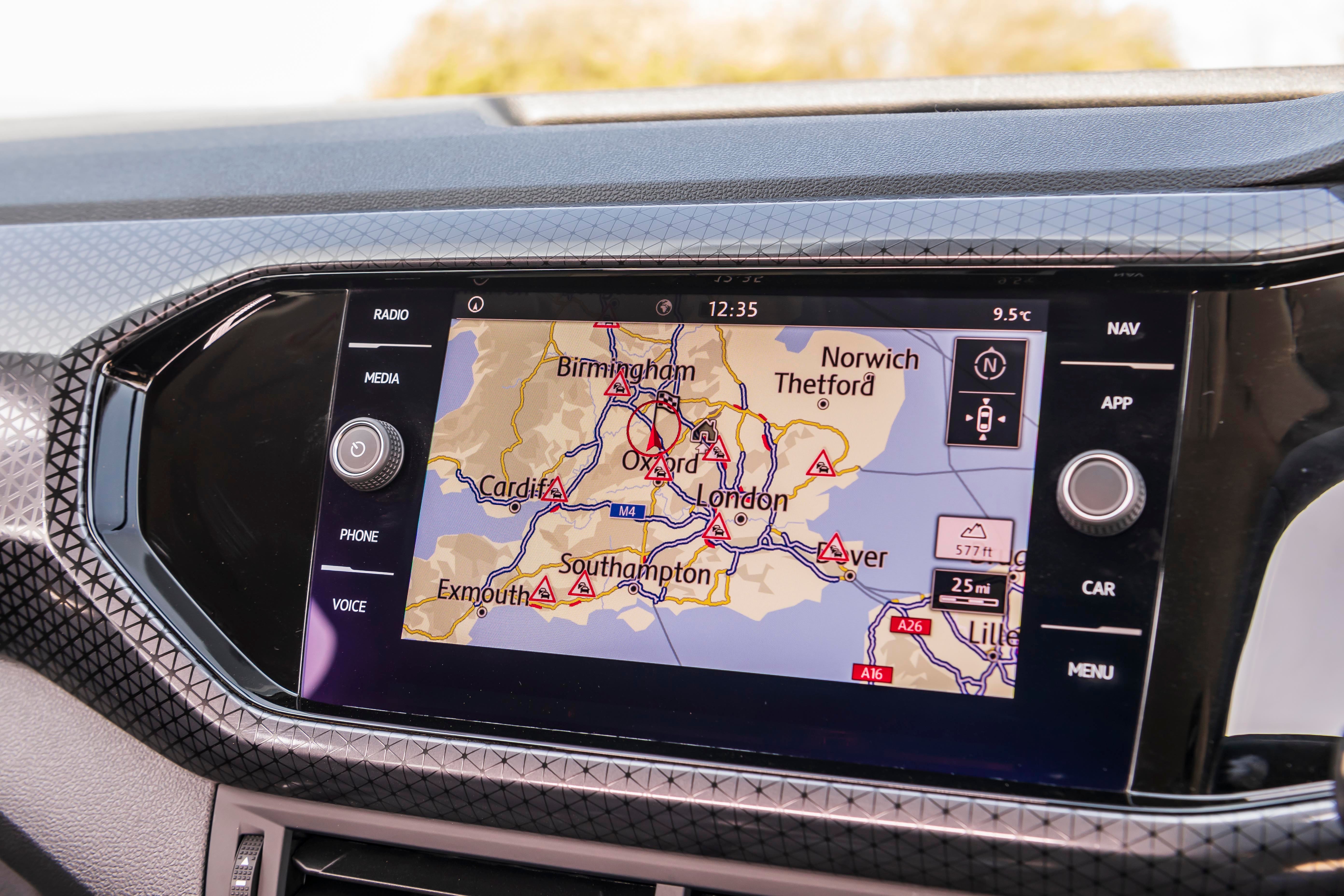 However, most T-Cross buyers will opt for a petrol and the most efficient is the 95PS 1.0 TSI in the S and SE trims with five-speed manual gearbox that delivers up to 47.9mpg. Should you decide the more powerful 115PS version of this engine is better for you, the combined fuel economy comes in at an official 47.1mpg.
How much should you be paying for a used Volkswagen T-Cross?
"A 1.0 TSI Volkswagen T-Cross from about a year old will cost from around £16,500 for a 1.0 TSI model in SE trim. This will be a car from a franchised dealer and with between 5000 and 10,000 miles on the clock."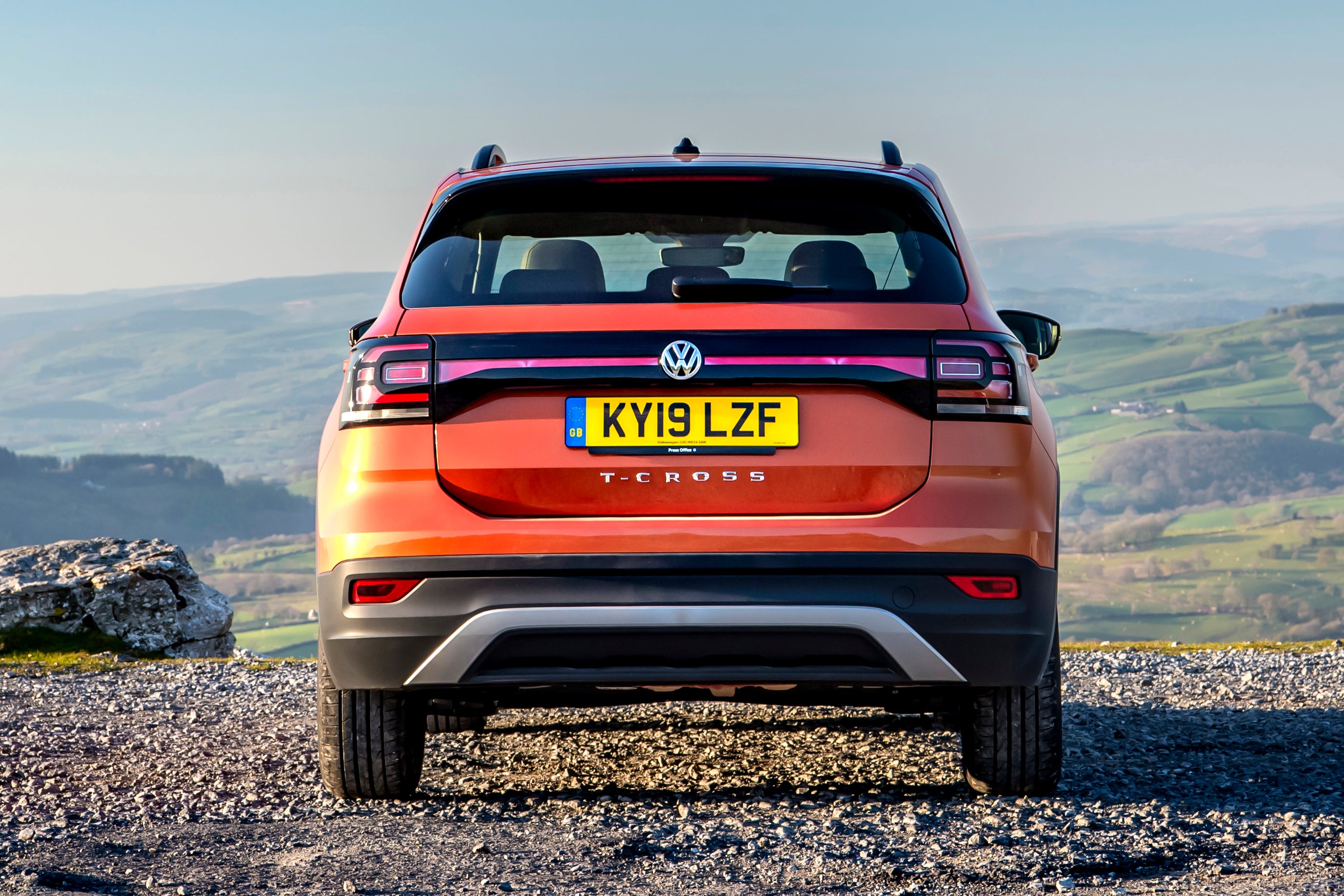 If you'd prefer something newer still, a pre-registered or nearly new car with only a handful of miles under its wheels will cost around £20,800. This represents a £1000 saving on the new list price and you can drive away in the car straight away.
Moving up to the R-Line model brings a premium and you can expect to pay £24,000 for a pre-registered model. This is a saving of £700 on the list price with no need to haggle.
Ready to get your top quality Volkswagen T Cross?
All cars come with a warranty
Selected dealers only
All quality checked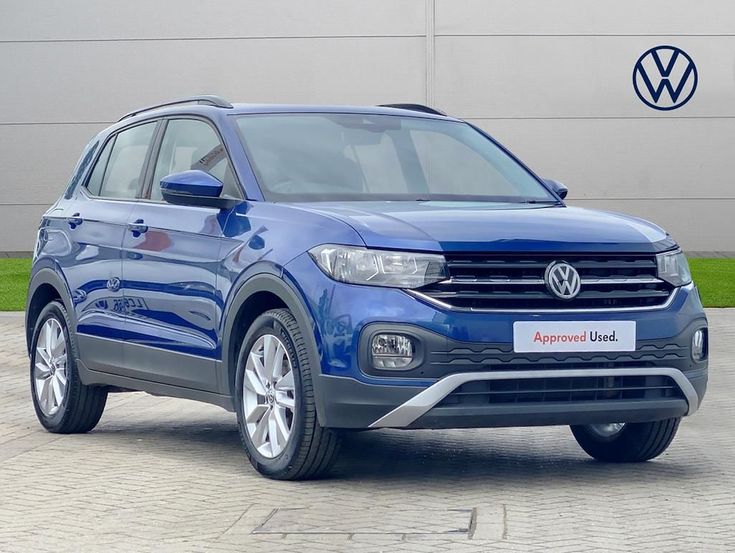 Volkswagen T Cross
1.0 TSI 115 SE 5dr DSG
Manufacturer Approved
Lookers Volkswagen Guildford

Surrey, GU11SD
PCP: £369.05/mo
Representative example: Contract Length: 36 months, 35 Monthly Payments: £369.05, Customer Deposit: £3,149.00, Total Deposit: £3,149.85, Optional Final Payment: £8,762.50, Total Charge For Credit: £3,830.10, Total Amount Payable: £24,829.10, Representative APR: 9.9%, Interest Rate (Fixed): 9.87%, Excess Mileage Charge: 4.78ppm, Mileage Per Annum: 10,000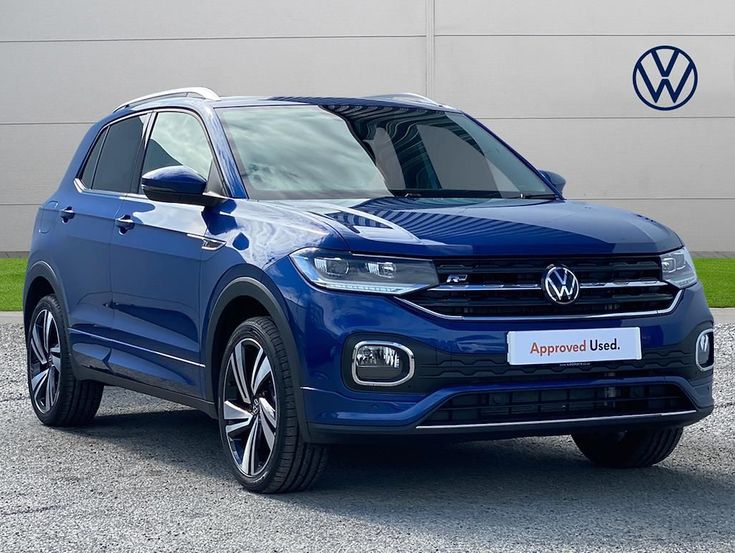 Volkswagen T Cross
1.0 TSI 115 R-Line 5dr
Lookers Volkswagen Carlisle

Cumberland, CA12UR
PCP: £406.54/mo
Representative example: Contract Length: 36 months, 35 Monthly Payments: £406.54, Customer Deposit: £3,719.00, Total Deposit: £3,719.85, Optional Final Payment: £10,495.00, Total Charge For Credit: £3,644.75, Total Amount Payable: £28,443.75, Representative APR: 7.9%, Interest Rate (Fixed): 7.87%, Excess Mileage Charge: 4.78ppm, Mileage Per Annum: 10,000
Is the Volkswagen T-Cross right for you?
In the compact crossover class, the Volkswagen T-Cross stands out against the likes of the Nissan Juke and Vauxhall Mokka for its superb cabin space. There's a surprising amount of room inside for a car with a relatively small footprint and the boot is also a good size. All of this means the T-Cross is capable of being your only car.
The engines in the T-Cross are another attraction. We'd steer clear of the diesel and head for the 1.0-litre turbo petrol motor that is punchy and smooth. It has low running costs, too.
Another attraction with the T-Cross is the way it drives. The petrol engine offers good performance and refinement, while the ride and handling show the others in this class how to strike the right balance between smoothness and agility.
What's the best Volkswagen T-Cross model/engine to choose?
Without hesitation, we'd recommend the 1.0 TSI turbo petrol engine in the Volkswagen T-Cross. It comes in 95- and 115PS versions and both are smooth, refined and deliver decent performance. If you need a bit of extra power for carrying more people on a regular basis or spend a lot of time on the motorway, the more powerful 115PS motor makes better sense. For town-bound drivers, the 95PS will be more than up to the job.
These engines can be had with manual or DSG dual-clutch automatic gearboxes. Unless you really need the auto, we'd stick to the manual. The five-speeder in the 95PS version has the slicker shift, while the six-speeder with the 115PS model gives a little more flexibility.
As for trim, we'd look to the SE that builds on the generous spec of the S with 17-inch alloy wheels, adaptive cruise control, app connectivity for the infotainment, and a variable height boot floor.
What other cars are similar to the Volkswagen T-Cross?
It's impossible to consider small SUV crossovers without mentioning the Nissan Juke. It's a strong contender thanks to bold looks and a well put together, comfortable cabin. However, it's not quite as good to drive as the Volkswagen T-Cross.
The Vauxhall Mokka X is another big hitter in this class and is keenly priced. It also has plenty of choice in trim levels and low running costs, though it misses the panache of the Volkswagen's fit and finish.
Others to look at also include the Skoda Kamiq, SEAT Arona, Renault Captur, Mazda CX-3 and Ford Puma, or if you're feeling a bit more flush you could consider the Audi Q2 or BMW X1.
Quality and finish
Volkswagen's reputation for classy interior finishing and detailing doesn't take a hit with the T-Cross, but it's not quite up to the standards set by the stalwart Golf and larger SUVs in the firm's line-up. There is some evidence of cost-cutting in here such as the cheap-feeling, hard plastics used for the door panels and around the seat bases. They should last, but they just don't look or feel as nice as you might expect them to.
The sense of being surrounded by a herd of bland plastic is most prevalent in the S and SE models that do without the more pleasant dash and door inserts of the SEL and R Line versions. However, you can spritz up the cabin with some optional trim packs.
Even so, there are still other areas where the T-Cross doesn't feel quite as solidly finished as we'd look for in other Volkswagen models. For example, the boot carpets and side panels are not as neatly trimmed and fitted as you will find in a Golf. Still, the T-Cross is free from creaks and rattles and squeaks, and we'd expect it to remain that way for the duration of your ownership.
 Infotainment
An 8-inch colour touchscreen is standard in all Volkswagen T-Cross models to operate the car's infotainment. There's a twin USB connector for your smartphone or device, plus Bluetooth and DAB radio. Every model also has Volkswagen Connect included to pair with your smartphone and access its apps via the car's screen. The Connect function also allows you to see data about your journey and driving, as well check the car's location from your phone which is handy in multi-storey car parks.
The screen itself is one of the better ones we've used and is quick to respond to inputs from your finger. It would be even better if some of the on-screen icons were bigger and easier to prod when driving.
With all but the base S model, you get Apple CarPlay and Android Auto to use your phones sat-nav and music. The SEL and R-Line trims come with satellite navigation included, though it's hard to justify paying the extra for this nowadays when phones are just as adept at providing directions. You can also pay extra for an upgraded stereo with the Beats Soundpack.
Space and practicality
Just as in the front of the Volkswagen T-Cross, the rear seat offers up more space than you'd expect of a car in the compact crossover sector. It beats most rivals hands down for the amount of knee room and shoulder space it affords occupants, which allows two adults to sit very comfortably back there. Just as importantly, they can sit there without those in the front having to hunch up with their seats slid as far forward as possible.
Three kids can fit in the back of the T-Cross but two will be happier as the central cushion of the bench has a raised pad. The cubby box also juts into the space where a third passenger's legs want to spread out. However, there are three-point belts for all rear occupants and there are Isofix child seat mounts on the two outer seats.
Access to the rear of the T-Cross is good as the doors open almost to 90-degrees, so there are no issues with swinging your legs into the dropped down footwell. This lowered floor also contributes to the excellent leg room in the back of the T-Cross. Fitting a child's seat is also easy, helped by the fact the T-Cross' raised ride height means you don't need to bend your back uncomfortably when you're slotting it into position.
Head to the boot and you'll find a load sill that's not too high and the cargo floor lies flush with the opening. It's not the longest boot floor but with 455-litres of space it can cope with a child's pushchair. Tip the 60/40 split and fold rear seat down and it frees up a maximum of 1281-litres of capacity, which is more than enough to deal with a trip to the DIY store or the subsequent visit to the refuse tip.
If you sidestep the base S model and choose any other T-Cross variant, you get a variable height load floor as standard. It's a handy detail as it lets you slide in heavier items without a drop to the cargo floor and provides some secure storage for valuables.
Engines and gearboxes
There are two versions of the 1.0 TSI - the entry 95PS model available in the S and SE or the more powerful 115PS model which gets a six-speed manual rather than the five-speeder of the 95PS motor. The five speed actually has a slightly better shift, but both are rewardingly positive while the nicely weighted clutch and well-judged throttle response all combine to make this a very pleasant and simple car to drive.
There is also the optional seven-speed DSG which flicks through the gears quickly and smoothly. There's no hesitation when coming off the brakes and it responds well from a standstill.
Both of the 1.0-litre TSI engines work keenly through the rev range and have more than enough low-rev pull to make you feel they are stronger than their modest capacity would suggest.
Another petrol option is the 150PS 1.5 TSI engine, which is only offered in the SEL and R-Line models. It comes with the seven-speed DSG gearbox as its sole transmission choice and it's the closest the T-Cross has to a performance model thanks to its 0-62mph time of 8.5 seconds.
While the 1.5 TSI engine appeals as the most powerful and flexible option, it's also the priciest which means you could consider other crossovers, such as the Audi Q2 or A1 Citycarver. While a 1.6 TDI was added to the range shortly after launch, unless you're doing big mileages, we'd opt for the 1.0 TSI. It's a far nicer engine all round and gives the T-Cross some much need character. The 1.6 TDI on the other hand is noisy and lethargic.
Refinement and noise levels
This is an area where the Volkswagen T-Cross pulls out quite a considerable lead over the vast majority of its rivals in the compact crossover sector. Even at motorway speeds, there is very little by way of engine or wind noise. A little road noise can be heard in the R-Line with its larger wheels and tyres, but even then it's more of a distant hum than anything more intrusive.
The only engine we'd steer clear of as far as refinement goes is the 1.6-litre turbodiesel as it can become a little rowdy at higher speeds and you're constantly aware of what it's fuelled by. As few will choose this engine, it's not a hanging offence or one to tarnish the rest of the range with.
In town, the T-Cross is equally well behaved in most of its versions. You don't hear any whump from the suspension as it passes over speed humps and the steering, pedals and gear shift are all slickly in balance with each other. It's this sort of linearity to the actions of its controls that imparts a more grown-up feel to the T-Cross than, say, a Vauxhall Mokka.
Safety equipment
The Volkswagen T-Cross has scored one of the most impressive results of any car in Euro NCAP tests. It registered a 97 per cent result for adult occupancy safety and a very fine 86 per cent for child passenger safety. This contributed to an overall five-star rating.
As standard in all T-Cross models, there are twin front, side and curtain airbags, as well as a front passenger airbag cut-off switch to allow a rear-facing child seat to be placed there. This can be attached with an Isofix mount and there are a further two Isofix points on the outer rear seats.
All five occupants have a three-point seat belt to secure them safely in place, while autonomous emergency braking helps to ward off potential collisions by warning the driver of impending hazards. If the driver doesn't react, the system will apply the full force of the brakes.
The T-Cross also has Lane Assist technology to guide tell the driver if the car is wandering over a road marking and it will also guide it back into the centre of the lane. On top of this, there is an e-call system to contact the emergency services in the event of a collision. As you'd expect, ESP traction control, a tyre pressure monitoring system, and ABS anti-lock brakes are standard across the range.
Insurance groups and costs
It's not a shock to find the cheapest Volkswagen T-Cross to insure is the base model S, which sits on group 8. However, it's a welcome surprise to find the SE with the same 95PS 1.0 TSI engine sits in the same insurance band, and so do the turbodiesel-powered SE models.
A 115PS 1.0 TSI in SE trim resides in group 10, while the SEL version sits two bands higher. A 1.5 TSI Evo in this trim is group 16, while the diesel-engined models are in group 10. Go for the R-Line trim and they all sit one insurance band higher than the SEL models.
 VED car tax
All of the petrol-powered Volkswagen T-Cross models come with a first-year Vehicle Excise Duty rate of £215. This is due to them sitting in band H for cars with carbon dioxide emissions of between 131- and 150g/km.
The diesel models of T-Cross, however, are hit with a much heftier first-year road tax bill of £540. Even though they have emissions within the same band as the petrols, the diesels do not meet the Real Driving Emissions 2 standard for nitrogen oxide emissions, so fall into the higher band I. All T-Cross models will pay £150 for road tax in subsequent years at current rates.
 Trim levels and standard equipment
Volkswagen offers four T-Cross trims, starting with the S that has 16-inch alloy wheels, electrically adjusted and heated door mirrors, LED rear lights and automatic headlights. You also get a sliding rear bench seat, air conditioning, electric windows all-round, and the 8-inch Composition Media infotainment touchscreen with Bluetooth and DAB radio.
The SE ups the ante with 17-inch alloys, black-painted roof rails, and front foglights with cornering function. Inside, there's a leather-bound steering wheel with remote controls for the stereo and infotainment, adaptive cruise control, driver fatigue warning, and Car-Net App-Connect to access your smartphone apps on the touchscreen. In addition to this, the SEL has rear privacy glass, silver roof rails, front and rear parking sensors, and LED front lights. Front sports seats are fitted, along with climate control, Discover Navigation, and Car-Net Guide and Inform with a three-year subscription included.
Lastly, the R-Line features 18-inch alloy wheels, unique body styling pack, and R-Line badges. A black headlining is used inside, as well as aluminium foot pedals, Carbon Flag seat cloth, and a 10.25-inch Active Info infotainment screen.
Learn more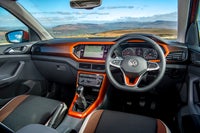 On the inside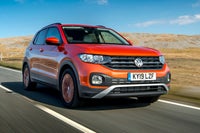 Driving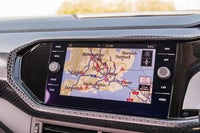 How much does it cost to run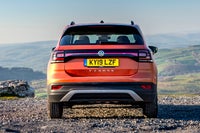 Prices, versions and specification
Reviews of similar cars
Quality checked, all cars less than 8 years old and warranty included
Looking for other Volkswagen cars?
Quality checked, all cars less than 8 years old and warranty included
Keep me updated by email with the latest advice, news and offers from heycar
By submitting, you agree to our
privacy policy
.