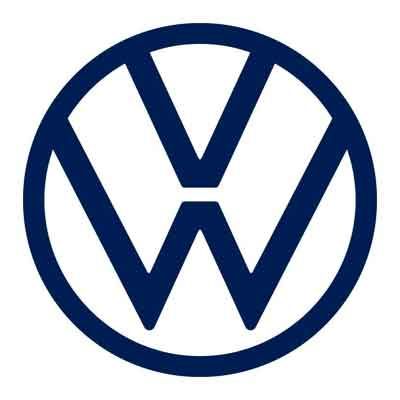 Volkswagen T-Roc Review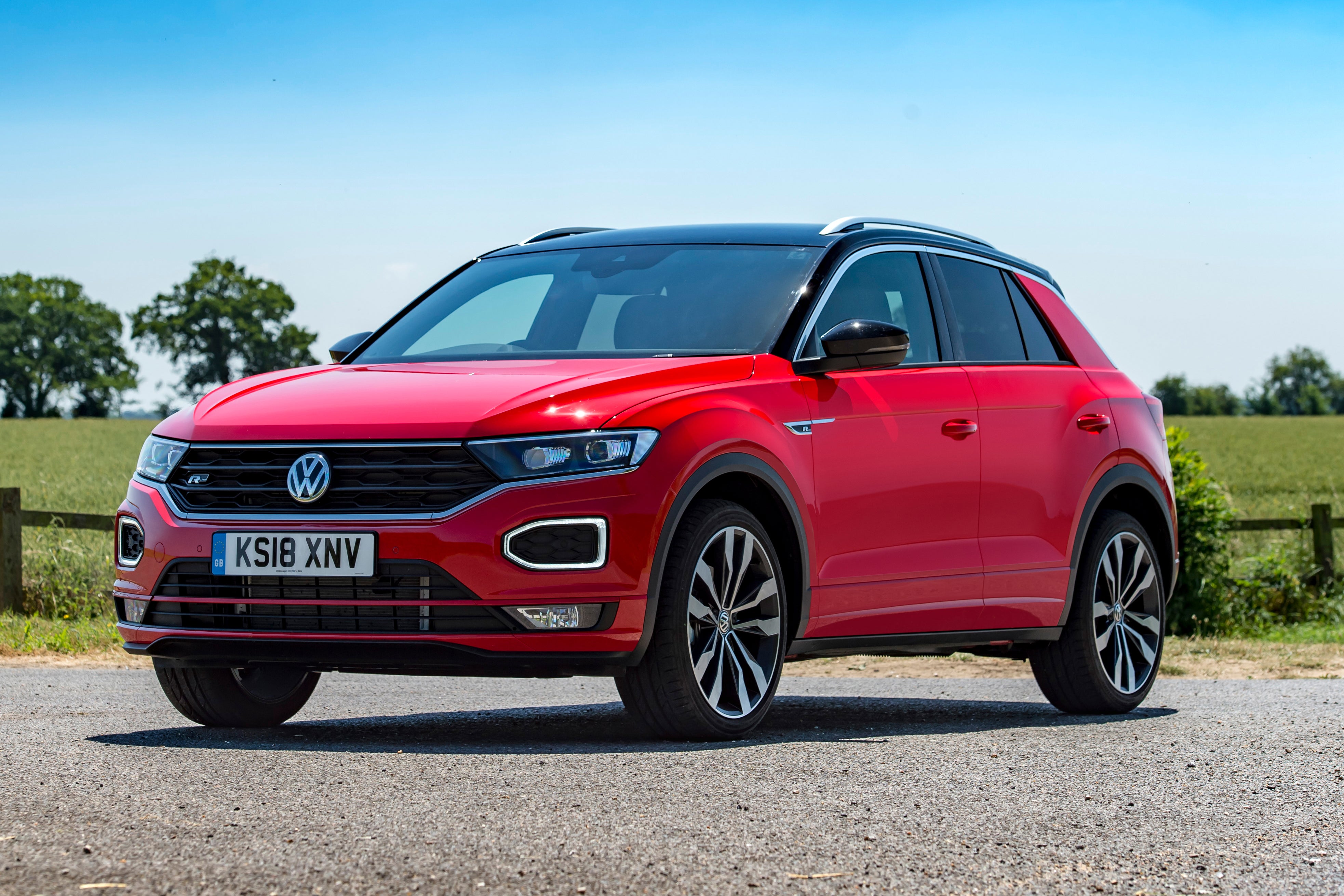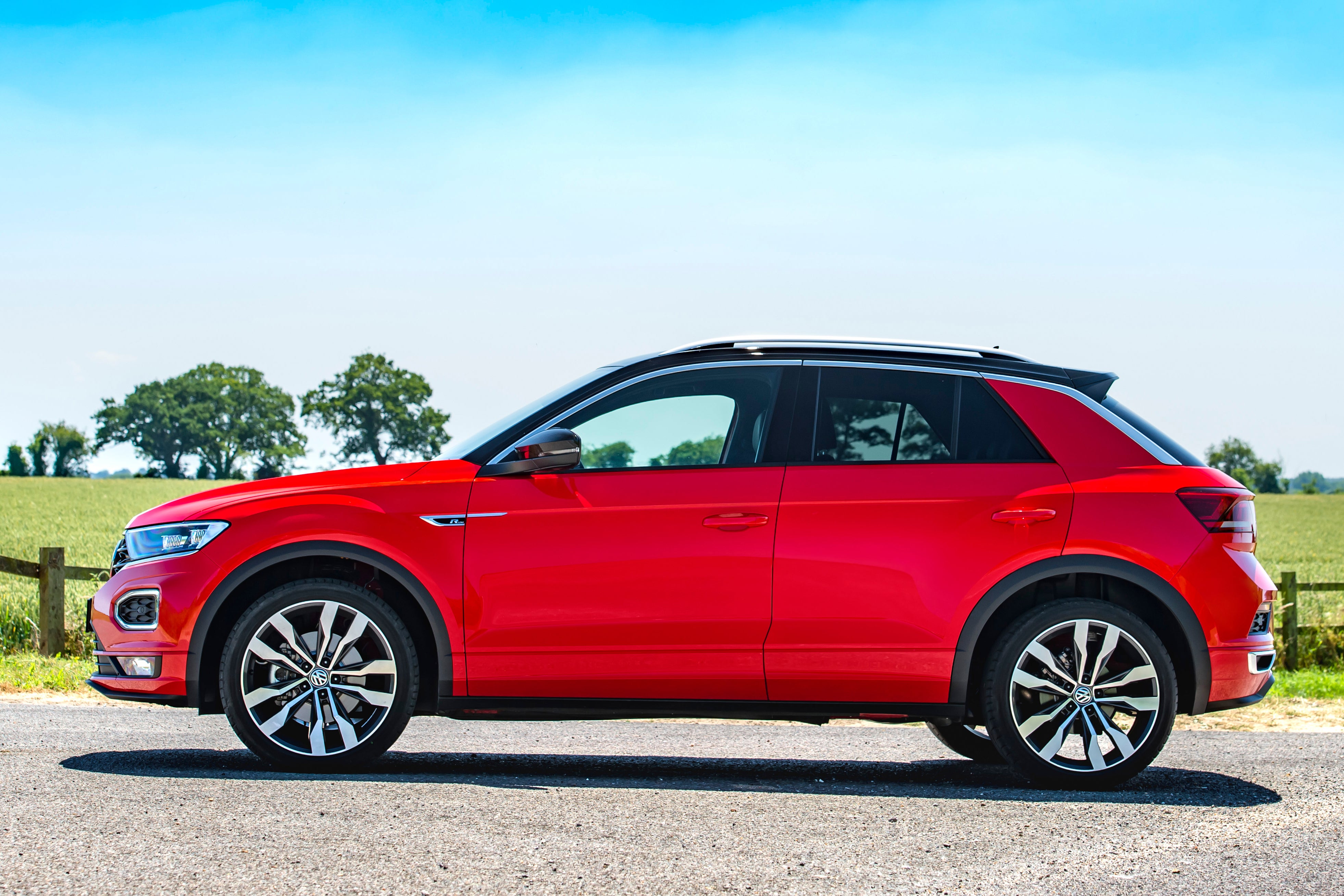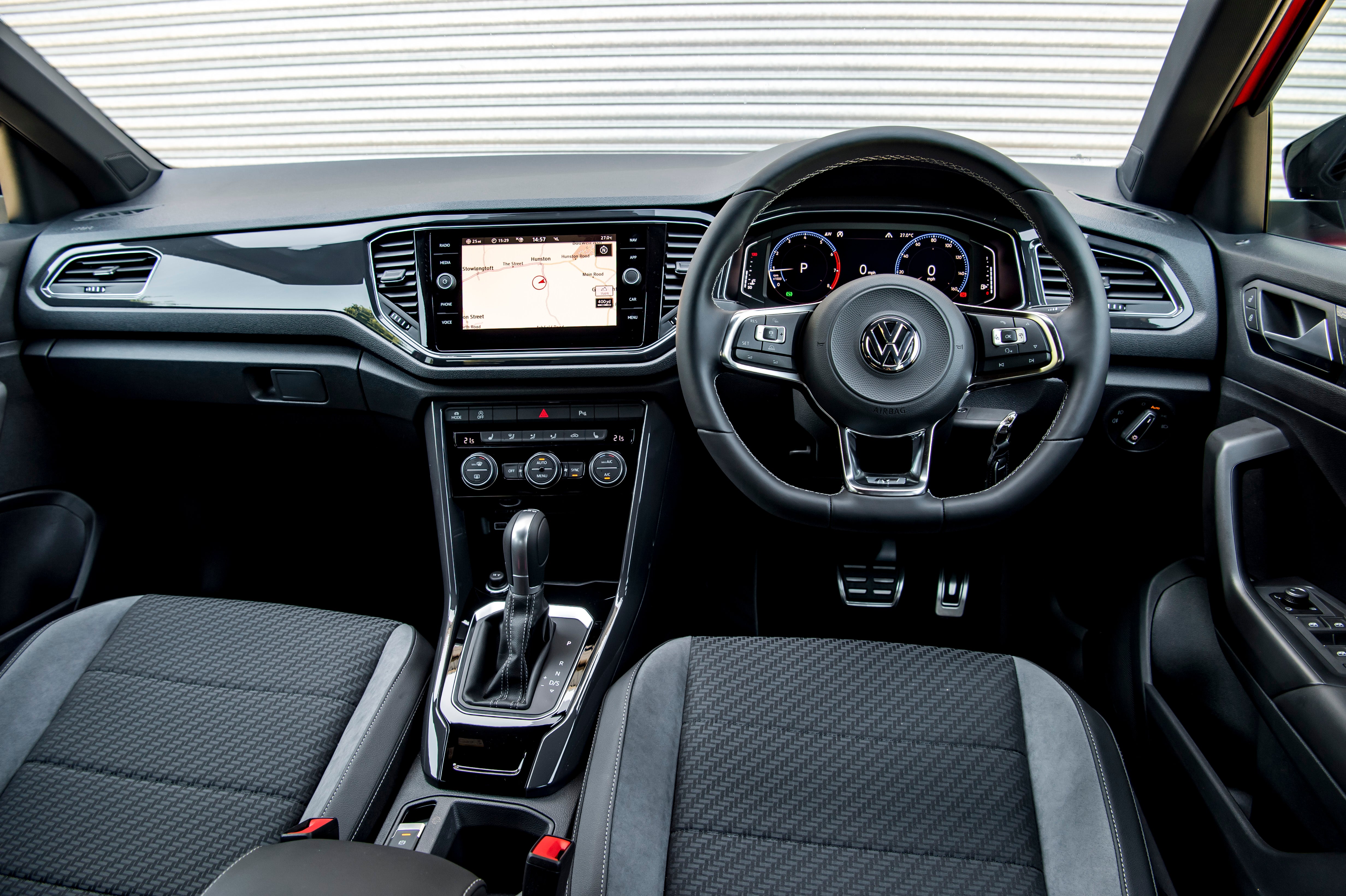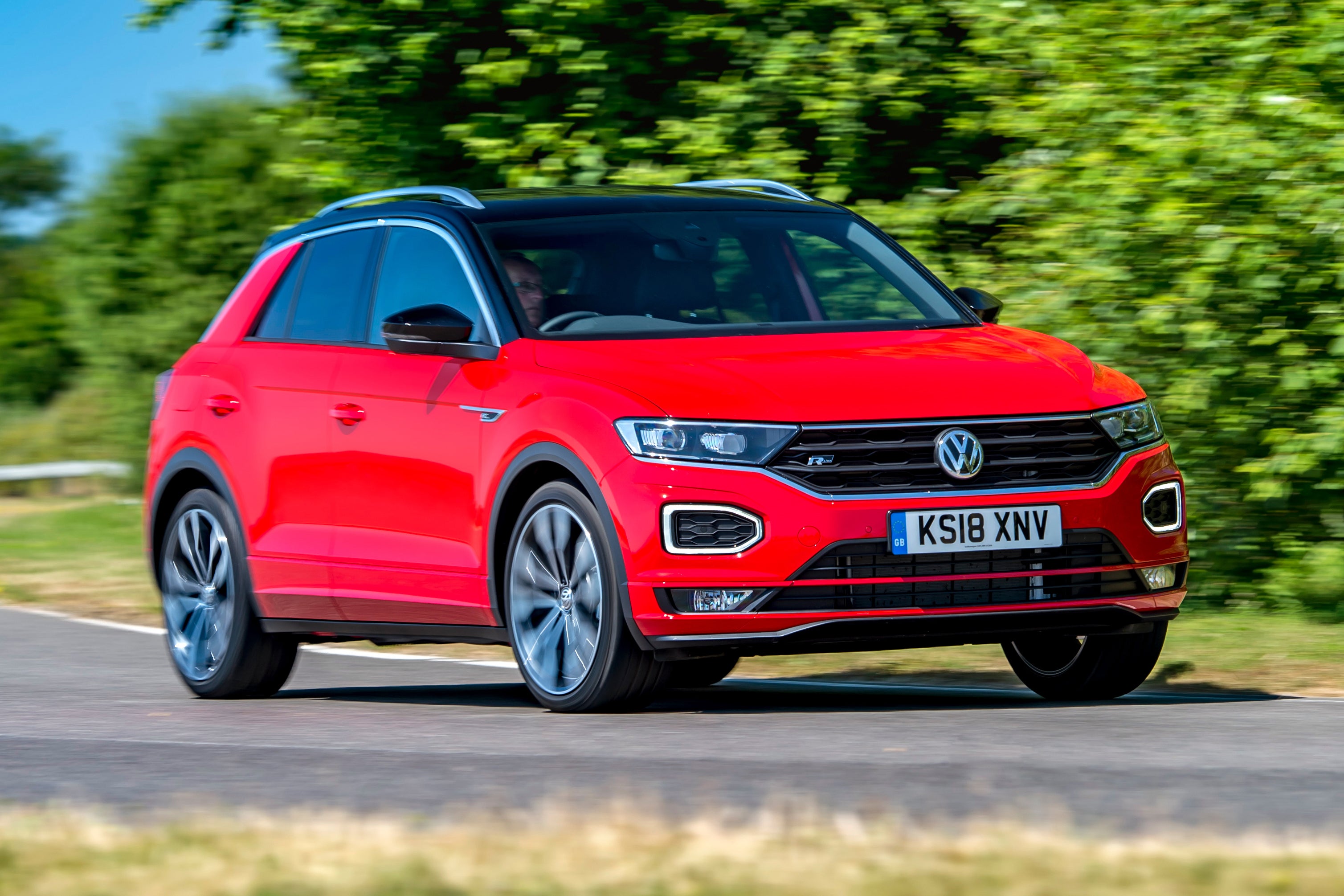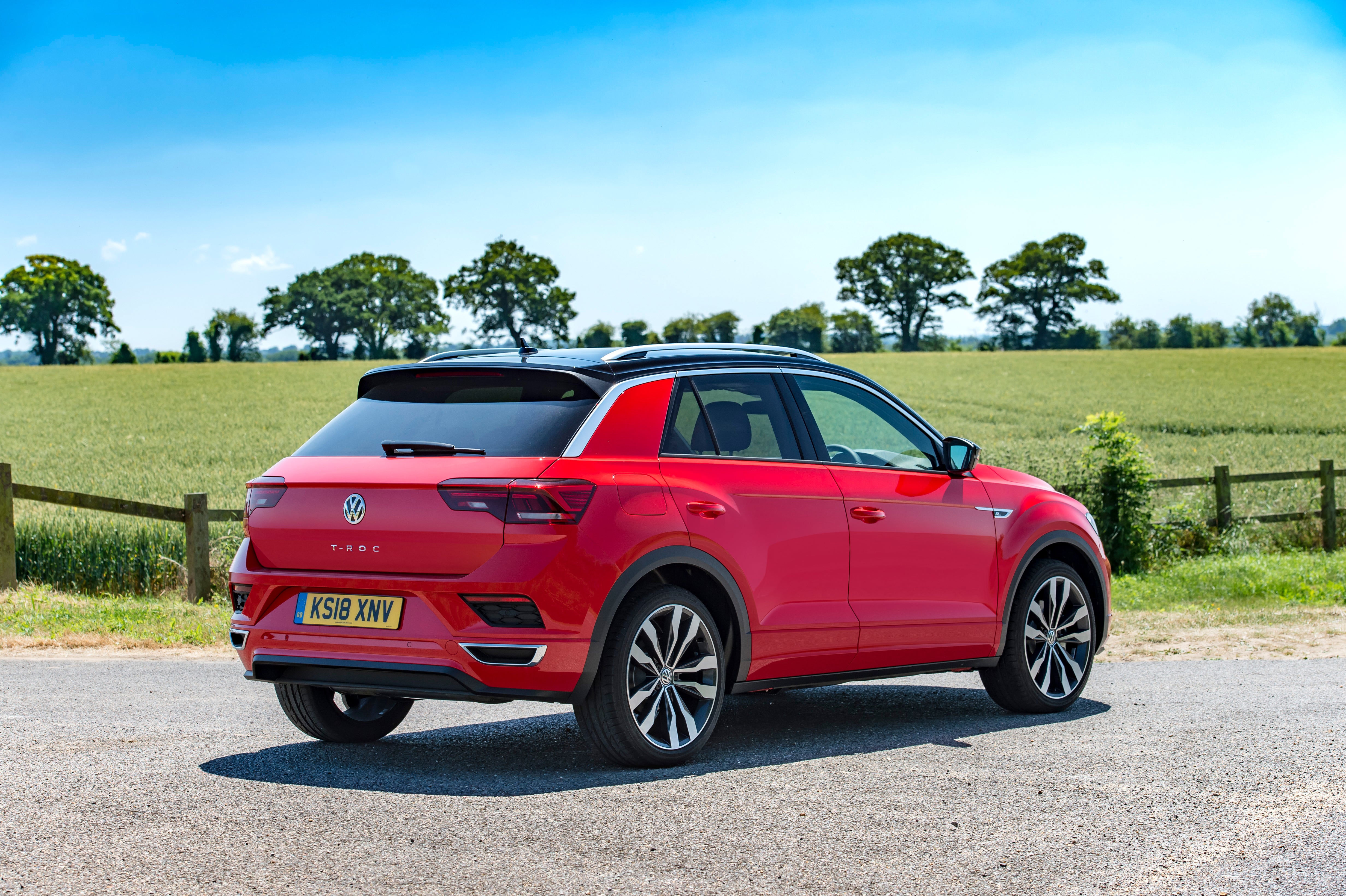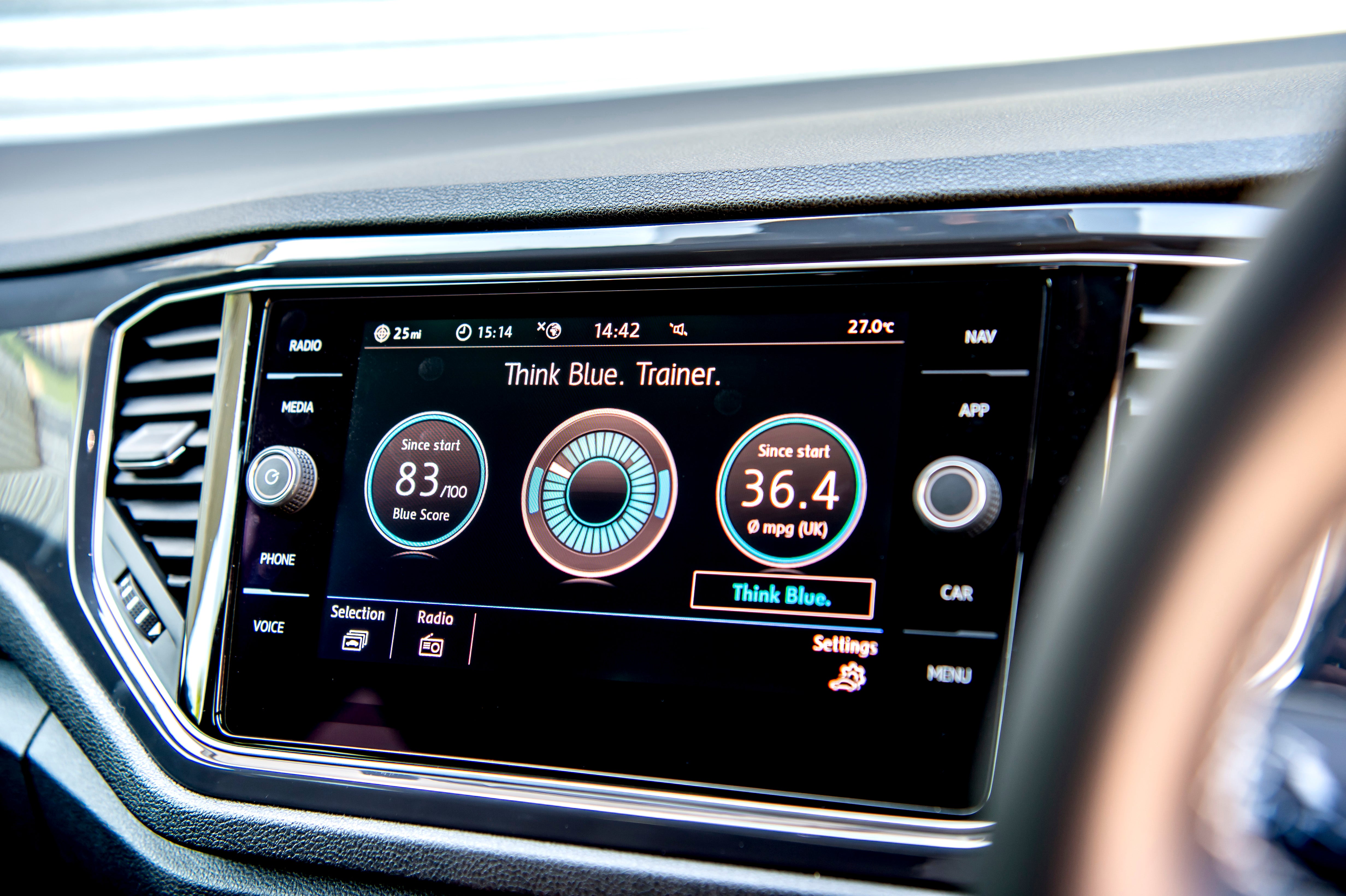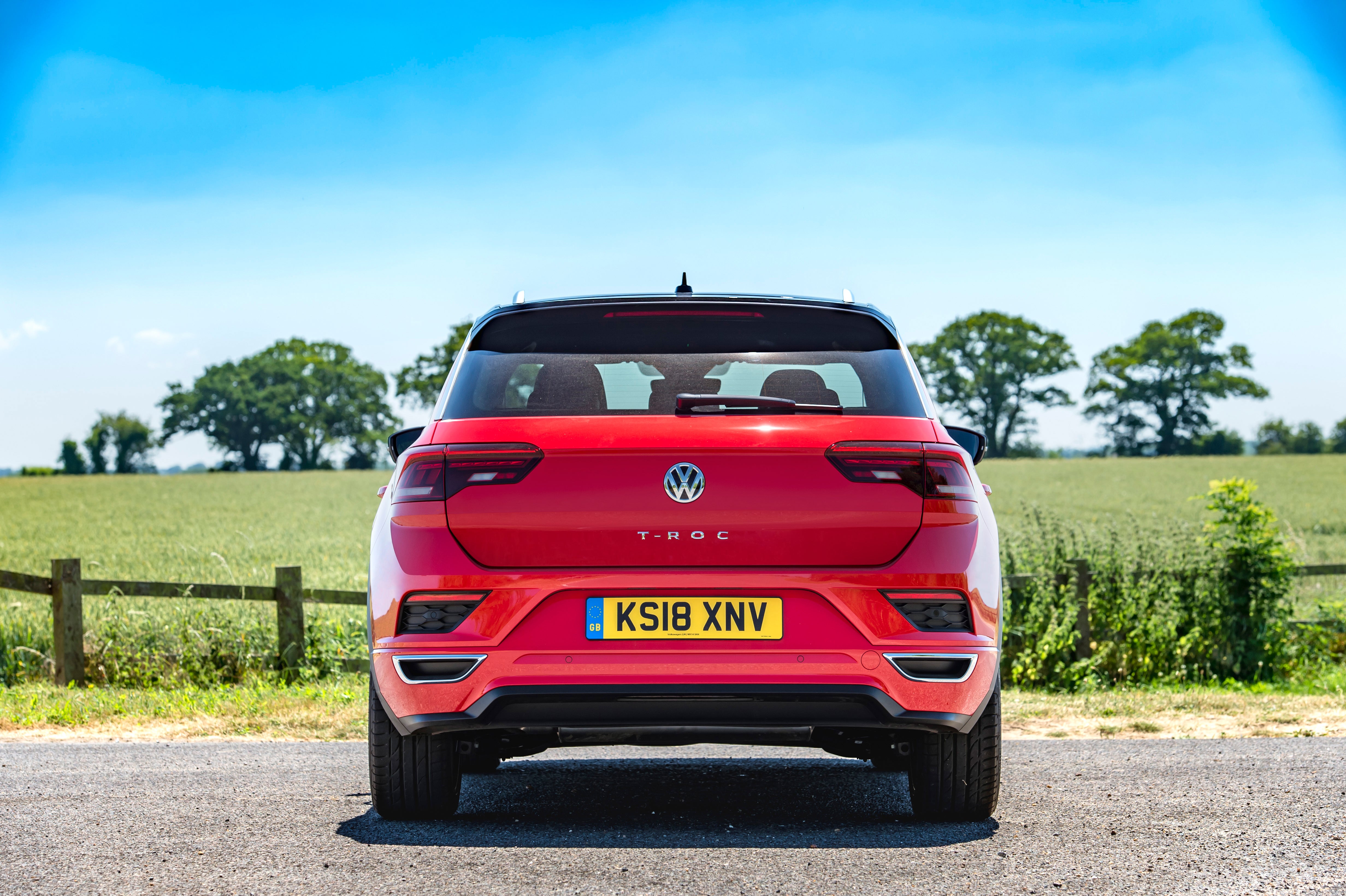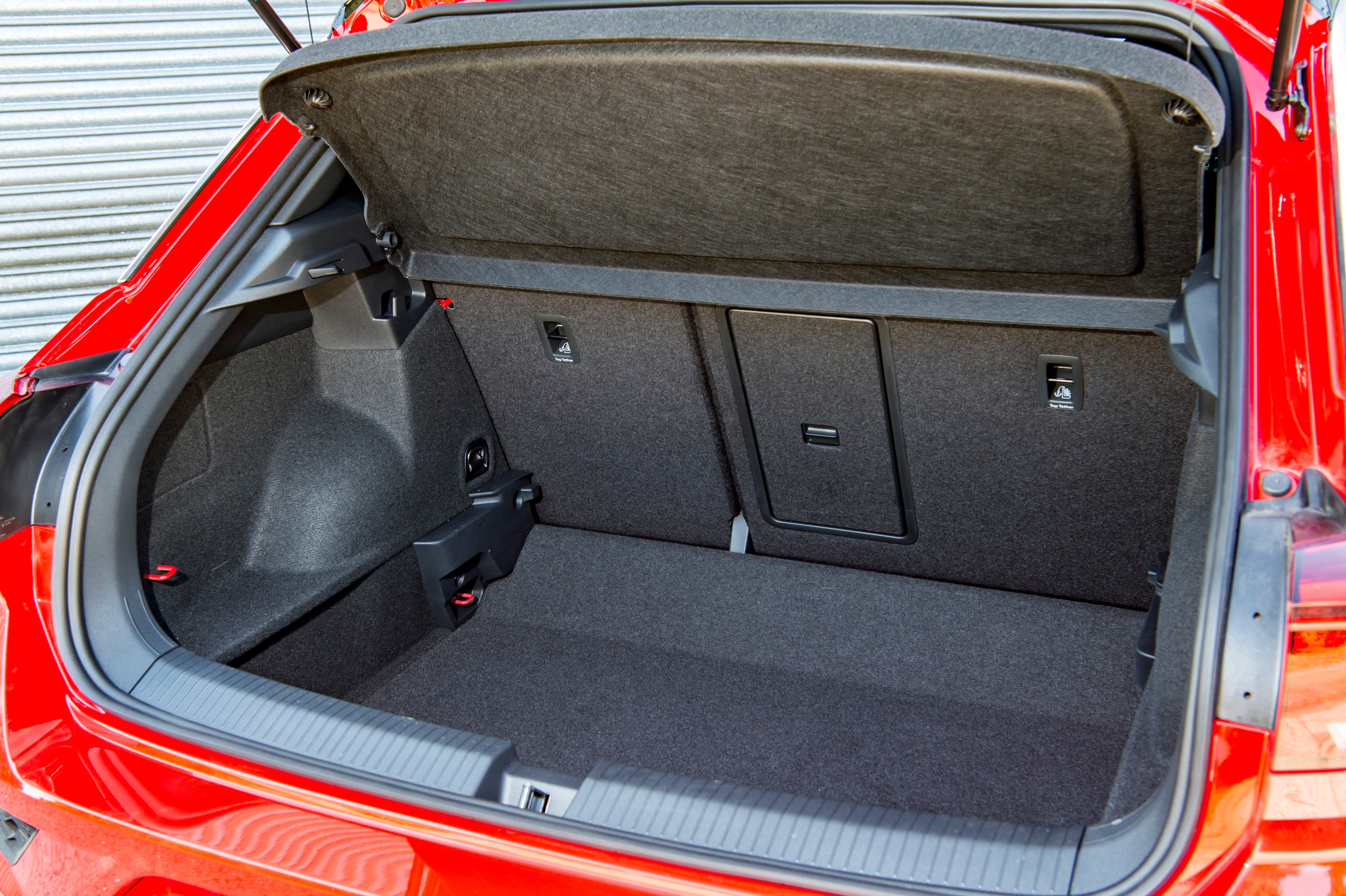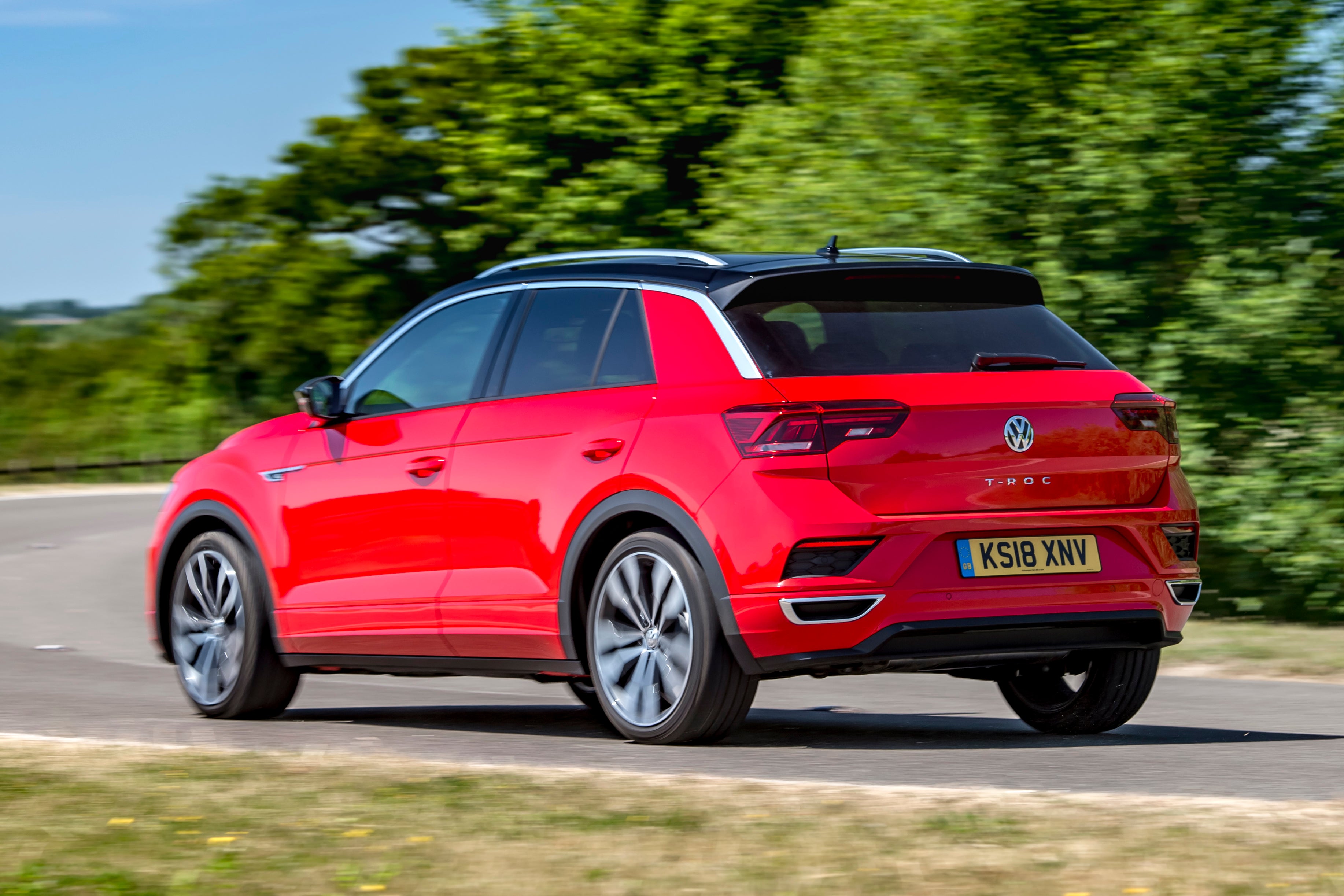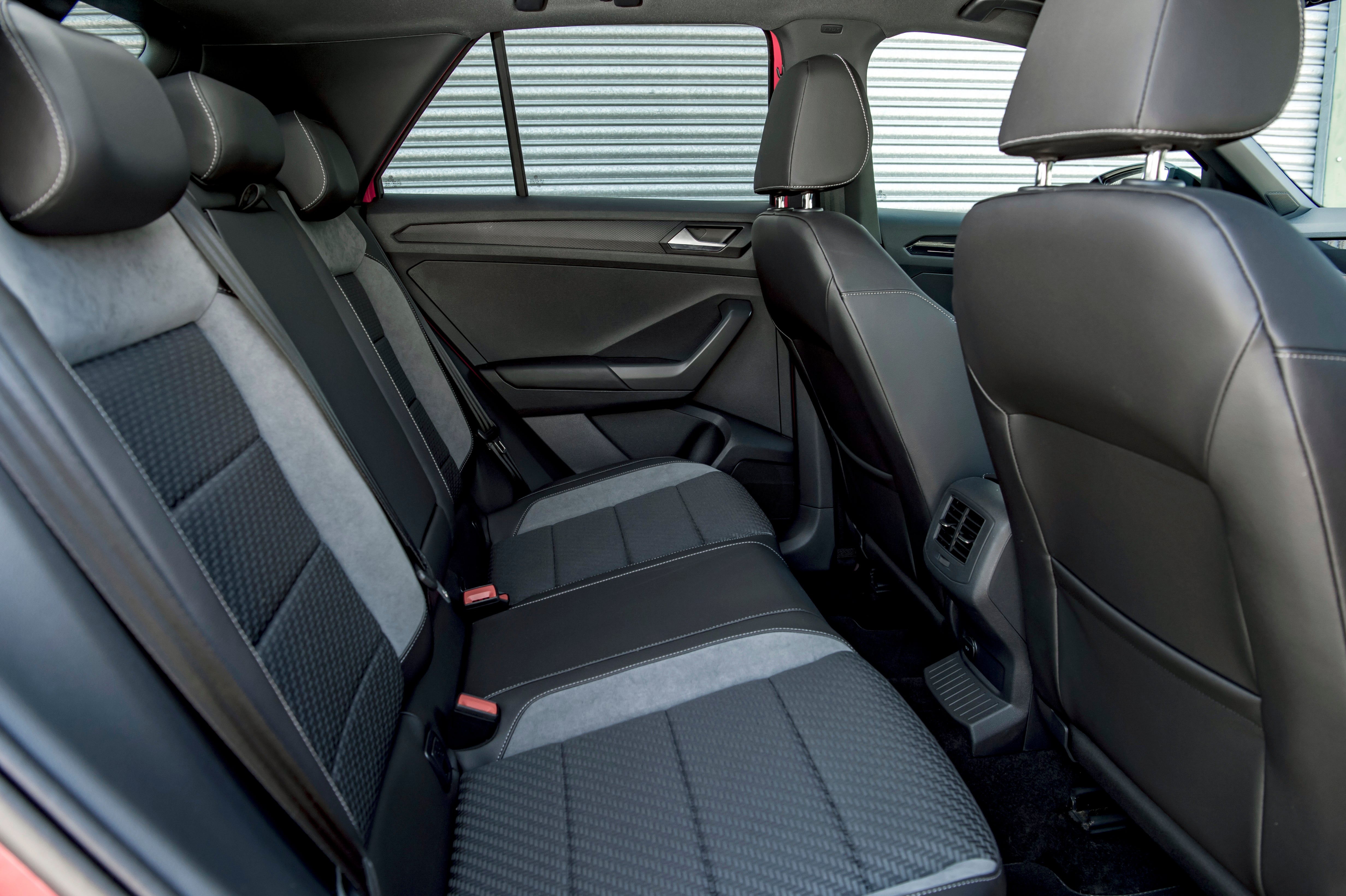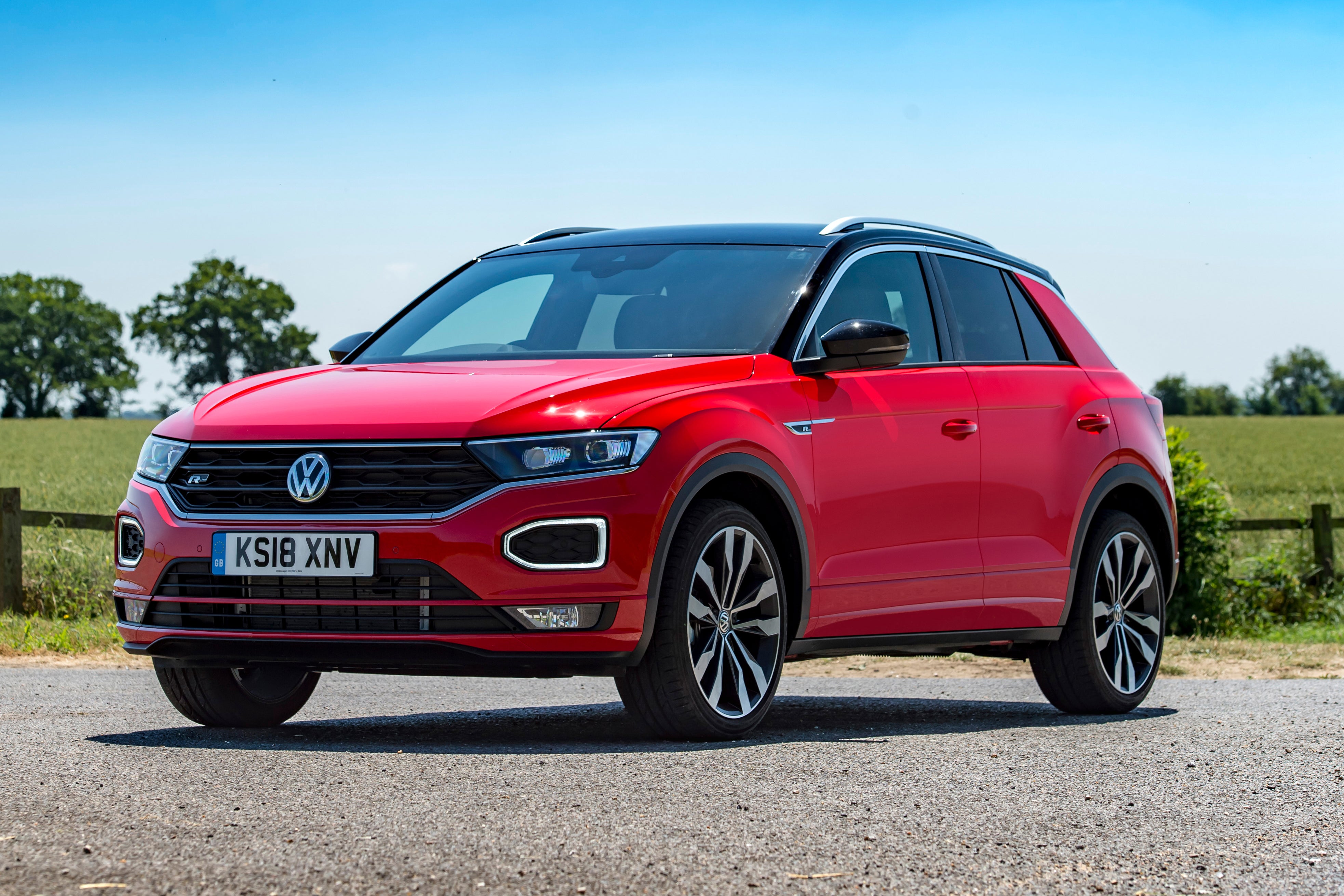 1/10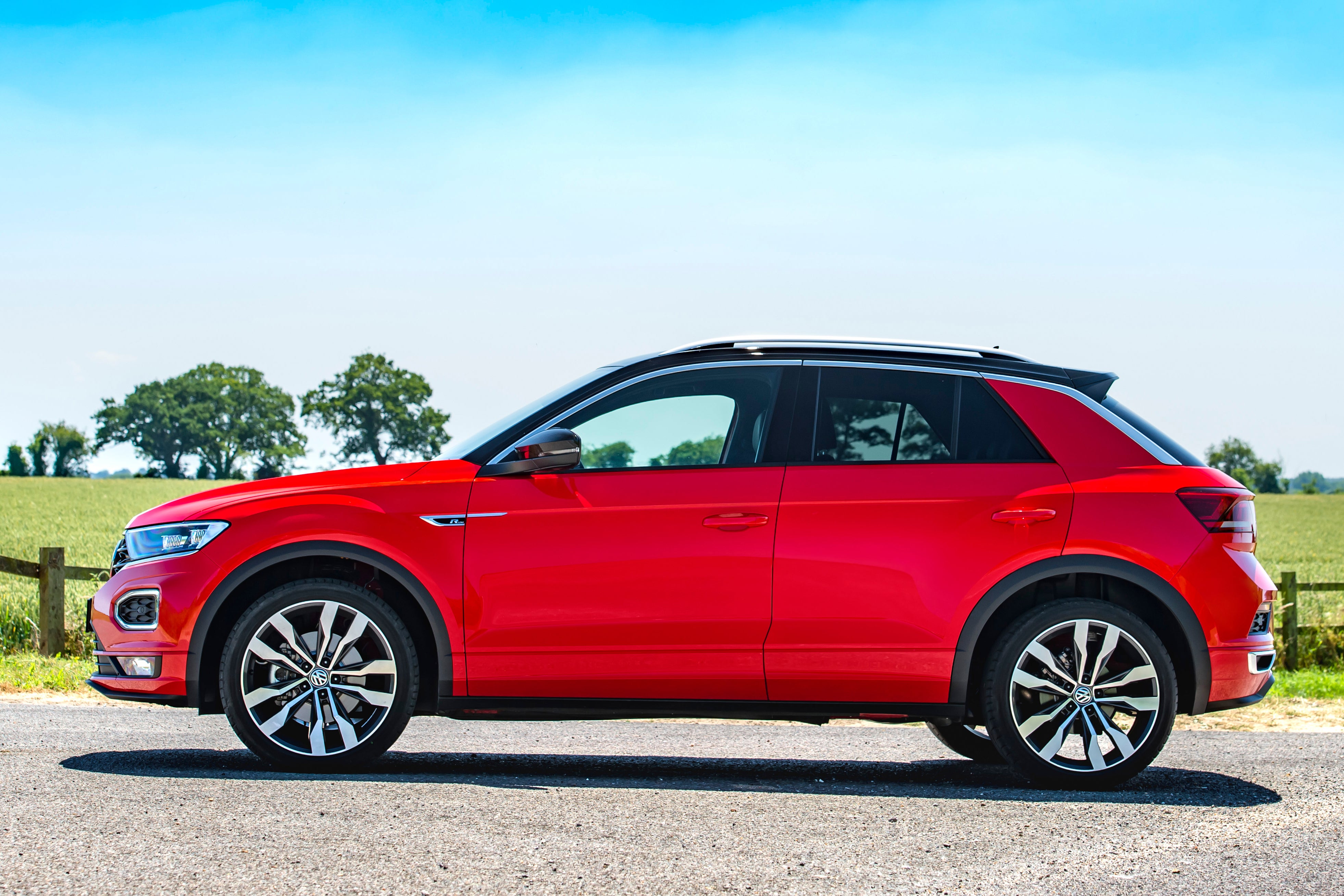 2/10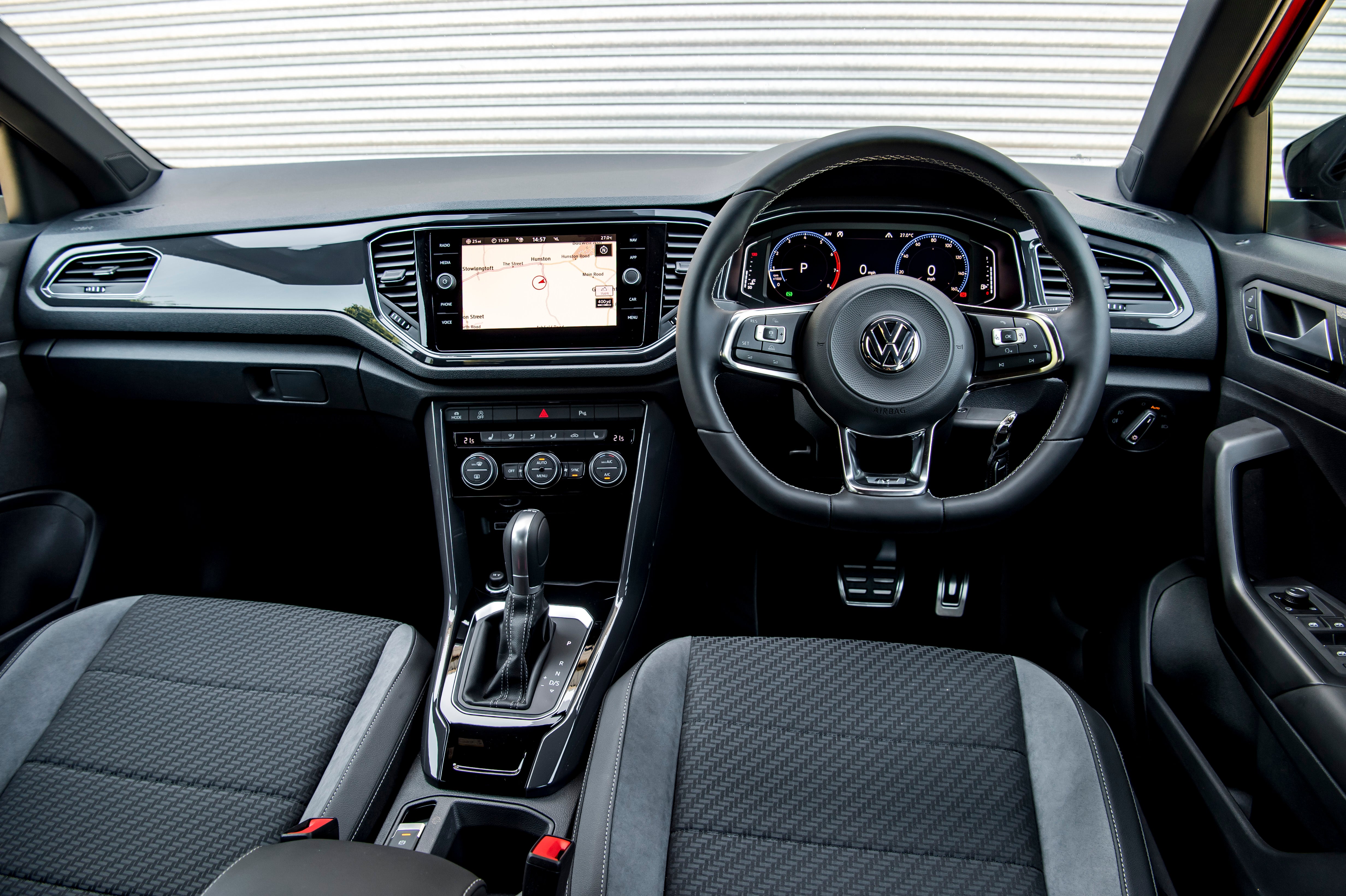 3/10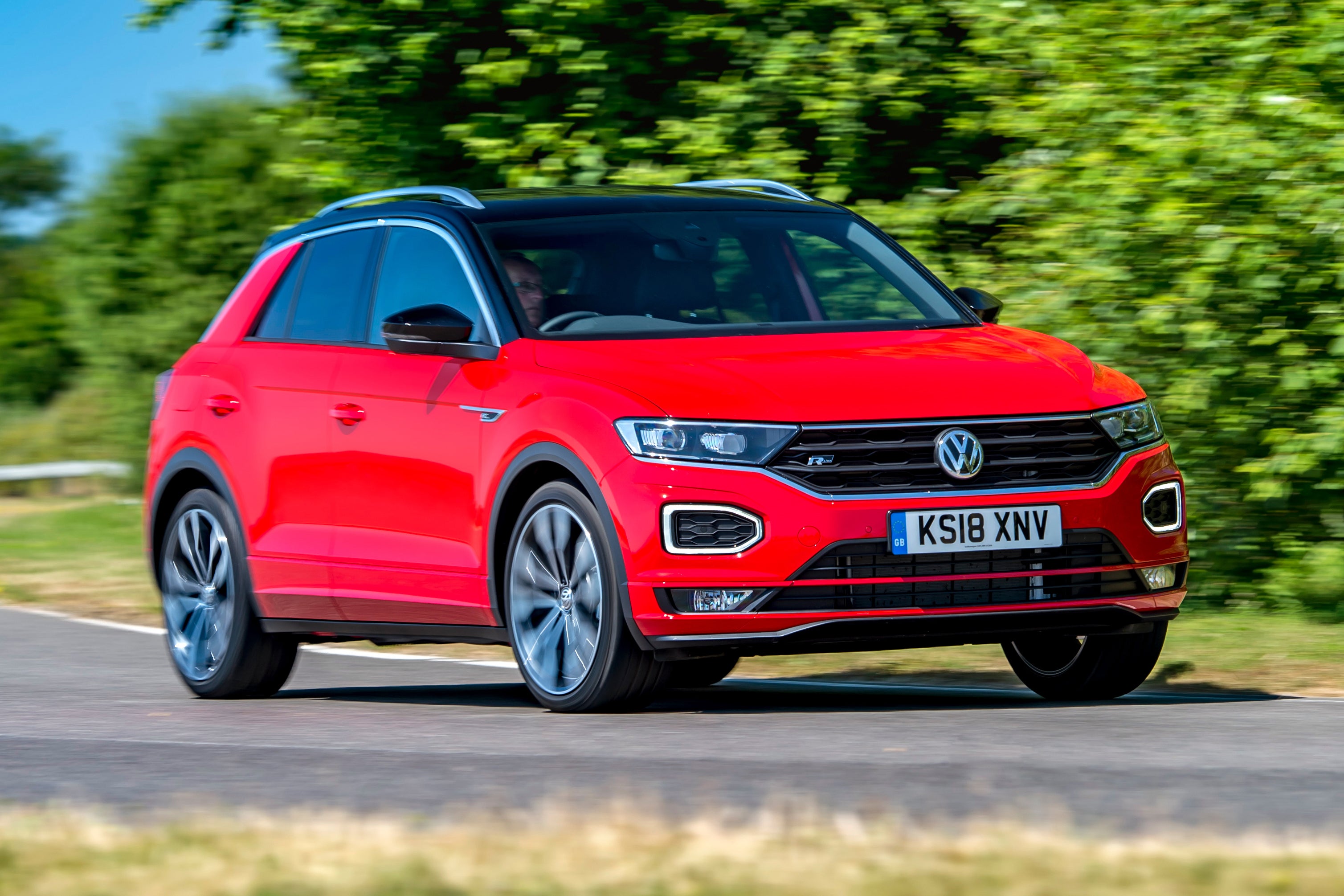 4/10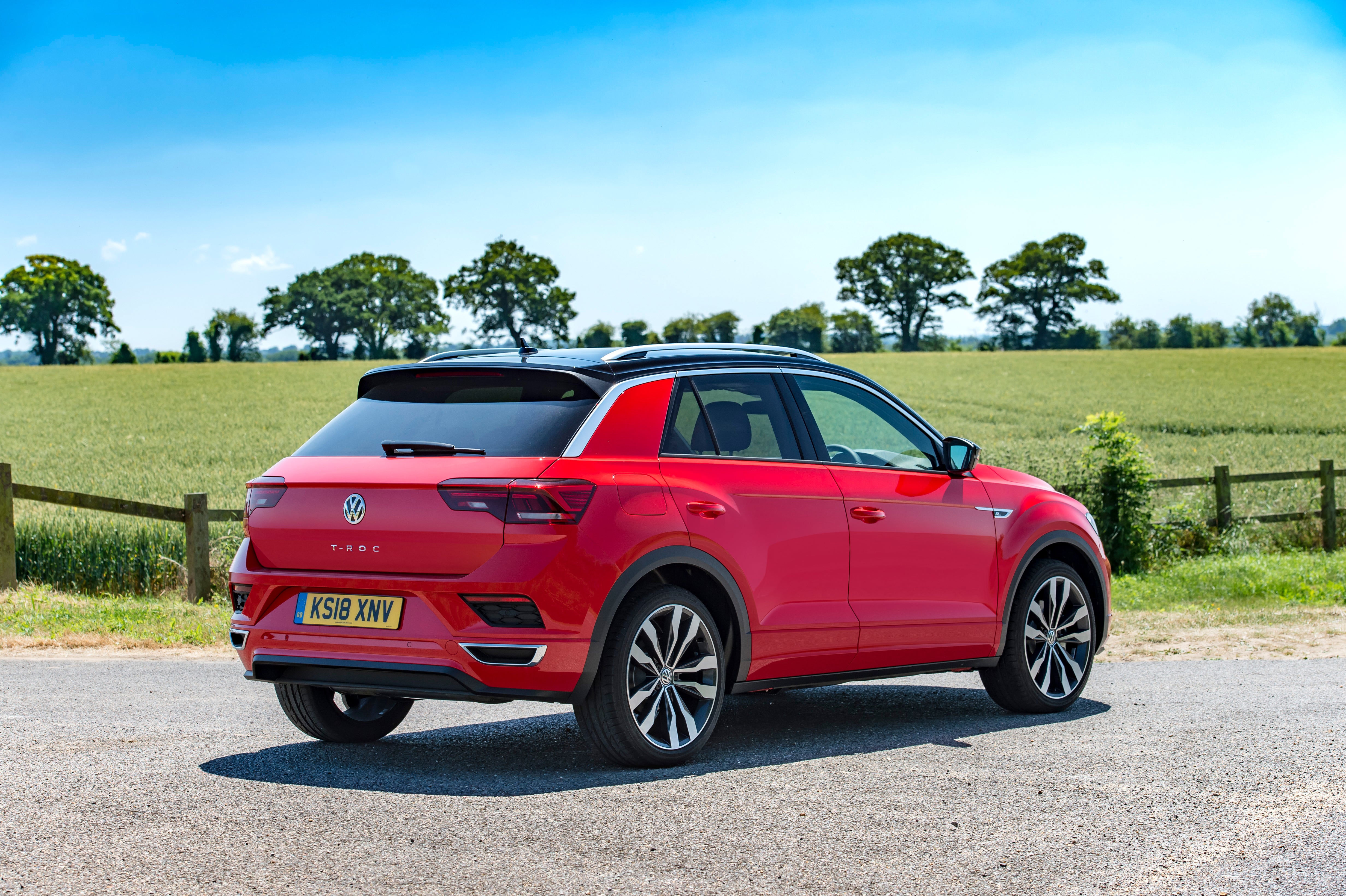 5/10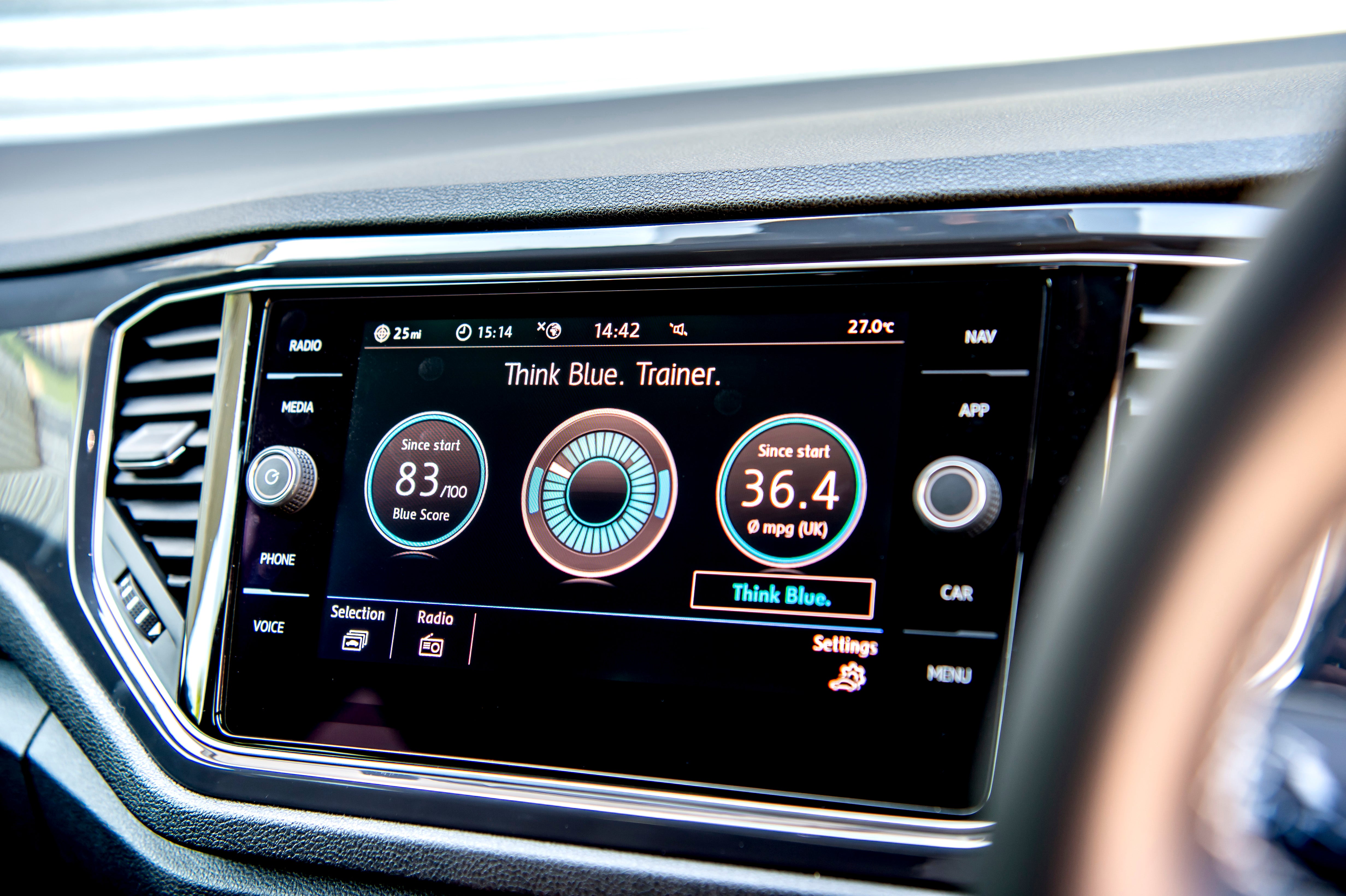 6/10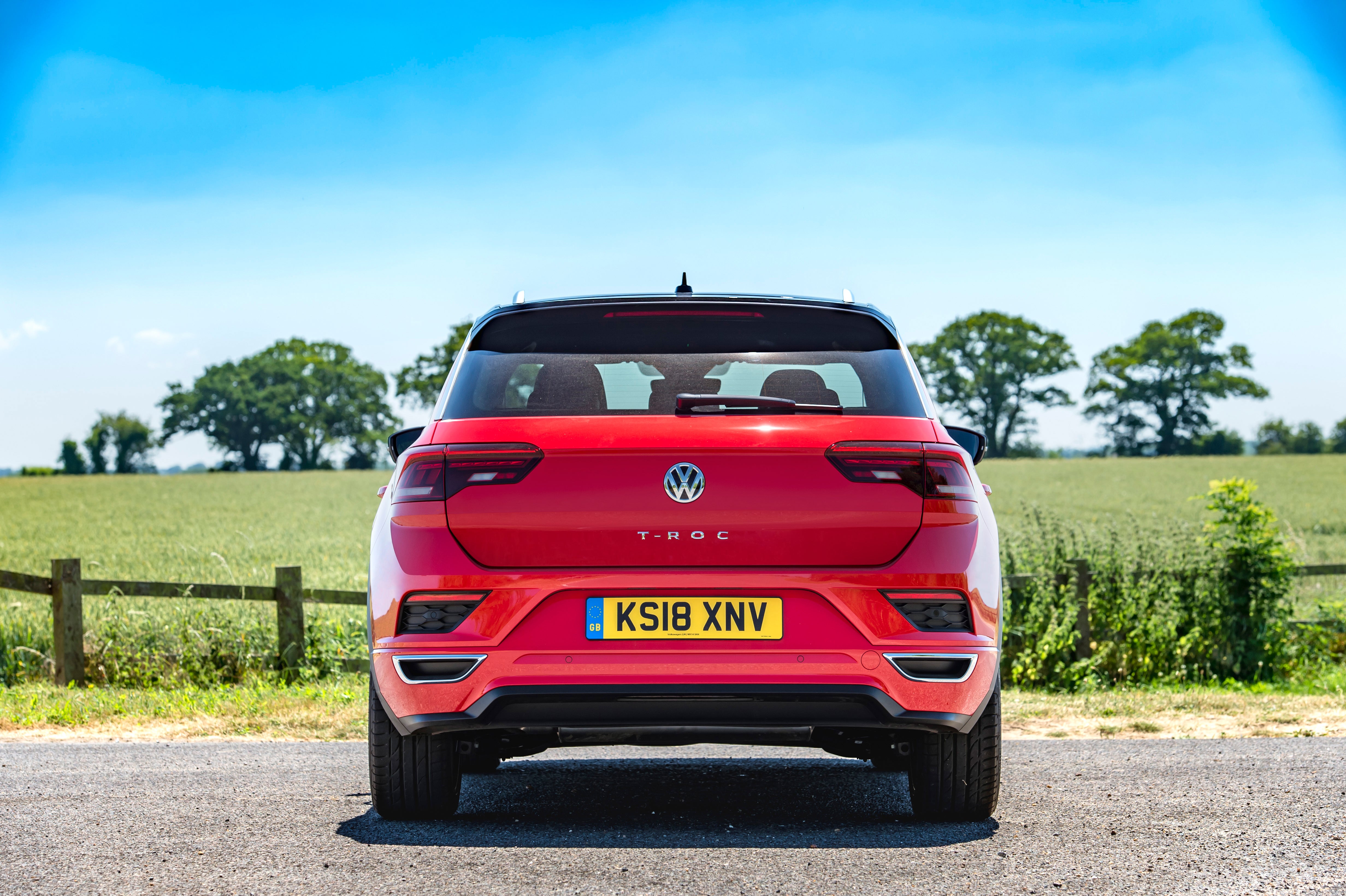 7/10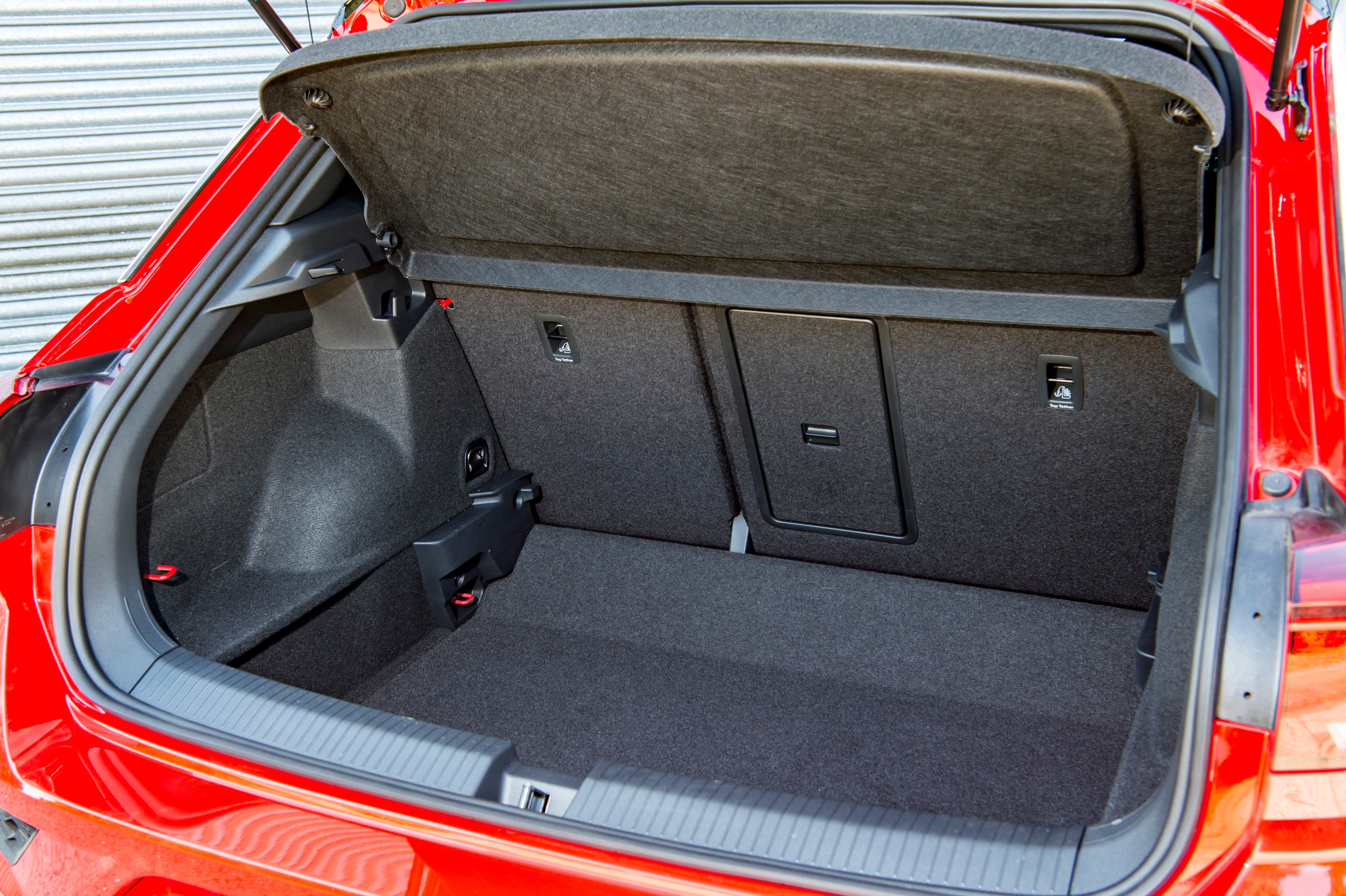 8/10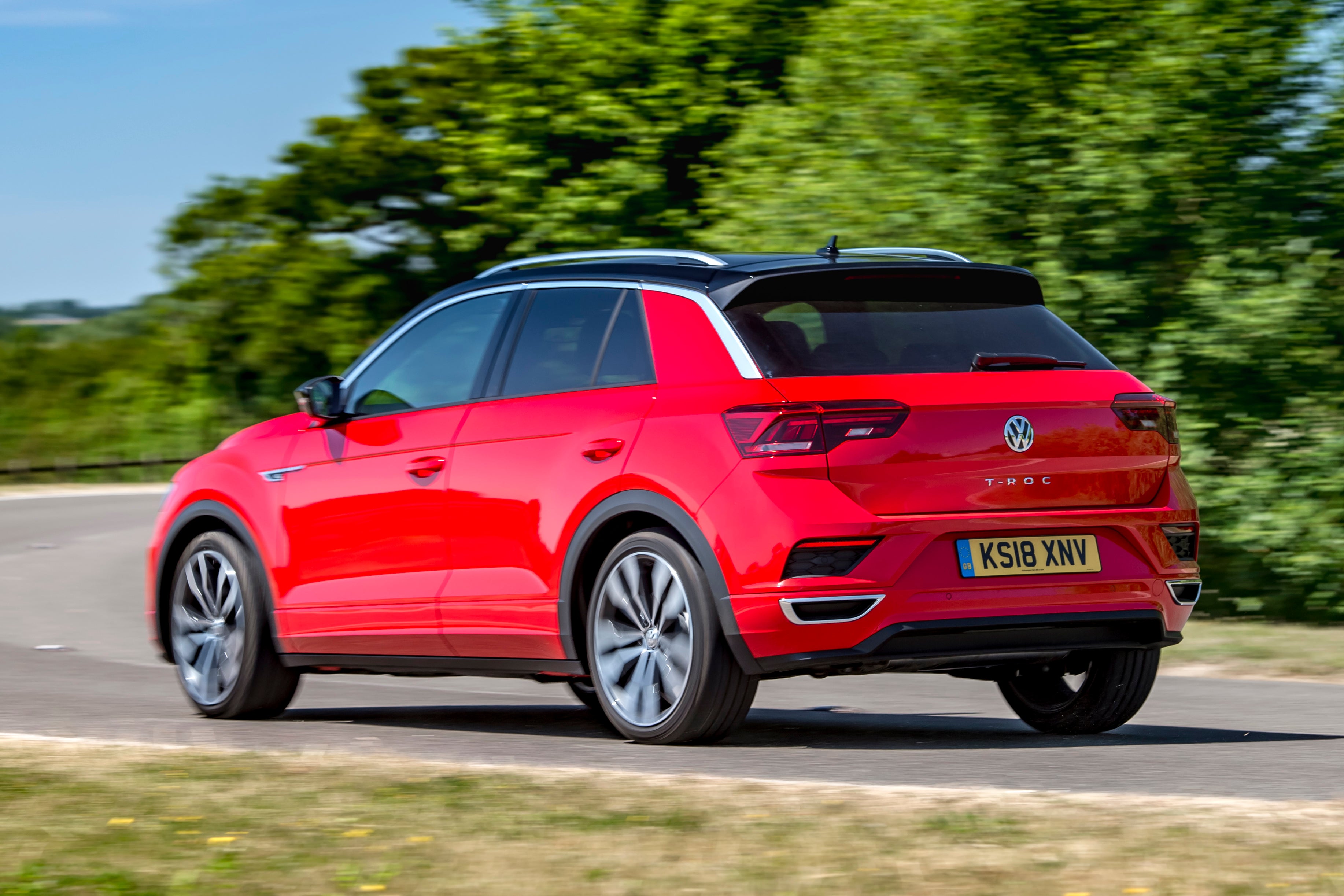 9/10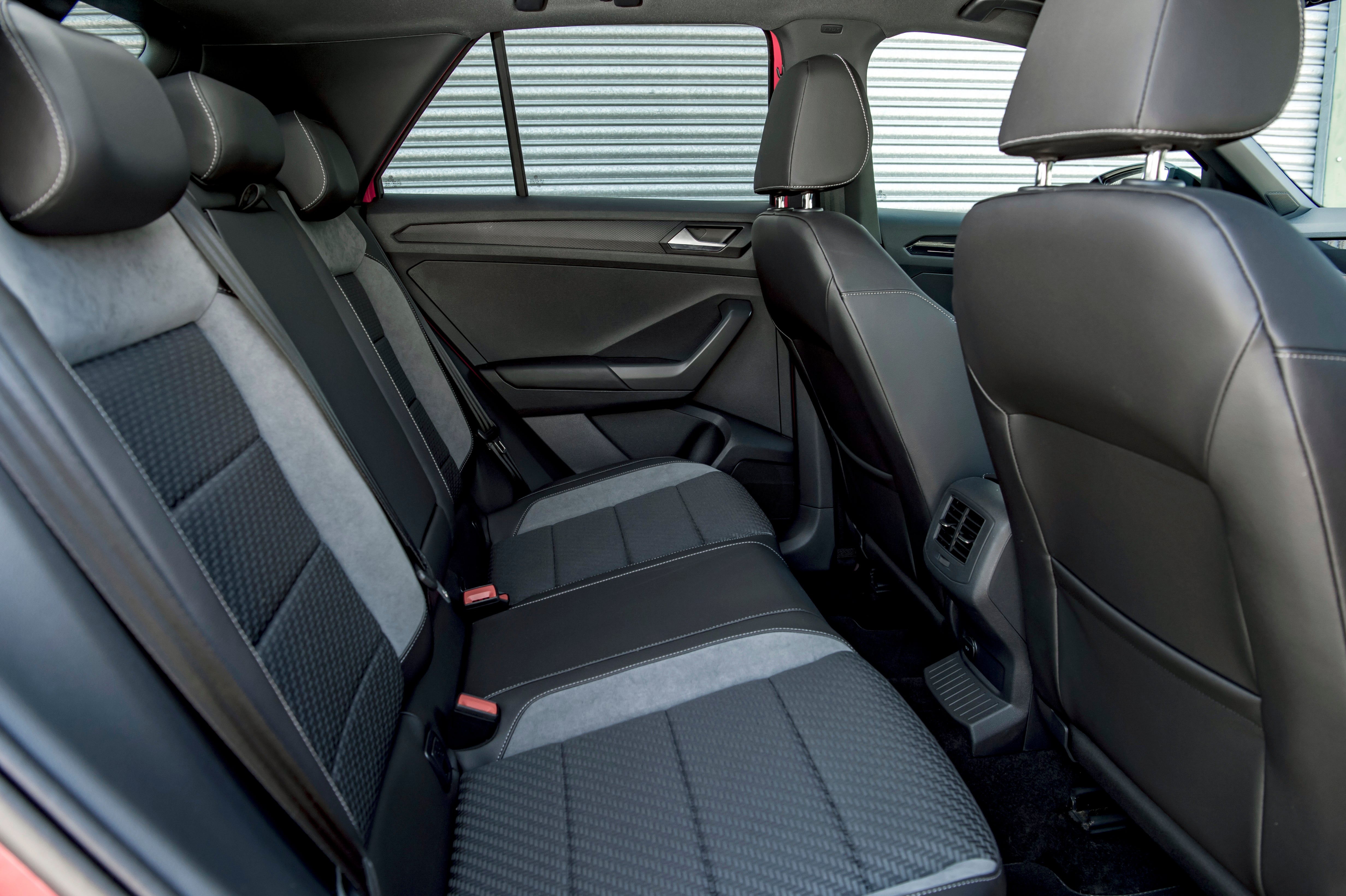 10/10
Launched in 2018

Crossover

Petrol, Diesel
Launch year

2018

Body type

Crossover

Fuel type

Petrol, Diesel

Written by
heycar editorial team

heycar rating
Funky yet frugal crossover SUV
Best bits
Very comfortable crossover with soft suspension
Spacious cabin with a big boot
Better looking than most cars of this size
Not so great
Some surprisingly flimsy interior finishes
Cheapest S models are very basic
Not as fun to drive as a Ford Puma
Read by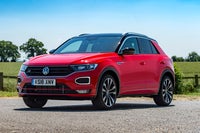 Overall verdict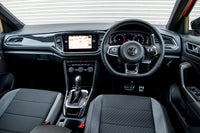 On the inside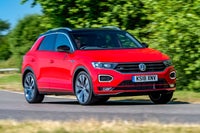 Driving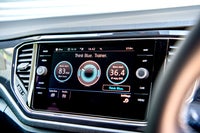 How much does it cost to run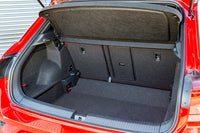 Prices, versions and specification
Overall verdict on the Volkswagen T-Roc
"The Volkswagen T-Roc is an easy car to recommend. It looks the part, has a stylish and practical cabin, and is pretty good to drive. Some alternatives are better in certain areas, but we rate the T-Roc as an excellent all-round package."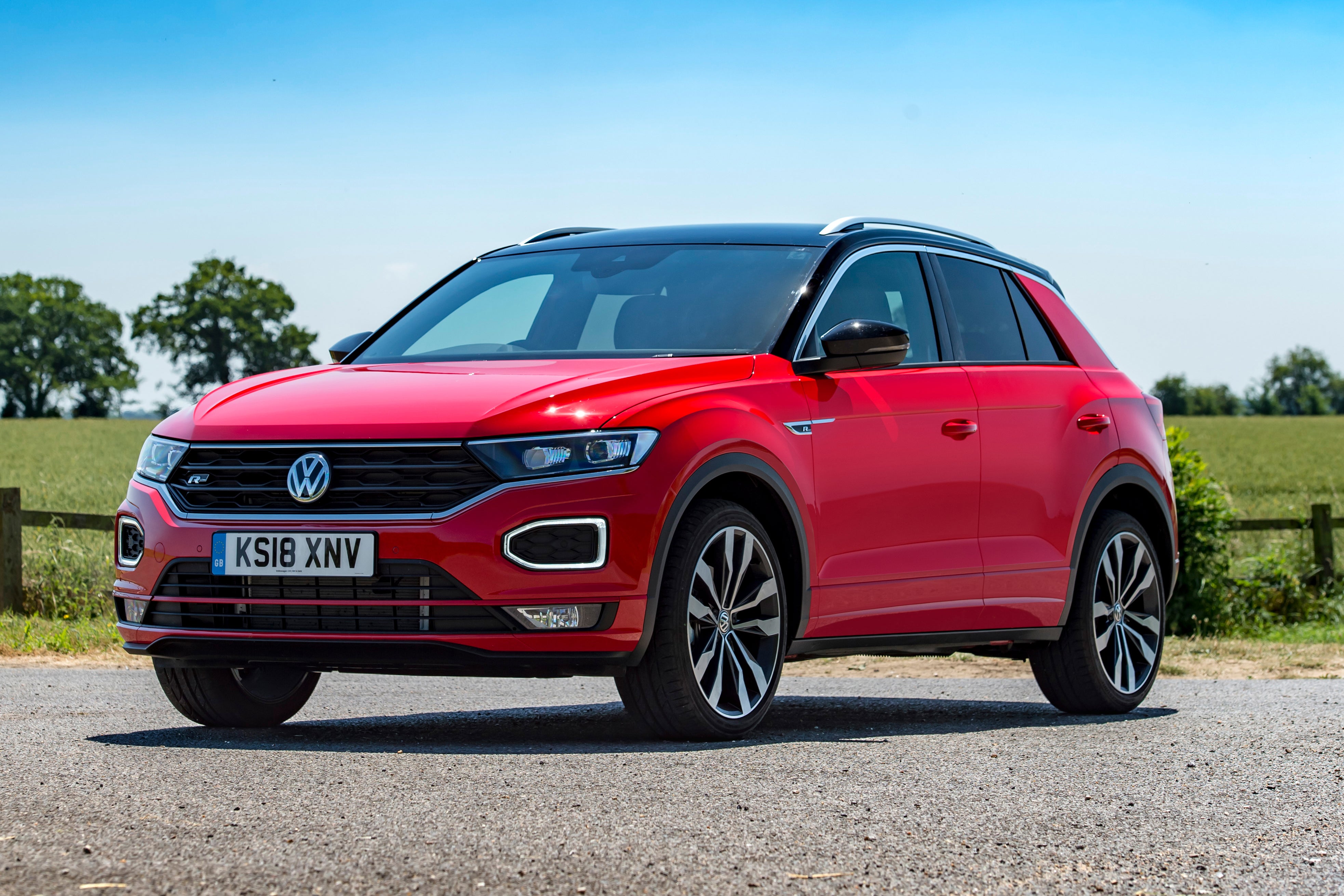 The T-Roc is essentially a higher-riding, more fashionable version of the Golf. It sits between the compact T-Cross and practical Tiguan in Volkswagen's range, rivalling cars like the Ford Puma, MINI Countryman and the premium BMW X2.
There was a time when the Volkswagen Golf was a pretty aspirational car. Sure, it was 'only' a fairly mainstream hatchback, but one that exuded quality and proudly wore the Volkswagen badge on its grille. Today, however, everyone wants a crossover. So that's what the T-Roc is.
It's a more comfortable choice than most of its contemporaries. The T-Roc's ride quality is surprisingly soft, especially with smaller wheels and the standard suspension. That also means it'll lean more in corners than a Golf and isn't as agile as a SEAT Arona, but that's a price we'd be happy to pay.
Aside from hybrid or electric powertrains, the T-Roc's engine line-up is pretty comprehensive. Petrol offerings range from a little 1.0 TSI (which is surprisingly good) to a powerful (and thirsty) 2.0 TSI with four-wheel-drive. There's the sporty T-Roc R, too, which we've covered elsewhere, while most buyers will find the mid-level 1.5 TSI ticks all the boxes. Diesel units include a fairly dismal 1.6 TDI and a more likeable 2.0 TDI.
It's got a pretty good interior, with higher-spec models getting some neat touches - like colourful dash inserts - to give it a funky edge over the more grown-up Tiguan. The cheapest S model is pretty grim and to be avoided, unless you really must have a T-Roc on a budget. It's got a CD player rather than Apple CarPlay/Android Auto, lacks an armrest, and doesn't come with an alarm as standard.
No matter which T-Roc you choose, you might be surprised to find some rather flimsy plastics here and there. It shouldn't be a deal-breaker, but it's not what we've come to expect from Volkswagen. If you'd like a plush cabin, look at the Mazda CX-30 instead. Or the pricier Audi Q2.
It's a practical car, with a higher seating position than many rivals. There's plenty of space in the back, while the T-Roc's generous width means you can even squeeze an adult in the middle seat (if you really must). The boot's a decent size, too.
On the used market, the Volkswagen T-Roc represents fairy good value for money, although its desirable image means you'll more for one than a more mainstream alternative. It's worth the cash, though, and we'd recommend stretching to one of the more appealing mid-spec trim levels.
Volkswagen even has a convertible version in the form of the unusual Volkswagen T-Roc Cabriolet.
Comfort and design: Volkswagen T-Roc interior
"The T-Roc's cabin is very dependent on trim level. Essentially, the more money the original owner chucked at it, the better it is. Design models and above are the most desirable, with some bold colour combinations on the dashboard, door cards and around the centre console. These do a great job of brightening up what could otherwise be a rather dark (although fairly well-finished) cabin."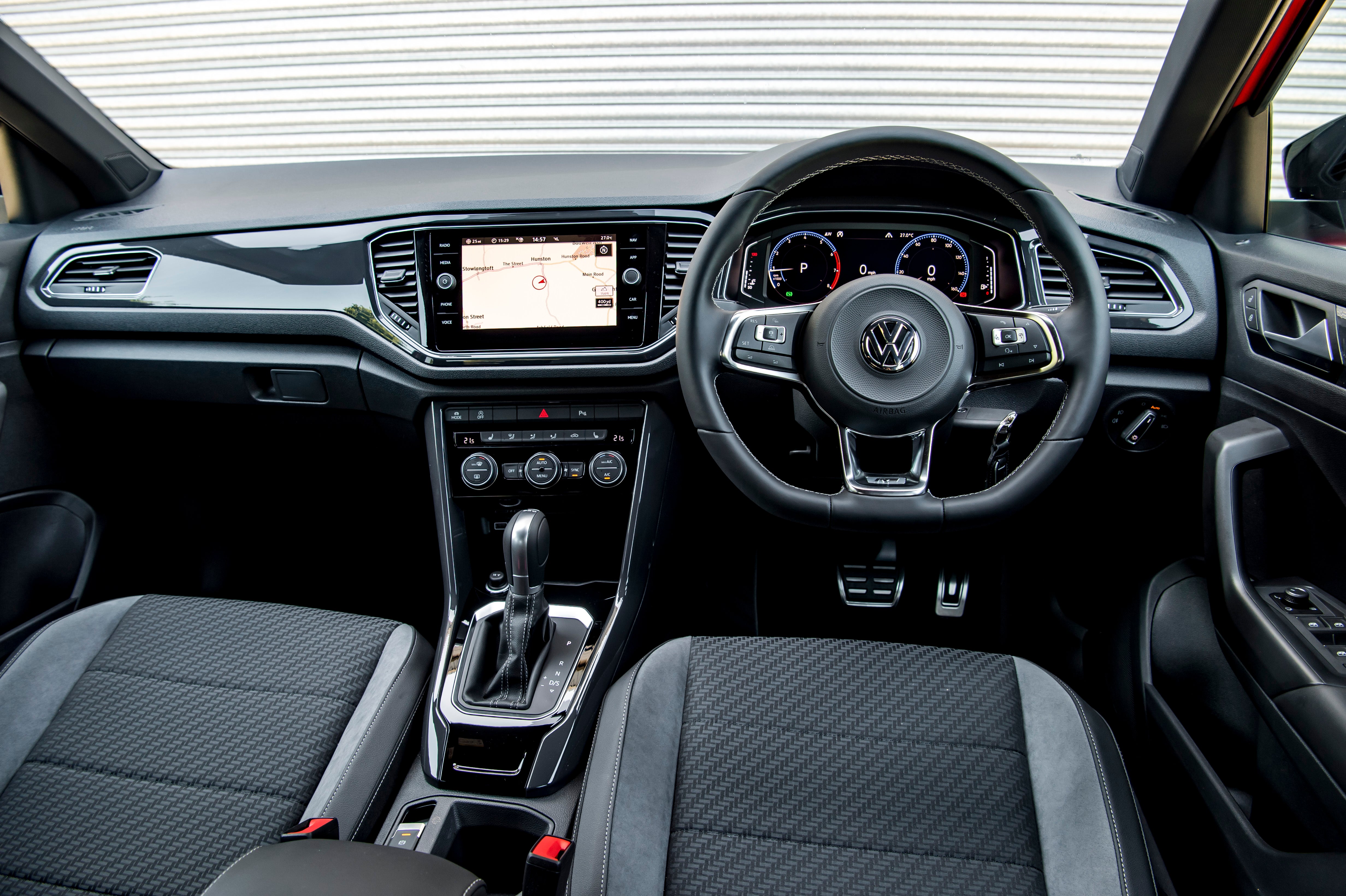 In terms of comfort, the T-Roc is a very amiable choice. Finding a driving position that's to your satisfaction is easy, thanks to seats that slide a long way backwards and forwards along with a steering wheel with plenty of adjustment.
Disappointingly, many used T-Rocs won't have adjustable lumbar support as it was only available as an option. Electric seat adjustment wasn't even offered. Still, the seats are supportive, especially the sports seats of higher-spec models, and the high-up seating position ought to be good for your posture.
The SEL features a 10.3-inch digital display in place of conventional dials behind the steering wheel. This looks ultra-modern and is of typical Volkswagen quality, with slick graphics and plenty of customisation options. It was offered as an option on lesser models too, and it's pretty desirable on the used market.
Handling and ride quality: What is the Volkswagen T-Roc like to drive?
"You probably won't find a more comfortable crossover than the T-Roc, particularly if you buy a low-spec model with their standard small wheels. It does a commendable job of absorbing bumps in the road without passing them onto your passengers, yet feels pleasingly planted at speed."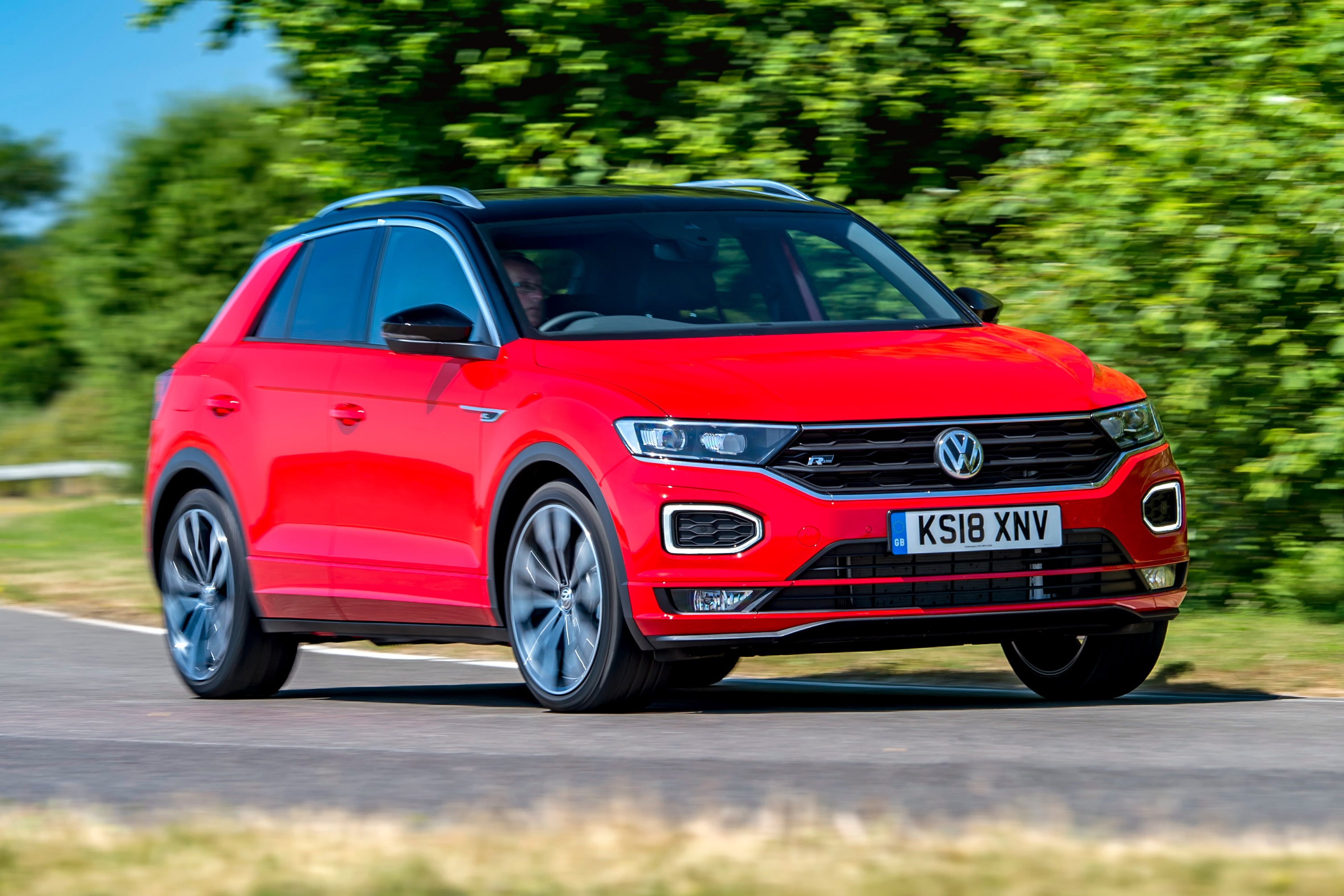 Higher-spec models with bigger wheels feel a bit firmer, but they're not overly harsh. You'll have to be prepared to slow down a bit more for speed bumps if you buy an R-Line with its lowered sports suspension (also offered as an option on lesser models), but even this is on the acceptable side of harshness.
Some T-Rocs have adaptive dampers (known as Dynamic Chassis Control, in Volkswagen speak). These were an option when new, and give the driver the choice of three suspension settings: Sport, Comfort and Normal. It's a nice feature to have, but one we wouldn't pay a great deal extra for.
Whichever suspension the T-Roc of your desire has, it'll put comfort over outright nimbleness. In plain English, no T-Roc is as fun to throw around as the Ford Puma and even the very similar SEAT Arona feels a bit more agile.
Still, the T-Roc feels planted and safe, which is what most crossover SUVs buyers want. The steering's light, which makes it easy to negotiate city streets, and you get a better view than you would in a Golf (although it's not exactly a Range Rover-like commanding driving position).
All but the cheapest T-Rocs come with front and rear parking sensors, which are very useful when parking, while some will feature a rear-view camera - it's offered as an option when new.
MPG and fuel costs: What does a Volkswagen T-Roc cost to run?
"You won't need deep pockets to run a petrol T-Roc, though. The 1.0 TSI returns up to 47.9mpg, depending on which model you opt for. With its cylinder-deactivation tech, the 1.5 TSI is good for up to 45.6mpg with a manual gearbox, or 42.8mpg with the DSG auto transmission."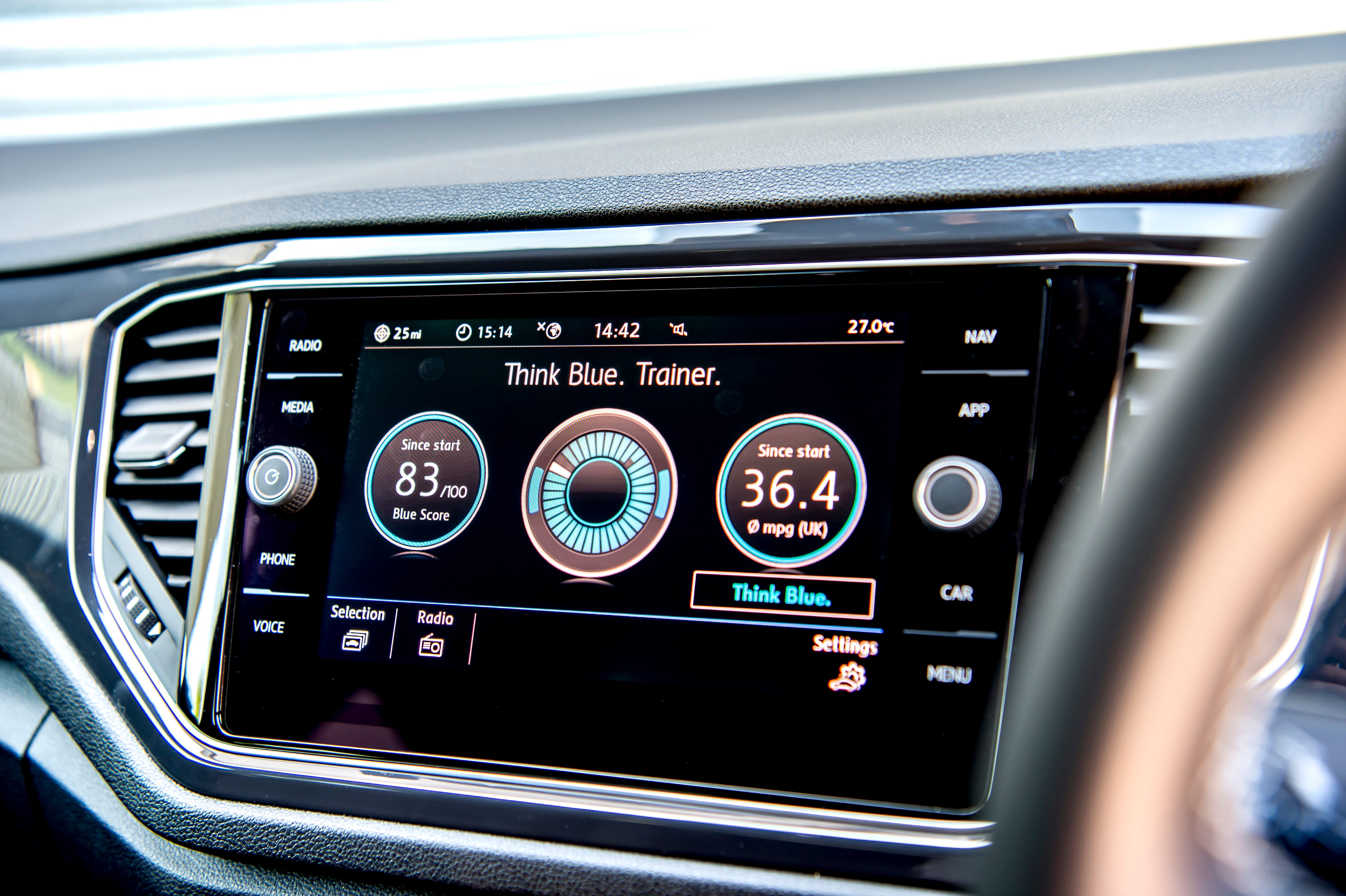 As is usually the case, the diesels are the most frugal. The entry-level 1.6 TDI officially returns up to 53.3mpg in combined WLTP fuel economy tests, which is pretty good for a crossover SUV like the T-Roc. Dependent on specification, the 2.0 TDI is only marginally less efficient, returning up to 52.3mpg. Most buyers will find the extra power is worth the slight drop in fuel economy.
Aside from the hot T-Roc R, the thirstiest T-Roc is the 2.0 TSI 4Motion. With its four-wheel-drive system and 190PS petrol engine, this officially returns up to 34.4mpg. You'd have to really want a powerful petrol and four-wheel drive...
How much should you be paying for a used Volkswagen T-Roc?
"The T-Roc has quite an extensive line-up, with prices ranging significantly depending on which model you choose."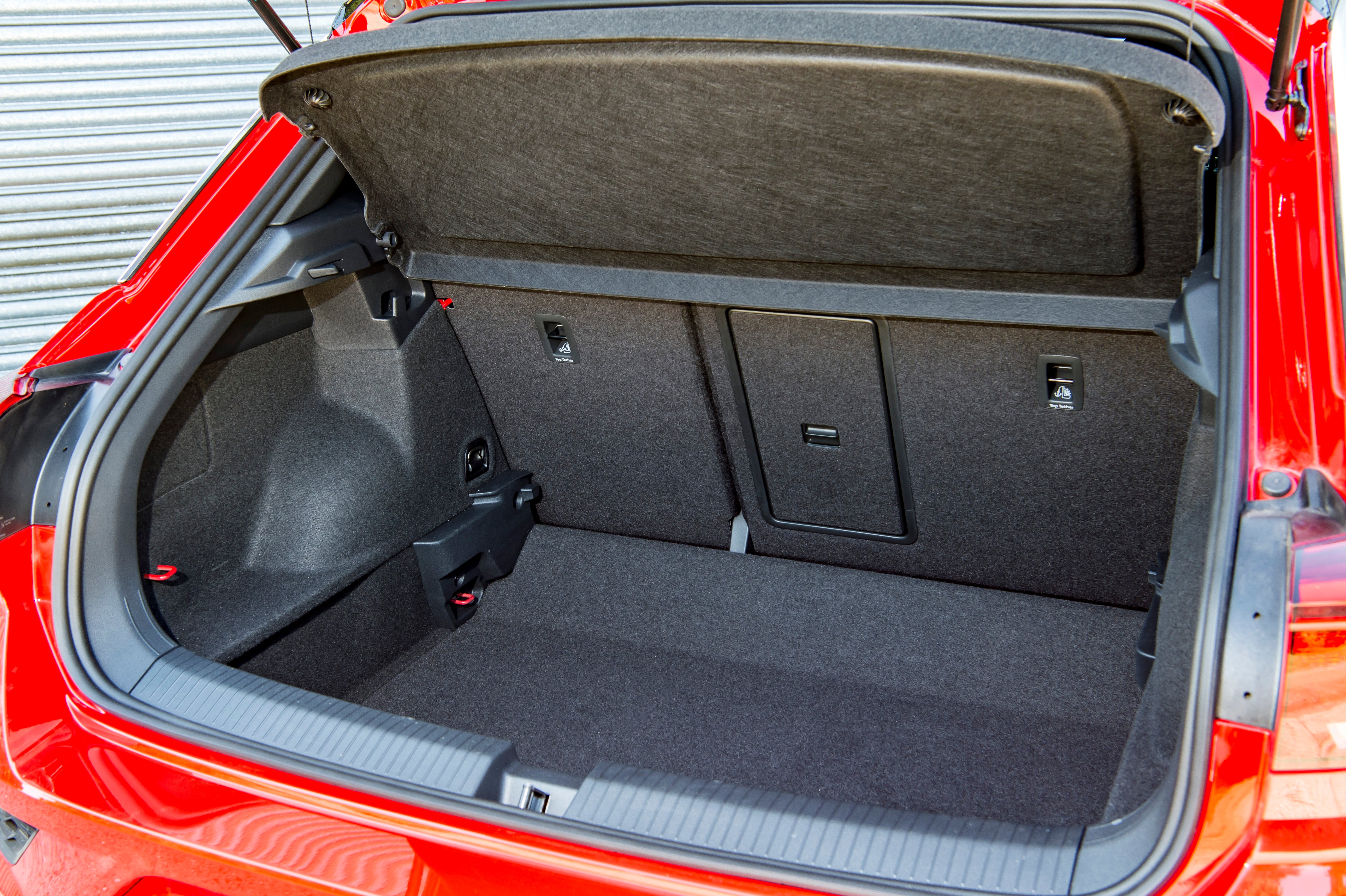 A two-year-old SE model with the 1.0 TSI engine can be bought for as little as £16,000, which is quite a significant saving compared to new. An SEL of the same age with the 1.5 TSI engine will set you back around £19,000.
If you'd prefer an as-new car but don't want to pay the retail price, look for an ex-demonstrator or pre-registered example. These are cars that have been ordered by dealers and are available to drive away now, usually for a healthy discount.
An as-new 1.0 TSI S can be bought for around £19,000 - a saving of close to £2500. An SE will set you back close to £20,500 (nearly £2000 below retail price), while nearly-new SEL models start from £24,500 - more than £2500 less than a factory order would cost you. We've seen £3000 savings on top-spec R-Line models, with pre-registered examples advertised for less than £26,000.
Ready to get your top quality Volkswagen T-Roc?
All cars come with a warranty
Selected dealers only
All quality checked
Volkswagen T-Roc
1.0 TSI SE 5dr
Manufacturer Approved
Tl Darby Volkswagen Burton on Trent

Staffordshire, DE142WG
PCP: £289.39/mo
Representative example: Contract Length: 36 months, 35 Monthly Payments: £289.39, Customer Deposit: £2,700.00, Total Deposit: £2,700.00, Optional Final Payment: £8,222.50, Total Charge For Credit: £3,051.15, Total Amount Payable: £21,051.15, Representative APR: 8.9%, Interest Rate (Fixed): 8.88%, Excess Mileage Charge: 4.78ppm, Mileage Per Annum: 10,000
Volkswagen T-Roc
1.5 TSI EVO SE 5dr
Manufacturer Approved
Hawco Volkswagen Peterhead

Aberdeenshire, AB421RS
PCP: £328.78/mo
Representative example: Contract Length: 36 months, 35 Monthly Payments: £328.78, Customer Deposit: £3,419.00, Total Deposit: £3,419.25, Optional Final Payment: £10,922.50, Total Charge For Credit: £3,054.05, Total Amount Payable: £25,849.05, Representative APR: 6.9%, Interest Rate (Fixed): 6.86%, Excess Mileage Charge: 7.2ppm, Mileage Per Annum: 10,000
Is the Volkswagen T-Roc right for you?
If you want a stylish, crossover with a versatile cabin, the Volkswagen T-Roc's a great choice. It's got more kerb appeal than the bigger Tiguan, yet families will find it more practical than the Golf hatchback.
With a suspension that focuses on comfort rather than sportiness, it's a surprisingly comfortable choice - while the strong engine line-up means there's something for everyone. You can even get four-wheel-drive models, although these are fairly thirsty and to be avoided unless you really need to venture off-road.
The most basic models do without a lot of the standard equipment which makes the T-Roc so appealing, so we'd suggest splashing the cash on one of the pricier versions if your budget allows.
What's the best Volkswagen T-Roc model/engine to choose?
Most buyers will find the 1.5 TSI to be the best combination of performance and economy. The 1.0 TSI is fine, if most of your miles are around town, although you'll only find it paired with low-spec versions of the T-Roc.
If you cover a lot of motorway miles, a diesel will make more sense. The 1.6 TDI does the job, in the same way as a plate of boiled pasta will do the job. The 2.0 TDI is munch punchier and no less efficient in the real-world, provided you avoid four-wheel-drive models.
There's quite an extensive line-up of trim levels and decided which one suits you depends on what exactly you want in a corner. We'd probably look for a Design or SEL model, for things like a contrasting roof and the desirable 10.3-inch digital instrument cluster. Cheaper models are fine, although the entry-level S is very basic indeed.
What other cars are similar to the Volkswagen T-Roc?
There's a whole range of crossover SUVs that contend with the T-Roc. These include other Volkswagen Group alternatives like the Skoda Kamiq, SEAT Arona and even the pricier Audi Q2. You could also consider the Mazda CX-30 - a left-field crossover with a superb cabin - or the fashionable MINI Countryman.
Toyota's C-HR is a hybrid alternative, if that floats your boat, while the Honda HR-V could be a sensible and practical choice. If you'd like a premium contender, we'd recommend the BMW X2. There's the Mercedes-Benz GLA, too, although the 2014-2020 model isn't as good as you might expect.
Finally, the Ford Puma is an excellent, well-equipped alternative, particularly if you'd like a crossover that's a bit more sporty to drive.
Quality and finish
The Volkswagen T-Roc's a bit of a mixed bag in terms of interior quality and finish, unfortunately. Don't get us wrong, it'll probably wear very well and we'd be surprised to find one afflicted with rattles and creaks a few years down the line. But it just doesn't feel quite as plush as we're accustomed to from Volkswagen, with some surprisingly flimsy plastic finishes and hard materials.
The entry-level S model feels particularly cheap, lacking a leather-wrapped steering wheel or gear lever, and little to lift the cabin. The Design, with its flashy dashboard inserts looks (and feels) a fair bit smarter.
No T-Roc came as standard with leather seats, although they were offered as an option on most models. We'd pay good money for a T-Roc with these on the used market as they feel significantly plusher than the standard cloth seats.
Infotainment: Touchscreen, USB, sat nav and stereo in the Volkswagen T-Roc
All T-Rocs come with an eight-inch infotainment display. Even the most affordable models don't come with a small display surrounded by drab plastic where you'd ordinarily find a big navigation system.
The standard system used on the T-Roc S covers all the basics but little more: it's got DAB radio, you can connect your phone via Bluetooth and there's even a CD player. The SE adds App Connect, which features Apple CarPlay and Android Auto. That's a good thing, as it can mirror apps from your phone onto the car's infotainment system.
High-spec models come with navigation, pre-loaded with European mapping data. We'd rather use Google Maps via our phone, but in-built navigation's a good idea if you're precious about your data.
Whichever system your T-Roc of choice comes with, it'll have clear graphics, intuitive menus and fast responses. Volkswagen's infotainment systems are among the best, although they are averse to buttons. You'll find a physical control for the volume, but that's about it. Everything else is operated via touchscreen, which can be frustrating on the move. We reckon the Mazda CX-30, with its rotary controller, is better in this respect.
Space and practicality: Volkswagen T-Roc boot space
The Volkswagen T-Roc might be smaller than conventional family crossovers like the SEAT Ateca and Nissan Qashqai, but it's not far off in terms of practicality.
For a start, the boot is capable of lugging up to 445 litres of stuff (sorry, we mean your prized possessions). That drops to 392 litres if you buy a four-wheel-drive version. That compares well to the likes of the SEAT Arona (400 litres), Mazda CX-30 (430 litres) and Kia XCeed (426 litres), although the Honda HR-V (470 litres) and Ford Puma (468 litre) pip it in this respect.
It's a nice shape, if a boot can be such a thing - usefully square, without too many intrusions. A false boot floor reduces the amount of lip for lifting heavy items over, while there's even space for a space-saver spare wheel. That's a useful thing and not one that can be taken for granted in the age of the tyre repair kit.
In terms of accommodating people, the T-Roc is a very spacious car. It's quite wide (you can tell that just by looking at it), meaning a pair of adults in the front won't find themselves bashing elbows all the time. There's a huge amount of headroom, too, while the door pockets are usefully large. The cup holders are big enough to handle a pair of takeaway coffees and there's a handy cubby box underneath the front armrest. Most T-Roc models even come with a drawer under the driver's seat.
There's a surprising amount of room for rear passengers, too. You'll fit a pair of adults more comfortably than you would in a Volkswagen Golf, and the T-Roc's wide dimensions mean there's more room for a middle passenger than usual. Having said that, you will sit perched slightly higher than other rear occupants, and it's still going to be fairly cramped back there with three people in the rear seats.
There are Isofix child-seat mounting points fitted to the outer rear seats. These are easy to get at, and the T-Roc's relatively high rear seat and wide-opening rear doors help, too.
What engines and gearboxes are available in the Volkswagen T-Roc?
The best engine for most buyers is actually the most popular. It's the 1.5 TSI petrol engine, which packs 150PS and is available with a six-speed manual or seven-speed DSG automatic gearbox.
It's grunty enough for overtaking, efficient and refined. Unless you cover mega miles (in which case get a diesel), it's probably the perfect choice for you.
If you're on a budget, you might notice the little 1.0 TSI coming up a lot in your search. Don't be put off by its diminutive size… in some ways, it's actually better than the 1.5. It's a little turbocharged three-cylinder engine that provides surprisingly sprightly performance. Sure, it starts to run out of juice at motorway speeds, but it's ace around town.
Topping the petrol line-up is a 2.0 TSI unit that comes with 4Motion four-wheel-drive. Unless you really, really want 190PS and four-wheel drive, it's not really worth the drop in efficiency. Sure, it's fun, but you'd be better looking for the T-Roc R if you want performance car thrills.
Despite their bad press, diesels still suit a lot of drivers. If you cover a lot of miles out of town, look for one of the T-Roc TDIs. The 1.6 TDI is the entry-level diesel and, frankly, it feels it - with sluggish performance that'll have you pulling your hair out when you want to join a motorway.
The 2.0 TDI is much better. With 150PS, it requires less effort to drive, while it was initially offered with four-wheel-drive. This was dropped in 2019, however.
In terms of choosing between manual or automatic gearboxes, it comes down to personal preference. Neither are bad choices, although we think the DSG automatic transmission suits the T-Roc well. It responds quickly, and no one buys a car like this because they want to hustle the gearbox...
Refinement and noise levels
Like the Golf hatch (and most Volkswagen models, for that matter), the T-Roc does a superb job of isolating you from the outside world. There's not a great deal of noticeable wind noise (despite its bluff shape) while road noise is also well-hushed, particularly on smaller wheels with chunky tyres.
Some engines are a little more vocal than others, but neither are particularly thrashy. The 1.0 TSI petrol sounds a little coarse when you work it hard (something you'll find yourself doing a lot if you want to get anywhere), so the 1.5 TSI petrol's a better option if you're concerned about noise levels.
The diesels are typically a little rumbly, especially the 1.6 TDI. The 2.0 TDI diesel is better although, like the 1.5 TSI, this is partly because it requires less effort to get it moving.
Whichever engine you pick, you won't really notice any significant vibration through any of the controls. It's almost like Volkswagen invests a lot of money making sure that doesn't happen...
Safety equipment: How safe is the Volkswagen T-Roc?
The Volkswagen T-Roc comes with all the latest clever safety systems designed to prevent you from being involved in a crash. Pleasingly, most of them are standard across the entire range.
All models come with Volkswagen's Front Assist feature. This a radar-controlled system which monitors the distance between your car and the vehicle in front, warning you if you get too close. If it detects an imminent collision, it'll warn the driver - before applying the brakes if you don't react. It's probably wise not to become too reliant on it, but it's a handy feature…
There's also Lane Assist, which'll gently nudge the steering if you start to veer from your lane, while the electronic parking brake has an auto-hold function to keep the car still when you're stopped in traffic.
If you are involved in a crash, there's a plethora of airbags to keep you well-cushioned, while the We Connect Go system can provide your location to the emergency services.
When the Volkswagen T-Roc was crash tested in 2017, Euro NCAP gave it a maximum five-star rating. That includes an impressive 96% score for adult occupants, 87% for children, 79% for pedestrians and 71% for its safety assist features.
Insurance groups and costs
If you're a young or inexperienced driver, look for a T-Roc 1.0 TSI or 1.6 TDI as these are the cheapest to insure. The former falls into group 11, while the latter's insurance group 10. That's very competitive against rivals. A Ford Puma, for example, starts from group 12.
The priciest models to insure are the four-wheel-drive 2.0-litre models. In R-Line trim, the 2.0 TSI 4Motion falls into insurance group 24. That's not outrageous, but it might be worth shopping around for quotes...
VED car tax: What is the annual road tax on a Volkswagen T-Roc?
Whichever model or engine you choose, the Volkswagen T-Roc will set you back a flat rate of £150 a year in tax (after the first year). Look for an electric alternative like the Hyundai Kona Electric to be eligible for free car tax.
Trim levels and standard equipment
The most affordable model in the range is the T-Roc S. Specification highlights include 16-inch alloy wheels, two-zone climate control as well as an eight-inch media system with DAB radio and Bluetooth. It does the job but little more, essentially. Even an alarm is an optional extra...
SE trim builds on this with 17-inch alloy wheels, electrically heated and foldable door mirrors, front and rear parking sensors, adaptive cruise control and Apple CarPlay/Android Auto. There's also a host of desirable interior highlights - ranging from a handy little drawer under the driver's seat to storage pockets behind the front seats, a front central armrest and a leather-trimmed steering wheel.
Black Edition models look the part with various black exterior highlights (including the 18-inch wheels, front grille, window surrounds and roof rails), piano black interior inserts and ambient lighting.
The Design trim level builds on the SE with 17-inch alloy wheels, a contrasting roof, tinted windows and sportier bumpers with silver styling. It can also be equipped with a variety of interior dash colours, while ambient lighting is standard. There's also a Driver Alert system which warns you to take a break if you appear tired.
Moving up the range, the pricer SEL features 18-inch wheels, LED headlights and LED darkened rear clusters, front sports seats and an eight-inch navigation system with voice activation. There's a 10.3-inch digital instrument cluster, too, while driver profile selection allows you to select between a variety of drive modes.
Topping the range is the T-Roc R-Line, which comes with lowered sports suspension and 19-inch alloy wheels. There are various R-Line exterior trim highlights including a rear roof spoiler. Inside, there's a plethora of R-Line badging, including embossed on the front sports seats (which are also heated). There's progressive steering and heated windscreen washer jets, too.
Learn more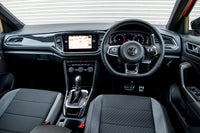 On the inside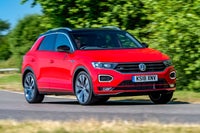 Driving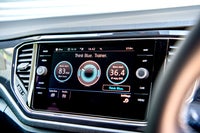 How much does it cost to run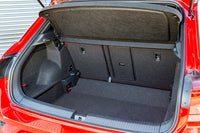 Prices, versions and specification
Ask the heycar experts:
common questions
What is the Volkswagen T-Roc?
It's a five-seater, stylish compact crossover that shares its underpinnings and engine range with the Golf hatchback, but has more space inside, a higher driving position and more striking exterior.

Where is the VW T-Roc manufactured?
European versions of the T-Roc are built at Volkswagen's shared production facility in Setubal, southern Portugal. It's the same factory that produces the Sharan people carrier.

Answered by
Russell Campbell
Is the Volkswagen T-Roc a 4x4?
Although the T-Roc is available with four-wheel drive, your choices are limited to the most powerful petrol versions, in pricier trim levels, paired up to a seven-speed dual-clutch auto. Previously, Volkswagen offered a 2.0-litre diesel 4x4 with a manual, but now it's only available used.

What does T-Roc stand for?
The name is a bit convoluted, but according to Volkswagen, the 'T' is to remind you of the Volkswagen's bigger SUVs; the Tiguan and the Touraeg. The 'Roc' part is just a different spelling of 'Rock' as a nod to the potential off-road ability, despite most versions being two-wheel drive.

What is the boot size of the T-Roc?
The T-Roc is very practical, with a 445-litre loading bay with the rear seats in place, that can be expanded to 1,290 litres when you fold the back rests down. However, models fitted with the 4MOTION four-wheel drive system have slightly less room for bags, with a 392-litre boot.

Reviews of similar cars
Quality checked, all cars less than 8 years old and warranty included
Looking for other Volkswagen cars?
Quality checked, all cars less than 8 years old and warranty included