Tiguan Allspace Review 2022
Volkswagen Tiguan Allspace Review 2022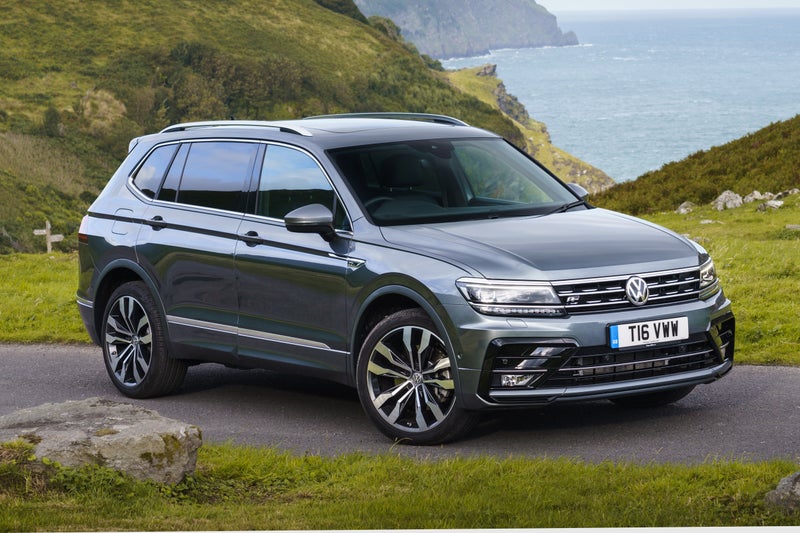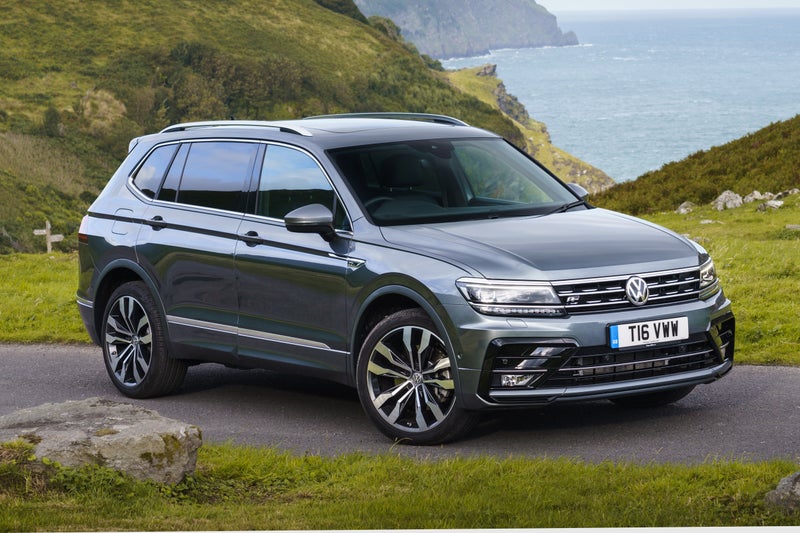 1/10
heycar rating
"Seven-seat version of Tiguan"
Launched: 2018

SUV

Petrol, Diesel
Quick overview
Pros
High-quality, family-friendly cabin
Lots of comfort and safety kit
Composed and comfortable to drive
Cons
Pricey compared with some (very good) rivals
No version has leather seats as standard
Rearmost seats too tight to be used regularly
Overall verdict
On the inside
Driving
Cost to run
Prices and Specs
Common questions
Overall verdict on the Volkswagen Tiguan Allspace
"The Volkswagen Tiguan Allspace basically does what it says on the tin: it's a Tiguan with all the space. It's the longer seven-seat versions, although those extra two seats are really only for children."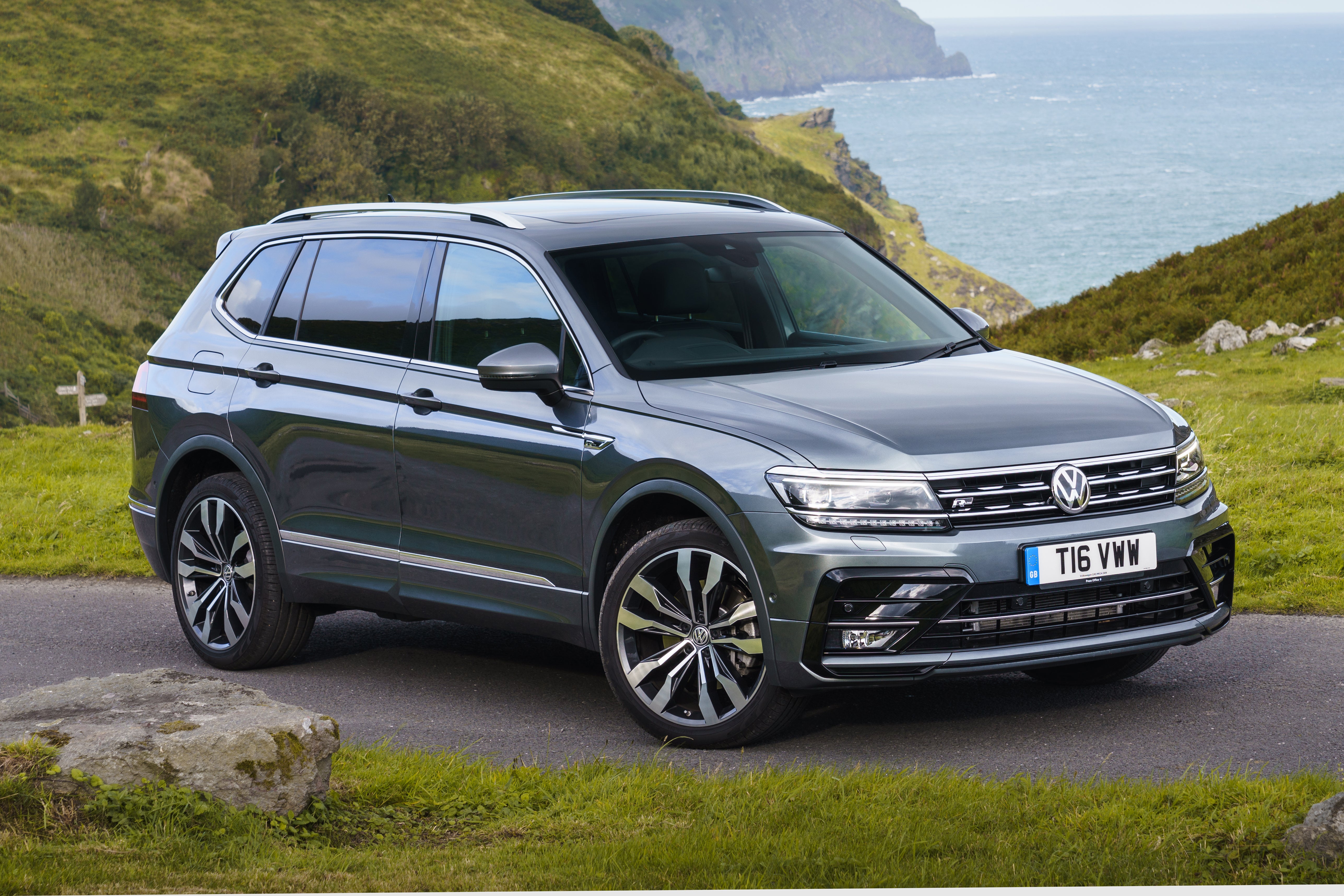 The Volkswagen Tiguan has been a smash hit for the last couple of decades. It's a very straightforward but well-executed recipe: take what everybody loves about the VW Golf, and translate that into a family SUV. The Tiguan Allspace we're reviewing here is a natural extension of that.
The VW Tiguan Allspace is a bigger seven-seat version sold alongside the regular Tiguan for families who like what the smaller car delivers, but who need a bit more practicality. Rivals include the VW Group's own Skoda Kodiaq and SEAT Tarraco, while there's also the Nissan X-Trail, Hyundai Santa Fe and Kia Sorento.
Like any other Tiguan, the Allspace is very impressive in a great number of areas. Its desirable image is backed up by a high-quality cabin that's packed with luxury equipment, making it feel like a real cut-above in the class.
All the latest safety and infotainment gear is present-and-correct, while the cabin is also packed with thoughtful, family-friendly touches, like rear tray tables that can be set at an angle to hold a book or a tablet. It's also a really good car to drive, with a strong balance between ride comfort and handling sharpness, while the range of engines impresses with its power, refinement and economy.
So, why doesn't everyone drive a Tiguan Allspace? Sounds like the perfect car, right? Well, a couple of reasons. Firstly, while it's even roomier for five passengers than the regular Tiguan, it's not quite roomy enough to be a proper seven-seater that'll comfortably carry a septet of fully-grown adults.
The two rearmost seats are too cramped for that. It's okay if you look upon the car as a five-seater with the ability to carry an extra two (very small) folks for short distances in emergencies, but if you regularly need to use all the pews, there are several rivals that'll suit you better.
Secondly, it's expensive. Look at the car's lengthy list of talents, and it's tricky to spot anything tangible that the Allspace gives you that you don't get from a Skoda Kodiaq or SEAT Tarraco (which are pretty much the same car underneath), yet it costs several thousand pounds more. That's why it can't be our pick of the class, but if you like what you see and you're prepared to pay handsomely for it, you'll be getting a really good car.
Is the 2022 Volkswagen Tiguan Allspace right for you?
Are you after a seven-seater family SUV that doesn't cost the earth? Do you want a high-quality, well stocked cabin? Do you want a car that's enjoyable yet comfortable to drive, and that comes with a range of strong, refined and efficient engines? Of course you do. Why wouldn't you?
If that's the case, then - if we're honest - the car you want is the Skoda Kodiaq. It does everything the Allspace does, some of them better, yet costs many thousands less to buy. However, there are still people who can't - no matter how hard they try - reconcile themselves with the thought of driving a Skoda. Wrongly, in our view, but there you go. If that's you, and you're prepared to pay handsomely for the extra gravitas that a Volkswagen badge brings, then the Allspace will be the perfect fit.
It's worth bearing in mind, too, that you won't be putting adults in the third row of the VW Tiguan Allspace. Or at least not for very long, and not if you actually like them. There are a number of larger SUVs or people carriers that are much better at seating seven.
What's the best Volkswagen Tiguan Allspace model/engine to choose?
There's lots of choice with the Volkswagen Tiguan Allspace. Six engines, three trim levels, front- or four-wheel drive, manual or automatic gearboxes. Let's go through them one at a time, shall we?
On the engine front, we reckon most buyers will be best off with the entry-level 2.0-litre diesel. It's powerful enough to keep you rolling along with a decent amount of purpose, and it delivers the best fuel economy of the bunch. It can be had with both front-wheel drive and four-wheel drive, and with a manual or automatic transmission. Many buyers stump up for the upgrade in both cases, but if you can live without them, it'll save you a significant amount in the price you pay, and maximise fuel efficiency.
If diesel simply isn't an option for you, then the 1.5-litre turbo petrol is another excellent choice. It won't be as efficient as the diesel, but it isn't thirsty, while it's cheaper and more refined, with strong enough performance for most needs.
In terms of trim level, it's the entry-level Match trim we recommend, because it gives you all the kit you really need but costs substantially less than SEL and R-Line Tech trims.
What other cars are similar to the Volkswagen Tiguan Allspace?
SUVS - even seven-seat ones - come in all shapes and sizes these days, so the Volkswagen Tiguan Allspace has no shortage of rivals. The closest ones come in the form of the Skoda Kodiaq, SEAT Tarraco, Land Rover Discovery Sport and Peugeot 5008, although you can also specify the Nissan X-Trail with seven seats rather than five. See what we mean about there being no shortage of rivals?
However, all these rivals are appreciably cheaper than the Allspace. Big'uns like the Kia Sorento and Hyundai Santa Fe are actually closer on price, despite their pumped-up size.
If you want a proper seven-seater but aren't too fussed about it being an SUV, then there are a number of traditional people carriers that are more practical than the Tiguan Allspace. These include the Ford S-Max, SEAT Alhambra and Citroen Grand C4 Picasso.
Comfort and design: Volkswagen Tiguan Allspace interior
"The Tiguan Allspace is much like a Tiguan inside, but longer. That shouldn't come as a surprise to anyone.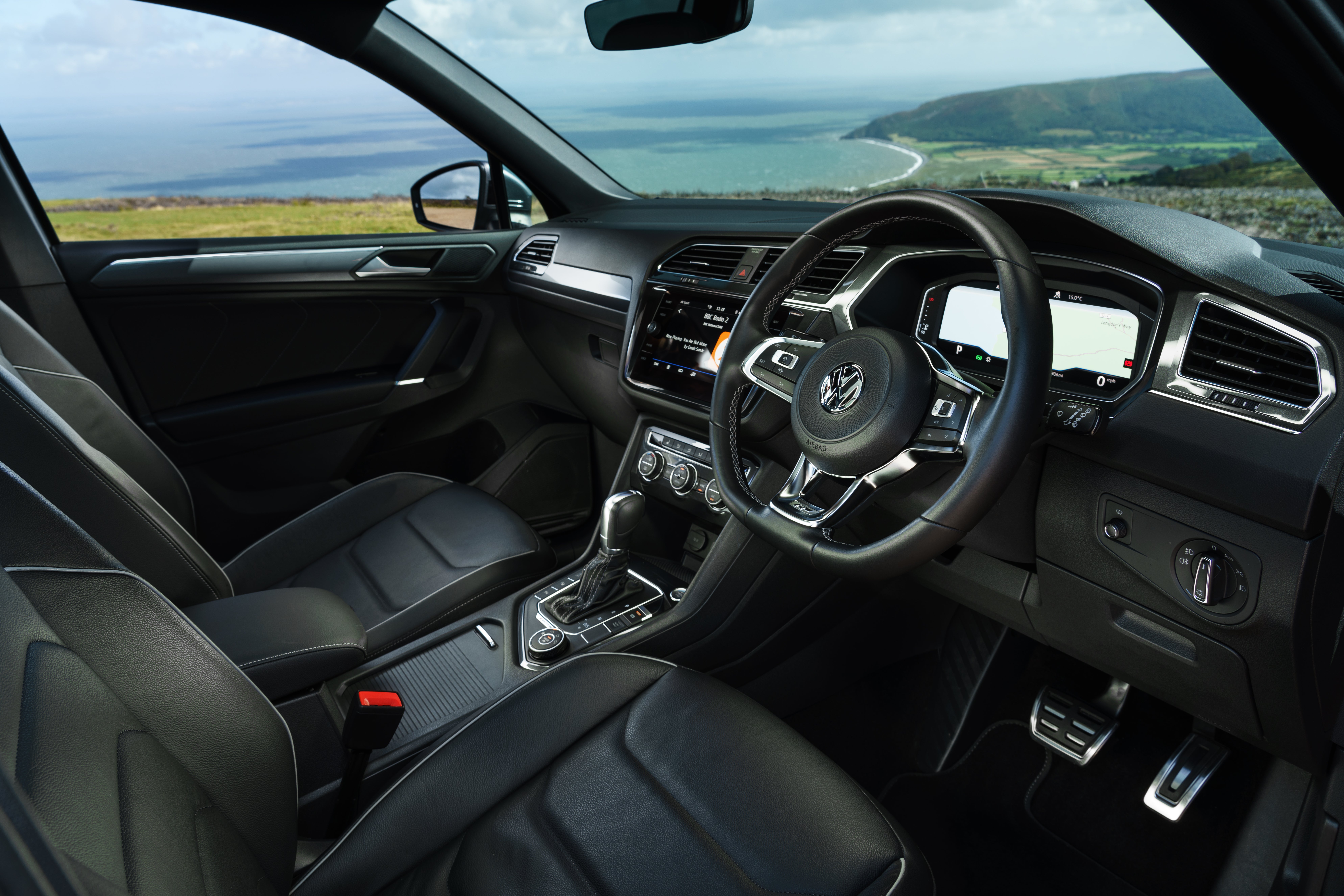 It'll come as no shock whatsoever that the Volkswagen Tiguan Allspace has an identical dashboard design to the regular Tiguan, and happily, that means it's great. All the controls sit exactly where you expect to find them, and all the various buttons and dials are chunky, well marked and easy to use at a glance.
Even the smaller buttons on the steering wheel aren't too fiddly to use, so this really is about as user-friendly as modern car interiors get. The standard instrument panel is clear and simple to read, and from SEL trim upwards, this is replaced by a 10.3-inch digital display that lets you choose the information displayed, and again, it works well.
You get the lofty driving position that SUV buyers love, and there's loads of manual adjustment of the seats and steering wheel to help you get comfy.
The seats are comfy, too, although cars of SEL trim and upwards get posher front chairs that are even more supportive. Your lofty perch gives you a clear view of the road ahead, even if your view behind isn't quite so flawless, but all versions come with front and rear parking sensors and a reversing camera, along with a system that'll steer you into a parallel parking space.
Quality and finish
Volkswagen usually does pretty well on this score and it's the same deal with the Tiguan Allspace. Most of what you look at and touch most is pleasingly finished, with dense soft-touch materials and thoughtful trim finishes.
Meanwhile, every switch or button you use feels substantial and nicely damped, and this injects an additional feel of solidity to the interior. Granted, there are one or two harder, scratchier plastics to be found if you really look, but these are tucked away out of sight (and out of mind) in the lower reaches of the footwells.
Overall, the Tiguan feels like a classy product, even if it doesn't have the design razzmatazz of a Peugeot 5008. There are differences in decor between the trims, with SEL cars getting more glossy decorative inserts and R-Line Tech models adding some sporty flourishes, but all versions feel pretty posh. They'd feel more posh with leather upholstery, though, which none of the trims get as standard. Unusual, that.
Infotainment: Touchscreen, USB, sat-nav and stereo in the Volkswagen Tiguan Allspace
As standard, all versions of the Tiguan Allspace get an 8.0-inch colour touchscreen that brings together sat-nav, Bluetooth, DAB radio, speed limit display, SMS functionality and Apple CarPlay/Android Auto smartphone connectivity.
You also get eight speakers for very presentable sound quality. It all looks good, with sharp graphics, slick screen transitions and generally smooth graphics. The logical menus also mean it's pretty easy to find your way around the system. Being a touchscreen, it does require you to concentrate rather hard on hitting the correct on-screen icon, which distracts you from the road for longer than necessary, but as touchscreens go, it's one of the better ones.
A bigger 9.2-inch screen was also available as an (expensive) optional extra. It had the same user-friendly interface, but also added voice control, gesture control, a DVD player and a 64GB hard drive.
Space and practicality: Volkswagen Tiguan Allspace boot space
The Allspace differs from the regular VW Tiguan in that, yes, it offers you seven seats. The ones up front are every bit as roomy as you might expect, and those in the middle also have plenty of head-and legroom, although carrying three across the rear bench is a bit of a squeeze.
Life is pretty luxurious in the middle row with only two occupants, though: each gets their own foldaway tray-table that can be angled to hold a book or tablet, and their own cup holder in the fold-down central armrest, and with separate climate controls in the rear, those in the back can set a different cabin temperature to those in the front. Theres's 60mm more legroom back there than in the regular Tiguan, too, so it's roomier even in five-seat form.
The extra two chairs fold up out of the boot floor, and once you've tipped and slid the middle chairs out of the way, they aren't too difficult to get into. However, they are pretty tight on space. If you're an adult - even a modestly sized one - you'll need those in the middle row to slide their chairs a long way forward to have any prayer of fitting in, limiting their comfort, and even then, you'll still be cramped on both headroom and legroom.
Smaller kids in boosters will be okay, but it's still best to think of the Allspace as a five-seater with occasional options, rather than a full seven-seater.
That said, the boot is a useful size with all seven seats in place, with enough room for several carrier bags of shopping. At 700-litres it's absolutely massive when you do as we suggest and run the car as a five-seater, although not quite as massive as in a Peugeot 5008 or Skoda Kodiaq. Although there are estate cars with better carrying capacity, the Tiguan's tall body means greater load height.
The middle seats are split 40/20/40, allowing you a variety of options when folding them down for extra cargo space, and because the front passenger seat also folds flat, you can carry exceptionally long loads in the Allspace's 1,775 litre load bay. What's more, all of the six folding seats sit completely flush, giving you a perfectly flat load area.
In terms of exterior dimensions, the Volkswagen Tiguan Allspace is 4,701mm long, 1,839mm wide and 1,674mm tall. Unsurprisingly it's the same width and height as the regular Tiguan, but it's around 200mm longer, and a similar size to a Skoda Kodiaq.
Handling and ride quality: What is the Volkswagen Tiguan Allspace like to drive?
"You won't be surprised to hear that the VW Tiguan Allspace feels very similar on the road to the regular Tiguan, and that means it provides a very good balance of abilities."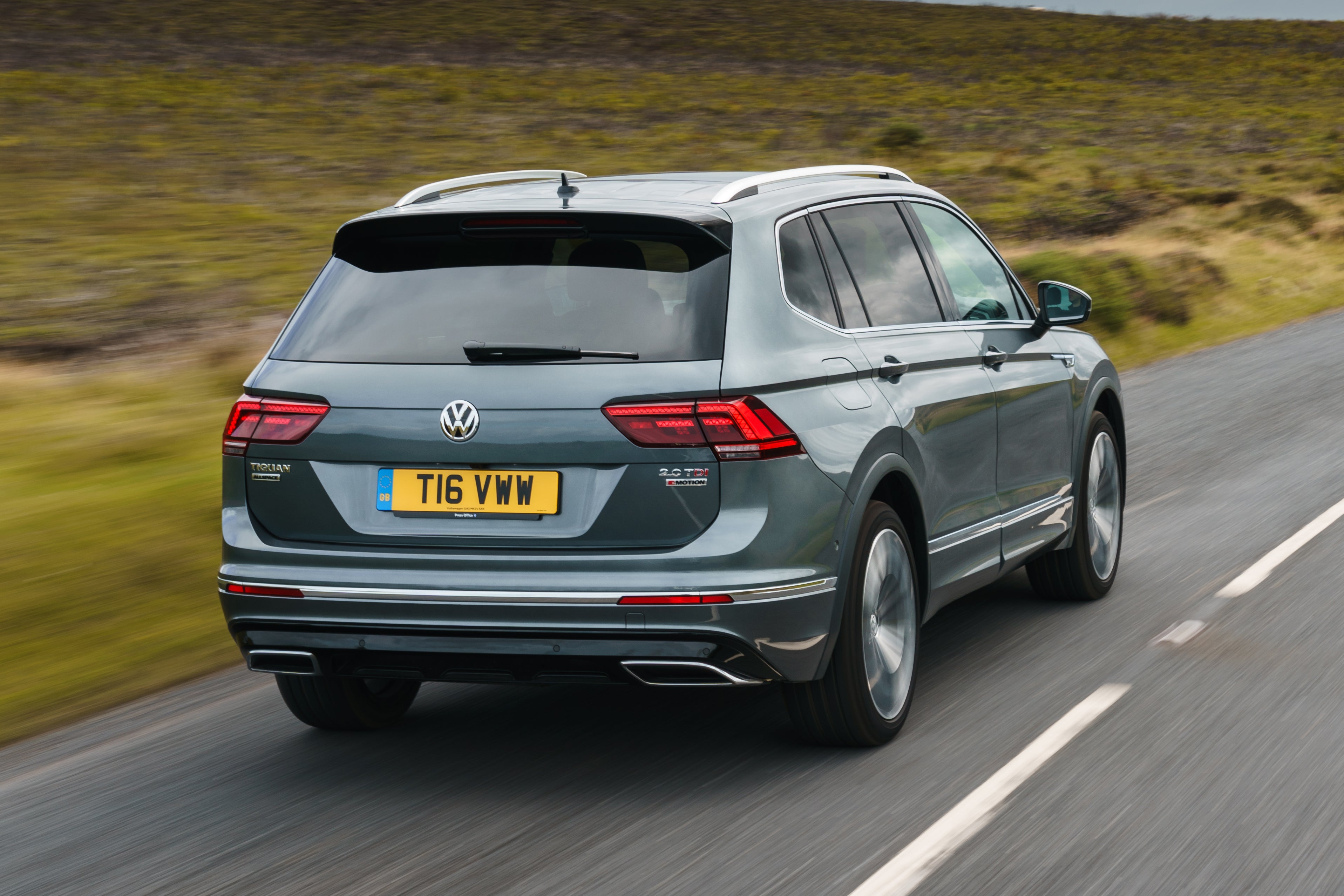 The Tiguan Allspace's ride has a slightly firm edge to it at times, particularly on broken surfaces with small bumps and cracks (especially in cars on bigger 20-inch wheels), but it does a much better job with bigger bumps and potholes, and generally, the ride comfort is very impressive.
That hint of firmness also gives impressive control, so the body won't bounce around untidily on undulating roads, or lean over too much in corners. You can quite easily forget you're driving a tall, bulky SUV.
The steering is nicely weighted too, and there's lots of grip and traction (particularly on cars fitted with four-wheel drive), so there's plenty of fun to be had. The R-Line Tech version, meanwhile, gets a sports suspension that's lowered by 15mm, but we haven't tried it yet.
There isn't much point hunting down a car with the optional adaptive suspension (standard on some pricier versions), which alters its behaviour according to the driving mode you select. Yes, you can feel a few subtle differences between the modes, but it doesn't improve the ride or handling by enough to justify the extra expense. If it's a used buy and it's fitted though, that's a bonus.
And, while the Allspace is certainly more of a soft-roader than a hardcore mud-plugger, you do get a reasonably sophisticated set of off-roading aids, so it'll probably get you a bit further into the countryside than many rivals will.
What engines and gearboxes are available in the Volkswagen Tiguan Allspace?
Diesel engines are (or at least used to be) generally more popular than petrols in the Tiguan Allspace, and there are three to choose from, all 2.0-litre units. The entry-level one has 150PS and can be had with either front-or four-wheel drive, and with either a six-speed manual gearbox or a seven-speed automatic.
The other two diesels come exclusively in automatic four-wheel-drive form, and have either 190PS or 220PS. We haven't tried the middle one, but we have tried the two at either end of the scale.
The entry-level version will be fine for most. It's not fast by any stretch of the imagination, but there's enough muscle to haul the Allspace's bulky body around with a reasonable amount of purpose.
The 220PS unit, meanwhile, isn't worth the upgrade. It's a bit quicker against the stopwatch, but it doesn't actually feel all that much perkier in everyday life, certainly not by as much as the increased power output would suggest. The twin-clutch automatic gearbox, meanwhile, swaps cogs smoothly enough most of the time, but the changes can occasionally feel a little slow.
There are three petrol options too. We haven't tried either of the 2.0-litre choices, with 190PS or 220PS, but their thirst means that these won't be popular choices anyway. We have tried the entry-level one, a 1.5-litre turbo with 150PS.
It's actually a bit more sprightly than you might expect when you've got one or two people onboard, but it starts to struggle a bit more when you load the car up with people and luggage. If you do so regularly, then you'll be wanting the extra pulling power of a diesel. Earlier cars had a 150PS 1.4-litre engine, rather than the 1.5, but it was very similar in character.
Refinement and noise levels
Get up to cruising speeds on the motorway in the Volkwagen Tiguan Allspace, and there's a smidge of wind noise to be heard around the windscreen pillars, but you'll be more impressed with the way the car isolates you from road noise. There's more of it on versions with bigger wheels, but even then, the Allspace is still very good.
The engines do a cracking job here as well, melting away into the background at a steady cruise. The petrol engine we've sampled is really smooth and quiet, even when you work its socks off, which is just as well because you'll have to if it's loaded up with kids and luggage.
The diesels are a wee bit more grumbly on start-up and at idle, and they make more noise when you accelerate hard, but they're still quieter and smoother than the equivalent engines in most rivals. The 150PS version is noticeably better than the more powerful ones on that score, too.
Safety equipment: How safe is the Volkswagen Tiguan Allspace?
The Allspace hasn't been pulverised by the experts at Euro NCAP yet, but the regular Tiguan has, back in 2016, and it received the full five-star score.
The two cars are mechanically very similar, and if there's a reason the Allspace should behave any differently, we're not aware of it. Standard safety kit is very generous, with seven airbags, all the usual traction and stability aids, a driver fatigue sensor, cornering foglamps and high-beam assist headlamps all standard on entry-level Match trim.
SEL and R-Line Tech trims swap those headlamps for brighter LED ones. Also standard across the range is active cruise control that helps the driver maintain a safe distance to the car in front, and slams on the brakes if it slows or stops suddenly. Automatic emergency city braking is also included as part of the package. It's perhaps a little surprising, though, that only two Isofix child seat fixing points are supplied.
MPG and fuel costs: What does a Volkswagen Tiguan Allspace cost to run?
"The Volkswagen Tiguan Allspace sacrifices a few miles-per-gallon to the regular Tiguan on account of its longer, heavier body. But it's not drastically different."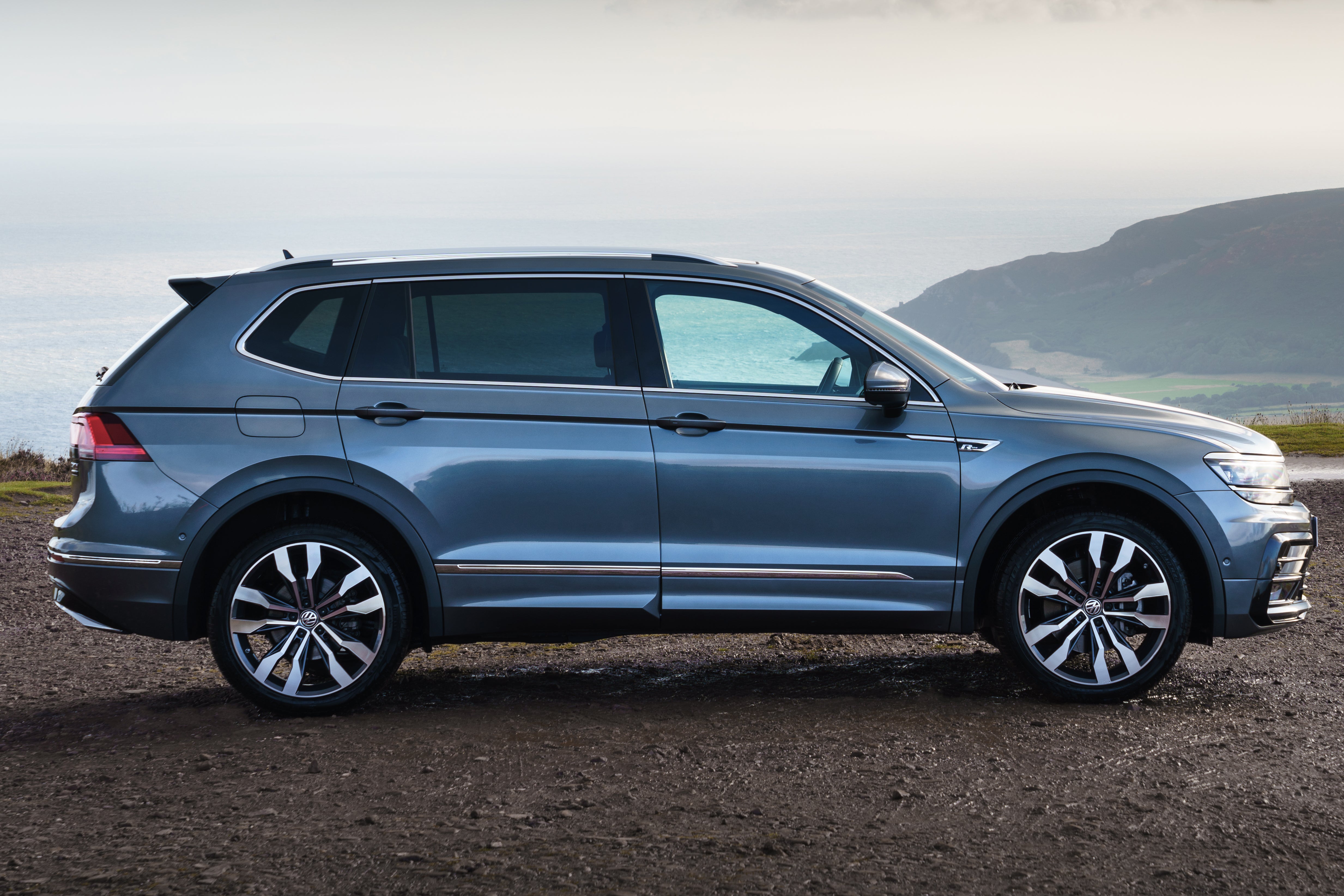 According to the official WLTP figures, it's the entry-level 150PS diesel engine that'll give you the best fuel return, with a maximum average of more than 45mpg. That drops a smidge if you add the automatic gearbox, and a bit more if you specify four-wheel drive.
The 190PS version, meanwhile, returns a figure of 39mpg, while the most powerful 240PS BiTDI diesel returns 35mpg. The 150PS 1.5 is the cleanest of the petrols with a best average return of 38mpg, and again, this dips a fraction with the addition of the automatic gearbox. Choose the 190PS version of the 2.0-litre petrol and your best return stands at 30mpg, dropping to 28mpg for the 220PS version.
How reliable is a Volkswagen Tiguan Allspace?
Volkswagen scraped into our top 10 brands in the latest HonestJohn.co.uk Satisfaction Index. Owners find the cars dependable and well-made, with over 88% of owners saying they're satisfied overall.
The Tiguan is an older VW model now, using an older platform than the latest Golf. While that may put some people off, it shouldn't, because it means the mechanical bits are all well-proven and the infotainment system shouldn't suffer with the same glitches as the new Golf's.
Insurance groups and costs
Insurance groupings for the Tiguan Allspace range between 17 at the very bottom of the range to 29 at the very top. However, most versions sit somewhere around the early twenties. That means premiums won't be too steep, and shouldn't be any more expensive than on rivals. If you're desperate to keep premiums down, though, choose a version with as low a power output as you can live with.
VED car tax: What is the annual road tax on a Volkswagen Tiguan?
The VW Tiguan Allspace was launched in 2018, after the government introduced the latest road tax rules, with a flat annual rate of £150 for petrol and diesel cars. That's exactly what you'll pay on the majority of versions, but be aware that your outlay will temporarily be higher on some of the more expensive versions.
You see, cars that cost over £40,000 when new are also subject to a £325 surcharge on top of that between years two and six of the car's life. As that applies to a few of the more powerful SEL and R-Line Tech models, they'll be landed with the extra fee. Bear in mind, too, that if the car you find has any optional extras fitted that took the new price above the threshold, you'll again be liable to pay the extra. It's definitely worth checking the registration number online to see what the damage will be.
How much should you be paying for a used Volkswagen Tiguan Allspace?
"The VW Tiguan Allspace has been around for several years now, but prices have held firm, meaning there isn't many bargains out there."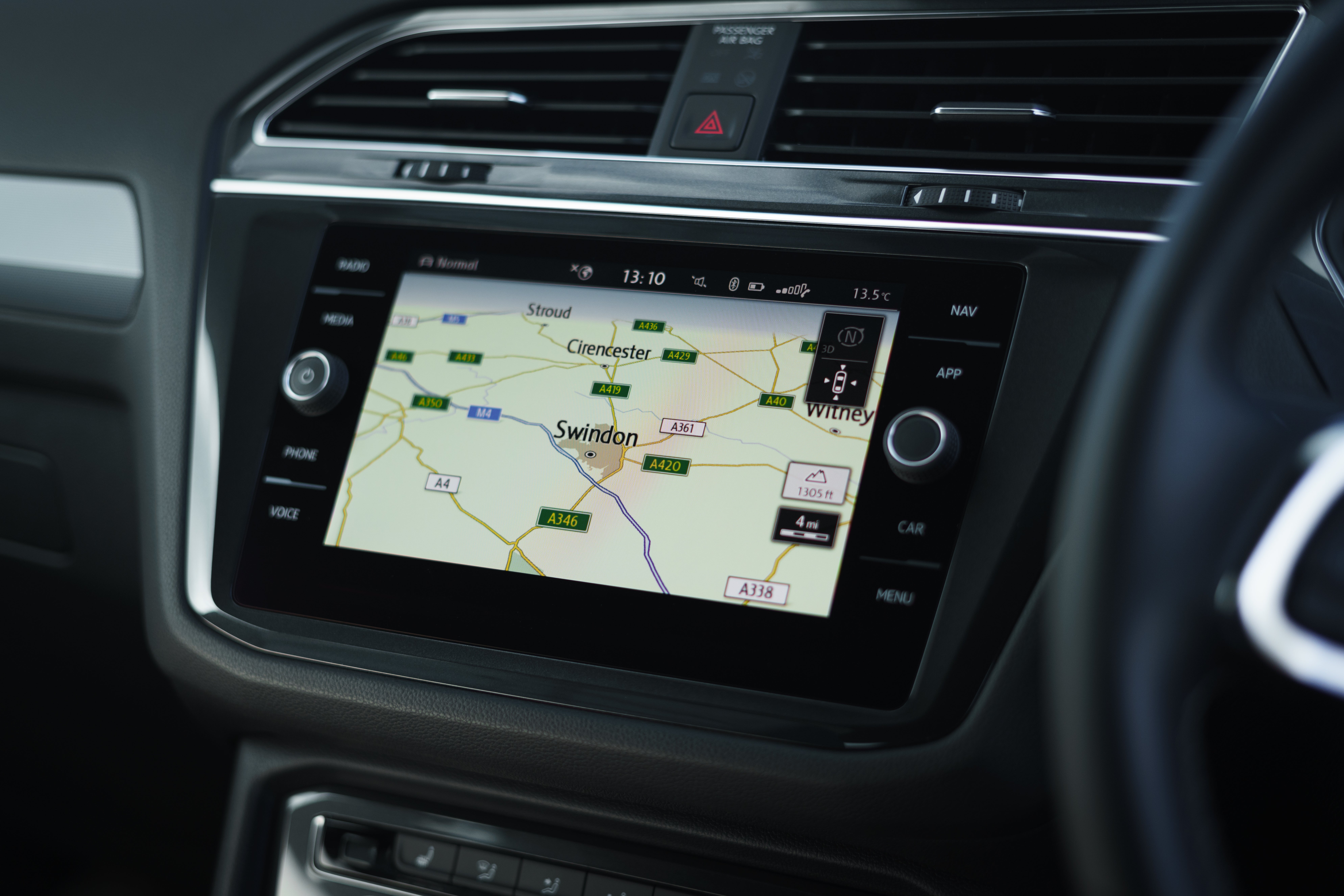 New prices for high-end versions of the Volkswagen Tiguan Allspace are getting on for £50,000, which isn't exactly cheap. Depreciation takes a good chunk out of that on the used market, but it's still not quite as affordable as rivals.
Prices still start at around £25,000 for a 2018 2.0 TDI SE Nav model with 50,000 miles on the clock, but there are many to choose from at that price. Posher R-Line models command a few thousand more.
There are around 2/3rds less petrol models for sale on heycar, but prices start at around £27,000 for a 2018 SE Nav with 25,000 miles.
Trim levels and standard equipment
We reckon entry-level Match trim (called SE Nav on earlier cars, with some differences in specification) is the one to go for for most VW Tiguan Allspace buyers, because there's not much you'd want that it doesn't give you as standard.
The standard kit roster includes alloy wheels, a space-saver spare wheel, remote locking, automatic lights and wipers, three-zone climate control, four powered windows, an electric tailgate, front and rear parking sensors with a rear-view camera and a steering assistant for parking manoeuvres.
That's on top of all the safety and infotainment equipment mentioned earlier. SEL trim gives you keyless go, a panoramic roof, a hands-free tailgate and heated front seats with electric lumbar adjustment that can also give you a massage.
Go for one of the most potent engines, and you also get adaptive suspension. R-Line Tech models give you styling goodies inside and out, along with a lowered sports suspension and a 360-degree parking camera, but not a great deal else. It's a bit surprising that no version gets leather upholstery as standard, and the original owner would've had to pay top-dollar to add it.
Ask the heycar experts:
common questions
What is the difference between the Volkswagen Tiguan and Tiguan Allspace?
The Allspace differs from the regular Tiguan in that it offers you seven seats. The ones up front are every bit as roomy as you might expect, and those in the middle also have plenty of head-and legroom, although carrying three across the rear bench is a bit of a squeeze.

Is the Volkswagen Tiguan Allspace a seven-seater?
Yes. Life is pretty luxurious in the middle row with only two occupants, though: each gets their own foldaway tray-table that can be angled to hold a book or tablet, and their own cup holder in the fold-down central armrest, and with separate climate controls in the rear, those in the back can set a different cabin temperature to those in the front.

Which is the best Volkswagen Tiguan model?
In terms of trim level, it's the entry-level Match trim we recommend, because it gives you all the kit you really need but costs substantially less than SEL and R-Line Tech trims.

Volkswagen Tiguan Allspace cars for sale on heycar
13,608
Number of cars available
£23K - £50K
Price bracket of these cars
Colours available on heycar
Keep me updated by email with the latest advice, news and offers from heycar
By submitting, you agree to our
privacy policy
.