Volkswagen Touareg Review 2022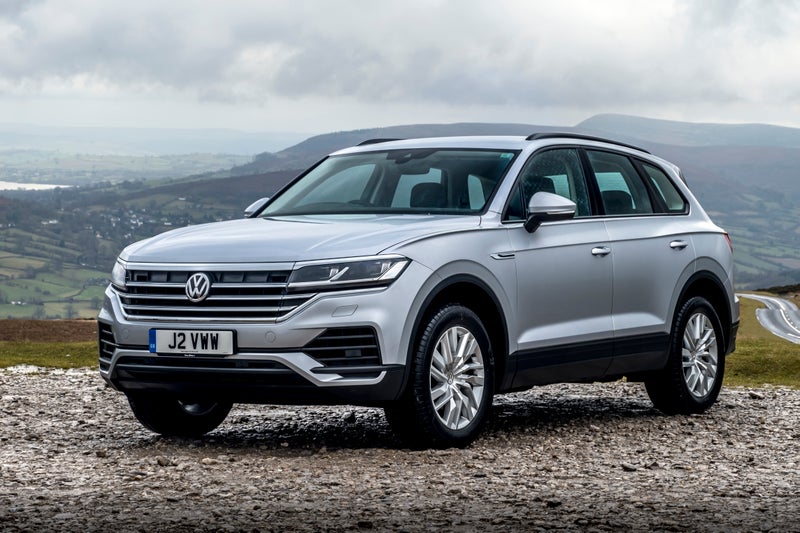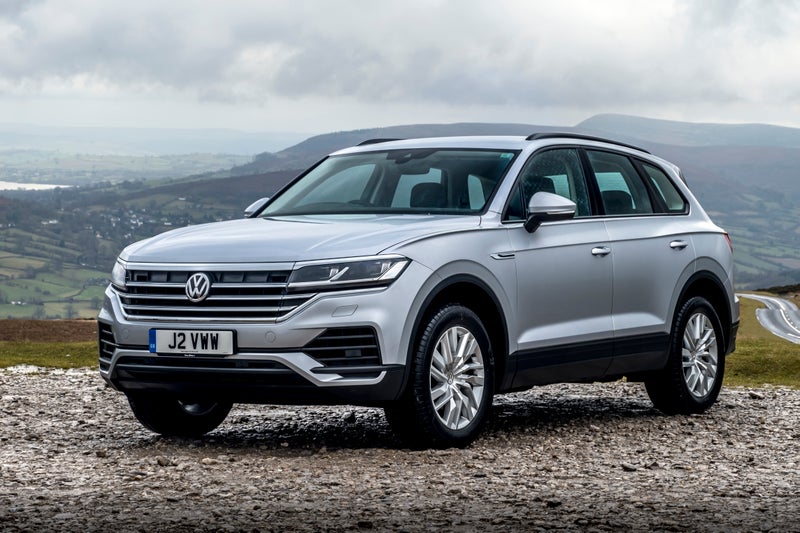 1/9
heycar rating
"Volkswagen's big and premium SUV"
Launched: 2018

SUV

Petrol, Diesel
Quick overview
Pros
Huge cabin space and a big boot
Amazing infotainment functionality
Very quiet on the road
Cons
Not as fun or as comfortable as some rivals
No seven-seat option
Trails the best for cabin quality
Overall verdict
On the inside
Driving
Cost to run
Prices and Specs
Common questions
Overall verdict on the Volkswagen Touareg
"The Volkswagen Touareg is a good car, but it competes in a class of truly great ones, and it can't quite match the very best on quality, prestige or driver appeal. Still, if you love tech, this could still be the big SUV for you."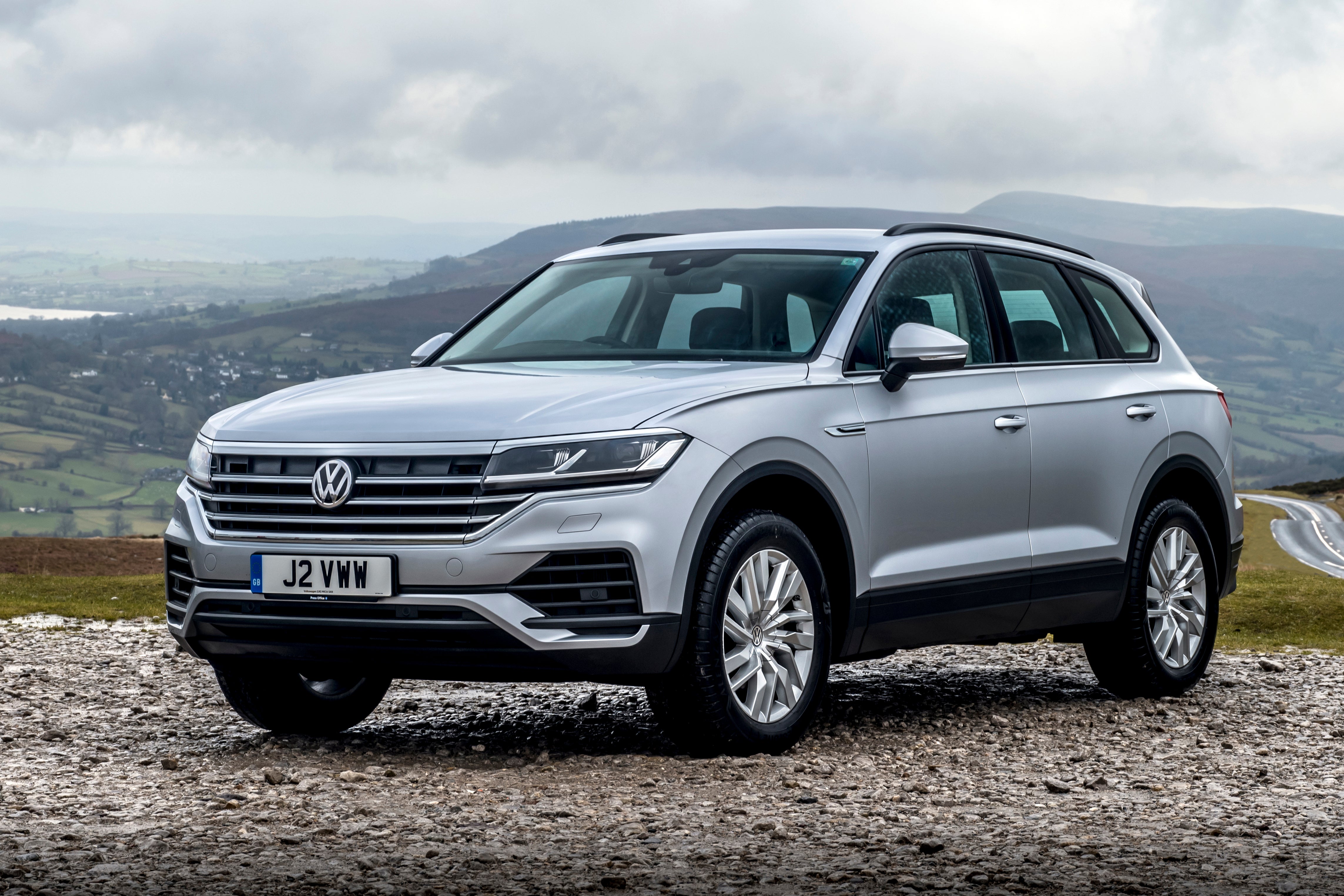 SUVs are all the rage at the moment, and none more so than big, luxurious ones like the Volkswagen Touareg we're reviewing here. Buyers love them for the style, their desirability and their raised driving position, and they also love the fact that all this is combined with practicality and some go-anywhere ability. If you're a car manufacturer, you really can't afford to be without one.
The Touareg has been VW's offering in this class since the early 2000s, and compared with other luxury SUVs such as the BMW X5, Audi Q7 and Volvo XC90, it ploughs its own furrow. Some try to tempt you with the ultimate practicality of seven seats and clever folding mechanisms (the Touareg only has five seats), while others make claims of being the sportiest-driving car in the class. The Touareg's party piece, however, is rather different: it's all about the tech.
That tech in question centres around the infotainment screen. Whichever version of the car you go for, you'll get a touchscreen system of at least 9.2-inches that has all sorts of clever functionality you might not have come across before: gesture controls, various connected services, the ability to operate the system through your smartphone. It's got the lot.
Pick a higher spec model, though, and things go even further. The cabin is transformed by an even cleverer system that combines a 15-inch touchscreen with another 12-inch one behind the steering wheel to serve as the instruments. It's so high-tech, it makes the Starship Enterprise look like a public convenience.
There's technology elsewhere, too. The car shares the same underpinnings as exotic machinery such as the Bentley Bentayga and Lamborghini Urus, and clever optional upgrades such as air suspension, four-wheel steering and active body roll mitigation are offered, even if they are very pricey indeed.
But in its standard form, the Volkswagen Touareg is still a very capable thing to drive. It has an athletic edge (but not as overtly sporting as a Porsche Cayenne or BMW X5) and offers reasonable comfort (although it's not as cosseting as an Audi Q7 or Mercedes GLE). That's some pretty esteemed company to be in, and before you go thinking that Volkswagen's offering could be a cheap option, don't. The Touareg has enough zeros in its price to match any of them.
However, there's one important area in which the Volkswagen Touareg can't match the rest: quality. Yes, it's a very posh-feeling car overall, and most of the bits and bobs you look at and touch most often are as lustrous as they come. Look more closely, though, and you'll see signs of cost-cutting that you just don't see in the rest, and that might leave you feeling a little short-changed.
It does have its own advantages, though. It looks smart, it can tow an impressive 3.5 tonnes and as a more left-field choice, it won't be anywhere near as ubiquitous as the rest. If that appeals to you, then the Touareg could be right up your street.
Like most large SUVs the VW Touareg range is dominated by diesel, although there is both petrol and (most recently) the addition of a plug-in hybrid Touareg R. One of the diesels would be our pic, offering the best balance of list price, performance and fuel economy. While the V6 petrol offers decent pace it's very thirsty, and the plug-in hybrid R model is far too expensive given it's not particularly fast or good to drive.
Happily, despite the VW Touareg's hefty list price when new, all models come suitably well equipped. Even the base SE L model comes with a long list of bells and whistles, while the R-Line models bring some extra kit but mainly focus on boosting the exterior styling. Top-spec Black Edition comes loaded with extras and gets a menacing black exterior look.
If you're looking for the older version, you need our used Volkswagen Touareg (2010-2018) review.
Is the 2022 Volkswagen Touareg right for you?
If - like everybody else - you want a luxury SUV, but you don't want the same luxury SUV as everybody else, then the Volkswagen Touareg could really fit the bill. It's something of a left-field choice in the class, with most people going for Audis, BMWs, Mercs or Range Rovers.
It'll also suit you if you value technology over practicality. It doesn't have seven seats like some rivals, but it does have heaps of clever infotainment functionality that's capable of doing things you might not have thought possible. Those who tow trailers and caravans should also take notice, as this car has an impressive maximum towing capacity of 3.5 tonnes.
While it lacks the extra row of chairs in the back, that does mean the VW Touareg's five seats are very roomy, making it ideal for parents of a couple of older (or freakishly tall) children. They'll be pretty comfortable, too, and likely impressed with the gadget-laden dashboard up front.
If you're after a performance-focused SUV, it's best to look elsewhere. No Touareg feels underpowered, but the middling diesel is the best engine. Neither the thirsty V6 petrol or the less thirsty but overpriced, plug-in hybrid petrol R offer the sort of performance or driver appeal to justify their compromises.
What's the best Volkswagen Touareg model/engine to choose
On the engine front, you can't really make a bad choice in the Volkswagen Touareg, but we'd stick with the entry-level one, the 231PS V6 diesel. It keeps the purchase price down, the fuel economy up, and it's more than muscular enough to haul you around as quickly as you'll ever want to go.
The 286ps version is a little more effortless at getting up to speed, but not drastically so. The V6 petrol feels faster still, but you'll really suffer at the pumps - the official 25mpg is as good as it gets. And while the plug-in hybrid Touareg R promises up to 94mpg as long as you keep the battery charged up, the list price is pretty bonkers for a Volkswagen.
In terms of trim level, that much depends on your taste. The earliest VW Touaregs could be had in the cheapest SE trim, but Volkswagen stopped making that soon after launch because, well, nobody bought one. SE L trim became the base point, and its equipment tally is very strong for an entry level model.
Tech fans should note, though, that the show-stopping 15-inch touchscreen arrangement doesn't arrive until you hit the higher SE L Tech, R-Line Tech and Black Edition trims, so if your heart's set on that, you'll have to venture further up the range.
What other cars are similar to the Volkswagen Touareg?
As a large five-seat luxury SUV, the Volkswagen Touareg has no shortage of rivals. The BMW X5 and Mercedes GLE spring to mind as the most obvious, despite the fact that both can also be had with seven seats, and other seven-seaters such as the Audi Q7 and Volvo XC90 will also be trying to tempt you.
Meanwhile there are any number of Land Rover and Range Rover products that could be considered rivals: Land Rover Discovery, Range Rover Velar, Range Rover Sport, you name it. The Lexus RX will also be an option for those who value reliability and quality. There's even the Maserati Levante if you're after the best badge and a bit of Italian flair.
Comfort and design: Volkswagen Touareg interior
"The driver's seat in the entry-level SE car misses out on lumbar adjustment, so is a little short of support for the lower back, but all other grades get an adjuster than sorts things out, and otherwise, the seats in the Volkswagen Touareg are very supportive."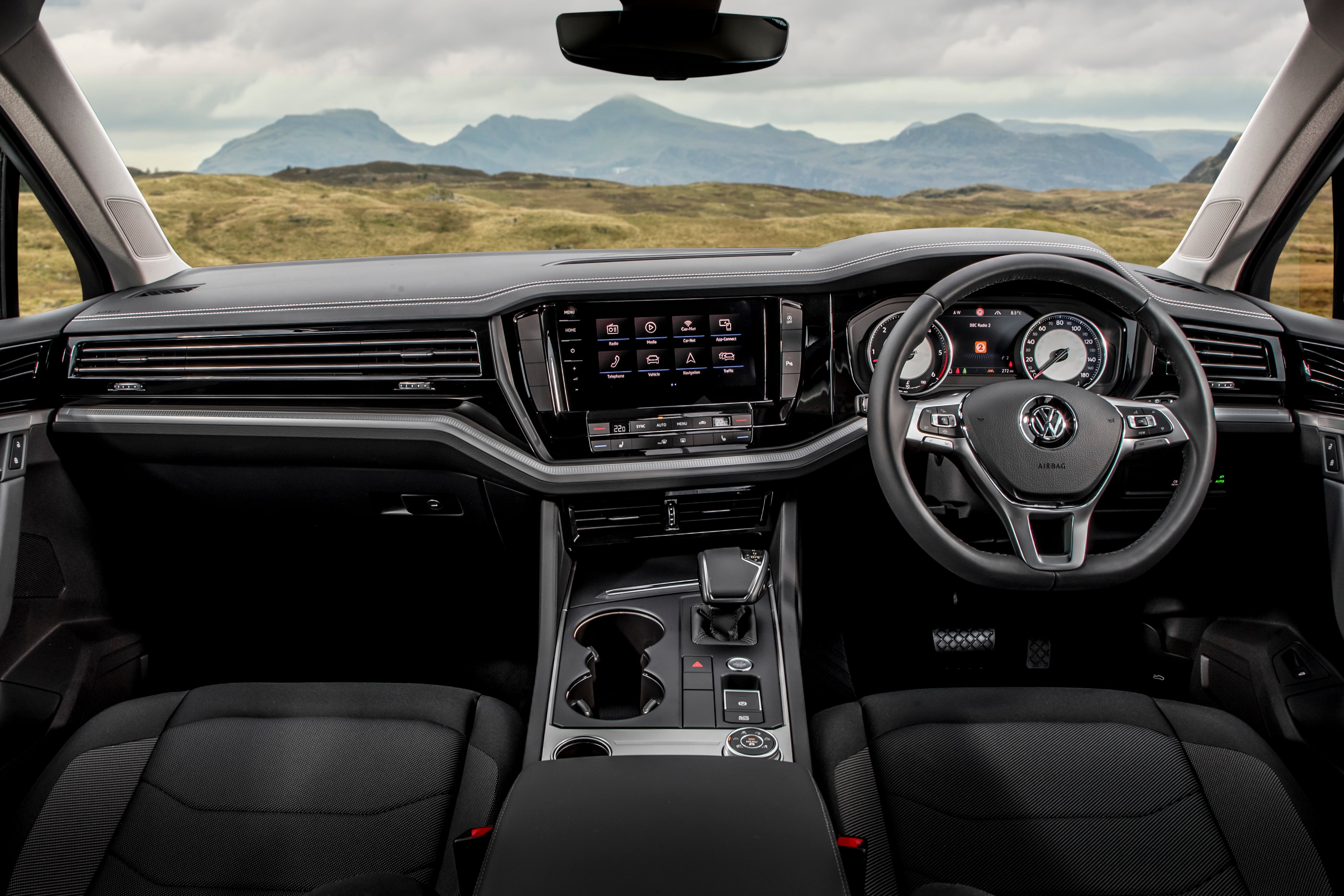 There's lots of adjustment for both the seat and the steering wheel in the Volkswagen Touareg, allowing folk of all shapes and sizes to find a comfy position. Massive windows and the raised driving position mean your view out is good in all directions, too.
Aside from the touchscreen infotainment systems we'll talk about in a minute, there are hardly any switches on the dashboard as pretty much everything is controlled through the screen. The more basic setup has physical shortcut buttons down each side, which makes the system marginally less distracting to use on the move, but in the higher grade setup, these disappear.
You'll find a lot more buttons smattered across the steering wheel, though, and because these buttons - and their markings - are very small, learning what everything does will take some time.
It's definitely an elegant, minimalist design, and there's no denying the huge screen in posher versions looks cool. But you'll sometimes find yourself longing for a simple button for a function that's buried in a touchscreen sub-menu.
Quality and finish
Competing with the likes of the BMW X5, Range Rover Velar and Audi Q7, and with a price tag to match, you'd expect the Volkswagen Touareg's cabin to have some serious wow-factor in terms of quality. It has some, no doubt, but sadly, it simply can't live with the sheer excellence of its rivals on that score.
Yes, all the bits that you look at and touch most often are lustrously finished and appealing to the eyes and fingertips. Look elsewhere, though, and you'll find several places where the materials look and feel rather low-rent by comparison, whereas in most of the rivals mentioned, they're of a uniformly high standard throughout the cabin. That means the Touareg feels neither as classy, nor as solid, as its best rivals.
The materials and finishes don't change much as you progress up the range, either, so even the most expensive Touaregs feel a bit disappointing. True, the higher-grade infotainment system, which we'll come on to in a moment, does inject a bit more pizzazz, but there's no disguising the Touareg's inferiority in this area.
Infotainment: touchscreen, USB, nav and stereo in the VW Touareg
The infotainment system you get in the Volkswagen Touareg varies according to which trim grade you choose, and it greatly affects how cutting-edge your car feels.
The more basic trims (SE, SEL and R-Line) get a perfectly serviceable system with a large 9.2-inch colour touchscreen, and it brings together all the regular functionality you'd expect. DAB radio, Bluetooth, 3D navigation, MP3 playback, SMS handling, voice control and Apple Carplay/Android Auto are all provided.
There's also some functionality you might not expect, too, such as various connected services, gesture control and the ability to operate the infotainment remotely through your smartphone.
Select a higher-grade trim (SEL Tech, R-Line Teck and Black Edition), however, and you get the magnificently named Innovision system. This provides you with a fully configurable 12-inch digital instrument screen behind the steering wheel, and combines it with an enormous 15-inch touchscreen all presented in one combined unit. It looks very swish and very high-tech, and it completely transforms the feel of the cabin.
It also adds some extra infotainment functionality, too, such as hybrid radio (which combines broadcast radio and the internet for the best sound quality) and navigation that can anticipate your destination.
The software that controls both systems is very similar, and it works quite well, with logical menus, fast reactions and sharp, clear graphics.
The standard sound system is pretty decent by itself, but if you're a true audiophile you can upgrade it to Volkswagen's Dynaudio 'Consequence' system. At £1320 it's not cheap, but it does bring 14 speakers, a subwoofer and a 730W output.
Space and practicality: VW Touareg boot space
The Volkswagen Touareg's performance in this area much depends on what you're expecting from it. Many big SUVs offer seven seats, while the VW only has five, so obviously it can't match those for versatility. However, because size-wise it bridges the gap between classes - compare it with Audi models, and it's bigger than a Q5, but smaller than a Q7 - it's probably a bit small to try and squeeze in another pair of seats anyway.
For five, though, it's very roomy indeed. The front seats have loads of space, as you'd expect, but those in the back are spoiled for room, too, with acres of head-and legroom. The rear seats can also be slid forwards and backwards to alter the bias between rear legroom and boot space, and they can be reclined in three stages to allow passengers to hunker down for a snooze.
The cabin is also wide enough to carry three across the rear bench in relative comfort, and although there's a transmission tunnel that the middleman will have to straddle, it's not as intrusive on foot space as some similar cars. If you have bulky child seats to fit in the rear, two will fit easily and you might get a small booster in between, but trying to fit three full-size ones is probably pushing it.
The boot is massive, so will deal with pushchairs and flatpacks without missing a beat. The rear seats fold down to create even more cargo space, and in this format, the space available is truly enormous. There's no step in the load floor, either, and though the backrests of the rear seats do lie at a slight angle.
A space-saver spare wheel is provided as standard, which will be good news if you're uncomfortable with the idea of relying on a pot of sealant which half the time doesn't work.
Handling and ride quality: What is the Volkswagen Touareg like to drive?
"Once you learn that the VW Touareg shares its underpinnings with cars including the Audi Q7, Bentley Bentayga, Lamborghini Urus and Porsche Cayenne, you might expect something pretty special in this area. The thing is, how well the Touareg meets those expectations will depend much on how the car is specced."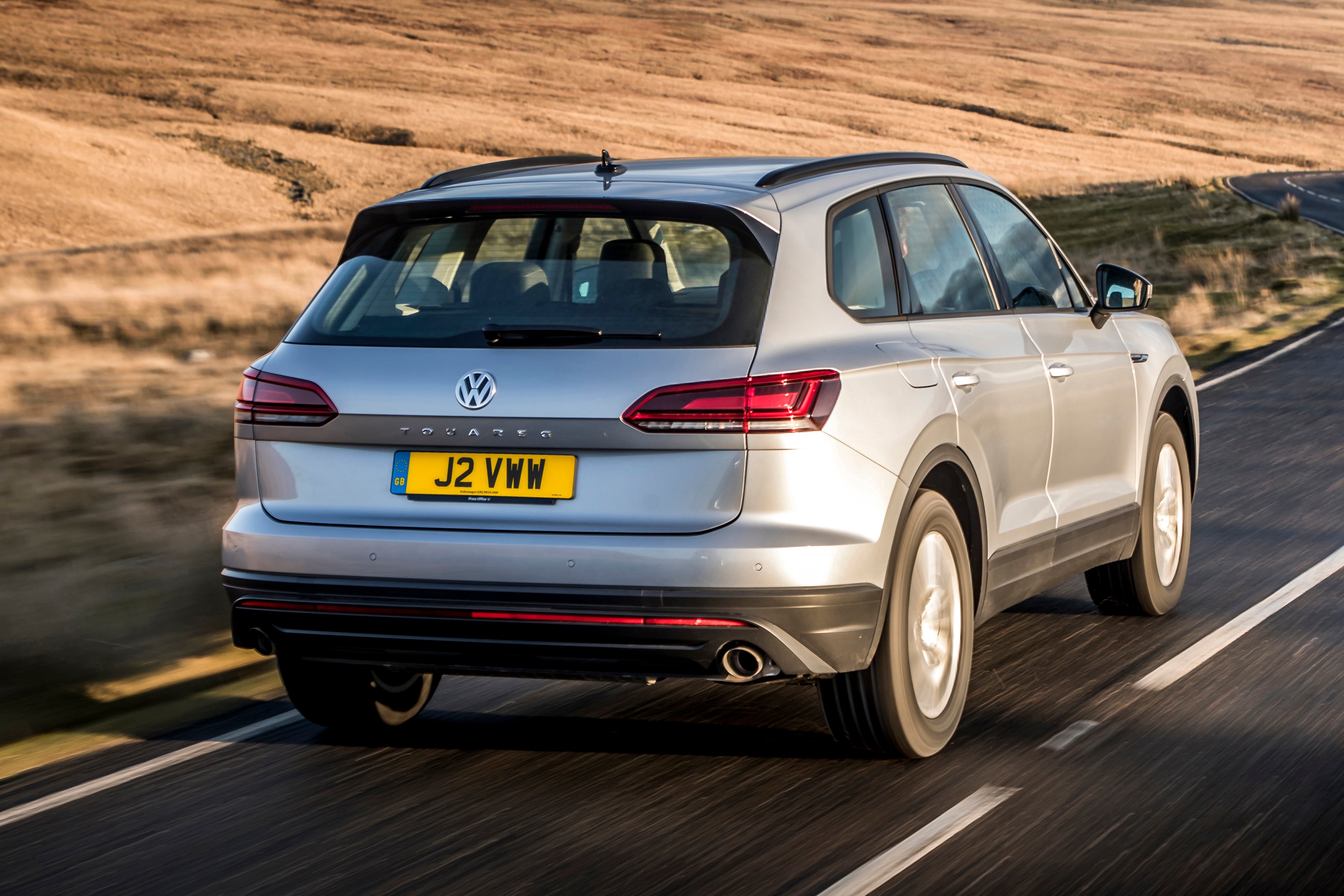 Unless the options list is raided, most versions of the Volkswagen Touareg have a passive suspension as standard. The low-speed ride is a bit firm, meaning a few jitters and jolts when plodding through town, but not to a degree that'll annoy you, and things do even out at speed. But while most buyers will be satisfied by this suspension setup, it's not all that special, either.
The air suspension is much more like it, though. This was standard on the range-topping Black Edition car and optional throughout the rest of the range. If you can find a car with it fitted, it's well worth having. With five selectable driving modes focusing on comfort at one end of the scale to sportiness at the other, it delivers a far more polished ride. It's still not as cosseting as the comfiest cars in the class, but it gets a lot closer than the standard suspension does.
Whichever suspension your car has, it'll handle pretty neatly, with bags of grip and traction from the standard four-wheel-drive system and good control over body roll in bends. The steering is good, too, with a reassuring amount of weight and feel through the wheel.
Four-wheel steering - which turns the rear wheels in the opposite direction to the fronts at low speeds to tighten up the turning circle, and in the same direction at high speed to aid stability - was another option buyers of new cars could choose, and it's very effective. You wouldn't so much describe the Touareg as fun - it's a bit too big and heavy for that - but it's very capable.
What engines and gearboxes are available in the Skoda Karoq?
Four engines are offered in the Volkswagen Touareg - two diesels, one petrol and one plug-in hybrid petrol - and they're all V6s.
The entry-level 3.0-litre diesel offering gives you 231PS and it has all the performance most buyers will need. Strong low down pull gets the car going at a meaningful rate without you having to work the engine to its limits, and if you do find the need to do just that, it also has a very decent turn of speed. It's also quite smooth and refined.
The other diesel is very similar in character and power delivery, unsurprisingly, but with 286PS to play with, it's a good bit quicker. Quick enough, in fact, to embarrass many a hot hatch, thanks to a 0-62mph sprint time of just over six seconds.
The 3.0-litre petrol will cater for those who enjoy driving a bit more. With 340PS, it cut the 0-62mph dash to just under the six second mark. Like the diesels, maximum pull is available from low down in the rev range, but there's more benefit to be gained by revving it out. It's much thirstier, however, and doesn't up the performance or fun threshold over the diesel as much as you might expect.
In 2020, Volkswagen went after enthusiasts with the raciest Touareg of the lot - the flagship R version. Don't be fooled, though: it isn't like the company's other R models, with impressive performance and handling. It's actually a plug-in hybrid, mating the above V6 petrol engine with an electric motor for 462PS. That sounds like a lot, but the hybrid Touareg is a lot heavier at 2.5 tonnes, meaning it feels cumbersome in the bends and doesn't feel all that fast. At £75,000 new it's overpriced, too. Certainly, something similarly priced like an Audi SQ7 is much quicker and more fun to drive.
Every version uses an eight-speed automatic gearbox, which has its positives and negatives. Most of the time, under normal driving conditions, it slushes its way through the ratios smoothly and competently. However, when you ask for maximum acceleration by putting your foot down, it takes a second or two to decide which gear it wants to serve up. That hesitancy to react can really get in the way when you're overtaking. It's sometimes a wee bit hesitant then you're pulling off, too.
Refinement and noise levels
All the engines in the VW Touareg keep to themselves to an impressive degree. The diesels emit a bit more noise and vibration than the petrol engine does, but they're still really smooth and quiet in most situations. You have to rev them really hard before they start to sound coarse, and with such strong low-to mid-range muscle, you'll simply never need to. The petrol, meanwhile, stays smooth and serene no matter how many revs you subject it to.
Other sources of exterior noise are also really well contained. You'll hear very little in the way of wind noise, even at high motorway speeds, and despite the fat tyres, road noise is also really well subdued. The suspension goes about its work quietly, too, making this a very quiet car overall. It's certainly up there with other posh SUVs such as the BMW X5 in that respect.
Safety equipment: How safe is the Volkswagen Touareg
Like many cars in its class, the VW Touareg has scored the maximum five stars in Euro NCAP crash tests. However, delve into the results, and you'll find that some rivals have scored higher in the individual areas.
There's plenty of kit laid on to help stop folk getting hurt in the event of a collision. That includes a bonnet that pops up automatically to provide better protection for pedestrians, and six airbags to protect those inside in the event of a shunt.
There's lots more kit to help prevent you having a shunt in the first place, too. Active cruise control keeps you a safe distance from the car in front when you're cruising along, and the system also incorporates automatic emergency braking, which applies the anchors if an impending impact is detected. Traffic sign recognition, a lane-keeping aid and parking sensors at both ends are also included in the standard roster.
Mid-range R-Line cars add a reversing camera and a system that helps steer you into a parking space, while the range-topping Black Edition gets a 360-degree camera. The Driver Assistance Plus Pack was also offered on all versions, which brought in more autonomous driving features, such as a system that could pretty much drive the car for you in stop-go traffic.
MPG and fuel costs: What does a VW Touareg cost to run?
"Despite their difference in power, both diesel engines in the VW Touareg have exactly the same official WLTP fuel economy figure, with a maximum of 34mpg stated."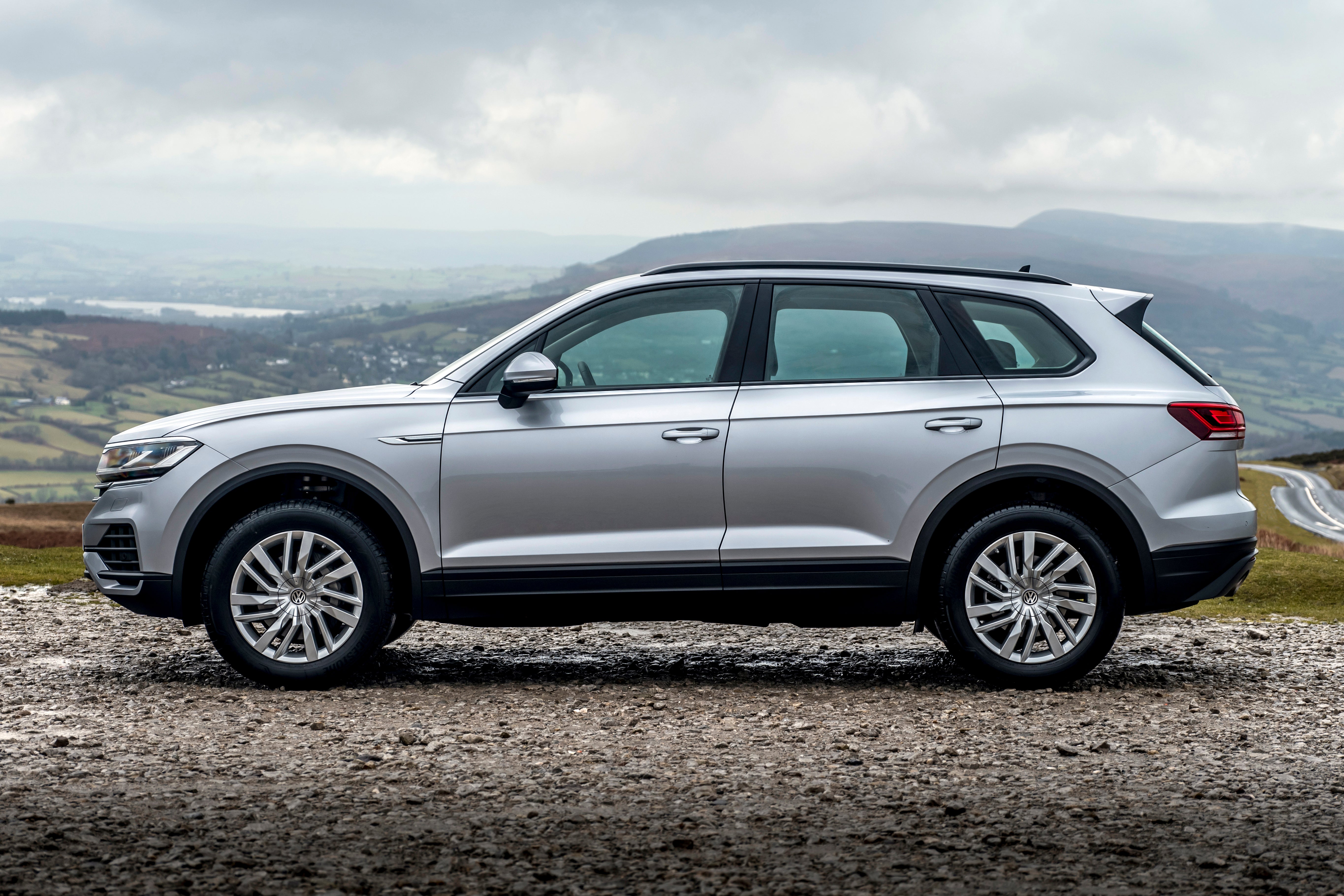 It'll be no surprise that the petrol Touareg is thirstier, with a maximum figure of just under 27mpg, and that drops a smidge further if you go for a higher spec version with bigger wheels.
As for the Touareg R? Well, it's a plug-in hybrid, which means a sky-high official fuel economy figure of around 94mpg, depending on spec. That sounds amazing, but it'll only get close to that if you can regularly charge the car's battery. Expect that figure to be more like 30mpg if the battery isn't charged.
These fuel economy figures don't constitute the best in the class, but they're certainly not the worst, either.
How reliable is the Volkswagen Touareg?
Volkswagen scraped into our top 10 brands in the latest HonestJohn.co.uk Satisfaction Index. Owners find the cars dependable and well-made, with other 88% of owners saying they're satisfied overall.
The Touareg does present some question marks, though, as it's more complex and hi-tech than any other VW model on sale. The infotainment system, for example, is not found in any other VW, while the brand's newer systems found in the latest Golf haven't exactly been trouble-free.
Having said that, the Touareg's mechanicals are found across a number of models elsewhere in the VW Group. The V6 diesel is well-proven, and the suspension is similar to that found in everything from the Audi Q7 to the Bentley Bentayga and the Lamborghini Urus.
Insurance groups and costs
Insurance groupings for the VW Touareg range kick off at 36 for the entry-level car, and top-out at 43 for the range-topper, with most other versions sitting around the 40 mark. That means insurance costs will be considerable whichever you pick, and small fluctuations in premiums will make zero difference to your decision.
VED car tax: What is the annual road tax on a Volkswagen Touareg?
Because this generation of Touareg was released after the VED tax rules changed in 2017, and because all versions cost more than the £40,000 threshold when new, all Touaregs are subject to the £310 'expensive car' surcharge. That, added to the £140 demanded by the car's CO2 emissions, means you'll pay a total of £450 per year.
After the sixth year of the car's life, however, that surcharge will be dropped. Just be thankful that you've swerved the huge 'showroom tax' first-year payment commanded by the Touareg by buying used.
Company car drivers will pay tax on a whopping 37 of the car's value, so monthly payments will be very expensive indeed.
How much should you be paying for a used Volkswagen Touareg?
"At the time of writing, prices for a new Touareg started at just over £53,000 for the 3.0 TDI 231 V6 Diesel SE L, while the pokier diesel engine would set you back a further £2600."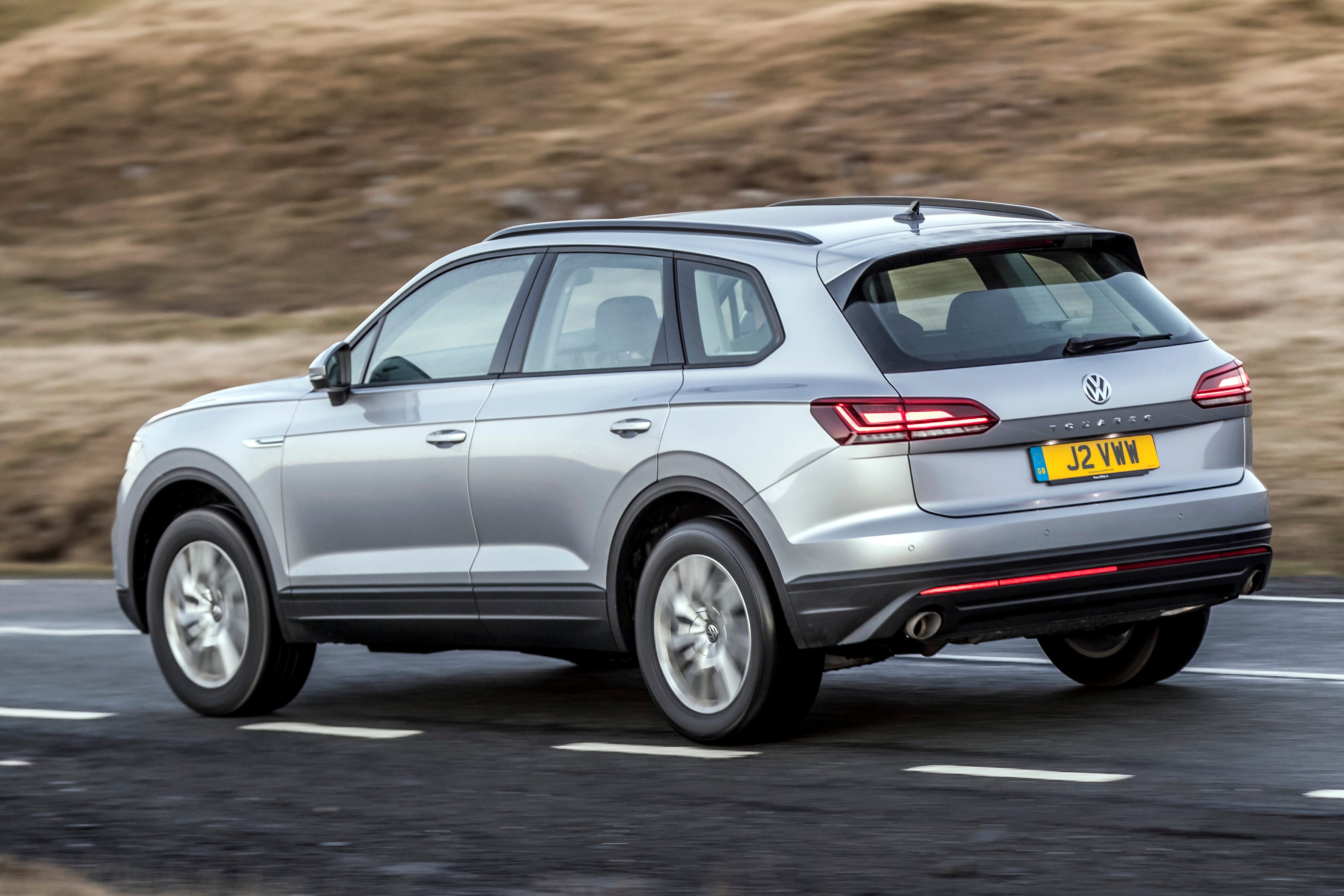 Selecting the petrol engine cost about another £1600 on top of that, but because it was only available from SEL trim upward, petrol versions started at just under £58,000. The standard range topped out, meanwhile, with the petrol-powered Black Edition, which cost upwards of £63,000. The plug-in hybrid R version costs a whopping £75,000, however.
Compared with rivals, it's a shade more expensive than the Range Rover Velar, but still a useful bit less than the Mercedes GLE and BMW X5. Resale values are on a par with those of its rivals, too, meaning used buyers will probably see proportional differences in prices.
Obviously used examples will be cheaper than new ones, and finding a nice pre-reg example will get you a really useful discount compared to a new Touareg, but you'll still get a very young car with very low mileage, making it pretty much as good as new. The car was only released in 2018, so it's not had lots of time to depreciate, but large cars from mainstream brands do tend to shed value. As such, a base V6 diesel model can be had from around £35,000.
Trim levels and standard equipment
Even the most basic SE trim offered on the Volkswagen Touareg comes with plenty of luxury kit, including four powered windows, two-zone climate control, alloy wheels, automatic lights and wipers, keyless go and heated front seats.
You'd really want leather seats in a car like this, though, and many folk would upgrade to SE L trim purely for that reason. They'll also get ambient lighting and extra external styling elements on top of that. In fact, so many people did upgrade to SE L trim that VW discontinued the SE shortly after launching the Touareg.
SE L Tech brings a powered tailgate as well as the fancy Innovision system we mentioned earlier. R-Line trim gets sportier styling, four-zone climate control and a powered tailgate, but makes do with the lower-grade infotainment system, while R-Line Tech gets the higher-grade Innovision system, along with powered front seats.
The Black Edition is the all-singing one, and that comes with comfy air suspension, a panoramic glass roof, 21-inch wheels and clever LED matrix headlamps that are very powerful.
Ask the heycar experts:
common questions
What does the name 'Touareg' mean?
'Touareg' is the name of a nomadic tribe from the Sahara, Northern Africa. Its literal translation is "free folk".

What is the Tourareg R50?
The R50 was a high-performance version of the first generation Touareg (2002-2010) that took its name from its enormous 5.0-litre V10 diesel engine that produced 850Nm of torque.

Answered by
heycar editorial team
What is the Volkswagen Touareg based on?
The latest Touareg uses the VW Group's MLB platform, and shares its basic underpinnings with the Porsche Cayenne and Audi Q7. It's also related to the ultra-pricey Bentley Bentayga and Lamborghini Urus, which is something you can brag to your mates down the pub.v

Does the Volkswagen Touareg come as a seven-seater?
No. Unlike its sister car the Audi Q7 the Touareg only comes as a five-seater, which does mean you get a very large boot, but it lacks the passenger carrying flexibility of some rivals.

Is the Volkswagen Touareg a luxury car?
The first iterations of the Touareg were more understated, but the current model is one of the most luxurious (and expensive) in the entire Volkswagen range, and comes loaded with tech.

Answered by
heycar editorial team
How much boot space does the Touareg have?
The Touareg has a massive 810-litre loading bay with the seats in place - that's slightly bigger than what you'll find in an Audi Q7 and quite a lot more than you get in a BMW X5. Fold down the middle seats and you'll free up a whopping 1800 litres of carrying capacity.

Volkswagen Touareg cars for sale on heycar
13,608
Number of cars available
£18K - £77K
Price bracket of these cars
Colours available on heycar
Keep me updated by email with the latest advice, news and offers from heycar
By submitting, you agree to our
privacy policy
.