Volkswagen Up Review 2022

Written by
heycar editorial team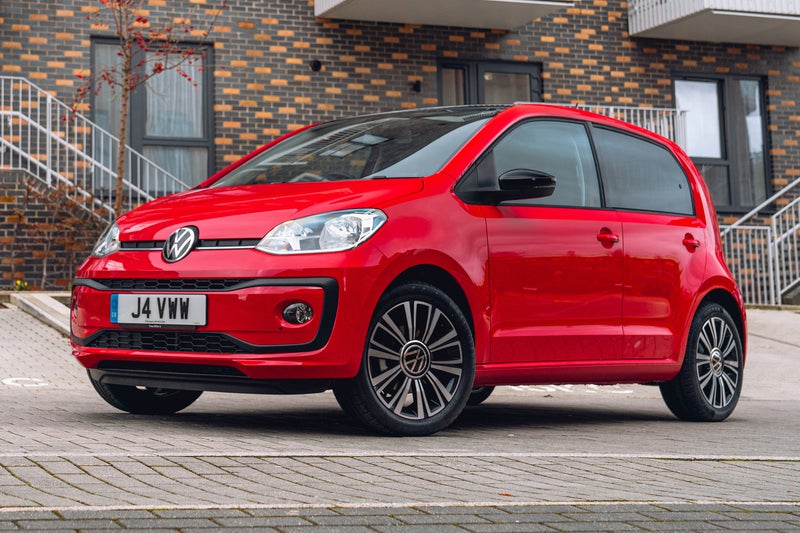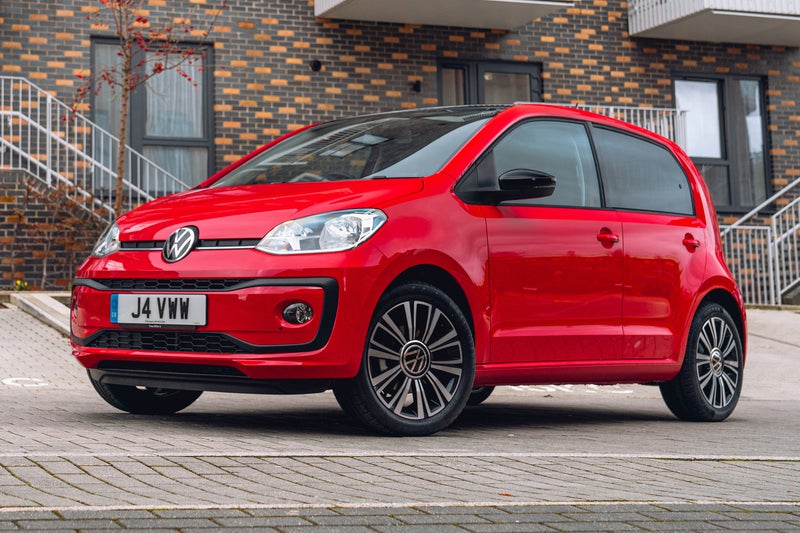 1/10
heycar rating
"Still a classy city car"
Launched: 2012

City car

Petrol
Quick overview
Pros
Feels posh despite the price
Good to drive and impressive ride quality
Low fuel and insurance costs, holds its value well too
Cons
Single petrol option on new cars
Automatic on used cars is best avoided
SEAT Mii and Skoda Citigo are cheaper
Overall verdict
On the inside
Driving
Cost to run
Prices and Specs
Common questions
Overall verdict on the Volkswagen Up
"The story of Volkswagen's Up city car comes in two parts. Back in the heady days of 2012 the Up was launched in the UK and rightly shook up the city car sector, bringing a level of quality and maturity that had not been seen in the sector before."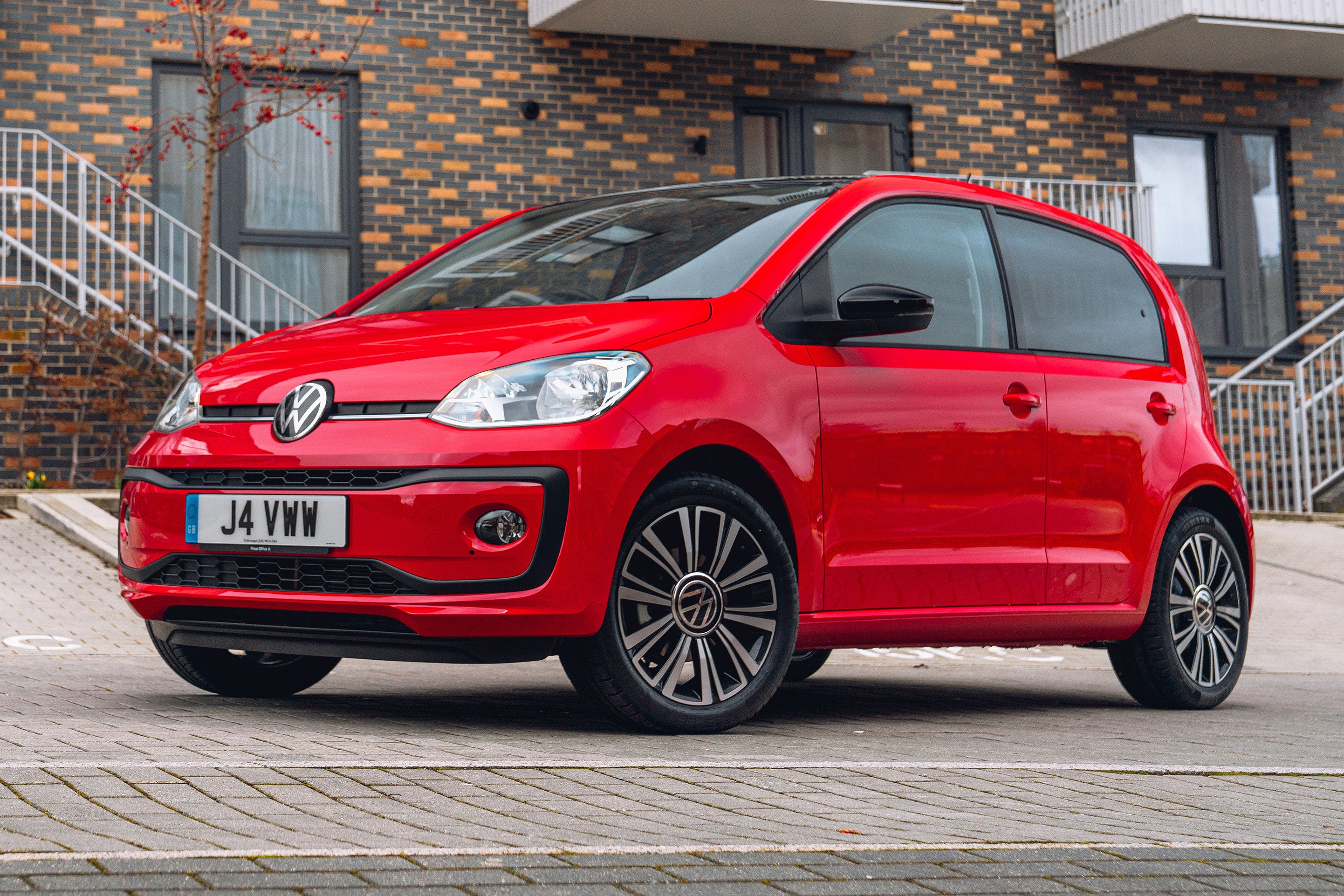 The Volkswagen Up remains one of the best city cars going, and was the main act in a trio of cars that included the SEAT Mii and Skoda Citigo. This review shows that age is no barrier for excellence.
Much like the Toyota Aygo, Peugeot 108 and Citroen C1 siblings, the Volkswagen Group trio shared a body structure, almost all the mechanicals and the basic layout of the interior, with only some engine choices, specification and visual elements to distinguish them. As is usually the way, the Volkswagen was the smartest of the three, and you paid a premium for it too.
Things changed in 2020 however, as the Mii and Citigo went all-electric with the Mii Electric and Citigo-e iV, ditching the petrol options altogether. The Up still gives you the choice of petrol or electric, but there's now only one petrol option for the regular Up alongside the almost twice as powerful Up GTI warm hatch. There's also the fully-electric Volkswagen e-up, which was greatly improved in 2020 with a much larger battery.
Much of what made the Volkswagen Up so good back in 2012 remains true today. From the outside the design tells its own story. A squared-off box with the purpose of maximising interior space, with tiny overhangs front and rear, a short bonnet and a near-vertical tailgate to boost the boot space as well as making it easy to judge the car's extremities when reversing. Despite its age, the Up still looks smart. It received a mild facelift for 2020 with different badges and smarter bumpers, but it's the same shape and it still cuts it.
There's not much in the way of new news to report on the inside either. The basic layout remains as it was, for good and bad. The Up has a slim dashboard and centre console, and keeps all the important stuff like the heating and ventilation controls, key switches and audio buttons right in the centre. The dials are smart but understated too, and although fancy TFT instrument displays are the thing these days, there's something pleasingly simple about a trio of analogue dials.
The realigned engine range for 2020 means the VW Up is essentially limited to a single engine option - the 65PS version of the 1.0-litre three cylinder unit, with 95Nm of torque. It's good enough for the city, but get out onto the open road and it is less comfortable. Pre-2020 versions of the Up came with a wider engine choice - there was the 75PS version that added some useful extra urge at higher speeds, and later in the Up's life there was a 90PS turbocharged version that gave it genuinely strong performance.
The driving experience remains one of the VW Up's trump cards. It rides well over poor road surfaces - as long as you don't go for the massive alloy wheel options - and it's surprisingly fun to drive, with engaging steering, plenty of grip and well-sorted suspension. No one really expects city cars to be fun to drive, which makes the Up's ability something of a bonus.
Time and the competition have moved on since the Up first arrived, but it remains competitive as well as desirable. The limited choices of the current range are a frustration, but that means dipping into the used market might get you exactly the car you want.
So yes, it's pretty much the oldest city car on the market. But it still makes a compelling case for itself. It still looks smart, is a great drive in and out of the city, and feels like a quality product, even if the basic design is getting on a bit.
The Up has spawned a performance version on the shape of the Volkswagen Up GTI plus an EV version, the Volkswagen e-Up.
Is the 2022 Volkswagen Up right for you?
With just the one engine option available on a new Volkswagen Up, and a pretty low-power one at that, it's clearly focused on city driving. It's refined and comfortable enough to manage occasional motorway journeys, but the lack of performance will grate in regular high-speed use.
It's also a strict four-seater, so if you need to fit five people inside on occasion then it might be best to move one class up to the supermini sector. What the Up does well is bring a bit of style and class to the sector where jazzy colours and infantile model names are more commonplace.
Anyone looking for a first car, whether it's for themselves or a loved one, would do well to choose the Up, given it is easy to drive and comes with a good standard specification. It's also not so quick it will get an inexperienced driver into trouble. The Up would also make an excellent second-car runabout for solo or two-up trips.
What's the best Volkswagen Up model/engine to choose from?
With just a single engine option (other than the considerably more expensive Volkswagen Up GTI) on new cars there's not much to think about on that front.
On used examples, the 75PS is a little more useful out of town compared to the standard 65PS engine, while the 90PS turbocharged unit is the best of the bunch, although it was only available on more expensive versions. The automated manual gearbox is also best avoided - unlike a conventional automatic, gear changes are jerky and laboured.
As for trim levels, the basic VW Up comes with more than you might expect, with things like air conditioning and alloy wheels as standard, so there's no shame in going for the cheapest option. Further up the range the Up Beats adds a more powerful audio system, but we'd skip the R-Line as the bigger alloys hurt the ride quality.
On used models there are a myriad of trim levels and special editions that were launched over the years, but we'd suggest looking at the Move Up as a minimum, with the High Up bringing extra luxury and Up Beats with the better audio system.
What other cars are similar to the Volkswagen Up?
If you like the idea of an Up but for some reason dislike Volkswagens, then the SEAT Mii and the Skoda Citigo are the closest you're going to get. However, neither of those options are available as new cars with a petrol engine anymore, although you may find late low-mileage used or pre-reg examples still for sale.
Another trio, this time the Peugeot/Citroen/Toyota triplets in the form of the Peugeot 108, Citroen C1 and Toyota Aygo offer a similar low-cost but big value take on the city car, although they are not quite as sophisticated to drive or a cabin that's as nice to be in.
A top choice in the city car sector is the Hyundai i10, which isn't quite as nice to drive but is more spacious inside and is well-built. The same goes for the Kia Picanto, which is also available with a more potent turbocharged engine. There's also the Fiat Panda, which is as practical as the Up but feels a bit dated, while the Fiat 500 isn't as roomy but offers plenty of city chic.
Finally, there's also now extinct city cars such as the Ford Ka+ and Vauxhall Viva, which are competent but unexciting. The Renault Twingo and related Smart ForFour, too, are no longer offered new in the UK - both are characterful and funky, but not as good to drive as the VW.
Comfort and design: Volkswagen Up interior
"It might be a city car, but the Volkswagen Up was designed by human beings who understand that people over six foot tall want to drive small cars too. The smartly designed cabin is surprisingly roomy and comfortable.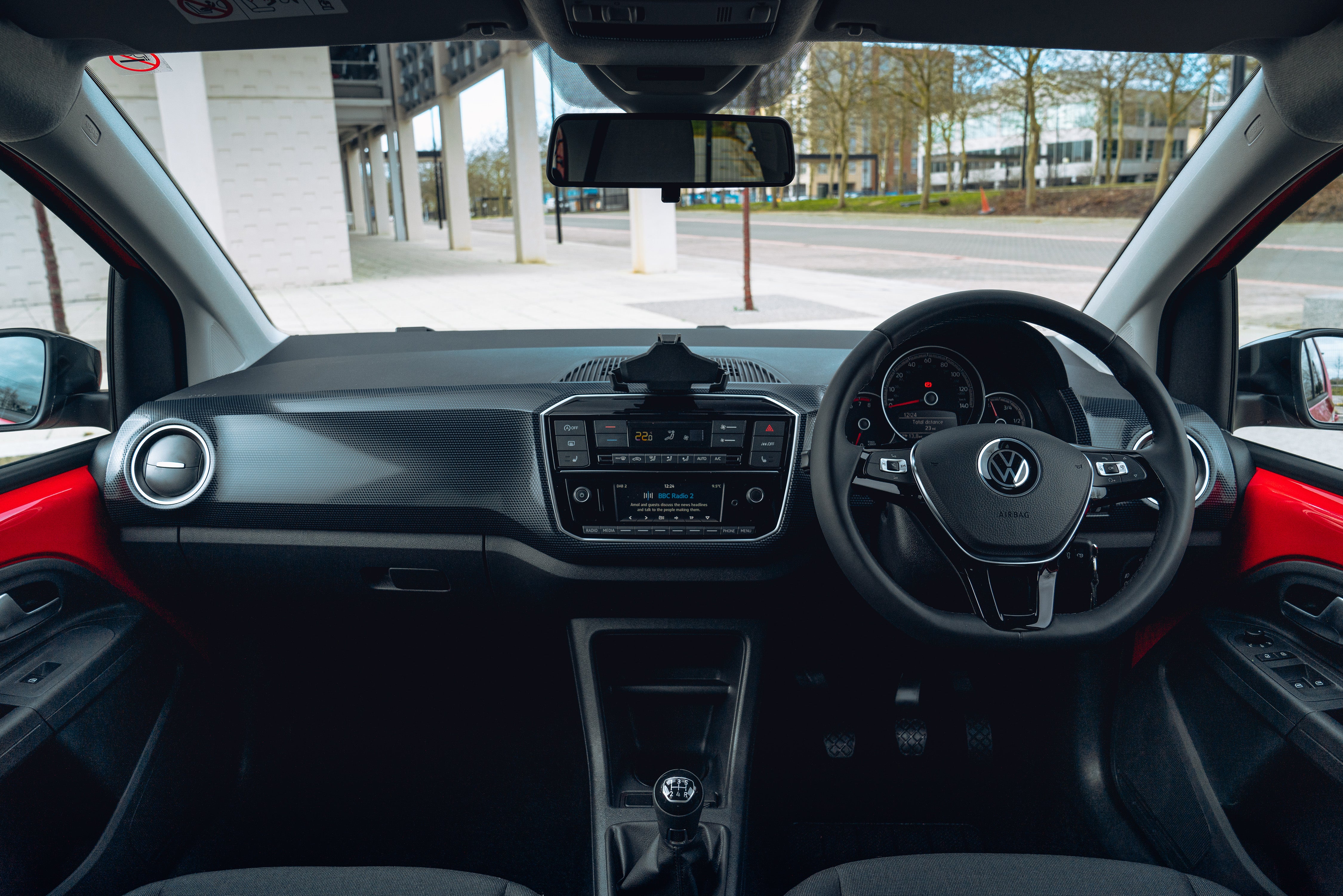 Getting comfortable behind the wheel of the Volkswagen Up should be the work of a moment for anyone, with height adjustment on the driver's seat as standard. The steering wheel only adjusts for rake and not reach, so you might find you can't get it into the ideal position if you are at the taller end of the scale.
It's all super-sensible and logical in here too, with all the major controls grouped conveniently high up on the dashboard. There's not too many of them of course, and with no massive touchscreen to accommodate the Up's cabin feels refreshingly clutter-free, and you won't waste time fumbling around looking for the right button. Despite being sensibly laid out, it's quite an attractive design, too.
New and used VW Ups are available as three and five door models, and while the three-door versions are generally cheaper, the five door makes life a lot easier should you want to use the back seats on a regular basis, and for an extra £400 on a new example it's definitely worth it.
Quality and design
Volkswagen has a well-deserved reputation for delivering tasteful interiors, and the Up is no exception. The basic Up model isn't packed with flair - you get varying shades of grey and black throughout - although you can fix this by choosing a higher specification model or even adding the 'Sharkskin' option pack for around £300.
Moving one trim level up to the White or Black editions gets you a brighter dash panel, while the Beats also gets you smarter seat trim and a much brighter finish to the cabin, plus big car niceties such as an ambient lighting strip on the dash.
It's not all roses of course - there are some cheaper plastics dotted around the cabin but they feel built to last, which will matter more in the long run. The switches and buttons come direct from the Volkswagen stable too, so they feel like they've been pinched from a more expensive car, all of which boosts the feeling of quality.
On older cars much the same applies, so basic Ups still offer good quality but do resemble a coal face. Look at the Move Up, High Up and Up Beats if you want a smarter interior look.
Infotainment: touchscreen, USB, sat nav and stereo in the Volkswagen Up
Early in the Volkswagen Up's life the infotainment system was a bog standard radio CD unit on low-end models, while higher up the range you got a supplementary system called Maps + More.
This consisted of a separate (if aftermarket-looking) screen that fixed to a dedicated mount on top of the dashboard, providing Bluetooth for streaming and phone calls, satellite navigation and a trip computer. It was a relatively inexpensive way of adding these functions to the car, although the fact that it is removable puts it at risk of theft.
Later models and brand-new Ups ditched this idea however. Used low-spec Ups get a CD player with a USB port and twin speakers, while higher grades and all new Ups get a dedicated phone cradle, DAB radio, auxiliary input and Bluetooth so you can connect your smartphone. There's even a small colour screen on certain trim levels, although it's not big enough for navigation or features such as Apple CarPlay or Android Auto connectivity.
Maps + More is now a dedicated app with TomTom navigation, an eco trainer and audio streaming. Of the two, the later system is preferable, as apart from anything it will benefit from regular updates and the ease of use. If you go for an earlier model make sure the seller includes the screen if it was originally fitted.
Space and practicality: Volkswagen Up boot space
City cars still have to carry people and things, which is why the Volkswagen Up is shaped like a carefully-planed box.
Its external dimensions are pretty tiny in modern car terms: it's just 3,600mm long, 1,641mm wide and 1,504mm tall. Yet it manages to provide space and comfort for four adults (just about) and luggage, and travelling two-up there's not much you can't fit in it.
Even silly-tall drivers can get comfortable behind the wheel, with plenty of head and legroom to stretch out. Shoulder room is good too, even though it's a relatively narrow car. There's also plenty of light entering the cabin through the generous glazed area, and the slim dashboard helps the feeling of space too.
Inevitably there's less space on offer in the rear, but as long as the front seat passengers haven't rolled their seats all the way back you can fit two adults in there, for short journeys at least.
The rear seats are mounted a slightly higher than those in the front, reducing the amount of headroom a little, so you may have to put the tallest people up front. Five-door models have easier access to the rear seats, but getting into the back of the three-door is not impossible. It's worth remembering that the rear seat is designed for two people only, with no centre seat belt.
The Up offers a useful 251 litres of boot space, putting it close to the Hyundai i10 but ahead of cars like the Renault Twingo and Peugeot 108. Fold the rear seats and this goes up to a mighty 959 litres, and there's an adjustable boot floor too so you can hide more valuable items. On new models every version gets a 60:40 split rear seat, but on earlier used models the basic Up only gets a single-piece rear backrest so you can't fold it and carry a passenger in the back.
Spare wheel provision depends on what trim you go for. Most VW Ups get a full-size spare, but the Beats gets a tyre repair kit.
Handling and ride quality: What is the Volkswagen Up like to drive?
"It might be small and relatively low cost, but it's a credit to Volkswagen that they've managed to imbue the Up with all the same driving qualities as the rest of its range."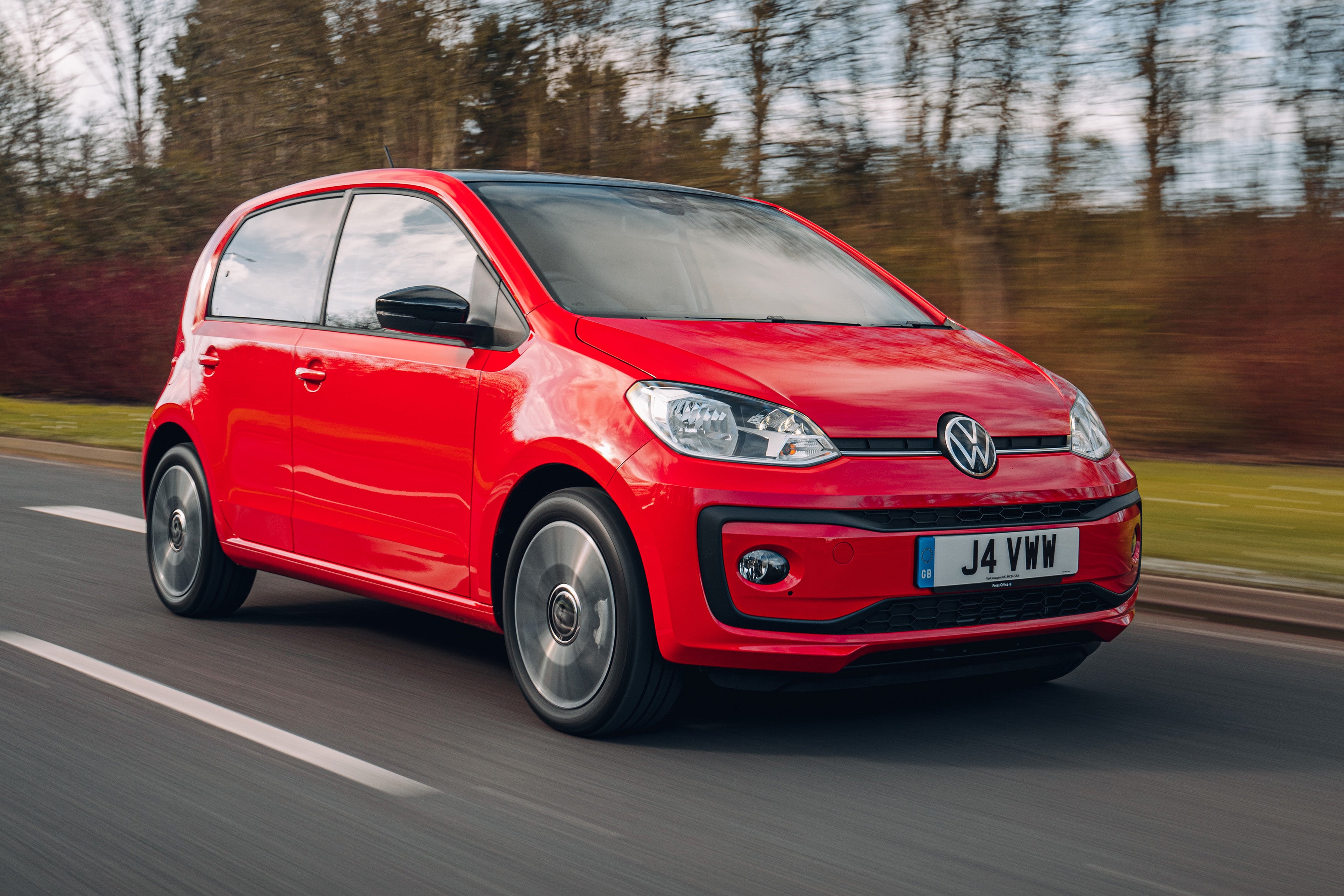 The Volkswagen Up a low-effort car to drive, and you can feel the quality of the engineering that's gone into it, even from a short drive around the block. It's this sense of designed-in quality that makes the Up feel like a bigger and more expensive car.
The steering is a highlight in particular, even if you're not one for choosing a B-road over the short route home. It's light enough for easy parking but not so light that it feels disconnected at speed. Better yet it feels very accurate, so you know exactly what's going on up front at all times. Whatever kind of journey you're making, the Up gives you confidence when behind the wheel.
It also rides impressively well, although this is somewhat dependent on specification. It's one of the best in the city car class, even though it's one of the oldest competitors, which is particularly beneficial when travelling over rotten urban roads. On new models it's important to keep a look out for which models wear bigger alloy wheels.
The standard Up and Beats ride on 15-inch alloys which are fine, but the White and Black editions wear 16-inch wheels and the R-Line adds sports suspension, all of which hurt the ride quality somewhat.
Those options might add a little sportiness to the driving experience, but the standard VW Up handles with composure and assurance, as well as much fun as you could reasonably expect. The accuracy of the steering helps, and even with the softer of the two suspension setup, body roll is kept in check unless you're really pressing on and it's safe without being dull.
What engines and gearboxes are available in the Volkswagen Up?
On new versions of the Volkswagen Up you're left with the single engine option, with the mighty 1.0-litre three cylinder unit dishing out 65PS and 95Nm of torque. It's a very willing unit, and the three cylinder arrangement means it is happy to rev all day long, and it doesn't sound too terrible while it's doing it either. You'll need to rev it if you're out of the city or on the motorway though, as it starts to struggle at higher speeds.
On used versions there's a wider choice, not least the 75PS version of the same unit. It may only have an additional 10PS and the same torque output, but the extra certainly goes a long way, making the Up more comfortable at higher speeds. The fuel consumption penalty is so minimal you'll probably never notice the difference either.
If you're feeling really flush (relatively speaking) then you'll want to go for the 90PS turbocharged engine. It's the same three cylinder 1.0-litre unit again, but the addition of the turbo transforms it, giving it much greater flexibility and genuine long-distance capability. Models with this engine are far less numerous on the used market, but it's still economical and cheap to run so it's worth it if you can find one.
As for gearboxes, the standard five-speed manual is the only option on new cars. It has well-chosen ratios so it's easy to get up to speed yet can cruise comfortably on the motorway. The automatic (which is actually a clunky automated manual) is only available on used VW Ups, and actually spoils the driving experience - so avoid it unless you absolutely have to drive an auto.
Refinement and noise levels
You expect a certain level of refinement from a Volkswagen, and even though the Up is the least expensive model in the range, it still manages to deliver. It's one of the best in the class, despite its age, and it means the Up is more usable as a commuter car and on longer journeys. The high standard of build quality is a help here, with few vibrations making their way into the cabin.
The three cylinder engine sounds like it's working hard, particularly if it's the 60PS (or later 65PS) version, but it's actually quite a smooth unit and the sound coming from it even when you do work it hard is not unpleasant. There's no difference in noise levels between the three power output versions, but the higher the output, the less stick you have to give the engine to get up to speed - so the 90PS version is the best choice once again.
At low to medium speeds noise from other sources is kept well in check. Small wheels mean skinny tyres so tyre noise is reasonably low on most surfaces, while wind noise doesn't present any problems. At higher speeds the latter starts to make itself known, but not unreasonably so, you can take on a lengthy motorway journey without having to stop frequently to give your ears a break.
Safety equipment: : How safe is the Volkswagen Up?
The Volkswagen Up has been tested twice by Euro NCAP. Once in 2011 when the car was initially launched, and then again in 2019 as the electric e-Up. In the first test it scored five stars, but in the most recent test it achieved three stars.
There are three mitigating factors in respect of the change in score. Firstly, Euro NCAP frequently raises the bar, so cars must keep getting safer to achieve a higher score, and secondly the e-Up is substantially heavier than the petrol Up - almost 400kg. Finally, a significant amount of active safety tech is required to get the highest scores, and fitting all that will mean the Up is no longer a cheap car.
In the 2011 test the Up achieved 89% for adult protection and 80% for child protection, and although pedestrian mitigation was quite low at 46% - a result of being such a short car - it managed a high 86% for safety assist. Standard equipment includes front and side airbags, seat belt pretensioners and load limiters and Isofix child seat mounting points, hill hold assist and tyre pressure monitoring.
At launch, all models bar the entry-level Up (called Take Up) were fitted with ESC as standard, but this was included on all models when the range was revised in 2016. All new Ups come with ESC as standard, as well as lane assist, although automatic emergency braking is not available as an option on any version.
MPG and fuel costs: What does a Volkswagen Up cost to run?
"As you might expect, the running costs for the Volkswagen Up are amongst the lowest for petrol-powered cars. New 1.0-litre 60PS models are measured under the tighter WLTP regulations and are given an official combined figure of 50.4-52.3mpg."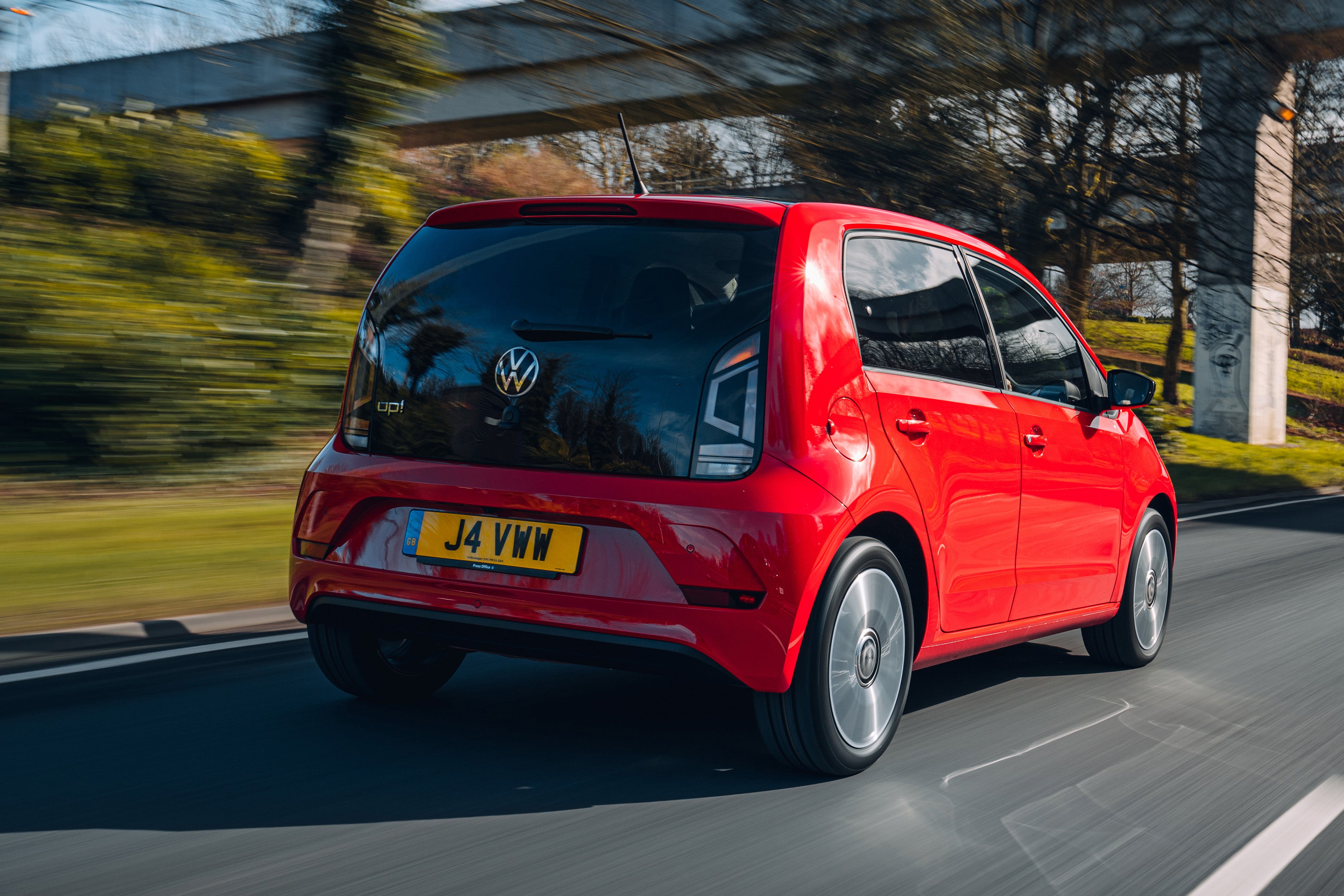 Used examples under the old regulations claimed between 62mpg and 68mpg combined depending on the specification. In the real world you should expect to beat 50mpg without little effort, and possibly over 60mpg if you drive the right way. The automated manual gearbox also costs a bit more in terms of fuel, which is another reason to give it a miss.
How reliable is the Volkswagen Up?
Volkswagen scraped into our top 10 brands in the latest HonestJohn.co.uk Satisfaction Index. Owners find the cars dependable and well-made, with over 88% of owners saying they're satisfied overall.
The VW Up is an excellent buy if you want a dependable, cheap to run car. Not only is it mechanically simple and lacking complex gadgets, it'll also prove inexpensive to fix if anything does go wrong. Know problems are few and far between, although clutch failures have been reported. This is as much due to driving style as it is the car itself, but make sure the clutch engages smoothly and doesn't slip.
Insurance groups and costs
Ignore the Volkswagen Up GTI and the 90PS turbo, and the entire range is between group 1E and 3E, which means premiums don't get much cheaper. That makes it as affordable as it possibly could be for new drivers, making it an ideal choice.
Older and more experienced drivers can enjoy insuring their Up for as little as possible, alongside fuel bills that are amongst the lowest in the class. The 1.0-litre 90PS turbo is group 10E, so will push premiums up a little but not so much as to make it expensive.
VED car tax: What is the annual road tax on a Volkswagen Up?
Just like its sister cars from SEAT and Skoda, the Volkswagen Up can be free to tax or cost considerably more than that depending on the version you choose but, more importantly, on the age of the vehicle.
New Ups get hit with the latest tax rules so you pay £150, while pre-April 2017 Ups can pay £20 or nothing at all - so choose carefully if you're looking at a secondhand example.
How much should you be paying for a used Volkswagen Up?
"Because the Volkswagen Up is still in production as a petrol car as well as in electric form there are examples coming onto the used market all the time."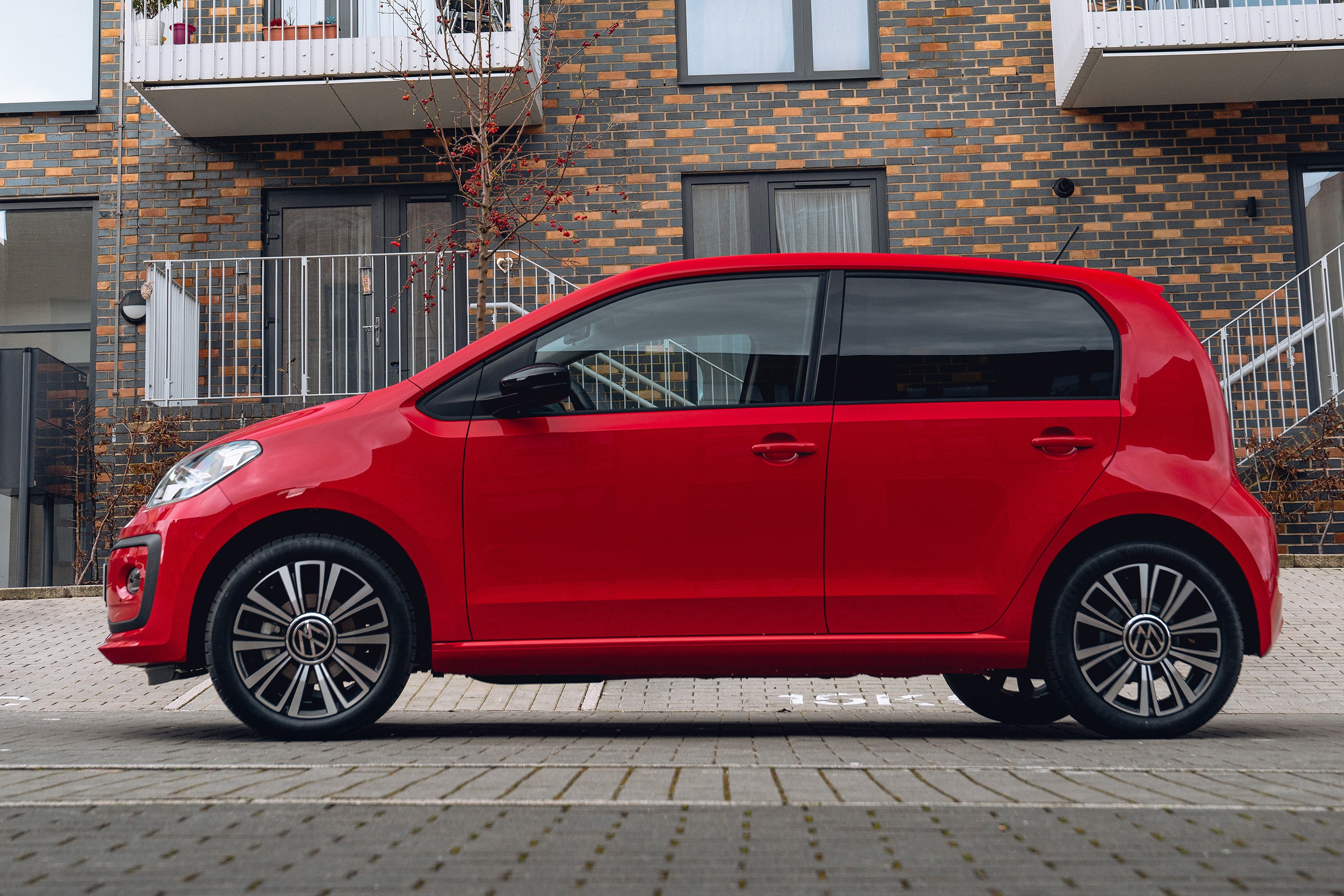 The Volkswagen Up is a pretty popular car, so there's no shortage of used examples. However, they hold their value well, and ones in more desirable specs are sought after.
Expect to pay upwards of £12,000 for an example under a year old with less than 5,000 miles on the clock. Higher spec models such as the Black Edition and Beats command a premium.
If your budget is lower, a 2018 Up with 50,000 miles in mid-spec Move Up trim is around £7,000. Prices drop to £5,000 or less for the earliest examples, although as it's a city car its rare to find one with high mileage for its age.
The 90PS VW Up TSI is particularly sought after, and a 2018 example with 35,000 miles on the clock is still around £10,000. But the most desirable is the Up GTI, which starts at around £12,500 for a 2018 model.
Trim levels and standard equipment
If you're buying a new Volkswagen Up, the base specification (just called Up) is worth considering. Unlike the older cars it includes some of the more essential bits of equipment like air conditioning and remote central locking, and you get the same infotainment system as the rest of the range too. Consider the Up Beats if you want a banging stereo system and nicer looking interior, too.
On used Ups, the basic Take Up is a pretty barren thing, so we'd suggest choosing the Move Up as a minimum to get the height adjustable driver's seat, electric front windows and air conditioning. There are many special editions too, but most of them are just visual upgrades spun off the High Up, so don't pay more for them. The High Up itself is the top dog, and comes with some leather trim and heated front seats, which are nice to have but not worth breaking the bank for.
Ask the heycar experts:
common questions
Can I buy an automatic version of the VW Up?
Previously the Up was offered with a five-speed automatic on certain engines, but that option is no longer available new. We don't mind its disappearance, as it was jerky and slow to shift.

Answered by
heycar editorial team
What insurance group is the VW Up?
Most versions of the Up sit between group three and five, depending on trim, but the e-Up and souped-up GTI can go as high as group 17. Automatic versions cost a touch more too.

Is the Volkswagen Up reliable?
The design of the Up is so simple that there really is very little to go wrong, and most owners report being very satisfied, although rivals like the Toyota Aygo are even more dependable.

Volkswagen Up cars for sale on heycar
13,548
Number of cars available
£6.5K - £26K
Price bracket of these cars
Colours available on heycar
Keep me updated by email with the latest advice, news and offers from heycar
By submitting, you agree to our
privacy policy
.