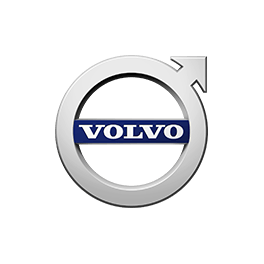 Volvo
Volvo is one of the best-known European manufacturers, with a number of notable innovations throughout its history and a reputation for producing distinctive cars with a strong safety record. From its beginnings in 1927 Volvo made safety a key part of its vehicle designs, and is credited with bringing features like laminated glass, the three-point seatbelt and dedicated child seats to the marketplace. More recently Volvo was sold to the Chinese Geely Group, and following significant investment Volvo has produced a new generation of vehicles with a premium feel.
Which Volvo is right for me?
The smallest car in the Volvo range is the XC40, an appealing crossover with space, quality and comfort for all passengers. The S60 and V60 models are a mid-sized saloon and estate respectively that bring a high level of driving performance and practicality, while a similar saloon and estate pairing comes in the shape of the S90 and V90 at an executive level. Volvo's SUV range is completed by the medium-sized XC60 and the large XC90, which are versatile and desirable as well as offering the option of hybrid power.
Tell me something I don't know about Volvo
Volvo's original parent company SKF is a bearing and seal manufacturing company.