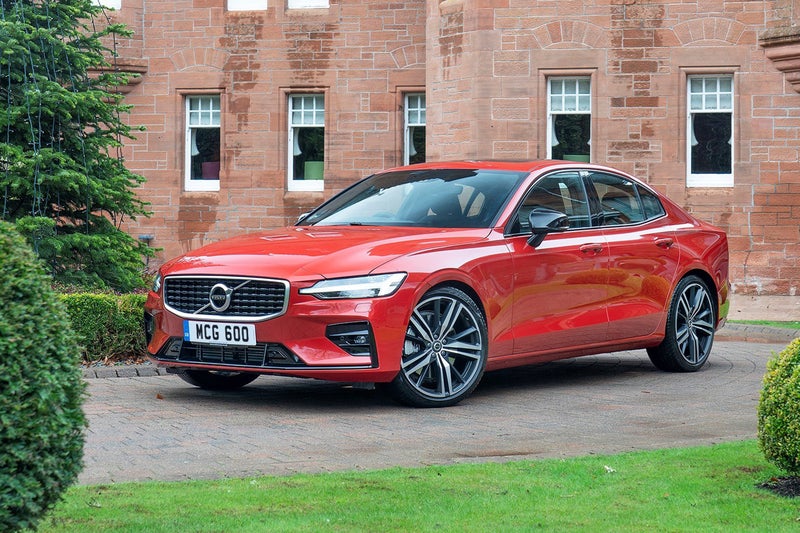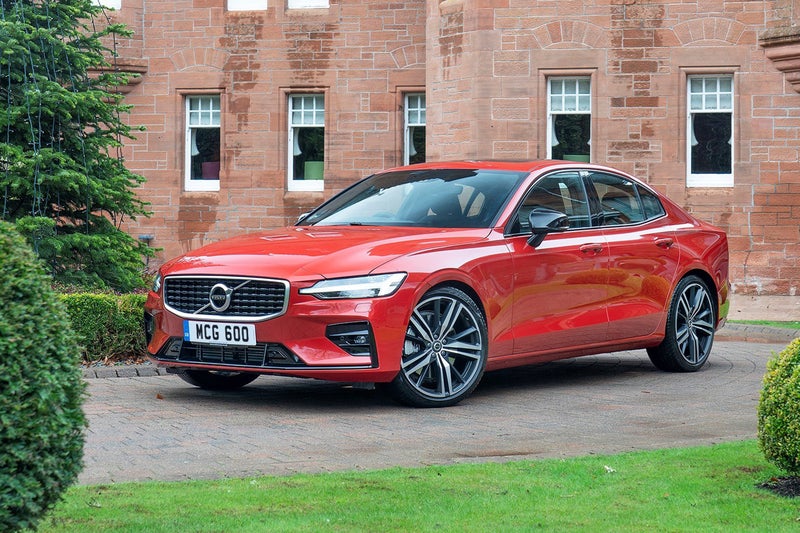 1/10
heycar rating
"Stylish, safe and spacious saloon"
Launched: 2019

Premium

Petrol, PHEV
Quick overview
Pros
It looks fantastic, inside and out
Super safe choice for your family
Useful electric-only range from the plug-in models
Cons
Mixed messages from the hybrids, are they economy or performance cars?
Apple CarPlay is a cost option, as, oddly, are split-fold rear seats
Limited engine choice and high pricing make it difficult to recommend against its plentiful, cheaper rivals
Overall verdict
On the inside
Driving
Cost to run
Prices and Specs
Overall verdict
"Good looks and safe, the Volvo S60 isn't without appeal, but it's seriously stymied against its key rivals by limited engine choice, high prices and some odd gaps in standard equipment."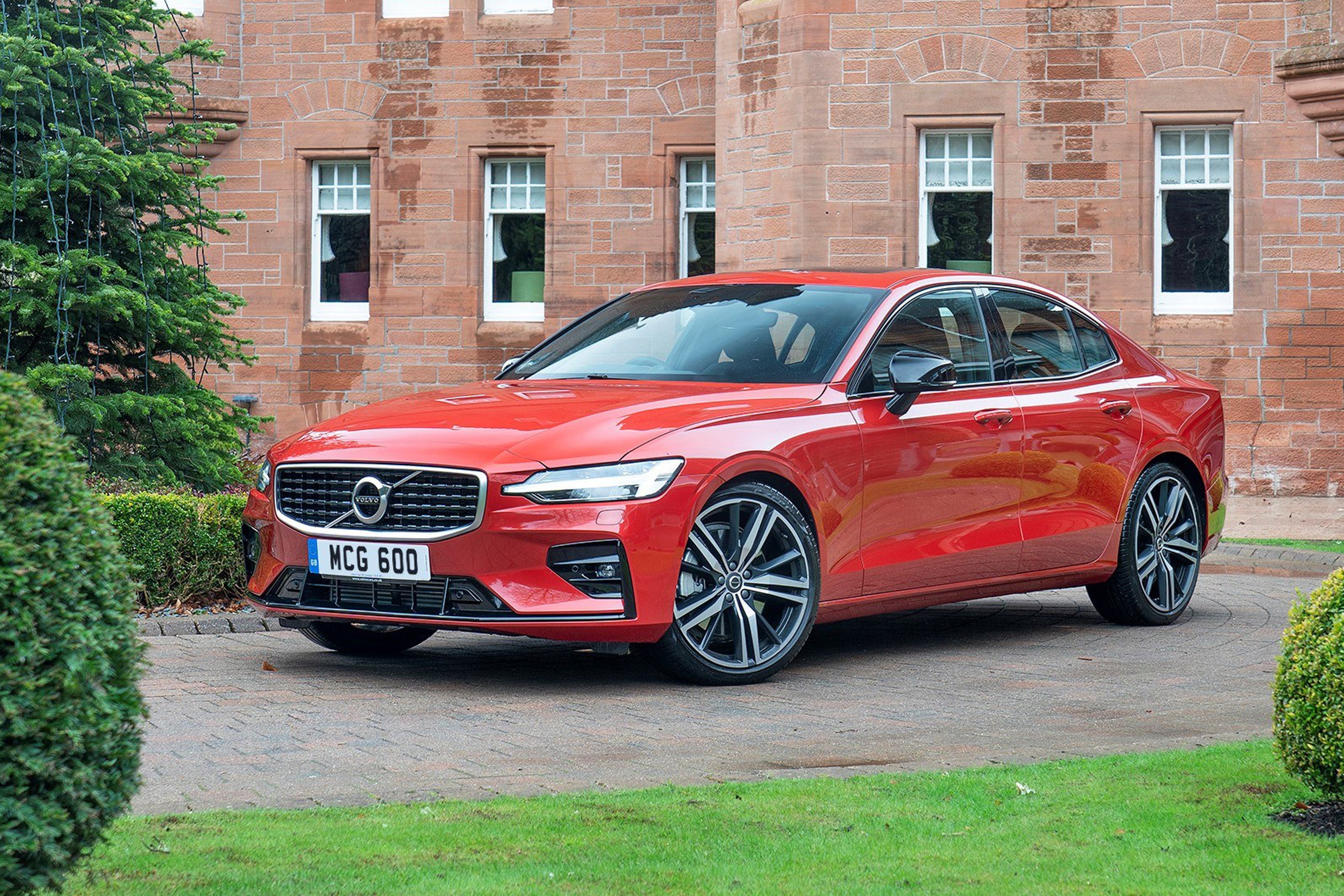 The safe option, or so it has been traditionally, Volvo's virtuous stance on passenger safety is dominant in defining its products, but it's had a renaissance of late, with cool style joining the mix, and that's very evident with the Volvo S60.
Is there a better looking family saloon out there at the moment? Helping with its ability to turn heads is the fact it'll never sell in the volume of competition like the BMW 3 Series, that too marking you out as different.
That design-led shift is very obvious inside, overall it's an unfussy cabin, that's built from some wonderful materials and there's some humour shown by the fun little Swedish flags stitched into in the seats' seams. For quality the Volvo is right up there with the best of the premium rivals, and we're including Audi among that list - it long leading the way in this segment.
There's good space too, with the S60 riding on a relatively long wheelbase, which is to the benefit of rear passenger accommodation, it being measurably roomier back there than most of its rivals. What something with even more space in the back? You'll need to check out the Volvo S90.
That competition includes the BMW 3 Series, Audi A4 and Mercedes-Benz C-Class, as well as the Jaguar XE and Lexus IS. Upper mainstream rivals like the Alfa Romeo Giulia and Volkswagen Passat are also good alternatives, as are cars like the Mazda 6 and Skoda Superb.
Of that wide-reaching bunch it's the Lexus that's closest aligned to the Volvo, because, like the Japanese car, Volvo doesn't offer the S60 with any diesel engines, instead having a range of petrol or plug-in hybrids. Volvo has committed to offering its models without diesel engines going forward – that despite the S60's V60 estate relation being available with a pair of diesel engines.
There's a lot to like about the Volvo, not least its fine looks and cabin, but, and it's a big but, the Volvo's limited engine line-up, and in particular the lack of a diesel offering, allied to relatively high pricing do make things difficult for it in what's, after all, a very competitive, and price and CO2 sensitive, market.
Is the Volvo S60 right for you?
Assuming you don't want a diesel, yes, there's a lot to like about the Volvo S60.
If you're bored of in-your-face BMWs, find a Mercedes-Benz too mature and an Audi too obvious, then the S60 is definitely worth considering, though Volvo needs a more expansive model line-up if it's really going to attract loads of buyers out of such competition.
What's the best Volvo S60 model/engine to choose?
There are only really two engines presently, and they're different enough to operate at slightly different ends of the buying, and cost, spectrum. The entry-level model remains the T5 which is powered by a four-cylinder turbocharged petrol engine with 250PS. The next model is a plug-in hybrid which adds a supercharger alongside the turbocharger in the four-cylinder petrol, as well as a 65kW electric motor for a combined 390PS, Volvo badging it T8 Twin Engine.
That same powertrain, albeit tweaked slightly to produce 405PS, heads the range in Volvo's 'Polestar Engineered' guise, Polestar being akin to BMW's M, Mercedes-Benz's AMG or Audi's RS divisions. Those hybrids are expensive, as, currently, is the single petrol choice, but some tax savings can be made with the hybrids, while their potential electric-only range is appealing.
So the T8 Twin Engine AWD Automatic, in R-Design Plus spec (the only trim choice available to it) would get our nod. Just, and even then we'd probably look at the S60's rivals.
What other cars are similar to the Volvo S60?
The S60 really is a car that can justifiably be mentioned in the same breath as all the obvious premium competition. The Lexus IS is arguably its closest rival thanks to its petrol-only status, but the S60's plug-in hybrids open it up to a range of rivals, from the Volkswagen Passat GTE to the BMW 330e, and a host of others like the C300e from Mercedes-Benz. Even accounting for the performance the S60 plug-ins offer, against these rivals the Volvo does look expensive.
Comfort and design
"Volvos have always erred towards comfort in their interiors, perhaps a by-product of the country's other famous product, furniture, and the current S60 is no different."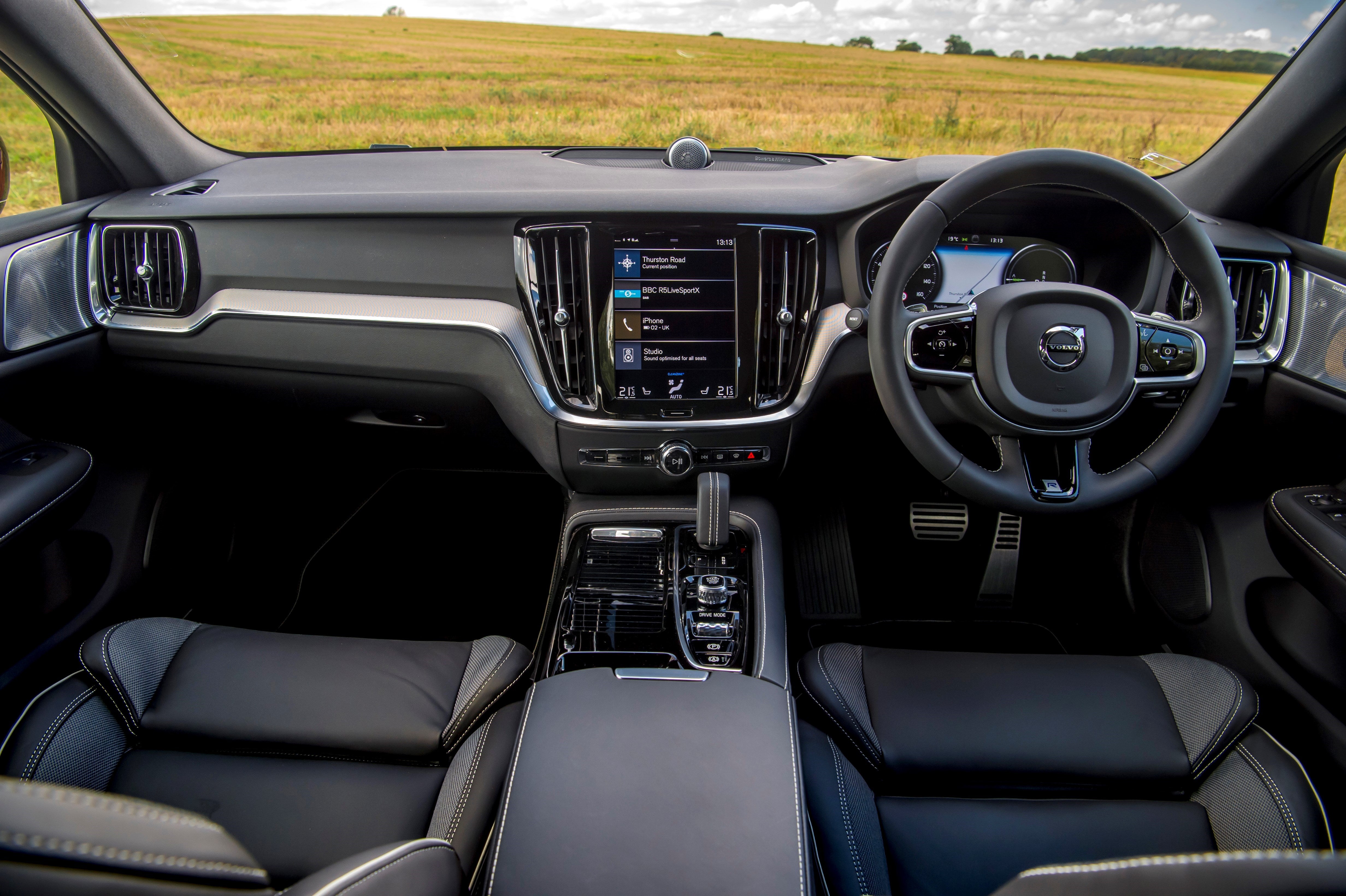 Volvo picks comfort as a virtue when describing how the car drives – more of which later – but it's evident inside that it's been part of the design brief for the cabin, too, it notably more comfortable than its predominantly German, more sporting biased, rivals.
The seats in all are heated, with cushion extensions adding good under thigh support. They're also electrically adjustable, have lumbar support and a memory package to quickly set it back to your preferred driving position. They're very comfortable, with deep bolstering in the R-Design Plus and Polestar Engineered models holding you in tightly and providing plenty of support. The standard seats in the Inscription Plus models are less heavily bolstered, but are ventilated, with all the S60's seats finished in soft Nappa leather.
The steering column, meanwhile, adjusts for rake and reach, too, while all versions come with two-zone climate control, so comfort is very good indeed. The design is very pleasing inside, with the S60 being unfussy in its style, while visibility all round is good, aided by standard parking sensors front and rear, useful in a big car.
Quality and finish
If the Volvo S60 distinguishes itself over its competition for comfort inside, then a lot of that is clearly attributable to the material quality evident throughout the cabin.
It's lovely in the S60, with the sort of restrained, dignified material choices that mark it out as one of the, if not the, best cars in the class for quality and finish. There are soft-touch materials in all the right places, while the knurled metal surfaces on the other touch controls like the engine start knob, the infotainment's volume controller and the directional controls for the ventilation and heating outlets, all feel wonderfully tactile.
Soft Nappa leather covers the seats regardless of which trim line you buy, it feeling expensive – because it is. If there's one let down it's the column stalks, which in comparison to the rest of the materials inside feel a little bit plasticky, but we're splitting hairs here, as otherwise the S60's interior is pretty hard to fault, though there's a significant proviso, and that's below...
Infotainment
Volvo was among the first to adopt a large format touchscreen to control the car's many info and entertainment possibilities, but it's gone too far in bundling in virtually all the car's controls.
The heating and ventilation controls are in there, and while they're ever present at the bottom of the screen you need to take your eyes off the road for a good length of time to do something as simple as up the temperature a few degrees. That's a huge oversight from a firm that's got one foot so firmly entrenched in safety. Likewise, all the driver aids are squirrelled away behind several layer of touch and swipe menus, meaning, again, if you're wanting to change things on the move, you'll be doing so with your eyes off the road. More actual buttons please Volvo…
That 9-inch, portrait aspect centre touchscreen's complexity isn't any less busy when you're using it for things like the standard DAB radio, or needing to enter addresses in the sat nav, but there's voice control as standard, while a good deal of the controls are duplicated on the steering wheel.
The stereo is a 10-speaker 170W system, but there's a Harman Kardon upgrade that brings three more speakers and ups the output to 600W, adds Dolby Pro surround sound and a subwoofer. That's an £850 option.
If you want to spend more there's a 1100W Bowers and Wilkins upgrade for £2,500, both these upgrades adding Apple CarPlay and Android Auto connectivity, which is otherwise a £300 add-on – on all models – which isn't acceptable at this price point.
The instruments on all S60s are a digital display which offers a degree of configurability, and things like mapping display, while R-Design Plus models and above come with a head-up display.
Space and practicality
Alongside safety, practicality has always been a Volvo signature, and the S60 exhibits this. A long-ish wheelbase for this class means there's plenty of space in the cabin, for both front and rear seat passengers, those in the back being generously accommodated with good head and legroom.
There are three seatbelts back there, but, really, it's a bit tight for three, with that middle rear seat more for occasional use. Even so, there's a top tether mount for the rear seat (and the two flanking it) but there are only Isofix child seat mounts on the outer rear seats.
There is a decent amount of useful cubby storage throughout the cabin, with a lidded compartment between the front seats, as well as one between the rear seats within the arm rest. There's also a pop-out cupholder in the rear armrest, and a pair of recessed ones between the front seats. Door bins are on every door, but they're a bit shallow, while the material above them makes getting things in and out tricky. A good-sized glovebox is some compensation here, as are a pair of nets on the back of the front seats.
There's a ski hatch between the rear seats, and, unusually in this class, folding rear backrests aren't standard equipment, so if you want the usefulness of 60/40 split fold rear seats you'll need to pay £400 for the Convenience Pack, in Volvo's 'Special Value Packs' options – the Convenience Pack also bringing a three-pin plug socket in the rear, a front tunnel net pocket and some convenience hooks in the boot. Split/fold seats should be standard in this class.
The boot itself is spacious, with either 442 litres if you opt to have a tyre inflation kit, that dropping to 392 litres if you want a space-saver spare wheel. The boot is long, too, at over a metre, and wide. A useful touch in all versions is a lock button on the boot lid you press before closing it, doing so locking the entire car.
Handling and ride quality
"Three engines, three trims and four different types of chassis, which is at least two too many."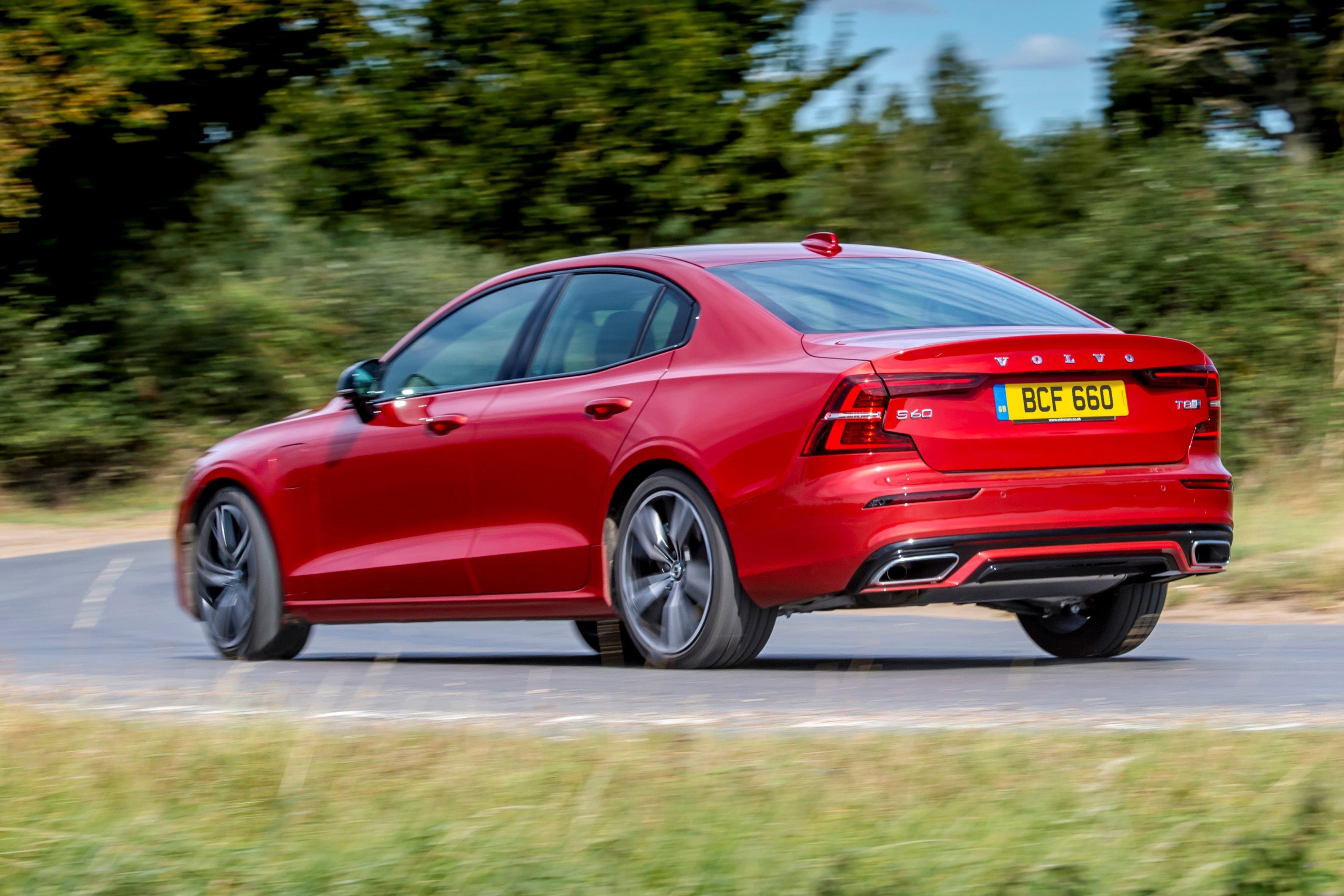 There's a Dynamic Chassis on the petrol powered Inscription Plus, with the R-Design Plus 2.0-litre 250PS regular S60 having a lower Sport Chassis. Choose the T8 Twin Engine version in R-Design Plus trim and, confusingly, the chassis is switched back to the standard Dynamic Chassis.
Muddying that chassis mix even further is the availability, for £750, of what Volvo calls its Active Four-C Chassis, which is available on both trims, (but not that T8 Twin Engine model) it a variable damper system offering four drive modes, from Comfortable through to Sport, with a configurable setting, too.
All that's before we get to the S60 Engineered by Polestar, which gets, and we joke not, clever valved Ohlins dampers which offer 22 individual settings, these manually adjusted by two adjustment knobs under the bonnet and two in the rear wheel arches. Those in the back require removing the rear wheels for access, yes, you read that right. The closer you click these to 0 the stiffer they get, though there's a setting suggested for the road, which is probably best left well alone. This is track car level adjustability, on a plug-in hybrid road car.
We'd suggest just having the regular Dynamic Chassis, which despite its name, is actually set up to be comfortable. No S60 genuinely offers much in the way of driver engagement, and, in the case of the lowered Sport Chassis, makes the ride unnecessarily busy.
Engines and gearboxes
If the chassis choices generate confusion, so too does Volvo's engine line up. The company has taken a very public, and admirable stance in not offering diesels, it aiming to electrify its line-up quickly, this, again, merit-worthy.
At what cost though, because while diesel might be slightly out of favour, the S60's marketplace is still swayed by its benefits, not least CO2 emissions, and long-legged range and easy performance.
Instead, the range, as it currently stands, is powered by a single 250PS turbocharged petrol engine and a pair of hybrids.
That petrol makes the most sense, but it's a four-cylinder turbocharged engine lining up against a good number of six-cylinder rivals, which offer greater and smoother performance for much the same money. The Volvo's engine is smoother and quiet enough, it mated well to the eight-speed automatic transmission, but it's not as good as what rivals offer.
Those T8 Twin Engined hybrids roll in with big hitting performance numbers, allied to useable electric-only range that will slash your running costs if you have a short commute and somewhere to charge the car. But, for all their ability to reach 62mph in under 5 seconds, there's no real incentive to do so. The electric infill helps the 300+PS of both, giving them good low-rev urgency, but neither rev towards their redline with any enthusiasm.
Refinement and noise levels
The lack of diesel engines does have a positive effect on the refinement, as does the electric-only opportunity offered by those hybrid models, which gives near silent motoring. Overall, then, the S60 is a hushed, relatively serene environment to sit, which is in keeping with its comfortable interior.
The only drawback is some road noise on rougher road surface, these exacerbated by the larger wheel choices, or the firmer, lower sports chassis, but the S60 isn't alone in that respect, and it's not so noisy so as to be intrusive. On smoother surfaces it's nicely hushed, while wind noise is well contained, too.
Safety equipment
The S60 features City Safety with steering support, it including pedestrian, cyclist and large animal detection and front collision warning with full auto brakes. There's a bunch of standard active driver aids like lane keep assist, a speed limiter, road sign information display and a driver alert system.
You also get dual stage driver and passenger front airbags, side airbags, curtain airbags, ABS with Electronic Brake Distribution and Emergency Brake Assist, Traction and Stability Control and a whiplash reducing design to for the front seats.
The S60 hasn't been tested by Euro NCAP, but it's closely related V60 has, it receiving a full five-star score in the independent testing.
The Driver Assist option includes an auto dimming rear view mirror, plus Pilot Assist and active Cruise Control that essentially means the car can drive itself on the motorway. The blind spot information system with steer assist stops you pulling in front of other cars on the motorway and you get cross-traffic alert with auto brake and rear collision mitigation. All that is yours for £1600.
Maximum EV range
Those two plug-in models offer the opportunity to drive guilt-free on the school run, or around town, with a useful electric-only range of 36 miles in the T8 Plug-in Hybrid R-Design, with the Polestar Engineered model actually getting a slightly better 37 miles possible range. The likelihood is, in real-world driving, that you'll get about around 15-25% less than that, but even if that's the case, those hybrids offer a useful battery-only range for the average commuter.
MPG and fuel costs
"Charging time for those hybrids is around 3 hours from a typical home wallbox, and about double that from a standard wall socket. Even plugged into a rapid public charger the S60's onboard electronics won't allow a fast charge, so if it's flat when you plug in, you'd best be having a long (3hr) lunch."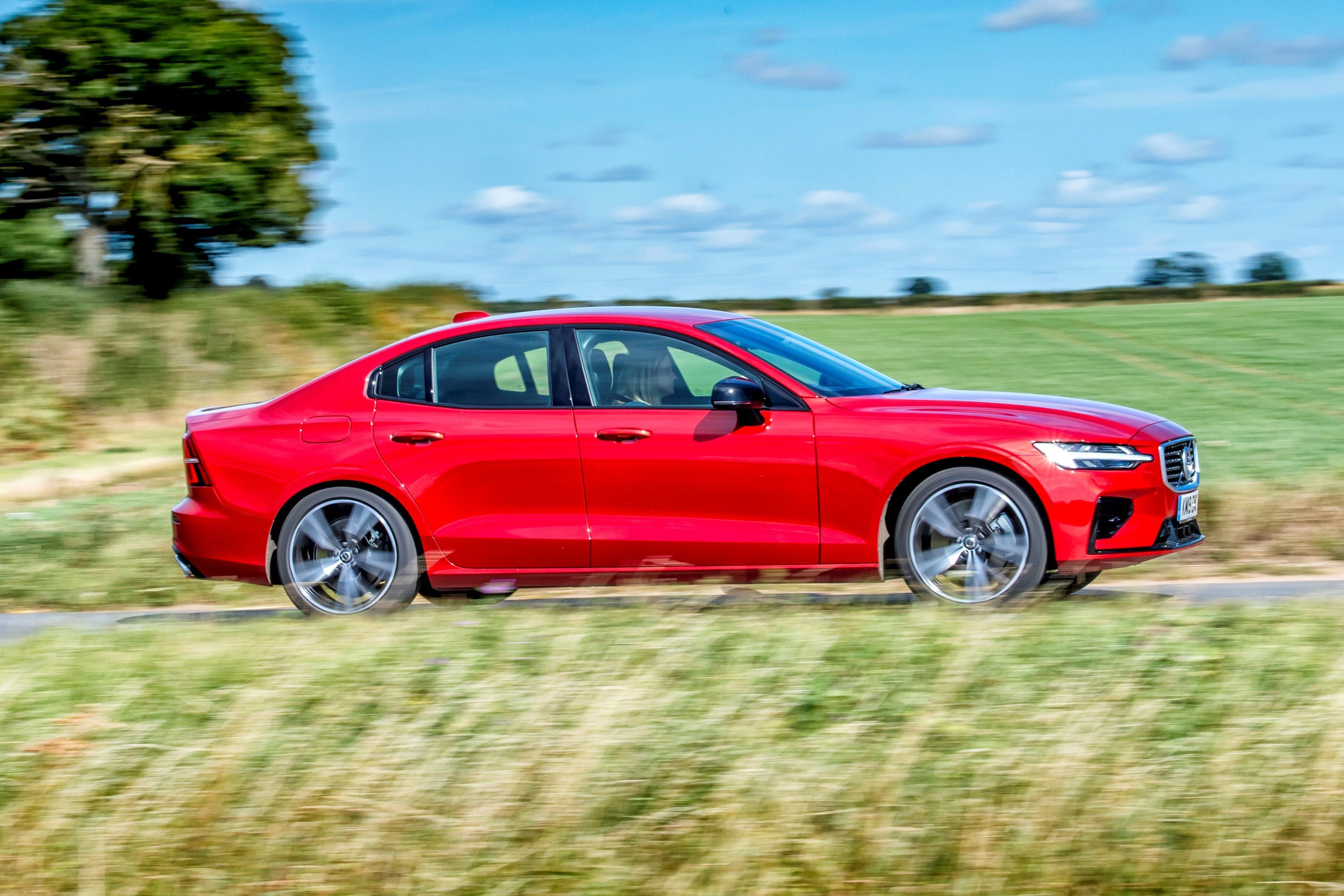 The 250PS petrol engine is quoted at between 37-41.5mpg – although about 30mpg in more likely in real-world driving – with those hybrids returning as much as 166.2mpg and as low as 113.0mpg. The reality is likely to be around half that, if not a lot less, if you drive with a flat battery.
Insurance groups and costs
The Volvo S60's lowest insurance group is 34, for an Inscription model, with the R-Design Plus sharing the same grouping in petrol guise, with T8 Twin Engine upping that to Group 42 and the Polestar Engineered flagship upping that to Group 43.
VED car tax
The hybrids avoid the first year penalty payment, but being over £40,000 you'll pay more for them over five years than you would if they were cheaper to buy. The standard petrol's CO2 rating of 155g/km is relatively high in this class, particularly against diesel rivals, it costing £540 in VED in its first year and £150 thereafter, assuming its list price is not over £40,000 – which a few options tips it over - after which it'll cost you £475 a year, for five years.
How much should you be paying for a used Volvo S60?
"Huge potential savings can be made on this year-old car (in 2020) with used stock starting from just £23,000 for cars with 5,000 miles on their odometer."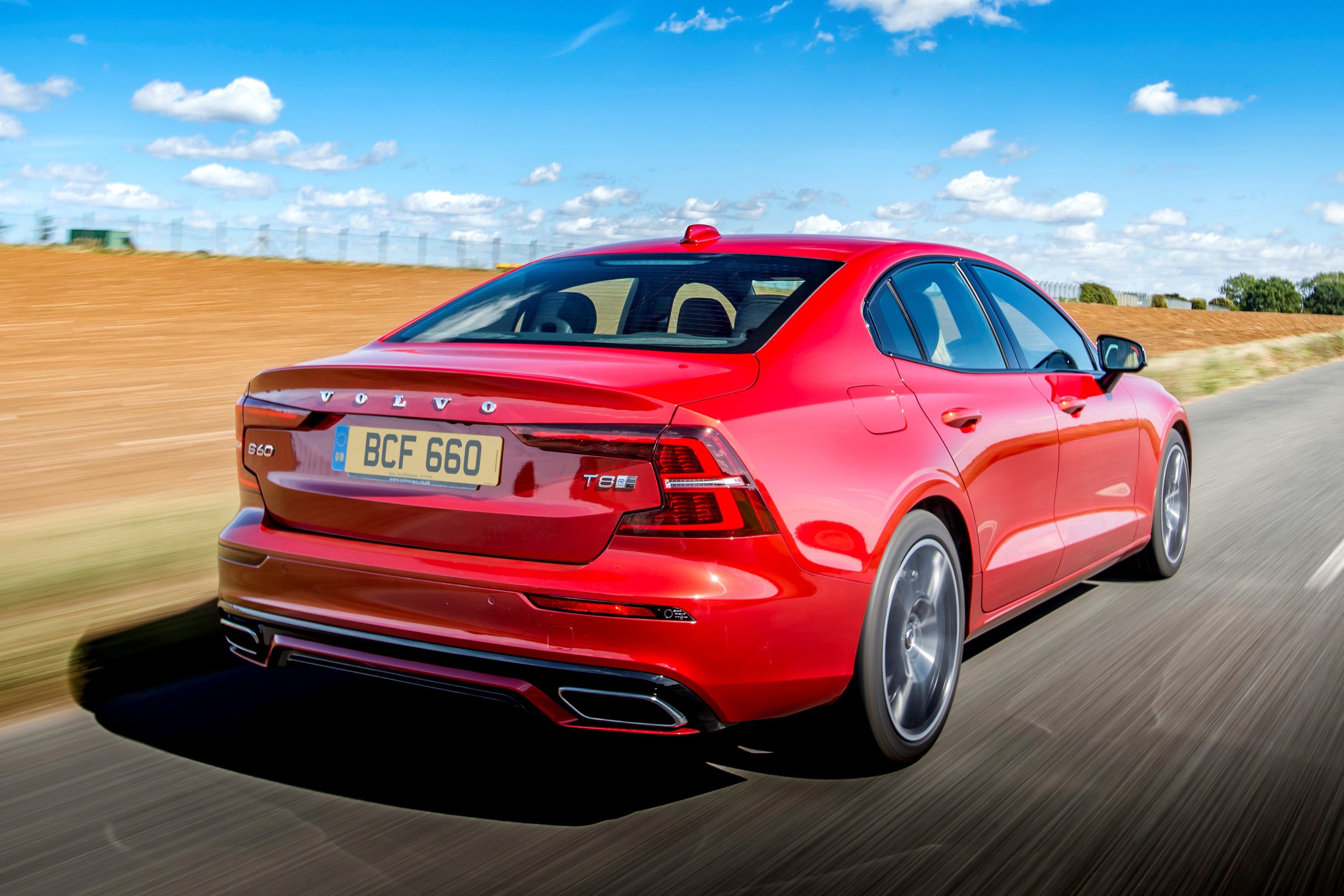 The majority are R-Design models in T5 non-hybrid form, with T8 hybrids starting at around £10,000 more. At these prices, where someone else has taken a sizeable hit in depreciation in the first year, the S60's a far more compelling buy.
Trim levels and standard equipment
Standard on all S60 models is an 8 speed automatic transmission, Cruise Control, Drive Mode Settings, Keyless Drive, LED headlights, rear park assist camera, 2-Zone climate control 12.3-inch TFTT active driver's information display, heated front seats, powered driver's seat, DAB and Sat Nav. Plug-in hybrids all gain an auxiliary fuel-fired heater, charging cable and aluminium tread plates.
The Inscription trim adds Soft Nappa leather perforated upholstery, a driftwood inlay, 18-inch alloy wheels, Powered front seat, a crystal gearknob and dynamic chassis.
R-Design models have contoured Sport Seats , greater electronic adjustment to the passenger seat, leather sports steering wheel, metal mesh dash inlays and R-Design specific styling inside and out.
The Polestar Engineered cars gain a heated steering wheel, Polestar design elements inside and out, Sensus Connect Premium Sound by Harmon Kardon with Apple CarPlay and Android Auto, 19-inch alloy wheels, gearshift paddles and that 22 manually adjustable damper Polestar Engineered Chassis
Volvo S60 cars for sale on heycar
2,718
Number of cars available
£10K - £60K
Price bracket of these cars
Colours available on heycar
Keep me updated by email with the latest advice, news and offers from heycar
By submitting, you agree to our
privacy policy
.
Popular models
Similar models