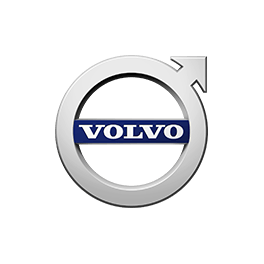 Volvo S90 Review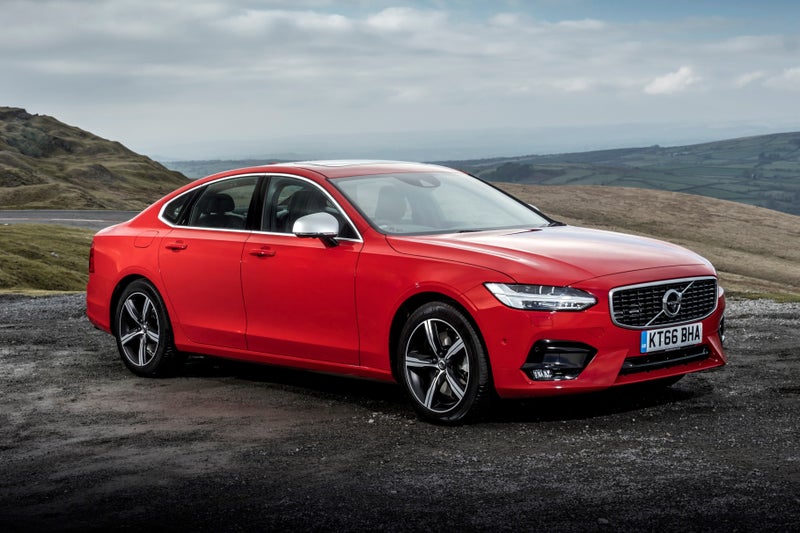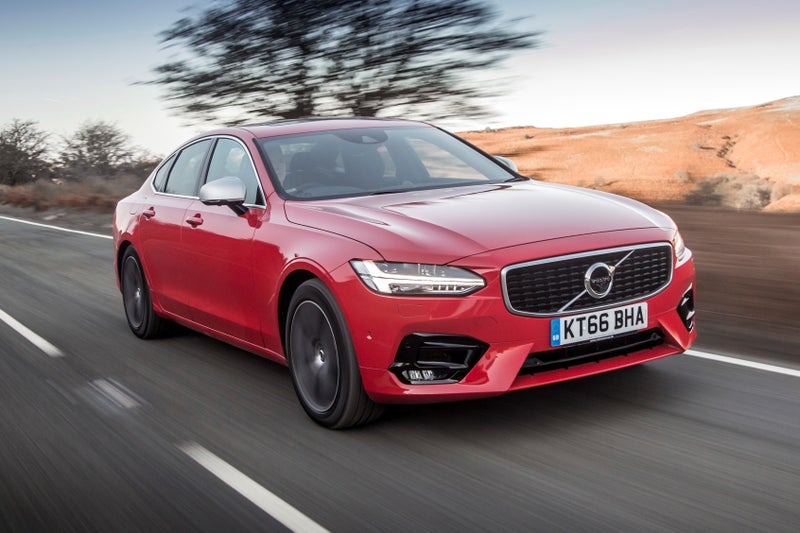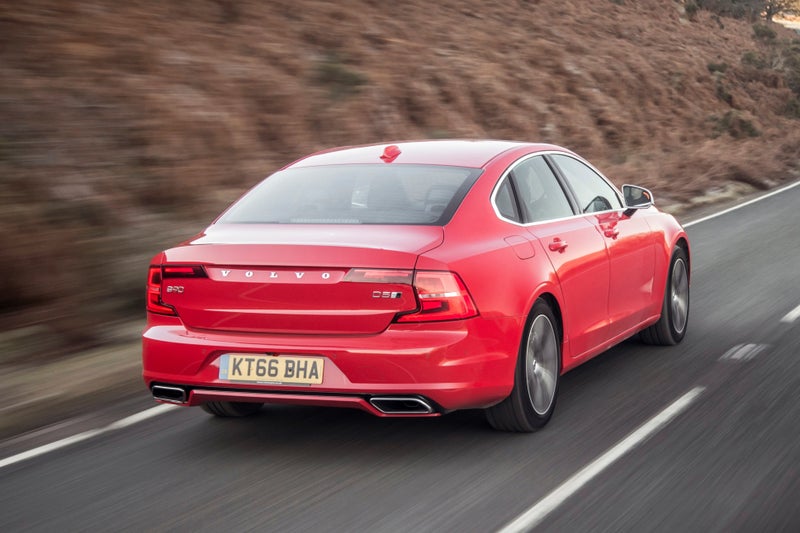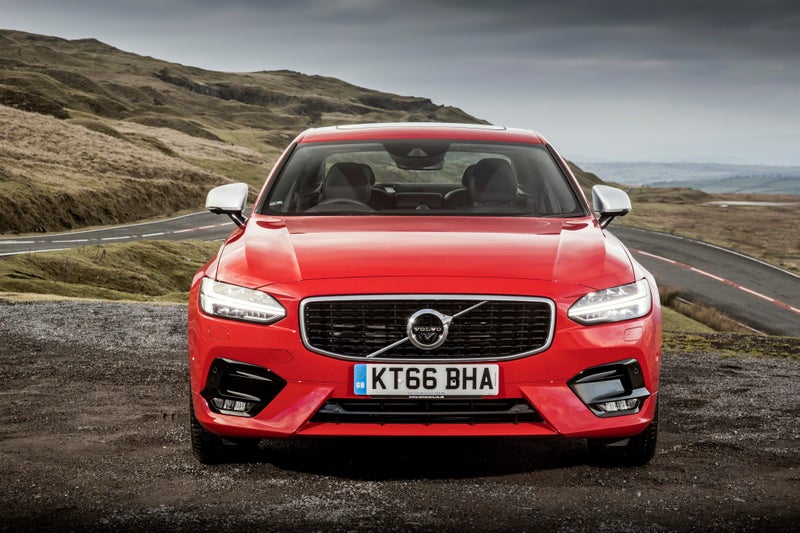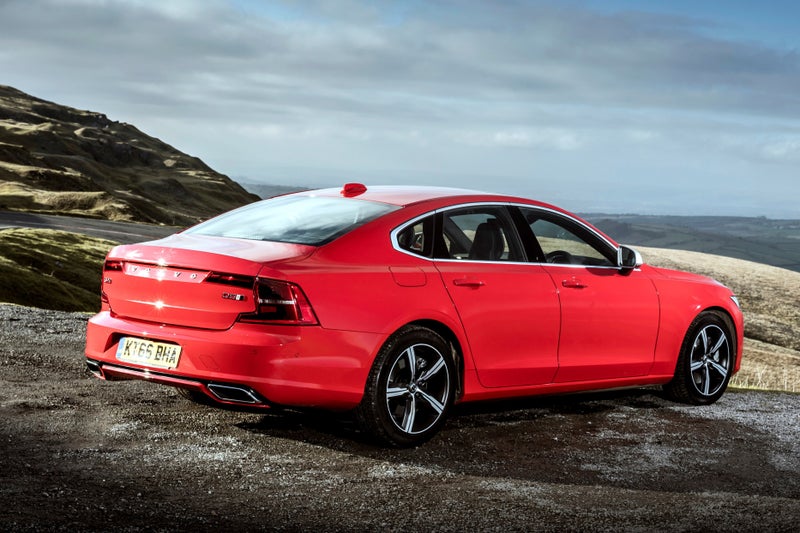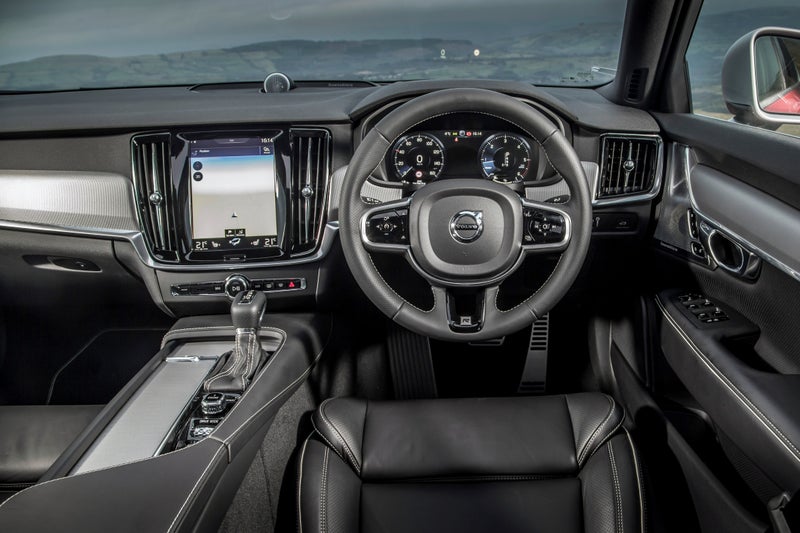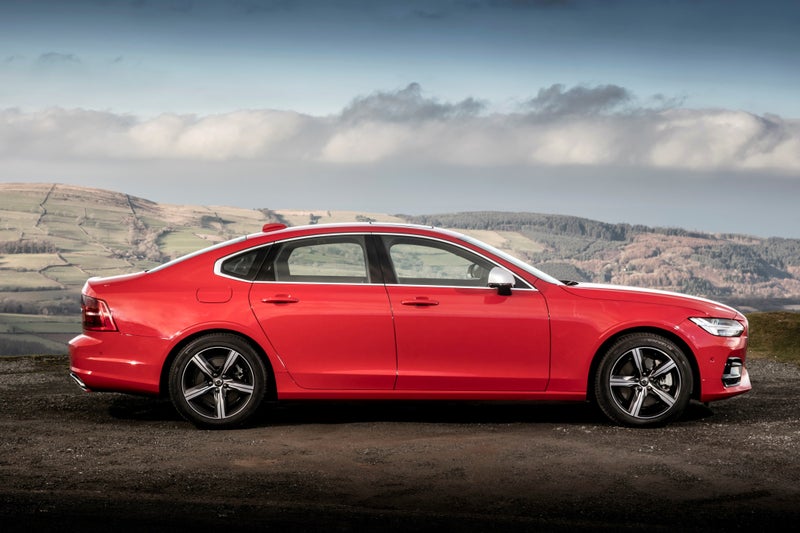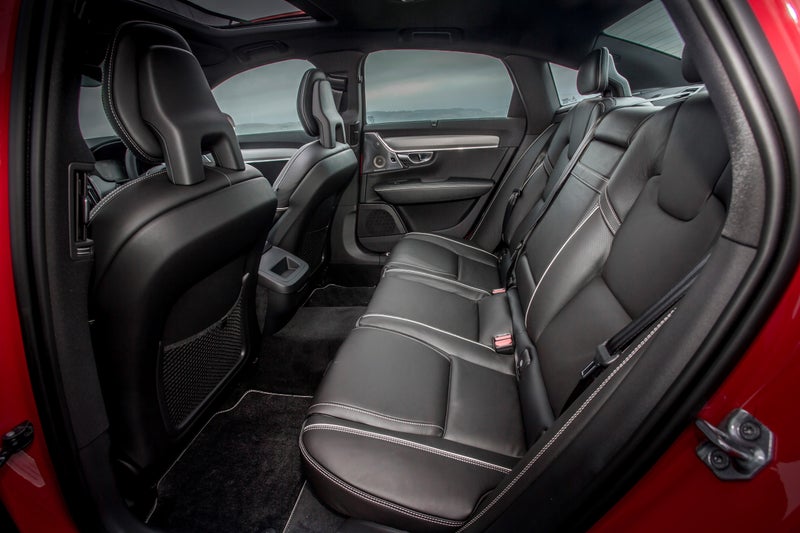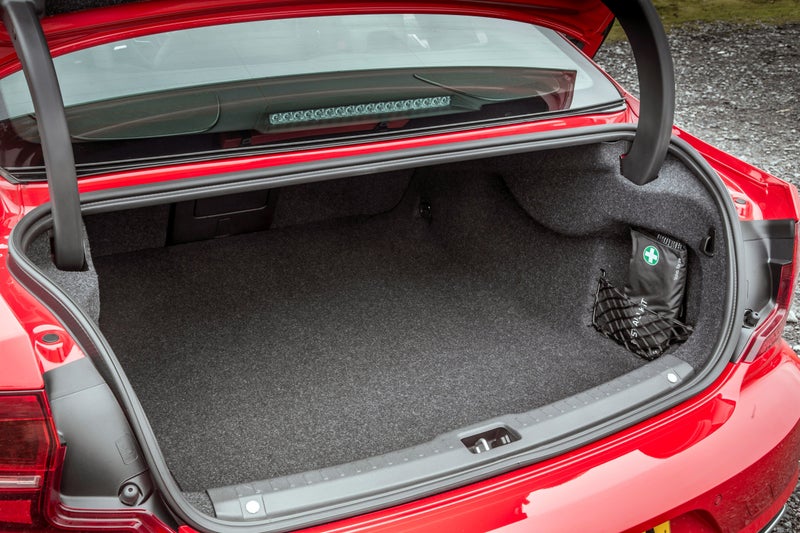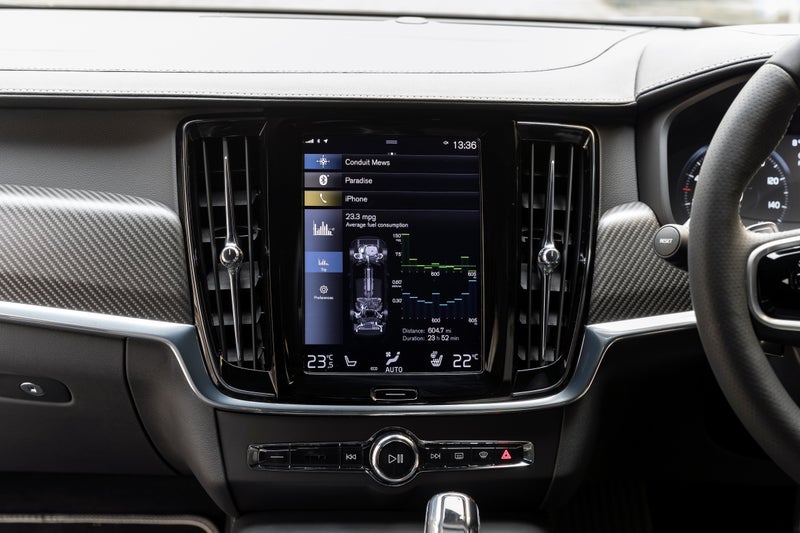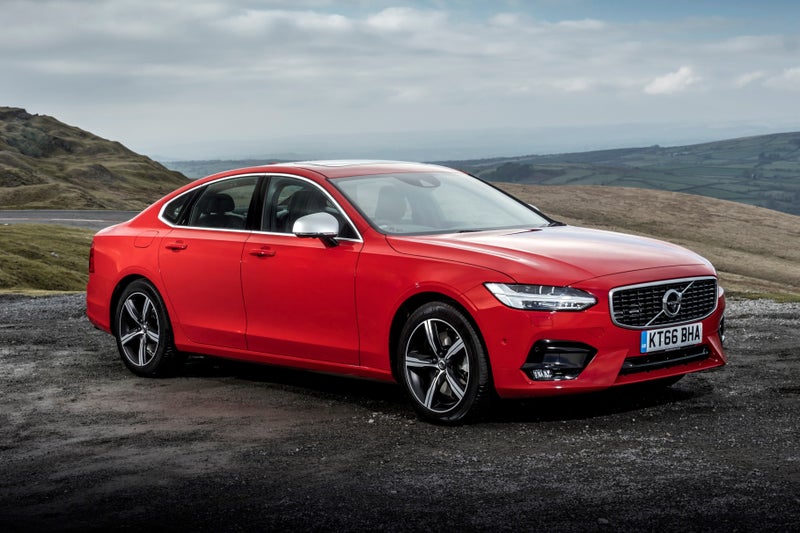 1/10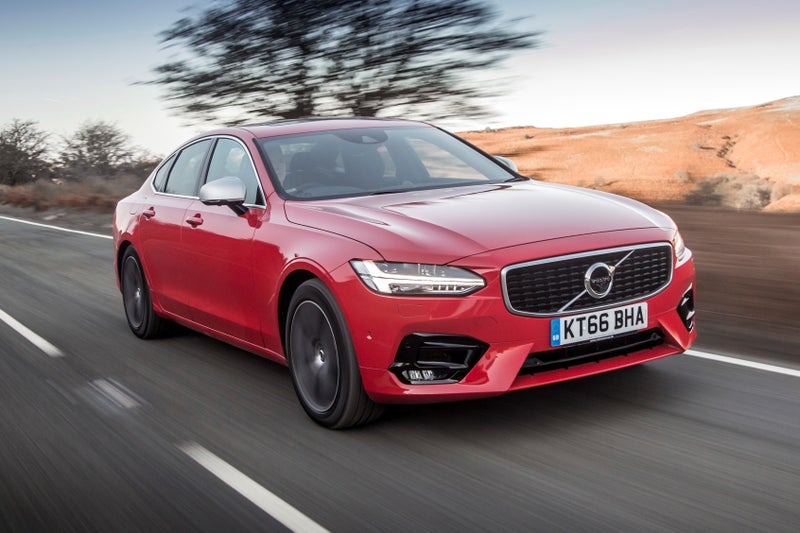 2/10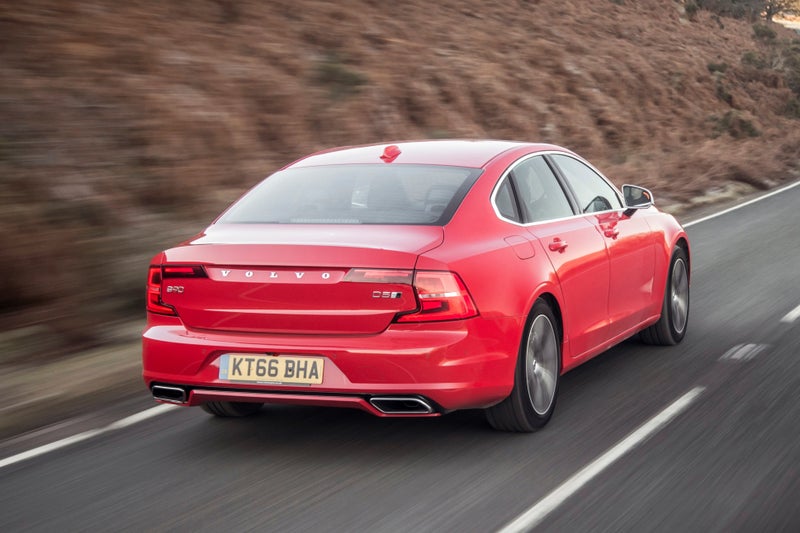 3/10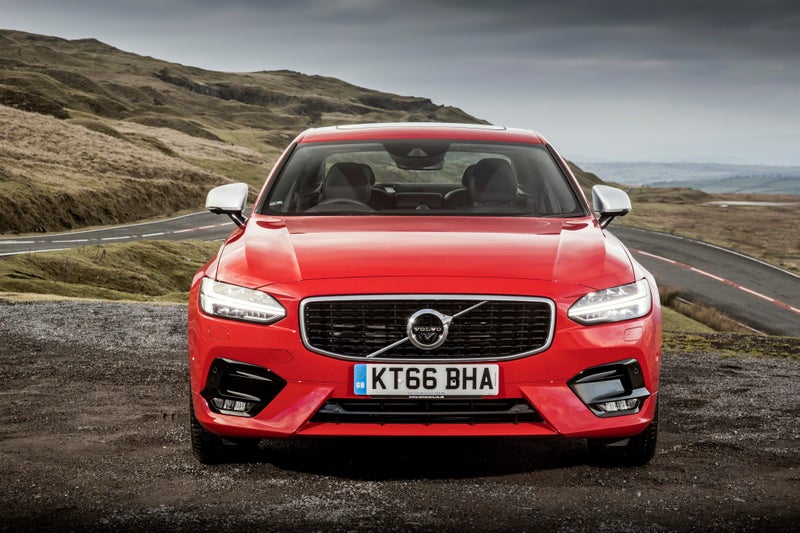 4/10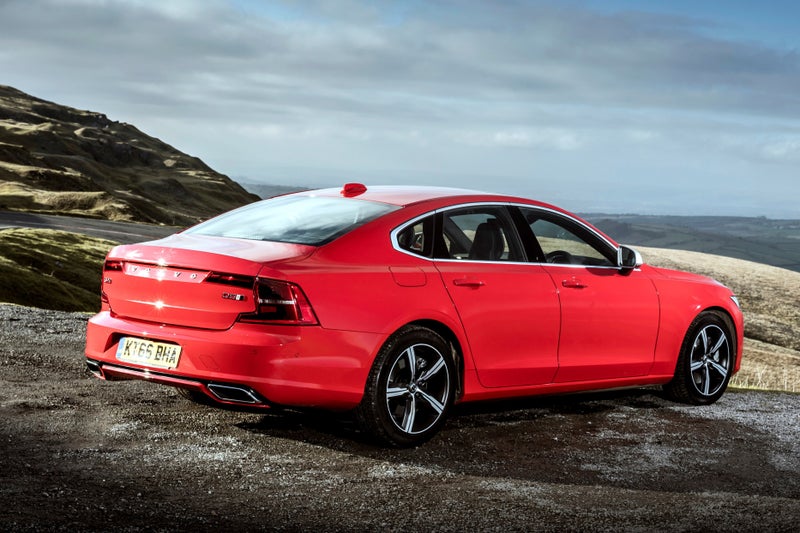 5/10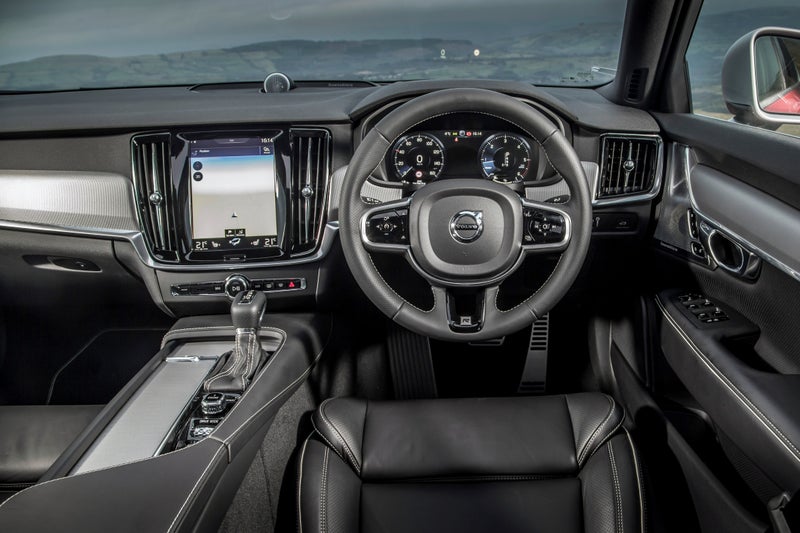 6/10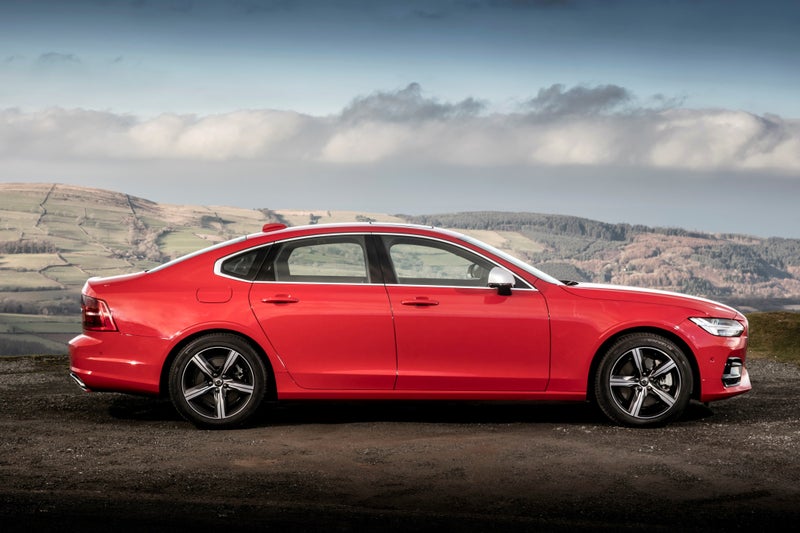 7/10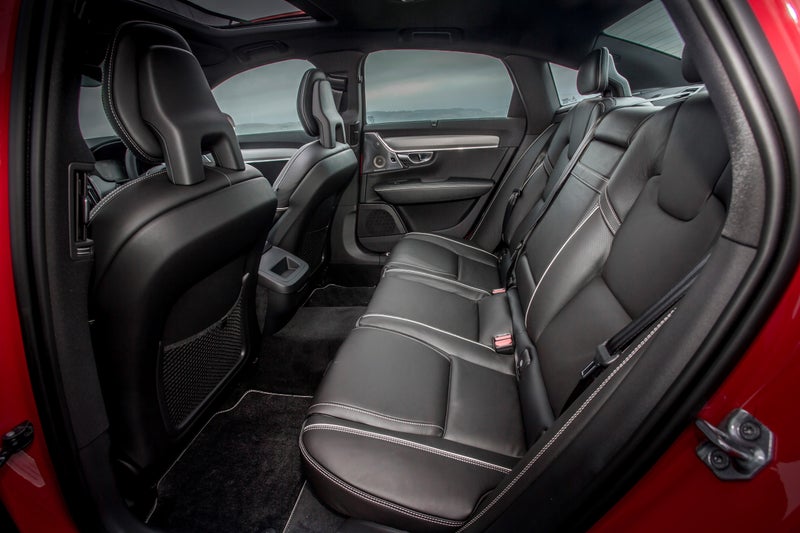 8/10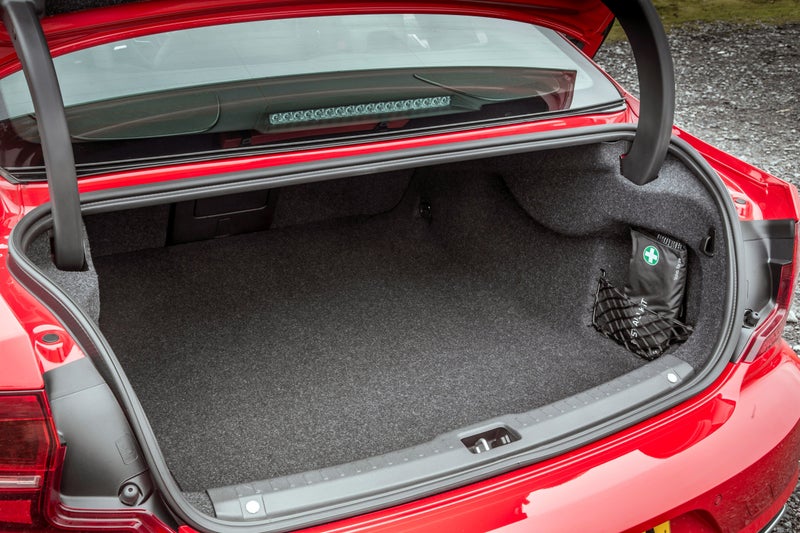 9/10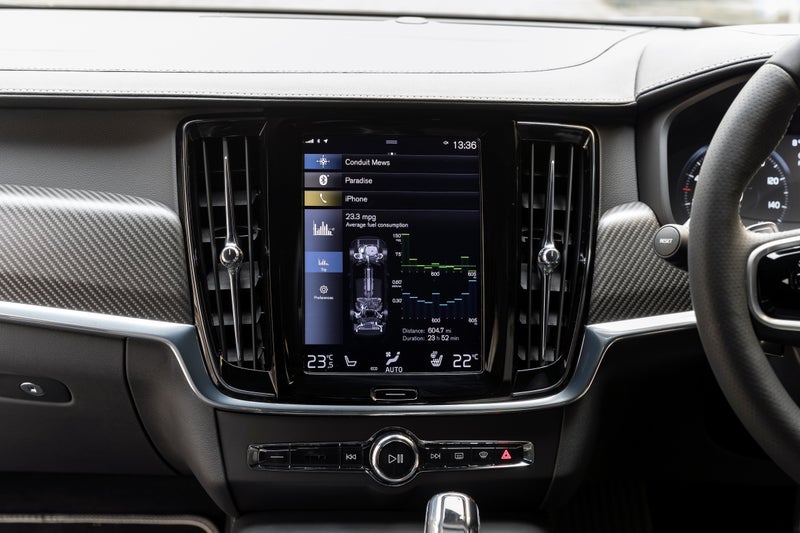 10/10
Launched in 2016

Premium

Petrol, Diesel, Hybrid
Launch year

2016

Body type

Premium

Fuel type

Petrol, Diesel, Hybrid

Written by
heycar editorial team

heycar rating
Scandi take on posh class
Best bits
Efficient hybrid power
Cabin quality and space
Driving comfort
Not so great
Not as sharp as some to drive
Steep list price
Restricted boot opening
Read by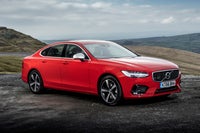 Overall verdict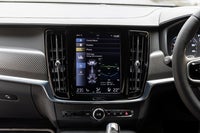 On the inside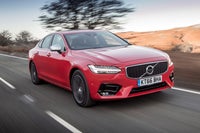 Driving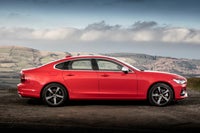 How much does it cost to run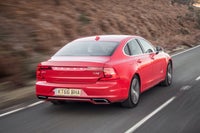 Prices, versions and specification
Overall verdict
"With the S90, Volvo finally has a high quality saloon that's easily a match for the competition. With a genuine sense of luxury inside, a beautifully smooth ride and an excellent engine, the S90 is one impressive premium saloon that offers a genuine alternative to the usual four-door suspects and does it with a distinct Scandinavian twist that many will find appealing."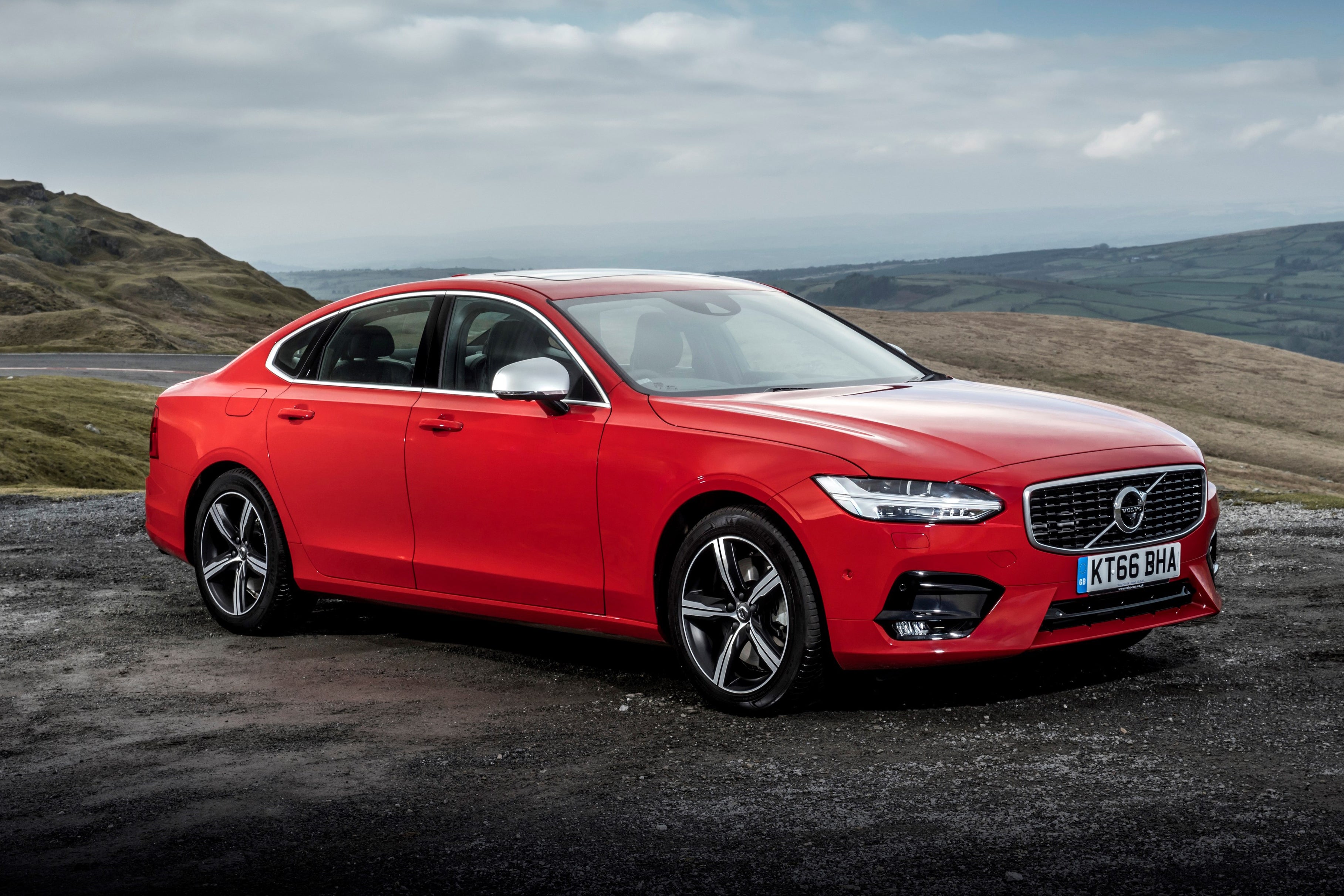 It replaces the S80 in Volvo's range, but the two are like chalk and cheese. This is one of a new breed of Volvo cars that follows on from the impressive XC90. True, the estate V90 version will probably make more sense for many as, after all, Volvo is well renowned for its estates. However, if you don't need the extra carrying room, the S90 will be right up your street as an alternative to the Audi A6, BMW 5 Series or Mercedes E-Class saloons.
The S90 started life with just one 2.0-litre diesel engine. It may sound too small for a car this size but with twin turbochargers it offered more than enough performance. The entry-level D4 has 190PS and we think it provides all the power you'll need, while running costs are reasonable. The D5 used the same engine with 235PS, but doesn't feel that much quicker in everyday driving. It does however come with all-wheel drive as standard.
Volvo also added petrol-powered T4 and T5 models to the S90 range, but the Swedish manufacturer has now dropped them in favour of the T8 Plug-In Hybrid four-wheel drive model it calls Recharge. It comes with a 303PS 2.0-litre turbo petrol engine and 87PS electric motor capable of taking the car up to 37 miles on battery power alone. Carbon dioxide emissions of 44g/km and a combined official consumption of 148.7mpg.
As well as these impressive figures, another thing that really stands out is the S90's comfort. It's wonderfully quiet on the move, the ride quality is excellent and the seats incredibly comfortable. We can think of no better car for covering long distances.
With a high quality interior, the Volvo has a genuine feeling of luxury thanks to lots of leather and different interior trims so you can create your own Scandinavian hideaway. The quality of the finish is top notch and features like the huge touchscreen that dominates the dash make this feel very different from the competition.
It drives well too and is a huge improvement on the S80. The onus is still on comfort, but the S90 corners impressively with responsive and well weighted steering. It isn't a small car though, which you notice in tight car parks or down narrow country lanes.
There is a huge range of safety kit fitted, as you'd expect from Volvo, including a semi-autonomous driving system. This matches the speed of the car ahead, keeps you in lane and will even slow to a complete stop before accelerating back up to the selected speed, all without you doing anything. It's clever stuff and does actually come in handy in real world driving which is exactly where this Volvo excels.
Comfort and design
"As a driver, you are very well looked after in the Volvo S90. Brilliant ergonomics, seat comfort and driving positions, might have become something of a Volvo cliché, but it's all true. The S90 is just better at all of this than its rivals."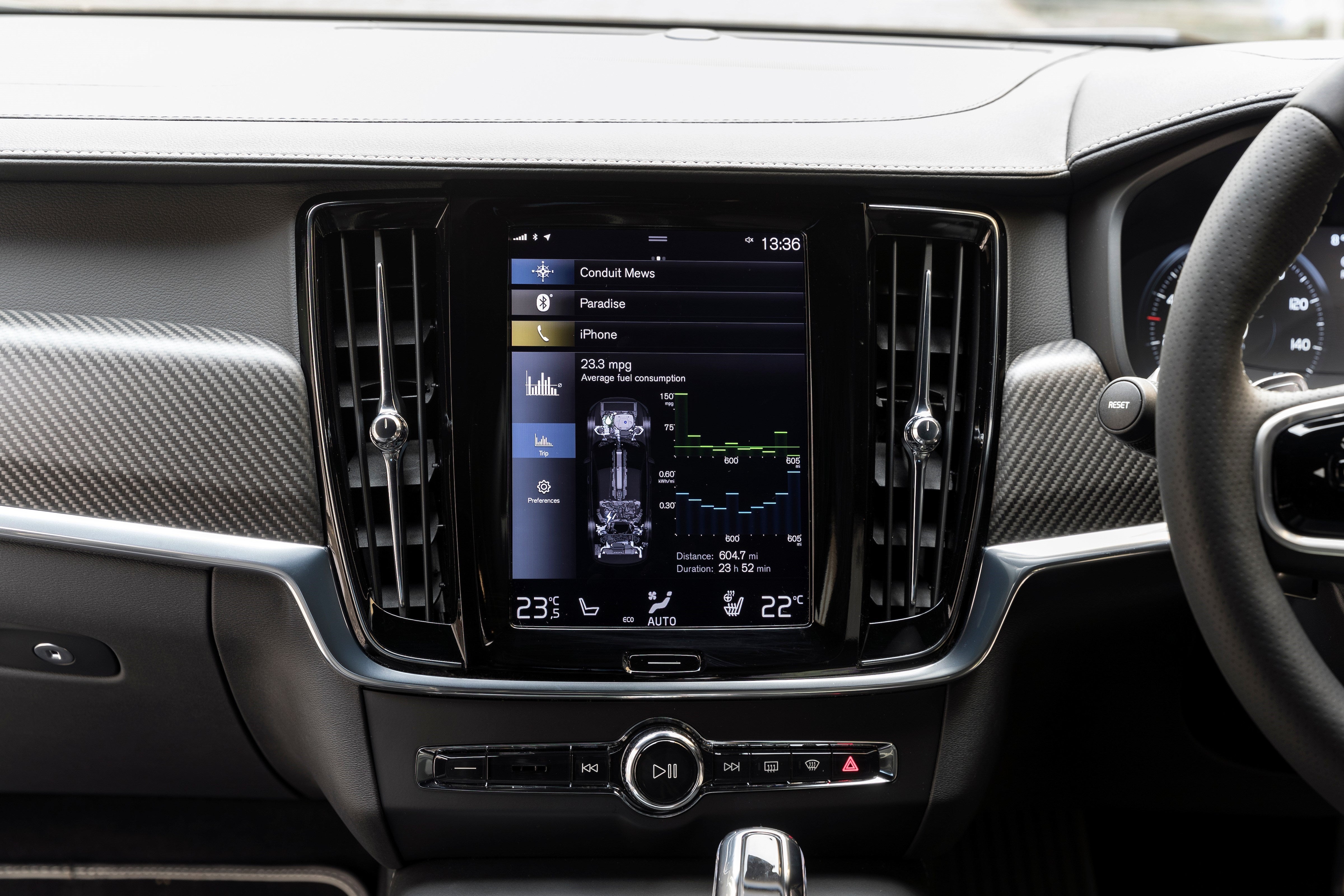 There's electric adjustment for both front seats, as well as lumbar support and heating that will keep you toasty in even the most Artic of conditions. The R-Design model has more heavily bolstered seats for a sportier look and feel, and they hold you in position well in corners without impinging on overall comfort. Inscription models have a massage function included.
The S90 dishes up masses of room for heads, legs and shoulders, with the broad centre tunnel accentuating the feeling of a roomy cabin. Depth and angle adjustment let you tailor the position of the slightly smaller than expected steering wheel, while vision to the front and sides is excellent. Rearward vision is limited by the thick rear pillars of the S90, but Volvo supplies parking sensors and reversing camera to overcome this. A blind spot warning is part of an affordable additional safety pack.
All of the controls in the S90 and easy to fathom and even the prominent 9-inch infotainment screen is a doddle to use as it works just like an iPad or other tablets.
Handling and ride quality
"Ride comfort is a quality the Volvo S90 has in abundance. It may be a big saloon, but it's nothing like its S80 predecessor in the way it deals with the dips and dimples on a road. What you get is superb control with none of the wallow that was a feature of the S80."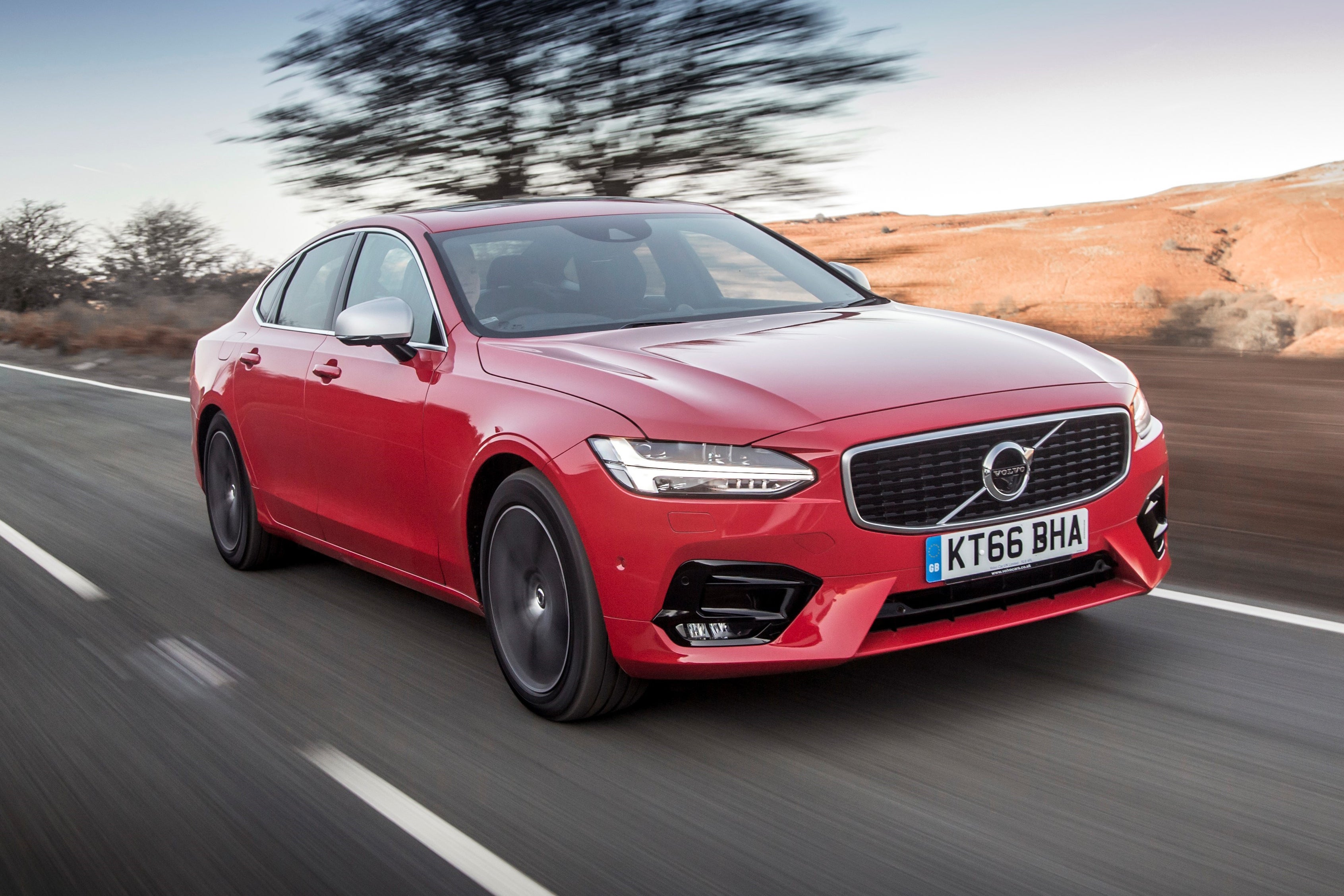 It makes the S90 a very good car for making progress in regardless of the roads you're driving on. Head along the motorway and the S90 is very much in its long-legged element as it strides with ease from one point to the next. Turn on to country lanes and the ride remains composed and in tune with the road.
Around town, those 19-inch alloy wheels pick up on some of the sharper surface joints, worse than in a Jaguar XF or BMW 5 Series. Thanks to the S90's good steering feel, it's also stable on the motorway, decent fun on back roads and easy to slot into spaces in jam-packed city streets, helped by standard all-round parking sensors and reversing camera.
With all-wheel drive as standard on the T8 Plug-In Hybrid S90, it has sure-footed handling that means you don't need to worry when the weather turns cold. It turns into bends with confidence and holds your chosen line without any fuss or drama. Granted, the S90 is not as much fun to press on down twisty routes in as a BMW 5 Series, but then very few saloons are.
Instead, the Volvo sticks to its solid nature by delivering you and your passengers in an unruffled manner with the minimum of disturbance. That's a very appealing trait in an executive class car.
MPG and fuel costs
"With a claimed combined fuel economy of between 104.6- and 148.7mpg under WLTP test conditions, the Volvo S90 is comfortably more efficient than any of its solely diesel-fuelled rivals."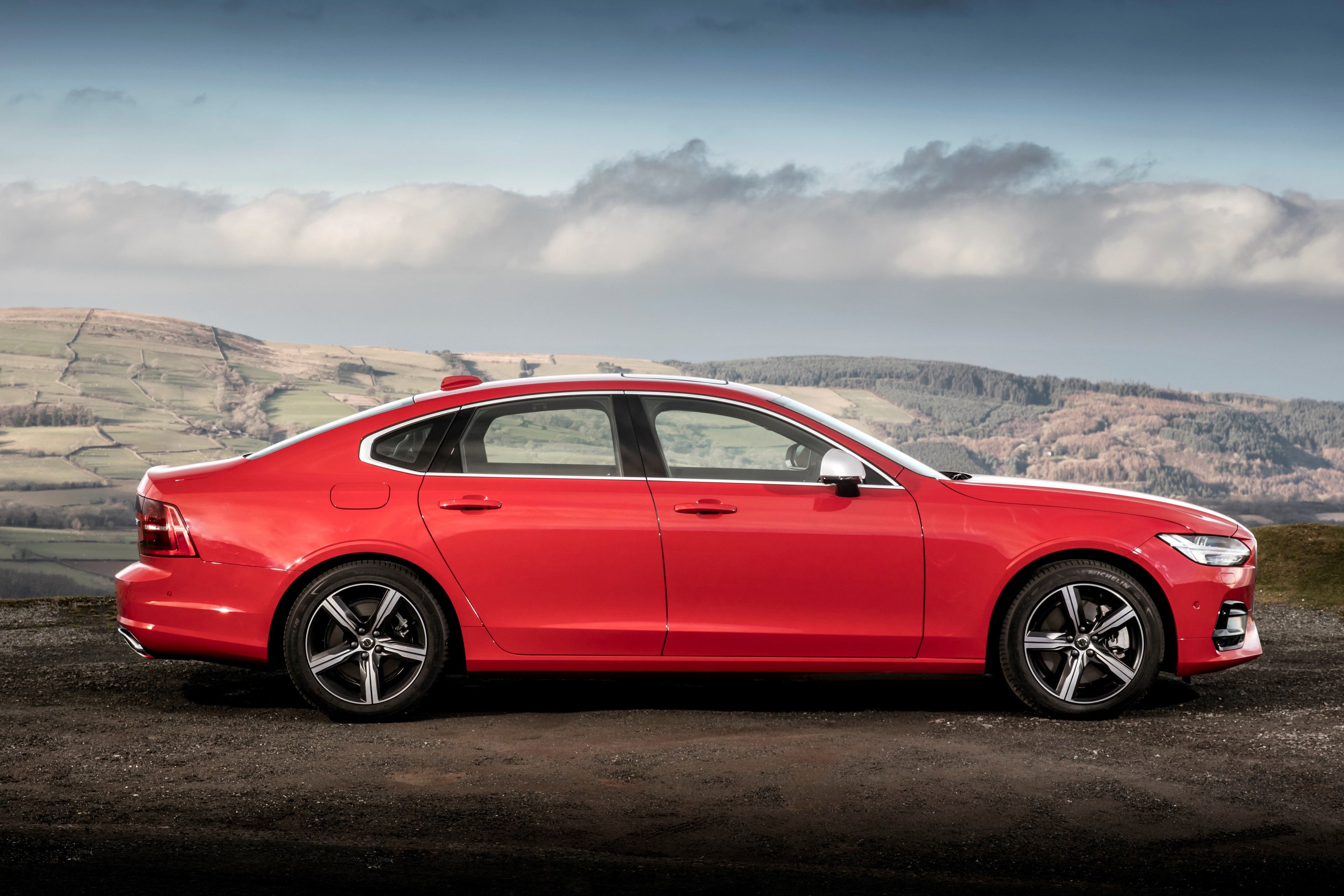 This efficiency relies on you making the most of the EV mode, which is easy enough to incorporate into your routine with a bit of familiarity.
How much should you be paying for a used Volvo S90?
"A four-year old diesel-powered S90 in Momentum trim and with 40,000 miles to its name will cost you from around £17,000 depending on what extras it's had added when new."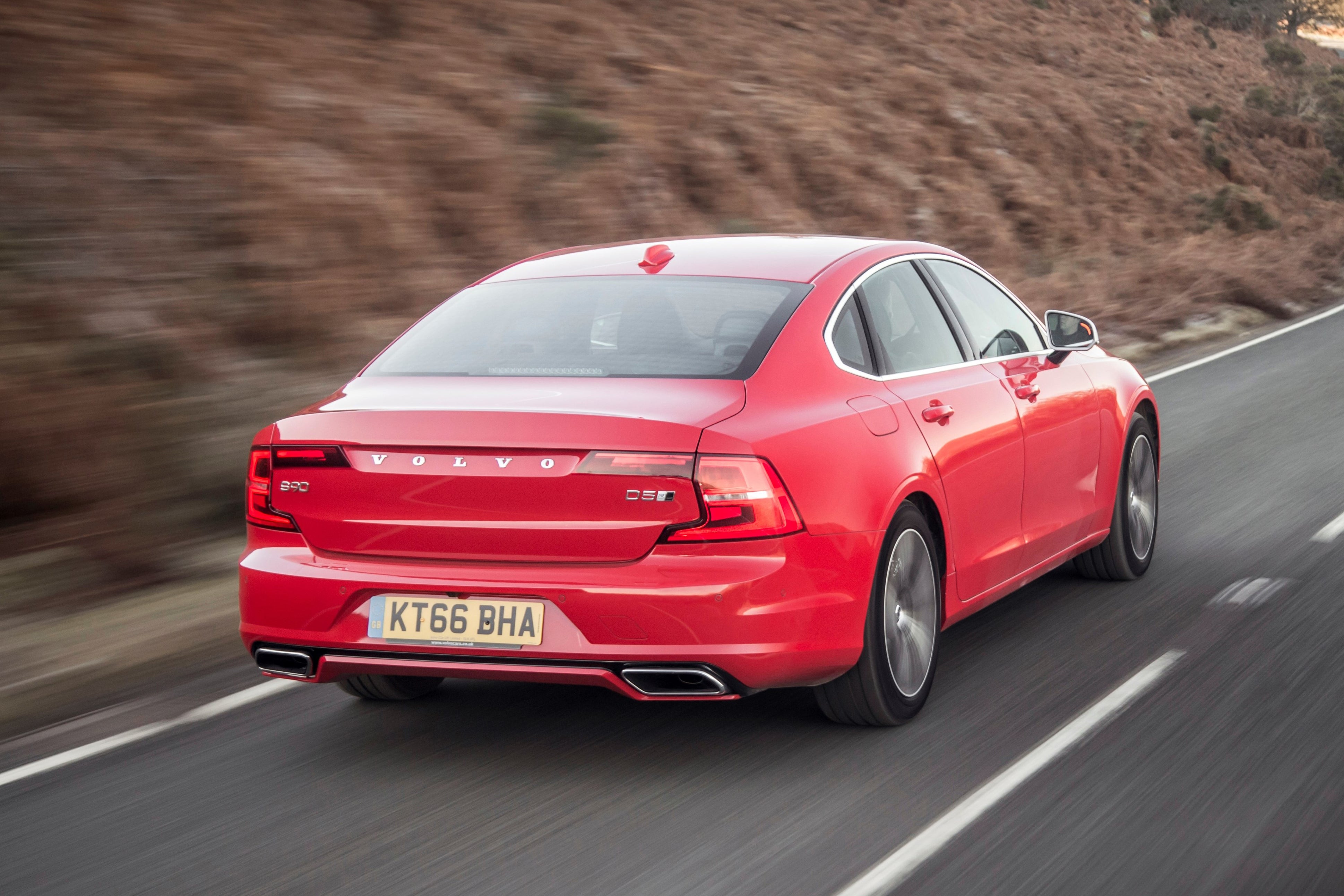 Change that to a two-year old T4 model and you'll need about £23,000 to bag a 20,000-mile Inscription version.
If you want a T8 Hybrid model, prices start at £32,000 for a two-year old with 20,000 miles on the clock, while a nearly new example with 5000 miles can be had for around £42,500 to save you about £12,500 on the new list price.
Ready to get your top quality Volvo S90?
All cars come with a warranty
Selected dealers only
All quality checked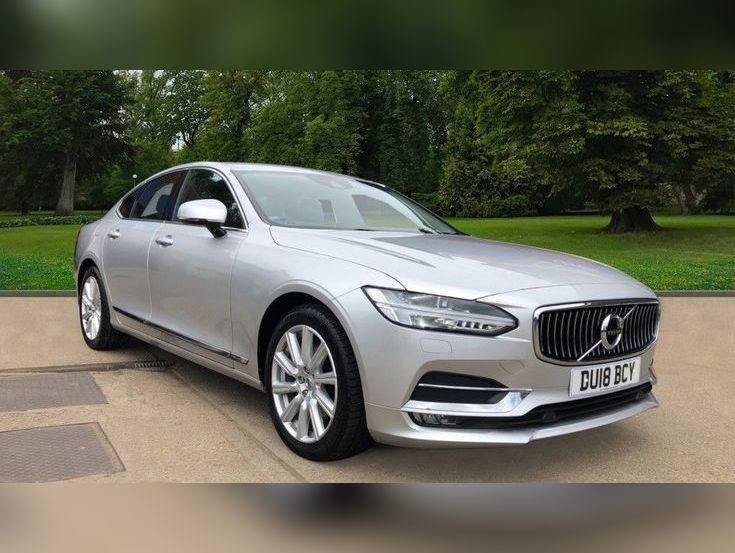 Volvo S90
2.0 D4 Inscription 4dr Geartronic
Doves Gatwick Independent Volvo Specialist

Surrey, RH69RR
HP: £523.97/mo
Representative example: Contract Length: 36 months, 36 Monthly Payments: £523.97, Customer Deposit: £2,887.00, Total Deposit: £2,887.50, Total Charge For Credit: £2,500.42, Total Amount Payable: £21,750.42, Representative APR: 9.9%, Interest Rate (Fixed): 5.09%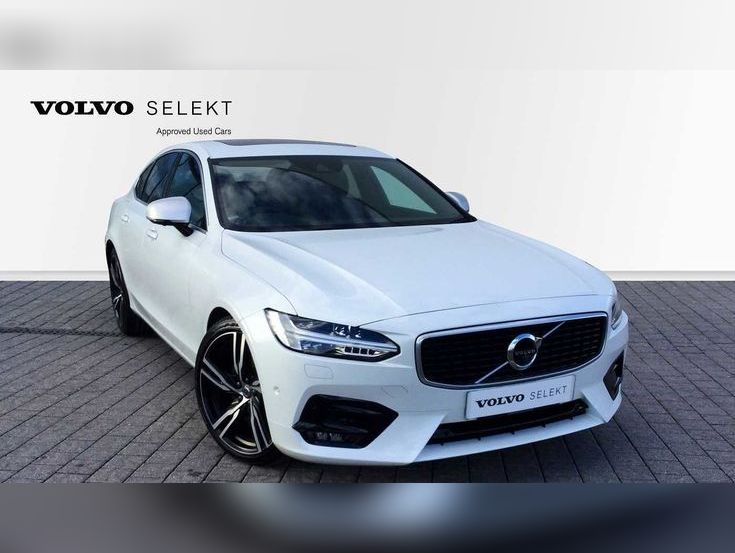 Volvo S90
2.0 D5 PowerPulse R DESIGN Pro 4dr AWD Geartronic
Manufacturer Approved
Waylands Volvo Swindon

Wiltshire, SN58UY
PCP: £410.74/mo
Representative example: Contract Length: 37 months, 36 Monthly Payments: £410.74, Customer Deposit: £3,891.00, Total Deposit: £3,891.00, Optional Final Payment: £11,212.91, Total Charge For Credit: £3,950.55, Total Amount Payable: £29,890.55, Representative APR: 7.9%, Interest Rate (Fixed): 4.07%, Excess Mileage Charge: 14.9ppm, Mileage Per Annum: 10,000
Is the Volvo S90 right for you?
For anyone in the market for an executive saloon who has a modicum of an environmental conscience, the Volvo S90 has to be a contender for your cash. It now only comes in T8 Plug-In Hybrid form with excellent emissions and fuel economy, as well an electric-only range that will suit city-bound commuters.
There's also four-wheel drive as standard with the S90, making it ideally suited to all-weather driving. It's swift, comfortable and sure-footed, though not quite as much fun to drive as a BMW 5 Series.
The S90 also has its uniquely Scandinavian cabin appeal. Where its German rivals can feel a little austere inside, the S90 has a simple, clean approach to comfort and style, and it's all put together nicely.
What's the best Volvo S90 model/engine to choose?
Now that Volvo has slimmed down the S90's engine range to just the T8 Plug-In Hybrid, this is your only option when buying new. The 2.0-litre turbo petrol engine is a strong performer thanks to its 303PS, which drives all four wheels through a slick eight-speed automatic gearbox.
In this model that Volvo has branded Recharge , it also has an 87PS electric motor. It can drive the car for up to 37 miles on just battery power and can be topped up by plugging the car into any of the usual charge point options.
When choosing an S90, the choice of trims is now a straight pick between the sportily styled R-Design or the Inscription that costs about £1000 more. While the R-Design's more hip-gripping seats look good, we'd take the Inscription model as it has ventilated and massaging front seats with position memory that qualify this version's comfort credentials.
What other cars are similar to the Volvo S90?
While the usual German trio of the Audi A6, BMW 5 Series and Mercedes E-Class are all superb executive saloons, none has quite the distinct flavour of the Volvo S90 that reflects its Swedish heritage. For something with this sort of standout appeal, you need to look to the Jaguar XF for its smooth ride, nifty handling and classy cabin.
Or, you could opt for a Japanese take on the executive theme with the Lexus ES. It also comes with hybrid power, though it's not of the plug-in variety and the ES is an even more acquired taste than the Volvo for often conservative executive class buyers.
Quality and finish
The finish is excellent inside and out of the Volvo S90. It gets leather upholstery as standard, while the trim inserts in wood feel much more natural and authentic than the often overly glossy finishes in other executive saloons. It certainly feels like a well-made car with a genuine air of luxury.
The minimalist Swedish design also helps the Volvo stand out from the competition and there's a range of different materials and trim finishes so you can make your Volvo feel very Scandinavian if you want. Of course, if you want a more subdued black, that's available too.
As for the way the S90 is put together, Volvo gets the basics here spot on. It's obvious from the moment you open the door of the S90 that it's a car built to very high standards. Everything works with a fluid action and feels weighty and precise. Everywhere your hands come into contact with the car, it just has that sense of care and detail attention that reassures you spent your money in the right way, which is all part of the executive class experience.
Infotainment
Dominating the central dash of the Volvo S90 is that big 9-inch Sensus Connect touchscreen, looking a lot like someone has stuck an iPad in there. It's a good system and we have found it slick and intuitive, although it can take some getting used to at first simply because there are so many functions and features operated through the screen.
It controls the ventilation, navigation, audio and phone connectivity, plus it means there are less buttons to clutter the interior. However, unlike some systems that have attempted to simplify only to then confuse with endless menus, the Volvo set-up is quick to respond and everything is ordered in a way that makes it easy to get what you want quickly. Again, it's this iPad-like functionality that sets the S90's infotainment apart from most of its rivals.
The main dash also uses a digital display that can be configured in a number of ways to show whichever information you regard as a priority. There is also an optional head-up display that projects on to the windscreen and shows vital info such as speed, traffic recognition data and sat-nav directions, and we've found this system to work very well.
Space and practicality
When it comes to size, the Volvo S90 provides more rear-seat passengers than rivals. That competition being things like the BMW 5 Series or Jaguar XF, and even the Mercedes E-Class has to bow to the Swede in this area. Little wonder the S90 is another popular choice among luxury private hire firms.
All of this means better rear legroom for your passengers and it's an S90 trump card. It's got plenty of rear space for heads and shoulders too even with the sloping rear roof line, so if you've got ever-growing teenagers to transport around, your back will appreciate not having their knees jabbed into it.
There is a high central tunnel though, which means you can't comfortably get three in the back for any length of time, but the Isofix points are easy to use thanks to plastic covers and guide slots.
The boot is a good size and very deep but the 500-litre space isn't that easy to utilise as the opening is wide but fairly shallow. Although it's no better or worse than any other saloon in this class, it still makes loading bigger suitcases or boxes a bit of a shuffling match. Getting a pushchair in there is no problem though, even a larger one, plus it has an electric opening boot lid as standard.
Both S90 trim versions come with a power folding 60-40 split rear seat back rest. It makes it very simple to extend the load capacity, while a ski hatch is another feature to make it easy to use the S90's versatile nature to the full. Our only complaint here is, with the back seats folded down, there is a small step in the load floor that makes sliding in longer loads a tad trickier than in the V90 estate model with its completely flat cargo deck.
Engines and gearboxes
There are two motors in the Volvo S90, and they just happen to come together as a package. The combination of the 2.0-litre turbo petrol engine with 303PS and the 87PS electric motor make the S90 decidedly swift when you plant your right foot to the floor as the car will deliver 0-62mph in just 5.1 seconds. Top speed, however, is restricted to 112mph.
More importantly, the way the two engines blend with one and other is what makes the Volvo S90 so effortless to use day in, day out. There is no perceptible point where you feel either motor coming into the mix, which makes for a very easy-going drive.
The eight-speed automatic transmission is one of the smoothest you'll find in any executive class car, adding to the general air of calm, competent ability in the S90, although it can be slow to respond when you need a quick burst of acceleration. In electric-only mode, the S90 is brisk and makes this saloon ideal for anyone who has an urban commute but wants to minimise their impact on air pollution. You can also travel at higher speeds, though left to its own devices the car will mix and match petrol and electric power to get the best performance and economy depending on how you drive the Volvo.
Refinement and noise levels
Few cars in this class come close to the Volvo S90's refinement levels when it's being driven solely on battery power. With no internal combustion engine to be heard, it's almost silent around town and only some whoosh from the tyres and wind passing over the car at higher speeds lets you know the pace has quickened.
When the 2.0-litre petrol motor does come on song, it's happy to keep in the background, even when pushed to give maximum acceleration. It's certainly smoother and more hushed than the turbodiesel motors that tend to make up the bulk of sales in its rivals.
A little road noise is stirred up at motorway pace, particularly if the road has a grainier surface than is ideal. However, the Volvo is no better or worse in this respect than any of its major rivals when they are fitted with the same size of alloy wheels.
The final part in the S90's impressive showing for refinement is the slickness of its eight-speed automatic gearbox. It smooches from one gear to the next with barely a shimmy, helping the Volvo make deft, calm progress that's very much its trademark.
Safety equipment
It will come as no shock to learn the Volvo S90 sailed through Euro NCAP crash tests to record a full five-star rating. It scored a highly creditable 95 per cent for adult occupant safety and 80 per cent for child passenger safety.
The basis for this showing starts with twin front, side and curtain airbags, which are augmented with a driver's knee 'bag. All occupants have a three-point seat belt and there are Isofix child seat mounts on the two outer rear chairs.
Volvo also fits every S90 with Front Collision Warning and Full Auto Brake to spot potential hazards, warn the driver and, if need be, perform an emergency stop to avoid or lessen the damage of an impact. The S90 also comes with a lane keeping assistance system and Oncoming Lane Mitigation, as well as traffic sign recognition and driver alert to let you know if fatigue is a risk as you drive.
An Active Bonnet protects pedestrians should the worst happen, while all-round parking sensors and a reversing camera make it safer and easier to guide the S90 into a parking space.
The Driver Assist pack is an option for both trim levels of S90 and comes with Blind Spot with Steer Assist, Cross Traffic Alert with Autobrake, and Rear Collision Warning and Mitigation. The Lounge pack includes Park Assist Pilot to take care of steering the car into parallel parking spaces.
Maximum EV range
Depending on which version of the Volvo S90 you choose and what wheels it's riding on, you can enjoy an EV-only range of up to 36.7 miles in the T8 Plug-In Hybrid model. With a fully charged battery, which is achieved with the port positioned in the front left-hand wing, that means most urban commutes can be managed with zero tailpipe emissions.
You can drive all the way up to motorway speeds on EV power, though range will drop off quickly. There is also a mode to increase brake regeneration and another to preserve the battery charge until you need it, such as for driving in town. Recharging times are around tow hours from flat to full using a public or home fast charger.
Insurance groups and costs
Both trims levels of the Volvo S90 sit in the same insurance group, so the Inscription and R-Design models both have their premiums calculated on a group 44 ranking.
That might seem a bit higher than the S90's diesel-fuelled rivals and also its hybrid-powered competitors. However, it's worth noting the S90 comes with considerably more power and performance than most of these, which accounts for the higher insurance rating.
VED car tax
Due to its low emissions that fall below 50g/km, the Volvo S90 T8 Plug-In Hybrid comes with free road tax in the first year as it's classed as an Alternative Fuel Vehicle. That goes some way to compensating for the car's high list price.
However, because the S90 costs more than £40,000 new, you will have to pay £465 in subsequent years for Vehicle Excise Duty. That's arrived at by a second-year rate of £140 plus the £325 levy for cars priced over £40,000 when new.
Trim levels and standard equipment
The Volvo S90 range has been slimmed down to the Inscription and R-Design trims. Every model comes with adaptive LED headlights, rain-sensing wipers, powered boot lid opening, all-round parking sensors, and a reversing camera and alloy wheels.
Inside, you get the 9-inch Sensus Connect infotainment screen, 12.3-inch main instrument display, climate control, leather upholstery, and heated front seats with electric adjustment. As part of the infotainment package, you get Bluetooth, DAB digital radio, sat-nav, and a wifi hotspot.
The R-Design has sports front seats, a black headlining and, for the exterior, high gloss black finish on the grille, window surrounds and lower front bumper.
The Inscription errs towards luxury with its ventilated front seats with massage function and position memory, and wooden dash inlays in place of the R-Design's metal mesh inserts.
Learn more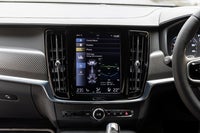 On the inside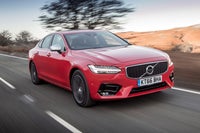 Driving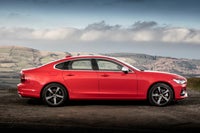 How much does it cost to run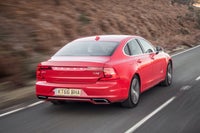 Prices, versions and specification
Reviews of similar cars
Quality checked, all cars less than 8 years old and warranty included
Looking for other Volvo cars?
Quality checked, all cars less than 8 years old and warranty included
Keep me updated by email with the latest advice, news and offers from heycar
By submitting, you agree to our
privacy policy
.
Popular models
Similar models