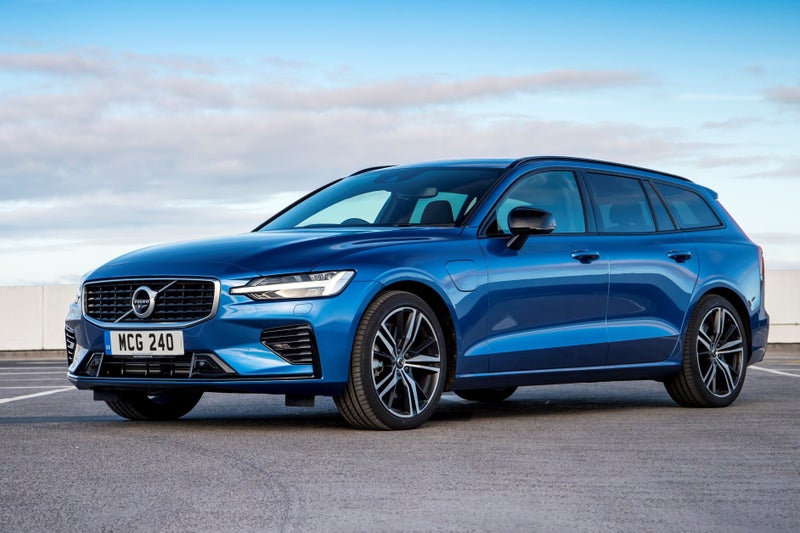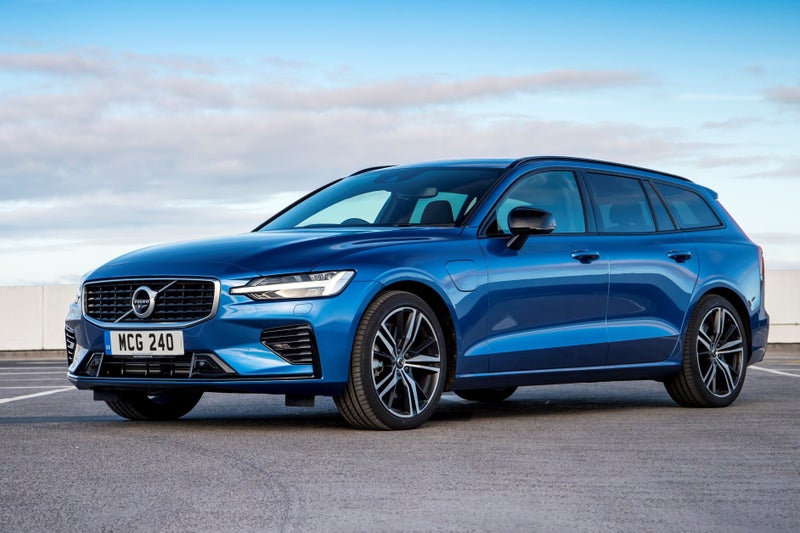 1/10
heycar rating
"Accomplished, attractive, but quite expensive"
Launched: 2018

Estate

Petrol, Diesel, PHEV
Quick overview
Pros
Attractive design inside and out
High level of comfort
Excellent practicality
Cons
Expensive hybrid models
Touchscreen may be too much for some
Firm ride on some models
Overall verdict
On the inside
Driving
Cost to run
Prices and Specs
Common questions
Overall verdict on the Volvo V60
"As you'll read in this Volvo V60 review, the V60 has a tough job facing off to the big German opposition but it matches or beats them in most of the key areas as well as bringing distinctive Swedish design into the mix. It's a car that fulfills in all the practical ways but will appeal to your heart too."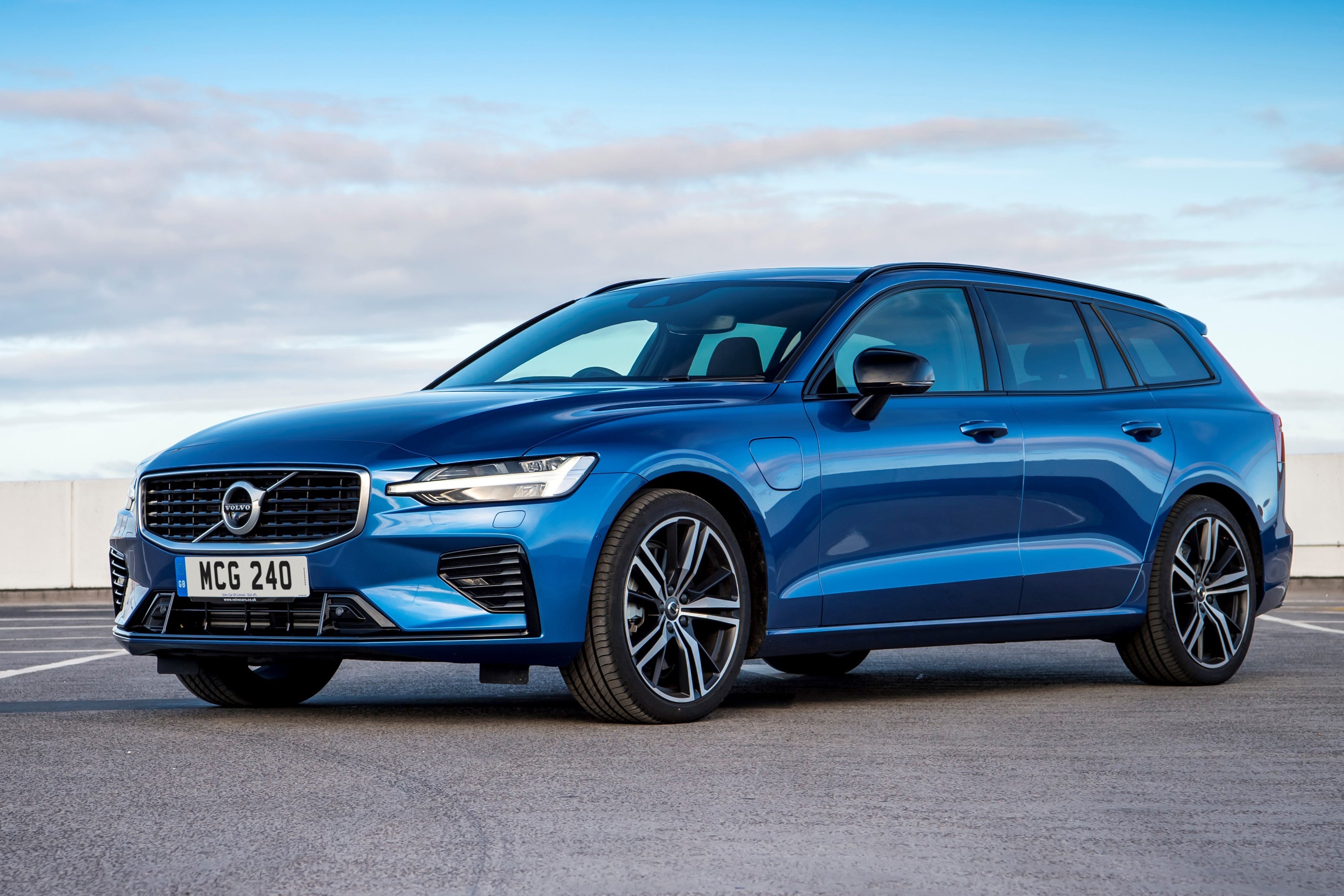 It's been 27 years since Volvo stopped making the 240 estate (you know, THAT Volvo estate) but you wouldn't know it. Some people still associate the word estate purely with Volvos. The thing is, Volvo has been producing some pretty terrific estate cars ever since, never mind the hatches and saloons they're spun off. So when Volvo wheels out a new estate, it's time to sit up and take notice, because it has the potential and the breeding to be the best in the class.
Walk up to the Volvo V60 – or its more rugged V60 Cross Country counterpart – for the first time and you'd know it was a Volvo even if it was on fire. The brand may have left behind the right-angled designs of the 1980s, but the most recent generation of designs have retained a squared-jawed purpose that only Volvo could pull off.
The Volvo V60 in particular looks very much like a scaled-down Volvo V90, which in itself is no bad thing. It's a clean, unfussy design but smart with it and there is something inherently Swedish about it, even if that it is just not another German premium estate.
Step inside the Volvo V60 and you're met with Volvo's interpretation of a 21st Century cabin, which is about as minimalist as it gets. Like the XC90 and the V90, the Volvo V60's interior is dominated by the 9-inch portrait touchscreen sitting centrally on the dashboard.
It takes care of so many of the vehicle's functions that the number of buttons elsewhere is very limited - just a small row of buttons and a single knob beneath the screen. It's a similar story with the instrument display, which is also a 12.3-inch screen but has a more minimalist layout than similar digital cockpits from Audi and BMW.
In terms of physical space the Volvo V60 delivers on its reputation. Space for passengers in the front and the rear seats is excellent, while the boot is also one of the largest in the class. Because this is a Volvo there are plenty of practical touches too, like an option pack that adds a divider for the luggage area and a 12V power socket.
Volvo is continuing to push forward the increased electrification of its vehicle range and as a result the Volvo V60 is available with four petrol and one diesel engine options, as well as two petrol-electric plug-in hybrids.
Unlike most other hybrids, the Volvo V60 versions are the performance vehicles in the range, with 340PS and 405PS for the Polestar Engineered model. But because they are plug-in hybrids they still offer the potential for strong economy, even if they are expensive to buy in the first place. There is also the Volvo V60 Cross Country.
The driving experience in the Volvo V60 is deeply impressive. Not only does it do a fine job of keeping the poor state of the roads a secret, it's also a rewarding car to drive at speed. The quality of the suspension makes this feat possible and although it might not ultimately be the most fun to drive car in the class, that it can be close enough and still be very comfortable is highly appealing.
If you're looking for the older version, you need our Volvo V60 (2010-2018) review.
Is the Volvo V60 right for you?
There's no escaping the fact that the Volvo V60 is not a cheap car to buy, even if you go for a secondhand model, but almost regardless of which version you choose it offers a lot of car for the money.
It's close to a perfect family wagon, being very comfortable and spacious but also with a well-built cabin that should stand up to anything your little horrors can throw at it. It's also a prime candidate as a business vehicle, with the potential for low benefit-in-kind rates and comfort on long-distance journeys.
If you need the most amount of space for the least amount of money then there are better options - the Skoda Octavia Estate has more boot space and a smaller price tag - while BMW's 3 Series Touring remains the best car in the class in terms of the driving experience. If you need a more rugged version, there's the Volvo V60 Cross Country.
What's the best Volvo V60 model/engine to choose?
With such an unusual engine mix - four petrols, one diesel and two hybrids - it's not a straightforward choice. We'd suggest the B3 petrol is a good choice if you're not covering mega miles. It has 163PS but is usefully economical. The D4 diesel is a sound choice if you want increased range and better fuel consumption.
The plug-in hybrid models are deeply impressive machines but are very expensive to buy - the top Volvo V60 Polestar Engineered model is more than £50,000 - so they are great if you can afford them but are hard to justify as a rational purchase.
As for trim levels, there's no shame in sticking with the entry-level Momentum model which has plenty of kit as standard, while the R-Design model also represents good value.
What other cars are similar to the Volvo V60?
The V60 is pitched directly against the German premium competition. The BMW 3 Series Touring is generally the most popular compact premium estate, also offering a broad engine, trim and specification range. It's also considered to be the driver's choice in this segment, although it is still capable of being comfortable and refined in the right specification.
The Audi A4 Avant is another key German competitor, and is probably one of the best all-rounders in the compact premium estate segment, while the Mercedes-Benz C-Class Estate isn't quite the best in the class but still holds strong appeal for premium buyers.
Comfort and design: Volvo V60 interior
"Climbing inside the Volvo V60 for the first time is something of an experience. It's the minimalism that hits your first. With everything switched off there's precious little happening on the instrument display and infotainment screen, but that's not necessarily a bad thing - it wouldn't be a surprise if it had been designed to offer a calming environment before you drive."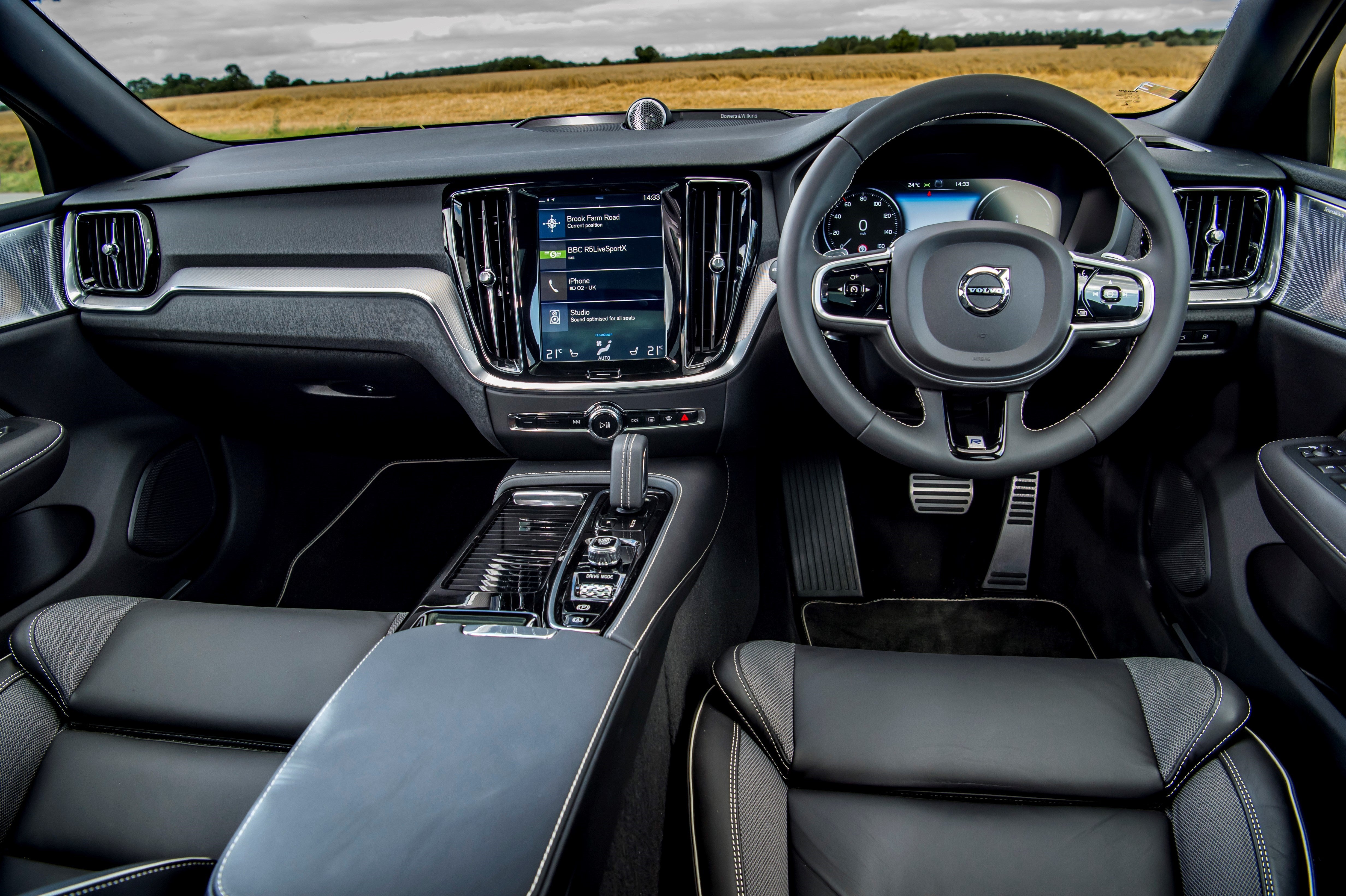 Somehow managing to be both simple and complex at the same time, you turn a discreet knob down by the gearlever to start the V60 and the twin digital screens light up in unison. Even then it's still a low-key environment and you can slot the gearbox into Drive and pull away without having to think about anything else.
Getting comfortable in the Volvo V60 is unlikely to be a challenge for anyone. There is a wide range of adjustment in the seat and the wheel on all models, with electric adjustment as standard on R-Design trim and upwards. You can also have heated and ventilated seats on some models.
Once you're on the move, you have to use the touchscreen in order to control most of the vehicle systems. Even though there are steering wheel controls and voice control they can't do everything, and it's instinctive to go for the central screen.
It's big and clear, and the graphics are sharp but quite minimalist, which makes it easier to read quickly, but depending on what you're doing you can find yourself looking at the screen for too long while driving. Ventilation controls stay at the bottom of the screen so you can adjust the temperature quickly, but other functions take longer than is ideal.
Quality and finish
The premium car market is where the quality wars are very intense and a lack of perceived quality can put a car out of contention even if the rest of its attributes are strong. The Volvo V60 has nothing to fear on this front however. This is an excellent cabin that is made from good materials and built to a high standard.
For starters, you have to go searching for any signs of cost-cutting. Pretty much every surface you can see or make contact with is either high-grade plastic, cool metal, attractive wood or tactile leather depending on the trim level you go for, and as well as looking good it makes your interactions with the car more positive too.
Similarly the quality of the construction in here is also to a high standard. All the buttons and switches operate with assurance and solidity, and it feels like a cabin that would go on giving good service for years to come.
It's a close call between the Volvo V60 and its key rivals on which has the best interior, but the fact that the Volvo has taken on Audi, BMW and Mercedes at their own game and pulled it off is an impressive feat.
Infotainment: Touchscreen, USB, nav and stereo in the Volvo V60
The standard specification of the V60's infotainment system is high. It comprises of the 9-inch portrait touchscreen in the centre of the dashboard as well as a 12.3-inch digital instrument display.
All models come with navigation as standard and also DAB, live traffic information, Bluetooth, voice activation and a built-in data SIM card with a year's free subscription. The audio system comes with 10 speakers, but this can be upgraded to a Harmon Kardon system (standard on Polestar Engineered models) or a more powerful Bowers & Wilkins system. Somewhat disappointingly the standard system does not include Apple CarPlay or Android Auto - you have to pay £850 to upgrade to the Harmon Kardon system if it is not already fitted.
However, there's no doubt that the system operates very well. It has the same issue that most touchscreen systems have in that you have to take your eyes off the road to operate it, and in going for the minimalist look the Volvo V60 does without a secondary controller that all its rivals have, allowing you to control the system without taking your eyes from the road. But it has a refreshingly clean design, responds quickly and accurately to inputs and is easy to use.
The audio quality is also high, and the high-spec Bowers & Wilkins system delivers remarkable sound reproduction but it should for how much it costs.
Space and practicality: Volvo V60 boot space
Even though Volvo has been through something of a transformation over the last 20 years there's still an expectation that an estate from the Swedish manufacturer will inevitably be super spacious inside. True to form it is exactly that, unless you go for the bigger Skoda Superb it is the most spacious car in the class on most counts.
Front seat occupants will enjoy lots of legroom and generous headroom, with the broad range of adjustment in the seat and the steering wheel allowing you to make the most of the space. There's also plenty of shoulder room too, and although it doesn't physically increase the amount of space, the generous glazed area helps the cabin to feel more open and airy.
It's a similar story in the rear, with legroom in particular being generous and although the roof does have a gentle slope in it towards the tailgate it doesn't impact on headroom. It's worth bearing in mind however that the optional panoramic roof does reduce the amount of headroom by a significant amount which may affect taller adults.
As with most cars in this class, the outer two seats are comfortable and well-shaped but the centre seat is compromised both by its shape and the transmission reducing the amount of legroom.
Head for the rear and you have a standard electrically-operated tailgate opening to reveal a generous load area. Volvo V60 boot space measures at 529 litres with the rear seats in place, rising to 1441 litres with all the rear seats folded.
That gives it 24 litres more than its closest competitor with the seats up, although the Audi A4 Avant offers 1510 litres with the seats down. The space itself is practical too, with a lower level area available for additional storage - although this disappears on hybrid models and requires you to stick with a tyre inflation kit.
In terms of exterior dimensions, the Volvo V60 is 4761mm long, 1850mm wide and 1437mm tall.
Handling and ride quality: What is the Volvo V60 like to drive?
"While the BMW 3 Series is generally seen as the best driver's car and the Audi A4 and Mercedes-Benz are regarded as more comfortable options, it's almost as if the Volvo doesn't automatically fit into this prescribed narrative."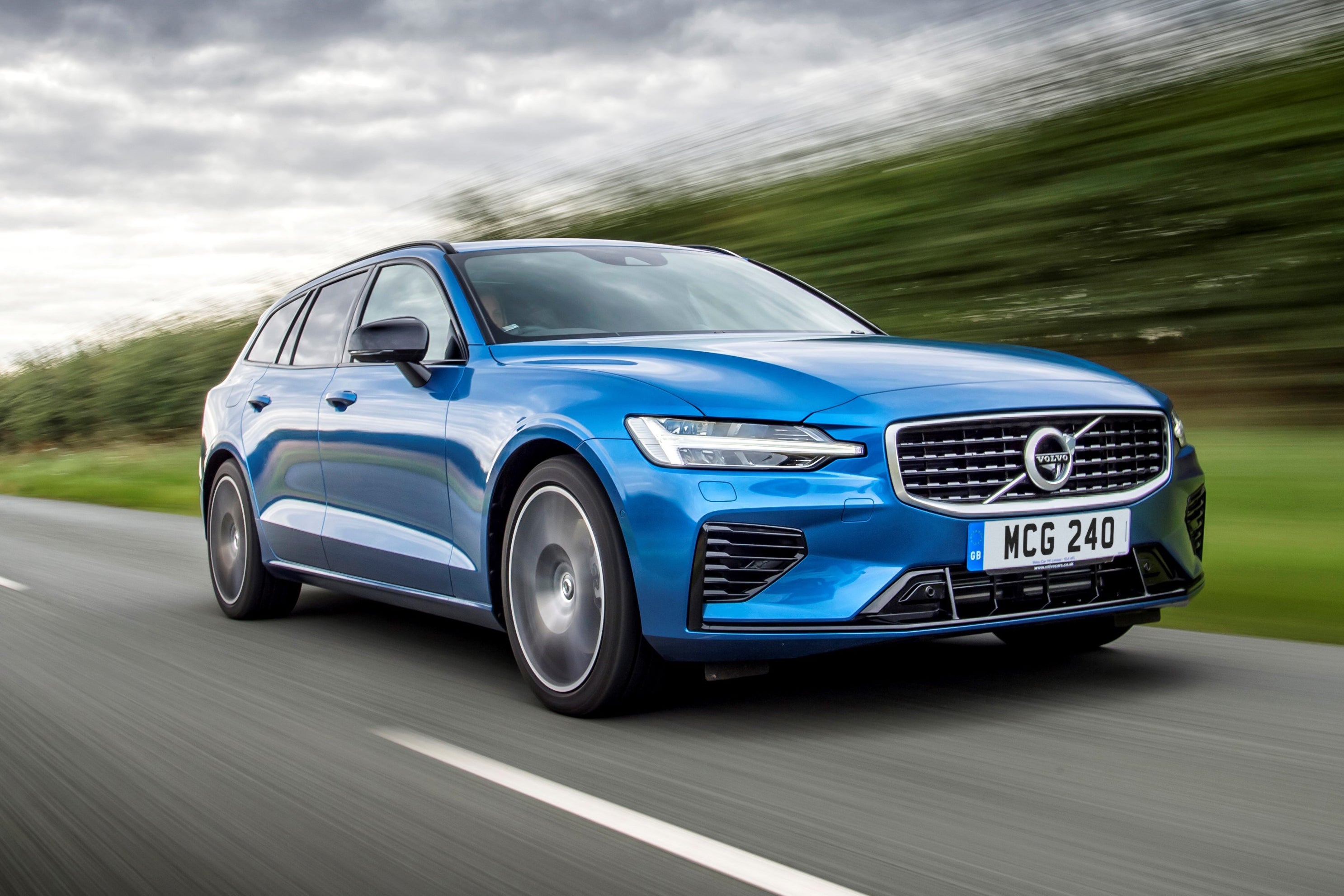 The reality is that Volvo has produced a car that is both dynamically capable and comfortable, and the Volvo V60 should not be considered to offer an inferior driving experience to the established rivals.
Perhaps most importantly the Volvo V60 offers a good level of ride quality in most conditions. Like a lot of premium cars it is sensitive to alloy wheel choice, and following fashion by choosing 19-inch or 20-inch wheels results in more fidget and less bump absorption. But it manages to deal with bumps very well, filtering out the worst of it but without being too soft and floating around over longer undulations.
If you choose R-Design specification you get a sportier suspension setup that offers increased control in corners, but it rides less well as a result.
There's a good case for saying it's not necessary either, because the standard car on the conventional suspension setup offers an impressive level of handling. It's easy going when just being driven at normal speeds with steering that is quick to respond but not too sensitive.
Get the Volvo V60 onto a quicker country road and it continues to remain impressively composed as the speeds increase. Body roll is well contained and it accurately follows the surface of the road with ease, and although ultimately it is not quite as entertaining as the BMW 3 Series, it is at least as capable and enjoyable as the Audi A4 and Mercedes-Benz C-Class.
If you want to turn your Volvo V60 into a B-road terror then you can. The optional adaptive suspension gives you the option of a stiffer setting, while the Polestar Engineered model has high-specification dampers and retuned steering for even more precision, but all versions are somewhere along the line of compromise between ride and handling - it's just a matter of deciding where you want your Volvo V60 to be.
What engines and gearboxes are available in the Volvo V60?
With Volvo's continued move towards electrification as well decreasing the number of diesel options available in its range, the choices for new Volvo V60 buyers are somewhat different to what is traditionally available.
It's also worth noting that all the petrols and hybrids use the same 2.0-litre turbocharged engine, just in a different power outputs or with the addition of hybrid technology to alter the power output. The sole diesel option is also a 2.0-litre four cylinder unit.
The basic B3 163PS petrol is a perfectly serviceable engine. It has a useful 265Nm of torque so is quick enough and makes it a reasonable choice if you are on a tight budget, but if you can stretch to the next version up, the B4 197PS version is a better choice. It offers the same claimed fuel consumption figure but has 300Nm of torque, suiting better the standard eight-speed automatic transmission.
Faster petrols are available with the B5 (formerly the T5) which has 250PS and the B6 with 300PS.
The D4 diesel is an attractive proposition, with 190PS and 400Nm of torque making it ideal for moving heavy loads or regular towing. It's also quite refined and is a good long-distance companion. There's a lower powered D3 with 150PS which is very frugal but does lack a bit of mid range grunt.
The two plug-in hybrid Volvo V60s are quite a different proposition. They are both very powerful - using a supercharger and a turbocharger alongside the electric motor - and are exceptionally fast as a result. There's the T6 and the T8 used in the Polestar Engineered model.
Even so, they are also capable of impressive fuel consumption as long as they are driven with some restraint. Great if you can afford one, but both versions are considerably more expensive than the alternatives.
Refinement and noise levels
Going hand in hand with the Volvo V60's premium approach is a high level of refinement and the combination of a well-built cabin, slick design and impressive engines have delivered.
All of the engine options are refined, but in particular the diesel is quiet even when extended, and the two lower-power versions of the 2.0-litre petrol unit are commendably smooth and refined.
The hybrid models have a distinct advantage here. Operating purely on electric power is as quiet as it gets, and although they may not have the electric range of a pure electric car, running without the engine in traffic illustrates just how much quieter battery power is and can make stressful urban journeys considerably more relaxed.
As for other sources of disturbance, tyre noise is mostly well-contained but does tend to flare up on models that have the larger wheel and tyre combinations. In particular the R-Design models and the hybrid versions ride on big wheels and stiffer suspension, with a subsequent noticeable increase in road rumble as a result. Wind noise is also largely absent, helped by the fact acoustic glazing is available as an option on some models.
Safety equipment: How safe is the Volvo V60?
Euro NCAP tested the V60 in 2018 and awarded it the full five star rating. It achieved an exceptionally high score of 96% for adult protection, with 84% awarded for child protection. Pedestrian mitigation (latterly called vulnerable road users) was also strong with a score of 74%, and 76% for safety assist, contributing to a consistently high score and the maximum overall five-star rating.
As standard, all Volvo V60 models are fitted with head and side airbags for the front seat passengers, as well as curtain airbags for both front and rear passengers. A knee airbag is not fitted as standard or available as an option. Seat belt pretensioners and load limiters are fitted for both front and rear seat passengers, with a seat belt reminder for all seats. Isofix child car seat mountings are standard in the rear seats and optional for the front passenger seat, with an airbag cut-off switch also standard. An active bonnet is also fitted to all models.
As you might expect, the Volvo V60 is also fitted with a comprehensive range of driver assistance systems as standard, with all models getting ESC, automatic emergency braking including city, interurban, pedestrian and cyclist detection, as well as speed assistance and lane assist. An optional Drive Assist pack adds adaptive cruise control, blind spot information system, cross traffic alert and rear collision mitigation for the highest level of safety equipment.
Maximum electric range in the Volvo V60
Of the two hybrid models in the range, the regular T6 340PS model has an official combined range of 31-34 miles, while the Polestar Engineered model is quoted at 34-36 miles. That is not dissimilar to other plug-in hybrid vehicles and while it is unlikely to be enough to make regular journeys on pure electric power, it should be sufficient to get you in and out of a city - or through one - without any tailpipe emissions.
MPG and fuel costs: What does a Volvo V60 cost to run?
"The B3, B4 and B5 versions of the 2.0-litre petrol engine all have the same official maximum fuel consumption figure of 40.9mpg, and given that they use essentially the same engine that is certainly possible. "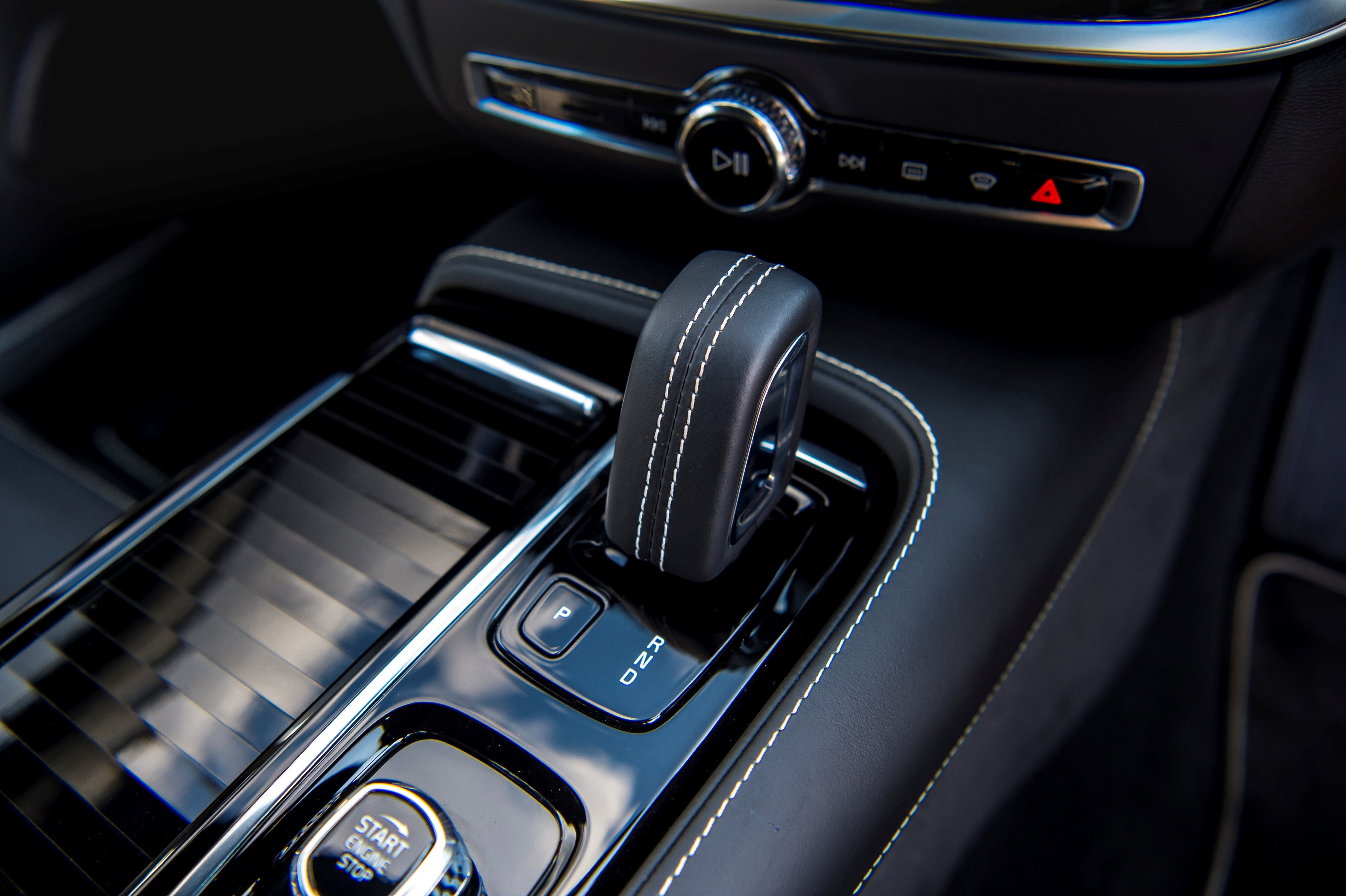 However the real world consumption will be affected by your driving style. If you're rarely in a rush then the B3 version will be fine, but it's possible it will get worked harder to deliver the same performance that the B4 version can deliver more easily.
The diesels are comfortably the most economical non-hybrid version with a claimed figure of 64mpg for the D3 - expect to achieve 50mpg without too much effort. As for the hybrids, the claimed maximum for the T6 model is 156.7mpg and 117.5mpg for the Polestar Engineered. Don't expect to achieve these figures often, but the more low-speed electric running you do, the better your overall figure will be.
How reliable is a Volvo V60?
Volvo and the Volvo V60 in particular, didn't come in for any particular praise or criticism in our sister website HonestJohn.co.uk 2020 Satisfaction Index, although we have heard anecdotal evidence on infotainment problems. Volvo's come with a three-year/60,000-mile warranty that is about average for the class.
Insurance groups and costs
The insurance groupings for the Volvo V60 range starts relatively high and gets higher still depending on where you end up on the engine options. The basic 163PS model in Momentum trim is in group 26, the 197PS jumps up to group 32 and the 250PS version is in group 34, so you'll pay twice over for the extra performance. The diesel is the lowest of them all at group 25, while the hybrids are the highest of all, with group 42 for the 340PS and group 43 for the Polestar.
VED car tax: What is the annual road tax on a Volvo V60?
Because the V60 was introduced in 2018, all VED charges are applied at the current rates however old the car is, so there's no chance of saving by going for an earlier car.
Almost all models are charged at the common £150 rate, although you do have to be wary of models that exceed the £40,000 threshold and attract the £325 levy - that includes both the hybrid models which will pay £465 per year for the first five years, and £475 a year for non-hybrids over this price.
Prices, versions and specifications
How much should you be paying for a used Volvo V60?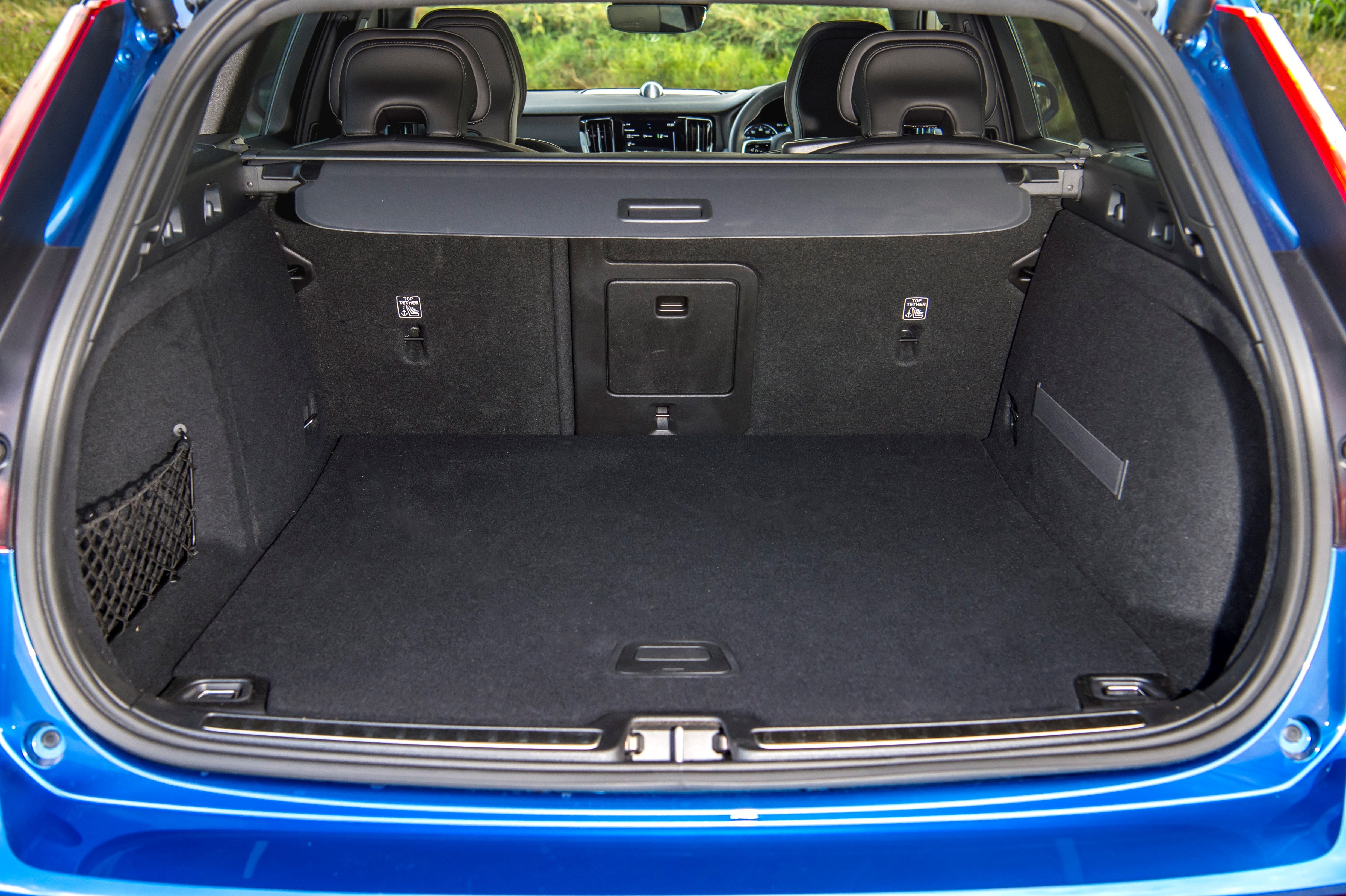 The V60 hasn't been on sale for a long time, but it has been a popular car in that time and as it is being sold as new there is the potential for pre-registered bargains.
A quick search of the heycar classifieds brought up a number of examples both from 2019 and 2020 just with delivery mileage on them. We found a 2019 D3 diesel in Inscription specification with less than 20 miles on the clock for less than £25,000, or a 2020 T4 in Momentum Plus specification with under 500 miles covered for £26,000. Hybrid versions are thinner on the ground but are out there. We found a 2020 T8 Hybrid in R-Design Plus specification with 10,000 miles on the clock for £45,000.
As for older examples, the earliest 2018 V60s are still pretty young. Such as a 2018 D3 diesel in Momentum trim with under 10,000 miles on the clock for £20,000.
Trim levels and standard equipment
Momentum models feature height and reach adjustable steering column, three-spoke leather steering wheel with chrome trim, cruise control, hill start assist, power parking brake with auto hold function, keyless start, automatic LED headlights with active high beam, autofolding heated power door mirrors, automatic windscreen wiper activation, rear park assist, two-zone electronic climate control, driver and passenger seat with power height adjustment and lumbar support, City Safety with Steering Support. oncoming lane mitigation, run-off road mitigation, run-off road protection, speed limiter, driver alert control with lane keeping aid, road sign information display, voice activated control, DAB radio, Bluetooth.
Momentum Pro adds leather upholstery, heated wiper blades, heated steering wheel, head-up display, rear armrest with storage and cupholders, keyless drive, headlight cleaning system, heated front seats, front LED headlights, power driver seat, hands-free tailgate.
R-Design adds sports seats, front park assist, heated steering wheel, 18-inch alloy wheels, leather sports steering wheel with gearshift paddles (automatic), sports pedals, lowered sport chassis.
R-Design Pro features heated wiper blades, dark tinted windows, heated front seats, handsfree tailgate, 19-inch alloy wheels, headlight cleaning system, head-up display, power driver seat with memory for seat and exterior mirrors, multicolour theatre lighting and puddle lights.
Inscription models feature leather seats, power driver and passenger seats, front LED foglights, autodimming interior mirror, front park assist, 18-inch alloy wheels, chrome window surround, tailgate illuminiation, rear footwell illumination.
Inscription Pro adds heated wiper blades, heated steering wheel, keyless drive, 19-inch alloy wheels, headlight cleaning system, heated front seats, head-up display, handsfree tailgate.
Ask the heycar experts:
common questions
What is the difference between the Volvo V60 and V90?
The Volvo V60 is a mid-sized estate car that rivals cars like the BMW 3 Series Touring, Mercedes-Benz C-Class Estate and Audi A4 Avant. The V90 is a large estate that competes with the BMW 5 Series Touring, Mercedes-Benz E-Class Estate and the Audi A6 Avant.

What is the Volvo V60 Cross Country
The Volvo V60 Cross Country is a V60 estate with jacked-up suspension and four-wheel drive – it can handle light off-roading such as muddy fields and rutted tracks.

What is Volvo's more popular model?
The Volvo XC40 was Volvo's most popular model in the first half of 2021, followed by the XC60 and XC90.

Volvo V60 cars for sale on heycar
2,718
Number of cars available
£11K - £49K
Price bracket of these cars
Colours available on heycar
Keep me updated by email with the latest advice, news and offers from heycar
By submitting, you agree to our
privacy policy
.
Popular models
Similar models