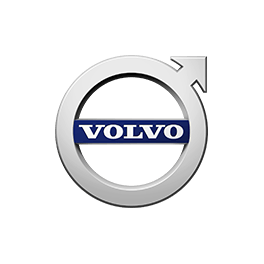 Volvo V60 Cross Country Review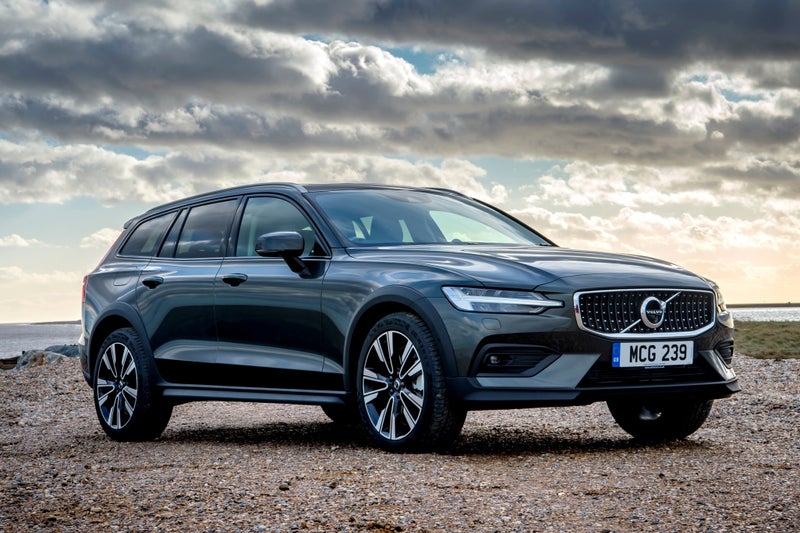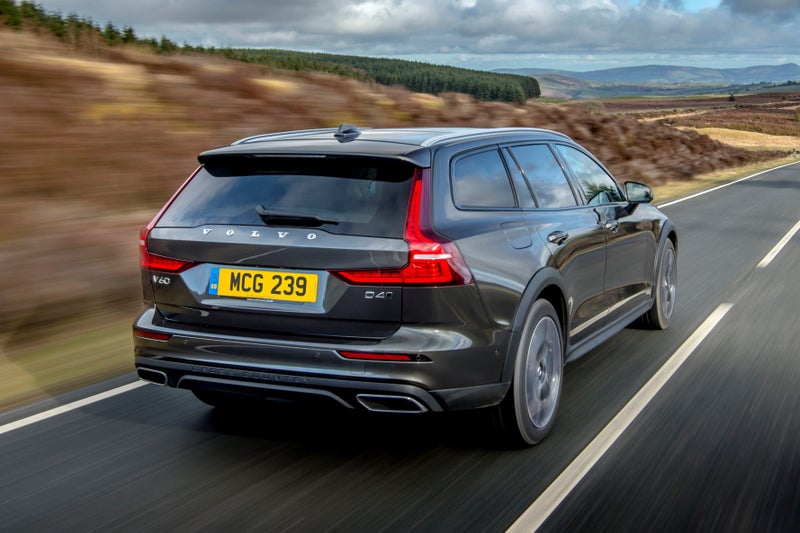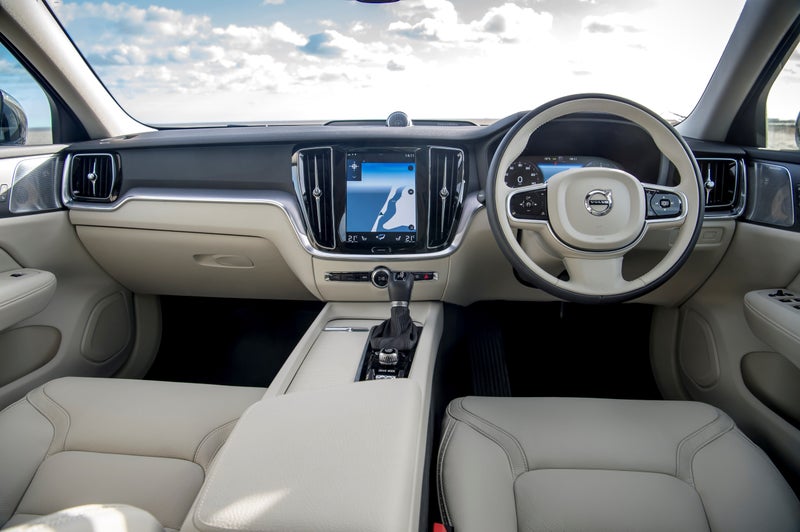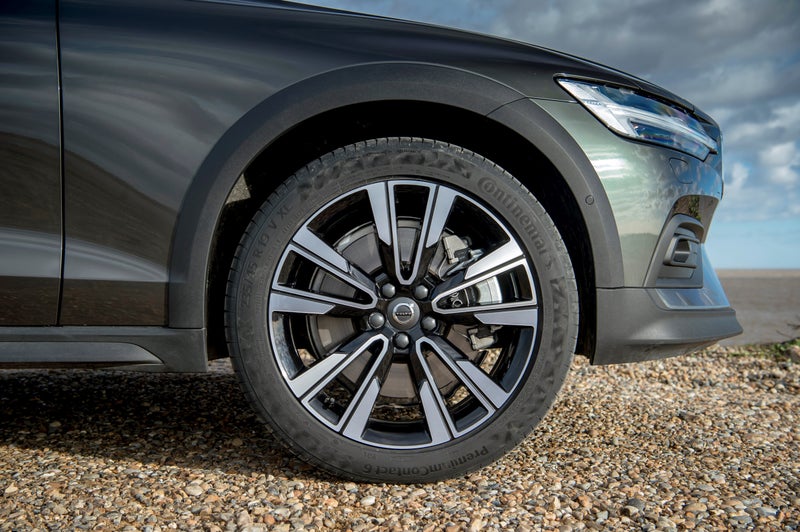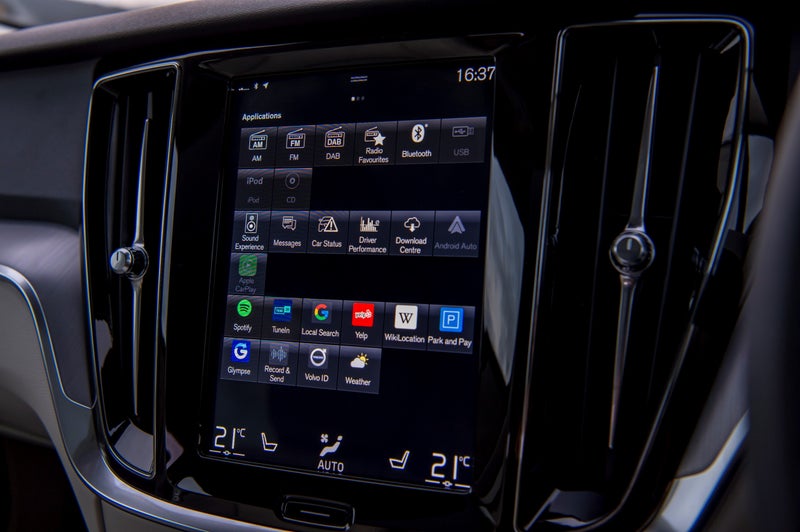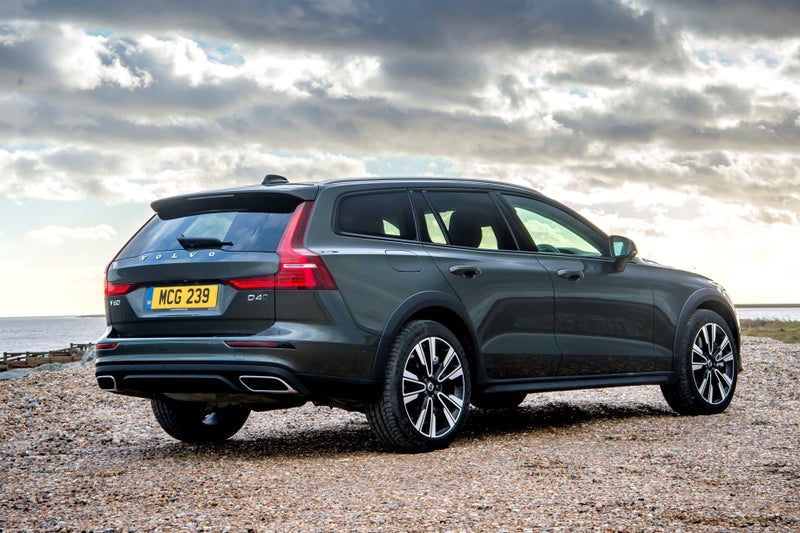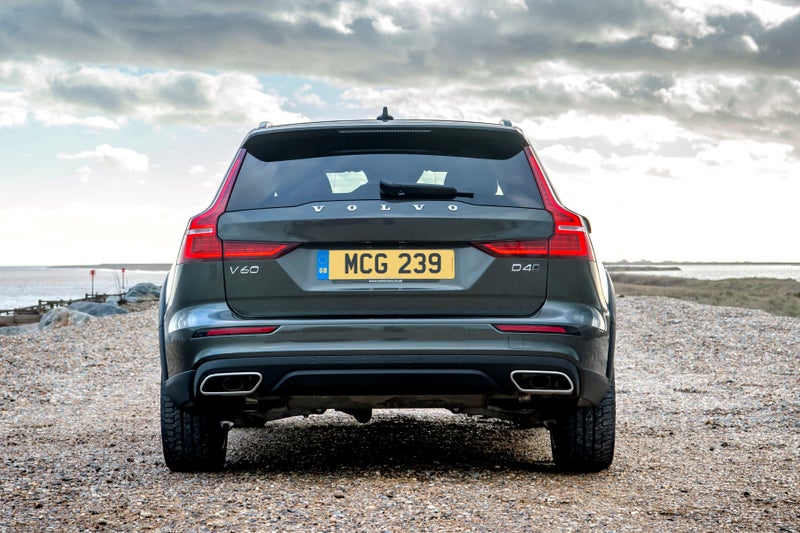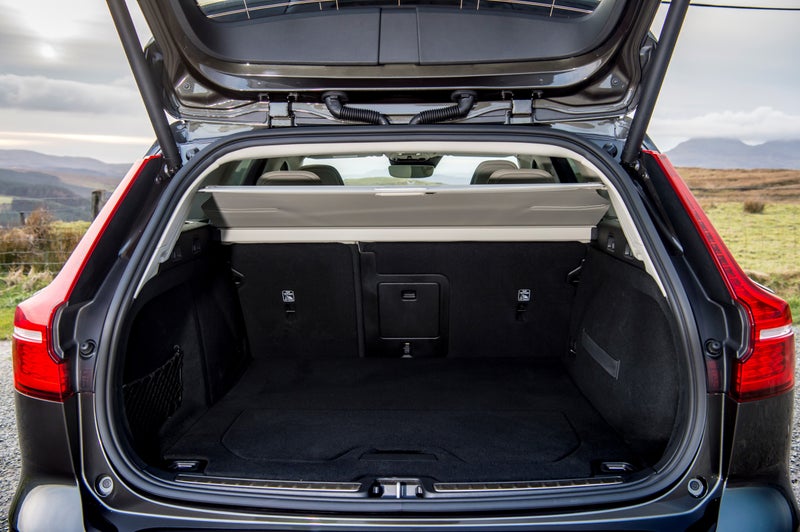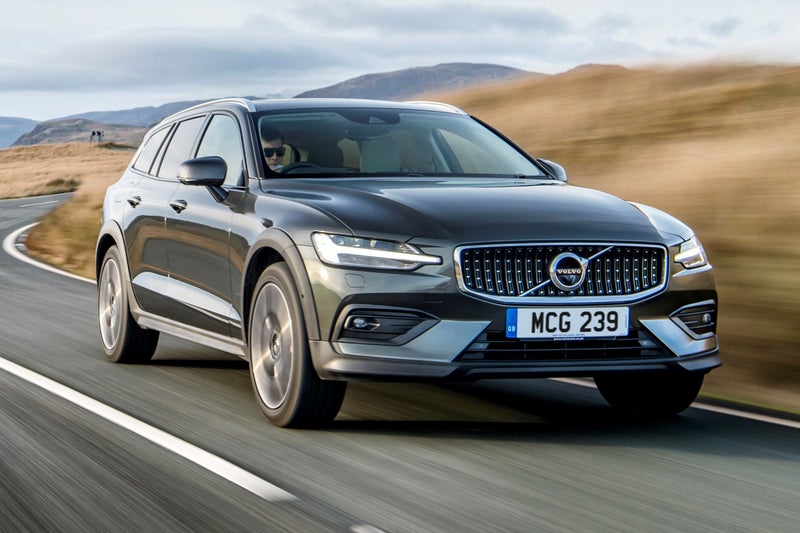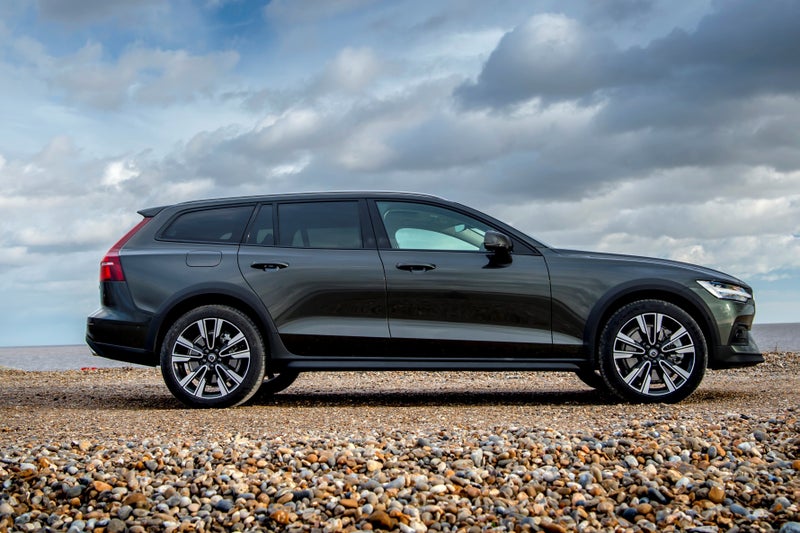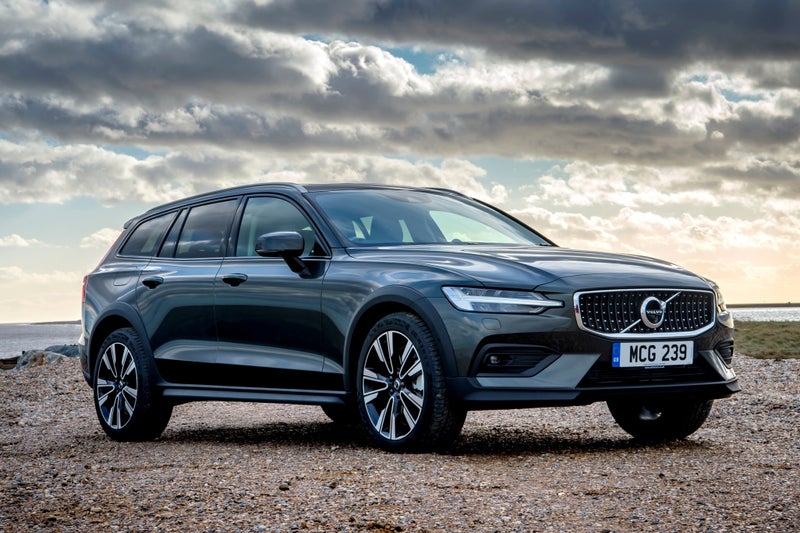 1/10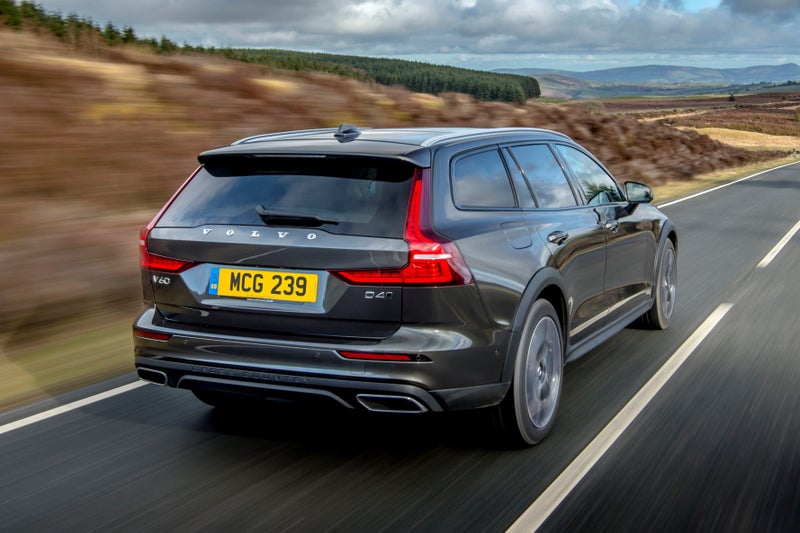 2/10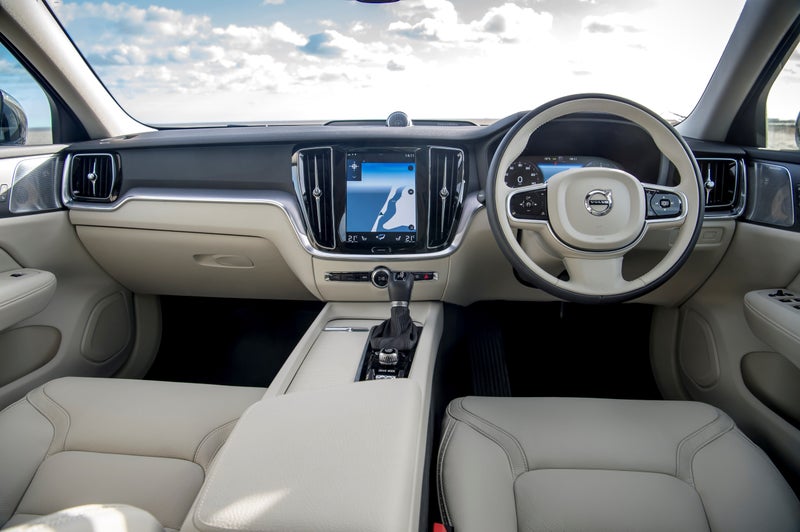 3/10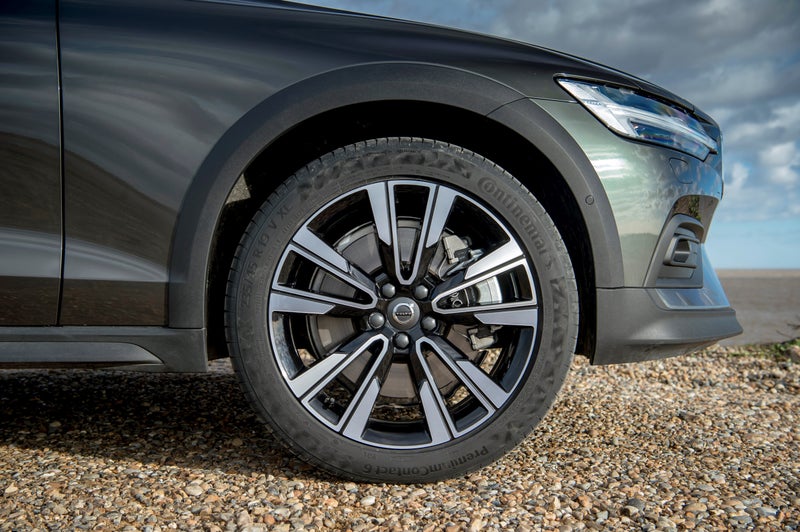 4/10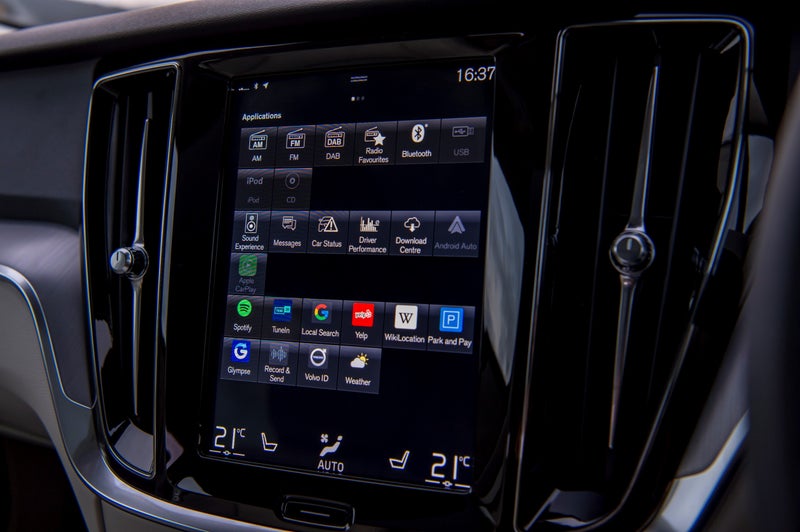 5/10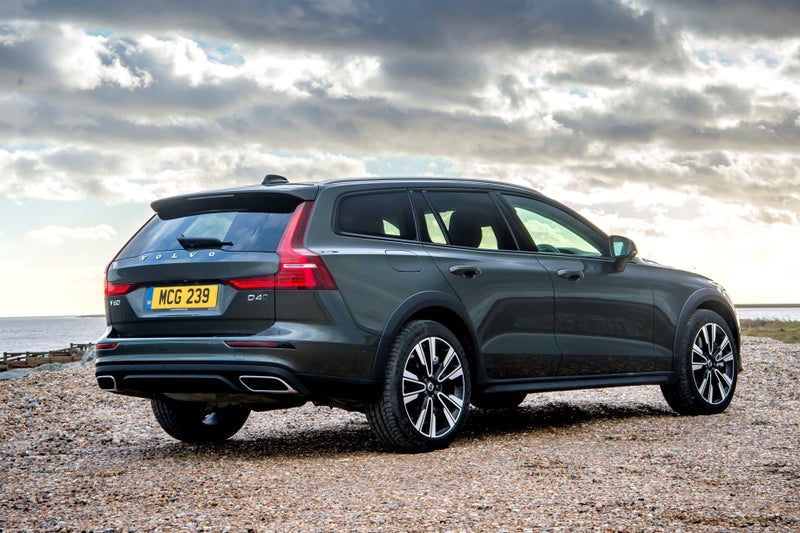 6/10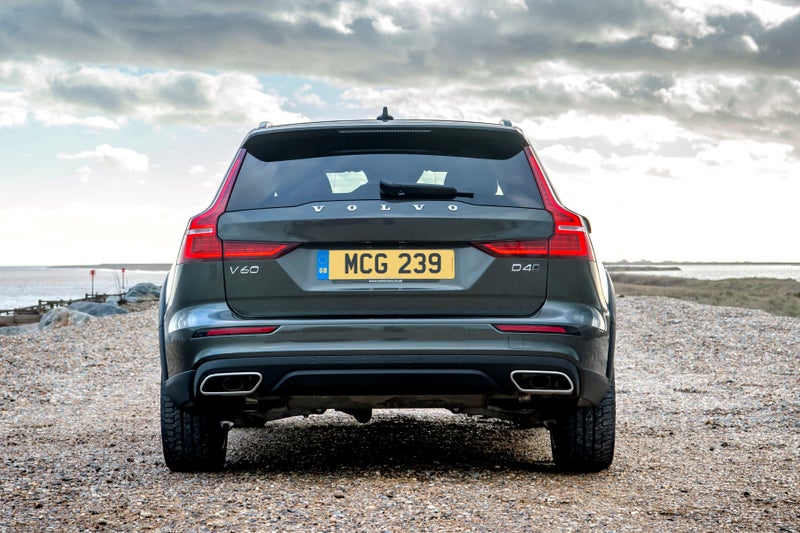 7/10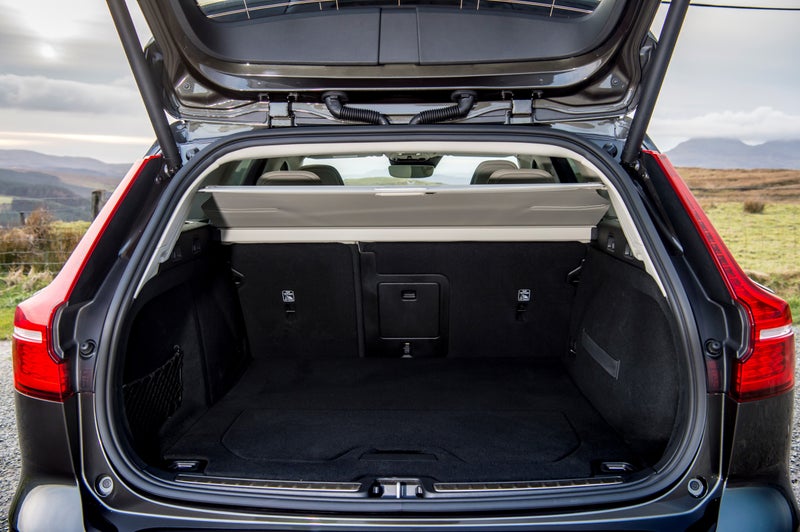 8/10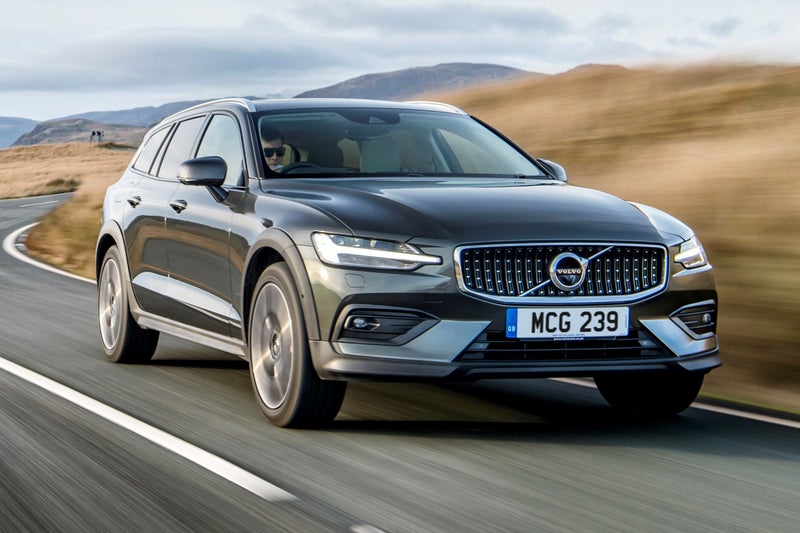 9/10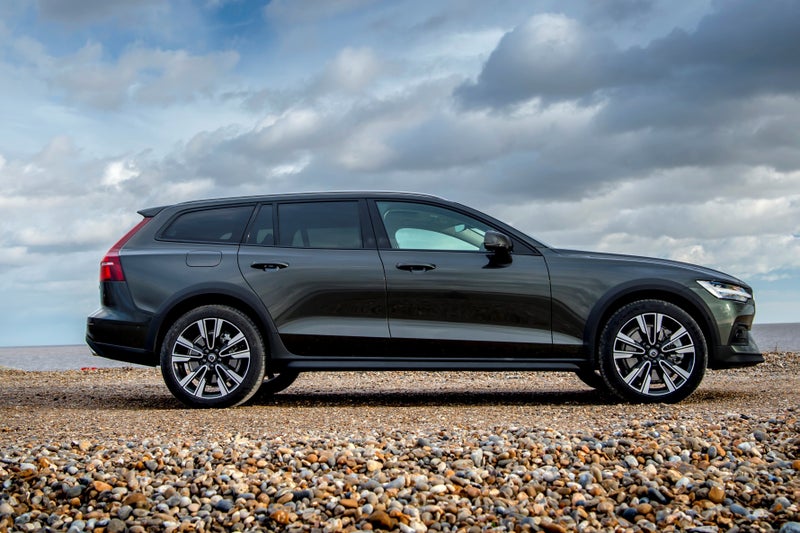 10/10
Launched in 2019

Estate

Petrol, Diesel
Launch year

2019

Body type

Estate

Fuel type

Petrol, Diesel

Written by
heycar editorial team

heycar rating
Rugged and spacious posh estate
Best bits
More rugged than the standard model
Beautiful interior quality
Extremely safe
Not so great
Apple CarPlay and Android Auto cost extra
The engine range is limited
Sluggish automatic gearbox
Read by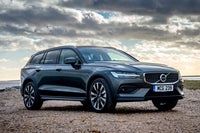 Overall verdict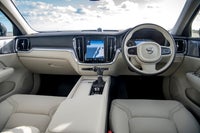 On the inside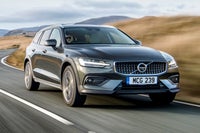 Driving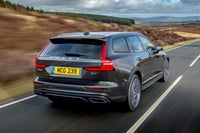 How much does it cost to run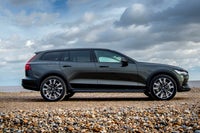 Prices, versions and specification
Overall verdict
"The Volvo V60 Cross Country aims to combine the best qualities of an estate car and SUV.  So, while it looks more rugged than a standard Volvo V60, it's not that different to drive – it doesn't roll sharply in bends like an SUV and it's also quieter at a cruise. You can also expect the Volvo to be cheaper to run than a proper off-roader thanks to its more aerodynamic shape."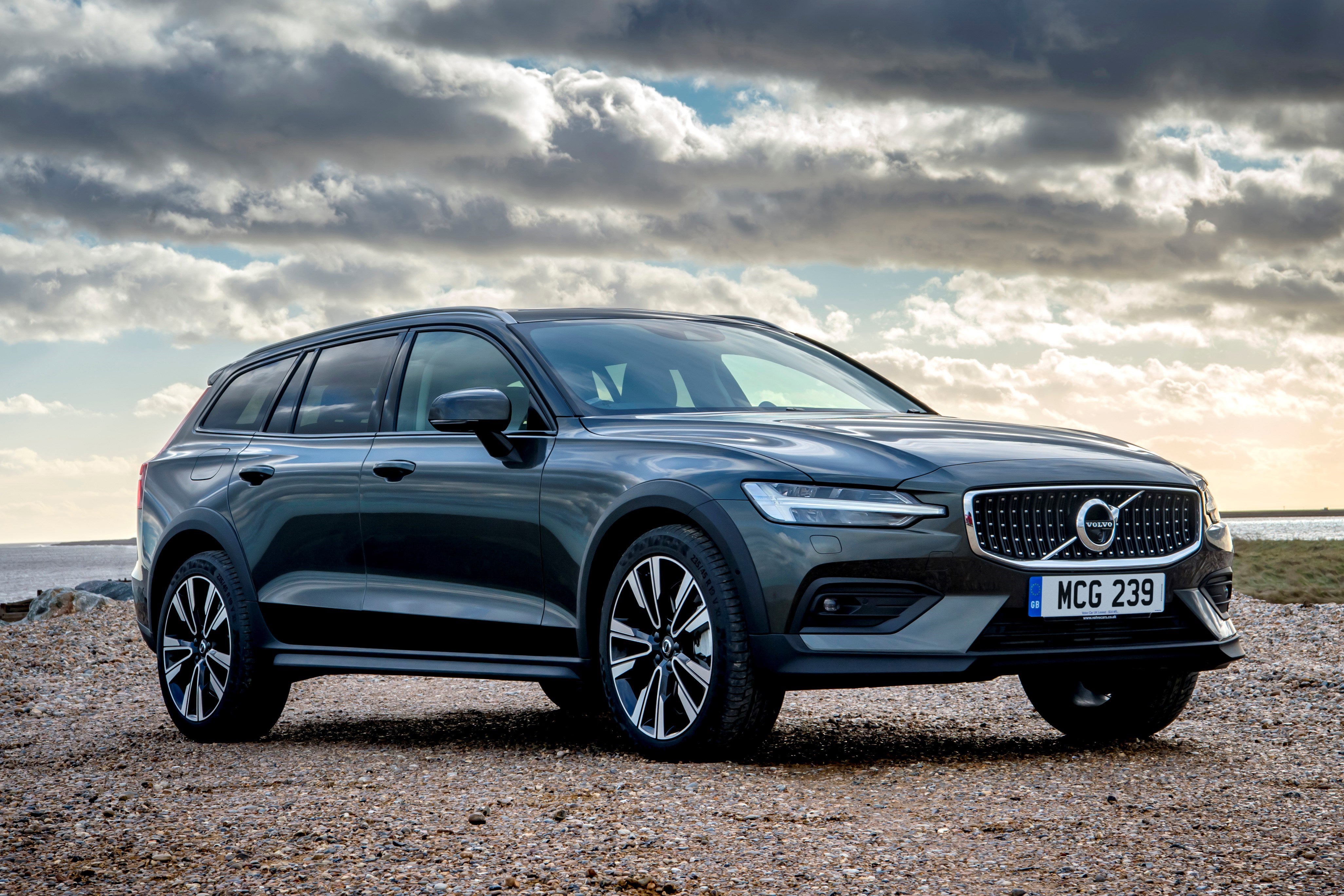 Sure, the Volvo won't get as far off-road as a Land Rover but it can manage bumpy, heavily rutted tracks and the standard-fit four-wheel drive will help you find grip in slippery conditions. It certainly offers more capability than the standard Volvo V60.
So it can get its hands dirty, but this is still a posh Volvo. Inside, you'll find bare unvarnished wood trims and soft leather upholstery but the cabin's stand out feature is its portrait-style infotainment screen.
You can use it just like an iPad, swiping between menus and pinching to zoom in on maps. It's just a shame Volvo has decided to charge you extra for Apple CarPlay and Android Auto.
Chin up, at least you don't have to worry about being short of space. Upfront, you get acres of room and seats that can cure backache more effectively than a chiropractor's surgery.
You won't hear any complaints coming from the back, either. The Volvo's rear seat has loads head and knee room and you'll fit three adults across the rear bench without too many complaints.
The boot, meanwhile, is massive, larger than you'll find in any of the Volvo's direct rivals. It has a hands-free opening – operated by waggling your foot below the bumper – and the boot itself is very easy to load.
So if you want everything you love about a Volvo estate – high-end build quality, excellent safety and a big boot – but in a more rugged design, the V60 Cross Country a car you need to consider.
If you're looking for the older version, you need our Volvo V60 Cross Country (2015-2018) review.
Comfort and design
"The Volvo V60 Cross Country's interior oozes simplicity and quality. The cabin is dominated by the Volvo's portrait-style infotainment screen that sits right in the centre of the dash, it controls most of the car's functions and means you don't have a sea of buttons to navigate through."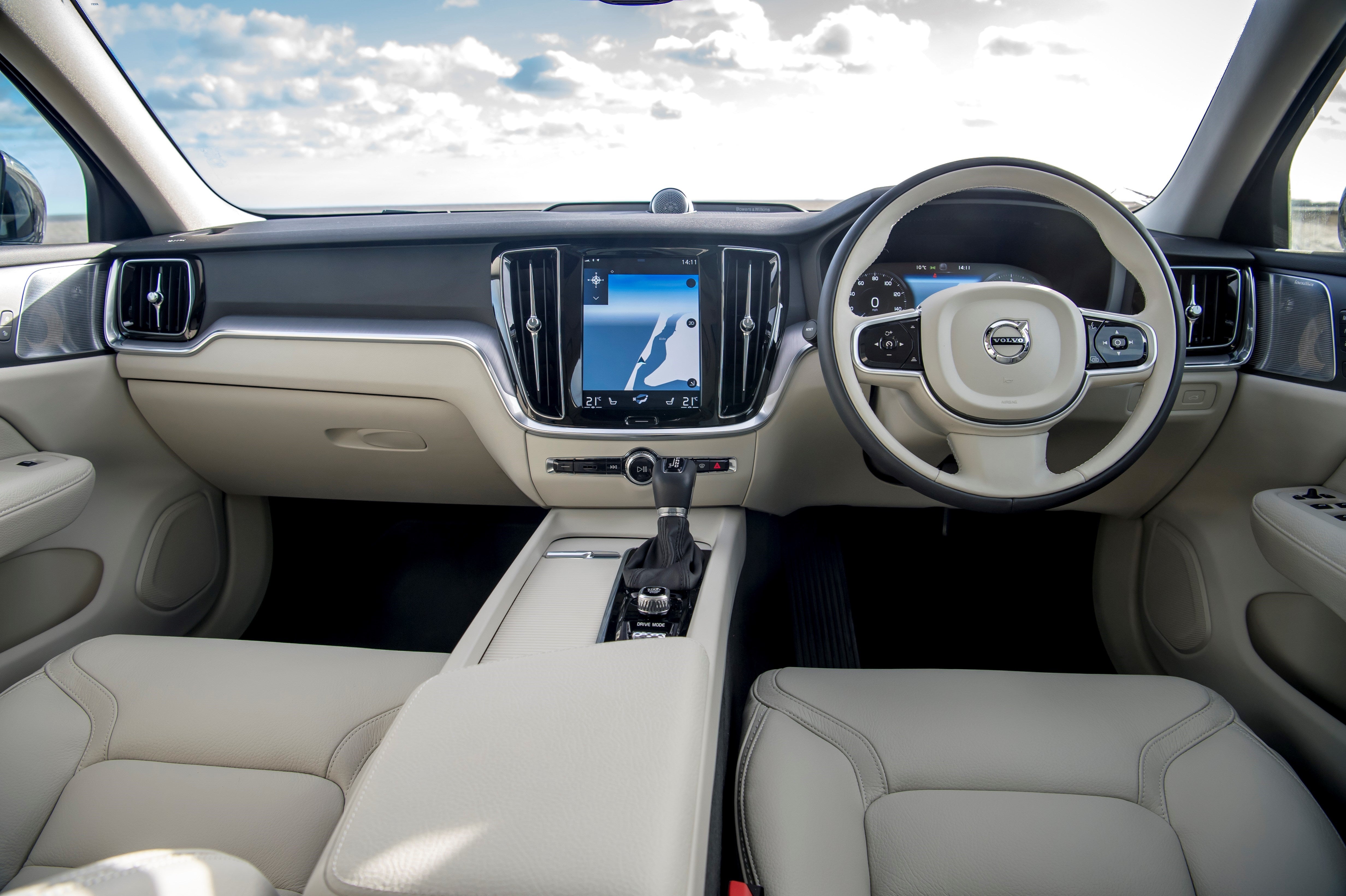 The buttons you do get are for things you want to access quickly, like the car's hazards lights and front and rear demister, plus you get a large knob you push to turn up the stereo and twist to adjust the volume. Sure, the heater controls are found on the centre touchscreen but they're permanently on display so you don't need to dig through menus to find them.
Getting a comfortable driving position is also hassle-free. All V60's have a steering wheel that adjusts for reach and rake and the height adjustment on both front seats is electrical so there's no need to sweat getting it cranked up into position. Cross Country cars also benefit from having a higher ride height, giving you a slightly better view of the road ahead than you get in other V60s.
Lend the car to someone else and you can also save your driving position, returning the seat and wing mirrors to the exact position you left them in at the touch of a button.
Volvo's seats can't be beaten for comfort. Both have multi-point lumbar adjustment that supports your back so well, you'll have fewer aches and pains getting out the car than you do getting in. Cross Country models sit close to the top of the range so you also get extendable thigh support for comfort to rival a La-Z-Boy armchair.
Handling and ride quality
"The Volvo V60 Cross Country is very similar to the standard V60 estate, only it's got a 60mm taller ride height and standard four-wheel drive."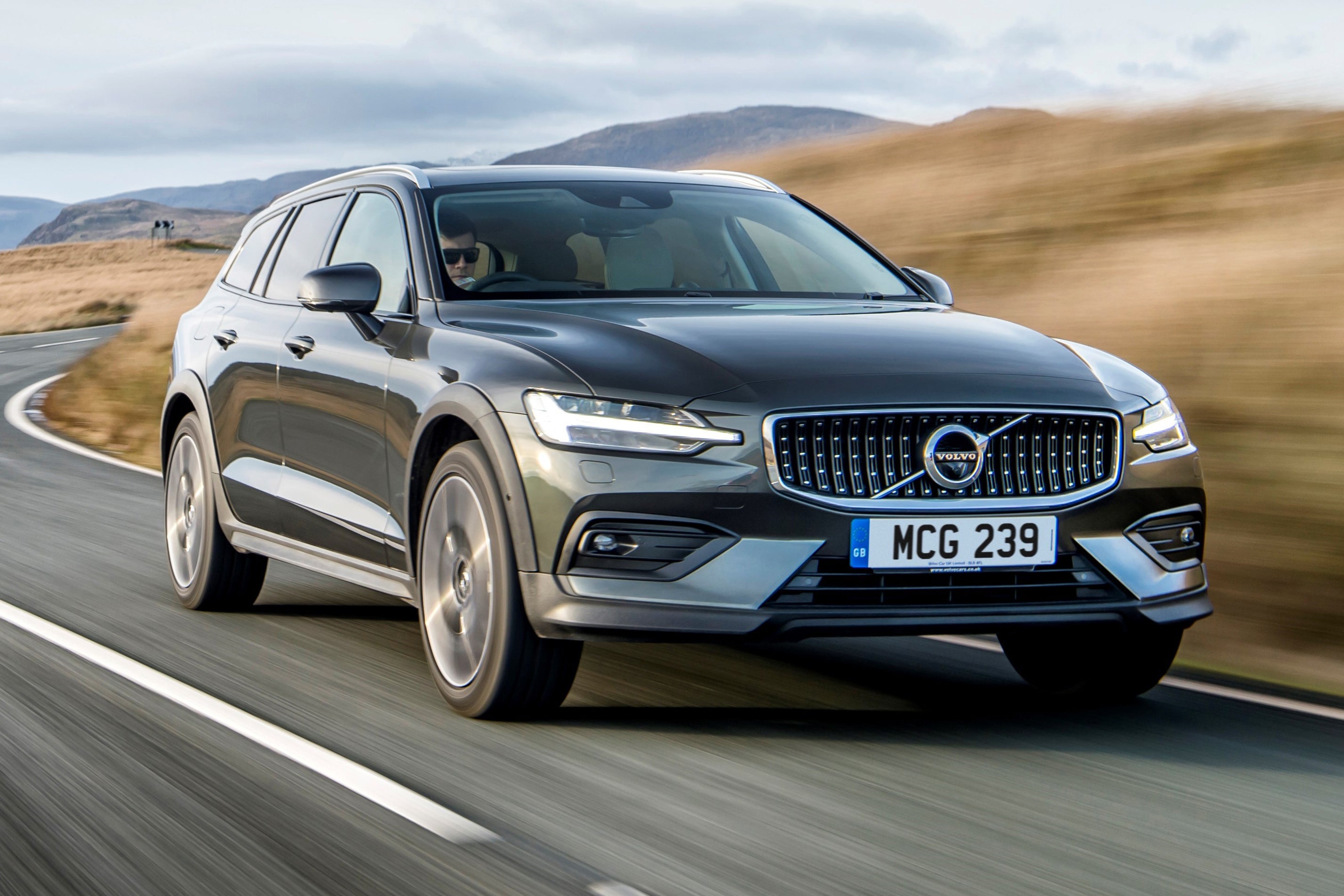 What does that mean in the real world? Well, it means that the Cross Country can rollover speed humps without scraping its front bumper and should manage rough, muddy tracks without too many issues.
Cross Country models also come with hill descent control which takes the stress out of driving down steep inclines. All you do is hit a button, take your feet off the pedals and let the car ease itself down hills at a controlled speed and without locking its tyres.
The four-wheel-drive system should also help you pull along heavy trailers without embarrassing wheel spins. It has a braked-trailer towing limit of 2000kg.
You might think that the Cross Country's raised suspension would make it more comfortable than the standard model and it is to a point. The extra suspension travel smooths out larger bumps and potholes, but the Cross Country also fidgets over smaller bumps just like any other V60.
That's most noticeable in town but in other respects, the Cross Country is well-suited to city driving. Its light steering takes the work out of low-speed manoeuvering and the standard automatic gearbox shift's gears smoothly, even if it is slow to respond when you pull away.
The V60's a big car but getting parked is easier because all models come with front and rear parking sensors and a reversing camera. The Cross Country's tall profile tyres make it harder to kerb the wheels, but you can also have a 360-degree camera that gives an augmented view of the car's surroundings.
Or just admit defeat and specify its auto park system, which parks the car for you – turning the steering wheel while you operate the pedals.
There's even more automated cleverness when you hit the motorway because you can specify the Cross Country with Volvo's Pilot Assist, which will accelerate, brake and steer the car completely independently on the motorway.
Enjoy driving on country roads? Then the Volvo isn't going to leave you feeling shortchanged. It's steering is precise enough to let you carve through corners and even with the Cross Country's raised suspension, it's body doesn't lean too much in bends. That said, if you want a four-wheel-drive estate car that's truly fun, you'll be better with an xDrive version of the BMW 3 Series Touring.
MPG fuel costs
"You can have your Volvo V60 Cross Country with either a petrol or a diesel engine."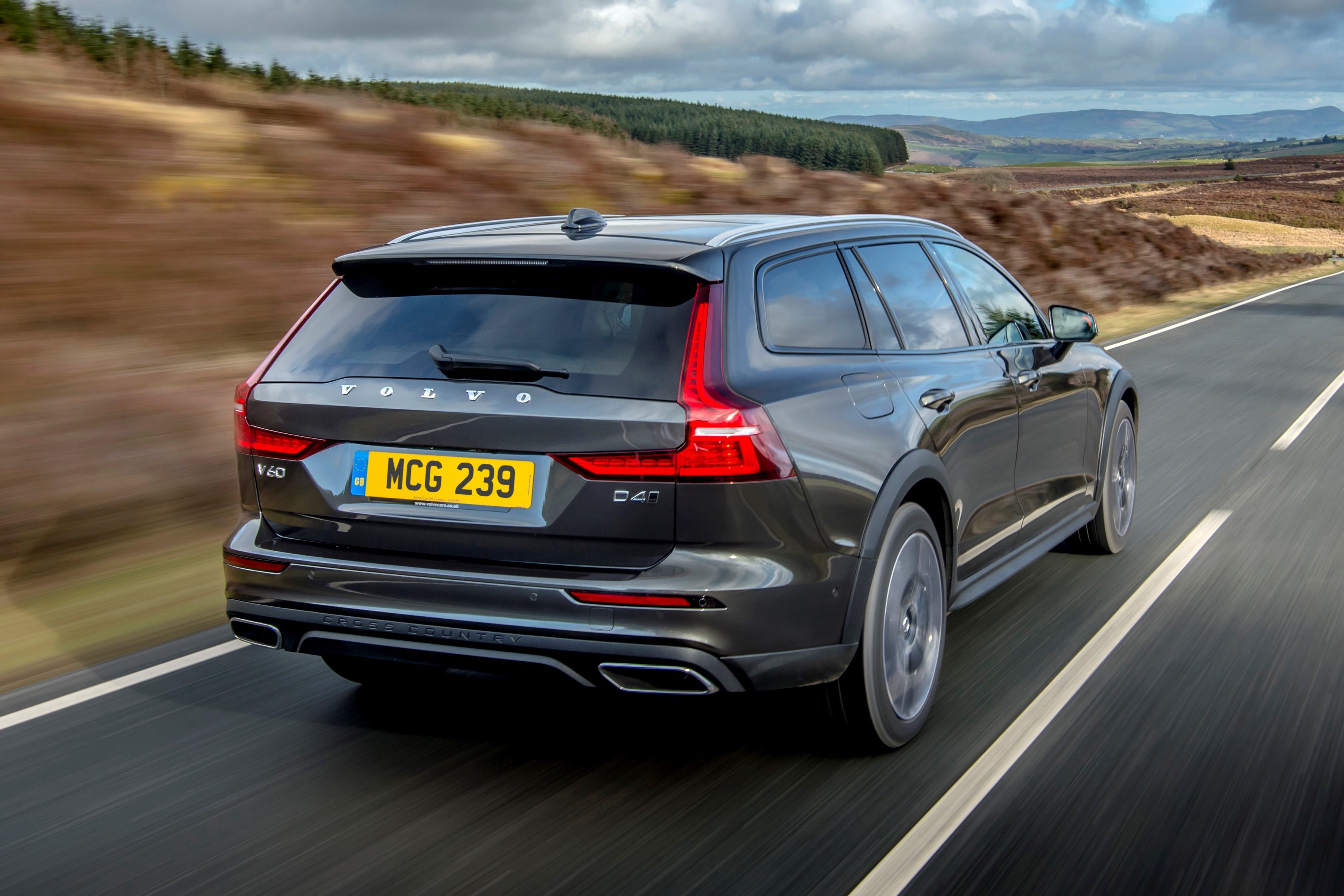 The latter makes the most sense if you want to reign in costs. The 190PS 2.0-litre diesel returns fuel economy of 47mpg under tough new regulations and you should be able to get around 40mpg in normal driving. That would give you a comfortable range of more than 500 miles from the car's 60-litre fuel tank.
The 250PS 2.0-litre petrol gets fuel economy of 38mpg, officially, so you should be able to get 30mpg for a real-world range of around 400 miles.
How much should you be paying for a Volvo V60 Cross Country?
"The Volvo V60 Cross Country is a trim level in itself which means all models come with raised suspension, a beefy body kit, four-wheel drive and hill-descent control, while kit includes auto-dipping LED headlights, keyless entry and a leather interior. "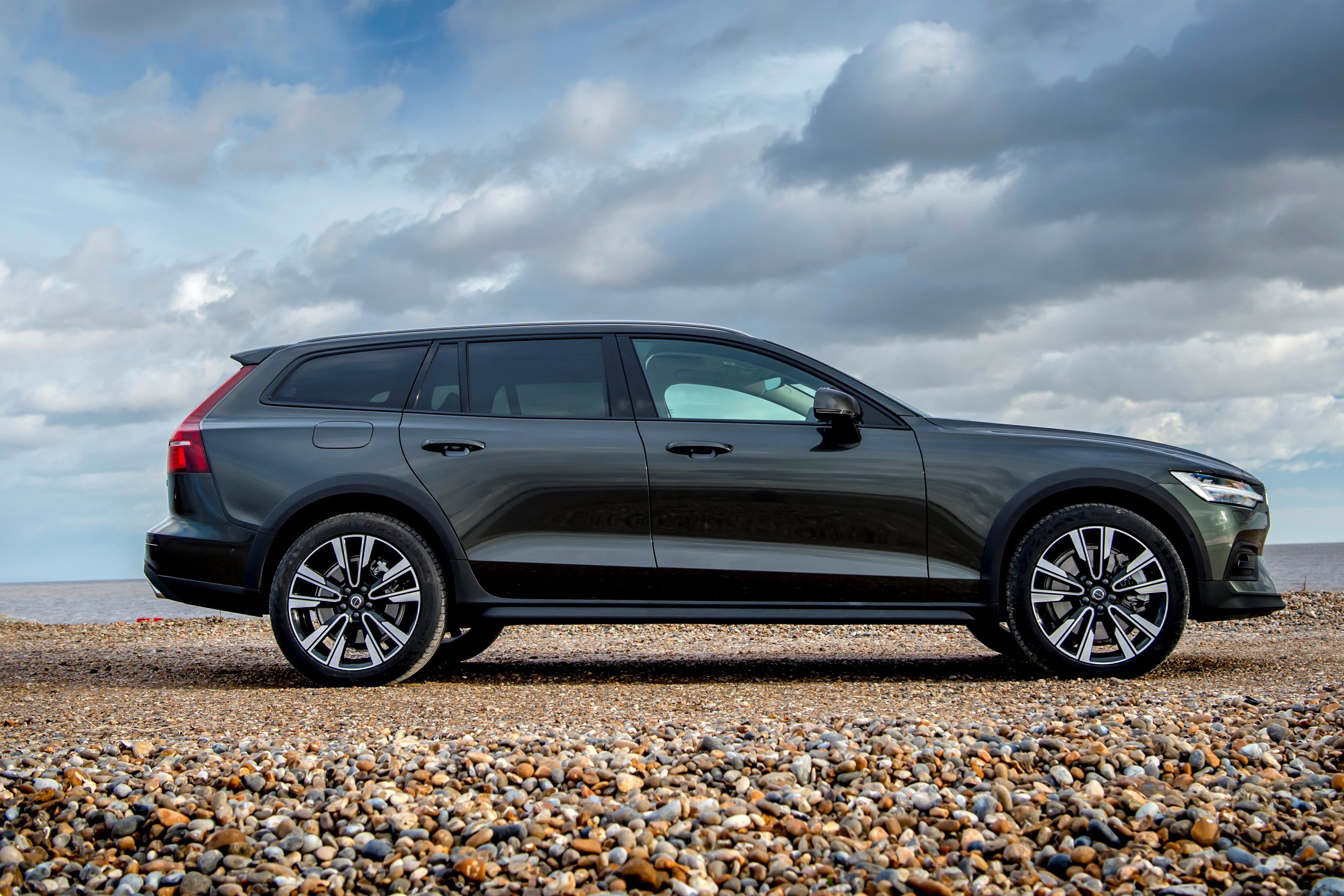 Something you do have to decide on is whether to go for the petrol or diesel model. We'd go for the latter because it feels almost as quick as the petrol, is cheaper to run and, with a list price of £41,375, is only £340 more expensive than the petrol.
Have a look at nearly new cars, though, and you'll be surprised by the savings you can make. We saw a 2019 diesel Cross Country with options such as the 360-degree camera, panoramic sunroof and Volo's Pilot Assist driving aids for a shade over £33,000.
Is the Volvo V60 Cross Country right for you?
The Volvo V60 is a posh estate car with a practical interior and loads of safety kit, but what if you want something more rugged?
Step forward the Volvo V60 Cross Country. It's a Volvo estate, only with four-wheel drive and a 60mm taller ride height, making it an ideal choice if you tow a caravan or occasionally like to get off the beaten track but don't want the high running costs of a traditional SUV.
This is still a Volvo so it's posh inside, spacious and, above all, safer than Fort Knox.
What's the best Volvo V60 Cross Country model/engine to choose?
The Volvo V60 Cross Country is itself a trim level on the standard V60 range, but there is plenty of scope to add options.
We'd advise the Driver Assist Pack, which includes Volvo's Pilot Assist autonomous driving aids, the Tech Pack which adds Apple CarPlay and Android Auto, and the Lounge Pack. It gives you four-zone climate control, a full-length glass roof and a 360-degree camera with auto-park.
In terms of engines, there are two to choose from – a 190PS diesel and a 250PS petrol. The petrol model's quicker and smoother, but we'd go for the diesel which performs well and is significantly cheaper to run.
What other cars are similar to the Volvo V60 Cross Country?
The Volvo V60's only direct rival is the Audi A4 Allroad, which follows the same recipe as the Volvo by adding jacked-up suspension, muscular looks and four-wheel drive to a posh small estate car.
Want something sportier? Then consider an xDrive version of the BMW 3 Series Touring. It'll be sportier to drive than either the Volvo or the Audi and is available with an excellent choice of engines, though it's not designed to tackle the soft-roading the Volvo and Audi are capable of.
Another contender is the Subaru Outback which is even more rugged than the Volvo but lacks its classy styling and posh interior feel. There's also the Volkswagen Passat Alltrack.
Quality and finish
The Volvo V60 Cross Country feels very posh inside. The huge infotainment screen deals with most of the car's controls so, where you'd expect to find rows of buttons and knobs, you instead get metal highlights and expensive-looking trim pieces.
What's more, it all feels properly screwed together, you won't suffer any cabin squeaks and the gaps between trims and cabin plastics are consistent.
As well as looking good, it feels nice to the touch. Most of the interior plastics are soft and padded, the air vents move slickly and have cold-to-the-touch metal fittings while the stereo's volume knob is also metal trimmed.
Cross Country models are available with a choice of two wood inlays – Linear Lime or Driftwood. They do without the varnish you get on most cars' interior wood veneers and look more authentic as a result. Meanwhile, the standard leather interior smells great and feels robust.
Cross Country models also get all the fancy lighting you could hope for. Puddle lights illuminate the ground around the car when you get in, all the interior lights are white-shining LEDs and you get pretty mood lighting which bathes the cabin in a colourful glow of your choosing.
Infotainment
The Volvo V60 Cross Country comes as standard with a nine-inch central infotainment screen. Its portrait shape means it looks just like an iPad and operates the same way too, you can swipe to flick through menus and pinch to zoom in on maps. Setting the navigation is as easy as punching in a postcode and the car can route around congestion.
A three-year subscription to Volvo on Call comes as standard offering you a variety of connected services. Have an accident and your Volvo can call the emergency services, tell them how many people are in the car and the severity of any collision. Need breakdown assistance? Then all you need to do is press the SOS button on the roof-mounted console.
Volvo on Call also adds several convenience features. Using an app on your smartphone you can programme the nav remotely, check remaining fuel and range, and even lock and unlock the car without having to leave the comfort of your living room.
Unfortunately, while you get this fancy kit as standard, you'll have to pay extra for essentials such as Apple CarPlay and Android Auto. These systems can mirror the display of your smartphone on the car's big screen, giving you access to maps and also music playback apps such as Audible and Spotify.
Thankfully, you don't need to splurge extra cash just to enjoy your music – even the standard stereo has ten speakers and a 220W output, producing robust sound.
Want to upgrade? Well, you get two options. The first is a Harman Kardon surround-sound system with 13 speakers and a 600W output. The top-of-the-range system comes from Bowers & Wilkins, has 14 speakers and 1100W of amplification power that's so loud it feels like you're at the gig, not listening to a recording of it.
Space and practicality
There's no shortage of space in the Volvo's two front seats and both get electrical adjustment that makes getting your perfect driving position an easy job. Heated front seats are standard but the Cross Country version of the V60 isn't available with the cooled chairs you can have on luxurious Inscription models.
Getting into the Volvo's back seat is easy because the rear doors open wide and once you're in, you won't find much to complain about in terms of space. There's plenty for tall adults to sit behind you even if you're tall and there's no shortage of headroom.
The Volvo's wide enough to accommodate three adults sitting abreast with plenty of room in the larger footwells and when the middle chair's not in use, all Cross Country models have a rear-centre armrest with a hidden storage area and a couple of cupholders.
Fitting a child seat is easy because the Volvo has Isofix points fitted to the outer rear seats hidden under plastic covers. The back doors give plenty of room to lift the seat into place and there's space behind the front seats to manoeuvre it into position.
Want to ramp up back seat luxury? Then the Climate Pack adds heated outer rear seats – as well as a heated steering wheel and a quick-clear heated windscreen. The Lounge Pack is a pricey option but makes the back seat even plusher by adding a full-length panoramic sunroof and by giving your two rear-seat passengers heater controls.
It's so posh you could easily forget that the Cross Country is an accomplished load-lugger. Its hands-free tailgate can be opened simply by swiping your foot under the rear bumper and it reveals a large load opening with no load lip and a flat floor.
It has a 529-litre capacity making it slightly bigger than the boot you'll find in an Audi A4 Allroad and plenty big enough to stow away a set of suitcases. Need more space? Then the back seats split 60/40 and fold flat into the floor by yanking a couple of latches right at the front of the boot. With the back seats folded away, you're left with enough room to fit an adult's bicycle with both its wheels attached.
Keeping the cabin tidy should be easy, too. The V60 Cross Country has large front door bins, a big glove box, a lidded cubby under the front centre armrest and slightly smaller pockets in the rear doors so there's somewhere to hide all your clutter.
Engines and gearboxes
The Cross Country is available with a choice of two engines – the mild-hybrid petrol B4 and the diesel D4.
It's the diesel model that's the best fit in a car like this, providing decent performance in combination with affordable running costs. It's a 2.0-litre four-cylinder producing 190PS which is enough to get the Volvo from 0-62mph in 8.2 seconds, although the slow-to-respond automatic gearbox dulls performance slightly.
If you're looking for a rugged estate with a serious turn of pace then you'll be better off going for the smooth 3.0-litre diesel version of Audi's A4 Allroad, which delivers a slug of performance the Volvo can only dream of.
The Cross Country's B4 mild-hybrid 250PS, 2.0-litre petrol gets from 0-62mph more than a second quicker than the D4 diesel and it's also a tad smoother and quieter under acceleration.
It uses a mild-hybrid system to recoup energy under braking and when coasting and can provide a boost of power when you make off from a standstill. Despite all this cleverness, though, it's still more expensive to run than the diesel model.
Refinement and noise levels
The Volvo V60 Cross Country's petrol engine is quieter and smoother under acceleration than the diesel model, but both engines are quiet once you've settled in for a cruise.
Compared to a regular V60, the Cross Country suffers from less road noise because it has thinner tyres with a taller profile than the rest of the range.
Wind noise is also well suppressed, helped by the fact that the Cross Country's body cuts through the air more efficiently than a boxy SUV, that said an Audi A4 Allroad is noticeably quieter. One option is to specify Volvo's laminated rear windows that help reduce wind and road noise.
Safety equipment
Safety is something Volvo leads the way on so it's no surprise that the V60 Cross Country comes crammed full of kit over and above what you get in rivals.
You get everything you'd expect in an expensive estate car including automatic emergency brakes that detect people as well as other cars, lane keep assist and a road sign detection system that can display info like the current speed limit on the car's infotainment screen.
But you also get safety features that are unique to Volvo. Run-off Mitigation can steer the car back onto the road if it detects you're creeping onto the verge.
And, if that fails, Run-off Protection braces you for impact. It tightens the seatbelts to keep you firmly in your seat as you bump down the side of the road, the airbags are primed and the brake pedal retracts being pushed into the passenger compartment.
To the long list of standard safety features fitted to the V60, the Cross Country adds headlights that can light up corners and use their full beams in oncoming traffic, headlight washers and heated wipers that won't freeze to the windscreen in winter.
The V60 Cross Country hasn't been tested for safety by Euro NCAP but you can expect it to be just as safe as the standard model that was awarded five stars when it was evaluated by Euro NCAP.
Insurance groups and costs
It doesn't matter whether you buy a petrol or diesel-powered version of the Volvo V60 Cross Country, both models qualify for group 35E insurance.
As a result, they're slightly more expensive to cover than a comparable Audi A4 Allroad fitted with a 2.0-litre diesel engine (group 26) but cheaper than an A4 Allroad with the more powerful 3.0-litre diesel engine (group 39).
VED
The Volvo V60 Cross Country was launched in 2019 meaning both the petrol and diesel model pay £870 for the first year of tax and £150 for every year afterwards. Both cars qualify for BIK tax of 37%.
For reference, the Audi A4 Allroad 190PS 2.0-litre diesel chalks up identical rates. The petrol Allroad is slightly cheaper, costing £540 to tax in the first year and qualifying for 46% BIK.
Trim levels and standard equipment
The Volvo V60 Cross Country sits close to the top of the V60 range so it comes with lots of standard equipment. The Cross Country's 60mm raised suspension means it sits higher than the standard model and it also gets a revised lower grille, wheel extensions, a 'Cross County' embossed rear bumper and dual exhaust pipes.
You also get additional equipment to the standard model including a leather interior, headlights that shine around corners and dip automatically, hands-free boot opening, headlight washers and driftwood interior trim.
Along with the standard kit, you also get an options list as long as your arm grouped together in various packs. One of the best is the Driver Assist Pack, it costs around £1500 but means the Volvo can drive almost completely autonomously on the motorway.
Learn more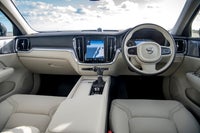 On the inside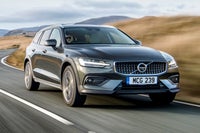 Driving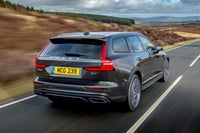 How much does it cost to run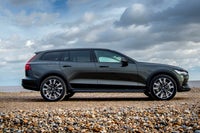 Prices, versions and specification
Reviews of similar cars
Quality checked, all cars less than 8 years old and warranty included
Looking for other Volvo cars?
Quality checked, all cars less than 8 years old and warranty included
Keep me updated by email with the latest advice, news and offers from heycar
By submitting, you agree to our
privacy policy
.
Popular models
Similar models