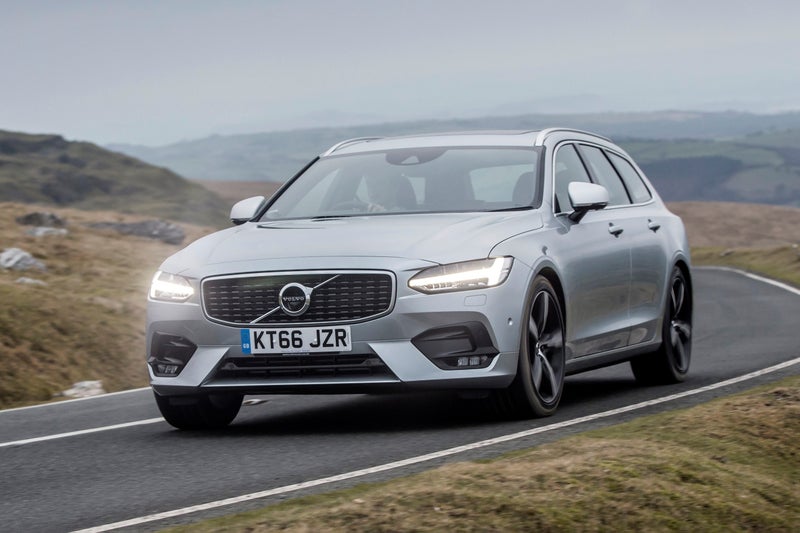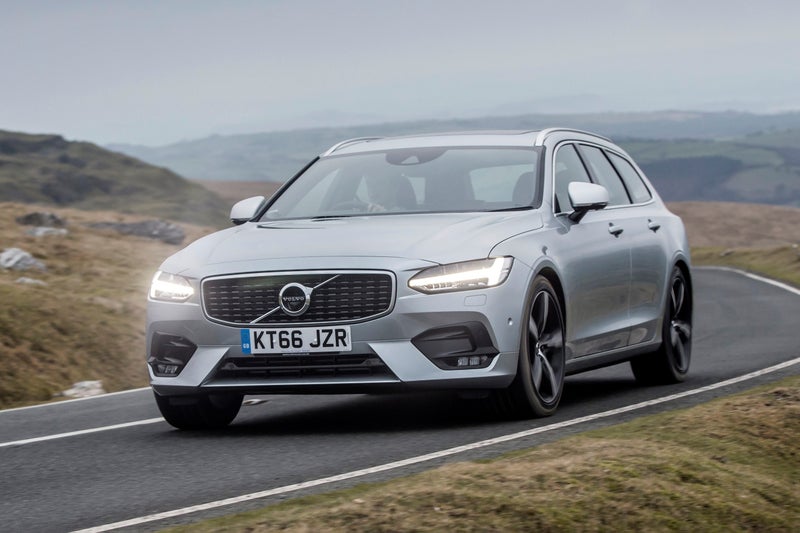 1/10
heycar rating
"Large and glorious Volvo wagon"
Launched: 2016

Estate

Petrol, Diesel, PHEV
Quick overview
Pros
Clean, modern design
Attractive, spacious cabin
Clever hybrid tech
Cons
Not an exciting drive
Expensive top models
Bigger wheels hurt ride quality
Overall verdict
On the inside
Driving
Cost to run
Prices and Specs
Overall verdict
The Volvo V90 offers you Swedish minimalist design that's a stark contrast to the in-your-face brashness found in its most obvious German competitors. It's exterior is a pleasure to look at while the interior is such a nice place to be, you'll simply never want to leave. Its these subject strengths that, if they strike a chord with you, might make it easier to overlook the fact that the V90 isn't objectively as good as the likes of pricier alternatives such as the Mercedes E-Class Estate and BMW 5 Series Touring.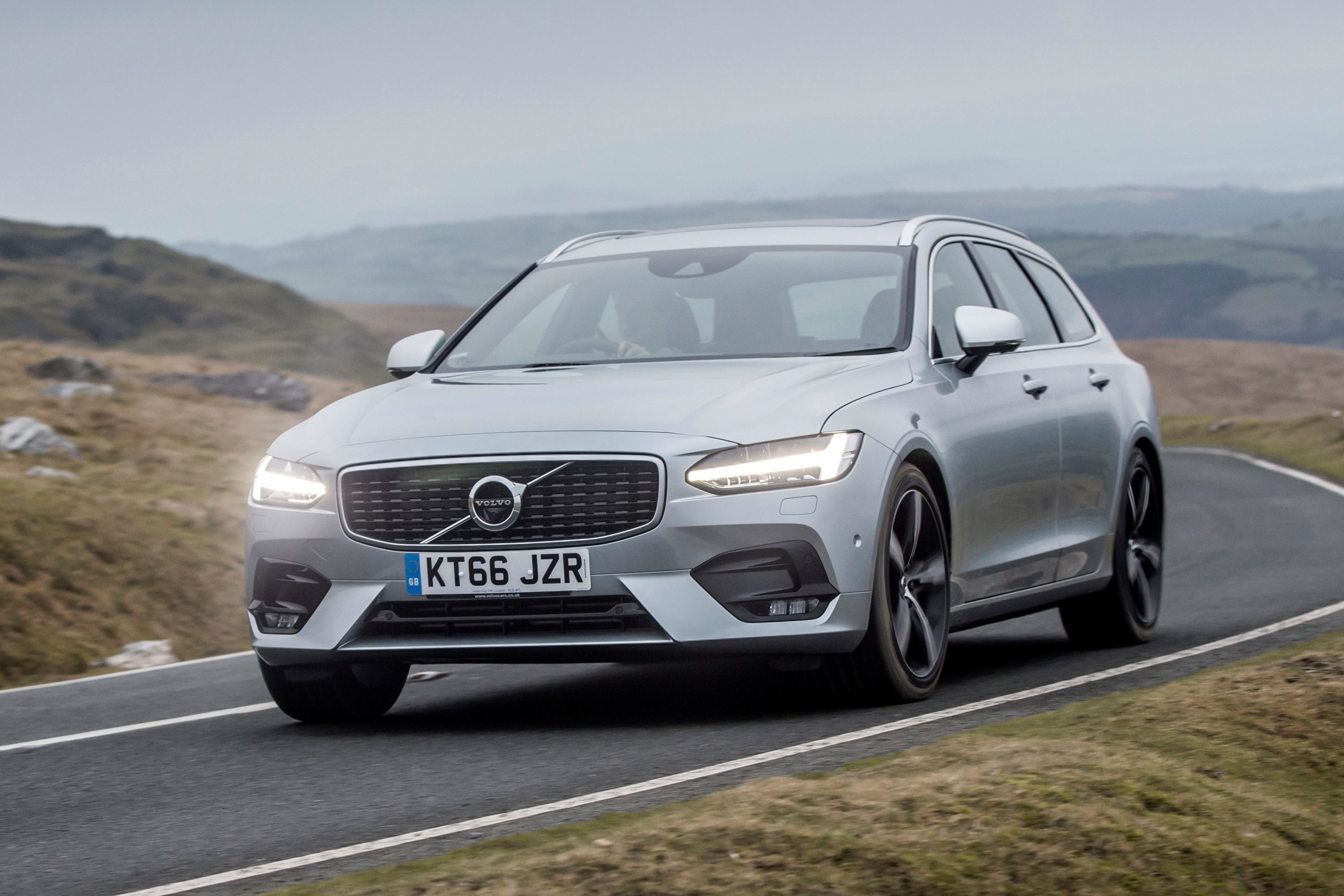 The V90 was updated in 2020 getting minor exterior revisions and specification changes, the most notable update was the introduction of Volvo's new 48V mild hybrid engines named the B4, B5 (across diesel and petrol models) and B6 (petrol only).
The exterior tweaks come in the form of new rear light clusters with customary scrolling indicators, plus you can choose from new colours and alloy wheels. None of which diminish from the fact that the V90 is an exceptionally good looking car with manages to ooze class without being jarringly try-hard like a BMW or Mercedes.
You'll find more of the same on the inside. The dominant fixture is a large portrait touchscreen at the centre of the dashboard, with high level air vents and a simple row of buttons. It's delightfully minimal looking – like an IKEA wardrobe that you don't have to build – which means you'll forgive the fact that the small on-screen buttons are fiddly to use next to the layouts in one of the aforementioned Germans.
Changes on the inside are limited a new filtration system (originally intended for the smoggy climes of Beijing, China – so it works), a new Bowers & Wilkens stereo which is even better than excellent old system, wireless phone charging, oh and the 12V socket in the back seat has been replaced with two USB-C sockets.
Materials have also been updated so you can have vegan-friendly leather, also know as vinyl, and choose from the more welcome addition of wool trim finishes.
What hasn't changed is the huge amount of space for passengers both front and rear. The Volvo isn't a car that'll struggle to carry the family and the huge load area means there's also plenty of room for stuff. It is worth pointing out that the V90 doesn't have the largest boot in the class, but in real terms it is still vast and usable.
Something else the Volvo doesn't have is the wide range of engines offered in rivals, instead you're limited to a choice of four-cylinder units. Their small size lets them offer relatively good fuel economy that has been further improved by the new mild-hybrid technology, which means the V90 gets a gentle electric boost when making off, can coast on the motorway and stop its engine before it comes to a complete halt.
The engine range includes the mild-hybrid B4 (197PS), B5 (250PS) and B6 (300PS) petrols and mild-hybrid diesels also called B4 (197PS) and B5 (235PS) – both B5s are available with four-wheel drive. The 340PS T6 breaks from the ranks by being a full-blown and pricy plug-in hybrid which has four-wheel drive as standard.
Fancy something more rugged? Then have a read of our Volvo V90 Cross Country review, while if you're after the saloon, you'll want out Volvo S90 review.
Whichever version you choose, the Volvo will never be as comfortable as a Mercedes E-Class Estate or as dynamic as a BMW 5 Series Touring, but it's a posh car you'll love spending time in without having to worry about being hated by everyone else around you. That might be enough to shove it into favour.
Is the Volvo V90 right for you?
If you've already made the decision to purchase a large estate car then the V90 should definitely be on your shortlist. It is a premium model with premium prices, so you can get the same or even more space for less money - Skoda's Superb offers the best amount of space for the money - but if you fancy your wagon more luxurious than that then the V90 is worthy of consideration.
As a family machine it should be absolutely ideal, there's enough room in the back to fit three kids across it without them sitting on top of each other, while the boot is capable of swallowing bulky pushchairs with ease. The V90 would also make for an excellent holiday vehicle or business wagon, effortlessly carrying heavy loads or bulky items on longer journeys. If you regularly plan on going into the city the hybrid model may hold extra appeal, although you may also want a car that's not quite as big as this one.
What's the best Volvo V90 model/engine to choose?
The B4 petrol (197PS) and B5 petrol (250PS) units are two of the cheaper options, and while they have decent performance they are also relatively thirsty. The D5 diesel engine offers 235PS and combined with four-wheel-drive as standard it provides effortless acceleration and isn't much less economical than the cheaper but less powerful 190PS D4 unit.
The 320PS petrol-electric hybrid is an impressive combination that offers the potential for great economy with strong performance, but if you don't drive in town very much you won't get any benefit - plus it is expensive in comparison with the other models.
As for trim levels, the entry level Momentum model is hardly starved of equipment, so it is not a bad choice - the only issue is that the engine range is more limited on this version. If you can stretch to it, the R-Design has a bigger range of engines and has a sharper exterior look as well as extra equipment.
What other cars are similar to the Volvo V90?
When you get to the large estate segment there aren't quite as many contenders, but the usual suspects are present. BMW's 5 Series Touring is a default choice for many buyers on account of its image and entertaining driving experience, while the Mercedes-Benz E-Class Estate is highly regarded for its comfort and luxury. Another key German rival is the Audi A6 Avant which combines good space efficiency with arguably the best cabin in the class, while Jaguar's XF Sportbrake offers a first rate driving experience without all the fiddly tech.
If you head outside of the established premium brands, Volkswagen's Passat Estate and Skoda's Superb Estate share a lot of hardware beneath their skin but also offer up a great deal of space, good equipment levels and in the case of the Skoda at least, excellent value for money.
Comfort and design
"The V90 begins the process of winning you over as soon as you step inside."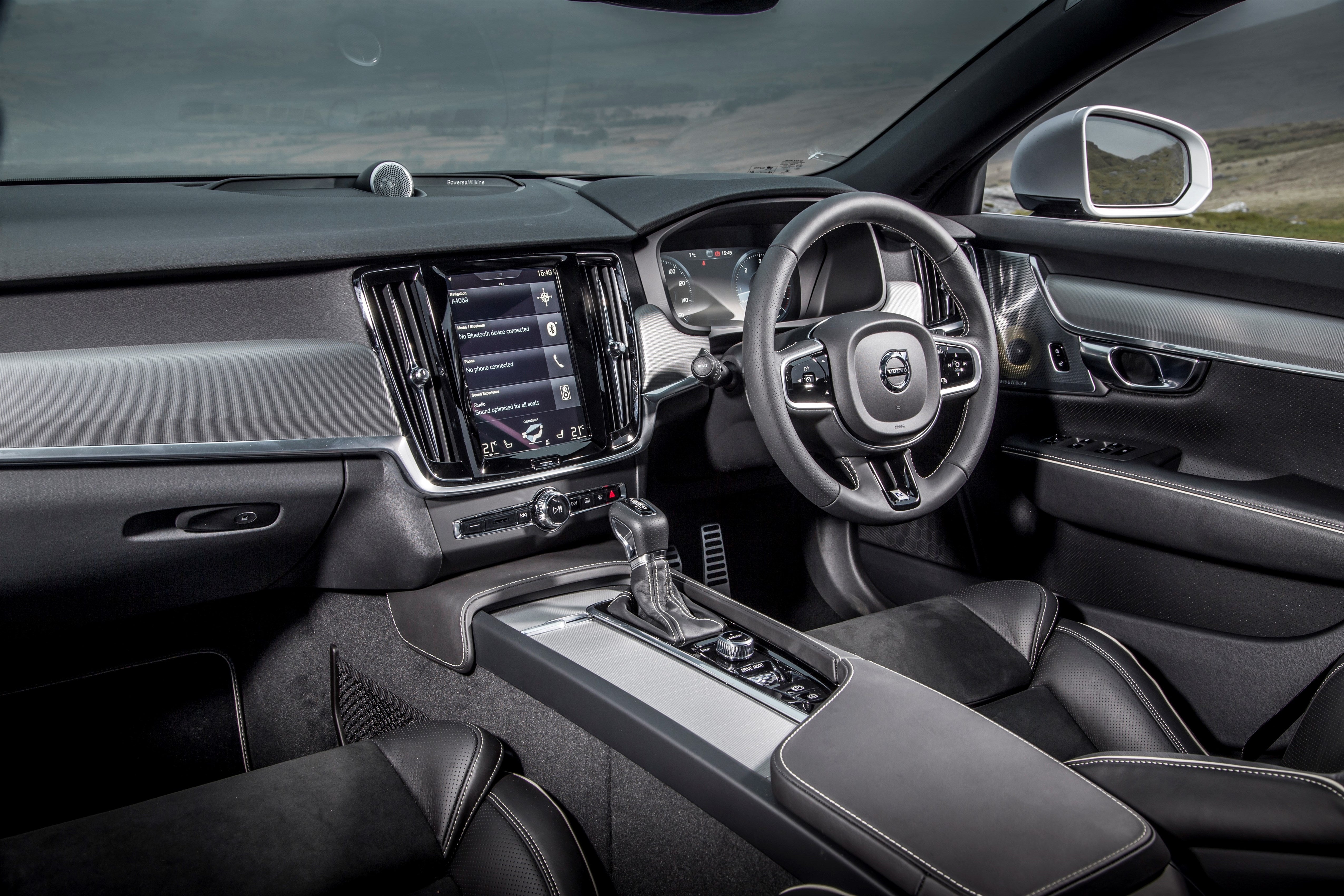 It takes a pleasingly minimalist approach to the layout, with the portrait infotainment screen in the centre of the dashboard but precious little else going on other than air vents and the gearlever. Once you start it up the screen lights up, the digital instrument display does the same, but it's still a low-key cabin, and is all the better for it.
You're also virtually guaranteed to find a comfortable seating position whether you are the driver or one of the lucky passengers. There is a wide range of adjustment in the seat and the steering wheel, with electric adjustment for both the front seat occupants (including lumbar support and seat heating) as standard on all models, so you can endlessly tweak the position to suit your exact needs.
The minimalist approach to the cabin means that you have to use the touchscreen in order to control most of the vehicle system (there are steering wheel controls and voice control too, but they can't operate all the systems).
It's big and clear, and the graphics are sharp but quite minimalist, which makes it easier to read quickly, but it is quite easy to end up looking at the screen for too long whilst driving. Ventilation controls are fixed at the bottom of the screen so you can adjust the temperature quickly, but most other tasks require a bit more tapping and swiping to accomplish.
Quality and finish
No serious contender in this segment can get away with penny-pinching. If you don't deliver what is perceived to be a premium interior with good quality and tasteful design, you can expect to be ignored in favour of the established brands. The V90 more than steps up to the mark however, and if anything it takes a slightly different approach with its design and mix of materials that is arguably more appealing than some of the competition.
One thing the Volvo gets right is that it feels like a genuinely quality product rather than a successful piece of deception. Almost all the surfaces and materials you come across are good quality plastic, cool metal, attractive wood or tactile leather depending on the model and options, so that every interaction with the interior is pleasant rather than jarring.
Going hand in hand with that is the high standard of build quality. The switches and buttons (few that there are) click and snap with reassurance, while the fabrics and leather feel like they could stand up to many thousands of miles of abuse and still hold together well.
Whether the style of the V90's interior is preferable to its key rivals is a matter of taste and preference, but it's safe to say that it does not lag behind them in respect of the quality of the materials and the way they are put together.
Infotainment
All versions of the V90 come with a high-specification infotainment system. It has a 9-inch portrait touchscreen in the centre of the dashboard as well as a 12.3-inch digital instrument display. All models come with sat nav as standard, DAB, live traffic information, Bluetooth, voice activation and a built-in data SIM card with a year's free subscription.
The audio system comes with 10 speakers and a 220W output, but this can be upgraded to a Harmon Kardon system with 13 speakers, a subwoofer and 600W power output. Or, for the full concert hall experience, a Bowers & Wilkins system with 18 speakers and 1,400W. It's also worth noting that you need one of these upgrades to get Apple CarPlay and Android Auto - a disappointing omission on a car at this price.
Operating the system is generally an easy and intuitive process though. You still have the fundamental issue with any touchscreen to negotiate, namely that you have to take your eyes off the road to operate it. The V90 does without the secondary controller that you get in a BMW or Mercedes-Benz allowing you to control the system without taking your eyes from the road, which is a shame - the Volvo's screen and its graphics are low-key and easy to read, while the screen is responsive to inputs.
Space and practicality
The V90 and its competitors are genuine large estate cars, not pseudo stylish sport wagons, so big accommodation for people and luggage is an essential. The good news is that the V90 manages to do both very well, although it is not quite the best in the class on this front.
Front seat occupants will have nothing to complain about however, with yawning amounts of room for legs and heads. With electric adjustment on both front seats, there's also a lot of shoulder and hip room, even though the transmission tunnel is quite wide - you do feel a little enclosed but it's cosy rather than claustrophobic, especially as there is plenty of light coming into the cabin.
It's a similar story in the back seats, where there is ample space for two adults or even three if they know each other. In particular legroom is excellent, even if the front seat occupants have their seats a long way back. As with most cars in this class, the outer two seats are comfortable and well-shaped but the centre seat is compromised both by its shape and the transmission reducing the amount of legroom. If you have three older children they should be able to share the rear seat without getting into an argument within seconds.
Head for the load area, and the standard electrically-operated tailgate allows easy access to the space. You get 560 litres of space with the rear seats in place – that's competitive in the segment, but only 40 litres more than in the smaller V60, which is partly down to the V90's quite steeply-raked rear tailgate.
With the rear seats folded you have 1526 litres to play with, which is pretty generous although not quite as much as that giant Skoda Superb. Surprisingly you have to make do with a conventional 60/40 split rear seat rather than the 40/20/40 version you get elsewhere, although the seats drop at the touch of a button and you get a completely flat floor from the load lip through to the backs of the front seats.
Handling and ride quality
"The Volvo V90 goes for a more relaxed and comfort-oriented driving style."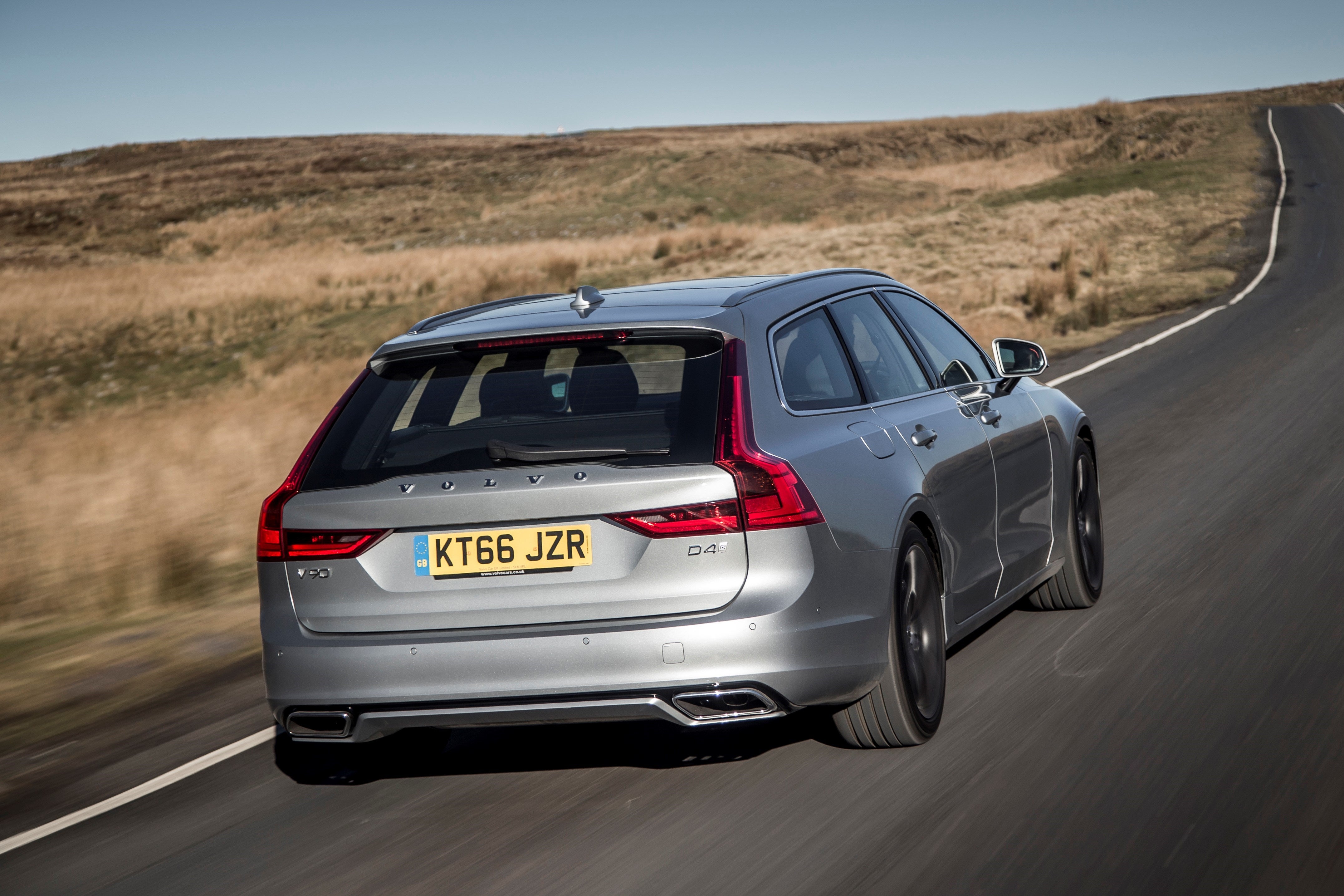 That's no bad thing either, because you're more likely to be cruising and covering long distances in it than blatting along a quiet country road. As standard the V90 is fitted with a conventional steel suspension setup, and in this guise it does a decent job of filtering out road imperfections, although it is less able on the bigger wheel options.
Go for an R-Design model and you get lowered suspension which is stiffer, and while that improves the handling it also reduces the ride quality, so is not the best option to go for.
It costs extra, but the Active Four-C Chassis adds adaptive damping, giving the driver the option to switch between comfort, normal and sporty modes. With this setup, the Volvo is more comfortable in normal driving and more fun to drive when you stick it in Sport, although it is quite firm in the latter setting.
The standard suspension does a decent job of keeping the body's movements under control, but it doesn't show much in the way of enthusiasm for this kind of driving. The sportier R-Design setup feels a bit more tied-down and agile, but the adaptive setup is the best for keen drivers.
The steering is accurate enough but lacks much in the way of feel, so although competent, the V90 is not really the driver's choice in the class – that would be the BMW 5 Series Touring.
Engines and gearboxes
The engine line up in the V90 includes petrol, diesel and hybrid power – all feature 2.0-litre four-cylinder engines. The entry-level 197PS B4 petrol is a decent unit, and with a hefty 300Nm of torque, it is certainly quick enough too, so you'll never feel like it doesn't have enough power.
The two petrol engines above it offer 300PS and 350PS respectively, and while that makes them quicker still, it feels like a slightly unnecessary extra expense in a car that isn't pretending to be some kind of sports car in disguise. The basic B4 is quick enough for most - especially as all Volvos are now limited to 112mph - so you might as well make a saving.
If you need more torque for towing or carrying heavy loads – or just want improved fuel economy – then it's worth looking at the diesel options. The D4 with 190PS and a chunky 400Nm of torque will cover most eventualities, and it balances being usefully quick with economy too.
The 235PS D5 diesel option has 480Nm of torque it can pull anything wherever you want it to go, and with the security of four-wheel-drive too.
The hybrid is powerful and very fast - the fastest V90 model of all in fact - and is capable of impressive fuel consumption, but only really make sense if you spend a lot of time in the city and can afford the high sticker price.
Refinement and noise levels
All the V90s conventional engines offer a good level of refinement and are generally quiet even when extended, even the two diesel options combine a lack of vibration with low noise levels in pretty much all conditions.
The hybrid models are the best of the lot, though. They can operate purely on electric power, this is of particular benefit if you travel in cities, where lower speeds allow the engine to operate in pure EV mode for more of the time.
As for other sources of disturbance, tyre noise is mostly well-contained but does tend to flare up on models that have the larger wheel and tyre combinations. In particular the R-Design models and the hybrids ride on big wheels and stiffer suspension, with a subsequent noticeable increase in road rumble as a result.
Wind noise is also rarely a factor, with only the occasional rustle around the door mirrors at higher speeds.
Safety equipment
Euro NCAP tested the V90 in 2017 and awarded it the full five star rating. As standard, all V90s are fitted with head and side airbags for the front seat passengers, as well as curtain airbags for both front and rear passengers. A knee airbag is fitted as standard for the driver also. Seat belt pretensioners and load limiters are fitted for both front and rear seat passengers, with a seat belt reminder for all seats.
Isofix child car seat mountings are standard in the rear seats and optional for the front passenger seat, with an airbag cut-off switch standard. An active bonnet is fitted, too.
With such a high rating for safety assist it is no surprise that the V90 is fitted with a comprehensive range of driver assistance systems as standard. This includes automatic emergency braking that can detect pedestrians as well as cyclists, as well as speed assistance and lane assist.
An optional Intellisafe Surround safety pack adds a blind spot information system – that'll warn you if a car's hidden in your blind spot – cross traffic alert which can stop you reversing out into oncoming traffic and rear collision warning with mitigation. The last of those features helps protect you if the car you're driving is involved in a rear end shunt.
Maximum EV range
The V90 T8 hybrid model has an official combined range of 31-35 miles, which is similar to other PHEV models that are comparable to the V90. It's an excellent choice if you have a short commute and somewhere to drive the car because it means you can get from A to B using cheap electric power alone, slashing your runnings costs.
MPG and fuel costs
"The Volvo V90s B4 197PS and B5 250PS petrol engines have fuel consumption figures of approximately 40mpg, and given they are both powerful engines they do not need to be worked hard to make sensible progress in everyday driving."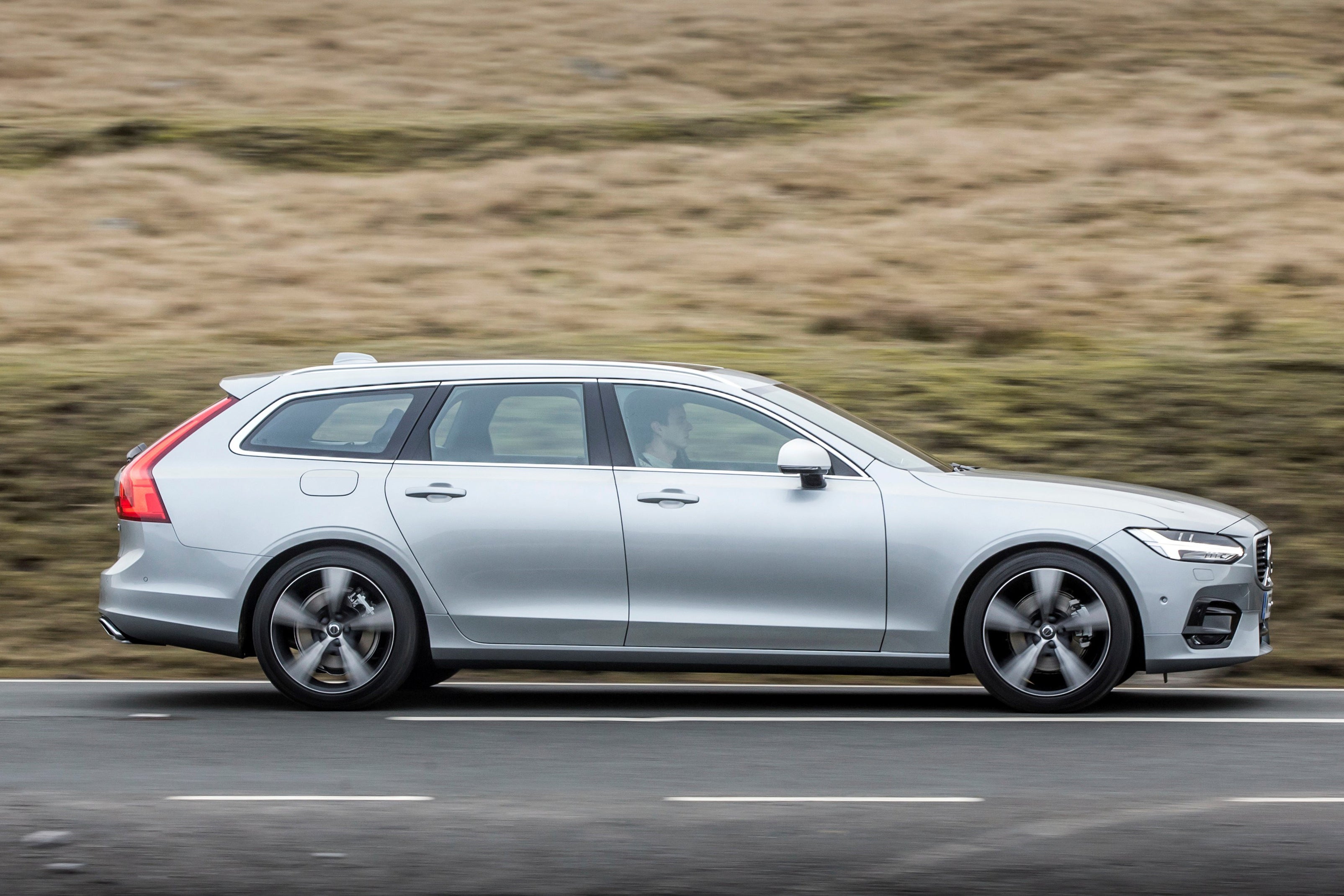 The B6 petrol is more powerful again and due to this, and because it comes fitted with fuel sapping four-wheel-drive, the claimed figure drops to 36mpg.
The diesel options are much better on fuel. The D4 claims 48mpg and the more powerful D5 42mpg - both should be able to manage high 30s in the real world when driven sensibly.
As for the hybrid, the claimed 135mpg figure will be virtually impossible to achieve unless you only drive out town speeds where the car can run on battery power for a large percentage of your journey.
Insurance groups and costs
This is a big and quite expensive car with a range of powerful engines, so insurance ratings are going to be broadly on the high side. The lowest rated model is the D4 Momentum that sits in Group 33, while the B4 petrol is Group 34. Fancier trims and more powerful engines are higher still, with the T5 Inscription in Group 37, while the hybrid T8 is in Group 44 out of 50.
VED car tax
The very earliest V90 models were on sale before April 2017, so you can get a model that sits into one of the cheaper VED brackets. All new cars and those registered from April 2017 drop into the common £150 VED bracket, except those that cost over £40,000 new and instead must pay £475 annually for the first five years.
However, pre-April 2017 D4 models qualify for the £30 rate, while D5s cost £125. It's also important to note that the hybrid pays £465 every year for the first five years and £140 thereafter.
Prices, versions and specification
"Having been on sale for a few years there are plenty of used examples of the V90 to choose from, and as it is still being sold as a new car there is the potential for pre-reg bargains too."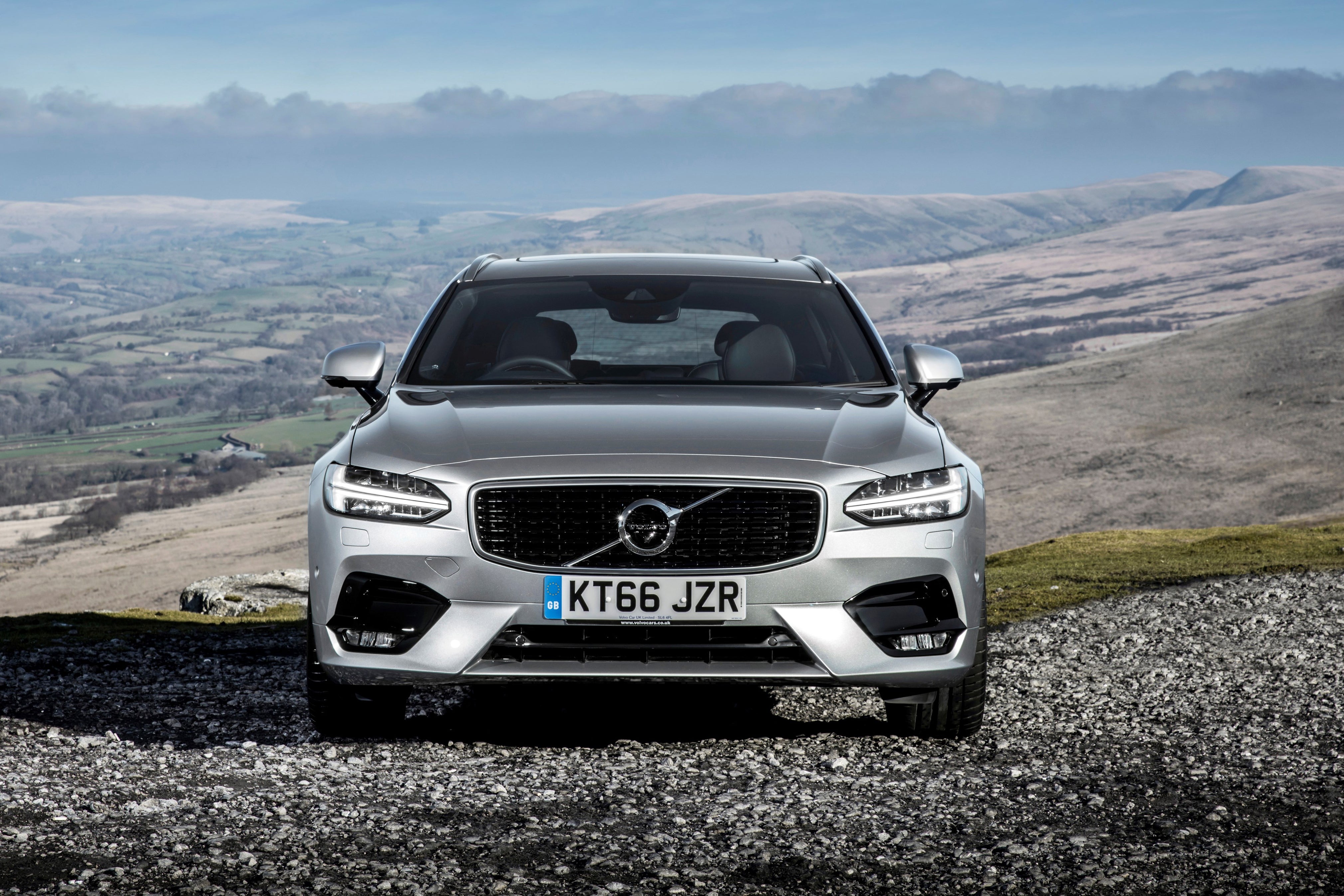 A quick search of the HeyCar classifieds turned up plenty of delivery mileage models at good prices, we found a 2020 T4 in Momentum spec with almost zero miles for £26,000 or a D5 R-Design with 10 miles on the clock for £33,000.
The cheapest cars are now already down to around the £20,000 mark. Cars like a 2017 D4 diesel in Momentum spec with under 40,000 miles for just £19,000, or an R-Design model with under 25,000 miles for £21,000.
Trim levels and standard equipment
Momentum models are fitted with adaptive cruise control and Pilot Assist, meaning the can drive themselves on the motorway and in slow moving queues of traffic. They also include convenience features such as auto-dipping LED headlights, auto wipers, a power tailgate, and rear parking sensors. Even the basic model feels luxurious inside as it comes with two large infotainment screens, leather upholstery with heated front seats, and a DAB infotainment screen with 10 speakers and built-in sat-nav.
R Design models look sporty on the outside thanks to their lowered suspension, 19-inch alloy wheels, body kits and fancy headlights that shine around corners. The sporty theme continues inside where you'll find dark leather, metal trim pieces and multi-colour ambient lighting.
Luxurious Inscription trim adds softer Nappa leather, power front seats with a memory and massage function, and oak or ash wood trims.
Volvo V90 cars for sale on heycar
2,718
Number of cars available
£20K - £58K
Price bracket of these cars
Colours available on heycar
Keep me updated by email with the latest advice, news and offers from heycar
By submitting, you agree to our
privacy policy
.
Popular models
Similar models