Volvo V90 Cross Country Review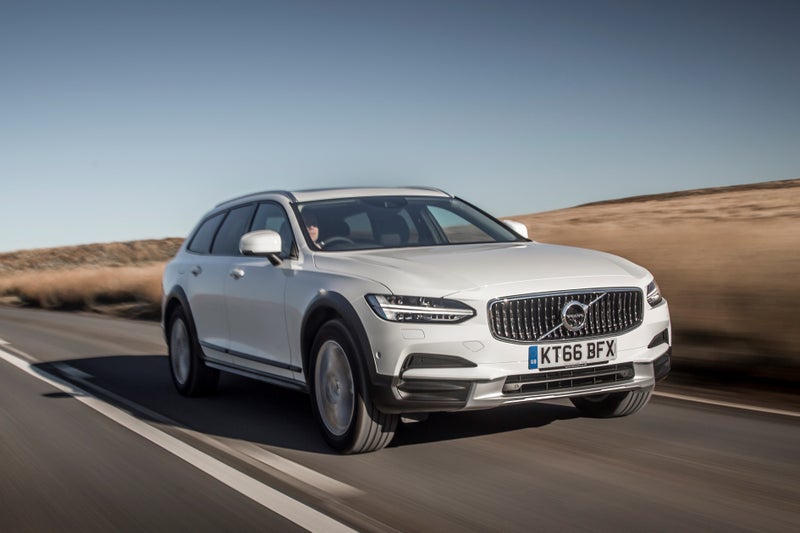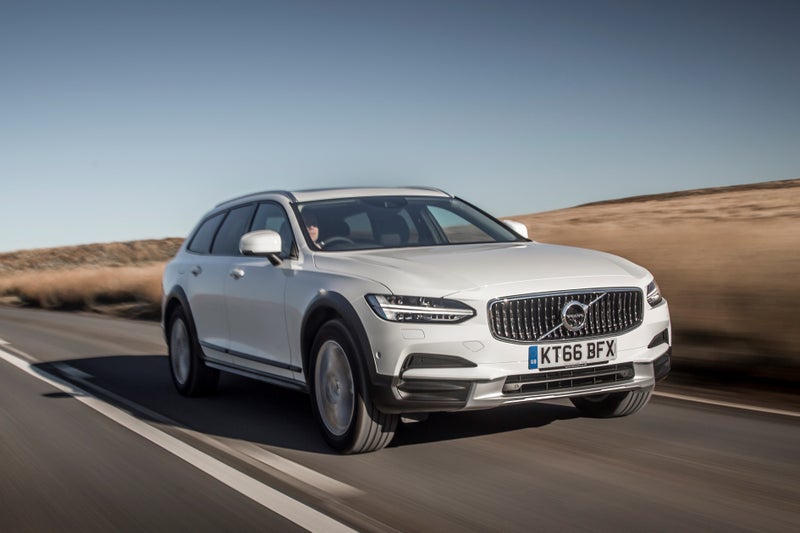 1/10
heycar rating
"The stealthy Volvo XC90 alternative"
Launched: 2017

Estate

Petrol, Diesel
Quick overview
Pros
On and (some) off-road ability
High quality interior with excellent seats
Practical with a big boot and strong towing capacity
Cons
Expensive to buy
Surprisingly firm ride in some configurations
Thirsty petrol engines
Overall verdict
On the inside
Driving
Cost to run
Prices and Specs
Overall verdict
"The Volvo V90 Cross Country is the spiritual successor to the old XC70. These days, 'XC' denotes SUVs in Volvo's model range, and the V90 Cross Country most certainly isn't an SUV – intentionally so."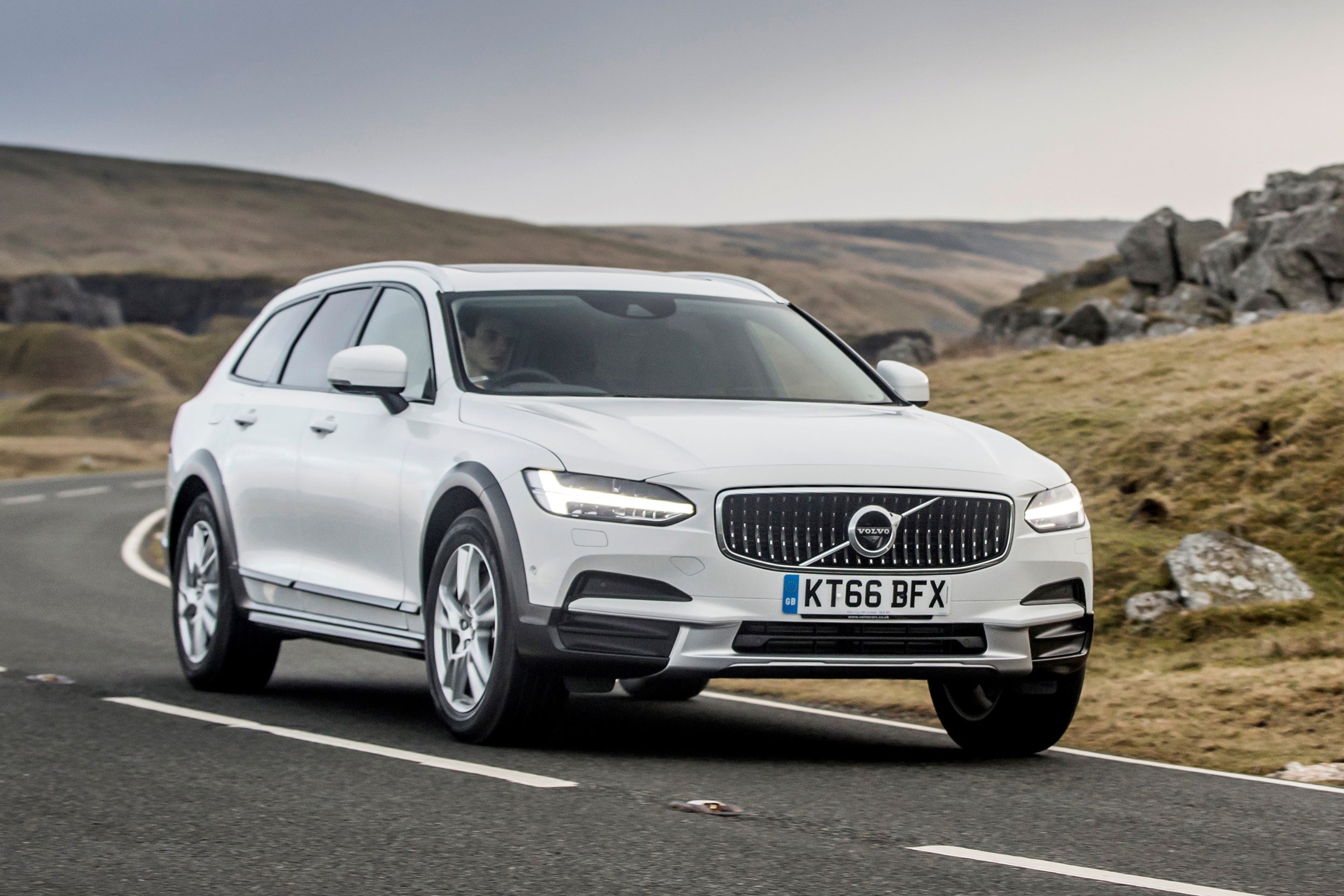 Rather, it's an estate car for people who need more ground clearance and rough-road ability, but also want the better handling, improved practicality and more socially acceptable appearance of an estate.
Audi will claim its the brand that introduced the estate-SUV crossover with its original A6 Allroad. Volvo follows the same formula: take a normal estate, raise the ride height, add tough plastic body cladding and equip it with rugged all-wheel-drive running gear so it can impersonate a mountain goat.
One of the V90 Cross Country's most appealing aspects is how well it drives, given this enhanced off-road ability. Larger, taller SUVs can feel heavy and cumbersome when driving swiftly on fast, winding roads. Yet the V90 Cross Country seems little different to the already excellent Volvo V90 estate. It is composed, stable and quick-witted. And because it's lighter than a bulky SUV, the engines also perform better, and emit less CO2.
In other words, the V90 Cross Country has just enough SUV abilities to get the job done without being lumbered with an excess of weight, cost and complexity. Very clever. Very Volvo.
You might think an SUV would be a more practical car, but generally they're not. They're not as space-efficient so, while they might be good for passengers, they simply don't have the boot space demanded of a proper load-lugger. No such grumbles with the V90 Cross Country, which has the same well-shaped, commodious boot as the regular V90. No, it's not as big as a Mercedes-Benz E-Class All-Terrain, but it's still large and practical: just the job for delivering antiques to that Welsh hillside retreat.
It's a lovely car to sit in. The seats are tremendous, as they often are in Volvos. Occupants face an attractive, modern dashboard, finished to the highest standards. The seating position is good: just high enough to feel a bit more commanding, without seeming too ostentatious.
Equipment levels are also high, reflecting the hefty list prices (this is not a cheap car). Many of the gadgets are built into Volvo's portrait-style infotainment system and you'll probably be discovering features you didn't know you had for months after taking delivery.
The petrol and diesel engines are potent even in entry-level guise, with top-spec versions offering over 300PS. This helps make the V90 Cross Country a genuinely fast car against the clock – another reason it appeals to some when compared to a normal SUV. They all come with an automatic gearbox, as you'd expect.
What really sells cars such as the Cross Country to their loyal buyers is that they are not SUVs. They offer all the capabilities of one, but don't look like one or feel like one to drive. The thinking person's off-roader, if you like. The Volvo appeals for this fact alone. Add in the fact it's a damn good car in its own right and the allure is clear to see.
The Volvo V90 Cross Country is a very appealing SUV alternative indeed. We love its understated image and classy appearance, the on-road confidence it delivers, plus its eye-opening off-road ability. The only negative is its price – this is not a cheap car. Even here, though, loyal buyers don't mind. Compared to an alternative SUV, it's still good value.
Is the Volvo V90 Cross Country right for you?
SUV haters are not gonna hate the V90 Cross Country. It's an SUV by stealth. Similarly, Volvo V90 drivers who fancy something a bit more capable and upmarket will also like it. This sort of car might not seem obvious at first glance, but the more you look into it, the more sense it makes.
The load space is long, and the load height is not back-breakingly high. You don't have to clamber up high to get in. And you don't have to second-guess whether you'll get through a tight gap in the traffic.
Ultimately, the lack of true SUV ground clearance might rule it out for some. But we can't imagine many people finding the limits of its capabilities off-road. The V90 Cross Country is the stylish estate that will cope with every road condition you're likely to encounter. And all without having to carry the baggage of an SUV around with you.
What's the best Volvo V90 Cross Country model/engine to choose?
Even the regular D4 diesel engine is fine. It has 190PS, which is enough for perfectly fine acceleration and cruising abilities. The D5 is, admittedly, livelier and a bit more relaxing: 235PS does make a difference.
Volvo's new petrol engines are more economical than older motors, but still have a greater thirst than the diesels. They make up for this with swift performance, particularly the 310PS T6, which will hit 62mph in just 6.3 seconds.
There's one main spec, which is very well equipped. Again, you won't feel short-changed by choosing this entry-level variant. Pro models have a bigger selection of tech gadgetry and we also like the special edition Ocean Race versions, which offer a bit more visual allure.
What other cars are similar to the Volvo V90 Cross Country?
We've mentioned the Audi A6 Allroad, which created this breed of car, plus there's the rival Mercedes-Benz E-Class All Terrain. Interestingly, BMW doesn't offer an SUV-look version of its 5 Series Touring, although it does sell versions with xDrive all-wheel drive. Jaguar also has all-wheel drive versions of its XF Sportbrake.
Aside from these cars, you're mainly looking at SUVs: the Volvo XC90 (and cheaper XC60), maybe a BMW X3 or X5, perhaps an Audi Q5 or Q7. But buyers looking at the V90 Cross Country will arguably be trying to move away from SUVs, so they probably won't be high on their radar.
Comfort and design
"There isn't a Volvo on sale today that doesn't have a wonderful interior. The V90 Cross Country is naturally very similar to the V90 estate, with the familiar portrait-style touchscreen, wide centre console and jewel-like detailing."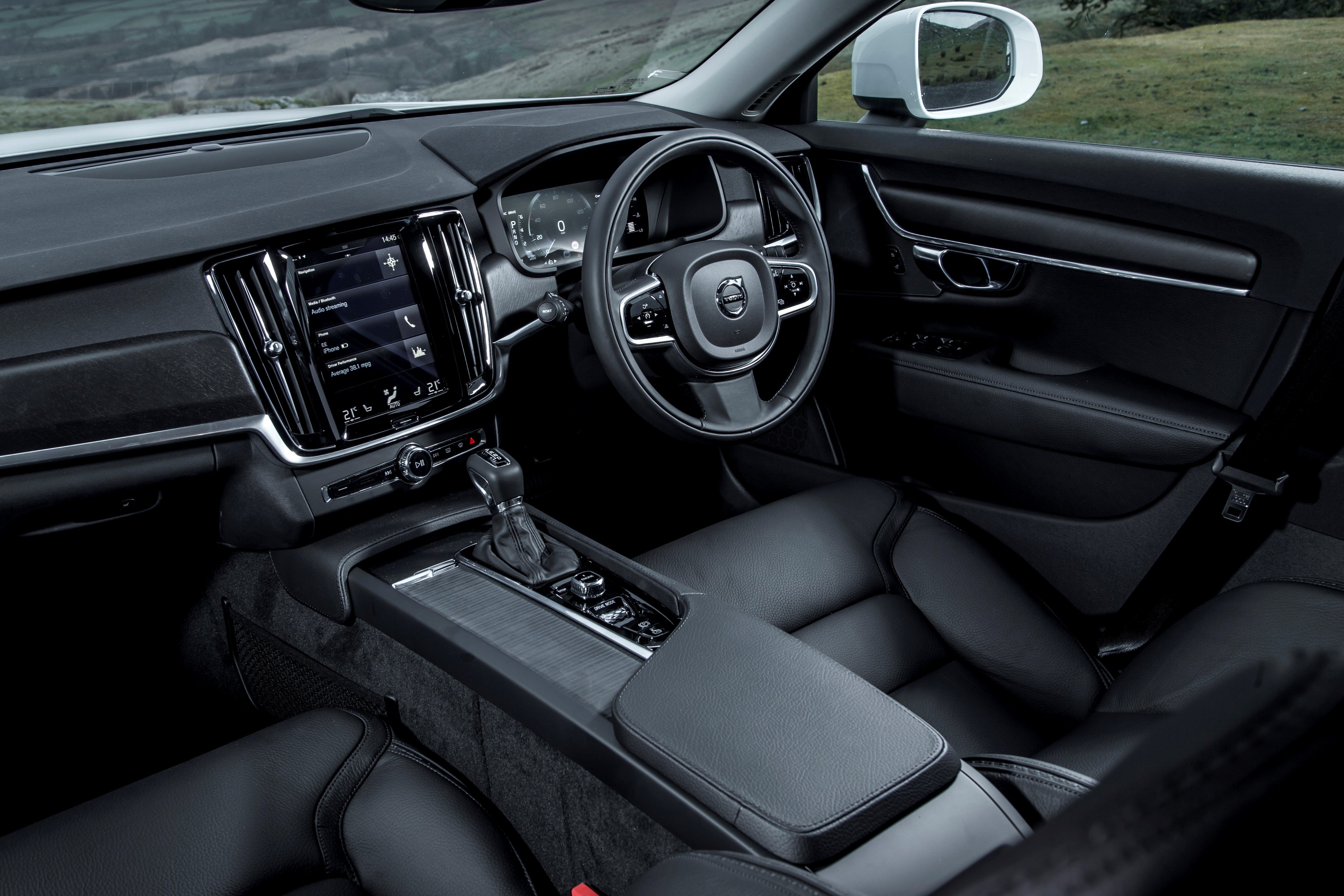 Cross Country models get some chunkier trim, while the sense of comfort is enhanced by being positioned just a bit higher off the ground.
The attention to detail in design is fantastic. Take the starter button – it's not actually a button, but a metal knob, that you turn clockwise to start and stop the car. It's beautifully tactile, as are the dials to control the air vents, the polished black buttons on the steering wheel and the beautifully shaped speaker grilles.
The dashboard has been built around the iPad style touchscreen – more on that below – so it has a very contemporary appearance. It's very modern and Swedish.
Then there are the seats. Once you've sat in them, you'll wish Ikea sold equivalents for your house. They're incredibly comfortable, with feelgood support in all the right places, and they're beautifully upholstered as well. Even after hours behind the wheel, they feel great – and those in the rear aren't short-changed either.
Quality and finish
Volvo has really upped its game in terms of quality in recent years. The V90 Cross Country is now a genuinely premium-feeling alternative to brands such as Audi, BMW and Mercedes-Benz. The dashboard plastics are very rich and the intricate trim is finished to an exceptionally high standard. No premium rival has column stalks that feel this well made and even the electric window switches have a smooth, delicate action rather than a twangy click.
Some of the materials on the dashboard are so nice, passengers will subconsciously find themselves giving them a little polish just to remove any stray fingerprints. It's a car that looks sophisticated and high quality, with no jarring cheap bits to spoil the ambiance.
Even the seat upholstery emphasises this. They are as nicely crafted as a designer wallet or handbag, and are as good to sit in as to look at. The V90 Cross Country is an expensive car, but it certainly feels it inside.
Infotainment
The V90 Cross Country uses Volvo's latest high-spec infotainment system, built around a 9.0-inch high-resolution touchscreen that's oriented the same way as in a Tesla. There are few buttons on the dashboard, because everything is controlled through the screen, even the cabin temperature.
This takes a bit of getting used to. The system has various screens that you swap between, in the same way you do on a tablet device. There are shortcuts to the main areas on the home screen, or you can swipe down to access pages and pages of individual settings.
All cars get navigation and Volvo offers built-in Spotify, too. You don't stream it from your phone, but log in via the car itself, then have it easily to hand. Oddly though, Apple CarPlay is an expensive option and appears simply as a screen within the infotainment system, rather than a full takeover. You sense this is Volvo's not-so-subtle way of making sure you use its own system, not your smartphone.
Space and practicality
The key selling point of an estate car is the room on offer within, particularly boot space. And sure enough, the Volvo V90 Cross Country is a big car. It is very commanding behind the wheel, with a massive amount of seat travel and a nice, car-like driving position (some SUVs can feel a bit upright and van-like). With extra height compared to a regular estate car, it feels more commanding behind the wheel.
Rear-seat passengers won't get the same impression of height and space as in an SUV. People sit lower to the ground and the roof isn't as high. But it's still roomy and it's actually a bit easier to sit back in comfort here, letting the miles pass by beneath you. You'd hope a car almost five metres long would offer ample space in the rear and so it proves.
The clean cabin layout offers good stowage space as well. The long sliding cubby in the centre console is extremely useful, as is the deep box beneath the armrest behind it. The door bins are usefully-sized and those in the rear have a decent amount of oddment space.
The massive Mercedes-Benz E-Class All Terrain is the leader in this sector when it comes to boot space. Its upright stance gives a whopping 670 litres of load capacity with the seats up. The Volvo can't match that, as it's a bit more design-oriented (yes we can't believe we said that about a Volvo either), with a sportier rake at the rear, but it still serves up 560 litres – which is wide, long and practical (an electric tailgate is standard).
The rear seatbacks can split 60:40 to provide, when folded, almost 1,600 litres of space (we like the remote-control seat-fold buttons inside the boot). The load lip isn't too high off the ground, access is wide and open, and there's even a fold-down slot in the rear armrest if you want to slide in long, thin objects (such as skis) without dropping the rear seats.
Handling and ride quality
"The V90 Cross Country drives not unlike a Volvo V90 estate. This is the very appeal of the car for many of its buyers. Handling, rather than feeling a bit top-heavy through bends, is more dynamic and better controlled, with less soggy rock-and-roll."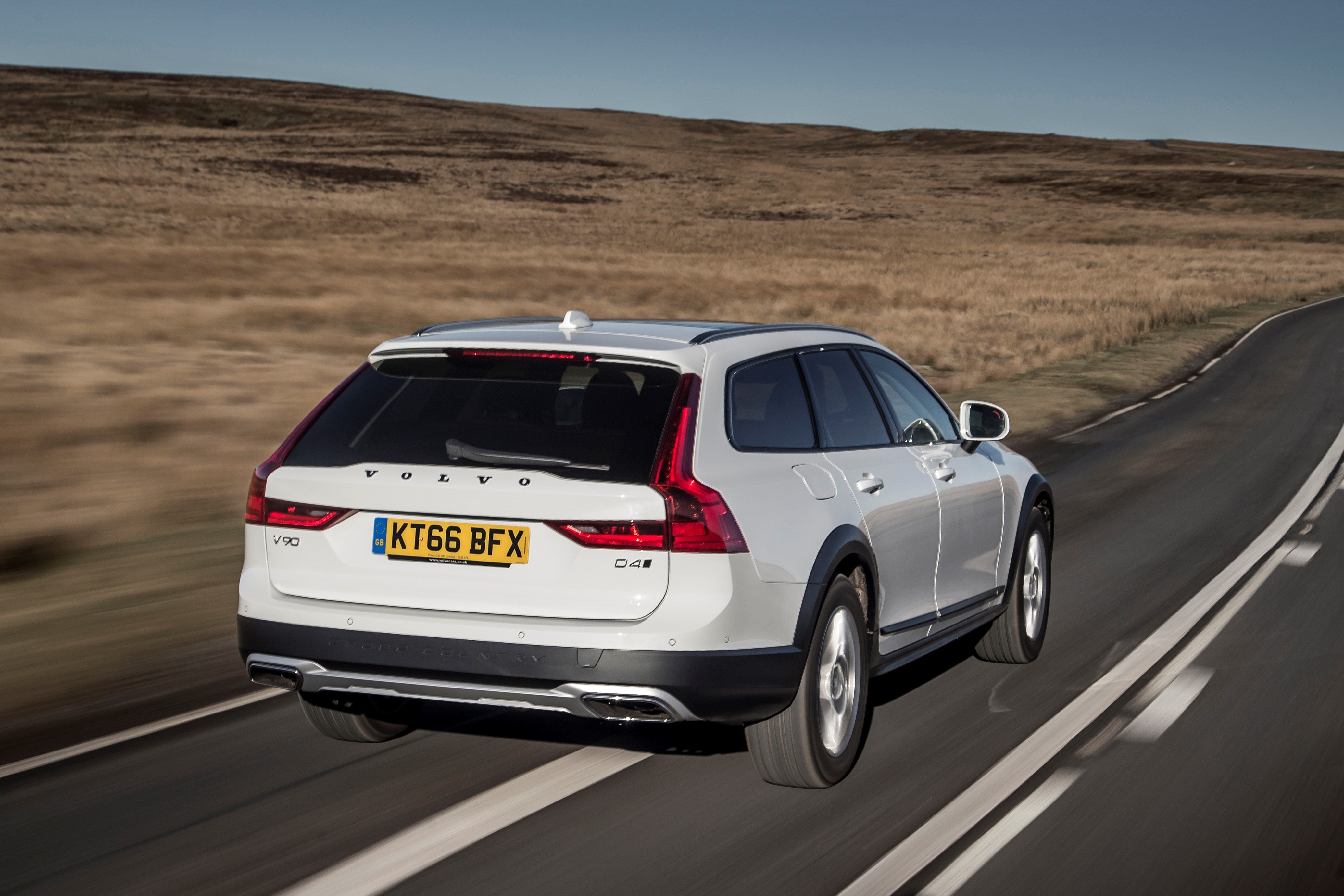 Modern SUVs are good, and nothing like the dramatic boat-like machines of yesteryear, but the Cross Country is better still. That's thanks to being so much more car-like.
All models come with intelligent all-wheel drive, offering good tenacity in inclement weather. This all-weather safety and security is a key selling point of the V90 Cross Country. Even those who will never take it off the beaten track still count upon the fact it will shrug off flooded roads. And not bat an eyelid at driving through a snowfall.
It's not a focused driver's car, of course, not in the way a BMW 5 Series Touring is. But that's not Volvo's schtick anyway. Easygoing and accurate steering, excellent high-speed stability and powerful brakes are instead.
It generally rides competently, aided by long suspension travel and the fact it doesn't need to battle against the sheer weight of an SUV. The springs are, however, a bit firmer than in a normal V90, and can be caught out with a bit of a thud over bumpy country roads. For this reason, we'd maybe steer clear of models with the very largest alloy wheels, which are more susceptible here. The best ride is on 19-inch wheels. The 20-inch rims feel lumpy and the 21-inch alloys can be crashy and stiff in a most unexpected way.
As standard, the V90 Cross Country gets rear air suspension, which helps ensure an even ride height even if you have heavy loads in the boot or are towing a trailer. As an FYI it can haul 2.4 tonnes, which is 600kg more than a regular V90 estate. As an option, adaptive dampers are available, giving a smoother and more stable ride on challenging roads. They also have a clever off-road mode that calls up the car's hill descent control and other electronic aids.
Engines and gearboxes
Four different engines were offered in the V90 Cross Country from launch, two petrol and two diesel. All are 2.0-litre four-cylinder motors. Diesels are the 190PS D4 and 235PS D5, the T5 is a 250PS petrol and the T6 petrol produces 310PS (using a supercharger as well as a turbocharger). All models have an eight-speed automatic gearbox.
The D4 is okay, but the D5 is punchier – and later models with Powerpulse technology (essentially an air compressor to cut turbo lag) are more responsive. Petrol models are swift but revvier, which is why we think the D5 Powerpulse is the best all-rounder.
Volvo subsequently introduced revised engines with 48V mild hybrid technology. Petrol versions are labelled 'B': a 250PS B5 and 300PS B6. But the non-hybridised T5 and T6 remain, confusingly.
The mild hybrid tech gives an extended range of engine-off motoring, cutting the drive as you roll to a halt, rather than waiting for the car to stop. It also gives an electric boost during acceleration, so the engines feel a bit more muscular than their on-paper power outputs suggest. You'll notice this in particular when accelerating once on the move, because the response is more immediate and positive.
The eight-speed automatic is a transmission used by many luxury car brands, and it changes gear in the V90 Cross Country with familiar smoothness. It does occasionally hunt between gears a bit more in the Volvo than in some rivals, however, suggesting the installation isn't honed quite as well as it could be.
Refinement and noise levels
This is a big and very refined car. Noise levels are pleasingly low even on the motorway, where wind noise is extremely well isolated. It passes through the air in a nicely hushed and smooth-rolling way. The bigger irritation may be road noise, particularly on models wearing the largest alloy wheels – simply because the tyres are so large. Noise from bumps in the road is quite audible too, although this is quietened down on models with adaptive suspension.
The diesels can be a bit rattly when cold and at idle, but they smooth out on the move. Petrols, in contrast, are throaty and vocal when revved – although the T6 has so much power, plus the surge from a powerful electric motor, that you'll rarely need to do this.
Safety equipment
Volvo is all about safety. It has a goal for nobody to be killed or seriously injured in one of its cars. Models such as the V90 Cross Country help move it towards that.
The array of standard safety gadgets is extremely comprehensive. All cars have a lane-keeping aid, autonomous city braking, a driver alert monitor and run-off-road mitigation that keeps you on the right side of the white line at the edge of the road. Blind-spot alert is standard – and it will help you steer into safety if you ignore it and try to change lanes into the path of an oncoming car. There's also a warning bleeper if it detects a possible rear collision when you're stationary (you'll panic, but at least you'll be prepared).
The core Volvo V90 estate was awarded a five-star Euro NCAP safety score in 2017, with a superb 95% for adult occupant protection and 80% for child protection. Pedestrian safety scored 76% and safety assist features – helped by the comprehensive list of gadgets above – scored 93%.
Volvo fits Isofix mounting points for child seats on the rear seat (Isofix for the passenger seat is optional), and also offers clever two-stage integrated booster cushions. Parents can remotely engage the child safety locks from the front seats. We also like the standard auto-dim mirrors, both the internal rear-view mirror and external door mirrors.
MPG and fuel costs
"D4 and D5 models both return between 50mpg and 54mpg on the older fuel economy test. T5 versions do 37-38mpg, and the T6 manages 36-37mpg."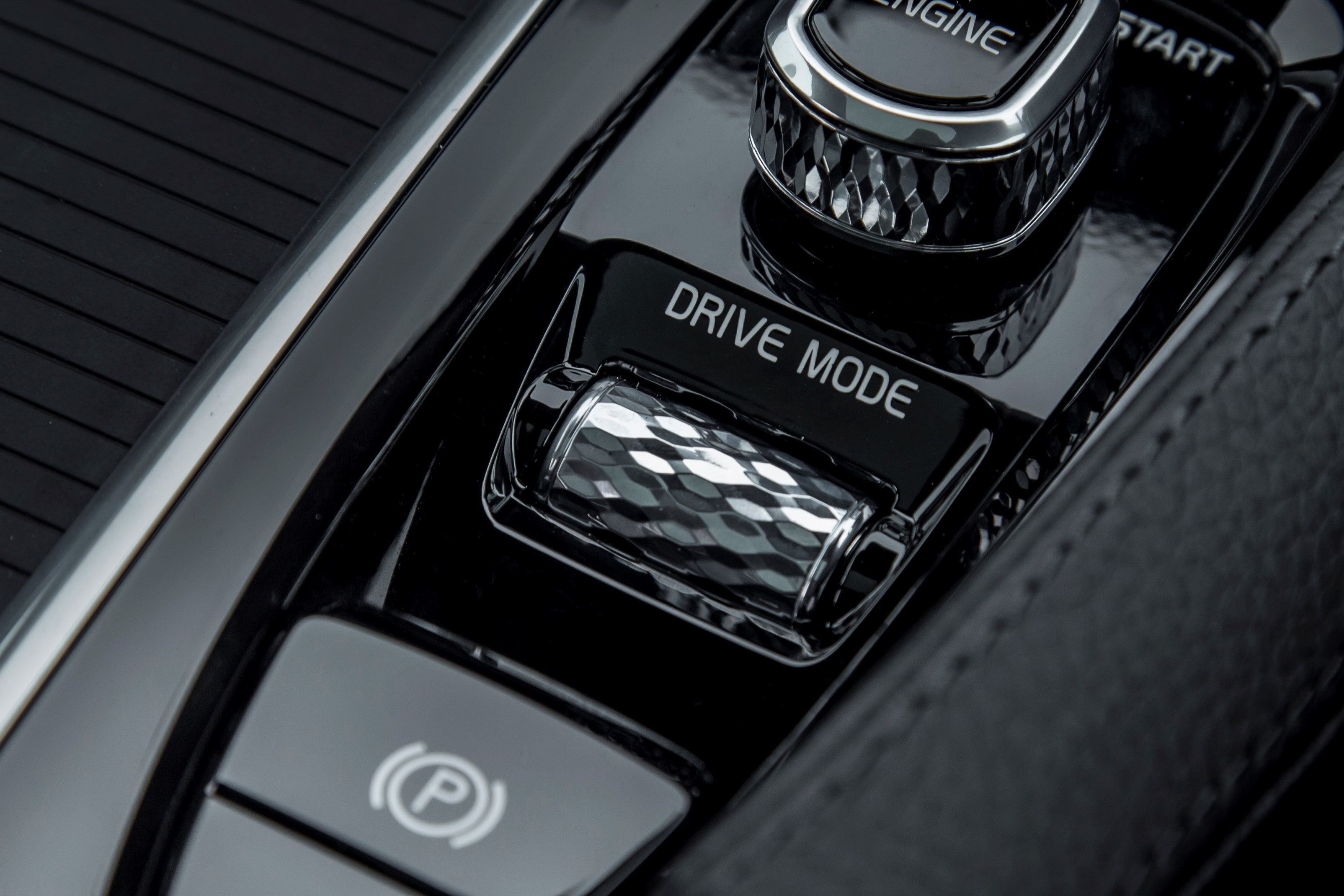 This means fuel costs should prove lower than a full-size SUV, but higher than a lower-slung, front-wheel-drive V90 estate.
New models follow the more real-world WLTP test. A D4 is rated at 43.5mpg, the D5 is 40.9mpg, while both T5 and T6 return 32.5mpg. The mild hybrids are better: a B5 returns 37.2mpg and the B6 averages 34.4mpg.
Insurance groups and costs
The upmarket Volvo V90 Cross Country has fittingly upmarket insurance group ratings, which push up insurance costs. The D4 is the cheapest, coming in at group 35, with the D5 edging up to group 37.
All the petrol models – that's T5 and T6, B5 and B6 – weigh in at the same group 40 rating. Compared with the regular V90, the Cross Country has insurance ratings around five groups higher, spec for spec, which is a bit of a surprise. It perhaps reflects on the extra desirability of the vehicle, and its higher prices.
VED car tax
The Volvo V90 Cross Country went on sale as the UK was introducing its complicated new VED (road tax) system. This penalised new car buyers, as the model's higher CO2 emissions saw owners pay a first-year premium. At least this was less than it would've been for an equivalent SUV – although most will still pay the 'expensive car' premium for years two to six. Only the cheapest sub-£40,000 variants escaped this.
For newer Cross Country, there isn't a model on sale that escapes the £40,000-plus premium, which pushes up VED bills to £475 in years two to six. At least after this, costs fall to £150 a year.
How much should you be paying for a used Volvo V90 Cross Country?
"Good news: on the second-hand market, you can now buy a Volvo V90 Cross Country for around half what you'll pay for a new one."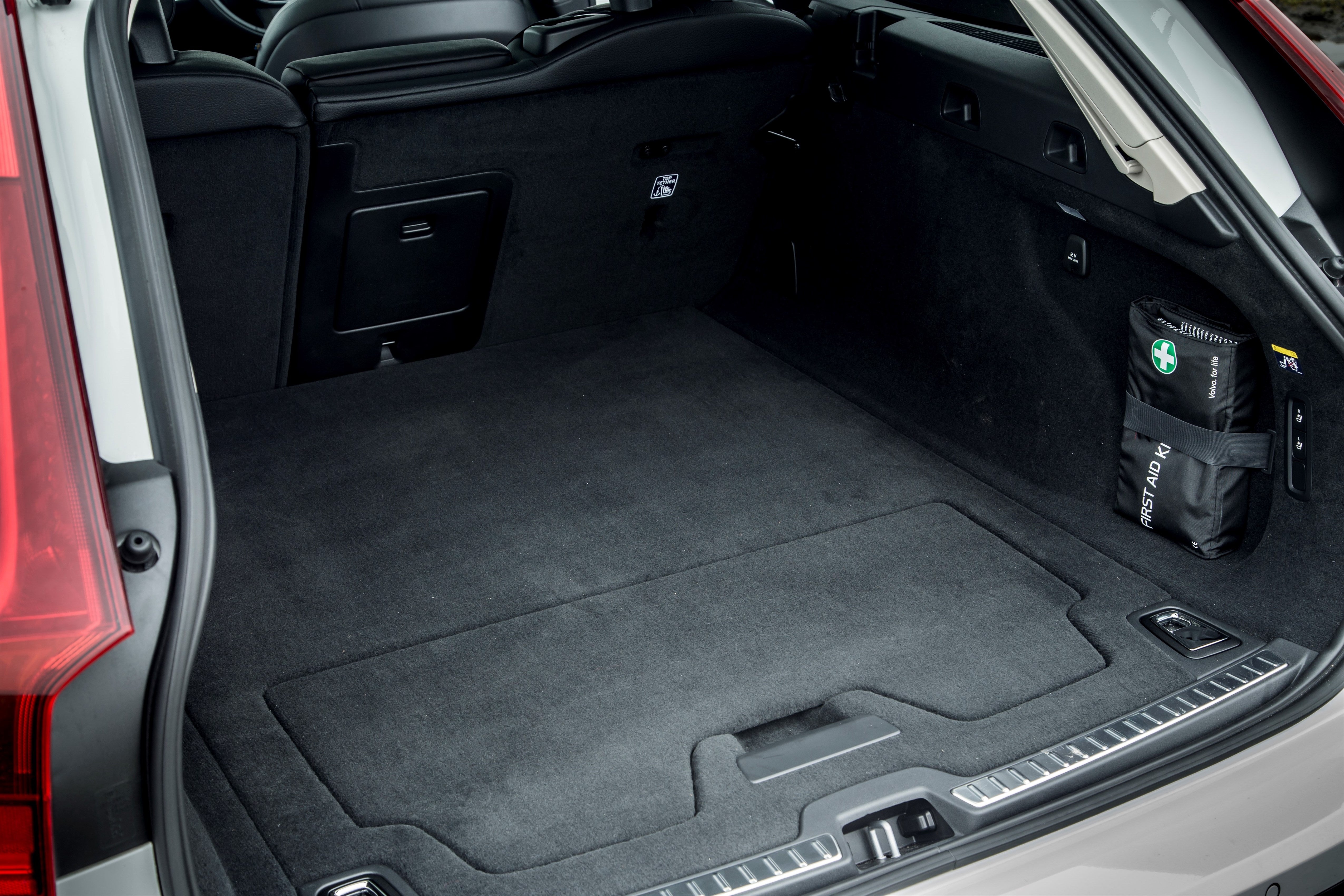 These early D4 and D5 Powerpulse models will have slightly above-average mileage, but will still come from manufacturer-approved retailers, offering tremendous value for your £22,000 investment.
Cars from 2018 start from around £25,000, and these will have covered fewer miles. Again, it's D4 and D5 models that dominate – with the odd well-equipped Pro model found amongst them – but as these are the favoured engines, that's no bad thing.
Up your budget to £30,000 and 2019 cars will be within reach, often with sub-10,000 mileages. This really is the cream of the V90 Cross Country crop and a very compelling alternative to a brand-new model.
Trim levels and standard equipment
The Volvo V90 Cross Country is an extremely well-equipped car, fittingly so given its £40,000-plus list prices. The core version features dual-zone climate control, heated front seats, a huge 9.0-inch infotainment system with built-in sat-nav, plus a plethora of standard safety assist features.
Pro models feature a TFT instrument display and goodies such as heated steering wheel and windscreen, plus other indulgent luxuries. They're well worth looking out for in the classified listings.
Cars from early 2020 that feature the mild hybrid tech have new LED rear lights, a clever particulate-cleansing air filtration system, twin USB-C sockets in the rear and wireless smartphone charging.
Keep me updated by email with the latest advice, news and offers from heycar
By submitting, you agree to our
privacy policy
.
Popular models
Similar models