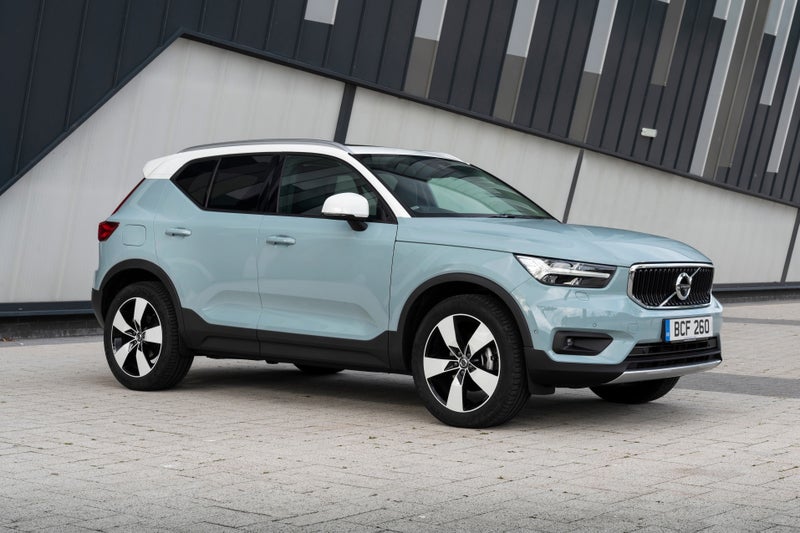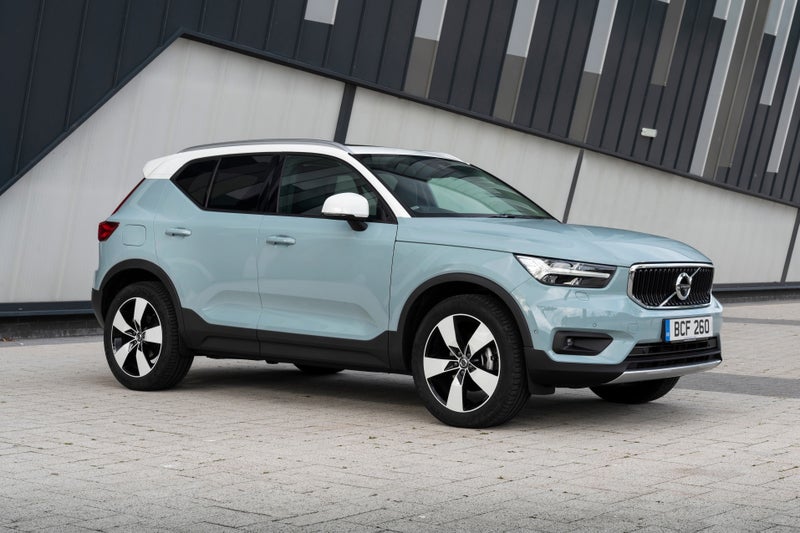 1/10
heycar rating
" Family-friendly premium SUV perfection"
Launched: 2018

Small SUV

Petrol, Diesel, PHEV
Quick overview
Pros
Stylish good looks
Excellent all-round performer
Decent value for money
Cons
You really need the auto gearbox
Desirable extras are expensive
Apple CarPlay and Android Auto not fitted as standard
Overall verdict
On the inside
Driving
Cost to run
Prices and Specs
Common questions
Overall verdict on the Volvo XC40
"The Volvo XC40 is a family-friendly SUV with ample appeal and few weaknesses. It's easy to see why it sells so well, and is so sought-after on the second-hand market. This is an SUV that does it all, with a welcome dose of style and upmarket luxury to boot."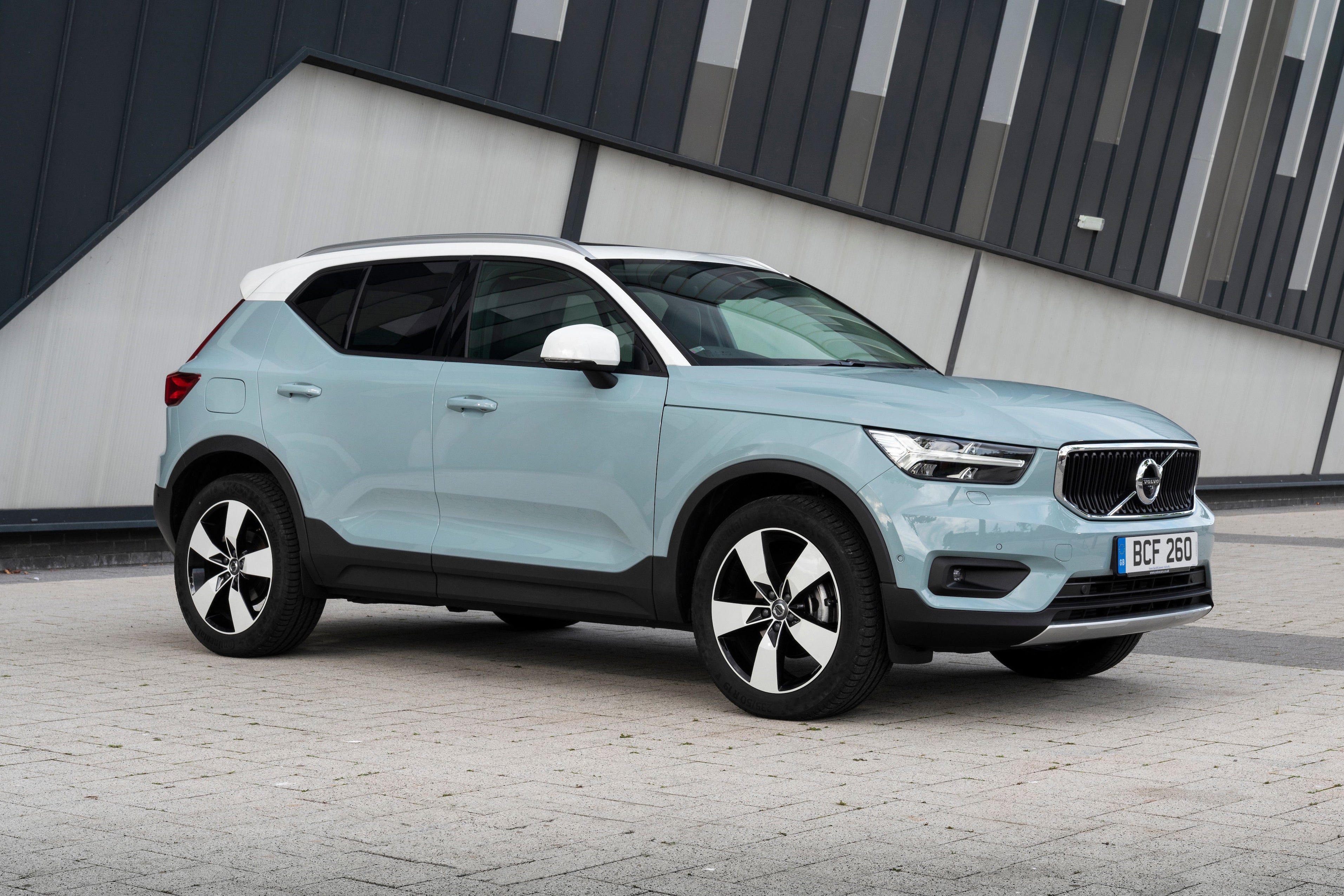 Volvo's XC40 is an outstanding family-sized SUV from the fast-growing Swedish brand. It went on sale in 2018 and has become steadily more popular since, helped by Volvo's continual development of the range – including a plug-in hybrid and fully-electric version in the shape of the Volvo XC40 Recharge. Read on to find out all you need to know with our 2022 Volvo XC40 review.
One of the best small SUVs going, the Volvo XC40 was even named Car of the Year 2019 by HonestJohn.co.uk, seeing off some tough competition to lift the crown. Such recognition has really helped put the Volvo XC40 on the map; it's Volvo's best-selling car in the UK, and a great alternative to an Audi Q2, BMW X1 or Volkswagen Tiguan, as well as more mainstream models such as the Ford Kuga, Kia Sportage and SEAT Ateca.
Volvo's youthful interpretation of its sophisticated signature style gives the XC40 plenty of showroom appeal. It's a chunky-looking machine, with a muscular profile and a cool colour split in the rear pillar that makes it stand out. We like the carefully-crafted side panels and love how Volvo has made a feature of the front bonnet line in the wings. On the passenger side, there's even a tiny rubber Swedish flag poking out – a lovely design detail.
Inside, the Volvo XC40 feels spacious, with a more open, less claustrophobic feel than some of its rivals. It's less cocooning than larger Volvos, but more practical as a result, with an accommodating driving position and plenty of headroom. The dashboard still has the upmarket appearance of larger models, though, using the same upright central touchscreen and even the same high-end steering wheel.
The rear seats are spacious and there's a good, if not class-leading, load bay. What particularly sets the Volvo XC40 apart is the wonderful attention to detail throughout. Which other cars have properly carpeted door bins, with the speakers relocated in order to make them even more capacious and useful? We love the fact you can choose orange carpet with the Volvo XC40, which extends to the door bins as well.
Volvo's comprehensive infotainment system includes built-in Spotify. The add-on IntelliSafe Pro active safety pack is genuinely useful on long journeys. And climate control that monitors onboard air quality and does its best to filter out as many nasties as possible is a real boon in this day and age.
Engines comprise of 1.5-litre and 2.0 turbocharged petrol and diesel engines of varying power outputs. Petrol engines are labelled 'T' or 'B', while diesels are branded 'D'. It frankly doesn't make a big difference to the driving experience, as they all have a similar feel. Numbers designate how fast they are: a T4 will be faster than a T3, and so on.
Both two-wheel-drive and four-wheel-drive Volvo XC40s are offered, with the AWD models being best for winter-road use, but the 2WD proving perfectly fine away from extremes. People buy the Volvo XC40 for its family-friendly usefulness and SUV good looks, not its off-road ability.
Is the 2022 Volvo XC40 right for you?
The Volvo XC40 is an on-trend SUV, from an on-trend premium brand, and it sells for prices that are competitive for this sector. Straight away, this means it'll be right for a lot of people, particularly those bored by their current Audi or BMW.
All Volvo XC40s, even the most affordable versions, have an eye-catching appearance that you'll be chuffed to see on your drive. You don't have to spend big on the range-toppers to get a stylish, eye-catching model, which is part of the reason the XC40 is proving so popular.
We also rate the car's practicality, particularly for passengers. MPVs feel rather passé these days, as most people switch to SUVs, but the XC40 shows Volvo hasn't forgotten families who need a car to work day-to-day.
What's the best Volvo XC40 model/engine to choose?
All versions of the Volvo XC40 are pretty good. If you're an undemanding driver, we'd say even the regular T3 will prove fine, although you might prefer the eight-speed automatic gearbox rather than the manual. A stick-shift really doesn't fit in this car. The mild hybrid B4 is a good all-rounder for longer trips (and has the auto 'box as standard) and you don't really need the B5.
Even the D3 diesel engine has 150PS, while the D4 has 190PS. Only the base D3 model is a manual gearbox. The XC40 Recharge electric and plug-in hybrid models are set to become popular as well, the plug-in hybrid particularly so. They do, however, take Volvo XC40 prices up to a rather lofty level.
The entry-level trim Volvo XC40 Momentum comes surprisingly well equipped. The trouble is the XC40 R-Design grade offers a sportier look, with just that bit extra visual appeal outside and in. We can see buyers being drawn to it, both in new car showrooms and on second-hand forecourts.
What other cars are similar to the Volvo XC40?
The Volvo XC40 is a premium-grade SUV without quite the heady price tag of some alternatives. You get more car for your money here than with an Audi Q2 or BMW X1, for example. The Mercedes-Benz GLB is another pricey alternative.
Because of the Volvo's great all-round practicality, it also goes up against big-sellers such as the Volkswagen Tiguan and Ford Kuga, both of which provide a stern challenge. Slower-selling alternatives include the Jaguar E-Pace and Lexus NX, while it's impossible to ignore the draw of the Range Rover Evoque in this sector, too.
Comfort and design: Volvo XC40 interior
"Volvo's latest cabin style is very modern and appealing, which the XC40 interprets in a very successful way. It all looks very contemporary and sophisticated, dominated by the central touchscreen, plus a neat set of fully digital and configurable instruments. Oh, and we love Volvo's latest chunky steering wheels, which are so good to hold."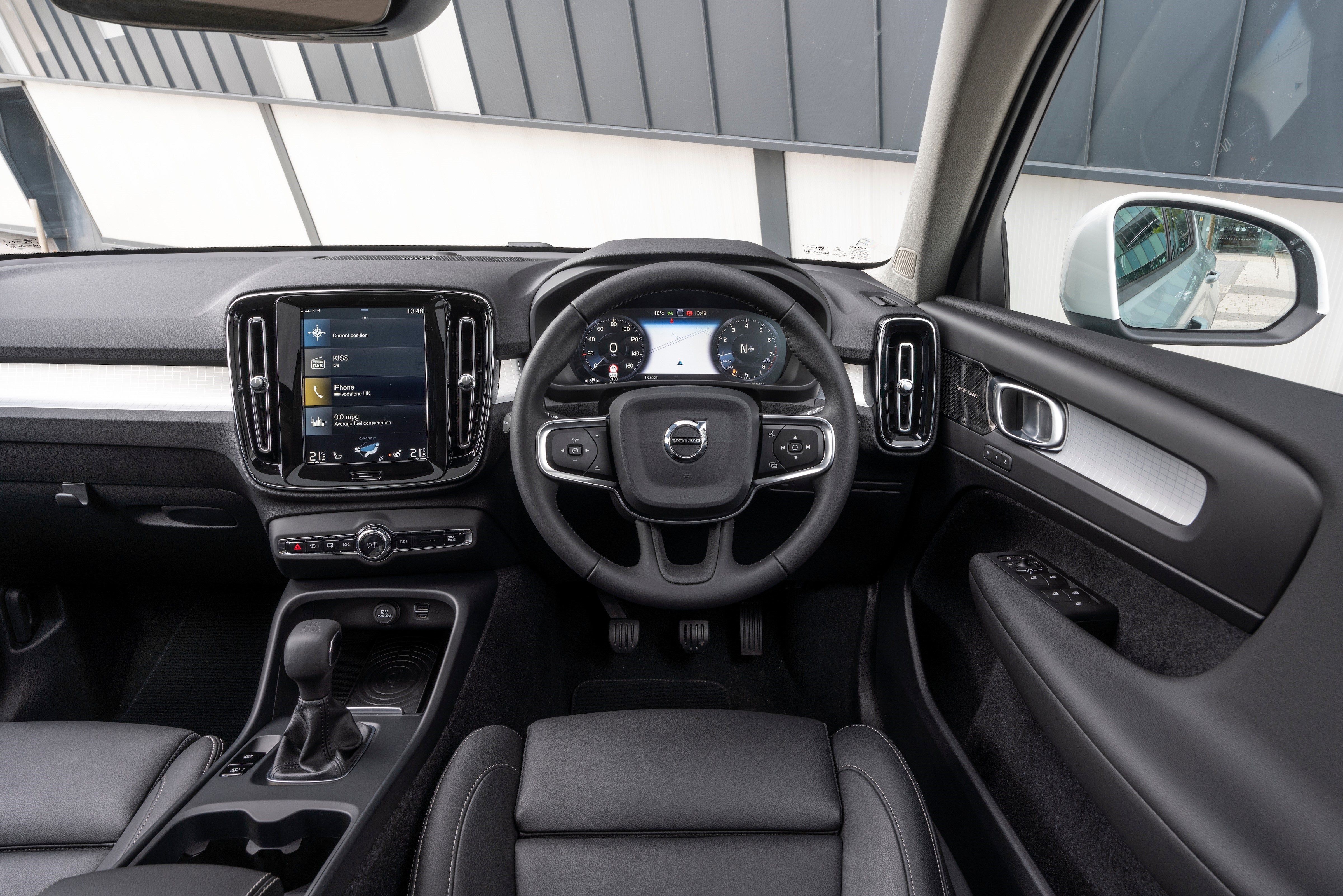 The 2021 Volvo XC40's interior has a spacious feel, as Volvo has scalloped out the interior door panels for maximum space. But it's not austere, as set within them, and on the dashboard itself, are some really rich trim inlays. Details such as the metal door handles and chrome-finished air vents (with beautiful twist-toggles to open and close them) are lovely, too.
Volvo offers a range of finishes inside the XC40, from dark and sporty, to bright and contemporary. Special mention must go to the orange carpet option, which actually extends from the floor into the door panels. It's a bit oddball but very appealing – for those who don't instantly find it hideous, that is. The fact Volvo is willing to be bold with design details like this shows just how the brand has developed.
Seat comfort is excellent in the the XC40. This is a Volvo trademark and the XC40 doesn't disappoint. Particularly appealing are the sportier, more bolstered seats in R-Design models, which have plenty of adjustment and a 'big car' feeling of support.
Quality and finish
Features such as the HD central screen, rich leather steering wheel and beautiful chrome-tipped dashboard elements give the Volvo XC40 a real sense of quality. It has a premium appearance and the clear link to more expensive Volvo models helps reinforce this.
We admire some of the design tricks Volvo has used, too. Instead of a hard plastic centre console surround, it has extended the carpet up the sides, so it feels plusher and more luxurious. Fitting carpet on the door panels also adds to the sense of comfort.
Outside, the Volvo XC40 has a solidly-built appearance, with high quality paint and excellent panel assembly. It is the sort of design that simply oozes premium quality, and the finish is impeccable. Be in no doubt, this is a genuine premium-grade car.
Infotainment: Touchscreen, USB, nav and stereo in the Volvo XC40
The centrepiece of the Volvo XC40 dashboard is the 9.0-inch portrait-style Sensus Connect infotainment screen. This is exactly the same as you get in pricier Volvos, which really underlines the 'shrunken premium car' impression. It takes a bit of getting used to, as it is reliant on knowledge of smartphone-style swipes, scrolls and pinches. However, once you've mastered the basics, we're pretty sure you'll love it.
The XC40's screen is packed with features as standard, including Europe-wide navigation with live traffic information (and lifetime annual map updates), DAB radio, Bluetooth and voice activation. Volvo has fitted a SIM card, and gives new car buyers a year's worth (or 100GB) of data. This allows a wi-fi hotspot to be created for up to eight devices, online connectivity via the Volvo On Call App, and even stolen vehicle tracking.
We must also mention the stunning Harman Kardon sound system. It has 13 speakers, a subwoofer, 600 watts and Dolby Pro Logic TT surround sound. It is absolutely stunning, turning the Volvo XC40 into a concert hall on wheels. The only fly in the ointment is that Volvo doesn't install Apple CarPlay and Android Auto as standard. Instead, they're optional – if you really need it, take along your phone (and a cable) when testing a used Volvo XC40 to make sure it's present.
Space and practicality: Volvo XC40 boot space
The Volvo XC40's exterior dimensions see that it is 4425mm long, 1873mm wide and 1658mm tall. What do these figures mean in the real world? Well, they mean that the XC40 is slightly shorter that the BMW X1 (4447mm) and the Lexus UX (4495mm). It's also narrower than both, the Lexus is a portly 1840mm wide, while the X1 has a 1821mm measurement.
Compared to the sportier-feeling larger Volvos, the XC40 has a more spacious and open-plan feel behind the wheel. Front-seat passengers in the XC40 sit up high (with 1030mm of headroom) and the footwells are roomy (1040mm legroom) – it has almost an MPV-like feeling of space behind the wheel, but without the more van-like MPV driving position.
Volvo excels in terms of front-seat practicality, too. The door bins are gigantic in the XC40, with cleverly-relocated speakers opening up the full width of the bottom of the door for stowage space. It makes all other cars seem wasteful and lacking in practicality. The wide centre console of the Volvo XC40 is also very accommodating – the forward section is just waiting to swallow sunglasses, keys and smartphones, while there are two cupholders further back and, behind them, a roomy central stowage cubby.
In the rear, the tall cabin again gives plenty of space for passengers. Tall sides mean plenty of headroom (994mm to be precise), and the rear seat feels wide and accommodating. Again, the bench seat is high off the ground, so taller people will find it comfortable, plus there's a good amount of space beneath the front seats. The XC40 is a great family car – even if the bulky floor means it won't be quite so welcoming for the middle-seat passenger.
The only grumble may actually be seeing out: the sporty lines of the rear shoulders cut into the rear side windows, which restricts the view out for smaller kids. Taller people won't mind, but others might find it feels a bit claustrophobic in there – a rare case of style over passenger-friendly substance in the Volvo XC40.
The boot is extremely well-shaped. It is wide (more than a metre between the wheelarches), and the floor is completely flat, meaning you can make full use of its ample 460-litre capacity with the seats up (that's 80 litres more than a Volkswagen Golf). Its sloping tail gate eats into space above the window line, but this doesn't detract from the fact that the load bay is square and boxy and has no load lip to negotiate when you're sliding heavy luggage safely into place. You can get bigger SUVs, but you'll struggle to find anything more practical than the Volvo XC40 – particularly if you add on the Convenience Pack, which brings in a multi-function boot floor that doubles as a partition to stop things sliding around. With the rear seats folded, the Volvo XC40's boot space extends to 1336 litres and you'll squeeze an adult's mountain bike into the back without having to take any of its wheels off.
Handling and ride quality: What is the Volvo XC40 like to drive?
"We like how Volvo sets its cars up. They are not too sporty, but not too soft and squidgy either. For many, they will be, well, just right. Certainly, the Volvo XC40 has a very pleasant ride quality, particularly on models that don't have the largest (and best-looking) alloy wheels. It has long-travel suspension that soaks up lumps and bumps very ably, and it doesn't make too much noise while doing so."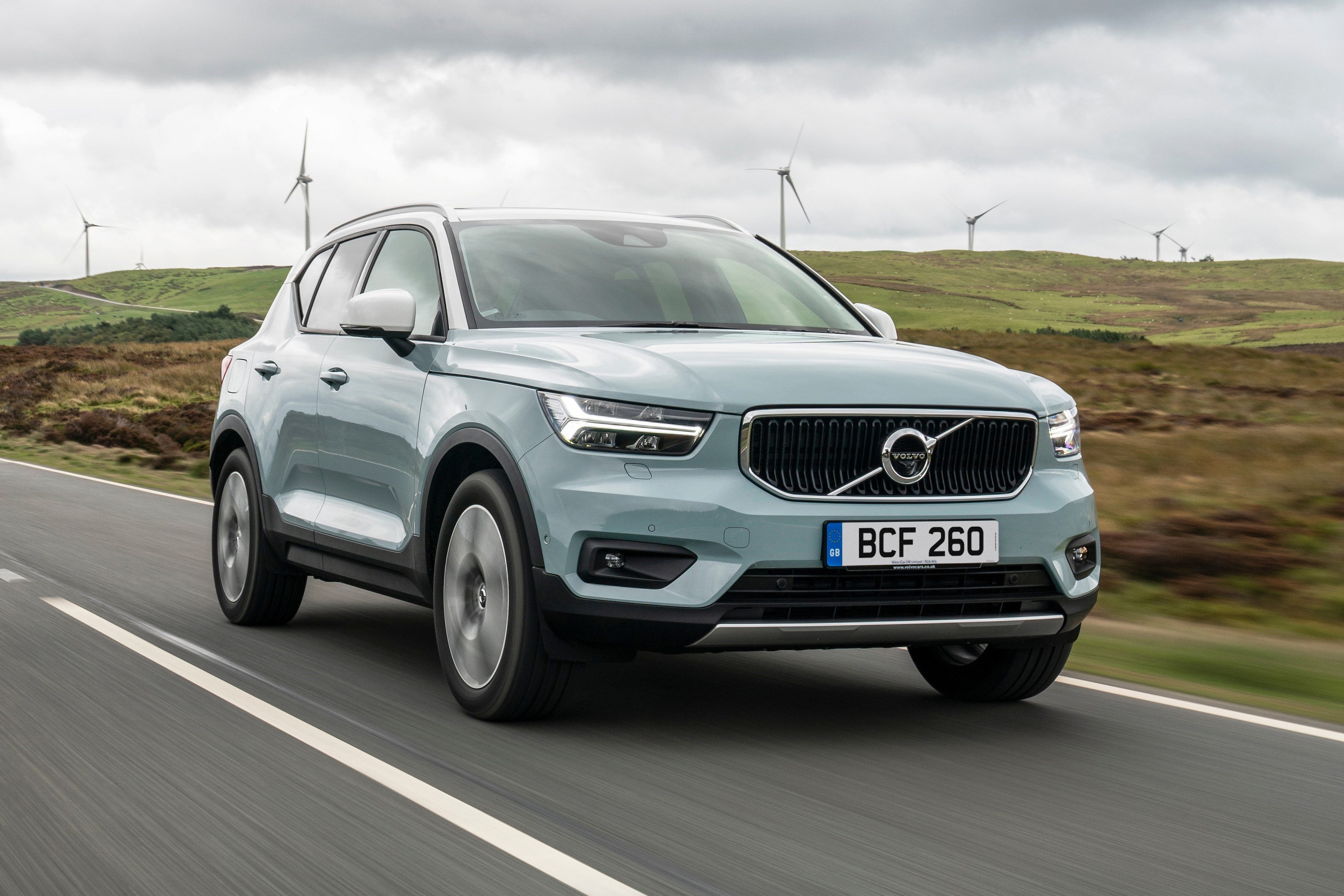 A few notes on wheels that are available with the Volvo XC40: they range from 17- to 21-inches. For most variants, Volvo fits 18-inch wheels as standard with the XC40, which we think are large enough. Although we can understand why you'd be tempted by the 20-inch rims on the R-Design Pro. But don't, whatever you do, go for the optional 21-inch wheels if you want a smooth and irritation-free ride.
Volvo always builds a bit of safety into how its cars drive – a bit of 'sneeze factor', if you like. They're not as sharp as something like a BMW, and therefore a bit more forgiving. This is demonstrated by the steering on the XC40: the wheel is a little larger than average and, while it's perfectly accurate, it doesn't quite have the wrist-flickability of something sportier. The Volvo XC40 is more easygoing and relaxed, and won't punish you with a thrum of the lane-keep assist if you happen to lean over behind to ask the kids exactly what they're up to.
The same goes for the handling. It's precise enough, but not pin-sharp and tiring. It rolls a bit more than something like a BMW X1, but the Volvo XC40 encourages a smooth, flowing style, which is precisely how you should drive a Volvo anyway. This isn't a hot hatch, after all.
The sportiest Volvo XC40s are the R-Design models. These come with a sports chassis that is a bit tighter than normal. Although even these won't exactly feel like a sports car.
What engines and gearboxes are available in the Volvo XC40?
Volvo names its cars in such a way as to make actual engine size irrelevant. Customers buy based on how much power they want, rather than seeking a particular type of motor. The range opens with a 129PS 1.5-litre three-cylinder turbo XC40 T2, with front-wheel drive and a manual gearbox. The XC40 T3 is the same petrol engine with 163PS, and a choice of the manual or an eight-speed automatic gearbox. It's a sweet engine, with a nice, throbby nature and, in T3 guise, ample pulling power (the T2 is a bit slow against the clock, but does feel better once up to speed).
Volvo also offers a more powerful 2.0-litre four-cylinder turbo with the XC40. These versions are branded 'B', as they feature 48-volt mild hybrid technology that extends the engine-off period at low revs. They all come with the eight-speed auto. The B4 produces 197PS and comes in both front-wheel drive and all-wheel drive configurations. The B5 produces 250PS and is solely all-wheel drive. The extra performance of the larger engine is noticeable, and it feels that bit more relaxed when travelling at high speeds.
Diesel is less of a priority for Volvo. Both the D3 and D4 have a 2.0-litre four-cylinder engine, with the D3 producing 150PS and the D4 making 190PS. It's actually not a bad engine, but Volvo sees its future in electrified vehicles – which is why it also offers the T5 Recharge plug-in hybrid with a 1.5-litre turbo engine and rechargeable onboard battery. Its combined system output is 262PS and it beats all but the B5 for 0-62mph acceleration.
Refinement and noise levels
Refinement is generally very good with the Volvo XC40. The XC40 cruises quietly, with wind noise kept well at bay and road noise dampened down. There's more tyre roar on versions with the largest alloy wheels, but that's inevitable – as is the busier ride quality around town.
Diesel engines are a bit clattery on start-up, but they're quieter when warmed through and hushed at speed. The lower-power petrol engines are a bit busier, and you'll certainly have to work the T2 rather hard, so it can become raucous. Again, though, their turbocharged pulling power means they're not too gruff at speed. The B4 and B5 engines are very refined – even more so in town thanks to their extended engine-off range.
The T5 Recharge is extremely hushed in EV mode. When the battery is flat, the engine starts up, but if you're driving on the motorway, you probably won't even notice it at first. It's obviously not as silent as the pure electric drive, though, which may encourage you to charge it up more.
Safety equipment: How safe is the Volvo XC40?
The Volvo XC40 is outstanding for safety, in the typical Volvo way. Euro NCAP awarded it five-stars for crash safety in 2018, with adult occupant protection rated at a near-perfect 97%. Child occupant protection is good, too, at 87%.
Standard safety equipment includes a full set of airbags, including a driver's knee airbag and full-length curtain airbags, ISOFIX child seat mounting points for the outer two rear seats (it's optional for the front passenger seat), an airbag cut-off switch and a seatbelt reminder for all five seats. The front seats also have Volvo's WHIPS whiplash protection system.
Active safety features are comprehensive with the Volvo XC40, including City Safety autonomous emergency braking that detects cyclists and pedestrians as well as other cars. Run-off-road protection helps stop the Volvo XC40 driving over road-edge markings and into danger, and there is a driver alertness monitor that sounds a warning when it detects a drowsy driver.
Volvo also offers the optional IntelliSafe Assist package with the XC40, with adaptive cruise control and pilot assist that helps with steering, plus IntelliSafe Surround that includes a blind-spot and rear collision warnings. It's a very useful safety aid – and a neat driver convenience feature, too.
MPG and fuel costs: What does a Volvo XC40 cost to run?
"Because of Volvo's efficient engine range, fuel economy is good across almost all variants of the XC40, which helps keep fuel costs down. The T2 petrol is rated at up to 40mpg – but as the T3 delivers exactly the same fuel consumption, you may prefer to go for that. The automatic version is around 2mpg less fuel-efficient than the manual."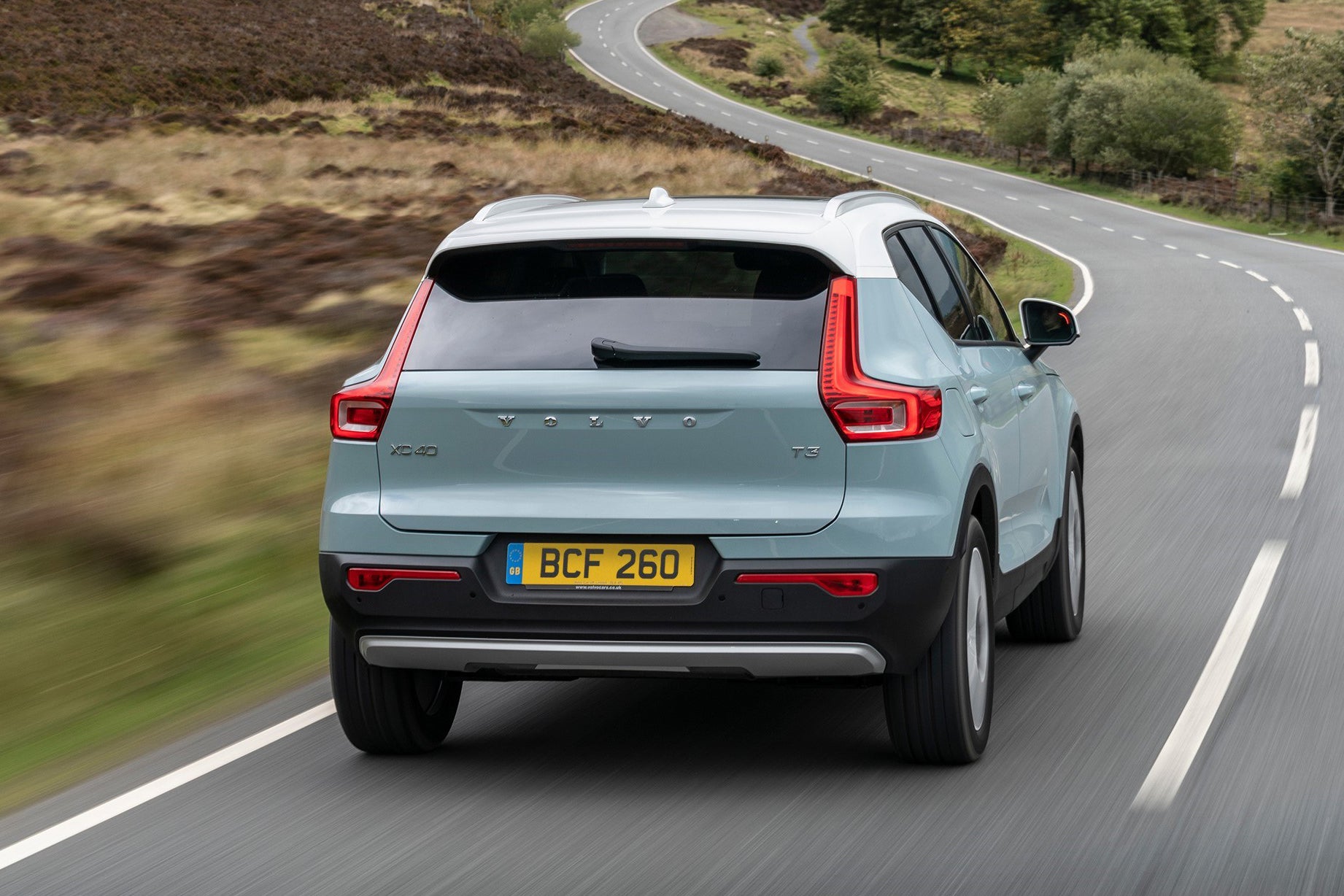 The B4 front-wheel-drive auto averages between 36-39mpg, with all-wheel drive knocking just over 2mpg off this range. A D3 manual will return up to 51mpg, with the auto averaging between 45 and 47mpg.
Because it has an electric range of around 27 miles, the T5 Recharge hybrid officially averages up to 134mpg, but this will be unrealistic unless you start every journey with full batteries.
How reliable is the Volvo XC40?
We've had very few reports of problems with the Volvo XC40 and it is so far proving extremely reliable. Indeed, it proved the most reliable Volvo model in the range in the 2020 HonestJohn.co.uk Satisfaction Index, with an impressive reliability score of 9.82.
Insurance groups and costs
There's a good money-saving reason to pick the Volvo XC40 T2 – insurance groups starting from 18 (out of 50), compared with 22 for the T3. The D3 also starts from 22, with groups edging up as you move through the trim levels.
Even the B4 should be reasonably affordable in terms of insurance, with groups beginning from 24. The B5 starts from 29 and the T5 Recharge from group 32.
VED car tax: What is the annual road tax on a Volvo XC40?
Only a handful of Volvo XC40s cost more than £40,000, so most of them escape the 'expensive car' £325 road tax premium owners pay in years two to six. But because VED is now based on stricter, WLTP-tested CO2 emissions, first-year tax rates have gone up. It costs from £540 for the T2 and T3, and as much as £870 for the B4 and upwards. Diesels are a bit cheaper, with first-year tax from £215. After that, it will cost a flat rate £150.
How much should you be paying for a used Volvo XC40?
"Prices for early 2018 Volvo XC40s are starting to drop below £25,000. They're largely all manufacturer-approved vehicles, so will be prepared to the highest standards. At this level, you'll mainly have a choice of T3 engines, most in entry-level Momentum grade."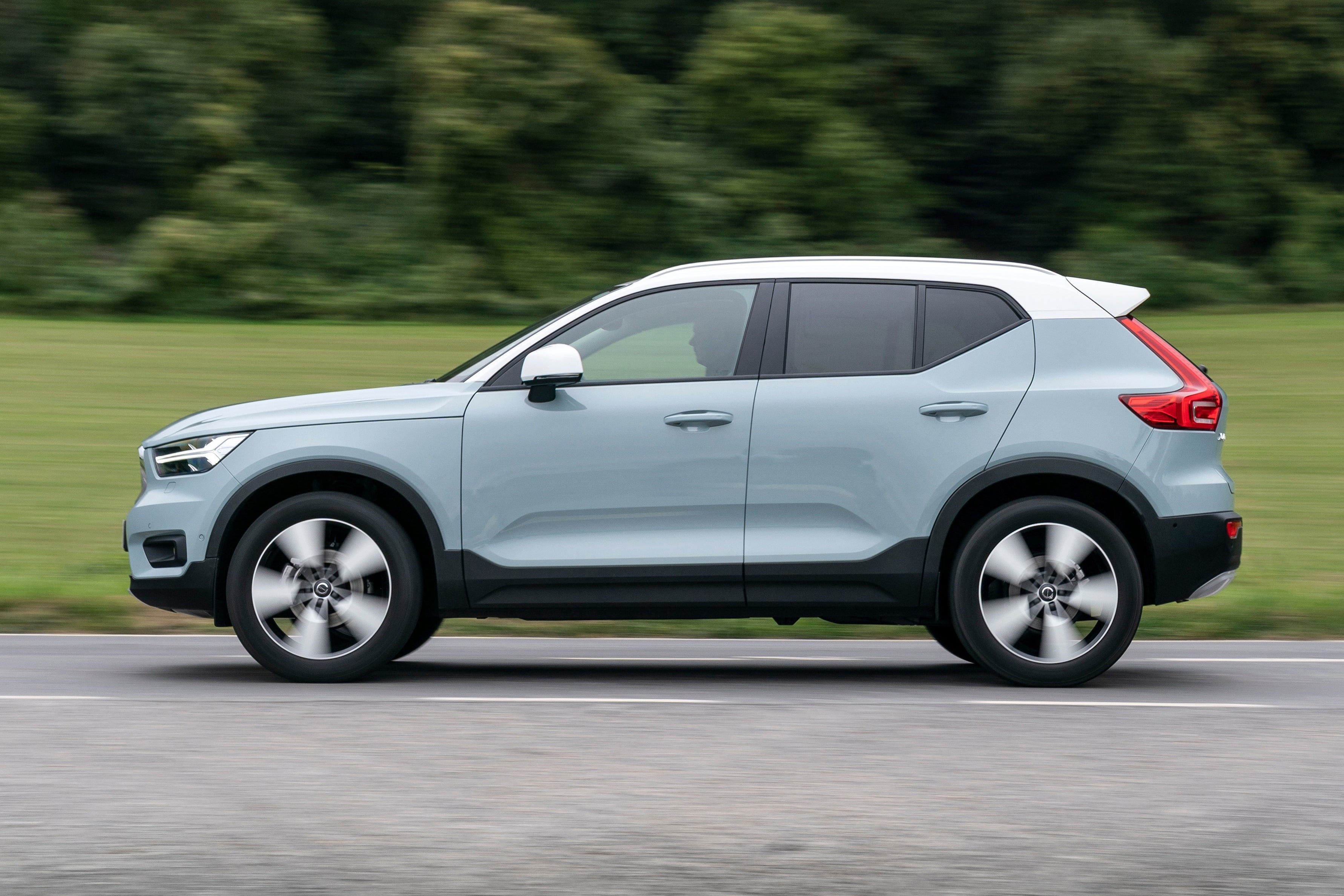 Upping your budget to around £27,500 brings in a broader choice of trims levels with the Volvo XC40, including the top-spec XC40 Inscription, plus a good selection of D3 diesel engines. For around £30,000 – roughly the price of an entry-level new XC40 – there is a wide choice of 2019 vehicles with all engines and trim levels represented. Look carefully and you'll find cars with desirable add-on extras, saving even more money over a new XC40.
Trim levels and standard equipment
The Volvo XC40 range comprises three core models: Momentum, R-Design and Inscription. All feature LED headlights (including the charismatic LED running light signature), a 12.3-inch TFT active instrument display and 9-inch Sensus touchscreen, cruise control, power parking brake and built-in navigation. Note that smartphone integration with Apple CarPlay and Android Auto is optional, however.
All Volvo XC40 Momentum models apart from the very cheapest add 18-inch alloys (17-inch on the base car), dual-zone climate control and a high-gloss surround for the Sensus screen.
The XC40 R-Design gets leather and nubuck upholstery with sports seats, a power tailgate, a stiffened suspension and an extensive styling makeover. Inscription is the posh one, which has full leather upholstery, a rear parking camera, ambient lighting and an Orrefors crystal gear lever.
You can get 'Pro' packs on both the Volvo XC40 R-Design and Inscription, which have even more features added on for less than they'd cost as options.
Ask the heycar experts:
common questions
What is the Volvo XC40 comparable to?
The Volvo XC40 is comparable to cars like the Mercedes GLA, BMW X1 and Audi Q3 – they're all posh, relatively small but practical SUVs that make ideal family cars.

Is the Volvo XC40 worth it?
The XC40 is not only the best Volvo made in ages - but also one of the best cars in its class. It's worth every penny of its £25,855 start price.

Answered by
heycar editorial team
Is the Volvo XC40 all-wheel drive?
The Volvo XC40 is available in both two and four-wheel drive.

Answered by
Georgia Petrie
Volvo XC40 cars for sale on heycar
2,722
Number of cars available
£19K - £58K
Price bracket of these cars
Colours available on heycar
Keep me updated by email with the latest advice, news and offers from heycar
By submitting, you agree to our
privacy policy
.
Popular models
Similar models