Written by
heycar editorial team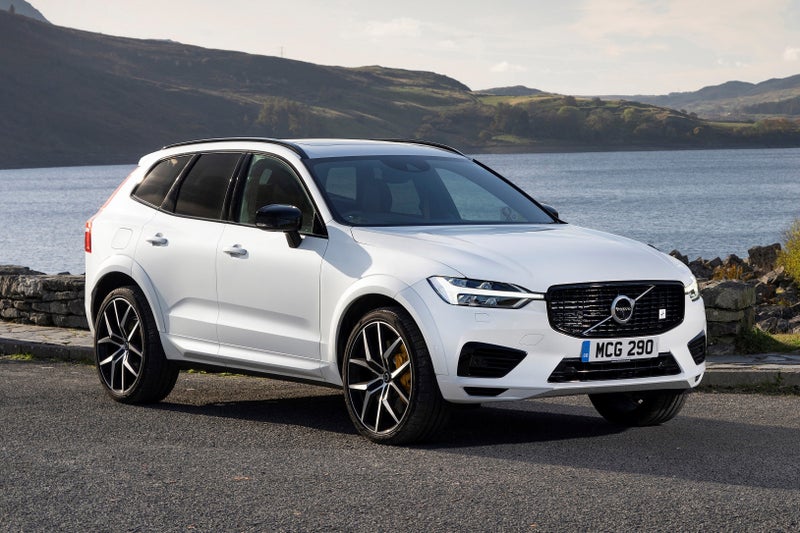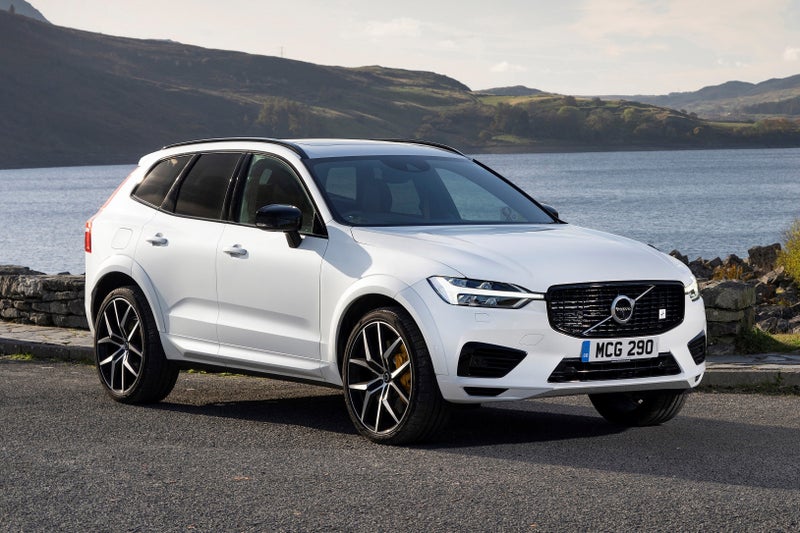 1/10
heycar rating
"Stylish, posh and safe SUV"
Launched: 2017

SUV

Petrol, Diesel, Hybrid, PHEV
Quick overview
Pros
Posh but not showy
Spacious for passengers
Very safe
Cons
Engines can't offer the power and smoothness of rivals
The boot's smaller than some
Safe and competent, but not entertaining to drive
Overall verdict
On the inside
Driving
Cost to run
Prices and Specs
Common questions
Overall verdict on the Volvo XC60
"The Volvo XC60 proves that an SUV doesn't need to be particularly sporty to be desirable. It's incredibly stylish, is packed with safety kit and is one of the most comfortable cars you can possibly buy."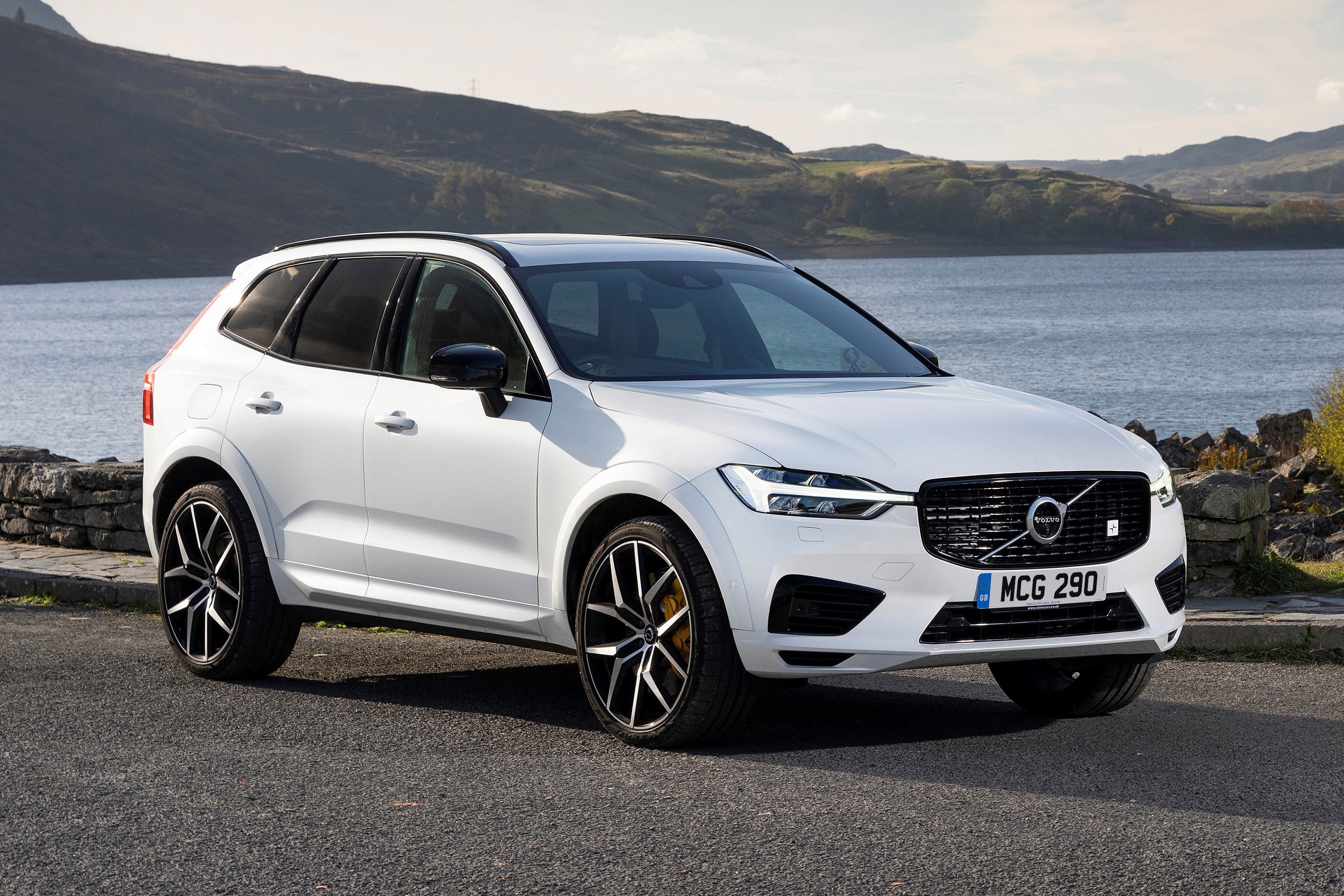 Rivaling some of the best premium SUVs on sale today, the Volvo XC60 holds it own against the BMW X3, Audi Q5, Mercedes GLC and even the Porsche Macan. But is it the car for you? Read our in-depth Volvo XC60 review to find out everything you need to know.
There's an extensive engine line-up with the Volvo XC60, including mild-hybrid petrols and diesels as well as pricey performance plug-in hybrid models. While the latter offer impressive performance, the XC60 is better in a mid-level trim with small wheels and an economy-focused engine.
Topping the Volvo XC60 range is the powerful Polestar Engineered plug-in hybrid T8. This provides startling performance on paper, but it's underwhelming in real life. The suspension is unnaturally harsh for a Volvo, while it's not as fun to drive as you'd want for a £65,000 performance-focused SUV.
Comfort and refinement are the Volvo XC60's strong suit. Its excellent ride quality (with small wheels) is backed-up by a luxurious and refined interior that is more than a match for anything from the competition. The suspension set-up is carried over from Volvo's 90 range (that's the XC90 SUV, V90 estate and S90 saloon) and provides one of the best ride qualities of any car in its class.
The Volvo XC60 is also at the top of its class when it comes to safety. There are sensors everywhere, designed to prevent a crash or, at the very least, make a collision less severe. You needn't think twice about transporting precious cargo in an XC60.
The only slight issue we have with the Volvo XC60 is its shallow boot, which is one of the smallest of any mid-sized SUV. It's also a little expensive, with new models starting from more than £40,000. It's clear to see where the investment has gone, though. And if you value comfort and luxury over razor sharp handling and performance, then the Volvo XC60 will make a fine choice as your next family car.
Is the 2022 Volvo XC60 right for you?
The Volvo XC60 is a comfortable and safe SUV that'll easily fit into family life. You'll pay a premium for a used Volvo XC60, but even the most affordable models feel surprisingly special. Our main reservation is that some buyers might prefer something a little more practical – in which case, the bigger Volvo XC90 is a strong alternative.
What's the best Volvo XC60 model/engine to choose?
Unless you really want to run around town under electric power, we'd recommend one of the mild-hybrid petrol or diesel engines. While diesel might be out of fashion, it actually suits big SUVs like the Volvo XC60 very well, with plenty of grunt for getting a fully-loaded car up to speed. It's likely to be the most efficient in the real world, too.
In terms of trim level, we'd recommend the entry-level Volvo XC60 Momentum. It features everything you need without any of the chintz of pricier models. If you do want something a little more upmarket, consider the Volvo XC60 Inscription for features like 19-inch alloy wheels, Driftwood inlays and a flashy crystal gear lever.
What other cars are similar to the Volvo XC60?
Comfort and design: Volvo XC60 interior
"The Volvo XC60 is by far one of the most comfortable cars on sale. You get big, squishy seats that will keep you feeling fresh on the longest of journeys, while there's also plenty of adjustment as standard. You sit high up, too, so the XC60 feels like a proper SUV."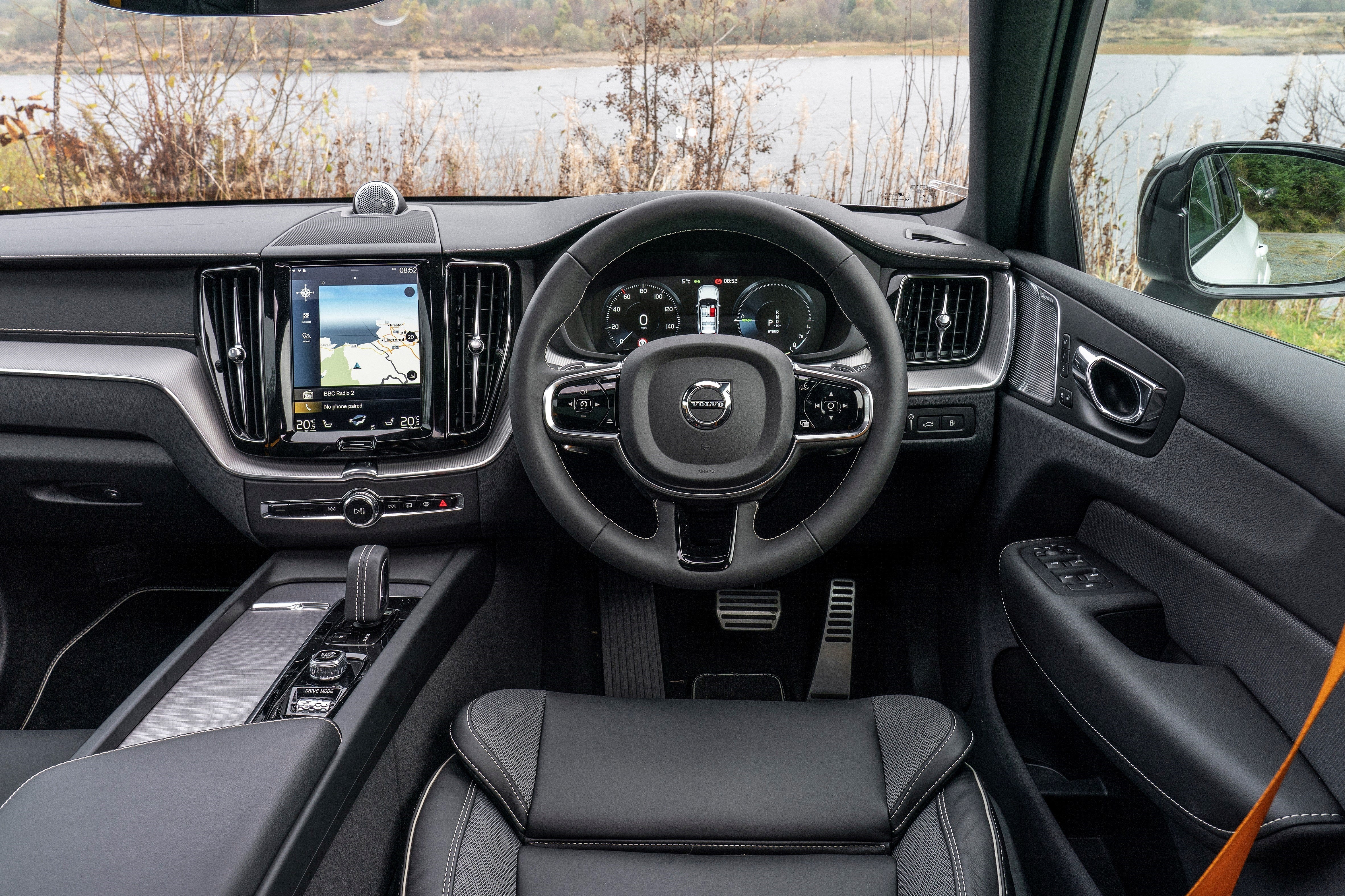 While electric seat height adjustment and lumbar support are standard for the front seats, you'll need to look for a Volvo XC60 Inscription for electric back and forth adjustment. This also gets seat cushions which extend out in front and a very fancy crystal gear lever knob.
Although the XC60's cabin looks much the same as other Volvo SUVs, it's a classy affair that's hard to fault. It's all laid out very neatly, while the large infotainment screen in the centre of the dashboard looks strikingly modern.
Quality and finish
The Volvo XC60's cabin is filled with high quality materials, while the overall build quality is first class, with no worrying creaks or squeaks from the plastics. This gives reassurance that everything has been bolted together with purpose.
The wood and aluminium inlays (depending on model) add an extra touch of class, while even the most affordable Volvo XC60 Momentum doesn't feel anything like an entry-level car. But what would you expect for a premium SUV with a starting price of more than £40,000?
Infotainment: Touchscreen, USB, nav and stereo in the Volvo XC60
The large, nine-inch portrait infotainment screen sitting in the centre of the Volvo XC60's dashboard is instantly quite impressive. Not only does it look smart, but it's also easy to use, while its bright, clear graphics means it looks premium, too. Our one complaint is that it's a little distracting to use on the move – you have to swipe your way through menus and there aren't any shortcut buttons for things like the heating or audio controls. Voice activation controls are standard, though.
If you're looking for Apple CarPlay or Android Auto, tread carefully as these were only offered as an optional extra on early Volvo XC60s. These only became standard in 2021 – at the same time, the infotainment system was swapped for a new Android-based unit. This relies on Google services for things like navigation (Google Maps) and voice recognition (Google Assistant).
All Volvo XC60 models come with a 12.3-inch digital driver's display behind the steering wheel. This isn't as configurable as Audi's Digital Cockpit, but it does at least have sharp graphics and all the information you could possibly wish for.
Space and practicality: Volvo XC60 boot space
Head and legroom will seldom be an issue in the Volvo XC60 and the rear seats will easily accommodate two large adults, with room to spare for an equally large or tall driver to get comfortable in the front.
A powered tailgate is standard fit and provides simple access to the boot, with a click of a button. However the Volvo XC60 doesn't have as much storage space as its rivals with the shallow boot offering just 505 litres. This means it fills up surprisingly quickly when the load cover is in place. In comparison, the Land Rover Discovery Sport will provide 689 litres while the Audi Q5 has 550 litres.
If you're wondering how the Volvo XC60 will fit in your garage, it's 4688mm long, 2117mm wide (including door mirrors) and 1658mm high, while it has a wheelbase of 2865mm. These dimensions are broadly the same as rivals like the BMW X3 and Audi Q5.
Handling and ride quality: What is the Volvo XC60 like to drive?
"The XC60 wafts along with the air and grace of a luxury saloon, while the raised driving position provides a commanding view of the road that makes it easy to navigate this 2.1 metre wide SUV though narrow B roads or multi-storey car parks."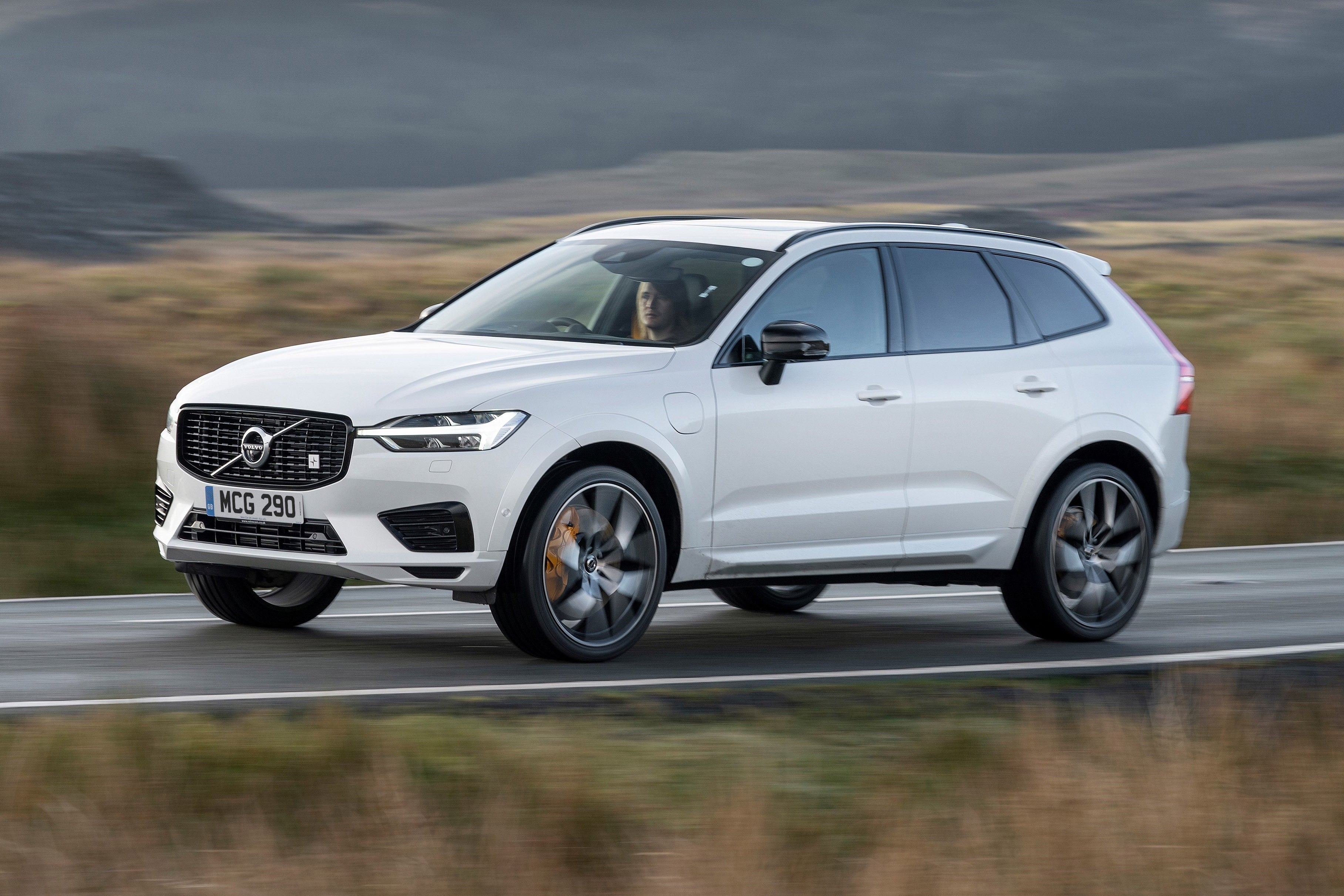 The steering of the Volvo XC60 is lighter and less communicative than in a Jaguar F-Pace or BMW X3, but it makes town driving easy and relaxing. When required, the XC60 can complete a 360-degree turn in just 11.4 metres. Not quite as impressive as a London taxi, but impressive enough for an SUV of this size.
Avoid the bigger alloy wheels and you'll find that the Volvo XC60 is a comfortable choice, with the suspension soaking up all of the most severe jolts in the road. We'd avoid the Polestar Engineered variants – they soon get uncomfortable on anything other than the smoothest of tarmac.
Most Volvo XC60s feature all-wheel drive, meaning there's plenty of grip on hand during cornering. It's no off-roader, but you shouldn't be concerned about taking an XC60 down an untreated rural road in winter.
What engines and gearboxes are available in the Volvo XC60?
When the Volvo XC60 first went on sale in 2017, it was available with a range of 2.0-litre, four-cylinder engines – D4 and D5 diesels and a T5 petrol. All were paired with all-wheel drive as standard and an eight-speed ZF automatic transmission. A T8 'twin engine' plug-in hybrid soon followed.
Now, the Volvo XC60's engine line-up continues to use 2.0-litre petrol and diesel engines, but it's entirely electrified. The mild-hybrid B5 (P) petrol provides a relatively affordable entry point to the range, producing 250PS and available with two- or four-wheel drive. There's also a B6 petrol model, available exclusively with AWD and producing 300PS.
The sole diesel offering is now a mild-hybrid 2.0-litre B4 (D), producing 197PS and 420Nm of torque. This is the engine to go for if you cover lots of motorway miles or need to tow a caravan.
Unlike the smaller Volvo XC40, you can't buy a pure-electric version of the XC60. There are, however, a number of plug-in hybrid models. These include the T6, T8 and T8 Polestar Engineered variants, with power varying from 340PS to 405PS. As you'd expect, the latter is particularly rapid, covering 0-62mph in 5.4 seconds.
Refinement and noise levels
If you buy a Volvo XC60 with a diesel engine, you might be surprised at how much of a rumble transfers into the cabin – especially when it's first started. Petrol models are more refined, but look for a plug-in hybrid if the idea of driving around in near-silence appeals. Even these, though, aren't that quiet once the petrol engine kicks in. There's quite a drone under heavy acceleration.
Road noise is generally acceptable, but there's a clear roar from the tyres if you buy an XC60 with 21- or 22-inch alloy wheels. You'll notice a bit of wind noise from the direction of the door mirrors at motorway speeds, too.
Safety equipment: How safe is the Volvo XC60?
Safety is a huge selling point of the Volvo XC60 and, as such, there's a whole heap of standard equipment included across the range. This includes autonomous emergency braking systems which can apply the brakes to prevent a crash (or, at least, reduce the severity of it). The Oncoming Lane Mitigation feature will help you avoid a collision with a vehicle heading in the opposite direction, while the Run-off Road Mitigation is designed to keep you on tarmac.
The Volvo XC60 performed very well when it was crash tested by Euro NCAP in 2017, achieving the full five stars for safety. It performed particularly well for adult occupants, receiving a score of 98%, while it was also awarded a score of 95% for its safety assist features.
MPG and fuel costs: What does a Volvo XC60 cost to run?
"All of the latest Volvo XC60 models have some sort of hybrid assistance – but that doesn't necessarily mean they'll be cheap to run."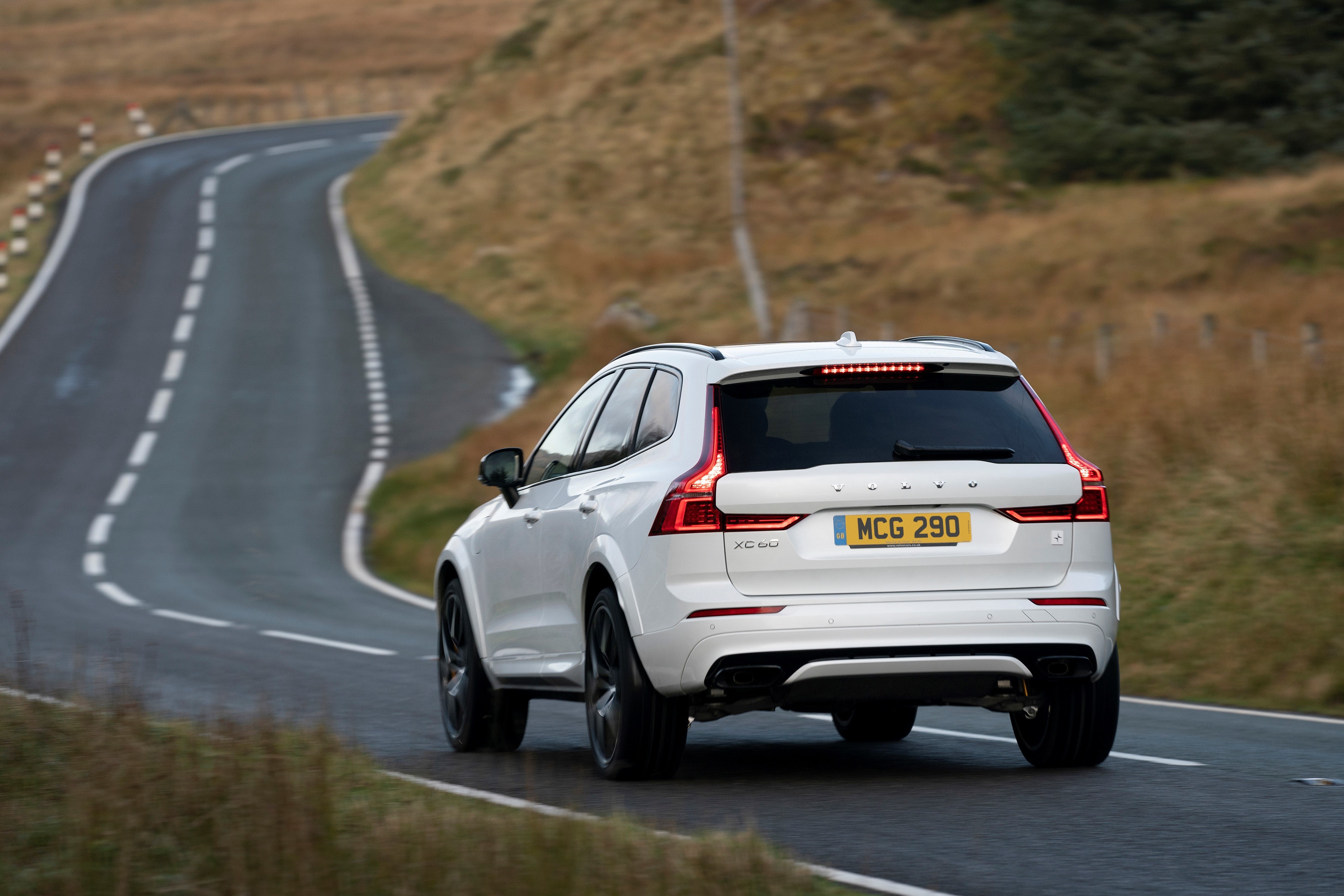 Even with mild-hybrid tech, a petrol Volvo XC60 will be quite thirsty, especially if you buy one with four-wheel drive. The XC60 B5 (P) FWD auto returns up to 38.1mpg in official WLTP fuel economy tests, while the same engine but all-wheel drive maxes out at 36.7mpg. The B6 (P) returns up to 34.0mpg.
The Volvo XC60 B4 (D) will suit high mileage drivers, officially returning up to 44.8mpg. Fuel economy figures for the plug-in hybrid models are almost unbelievable, returning up to 113.0mpg. This is very dependent on how often you charge it, though – an electric range of around 33 miles for the T6 models means, in theory, you could potentially cover the commute without the petrol engine kicking in.
How reliable is a Volvo XC60?
Volvo makes some very dependable premium cars, and the XC60 is no exception. It scored 9.55 out of 10 for reliability in the latest HonestJohn.co.uk Satisfaction Index, while Volvo as a brand achieved an average reliability rating of 9.03.
Our only note of caution would be to avoid a diesel if you're planning to cover a lot of short journeys or regularly drive in stop-start city traffic. Doing so is asking for issues with the diesel particulate filter (DPF).
Insurance groups and costs
Unless you're a particularly mature driver, expect to pay a premium to insure a Volvo XC60. Insurance groups range from 32E for a Volvo XC60 Momentum B4 diesel, rising to 42E for a Volvo XC60 Polestar Engineered Recharge T8 plug-in hybrid.
What this means in reality depends very much on your personal circumstances. As ever, we'd recommend shopping around for competitive insurance quotes.
VED car tax: What is the annual road tax on a Volvo XC60?
The Volvo XC60's first-year VED payment is included in the on-the-road price and is based on emissions, ranging from just £15 for plug-in hybrid models to £1335 for the B6 mild-hybrid petrol. If you're buying a used example, though, there's no need to be concerned about this as it'll be paid when the car's first registered.
What you should be concerned about, though, is the premium car tax. For the following five years, this adds an extra £335 to the annual road tax of any car with a list price of more than £40,000 when new. That's all Volvo XC60 models.
The good news is that all of the latest XC60s are classed as 'alternative fuel cars' so you'll save £10 a year off the basic tax rate. That means you'll pay £480 a year to tax a Volvo XC60 for five years (from the second time it's taxed). After that, the annual bill will drop to £145 a year.
How much should you be paying for a used Volvo XC60?
"You'll pay upwards of £42,000 for a brand new Volvo XC60, while the most desirable plug-in hybrid models are well over £60,000. Fortunately, it's been around long enough that there are some big savings available on the used market."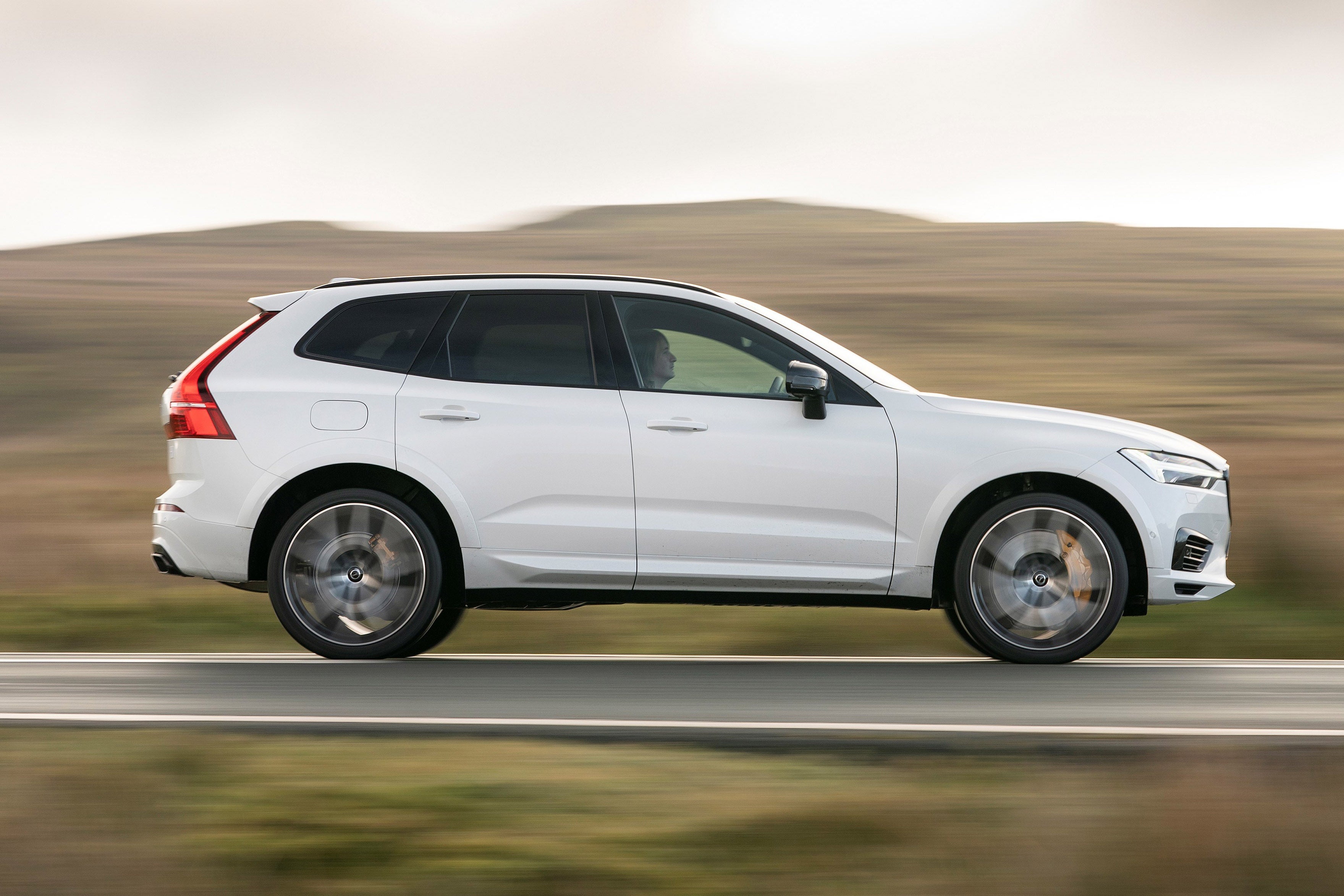 All XC60 models are well equipped so there's no need to push for a particularly high-spec car. A nearly-new Volvo XC60 Momentum with little more than delivery miles on the clock can be picked up from as little as £37,000. If a PHEV appeals, a six-month-old XC60 Inscription Expression Recharge with the T6 drivetrain could be yours for £42,000 – an incredible saving of £11,000 compared to list price.
Of course, you can save even more money by looking for a slightly older XC60. A three-year-old example from an approved heycar dealer is available from around £25,000. That's for a 2018 Volvo XC60 D4 Momentum with around 35,000 miles on the clock.
Trim levels and standard equipment
The range starts with the Volvo XC60 Momentum, which is well kitted out as standard. Standard equipment includes leather seats (heated in the front), a 12.3-inch digital driver display and a nine-inch touchscreen media system with DAB radio, Bluetooth and wireless Apple CarPlay. Wireless phone charging is standard, too, as well as a high performance sound system.
Volvo XC60 Momentum models also feature cruise control, a reversing camera and front/rear parking sensors, while a wide range of driver-assist functions are standard across the range. There are automatic LED headlights with Active High Beam, a powered tailgate and rain-sensing headlights, as well as 18-inch alloy wheels.
The Volvo XC60 Inscription Expression builds on the Momentum spec with a high gloss black front grille, chrome exterior highlights and 18-inch diamond-cut alloy wheels.
Intended to be a sportier choice, the Volvo XC60 R-Design features 19-inch diamond-cut alloy wheels, tinted windows and black gloss exterior highlights. Inside, the XC60 R-Design comes with part-leather sports seats (with adjustable lumbar support), metal mesh inlays, sports pedals and ambient door lighting.
The Volvo XC60 R-Design Pro builds on this with clever active bending headlights, a heated steering wheel, power driver's seat and a head-up display in the windscreen. The Active Four-C chassis is standard (with adaptive dampers and electronic air suspension), as well as 21-inch diamond-cut alloy wheels.
Volvo XC60 Polestar Engineered models build on the R-Design Pro spec with a premium Harmon Kardon sound system, 21-inch polished black alloys, Polestar Engineered brakes, Polestar Engineered chassis, metallic paint and gold (yes, gold) seatbelts.
The Volvo XC60 Inscription is based on the Momentum model, adding soft perforated leather seats (ventilated), electric driver and front passenger seats, a three-spoke leather steering wheel with chrome trim, Driftwood inlays and front seat cushion extensions. You also get a fancy crystal gear knob as well as multicolour theatre lightings and puddle lights. On the outside, the XC60 Inscription comes with 19-inch alloy wheels and chrome exterior highlights.
Building on the Inscription spec, the Volvo XC60 Inscription Pro adds a heated steering wheel, head-up display and a massage function on the front seats. Front LED headlights with cornering function are standard (although not on plug-in hybrid models), as well as active bending headlights and the Active Four-C Chassis. 20-inch diamond-cut alloy wheels are fitted to Inscription Pro models.
Ask the heycar experts:
common questions
Do Volvo XC60s hold their value?
The Volvo XC60 is a desirable SUV that's very popular with families so you can expect it to have strong residuals versus a more mainstream alternative.

Answered by
heycar editorial team
Is the Volvo XC60 four-wheel drive?
You can have the Volvo XC60 with two or four-wheel drive – but we'd recommend the latter if you tow a trailer or often drive on slippery roads.

Which Volvo XC60 engine is best?
The B4 diesel will be the best Volvo XC60 engine for most people. It has plenty of low-down grunt to make swift progress but doesn't cost a fortune to run. That said, the T8 plug-in hybrid makes a lot of sense if you have a short commute.

Volvo XC60 cars for sale on heycar
2,852
Number of cars available
£15K - £64K
Price bracket of these cars
Colours available on heycar
Keep me updated by email with the latest advice, news and offers from heycar
By submitting, you agree to our
privacy policy
.
Popular models
Similar models