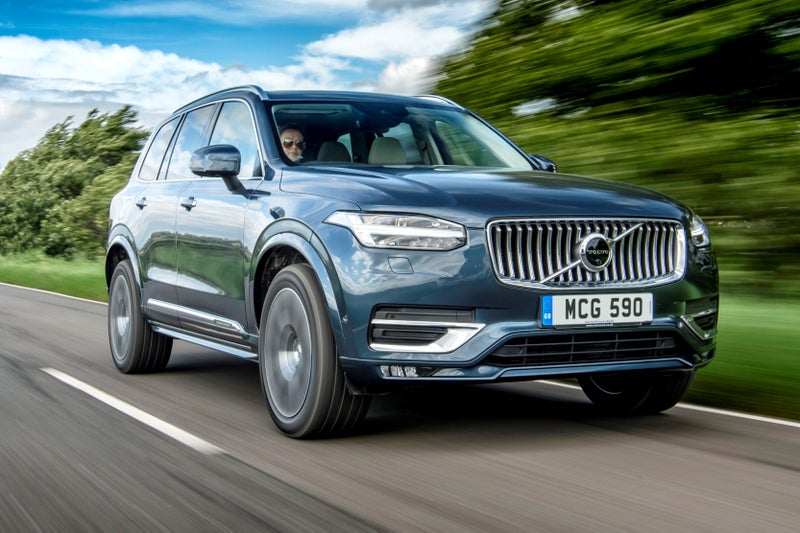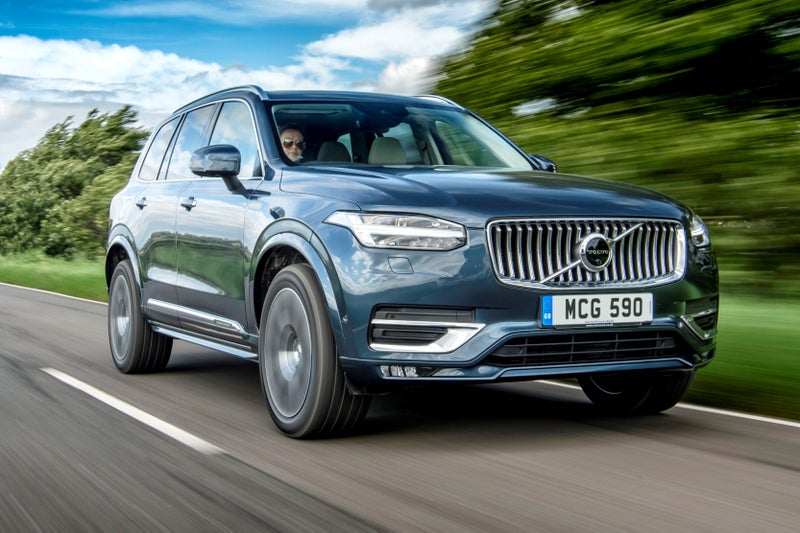 1/10
heycar rating
"A stylish, high-quality SUV"
Launched: 2015

SUV

Petrol, Diesel, PHEV
Quick overview
Pros
Modern design that's like nothing else in the class
Hugely practical, even for a large family
Loads of luxury and safety kit as standard
Cons
Not quite as good to drive as its best rivals
Not quite as posh inside, either
You'll need a few quid to buy one
Overall verdict
On the inside
Driving
Cost to run
Prices and Specs
Common questions
Overall verdict on the Volvo XC90
"Even though it's been on sale since 2015, the latest Volvo XC90 is one of the most desirable SUVs money can buy. It still looks fresh today, while its upmarket interior is spacious enough to carry seven people. Combine that with an electrified engine line-up and the XC90 is very worthy of your consideration."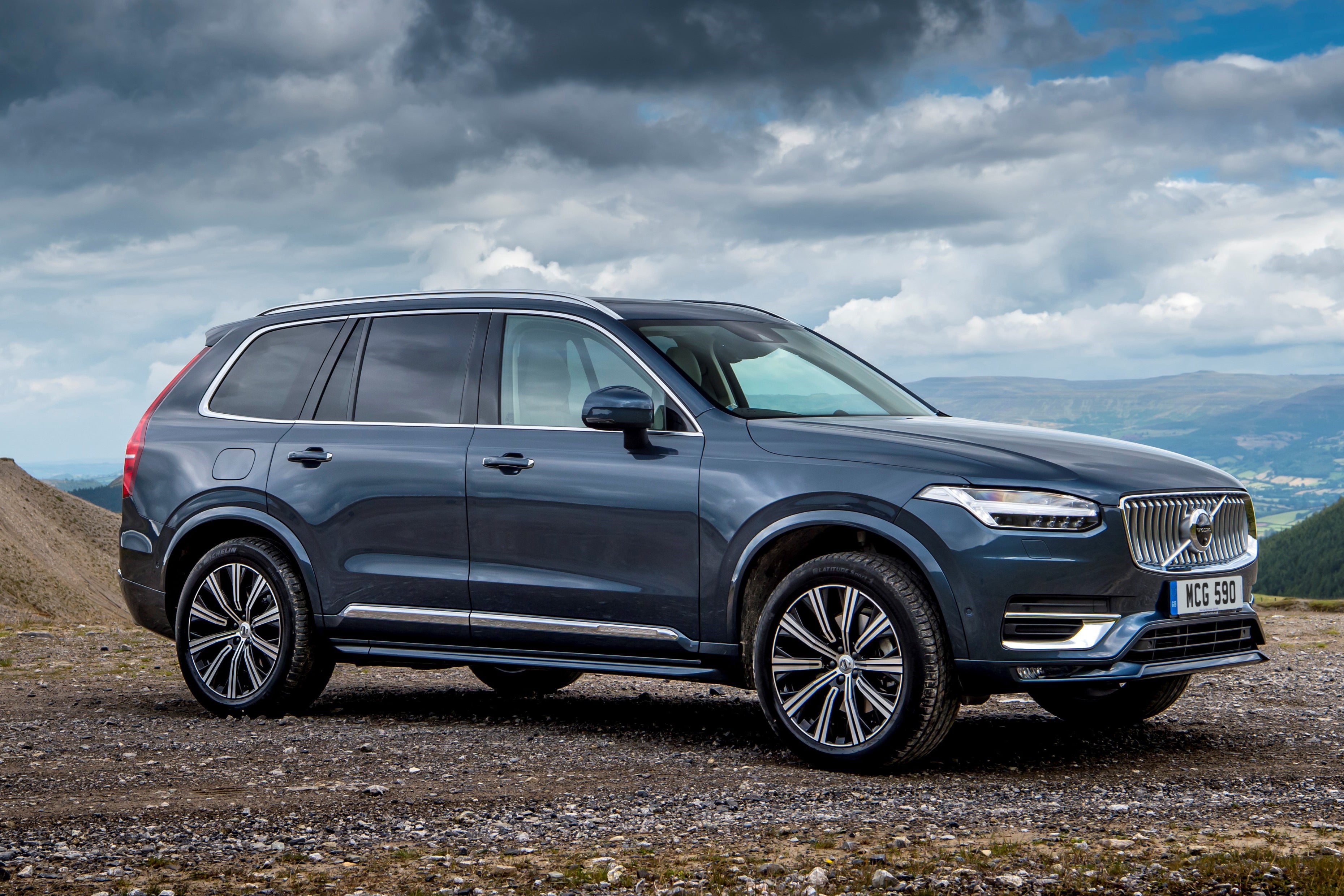 The Volvo XC90's main trump card is its style. Inside and out, this big SUV looks the absolute business. The design is clean, modern and mostly simple, with a few flourishes thrown in. The effect is that it looks and feels very distinct from its competitors, which is very important in such a crowded marketplace. Even more importantly, it also makes the Volvo every bit as desirable as any of its premium-badged rivals – as you'll find out in our full 2022 Volvo XC90 review.
The big Volvo has also most of its rivals beaten on the other super-important area for a big SUV: practicality. It has seven fiendishly clever seats as standard, more space than most rivals and an enormous boot. All that in a cabin that's stuffed with luxury equipment and lavishly appointed. Not quite as lavishly as its very best rivals, admittedly, but really not far off.
On the road, meanwhile, the Volvo XC90 has what it takes to live with most of its rivals. It's a very easy-going car to drive, concentrating on wafting its occupants along in comfort and tranquility, rather than trying to provide any excitement, and it's all the better for it. When the road turns twisty, mind you, there's enough control to keep things feeling stable and assured. Not the finest car of its type on either ride or handling, but it delivers a good balance of abilities nonetheless.
An automatic gearbox, four-wheel drive and hill descent control are all provided as standard across the board, but don't go thinking that this is an off-roading SUV. This is a car designed to tackle school runs, rather than green lanes. A range of petrol and diesel engines is available, but the most desirable version for many will be the T8 plug-in hybrid variant (and one of the best hybrid SUVs going) thanks to its scarcely believable mix of performance and economy, although you'll need somewhere to charge it to get the best from it.
And, being a Volvo, you can always have ultimate confidence in the safety of the car. The Swedish firm's peerless knowledge in this area, and the vast amount of safety equipment squeezed into the XC90, make it one of the safest cars in the class, critically important in any car designed to ferry lots of people around.
Overall, the Volvo XC90 is a really good all-rounder that's worthy of consideration. Class-leading on style, character, safety and practicality, and there-or-thereabouts in every other area.
Is the Volvo XC90 right for you?
If you're after a big, luxurious SUV with seven seats, but you want a bit more style, charm and character than the myriad German offerings can muster, then the Volvo XC90 will be right up your street.
While the styling of many rivals could be accused of being overly conservative - even borderline derivative - the Volvo XC90 offers a real dose of individuality. Inside and out, it looks modern, yet timeless. Classy, yet funky. And it's that effortlessly cool vibe that makes the Volvo XC90 a real breath of fresh air in the class.
That's not the car's only trick, mind you. It has the space, practicality and versatility to slot straight into the life of any large family, thanks to a huge passenger compartment, an ingenious seating system and a huge boot. Chuck in a very capable driving experience, impressive mechanical refinement and loads of standard equipment, and you have an extremely appealing family bus.
What's the best Volvo XC90 model/engine to choose from?
That much depends on what you're after. If you're after the very best Volvo XC90 money can buy, it has to be the T8 plug-in hybrid. It's the fastest version, yet the most economical. It's just as practical as any other XC90, and like other versions, it's also spectacularly well equipped. It is, however, considerably more expensive to buy than other versions, which might rule it out for some, and it only makes sense if you have somewhere to charge it. With a flat battery, the T8's fuel economy drops quicker than a stone on Jupiter.
If that's the case for you, opt for the diesels, known as either the D5 or the B5 Diesel (we'll explain the difference later). They're much more efficient than their petrol-powered counterparts and much more affordable to buy than the PHEV.
In terms of equipment grade, there's nothing you need - and very little you want - that the entry-level Momentum trim doesn't give you. Many of the embellishments on the higher grade cars are purely cosmetic, yet they cost a great deal more.
What other cars are similar to the Volvo XC90?
If you're after a big, luxurious, premium SUV, there's no shortage of choice. Any German manufacturer worth its salt will offer a variety of choices, and don't rule out the likes of Land Rover and Lexus, either. However, the fact that the XC90 comes as standard with seven seats sets it apart slightly, because although most rivals can be specified with seven, many only have five as standard.
For that reason, the Volvo XC90s most direct rivals are the Audi Q7 and Land Rover Discovery, but the BMW X5, Mercedes GLE, Porsche Cayenne and Lexus RX will also be vying for your (considerable amount of) cash.
Comfort and design: Volvo XC90 interior
"Volvo has also developed a reputation for making some of the best seats in the business, and you'll see why as soon as your behind hits the leather; the XC90's chairs are wonderfully supportive and comfortable."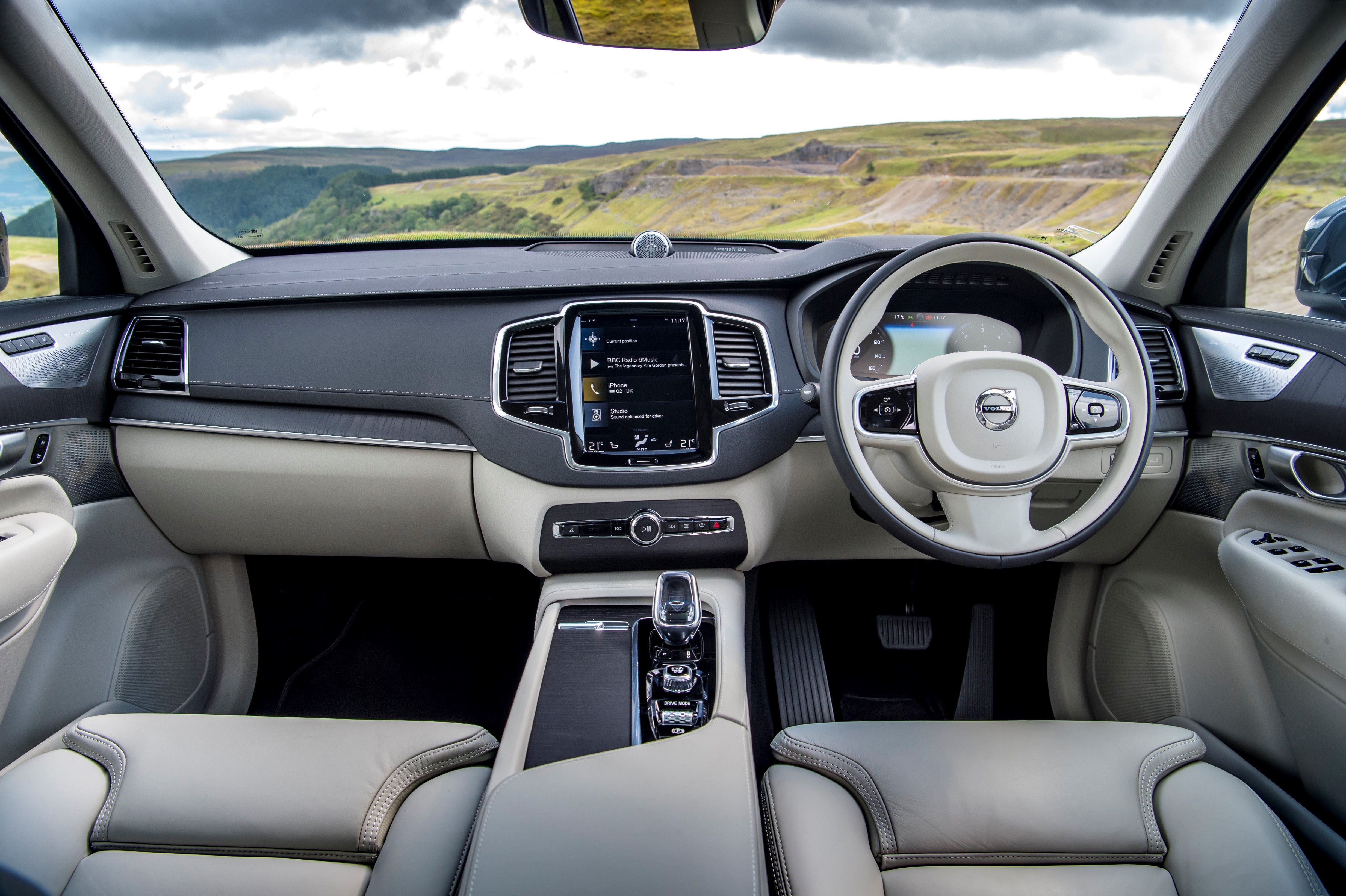 Getting comfy at the wheel of the Volvo XC90 is an absolute doddle because all versions come with a driver's seat that adjusts electrically, allowing you to fine-tune your seating position just-so. There's also lots of adjustment for the steering column, while the wheel and pedals are slap-bang in front of you.
You get a pretty clear view out in all directions thanks to big windows with relatively skinny pillars. Your over-the-shoulder view will suffer if you're fully loaded with passengers, but that's the case in any seven-seater.
The dashboard features very few switches (those that remain are lined up neatly on the centre console), with most functions being operated through the large touchscreen infotainment system. There are one or two odd bits of design, though. You turn a dial to start the car rather than hitting a button or turning a key, and to adjust the cabin temperature, you run your finger along an on-screen slider. Depending on your outlook, you'll either love these touches for being a little different, or hate them for being needless fripperies.
Quality and finish
The Volvo XC90's interior is the perfect match for the outside, because it gives exactly the same impression of style, sophistication and classiness.
The swish, modern design is unlike anything else you'll find in the class, and most of the materials used are just as high-grade as those you'd find in rivals from Audi or BMW. If you're really nit-picking, there are one or two surfaces dotted around the place that aren't of quite such a high standard as those touched most regularly, so there isn't quite the feeling of sturdiness and faultless attention-to-detail that you get from the German cars mentioned. It's really not far behind, though, and it still feels like a wonderfully inviting, high-class environment.
And that's in the most basic Momentum car, with its leather seats, gloss black panelling and chrome trims. Move up the range, and things get posher. The R-Design models add sporty styling bits like a sports steering wheel and a black headlining, while Inscription cars have higher grade leather on the seats, leather on the dashboard and plush wooden inserts.
Infotainment: Touchscreen, USB, nav and stereo in the Volvo XC90
Most of the Volvo XC90's functions are operated through the portrait-orientated 9.0-inch touchscreen system in the middle of the dash. The graphics are crisp, clear and stylish, which adds to the interior's modern feel, and for the most part, the system works pretty well thanks to logically arranged menus.
However, it's not quite up to the standards of the best-in-class because the screen transitions can sometimes be a little slow. Touchscreens are also more distracting to use on the move than dial-operated systems, but it's good news that the Volvo's voice-control system is actually one of the better ones out there.
All the regular functionality you'd expect is present-and-correct - stuff like DAB radio, navigation, Bluetooth - and so are a few things you might not. For example, there's wifi for up to eight devices, and you can operate some of the car's functions remotely through your smartphone.
However, you don't get Apple CarPlay or Android Auto as standard on the basic versions. You either have to pay extra for a stereo upgrade, or buy one of the pricier 'Pro' models. These also get a head-up display, but all cars get the digital instrument display that replaces conventional dials.
Space and practicality: Volvo XC90 boot space
No car of this size and type struggles to make life comfortable for lofty folk in the front, and the Volvo XC90 is no different. There's loads of headroom and legroom, and the wide cabin gives you lots of shoulder space, too. Cabin storage is also impressive up front. The glovebox is bigger than most, there are two cupholders and a cubby in the centre console, while the big door pockets will hold a large water bottle, as well as a bunch of other stuff.
Similarly, you'd have to be built like a Harlem Globetrotter to struggle to get comfy in the middle row of seats. The Volvo XC90 is marginally more generous than most of its rivals for head- and legroom, although the former does reduce a smidge if you go for a car with the optional panoramic roof.
All three middle-row seats can be slid, reclined or folded independently of each other for maximum versatility, and there's also enough shoulder space that all three can be occupied by an adult all at the same time, reasonably comfortably. That said, whoever winds up in the middle will get a harder, less comfy seat than those either side, and will also have to straddle a bulky transmission tunnel.
Unlike in many rivals, even the seats in the third row (which are standard across the board) have enough space for an average-sized adult, but if you're six foot or more, you'll definitely want to shotgun one of the pews further forward. It's also worth noting that you even get seven seats with the plug-in hybrid version of the Volvo XC90. With the equivalent versions of most rivals -the Audi Q7 for example - the rearmost row has to be deleted to make way for the batteries.
Even with all seven seats in place, there's enough boot space for a weekly shop, and if you drop the third row, the boot becomes absolutely massive, meaning pushchairs, golf clubs and suitcases can be carried with ease. Turn your XC90 into a two-seater, and the cargo space on offer puts many vans to shame. What's more, because all the seats easily fold flush into the floor, the load area you get is perfectly level.
The Volvo XC90 measures 1771mm in height, 4953mm in length and 2008mm in width (2140mm including door mirrors).
Handling and ride quality: What is the Volvo XC90 like to drive?
"Ride comfort is important in any car designed to carry seven people, so it's good news that the XC90 does a thoroughly presentable job on that score."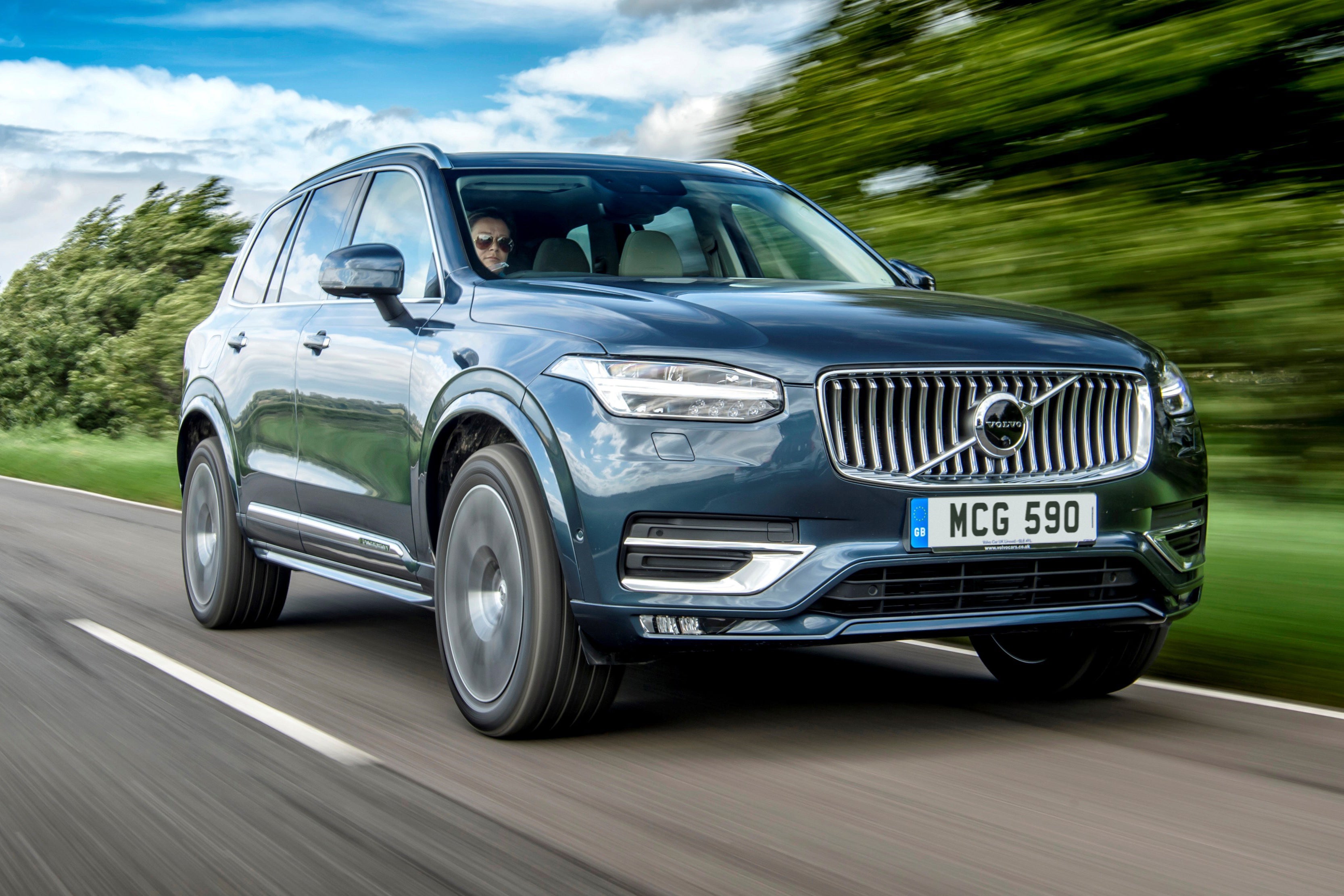 Even on its standard suspension, it'll soak up most of what a scruffy road surface can throw at it, keeping life nice and settled. True, it doesn't isolate you from low-speed bumps and ruts quite as well as some rivals, so urban journeys can sometimes feel a bit more jittery than they would in, say, an Audi Q7. Things become more settled at higher speeds, though, making the big Volvo a very capable cruiser, even if again, a Q7 will be even more slick and cosseting on the motorway.
An adaptive air suspension is also available (either as an optional extra, or standard on one of the high-end 'Pro' models), which was a pretty pricey addition on new XC90s.
It wasn't really worth the extra expense then, as it didn't really improve the ride quality enough to justify the cost. However, it does make the XC90 feel a touch more fluid over potholes and speed bumps, so if you can find a used example with it fitted and it doesn't cost you any more than a car with the regular suspension, it might be a nice-to-have. If there is a price increase, though, stick with the standard setup.
Whichever suspension you go for, though, there's one golden rule regarding comfort: find a car with the smallest wheels you can. This has a big impact on how comfy your car will be. The smallest 19-inchers are the dream ticket, while if you find a car with the optional 22s, give it a very wide berth.
With all XC90s, the handling is very capable. There's lots of grip and decent body control, so it feels stable and assured in bends. It's not as much fun as a BMW X5 or Porsche Cayenne on a twisty road, but it feels considerably less wallowy than a Land Rover Discovery. The steering doesn't offer much in the way of feel, but it's consistently weighted and not too slow. The brakes can be hard to modulate in the plug-in hybrid version, though, which can make it rather difficult to drive smoothly at times.
What engines and gearboxes are available in the Volvo XC90?
It's worth paying attention here, because the XC90s engine range is rather confusing due to Volvo's decision to completely change the naming convention during the 2019 facelift.
Early cars came with a choice of three engines, a D5 diesel, a T6 petrol and a T8 plug-in hybrid. The 2.0-litre, four-cylinder D5 was easily the most popular, and for good reason. Despite being the weakest engine on offer at 225PS, it still provides all the go that most buyers need, and it does a very decent job on fuel economy. The T6 was also a 2.0-litre, but used both a supercharger and turbocharger to produce 320PS. Yes, it was considerably quicker than the D5, but it was also more expensive to buy and much thirstier.
The T8 offered the best of both worlds, because its two power sources (the T6 petrol engine and an electric motor) combined to produce more than 400PS. This made it the quickest XC90, but with an official fuel economy figure of 134mpg (according to old-style NEDC tests), it was also the cleanest.
Shortly before the facelift, an entry-level petrol version was introduced, called the T5 which developed 250PS, but we never got to drive it. Then, when the facelift occurred, all the D (diesel) and T (petrol) engines (except the T8) were re-labelled as B engines to signify that they'd been fitted with a new energy-recovery braking system, effectively making them all mild hybrids. Other than the name and a few tweaks, though, these engines were all the same ones as before.
Overall, we reckon that the T8 is the best choice if you can stump up the cost, but it is rather pricey compared with the others. If your budget doesn't stretch that far, then either the D5 or B5 diesel (which are the same, confusingly) are the ones to go for. All cars come with a slick eight-speed automatic gearbox and four-wheel drive as standard.
Refinement and noise levels
Judged in isolation, the XC90 does a really good job here, because overall, it's a really quiet car. The T8's ability to run solely on electric power alone makes it the quietest version, and you can bimble around at low urban speeds with barely a whisper. You can hear the petrol engine when it kicks in, but it's not noisy or abrupt when it does so, and it stays quiet and smooth in most circumstances.
However, if you bury the throttle pedal and ask for maximum acceleration, you will hear the engine become a little raspy. It's a similar story with the other petrol engines.
The diesel is the noisiest of the bunch, making itself more heard for more of the time, and it also sends more vibration into the cabin through the controls and the seats. Even so, it's hardly like rolling along on a John Deere; this is still an impressively hushed car. Not quite as quiet as a Q7 or Discovery, perhaps, but not far off.
Wind- and road noise are both very well contained regardless of your speed, even if you can hear the suspension doing its work over scruffy surfaces. The automatic gearbox in all versions works reasonably smoothly, too.
Safety equipment: How safe is the Volvo XC90?
The Volvo name is synonymous with safety, so you probably won't be dumbfounded to learn that the XC90 is a proud member of the five-star club when it comes to Euro NCAP crash tests. In fact, every Volvo tested since 2001 can claim the same, and even despite the firm's own high standards, the XC90 is one of its highest-scoring models.
That's even less surprising when you look at the vast amount of safety kit on board, safety kit that's standard-fit regardless of which version of the XC90 you pick. As well as all the usual stability and traction aids, there's also an automatic emergency braking system that'll slam on the stoppers if it detects an impending collision with another car (or pedestrian, or cyclist, or large animal.) A speed limit display, a lane-keeping aid and speed limiter should also help you avoid trouble.
If trouble manages to find you, there are seven airbags in all - including full-length curtain 'bags that cover all three rows of seats - along with front seats that have active anti-whiplash head restraints. New XC90s could also be specified with an optional driver assistance pack that included blind spot monitoring.
Standard front and rear parking sensors - plus a reversing camera - should help you avoid parking dings and all versions except the plug-in hybrid get a spare wheel rather than a pot of sealant.
Maximum EV range in the Volvo XC90
When it was first launched, Volvo claimed the T8 plug-in hybrid version could cover 26 miles on electric power alone, before the petrol engine kicked in and helped out. Under laboratory conditions, that is, because the actual range you'll get will depend on a wide variety of factors including traffic conditions, how hard you drive and ambient temperature. In the real world, we'd say you're more likely to get around 20miles or so.
MPG and fuel costs: What does a Volvo XC90 cost to run?
"According to official WLTP figures, the T8 version will return a maximum of 100mpg, but remember that's under laboratory conditions and should only be used as a theoretical best-case scenario."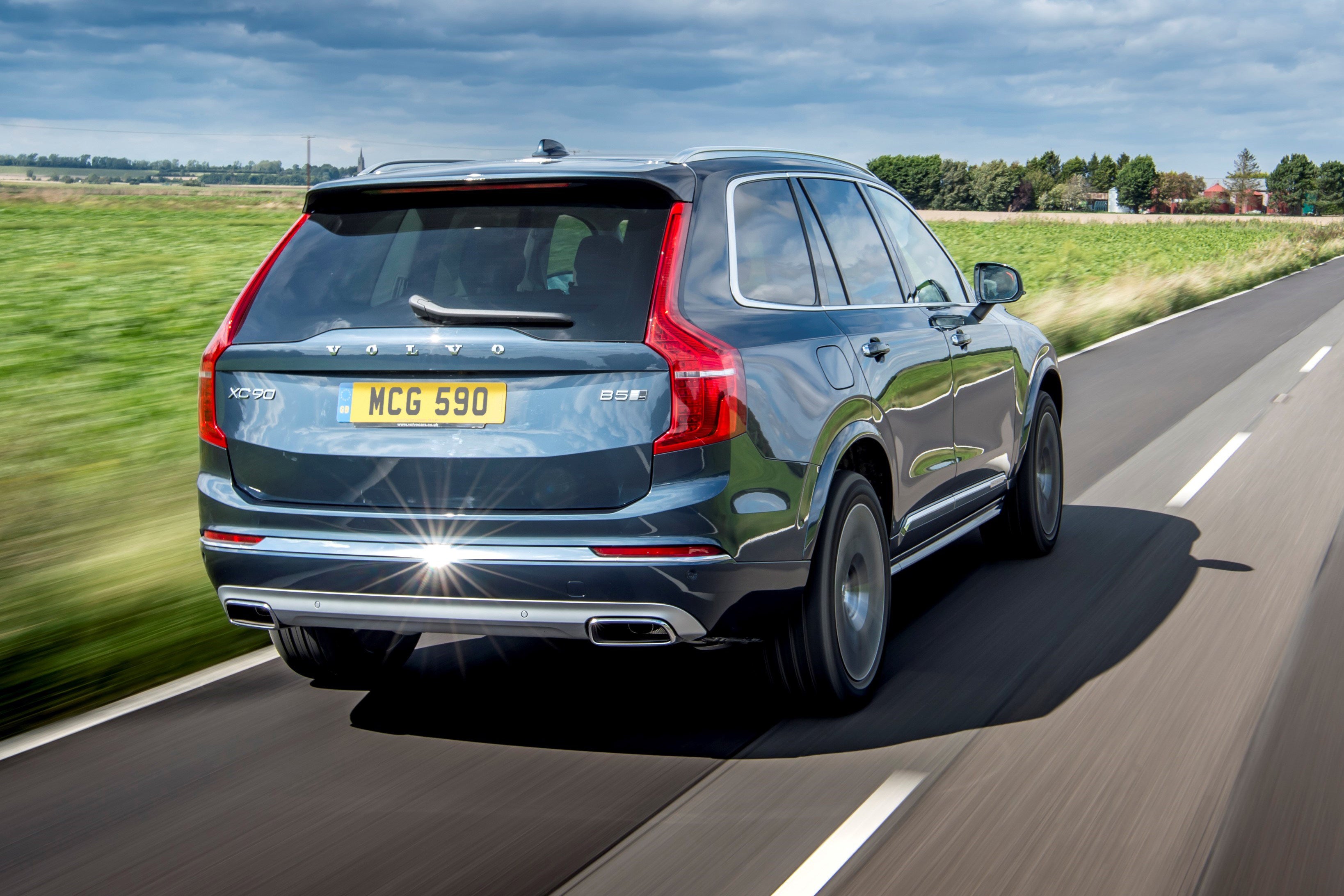 You'll never see a figure like that in a month of Sundays in the real world, and what you do get will depend on a whole bunch of factors, like those mentioned a moment ago. For maximum efficiency, always make sure your battery is topped up with regular charges, and spend as much time driving on electric-only power as you can. The B5 and B6 petrols both return maximum WLTP figures of around 30mpg, while the B5 diesel's best is upwards of 40mpg.
How reliable is a Volvo XC90?
Volvo puts in a fairly middle of the road performance in the annual HonestJohn.co.uk Satisfaction Index. We're not aware of too many issues with the XC90, aside from a few reports of electrical gremlins – particularly with PHEV models. It is quite a complex car, of course, but no more so than rivals.
Insurance groups and costs
Insurance groups for this generation of XC90 range between 37 and 44, which means there won't be a vast difference between the cheapest and most expensive premiums. True, such disparities could make a fairly big difference to young, newly qualified drivers, but let's face it, most potential XC90 buyers will be of an age and income level where that shouldn't be an issue. And for these folk, tiny fluctuations in insurance costs are unlikely to be deal-breaking in their choice of car.
VED car tax: What is the annual road tax on a Volvo XC90?
Buy a car registered before April 2017, and what you'll pay in road tax between each version will differ greatly. The good news for those after the PHEV is that you'll pay nothing in VED thanks to its super-low CO2 emissions. Pretty tempting, that. Mind you, buy a D5 of the same vintage and you'll pay £165, while T6 buyers pay £265.
For cars registered after that date, though, the VED system changed so that all cars with a list price of more than £40,000 - which includes all XC90s, unfortunately - get clobbered with an additional surcharge of £325 on top of whatever the car's CO2 tax banding demands you pay. So, aside from the odd fluctuation of a tenner here and there, all XC90s will get stung for an annual VED bill of around £475.
If you're a company car driver, the hybrids are the best shout with groupings between 15 and 17, while all the other models sit in group 37.
How much should you be paying for a used Volvo XC90?
"At the time of writing, prices for new XC90s kicked off at around £54,000 for the B5 petrol in Momentum trim, while the B5 diesel version - the one we'd recommend if you can't stretch to the plug-in hybrid - only cost about £600 more. The cheapest PHEV version was the R-Design at a shade over £67,000, while the very top-end version, the T8 Inscription Pro, weighed in at a whopping £74,000."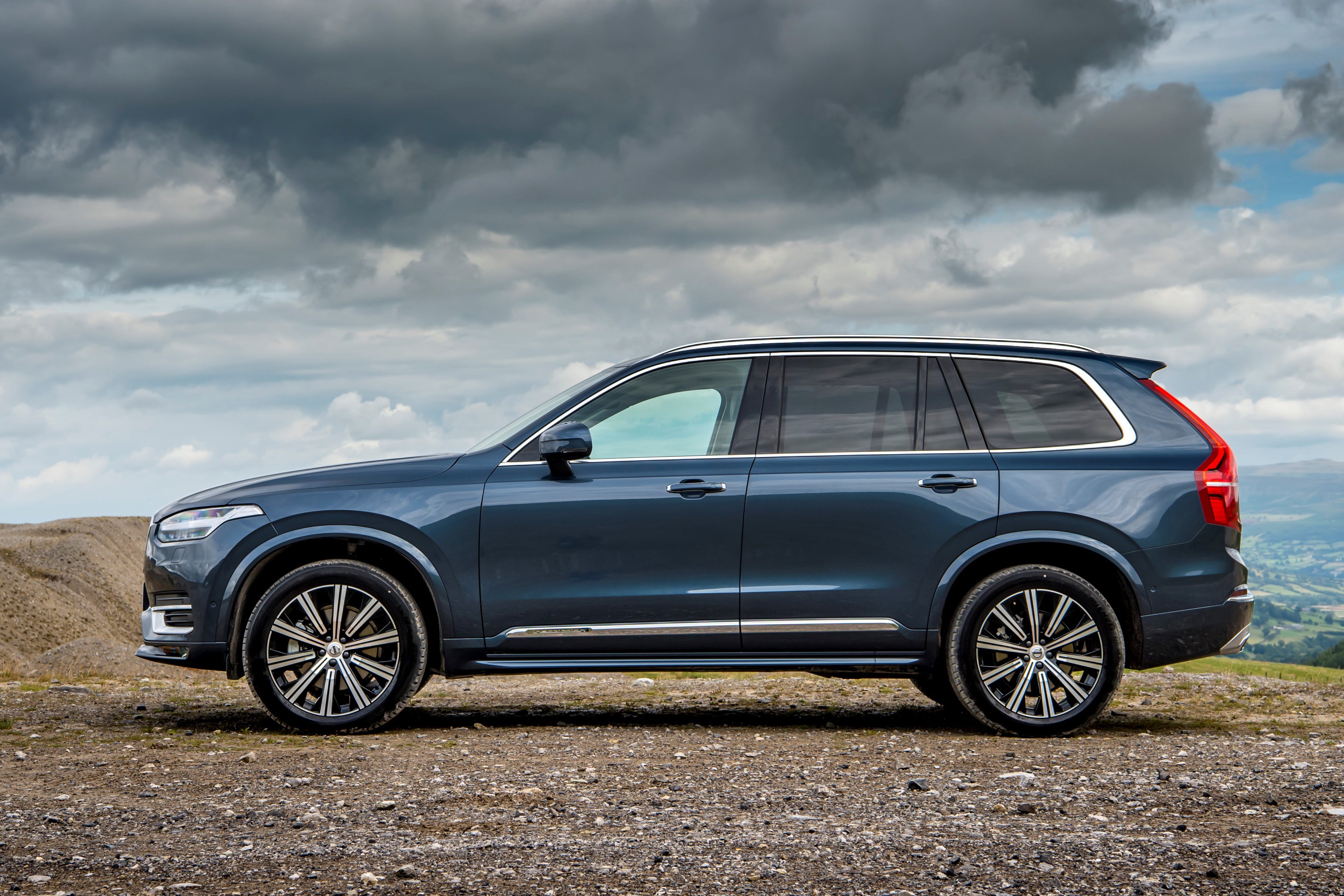 Compared with rivals like the Audi Q7 and BMW X5, the XC90's pricing was pretty similar. A shade cheaper spec-for-spec, perhaps, but not by a massive amount. And, because the big Volvo's resale values are also on a par with those of its German rivals (so pretty strong, then), you can expect prices to be pretty comparable on the used car market, too.
Obviously, buyers will pay a lot less for a used car than for a new one, but how much less will depend mostly on the age of the car you find. A nice pre-reg example will be like an entirely new car, but for a very useful discount, while the cheapest versions we've seen check in at around £25,000.
Trim levels and standard equipment
The names of the three main trim levels have stayed consistent throughout the XC90's life - Momentum, R-Design and Inscription - although exactly what you get with each one has shifted around a wee bit, with more being added to the standard roster as time has gone on. Here, we'll concentrate on the newer, post-facelift cars, so bear in mind that a few items might be missing from older examples.
To be honest, we can't see much point in looking past the entry-level Volvo XC90 Momentum, because it's really well equipped. Aside from the infotainment and safety kit we've already talked about, your standard roster includes automatic lights and wipers, keyless go, heated (in the front) leather seats, a hands-free powered tailgate and dual-zone climate control. That's pretty good, right?
The Volvo XC90 R-Design models cost a lot more and add mostly sporty visual upgrades inside and out, although the climate control is enhanced to four-zone and you also get handy bits like heated washer nozzles and integrated sunblinds in the rear.
The Volvo XC90 Inscription costs a bit more still and puts a focus on a luxury feel rather than a sporty one, and come with upgraded leather with seat ventilation, plus ambient lighting. The 'Pro' models (Volvo XC90 R-Design Pro and Inscription Pro) add some pretty desirable bits like a heated steering wheel, smartphone integration, massaging front seats, a Harman Kardon stereo and air suspension, but they're really expensive.
Ask the heycar experts:
common questions
Is the Volvo XC90 a good car?
The Volvo XC90 is practical, stylish and a comfortable cruiser – perfect for families. It's also very safe and available with a great range of engines including a plug-in hybrid that makes it very cheap to run on a short commute.

Is the Volvo XC90 a 7 seater?
The Volvo XC90 is a seven-seater. It has five large chairs in the first and second rows, along with a third row that's comfortable for adults and very roomy for kids.

Answered by
heycar editorial team
Where is the Volvo XC90 made?
While production of the Volvo XC90 started in Sweden, the latest models are made at Volvo's Chengdu factory in China.

Volvo XC90 cars for sale on heycar
2,516
Number of cars available
£25K - £75K
Price bracket of these cars
Colours available on heycar
Keep me updated by email with the latest advice, news and offers from heycar
By submitting, you agree to our
privacy policy
.
Popular models
Similar models