First drive: BMW M3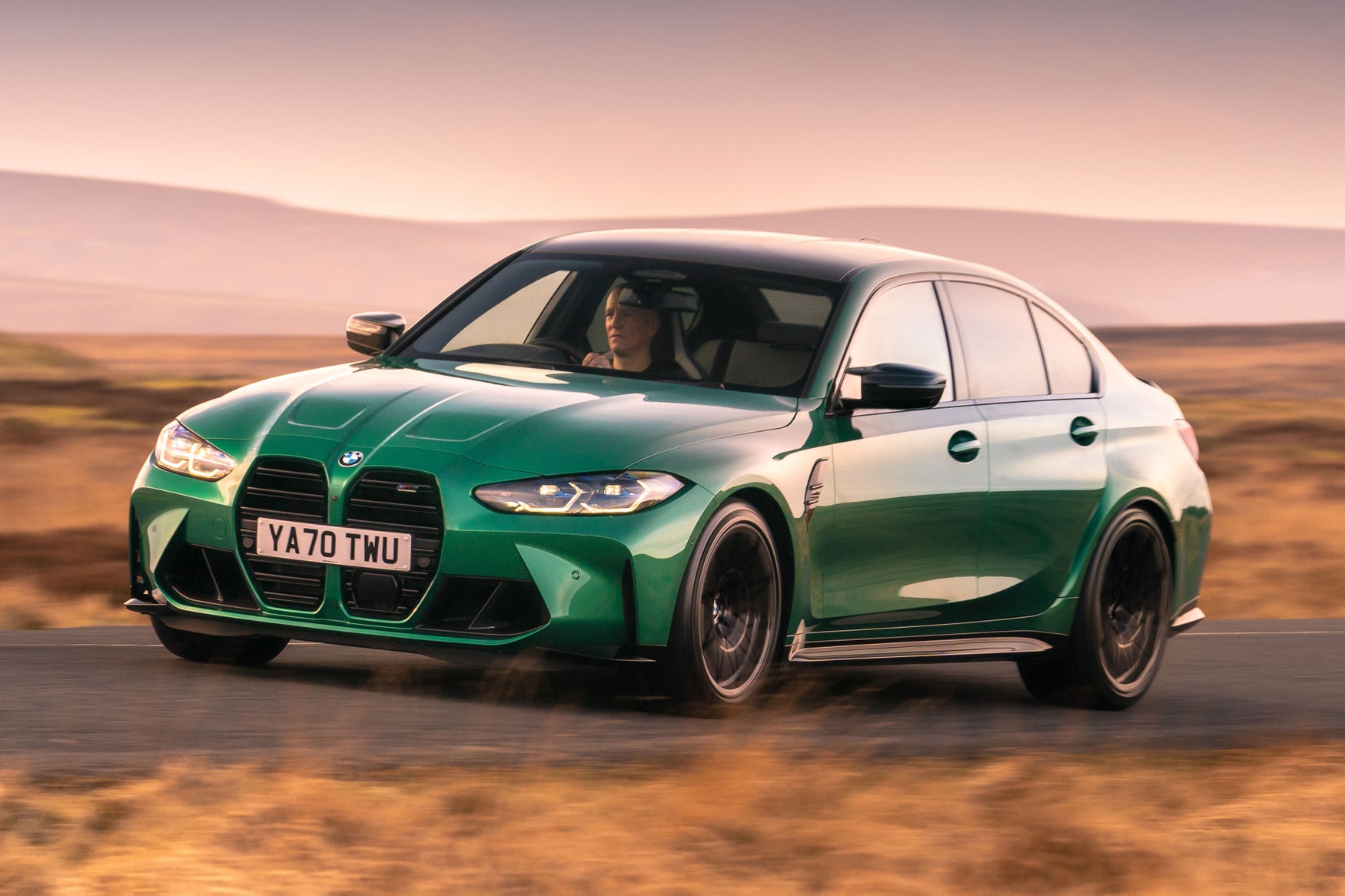 Best bits
Brilliant to drive with thunderous engine and compliant chassis
Premium and practical interior
There are some strong colour combinations on offer
Not so great
Not everyone likes how it looks
It's not cheap
You might want to wait for the estate version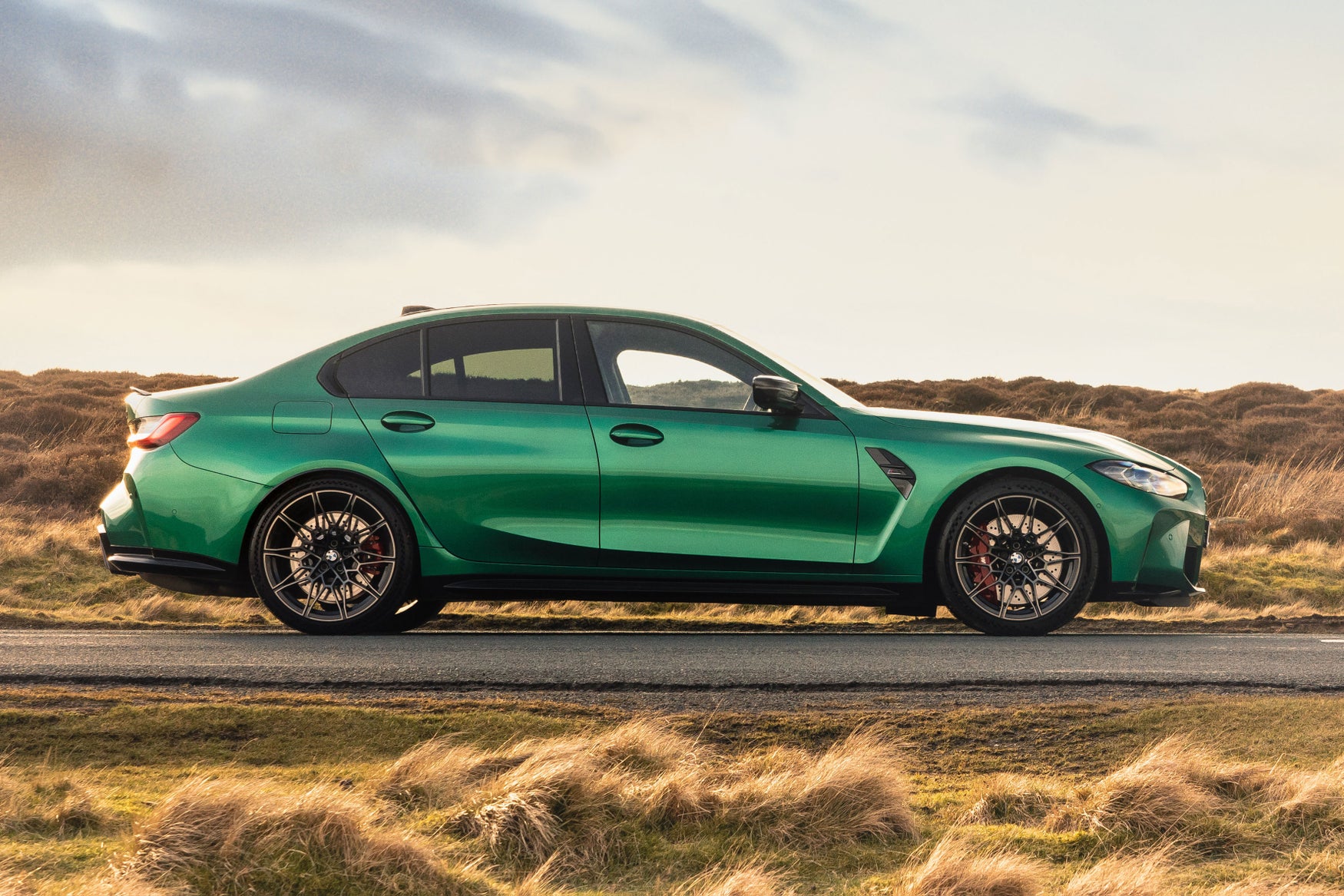 What is it?
The latest iteration of BMW's do-it-all super saloon – with more power, more weight and, arguably, looks only a mother could love.
Okay, let's deal with the elephant in the room straight away. That grille… it might be a bit on the big side, but it doesn't look quite so gash in real life as it does in the pictures. Actually, we quite like how the BMW M3 looks, especially in the Isle of Man Green of our test car. We even noticed it admiring glances from other motorists. Or maybe that was our imagination.
Love or hate how it looks, you won't really care once you're inside and experiencing the full force of the M3's 510PS twin-turbo straight-six engine. It'll rocket to 62mph in just 3.9 seconds, while there's an almost infinite amount of drive modes and stability control settings to play with.
It's not just the styling that's controversial about the latest BMW M3, though. Only the BMW M3 Competition is being sold in the UK – which means you can't get one with a manual gearbox. And the automatic transmission isn't the kind of rapid-fire dual-clutch gearbox you'd expect in a car like this… it's an old slush box like you'd find in a 1990s hatchback.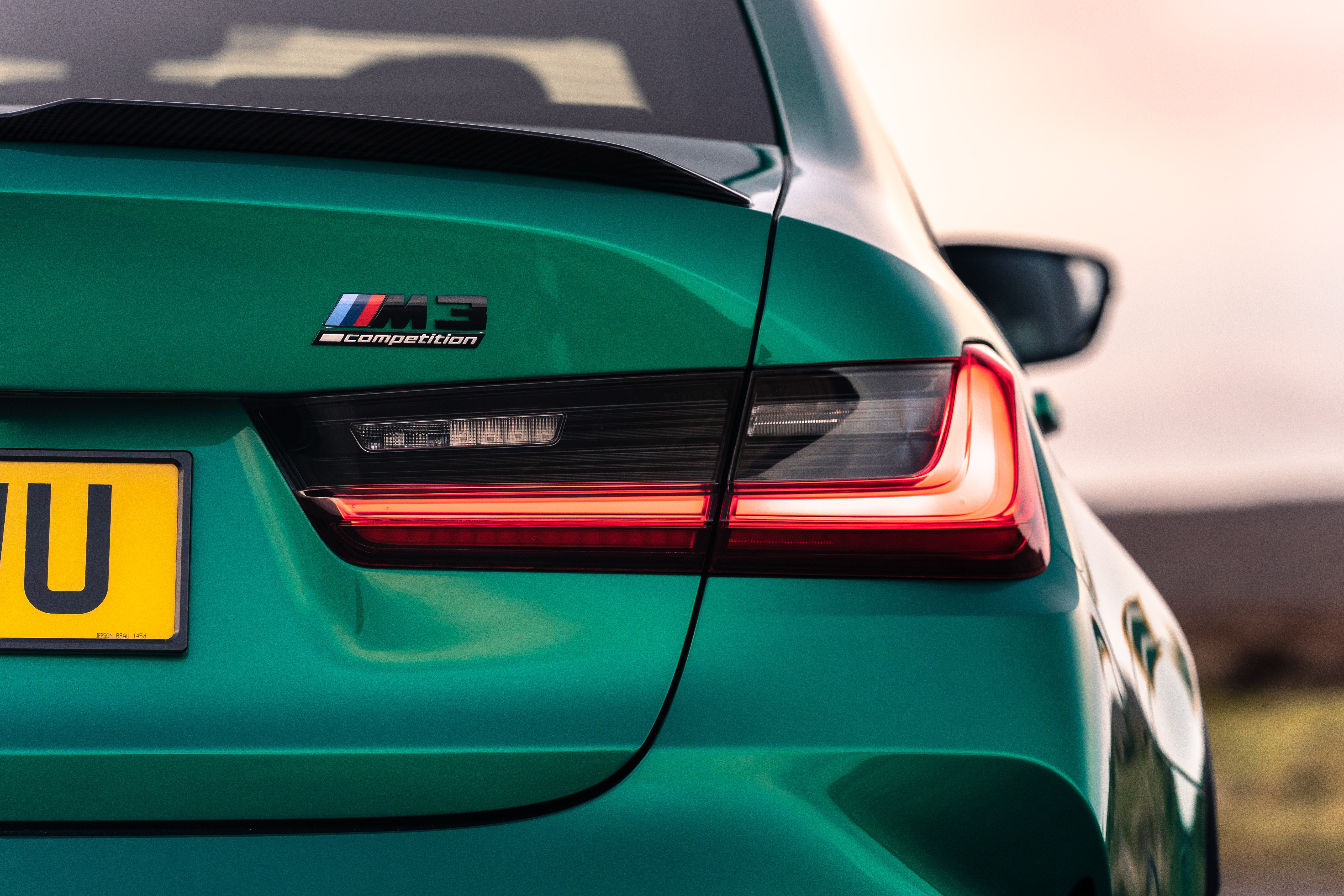 We only get the M3 Competition in the UK. No manual gearbox for us...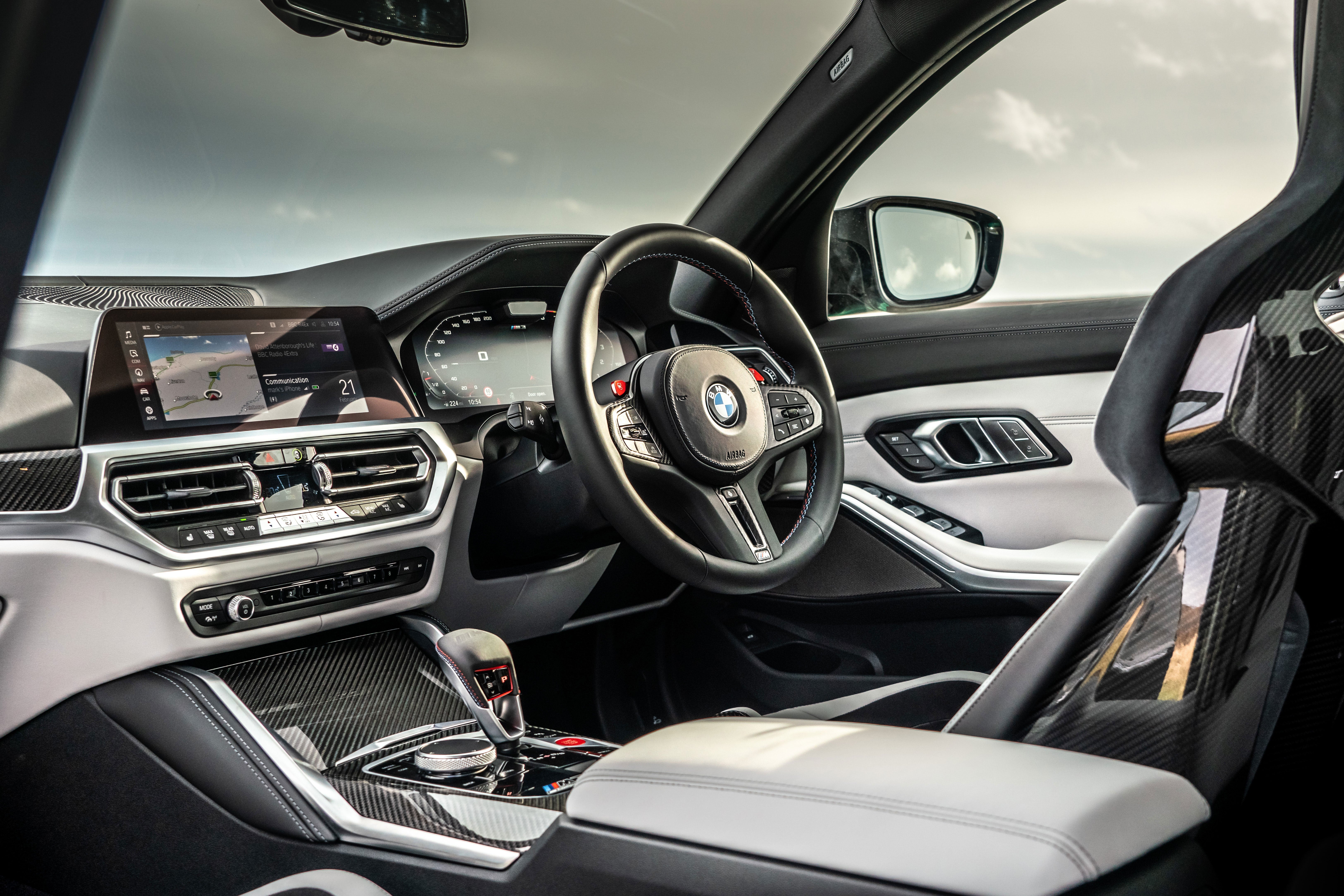 Those bucket seats are part of the £6750 M Carbon Pack...
So how does it drive?
Ah, the billion-dollar question. And, to be honest, it's everything you could possibly want a BMW M3 to be.
Our main takeaway from the few hours we spent in the M3 in the south of England on a horribly soggy day is that it's not that intimidating to drive. The old model would go sideways the second you gave it a bit too much throttle; the latest car (known as a G80 in BMW circles) has a lot more depth to it.
There's a plethora of driving modes available, ranging from Comfort to Sport Plus, as well as 10 (10!) different stages for the dynamic stability control. Of course, you can fiddle with the steering settings, too, and even adjust how bitey the brakes are.
This might all sound overwhelming but it's an enthusiasts' car, and by the time you've got it set up just right for you, you can save your desired settings on one of the two red toggles on the steering wheel.
Of course, the performance is sensational. With a considerable chunk of torque available lower down in the rev range compared to the old M3, it'll hurl you forwards the second you stomp on the accelerator pedal. If we were to nitpick, you might notice a microsecond's pause when it changes gear compared to the old DCT gearbox, but it really shouldn't be a deal breaker.
The ride quality is firm but not uncomfortable and, as we alluded to above, there's a sensational amount of grip – even in poor conditions. For the ultimate grippy M3, though, there's an all-wheel-drive model on its way.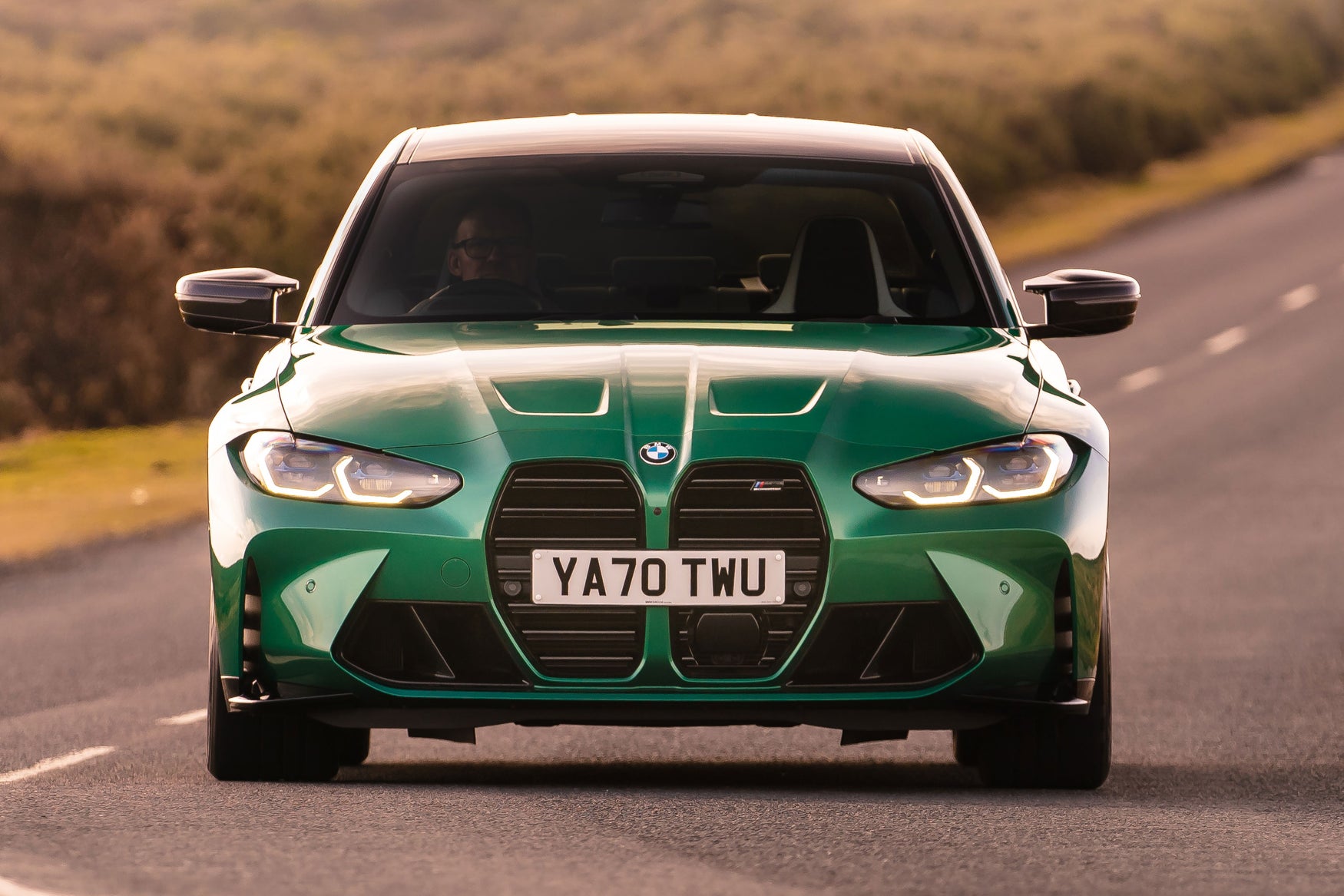 What about a BMW M3 Touring?
With its aggressive looks and so much power on hand, it's easy to forget that the M3 is actually based on the standard 3 Series Saloon car. That means it's much more practical than something like a Porsche 911. You get five seats and enough luggage space for a few overnight bags.
If you need more room, though, BMW is set to launch an estate version, badged the M3 Touring. That's a first (although it has previously sold a wagon derivative of the bigger M5). We're yet to see that in the metal but, going by the success of rivals from Mercedes-AMG and Audi, it's hard to imagine it proving to be anything less than hugely popular in the UK.
It's the BMW M3 Competition Saloon that we're testing here, though, and its interior is nothing less than superb. OK, it's clearly based on the cabin of the standard 3 Series, and you'll get something a little more bespoke if you buy a Porsche 911 – but it's in another league to the Alfa Romeo Giulia Quadrifoglio's interior.
So the only thing left to mention is the price. It's certainly not cheap, with prices starting from around £77,000 and – at the time of writing – you'll pay a premium for a ready-to-go example off a dealer's forecourt. Chuck in a few options (our test car was fitted with the £6750 M Carbon Pack) and you could almost spend £100,000 on this rapid family saloon.
It's worth it, though. Sure, that's an easy thing to say as someone who's longed after an M3 for generations, but it's a simply superb all-rounder. Not only is it quick, it's also massively confidence-inspiring yet exciting at the same time. And it feels like an £80,000 car, thanks to all the different drive mode settings and the generous use of premium materials in the cabin. The only question is… could you live with how it looks?
Watch: BMW M3 and M4 Competition
BMW M3: the facts
Model tested: BMW M3 Competition Saloon xDrive
Engine: 3.0-litre twin-turbocharged petrol
Gearbox: eight-speed automatic
Power/torque: 510PS/650Nm
Combined fuel economy: 28.0-28.2mpg
CO2 emissions: 228-231g/km
Price from: £77,015
As tested: TBC
The BMW M3 Competition Saloon starts from £77,015 in the UK, while the BMW M4 Competition Coupe is priced from £78,315. Nearly-new examples can fetch a premium – expect to pay upwards of £80,000 if you wish to beat the waiting list.
The latest BMW M3 Competition Saloon packs 510PS of power and 650Nm of torque from its straight-six engine. It can accelerate to 62mph in 3.5 seconds while top speed is limited to 155mph.
With an official fuel economy figure of 28.0-28.2mpg, you'll need deep pockets to run a new BMW M3. With CO2 emissions of 228-231g/km, it'll cost £1910 to tax in the first year (included in the retail price), and £490 a year for the following five years.