Best pickup trucks 2022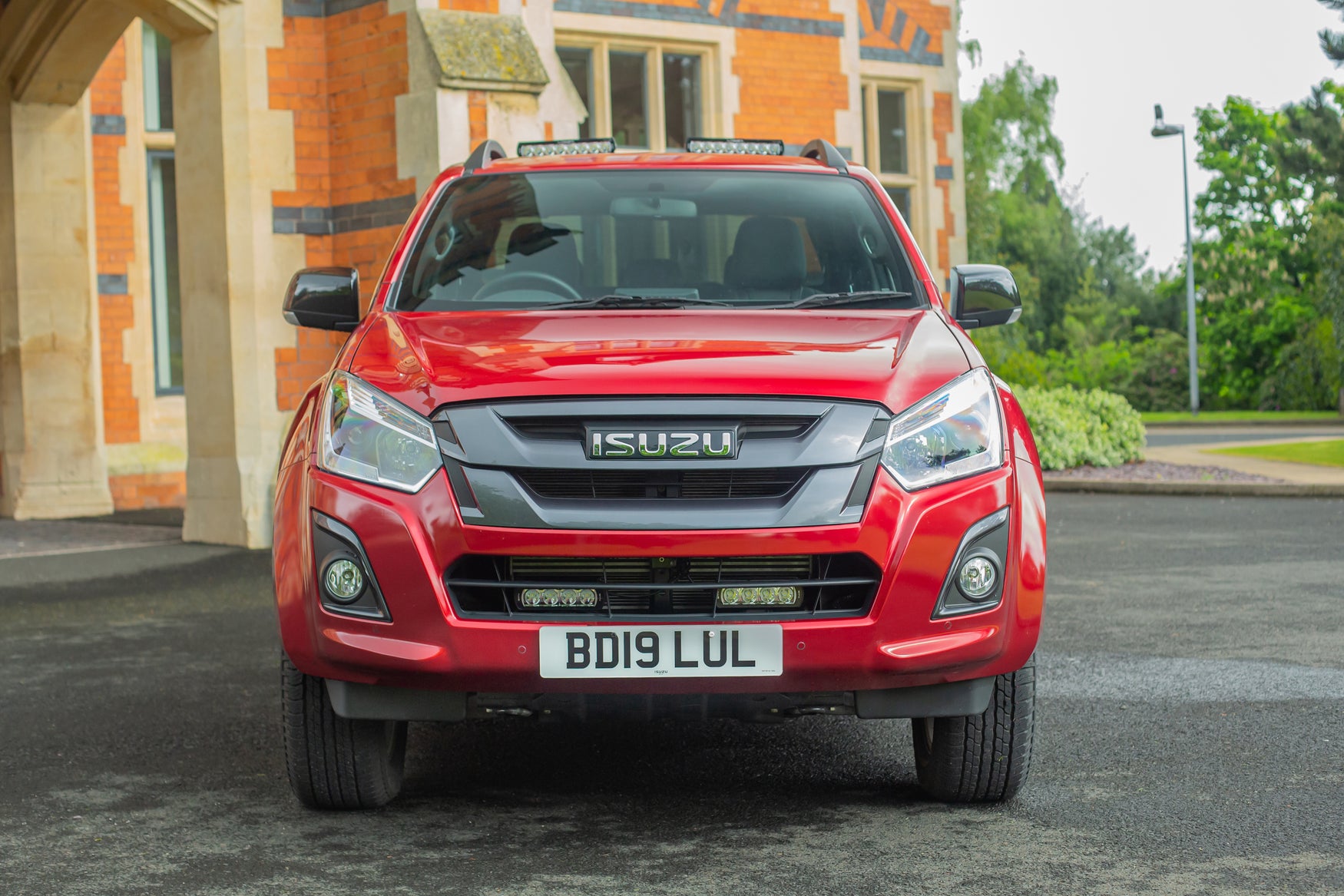 The best pickup trucks should be tough enough to earn its keep, but with good enough MPG to not immediately burn through all your earning.
This top-ten page lists the best pickup trucks in terms of fuel economy. These pickup trucks are all tough workhorses with a softer side that means they're equally as good as family cars if you need a hardy towing machine, something with a huge load bay or just fancy the status of rolling in your own mini truck.
Nissan Navara
Year launched: 2014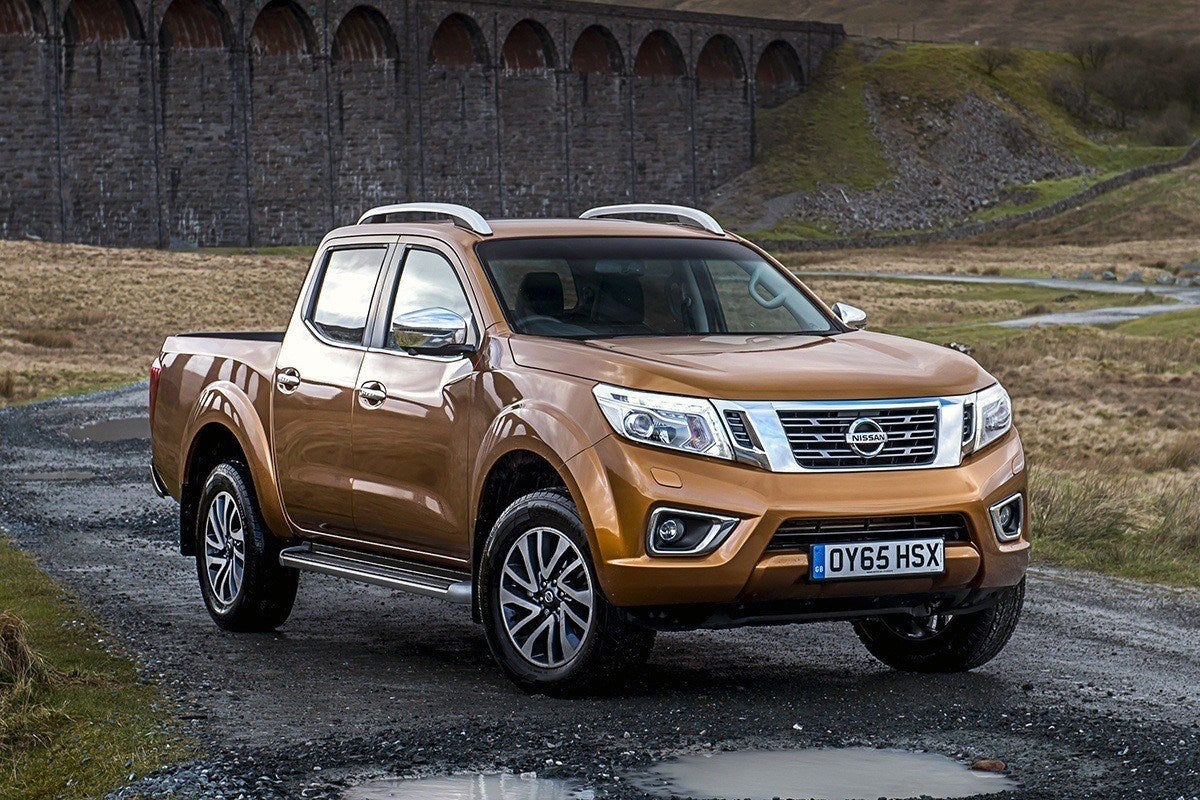 The Nissan Navara is every ounce a modern pickup truck, as capable of hauling heavy payloads over mud as it is hauling the family on their holidays, returning class-leading fuel economy of 46.3mpg as it goes.
To get that eye-catching figure, you'll need to choose the basic engine but, as it has 160PS to call on, it still has plenty of power. If you plan to use your Navara pick-up truck for towing, however, it's worth biting the bullet and considering a four-wheel-drive model.
The double-cab design means you have loads of room for four adults and the, erm, boot is massive. You can also have car-like luxuries including keyless entry and sat-nav, which mean the Navara feels far from utilitarian.
Isuzu D-Max
Year launched: 2012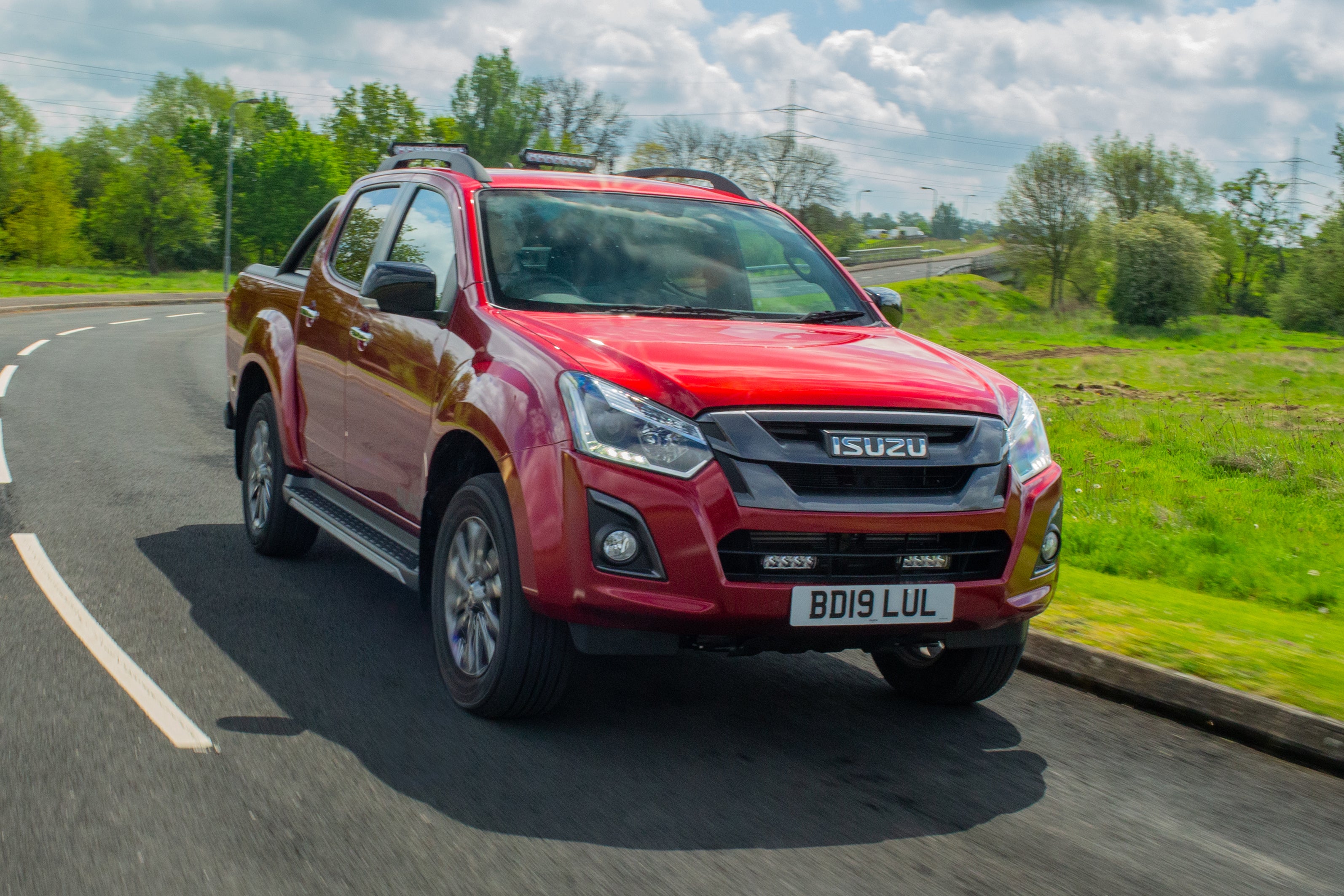 The Isuzu D-Max is also capable of returning fuel economy (of 45.6mpg) that belies its bulk. Although to get it, you'll need to go for a two-wheel-drive, manual model.
With 161PS on tap, the Isuzu should have plenty of pep and it can manage a payload of up to 1136kg and a 3.5 tonne towing weight. However, it's a noisy machine with old fashioned leaf suspension that amplifies bumps rather than smoothing them.
Unsurprisingly, the D-Max has no lifestyle aspirations. It's keenly priced to appeal as a working truck with a choice of single, extended or double cab body shapes, all of which are decked out in cheap plastics.
Ford Ranger
Year launched: 2011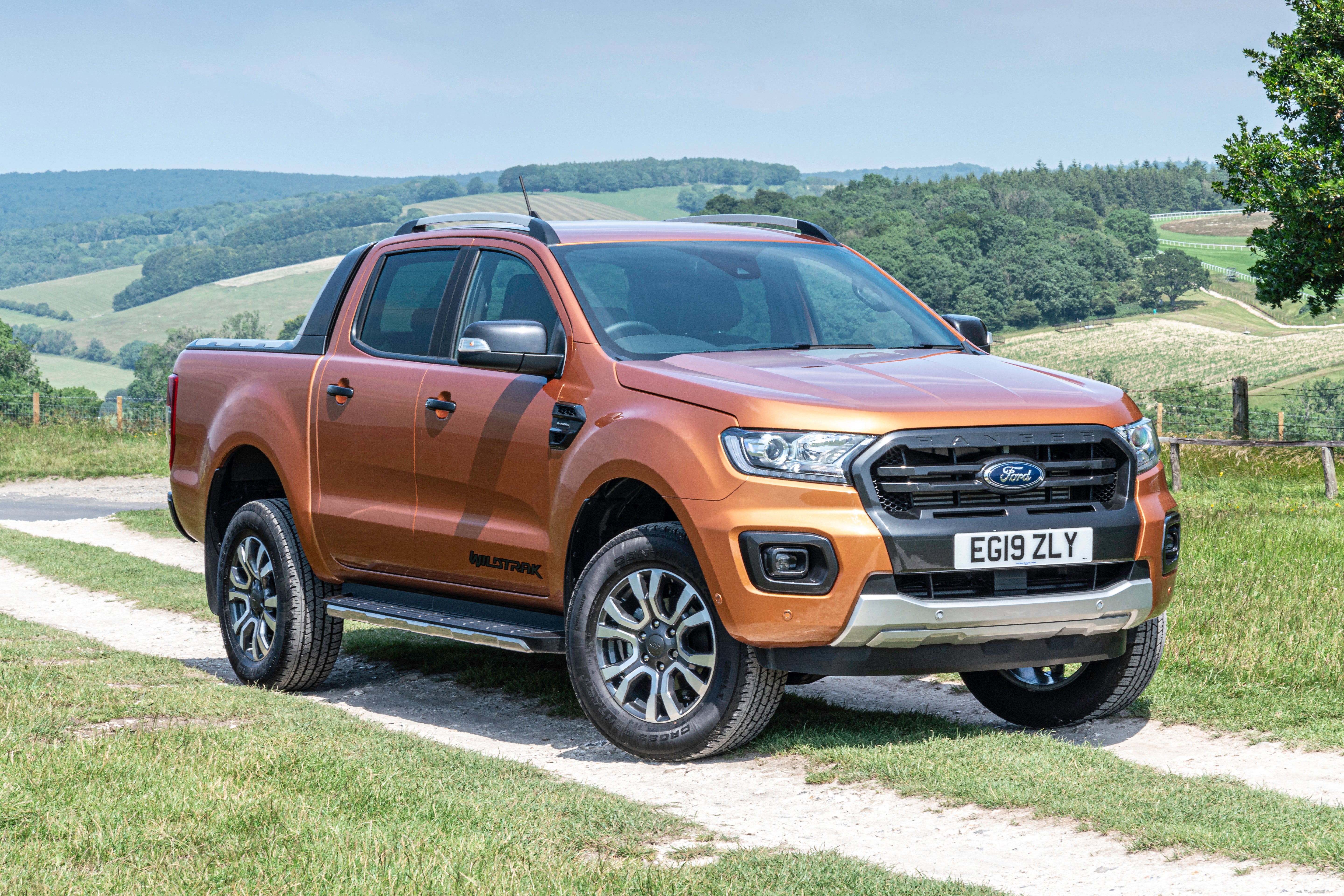 Fuel economy of 40.9 mpg, a five-star NCAP rating and a comfortable cabin are three of the reasons to choose the Ford Ranger if you want a hardworking truck that'll slot into family life seamlessly.
That fuel economy figure comes courtesy of the Ford's 130PS 2.0-litre diesel engine, but if you want more go, there's a 213PS 2.0-litre diesel available with or without a 10-speed automatic gearbox. Four-wheel drive is another option and it allows you to shift up from two-wheel drive on the move.
Inside, the Ranger feels plush for a truck and you get Ford's latest SYNC3 infotainment system with an eight-inch screen. What's not so good is rear-seat space that'll leave tall adults feeling wanting.
Mitsubishi L200
Year launched: 2015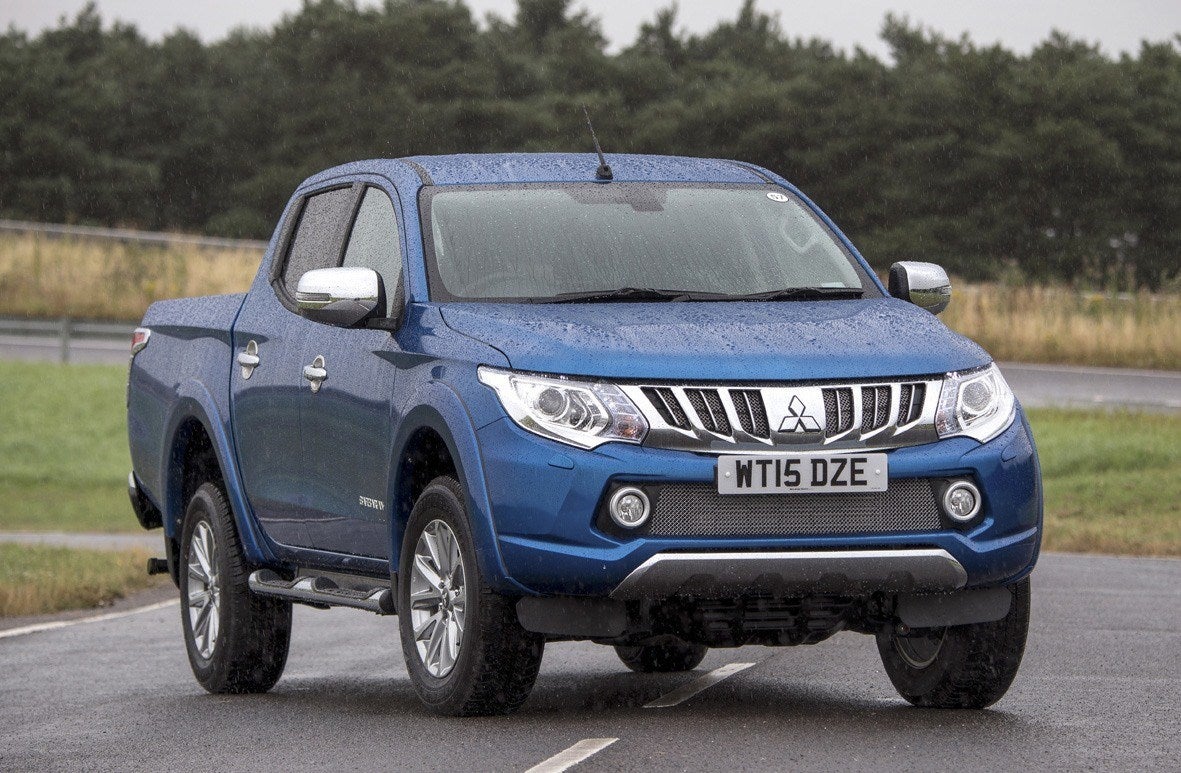 Mitsubishi's departure from the UK market means one of the founding fathers of modern UK pickups – the Mitsubishi L200 – will soon no longer be with us. A shame because its 40.9mpg fuel economy figure means it is one of the cheapest trucks in the UK to run.
The Mitsubishi is powered by a 150PS 2.0-litre diesel engine that means it feels punchy and can pull trailers weighing up to 3.5 tonnes. You also get a very sophisticated four-wheel-drive system that can deal with a range of sticky situations.
Unfortunately, the interior isn't so flexible. It has loads of front passenger space but the back seats aren't as generous – especially if you go for a Club Cab model – still, you can at least have an infotainment display with Apple CarPlay and Android Auto.
Fiat Fullback
Year launched: 2016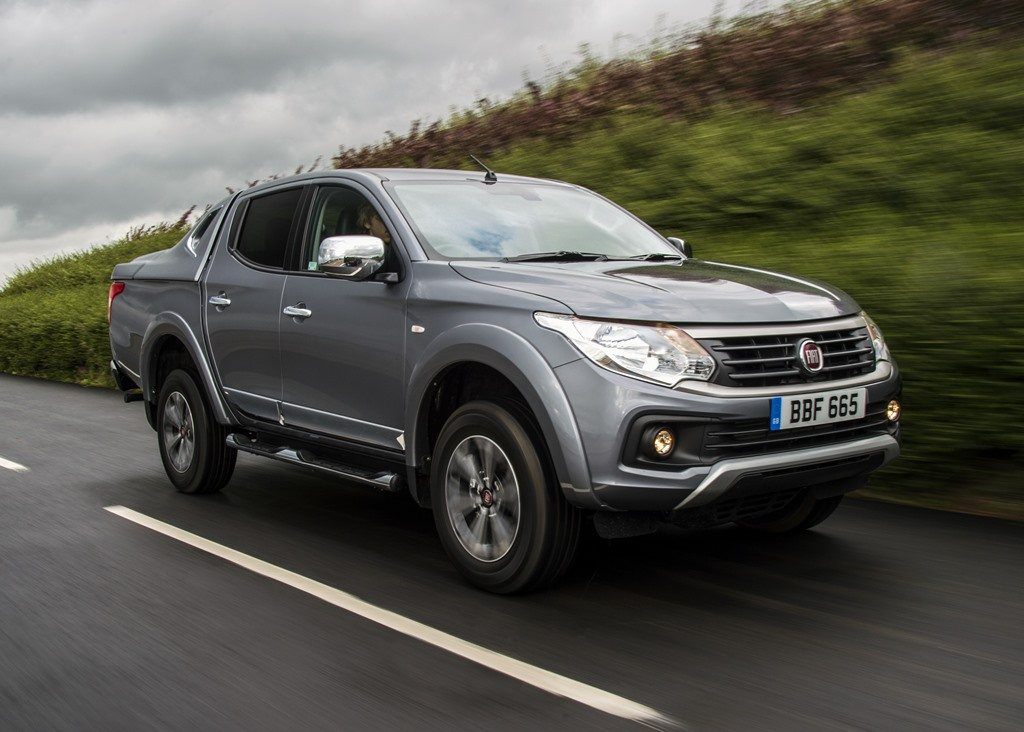 No it isn't another Mitsubishi L200, clever clogs, but if you're spotting a resemblance you're not wrong – the Fiat Fullback is essentially a rebadged Mitsubishi L200 capable of the same 40.9mpg fuel economy.
You can choose from a 2.4-litre diesel engine with 150PS or 180PS, running through a six-speed manual or five-speed auto gearbox. It's also available with the Mitsubishi's clever four-wheel drive, so it's great in mud.
Bouncy leaf springs means it's not so adept on smooth tarmac and the Fiat also suffers from the L200's lack of rear-seat space. That said, things like a DAB radio, Bluetooth, fog lights and side steps come fitted as standard.
Toyota Hilux
Year launched: 2015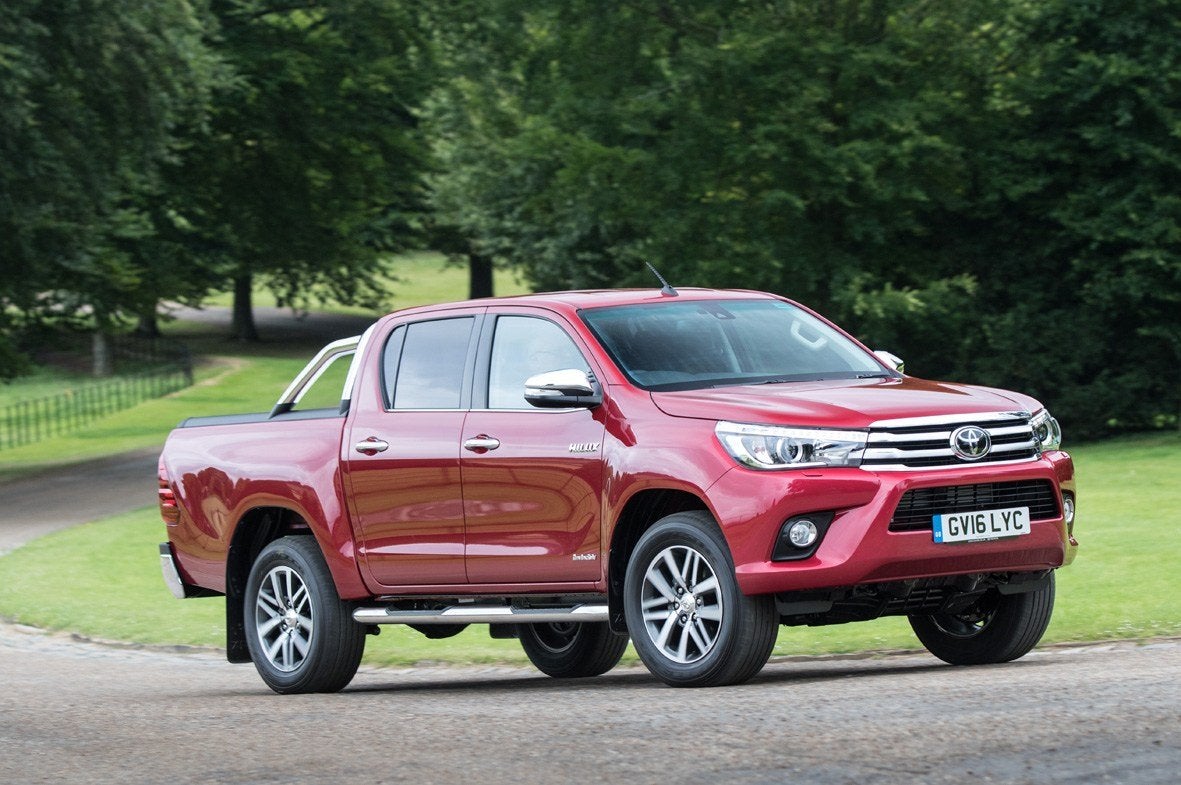 If you want a hard-as-nails pickup truck, look no further than the Toyota Hilux, which was immortalised in an episode of Top Gear during which Clarkson tried and failed to kill it. The latest model might not be significantly tougher than that car, but it is a lot plusher.
Power comes from a 150PS 2.4-litre diesel engine that is capable of returning fuel economy of 40.4mpg and gives the Hilux a maximum towing weight of 3.5 tonnes. It also comes as standard with four-wheel drive and a locking rear differential that gives it the measure of tricky terrain.
Inside, the interior is nice for a pickup truck and has plenty of room for four adults, as well as numerous smaller storage areas to help keep the cabin tidy. Air-conditioning is standard while high-end models get climate control and a reversing camera.
Mercedes-Benz X-Class
Year launched: 2017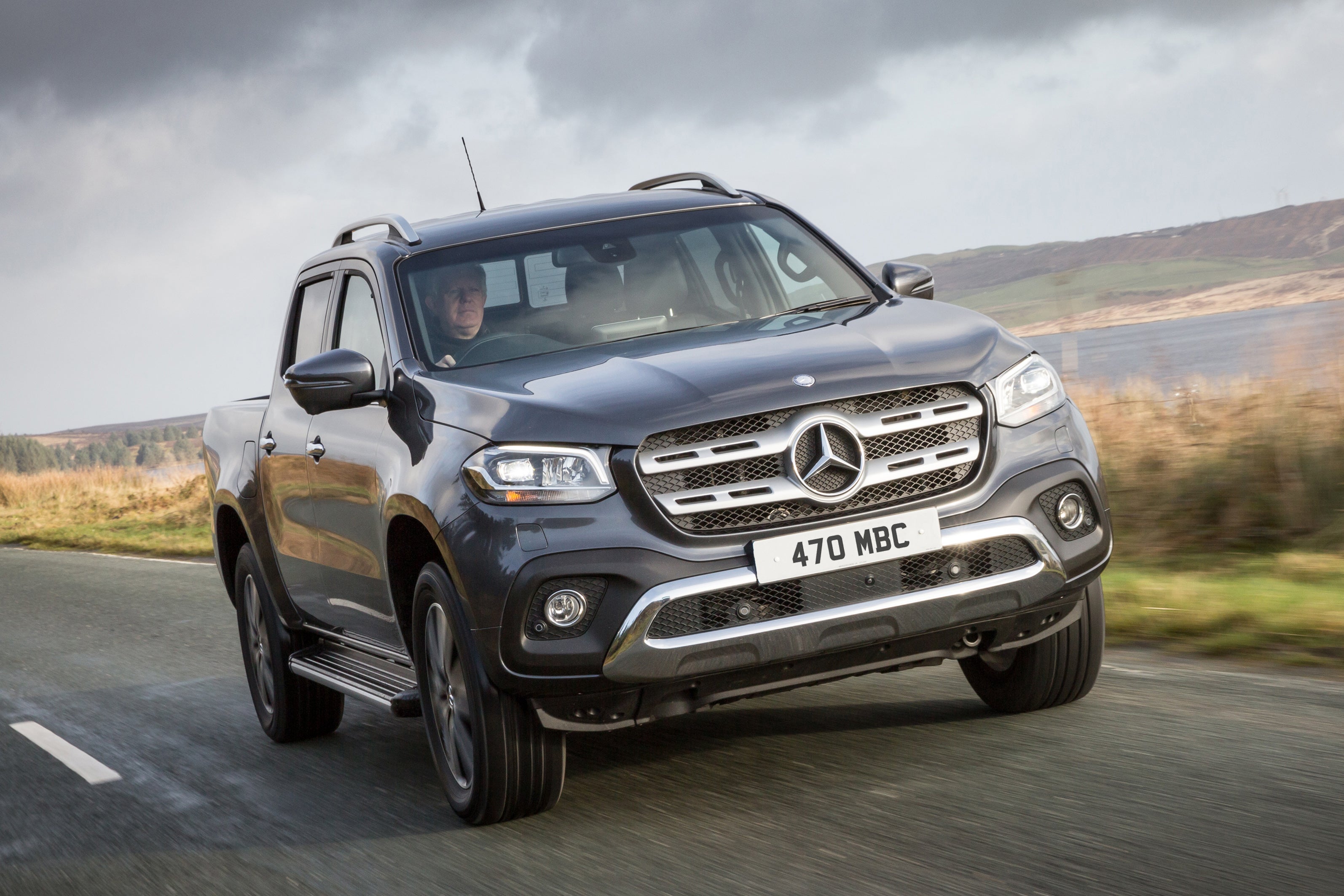 If you're looking for a posh pickup truck, then the Mercedes-Benz X-Class is the pickup for you. From the three-point badge on its bonnet to its plush exterior fixtures and fancy interior fittings, it's the pickup truck that tells everyone else – business is doing great.
Unfortunately, underneath it all lurks a machine that is identical to the Nissan Navara and it doesn't take much to chip away the chintzy veneer. Inside, you get the vents and steering wheel from a Mercedes saloon, but also plenty of switchgear and plastics that has a previous life in a Nissan Qashqai. That said, the seats do have a Mercedes firmness to them and the X-Class has plenty of space inside for four adults.
To get the best fuel economy - all 37.2mpg of it – you'll want Nissan's 163PS 2.0-litre diesel engine, badged the X 220 d in the Mercedes, although the 258PS V6 in the X 350 d is awfully tempting...
SsangYong Musso
Year launched: 2018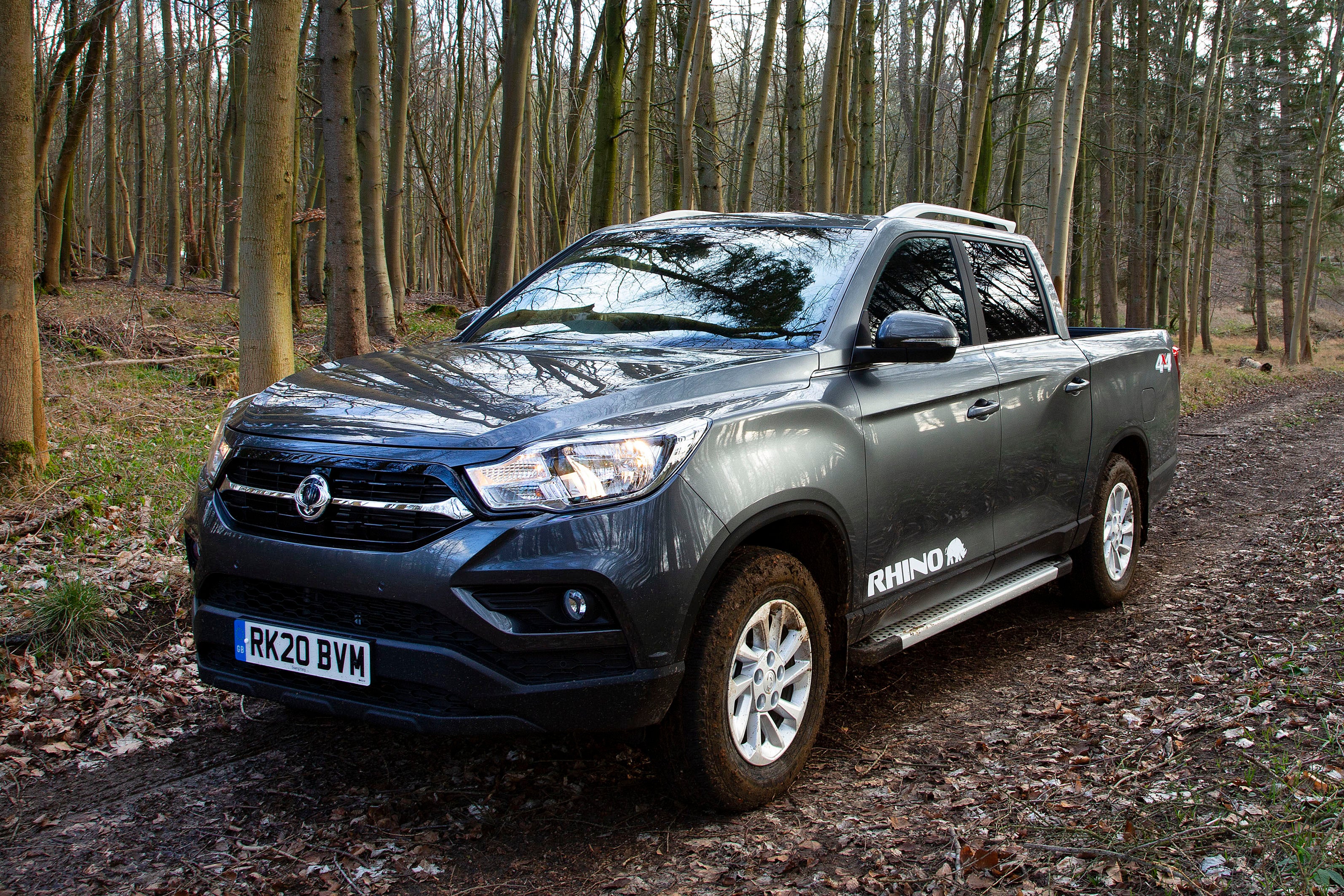 Where the SsangYong Musso's utilitarian image might be a turn off in the car world, it's a selling point in the world of hardworking pickups – particularly when it comes with an attractive price and the peace of mind of a seven-year warranty.
The automatic model is the one to go for here because it increases fuel economy from the 181PS 2.2-litre engine to 35.8mpg – up from 32.8mpg in the manual – and means the Musso can tow 3.5 rather than 3.2 tonnes. The engine is surprisingly refined and four-wheel drive comes as standard.
The Musso feels less utilitarian inside than some of its rivals and because it's based on the bulky Rexton SUV, you also get plenty of room. In fact, the Musso is one of the best pickup trucks to choose if you regularly carry five people.
Volkswagen Amarok
Year launched: 2011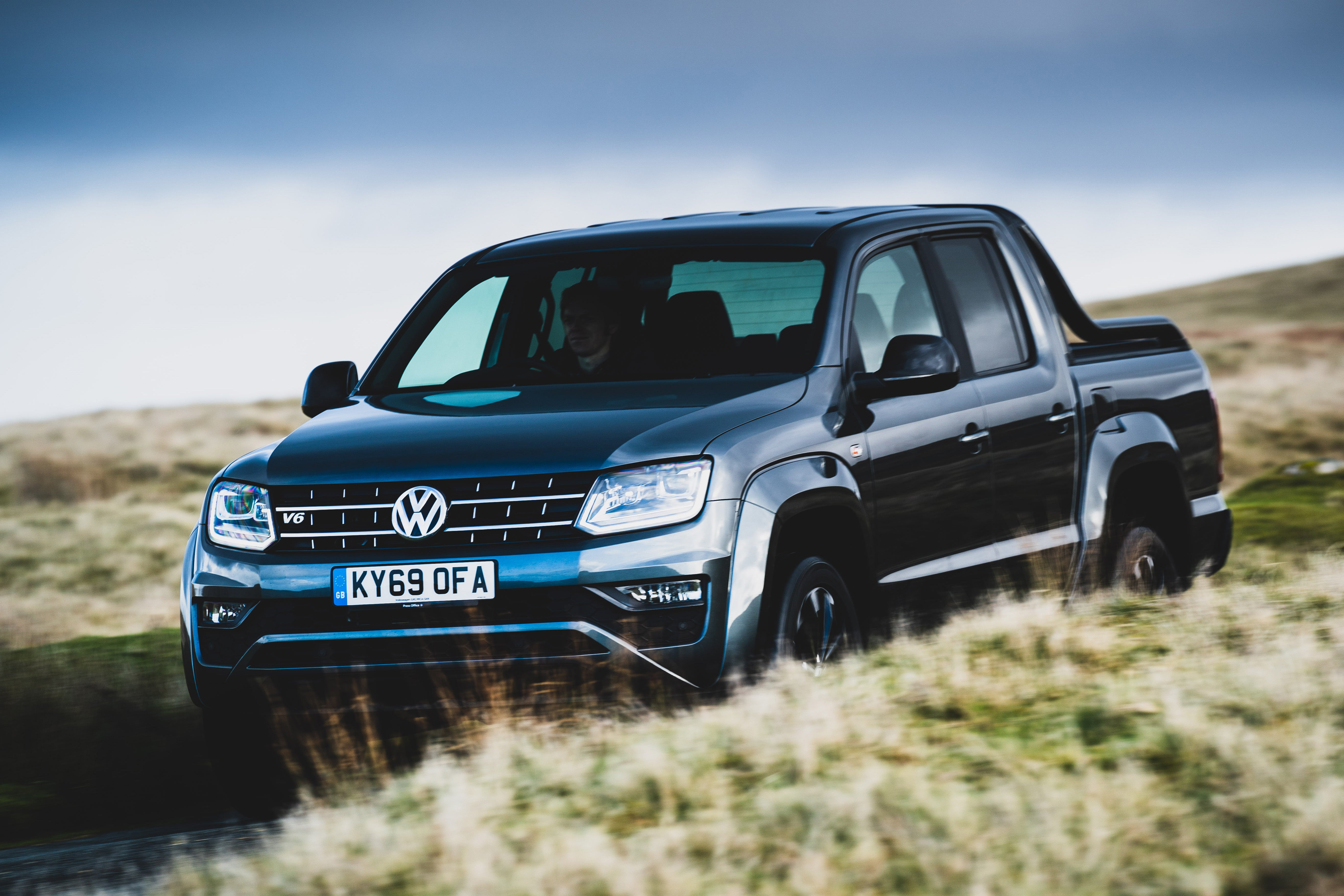 If there was such a thing as a muscle pickup truck, the Volkswagen Amarok would be worthy of the name because it comes packing a 3.2-litre V6 diesel with 258PS that can overboost to 272PS for short bursts of acceleration. It gets the Amarok from 0-62mph in just 7.4 seconds, yet officially it can return a shade under 34mpg – closer to 30mpg in the real world, mind.
All that power will come in handy when the Amarok rolls up its sleeves and earns its keep, it has a payload of more than 1000kg and can tow (rather quickly) a trailer of up to 3.2 tonnes. Volkswagen's 4Motion four-wheel drive gives plenty of grip and you get an off-road setting for the brakes to aid stopping on slippery surfaces.
The Amarok is available with a posh leather interior that will be easy to keep clean and you can also have kit like electrically adjustable and heated seats. Basic models have fabric trim, but all versions can happily accommodate five people and lots of interior storage.
Ford Ranger Raptor
Year launched: 2019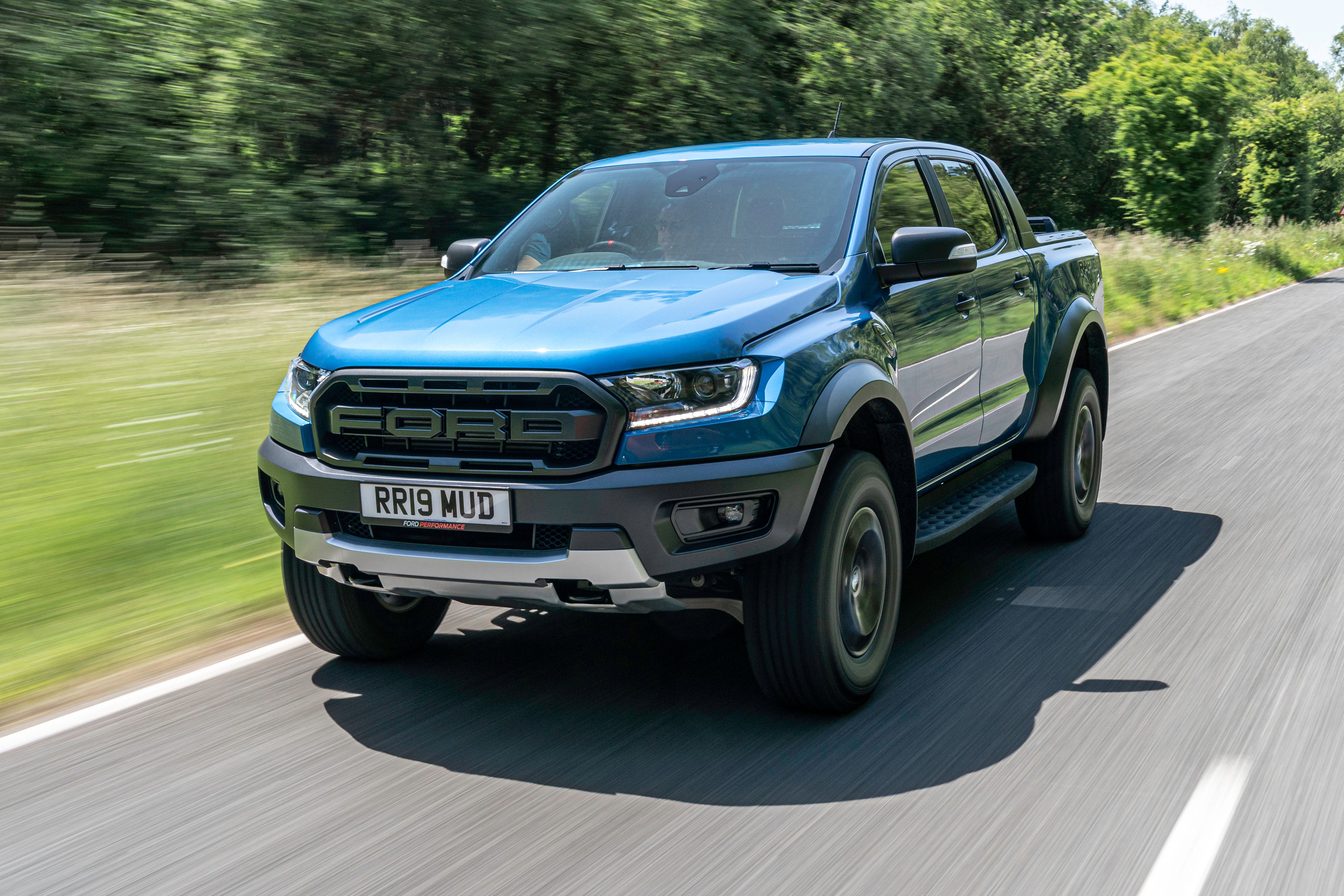 Okay, so the Raptor is really just a Ford Ranger wearing stilts and hiking boots, but it's raised suspension and big tyres do mean it drives like a different animal and it looks pretty different, too, thanks to its chunky grille and wheel arches.
They hint that the Raptor is more of a posing pickup truck than a genuine work machine, something that's reinforced by its relatively miserly 620kg payload, which means it'll be taxed as a car rather than a cheaper commercial vehicle. If you can live with that, though, the Raptor gives you a commanding driving position and it's capable of handling serious off-roading – certainly, those bulbous tyres mean kerbing your wheels will be a thing of the past.
The Raptor comes fitted with a powerful 213PS diesel engine matched to a 10-speed automatic gearbox, which means it returns 31.7mpg and gets from 0-62mph in 10.5 seconds. What else separates this from a standard Ranger? Well you get a posher interior complete with electrically adjustable and heated suede seats and an electrically adjustable sports steering wheel.
The Nissan Navara is capable of a little over 45mpg, although to get that you'll need to go for the least powerful model with two-wheel drive.
You'd be mad to bet against the Toyota Hilux. It has a sturdy design that means it is favoured by Australian mine workers that work in some off the toughest conditions on the planet.
Pick-up trucks are designed for carrying and towing heavy loads, which is why they ore often used as working vehicles on building sites and the like. Pick-ups are a let less utilitarian than the used to be meaning they can also turn their hands to transporting the family.
More reviews of the best pick-up trucks
Toyota Hilux
Active D/Cab Pick Up 2.4 D-4D
Shelbourne Motors Toyota Portadown Northern Ireland

Armagh, BT623RB
HP: £489.81/mo
Representative example: Contract Length: 36 months, 36 Monthly Payments: £489.81, Customer Deposit: £2,699.00, Total Deposit: £2,699.25, Total Charge For Credit: £2,337.41, Total Amount Payable: £20,332.41, Representative APR: 9.9%, Interest Rate (Fixed): 9.43%
Toyota Hilux
Invincible X D/Cab Pick Up 2.8 D-4D Auto
Snows TOYOTA Southampton

Hampshire, SO150LD
PCP: £608.35/mo
Representative example: Contract Length: 36 months, 35 Monthly Payments: £608.35, Customer Deposit: £6,000.00, Total Deposit: £6,000.00, Optional Final Payment: £17,148.75, Total Charge For Credit: £4,441.00, Total Amount Payable: £44,441.00, Representative APR: 5.9%, Interest Rate (Fixed): 4.35%, Excess Mileage Charge: 9ppm, Mileage Per Annum: 10,000
Toyota Hilux
Invincible D/Cab Pick Up 2.4 D-4D Auto
Marshall Nissan Lincoln

Lincolnshire, LN63TA
HP: £587.93/mo
Representative example: Contract Length: 36 months, 36 Monthly Payments: £587.93, Customer Deposit: £3,240.00, Total Deposit: £3,240.00, Total Charge For Credit: £2,805.48, Total Amount Payable: £24,405.48, Representative APR: 9.9%, Interest Rate (Fixed): 5.09%