Best large van-based MPVs
Best large van-based MPVs 2021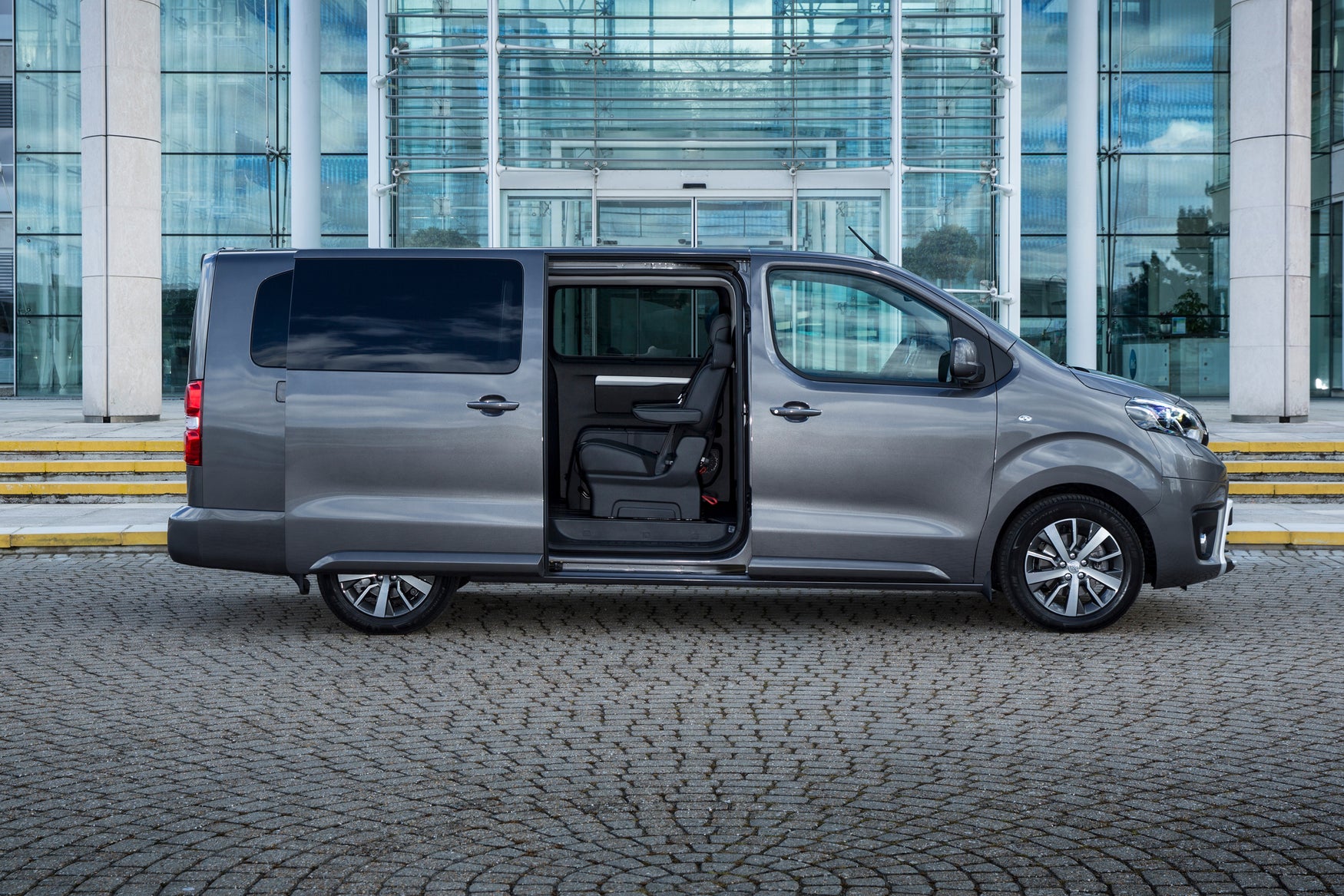 Do you need a large car with three rows of seats for 8 or 9 people? The best large van-based MPVs are the most practical and versatile cars money can buy and are perfect for families who need a vehicle with lots of space and affordable fuel costs.
People carriers like the Volkswagen Caravelle, Citroen SpaceTourer and Ford Tourneo Custom are based on the UK's best-selling vans, which means they are easy to drive and cheap to run.
What's more, due to their popularity with taxi firms, these large cars are well-equipped, with twin sliding doors, cruise control and air conditioning fitted as standard. You also get a good choice of efficient diesel engines with the choice of a manual or fully automatic gearbox.
If you don't need as big a van-based MPV, you can check out the best small van-based MPVs and the cheapest van-based MPVs. We can also help with the best MPVs and cheapest MPVs on sale. We also round up the best 7-seater cars as well.
Citroen SpaceTourer
Year launched: 2016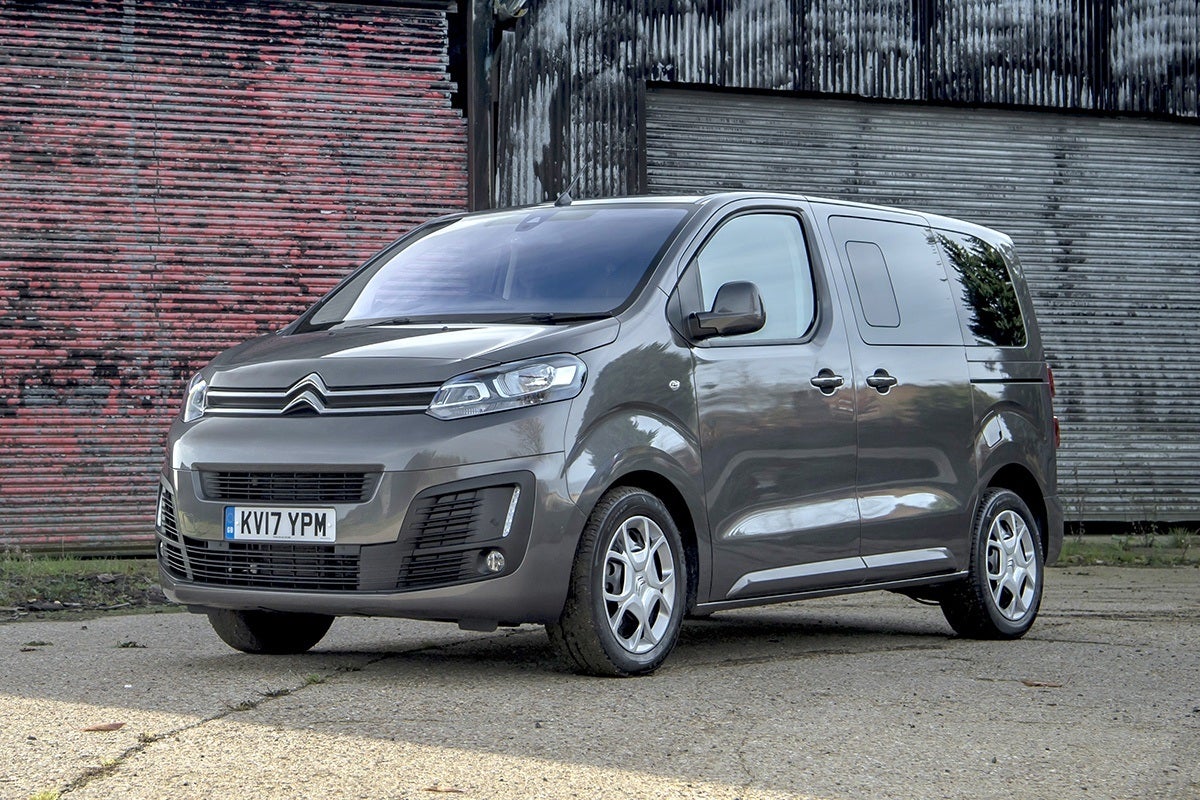 The Citroen SpaceTourer is a large and efficient MPV people mover that delivers big space in a classy and efficient way. There are three versions of the SpaceTourer to choose from, with the choice of five, seven, eight or nine seats. Few large cars offer so much versatility.
The SpaceTourer is easy to drive, with its light and responsive steering making it easy to guide along the motorway or through a busy city centre. The equipment levels are split to cater for business and family car buyers, which means it's easy to find a model to meet your needs. All models come with lots of useful kit, like parking sensors and touchscreen infotainment. The third row of seats can also be removed to free up storage space.
The diesel versions of the SpareTourer will return 50+mpg. The engines are split across 1.5-litre and 2.0-litre units with power split across 95, 115, 150 and 180PS. Both the 150PS and 180PS versions of the 2.0 BlueHDi turbodiesel are offered with an eight-speed EAT8 automatic gearbox, while most of the other models get a six-speed manual as standard. For the most relaxing driving experience, we'd recommend the auto.
Vauxhall Vivaro Life
Year launched: 2019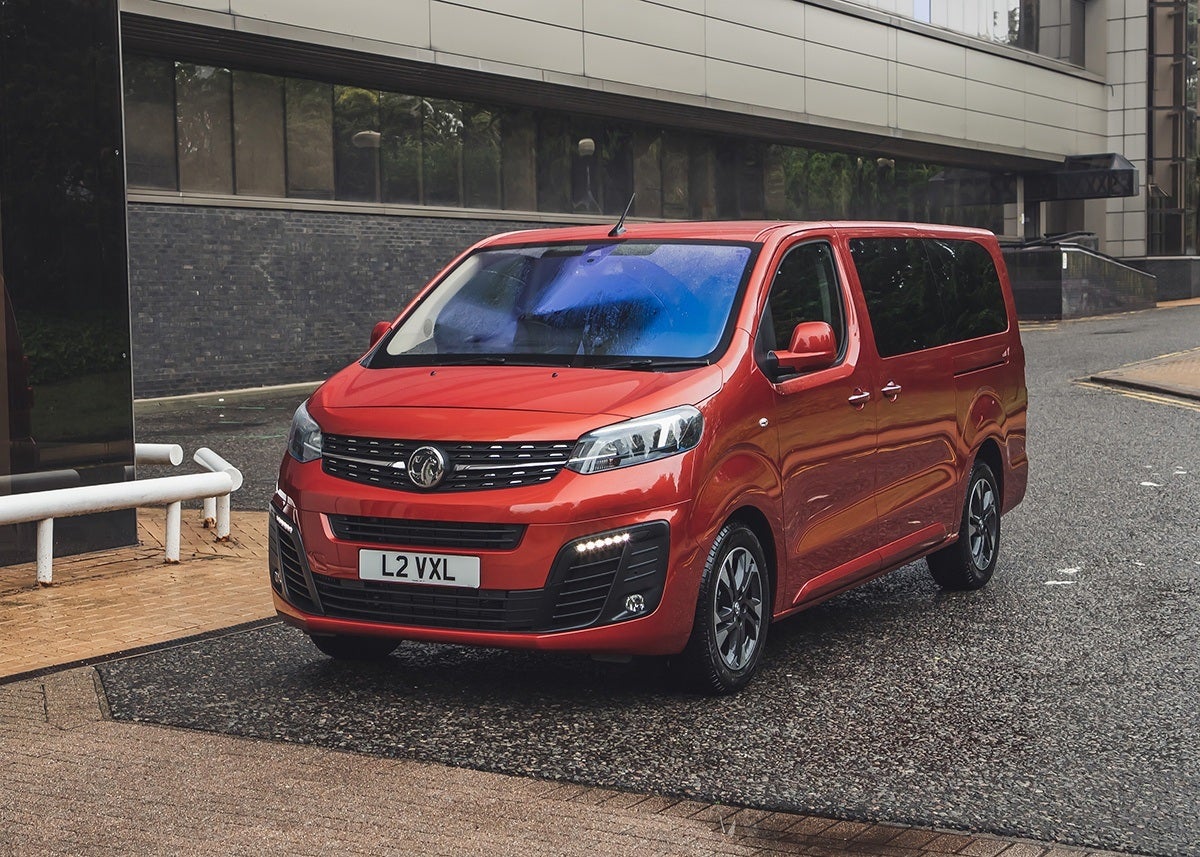 The Vauxhall Vivaro has, over the years, earnt itself a hard-won reputation as being one of the best panel vans in the UK. However, in 2019, Vauxhall pushed its efficient workhorse into the family car market with the launch of the Vivaro Life. And it's become an important success for the British carmaker.
Much of the success of the Vivaro Life comes from the fact it shares most of its technology and oily bits with the excellent Citroen SpaceTourer. As a result, you get a large and comfortable people carrier that can carry between five and nine people (depending on which model you choose). Little wonder, perhaps, that Vauxhall's large MPV is so popular with airport shuttle firms and taxi drivers.
Like the SpaceTourer, the Vivaro Life is offered with some of the best 1.5 and 2.0-litre diesel engines in the business, with advertised economy exceeding 50mpg. Standard equipment is equally high across the range with entry-level models getting Bluetooth, steering column-mounted audio and phone controls, cruise control, electric door mirrors and a pair of side sliding doors.
Volkswagen Caravelle
Year launched: 2015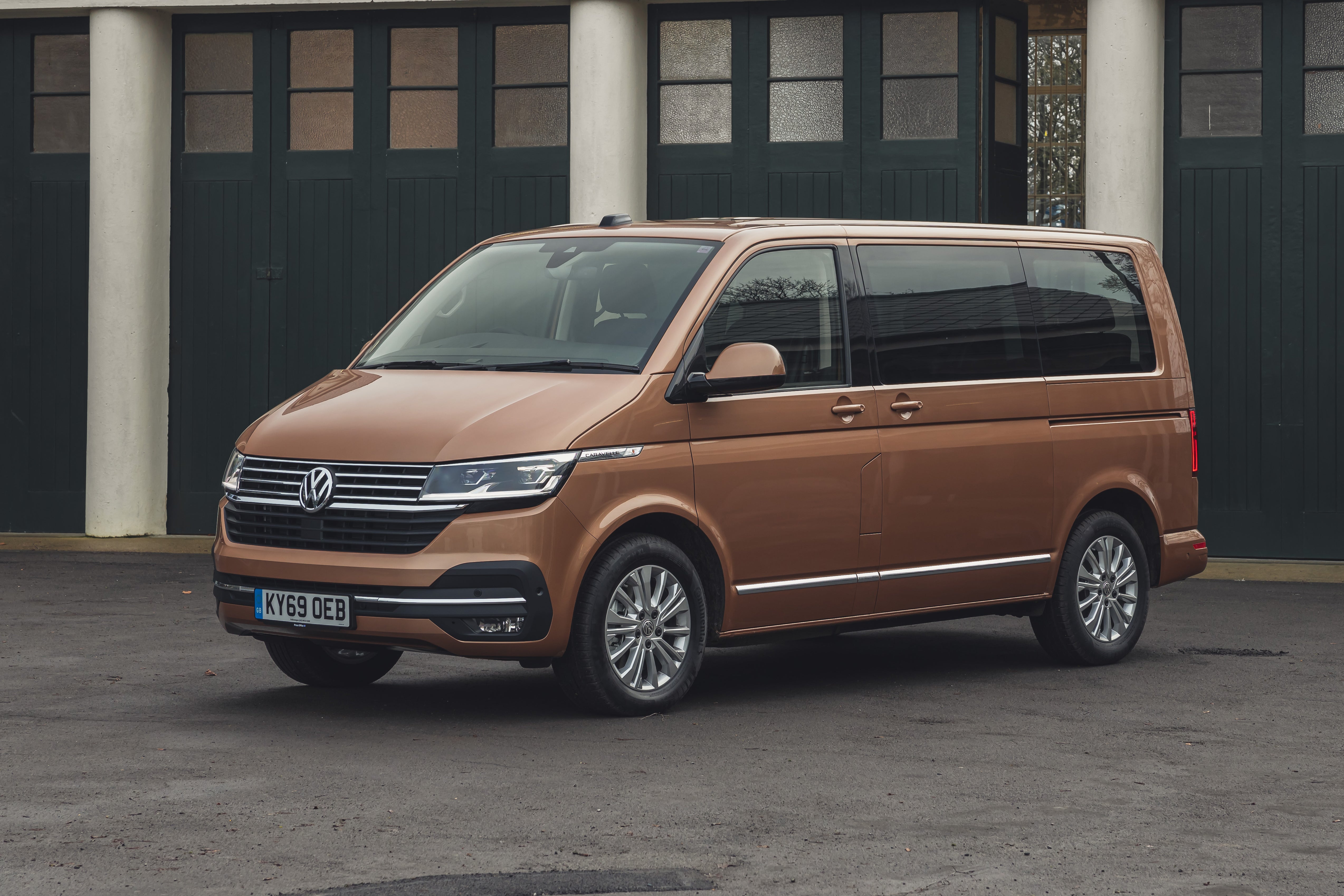 Smartly combining large van-like dimensions with the driving characteristics and cabin quality of a luxurious family hatchback, the Volkswagen Caravelle is one of the best large MPV people carriers for all-round ability.
The Caravelle is a favourite with taxi firms, airport shuttles, chauffeurs and families. All models are easy to drive and supplied with large and supportive seats that will transport seven adult passengers in hushed comfort. Most models feature separate ventilation controls in the back, too, which means passengers can set the temperature to their liking.
The Volkswagen Transporter panel van is one of the best in its class for road handling, which means the Caravelle is very easy and rewarding to drive. The steering is firm and responsive, while the smooth body control and low engine noise make this large Volkswagen comfortable to drive for long periods of time.
Toyota Proace Verso
Year launched: 2016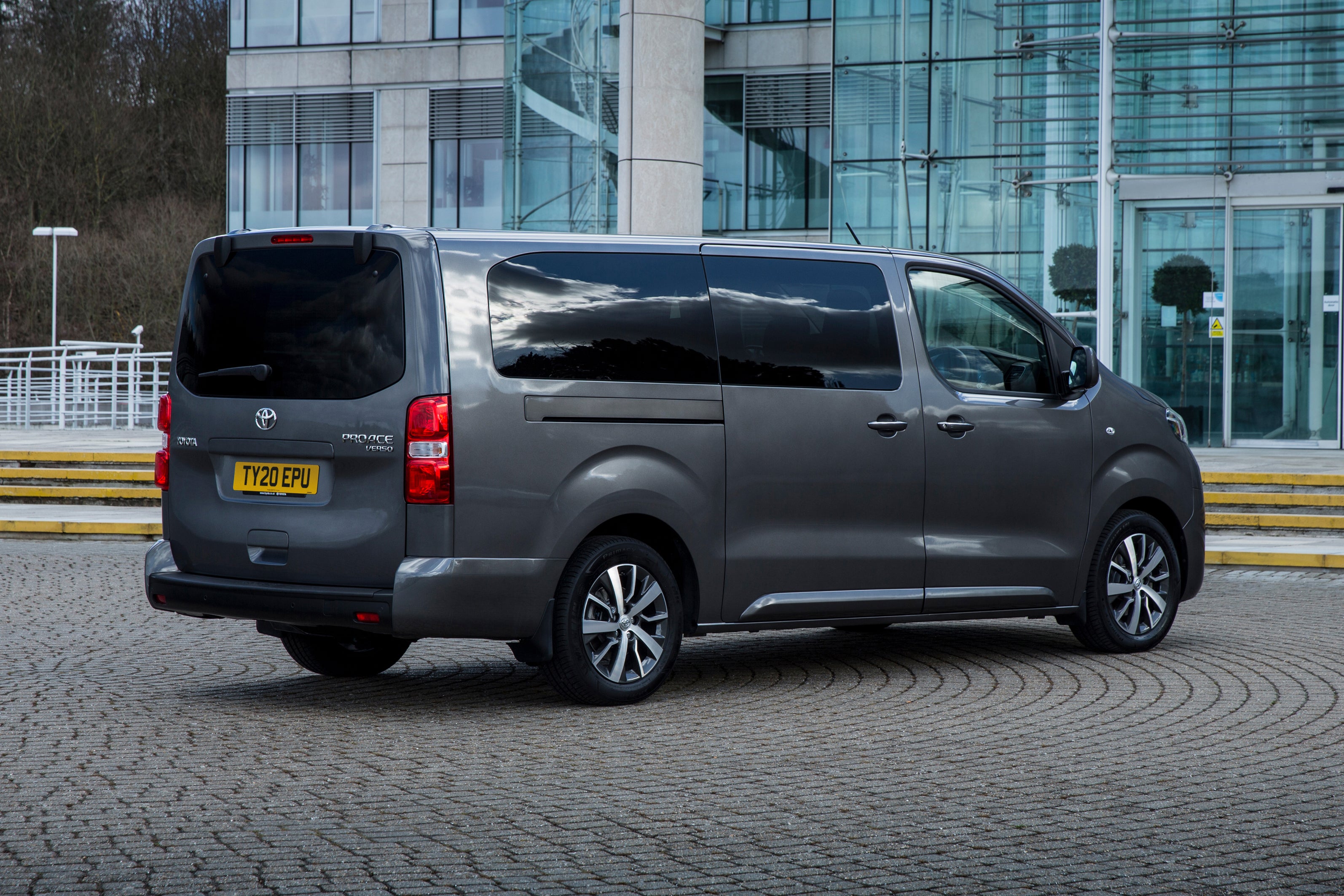 Toyota doesn't hide the fact that the Proace Verso is predominantly aimed at taxi companies and airport shuttle firms, but we think this likeable MPV has lots to offer family car buyers, too.
The Proace Verso is built in conjunction with the Vauxhall Vivaro Life and Citroen SpaceTourer. This means it's easy to drive, practical and well-equipped as standard. The diesel engines are refined and efficient, while the car-like handling makes this large Toyota easy to use in town and on the motorway.
Unlike some of its rivals, the Proace Verso is sold with a five-year warranty as standard, which means you get added peace of mind when buying new or second-hand. The highest-spec models are aimed at the executive transport end of the market, with seven leather heated seats and a rear table.
Mercedes-Benz V-Class
Year launched: 2015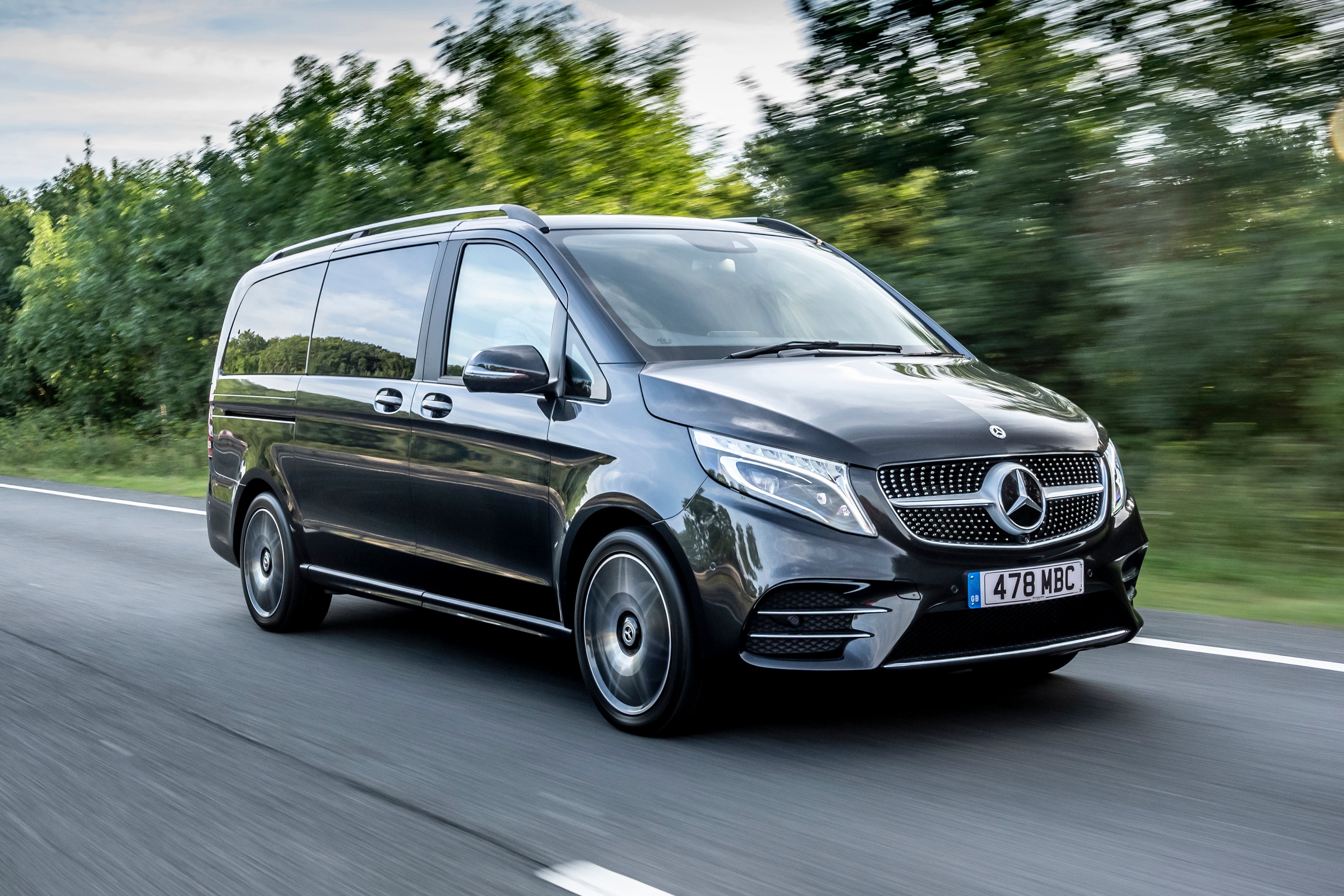 Looking for an MPV with 8-seats and a touch of luxury? The Mercedes-Benz V-Class is a refined large car with good road-handling and lots of plush materials. In standard form, it has seven-seats, but eight-seater models are also available on the used market.
There's only one engine option in the V-Class - a 2.0-litre diesel - but it's one of the best engines in this list for performance and refinement. Older models use a 2.0-litre diesel, but we'd recommend seeking out the newer engine, which was added in 2019, as it really gives a boost to all-round road performance and comfort.
The V-Class isn't a cheap MPV - even five-year-old models will command £25,000 on the second-hand market. However, despite its lofty pricing, it's easy to see why the V-Class is so desirable. The interior quality is among the best of any large car on sale and electric side sliding doors are fitted as standard to every model.
Peugeot Traveller
Year launched: 2015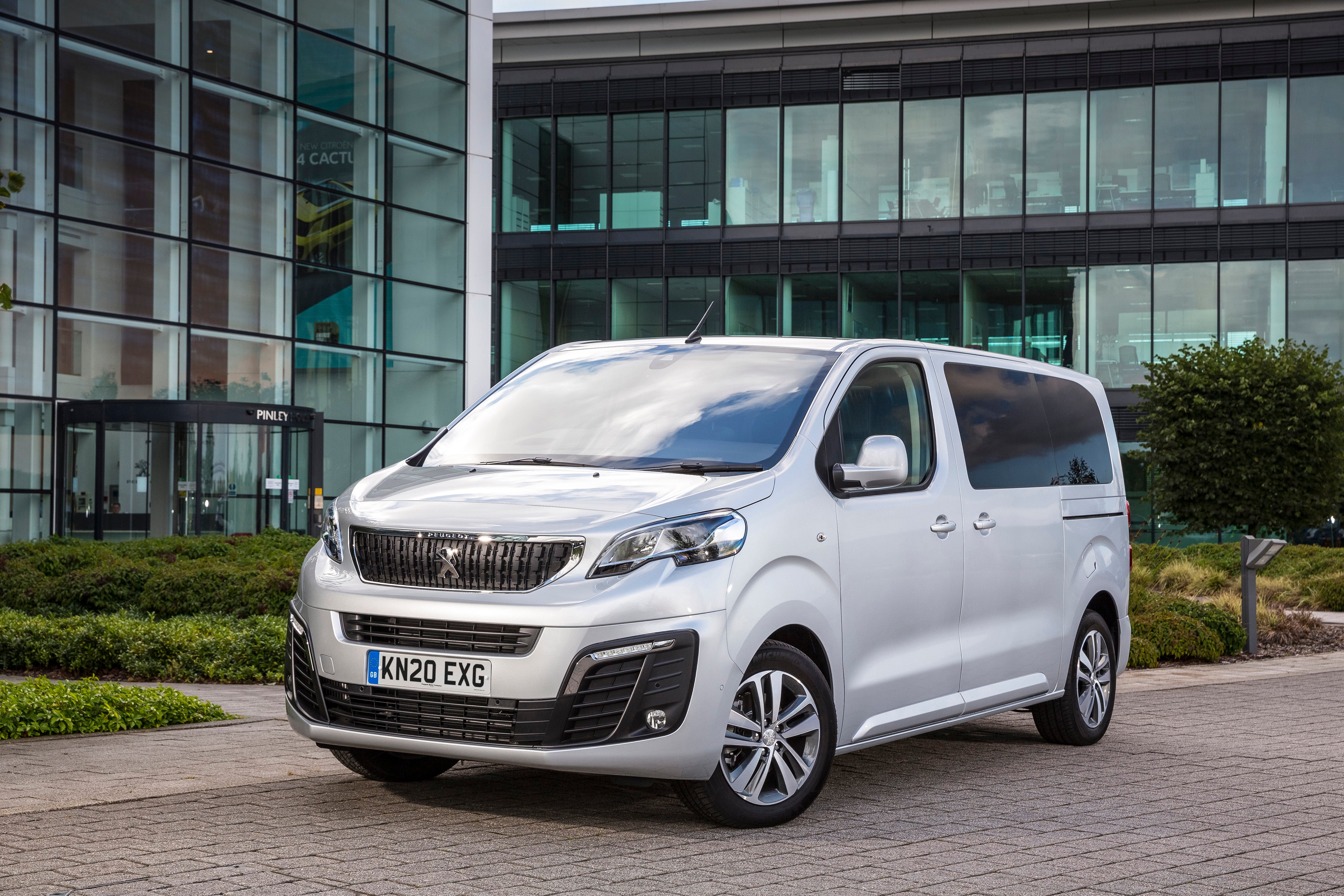 The Peugeot Traveller is another large van-based MPV that's built alongside the Citroen SpaceTourer and Vauxhall Vivaro Life. Like its stablemates, it majors on value for money and ease of use.
There are four models to choose from: Active and Allure versions are aimed at family car buyers, while Business models are geared more towards the executive and chauffeur market and have fewer seats and more luxury kit. Unless you are planning to shuttle VIPs to airports and hotels, the standard models will make the most sense for you.
The 1.5 and 2.0-litre diesel engines are quiet and efficient. Peugeot claims that every model will exceed 50+mpg and you get the choice of manual or fully automatic gearboxes. Getting in and out of the Traveller is easy, thanks to its twin side sliding doors, while its split rear tailgate allows you to access the rear loadspace without lifting the tailgate - something you don't get with the Volkswagen Caravelle or Ford Tourneo Custom.
Ford Tourneo Custom
Year launched: 2013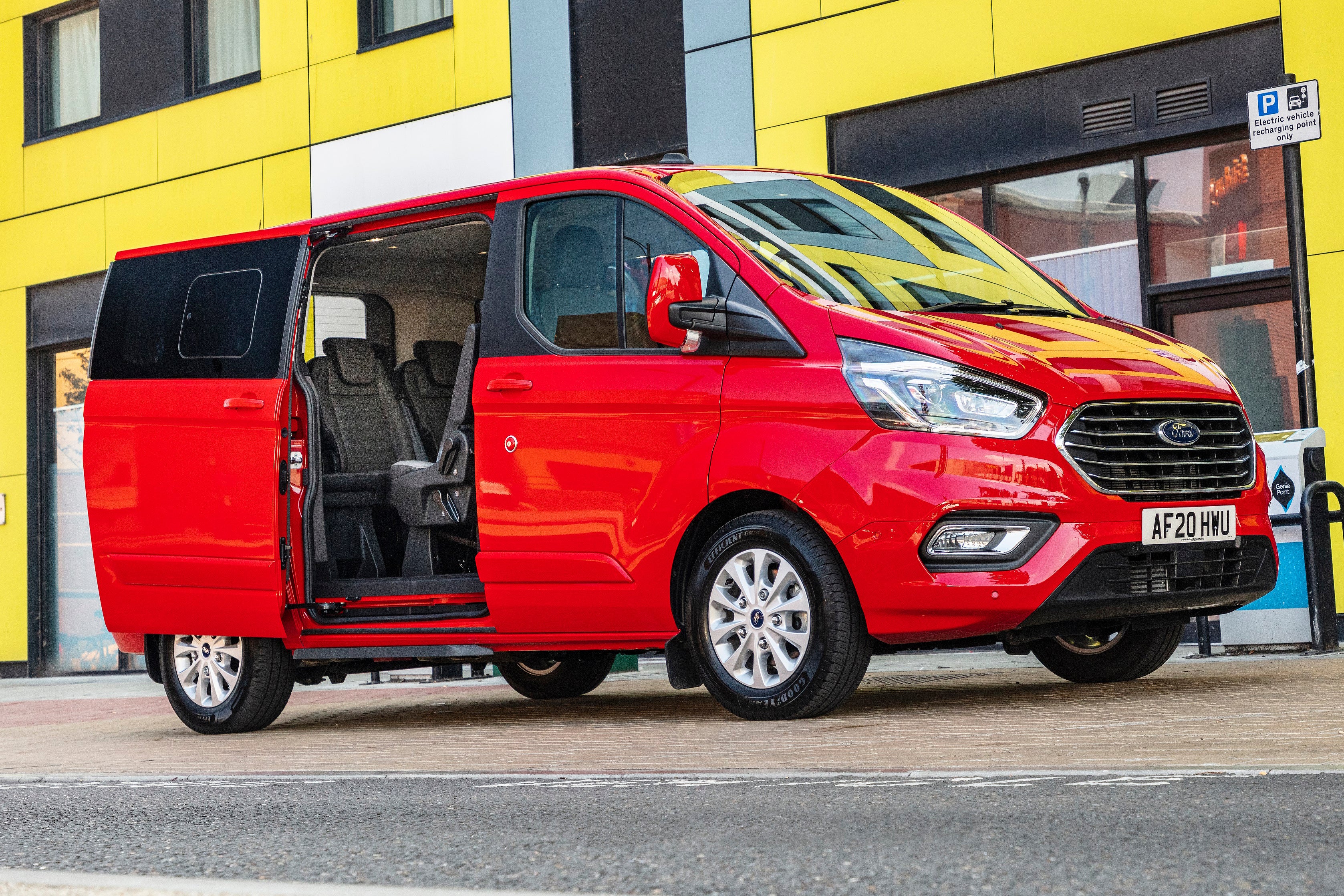 Launched in 2013, the Ford Tourneo Custom is the oldest car in this list. But we think it's still a very good van-based MPV, thanks to its low fuel costs and a practical interior that will carry up to nine people (including the driver).
Like the Volkswagen Caravelle, the Tourneo Custom is based on Ford's popular medium size van - the Transit Custom. As a result, it's easy to drive. The weighted steering provides excellent feedback to the drive, while the well-judged body control makes it easy to navigate a series of challenging bends with moderate levels of speed.
Ford offers the Tourneo Custom with good levels of safety tech. The blind-spot warning system, for example, will detect cyclists alongside the vehicle and warn you with a light in the door mirror. You can also operate the infotainment system with your voice, too. The interior might not be as plush as some of its premium rivals, but it's spacious and comfortable. If you need a practical nine-seater, the Ford will be a likeable and affordable option.
If you want the best van for a large family, the Volkswagen Caravelle is hard to beat thanks to its blend of comfort, refinement and a quality interior. Plus they hold their value well. If you want cheaper, the Hyundai i800 is a very good choice.
Quite simply, it's an MPV (multi purpose vehicle) that is based on a van design. It means that the side panels have windows, seats are fitted and the inside has a car-like feel to it. Many are rather luxurious and are used for executive transport. They're a favourite in TV programmes like The Apprentice.
The Citroen SpaceTourer is the best large MPV people carrier with eight-seats. In fact, depending on which model you choose, the SpaceTourer can carry up to nine adults (including the driver). As a result, this big Citroen is popular with family car buyers and taxi hire companies.
In the UK, the largest MPV is the Mercedes-Benz V-Class (based on the Mercedes-Benz Vito) alongside the Volkswagen Caravelle. Previously there was the Chrysler Grand Voyager and Renault Espace but these are no longer sold as people prefer SUVs.
Reviews of more van-based MPVs that can seat up to 9 people
Volkswagen Caravelle
2.0 TDI Executive 204 5dr DSG
Northampton Van Centre

Northamptonshire, NN55BB
PCP: £1,078.57/mo
Deposit cont. £250
Representative example: Contract Length: 36 months, 35 Monthly Payments: £1,078.57, Customer Deposit: £9,735.00, Total Deposit: £9,985.00, Lender Deposit Contribution: £250.00, Optional Final Payment: £25,930.00, Total Charge For Credit: £8,764.95, Total Amount Payable: £73,664.95, Representative APR: 7.4%, Interest Rate (Fixed): 7.39%, Excess Mileage Charge: 6ppm, Mileage Per Annum: 10,000
Discover more expert guides from heycar