First drive: Audi S3 Sportback S tronic
First drive: Audi S3 Sportback S tronic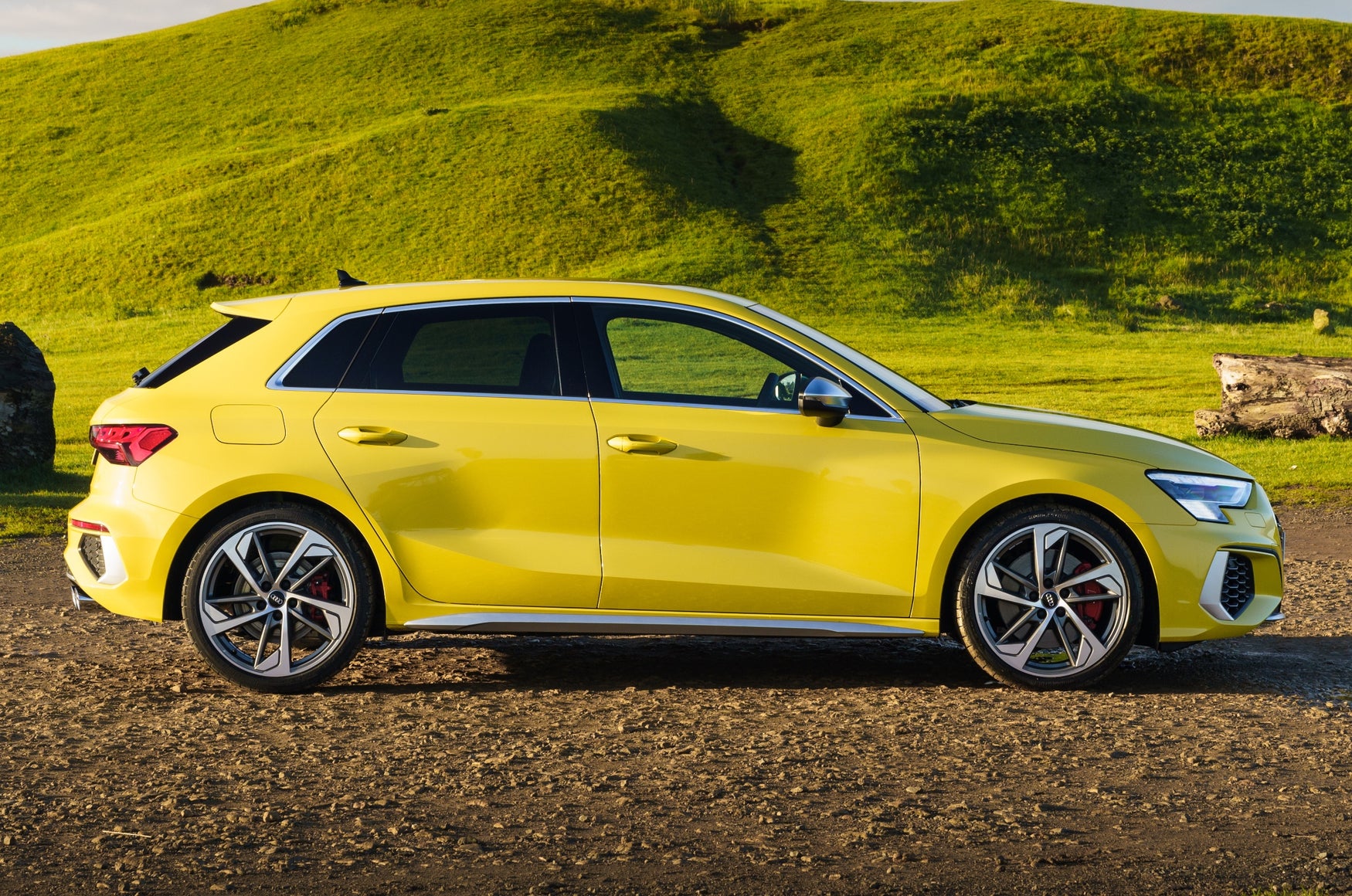 Best bits
Smart looks
Pretty infotainment screens look very modern
A fast car that's great to use everyday
Not so great
Not as exciting to drive as other hot hatches
Flexible engine lacks character
Surprising omissions from the standard kit list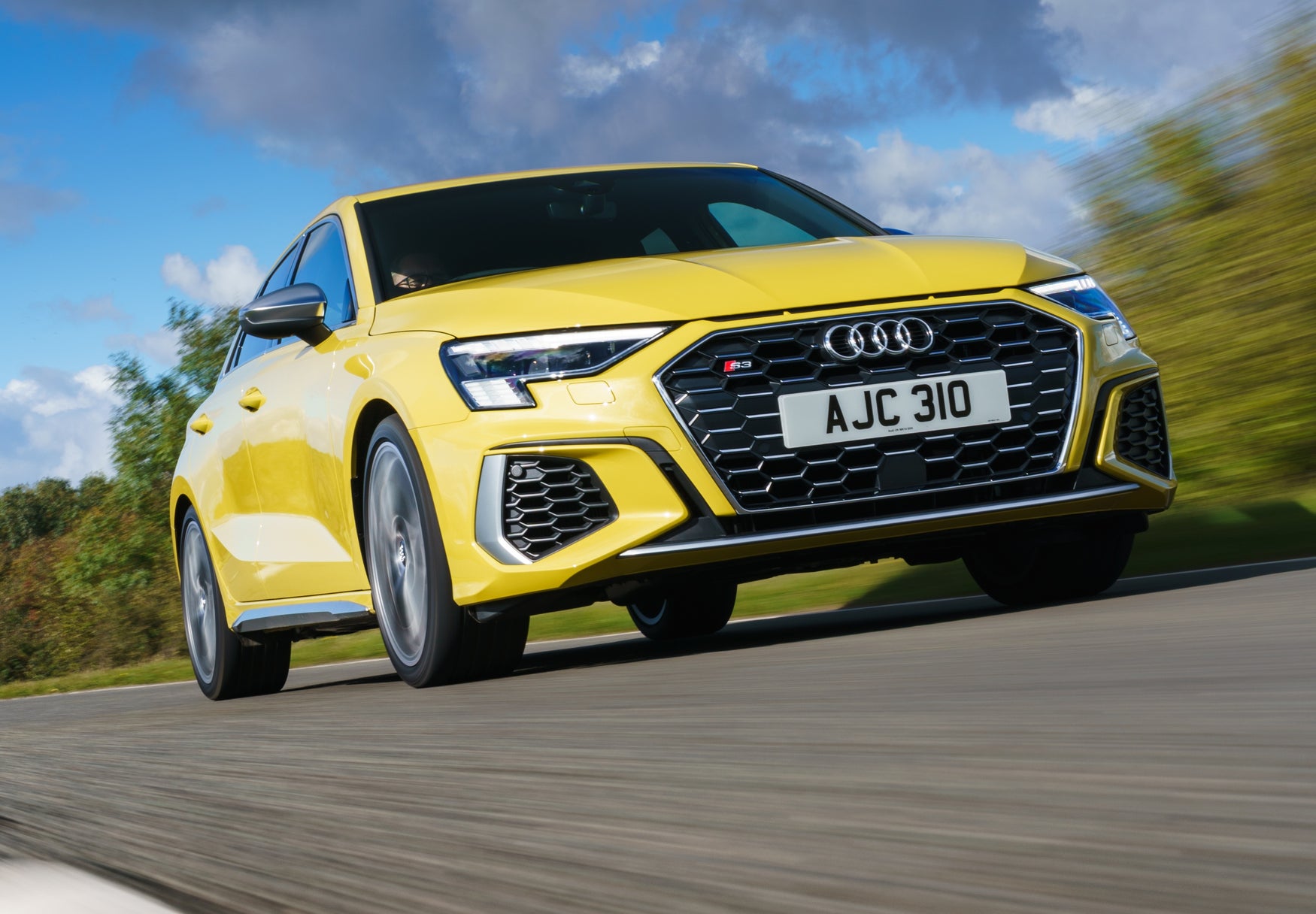 What is it?
If the standard Audi A3 is a smartly dressed sales manager, the Audi S3 is a smartly dressed sales manager out on the lash at midnight on a Friday – it's a sophisticated hatchback that's let its hair down.
Everything you could say about an A3 is true of the S3. Okay, so the S3 looks sportier, but if you're expecting it to come with spoilers hanging from every orifice, you'd be wrong. It has boxed wheel arches, a subtle body kit, 18-inch wheels (our car sits on optional 19s) and that's about it.
It's the same story on the inside. You get the A3's beautifully detailed twin infotainment screens, stellar build quality and lots of cubby spaces that make it easy to keep the cabin looking at its best. To that, the S3 adds soft Nappa leather seats with diamond stitching and cheese-grater style smoked metal trims that look and feel very nice.
Under the bonnet, you'll find a pokey 2.0-litre four-cylinder petrol engine – the same engine found in the Golf R and Cupra Leon – tuned to produce 310PS and 400Nm of torque. The S3 comes fitted with a quick-shifting seven-speed dual-clutch gearbox and four-wheel drive as standard, which help it get from 0-62mph in 4.8 seconds and on to a limited top speed of 155mph.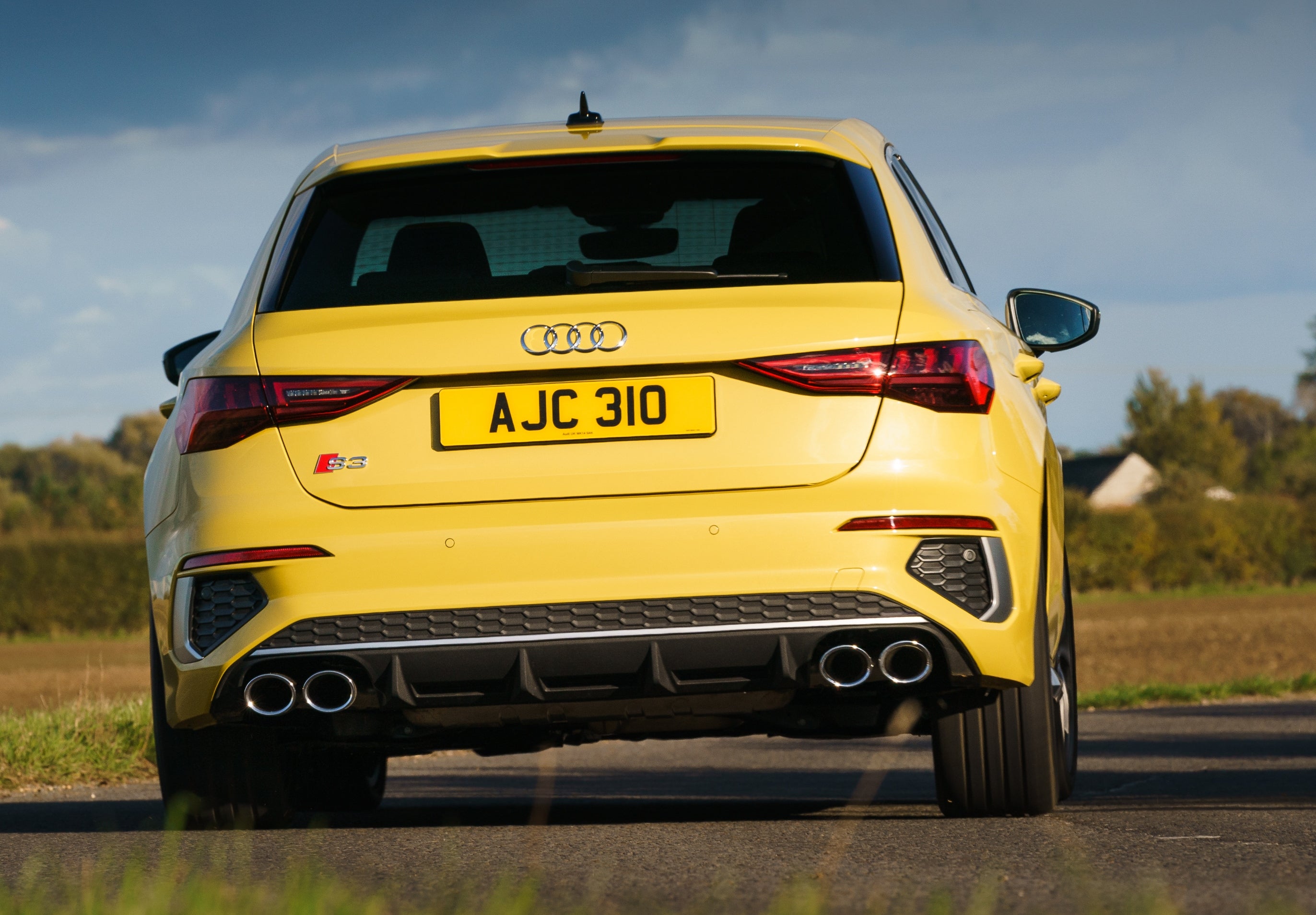 Cornering fun is a new addition to the S3's repertoire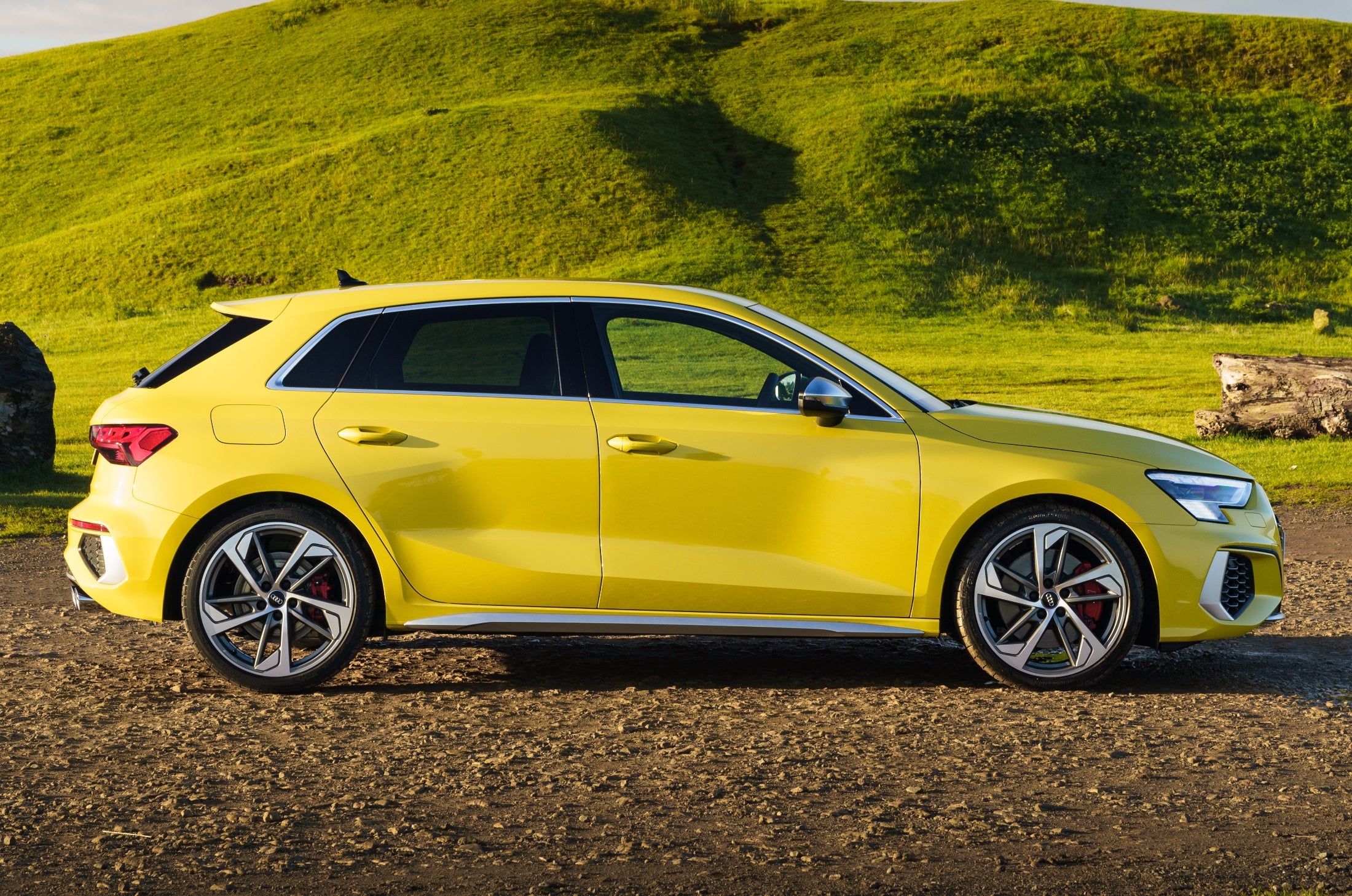 Optional 19-inch rims fill the wheel arches more convincingly than the standard 18s
Looks boring for a hot hatch... bet it drives like that, too...
Bit harsh. But if you want your S3 to look as interesting as possible (especially when you're buying a hot hatch), we'd recommend a lurid paint job – you can have Python Yellow (seen here) or go for the piercing Turbo Blue of our test car.
And: boring to drive? No. A mere twist of the wrist is all that's needed to have the S3 bounding into corners with puppy-like enthusiasm, thanks to standard Dynamic Steering that gets quicker the faster you go.
It's even reasonably playful, which isn't something we would have said about the old S3. Turn off the stability control and you can feel the body angle its attack into bends before you deploy full throttle and let the four-wheel-drive system transmit all 310PS to the road with assured efficiency.
Surprisingly, given the four-wheel drive, it's in the rain that the S3 feels less at home – its propensity to understeer makes it feel less grippy than the likes of the Renault Megane R.S.300 and Honda Civic Type R.
If you want a truly vivid driving experience, both those cars do it better – the Honda adds another notch of performance everywhere, while the Megane's characterful thunking gearshifts and artillery-fire exhaust contrast the smooth shifts and the meek barps from the S3's four tail pipes.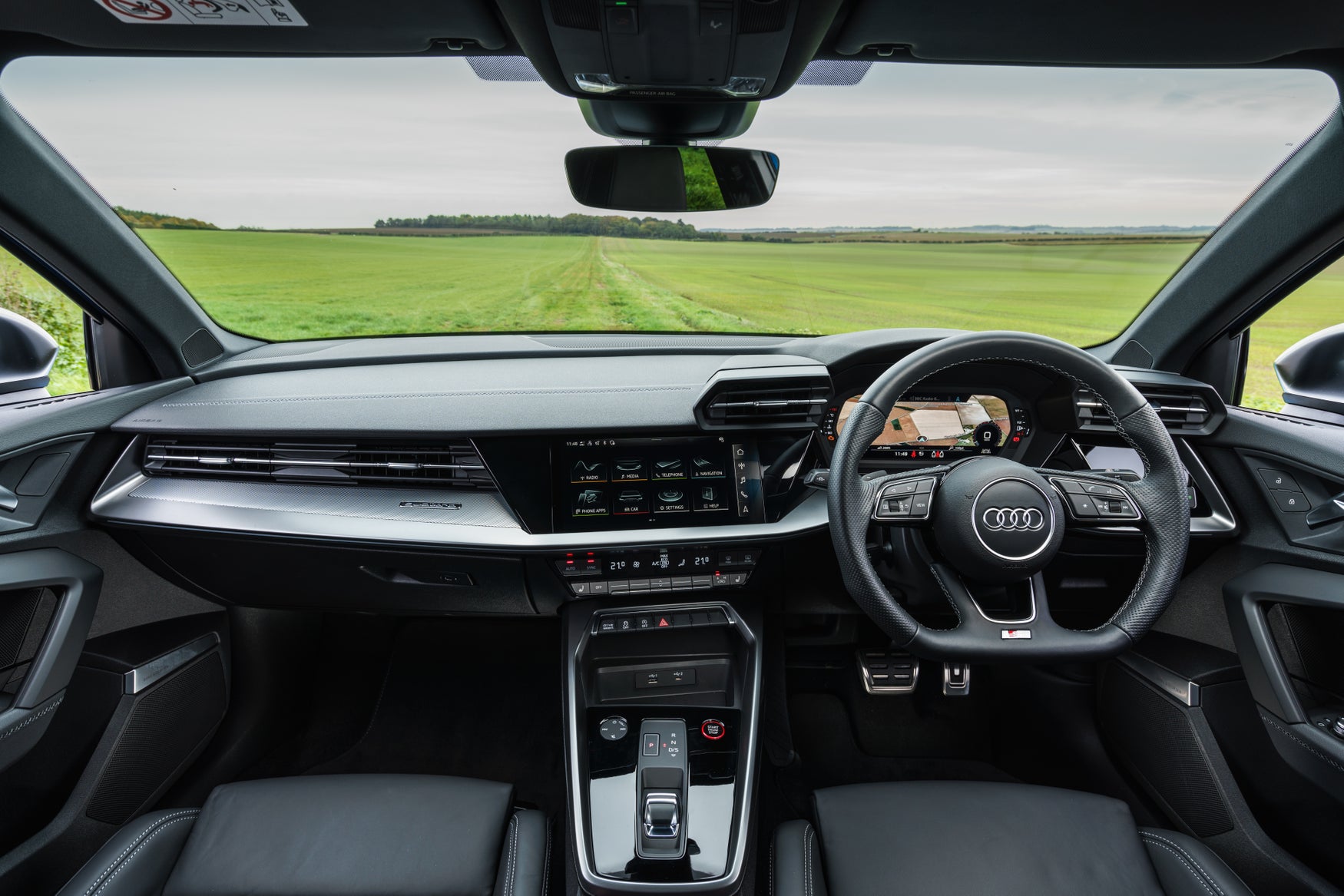 So this is the 'thinkers' hot hatch?
That sums it up quite well because – unless you live in a deserted patch of countryside – quiet, twisty roads are few and far between. Realistically, you and your S3 are more likely to spend your time dissecting busy city centres before heading out onto a motorway that's packed nose-to-tail with traffic.
It's in this everyday drudgery that the Audi comes into its own.
Its cabin is one of the nicest you'll find in any hot hatch and its infotainment screens are slick and easy to use. Plug your phone in and the standard-fit Apple CarPlay and Android Auto mean you can call on reliable nav and, as you make your way through town, you'll be thankful for the smooth shifts of the DSG gearbox.
The comfortable ride – even on our car's passive dampers and bigger wheels – makes up for the fact that it's not quite as razor-sharp as its aforementioned rivals. Meanwhile, steering that's not telepathically feelsome isn't such an issue because it means the S3 goes where you want it, without the need to make minor adjustments and deal with constant chatter. It's all very relaxing.
That's particularly true on the motorway where the S3's acoustic windscreen and near-limitless seat adjustment make it a quiet and comfortable car to lay down a fist full of miles.
All is not golden in S3 world though because, in fine Audi tradition, to make it as accomplished an everyday machine as possible, a pricey visit to the options list is called upon.
There, you'll find the £995 Comfort & Sound Pack, which buys you a handy reversing camera (probably should be standard on a £40k hatchback), but also a Bang & Olufsen stereo which isn't worthy of the name and an auto park system that you'll probably never use.
Meanwhile, adding the £1505 Driving Assistance pack makes the S3 an even more convincing motorway tool by adding autonomous driving features that mean it can more or less drive itself in lane and in queuing traffic. It's the same kit you get as standard on an £18,000 Toyota Yaris.
Question is – should you stomach the cost?
If you want a car that's genuinely fun but also as easy to live with as an other half that loves to cook and clean, while divvying out hilarious one-liners, we would say – yes. It might not be as ROFL good fun as other options, but it gets close and we can guarantee you, most of the time, it's the car you'd rather be in.
Unlike the old S3 which felt as staid as the standard car only quicker, this new model offers a level of engagement that was previously missing. For this reason alone, it is well worth considering.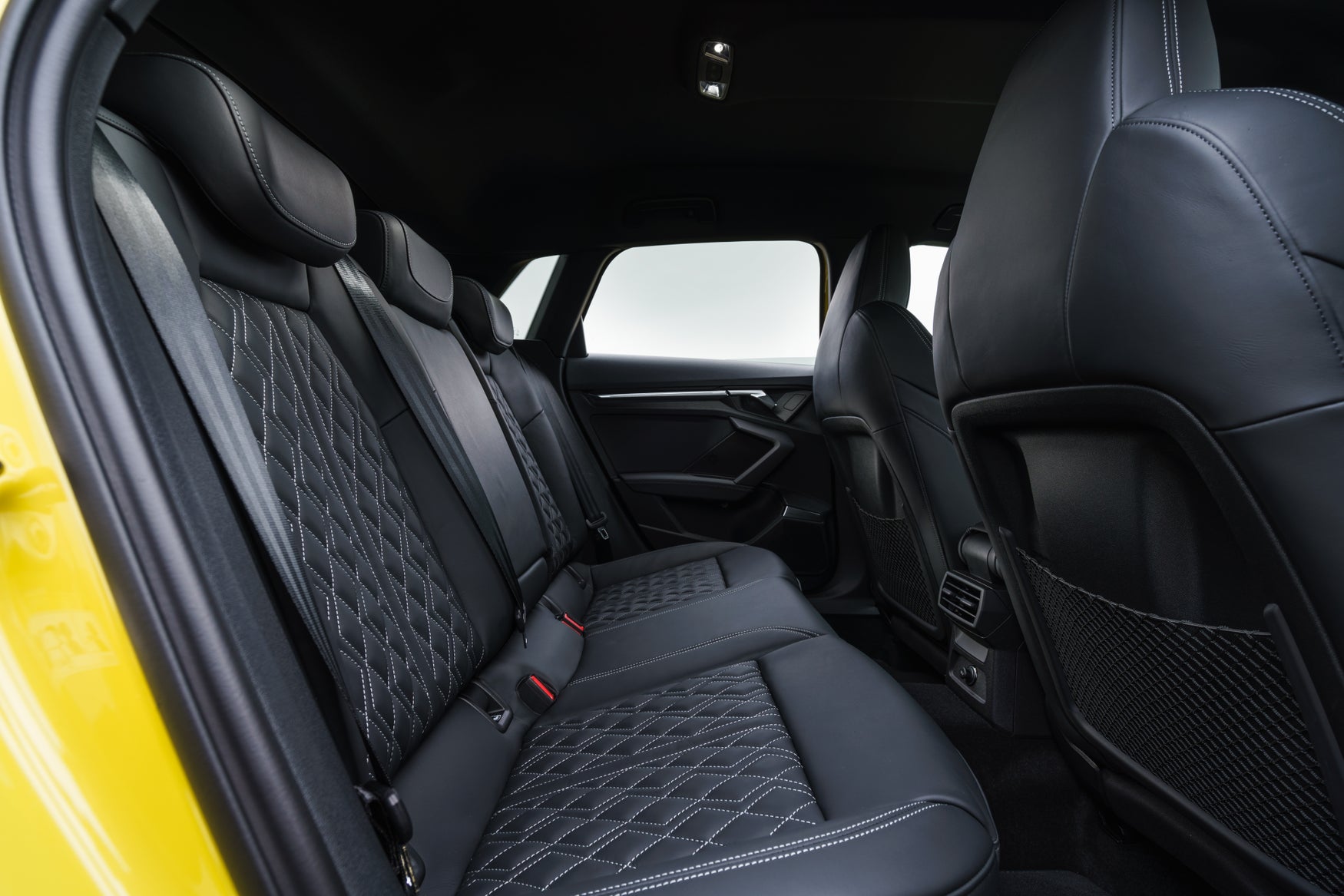 Watch: The Audi S3 Sportback | Powerful driving pleasure guaranteed
Audi S3: the facts
Model tested: Sportback TFSI 310PS S tronic
Engine: 2.0-litre petrol
Gearbox: seven-speed twin-clutch
Power/torque: 310PS/400Nm
Combined fuel economy: 34.9mpg
CO2 emissions: 185 g/km
Price from: £38,605
As tested: £41,200
It is fast, it does 0-62mph in 4.8 seconds and hits a 155mph limited top speed.
The Audi S3 may not be the fastest or most engaging hot hatch, but it's easy to live with and comfortable but also fun on the right road.
The Audi S3 costs from £38,605 for the basic model, while the top-of-the-range Vorsprung model comes in at £45,585. It adds kit like matrix LED headlights, adaptive dampers and 19-inch wheels instead of the basic cars 18s.