Best hatchbacks 2022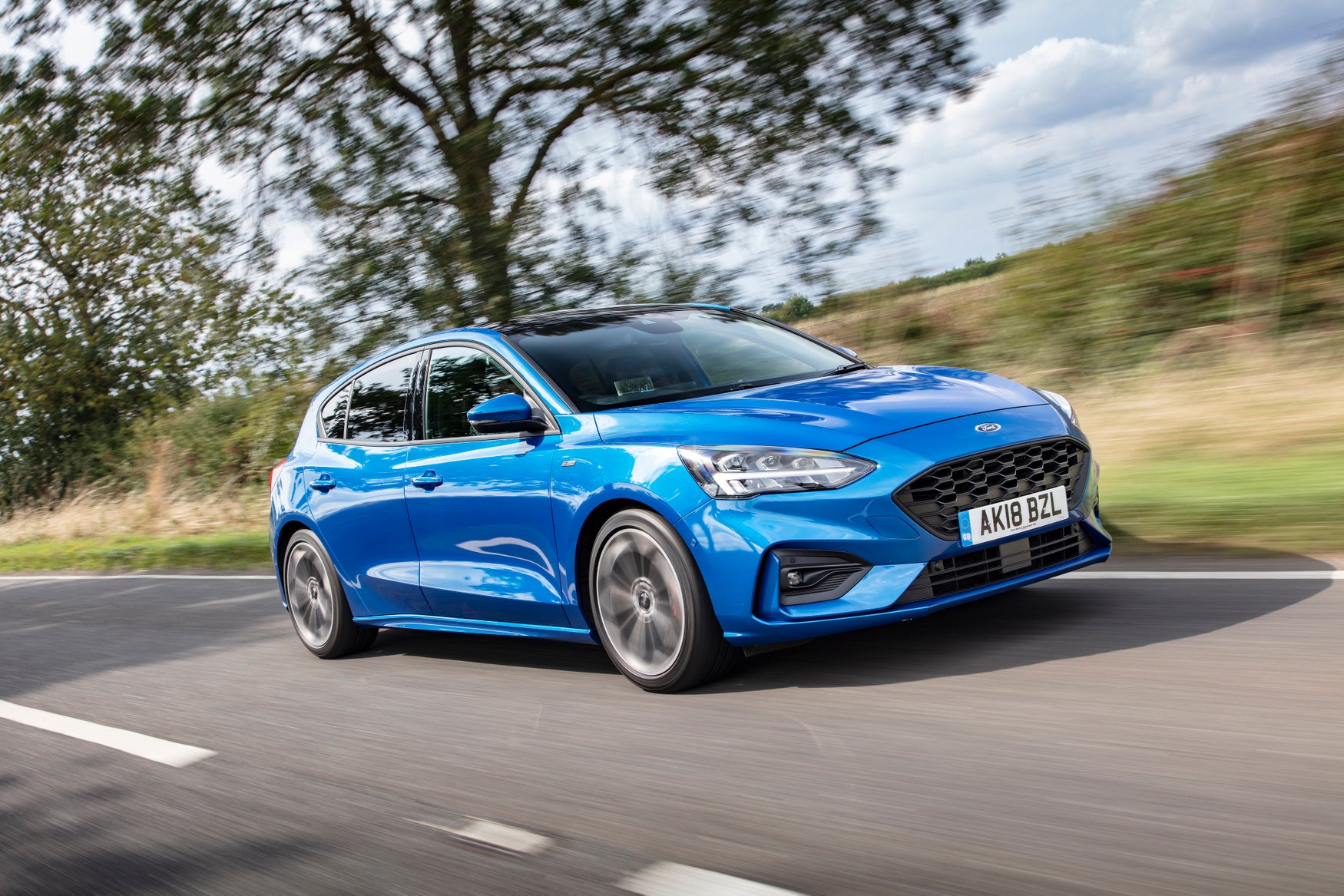 The best hatchbacks generally represent excellent value for money, while their compact dimensions make them easy to drive.
They're also incredibly practical, with large boot openings and rear seats which often fold near-flat.
Whether you're in the market for a compact hatchback or desire something a bit bigger and more premium, heycar's experts have picked out 10 of the best hatchbacks you can buy in the UK. And, if you decide you need more space, don't forget to check out our guides on the best SUVs and estate cars.
What is a hatchback?
Essentially, a hatchback is a car with a boot that can be accessed from inside the cabin. Think of a Volkswagen Golf, for example – it's classed as a five-door hatchback (one of the doors is the tailgate), and if you want to get anything from the boot you can reach over the rear seats.
Saloon cars are different, in that they have a separate boot compartment that sticks out the rear of the car. Examples include premium models like the BMW 5 Series. Estate cars, meanwhile, are like hatchbacks but with an elongated boot designed to provide more luggage space.
What's the advantage of a hatchback?
Hatchbacks are more popular than saloon cars. Access to the boot is usually much easier – they tend to have much bigger openings than a saloon, which makes things easier when loading luggage. Hatchbacks are popular with dog owners for this reason.
If you need more space, you can usually drop the rear seats and have van-like load-carrying abilities. Aesthetically, many people prefer the look of hatchbacks to saloon and estate cars – although small SUVs are increasingly tempting buyers away from hatchbacks.
Can you buy an electric hatchback?
Some of the best electric cars for sale today are actually hatchbacks. They range from small electric city cars like the Peugeot e-208 and Renault Zoe, to bigger models like the Volkswagen ID.3 and Nissan Leaf.
You can also buy small hybrid hatchbacks like the Honda Jazz, Toyota Corolla, Hyundai Ioniq and Lexus CT 200h.
Mercedes-Benz A-Class
Year launched: 2018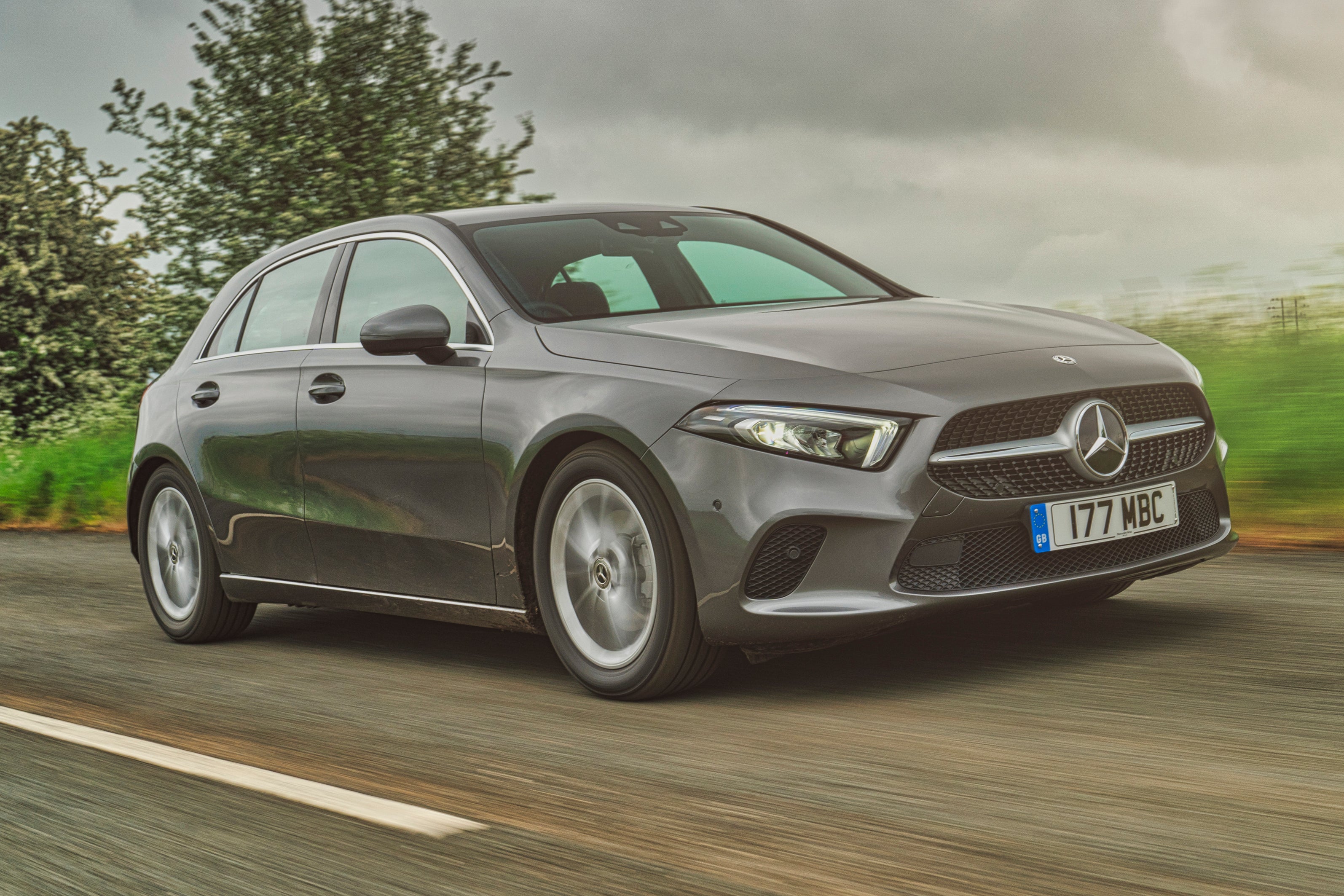 Time to move it up a league in terms of size, image and, er, price. The latest Mercedes A-Class is a posh family hatch which rivals the BMW 1 Series and Audi A3 – but we reckon it's the one to go for out of this premium trio.
A new Mercedes-Benz A-Class will set you back upwards of £24,000, with the most desirable models topping out at closer to £35,000 (and that's before we look at the rapid AMG super hatches). But you can save a heap of cash by looking at nearly-new examples – with year-old models available for less than £20,000.
Be careful, though, as it's a very spec-dependent car. For all the bells and whistles you want the AMG Line Premium Plus, which features the top-level infotainment as well as 64-colour ambient lighting and an electric panoramic roof.
Toyota Corolla
Year launched: 2019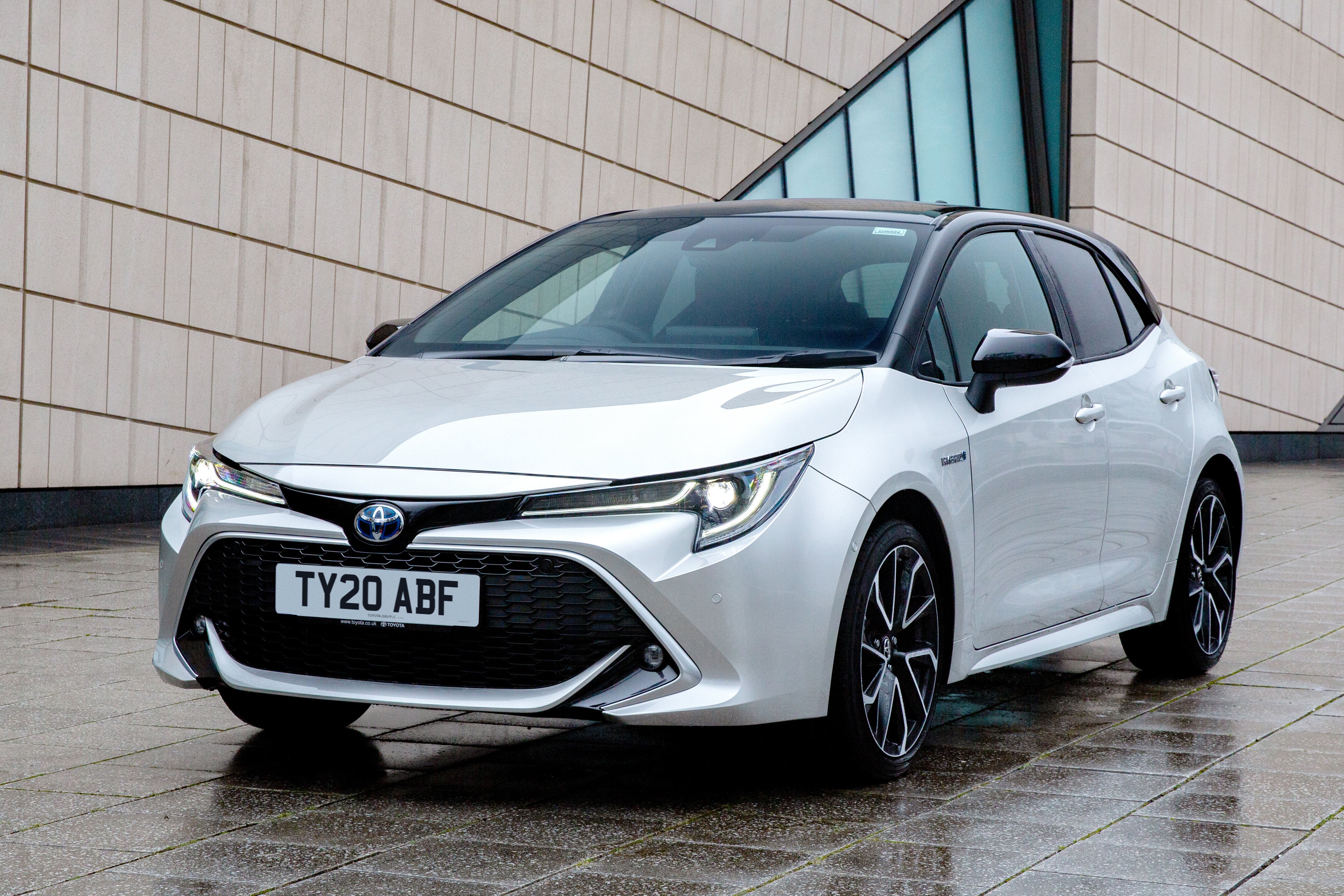 If you're not ready to make the move to an electric car but fancy dipping your toes into efficient electrified drivetrains, a hybrid model could be the ideal compromise. And no one can beat Toyota's expertise when it comes to hybrid power.
The Corolla is the Japanese brand's answer to cars like the Volkswagen Golf and Ford Focus. And, you know what? It's really very good.
Not only will it be very reliable and cheap to run, but the Corolla is also sharply styled, has a classy interior and is surprisingly good to drive. There are two hybrids motors available: a 1.8 and a 2.0-litre. We reckon the smaller engine is the one to go for, unless you really need near-hot-hatch performance.
Ford Focus
Year launched: 2018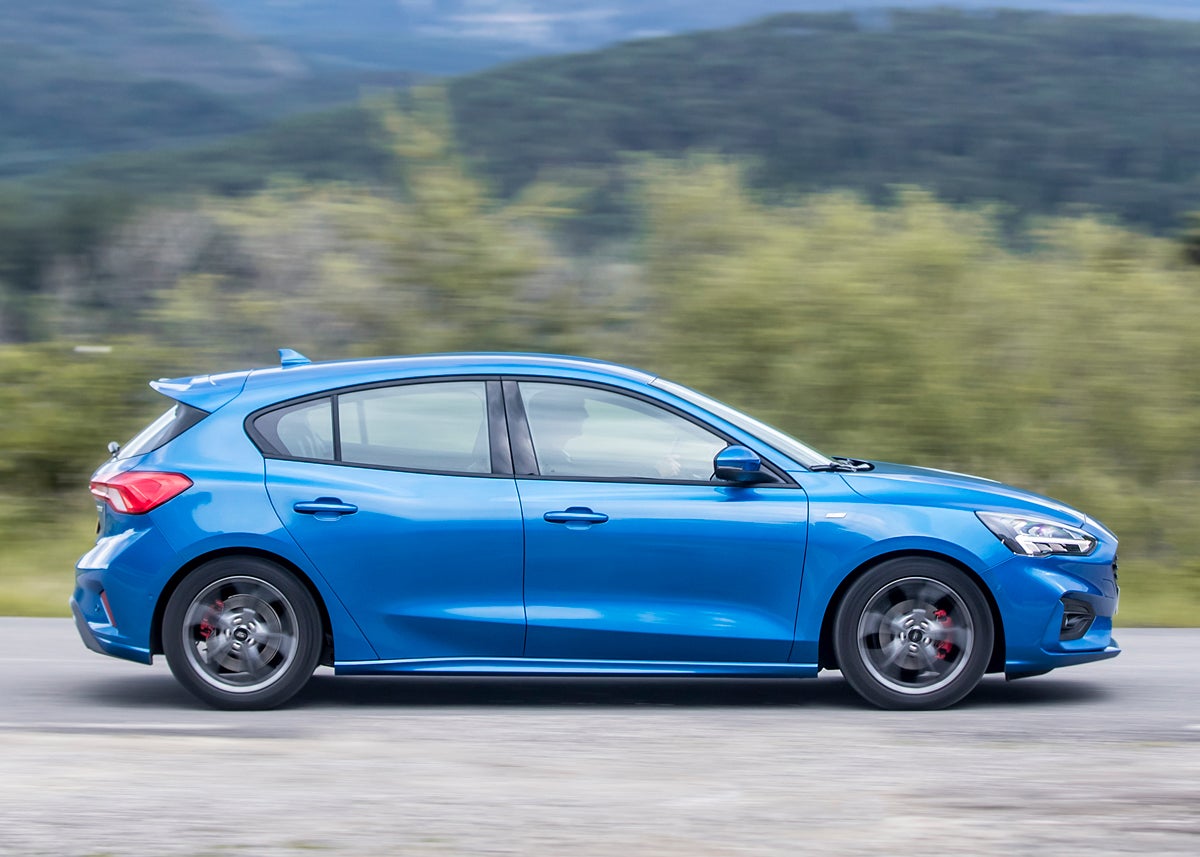 It seems like it's only a matter of time before the Ford Focus goes the same way as the bigger Mondeo, which has recently been dropped from Ford's line-up. The Focus is now out-sold by both the Ford Puma and Kuga in the UK, as buyers flock away from conventional hatchbacks and into SUVs.
We get the appeal of SUVs but, if you really want a hatchback, you could do a lot worse than buying a Ford Focus. It represents excellent value for money and, in true Ford form, it's excellent to drive.
The Focus is available with the same 1.0-litre petrol engine as the Fiesta, but we'd recommend the bigger 1.5-litre – particularly if you plan to cover a lot of motorway driving. There are a range of diesel engines available, too, which are worth considering if you spend all day at the wheel.
Mazda 3
Year launched: 2019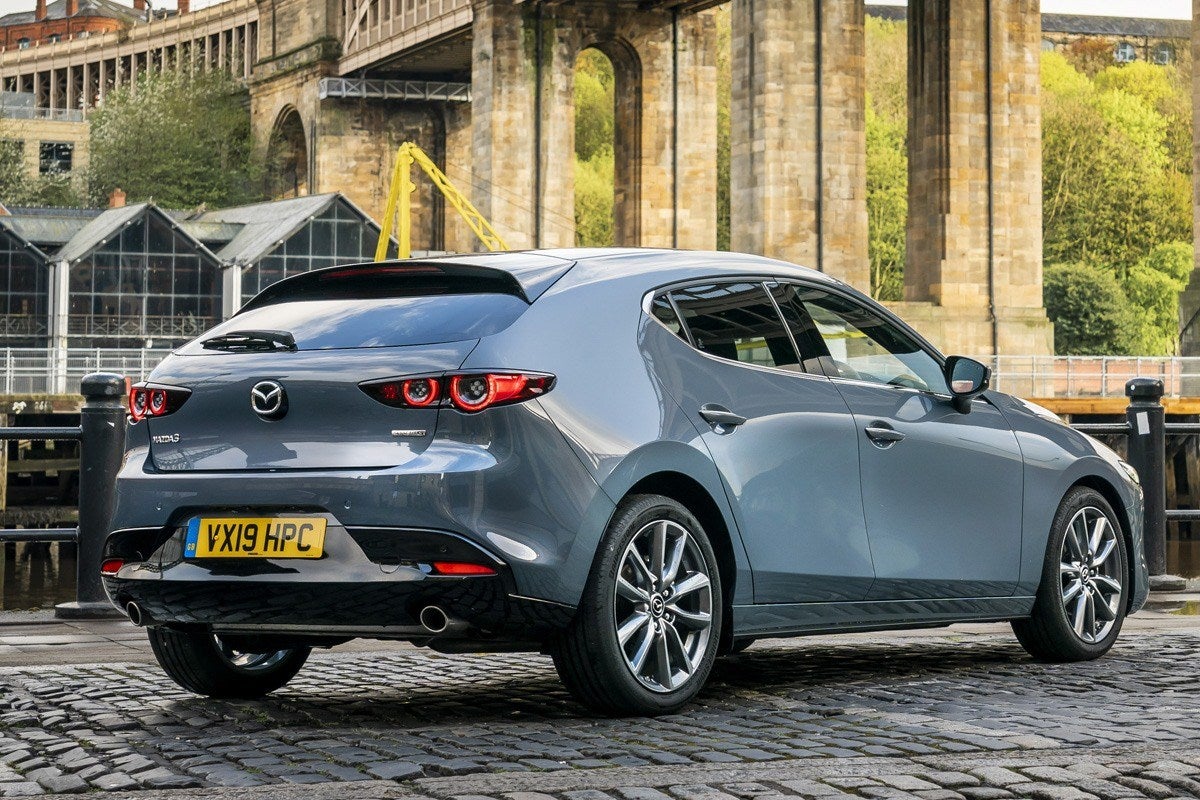 Is there a mainstream car manufacturer with a more attractive line-up at the moment than Mazda? The Mazda 3 in particular is quite a looker – but it's going to need more than sharp design to tempt you away from a Volkswagen Golf.
Fortunately, not only will the Mazda 3 turn heads of passersby, but its interior is just divine – with a premium feel and one of the most user-friendly infotainment systems on the market.
If there's one thing that lets the Mazda down, it's the engines on offer. Mazda reckons its clever Skyactiv-X unit is a good substitute for diesel-power and, while it's certainly efficient, it's neither refined nor particularly fast. The lower-powered Skyactiv-G is even less punchy, which is a shame as the Mazda 3 is actually quite fun to drive once you're up to speed.
Volkswagen ID.3
Year launched: 2020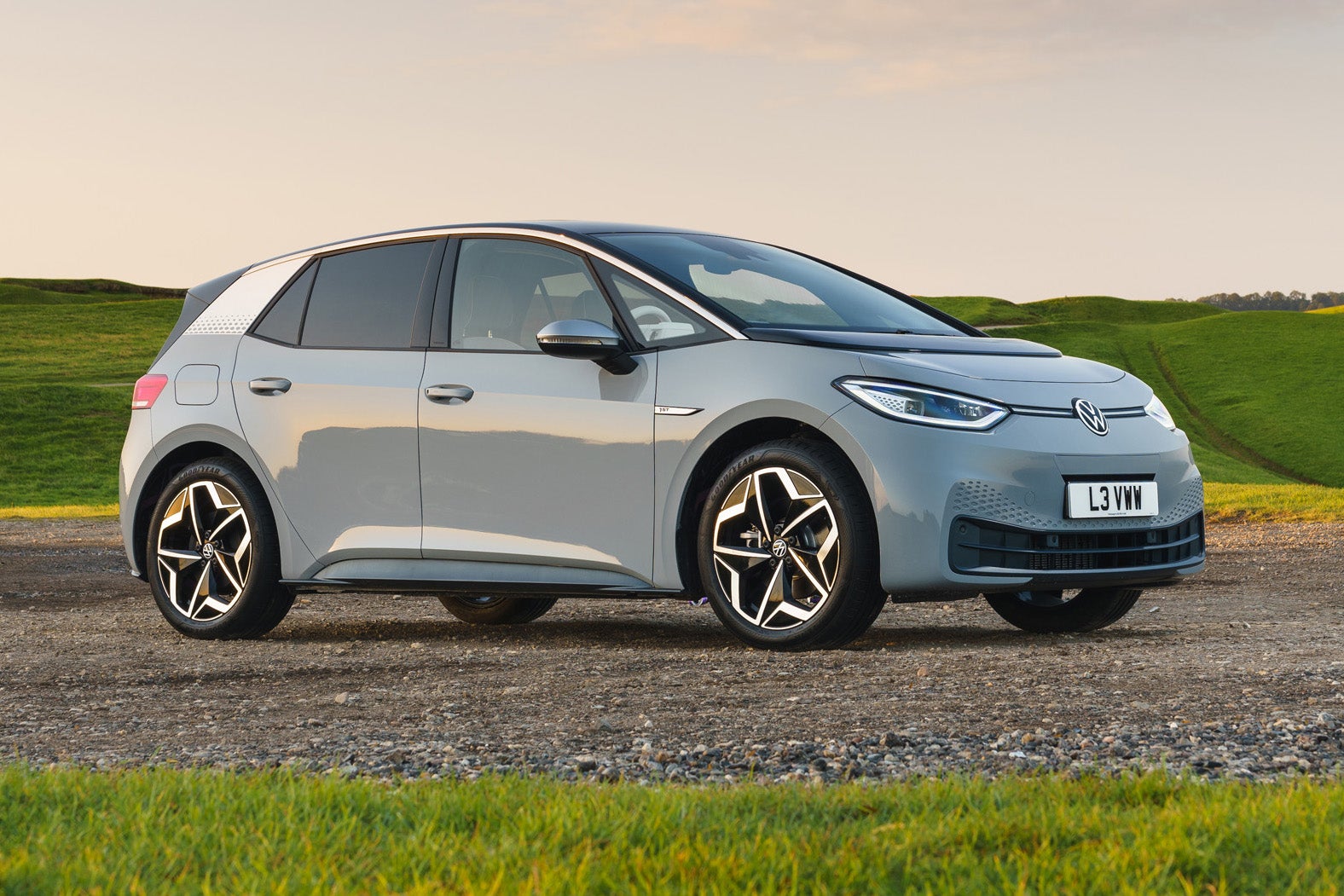 It's funny how Dieselgate changed Volkswagen's way of doing things. At one point, it was adamant that it would only launch electric versions of already established models (see the Volkswagen e-Golf and e-Up as examples). Now it's introducing a whole range of electric models under the ID sub-brand, starting with the ID.3 and ID.4.
As an introduction to electric cars, you could do a lot worse than the ID.3 hatch. Even the most affordable models can travel up to 217 miles between charges, while the ID.3 Tour boasts an almost petrol-rivalling 336-mile range.
For a car the size of a Golf, the ID.3 is enormously spacious. Its 385 litres of luggage space will be more than adequate for the majority of buyers (although the Kia e-Niro can pack more), while the rear seats split 60:40 and can be dropped within seconds.
Volkswagen Golf
Year launched: 2020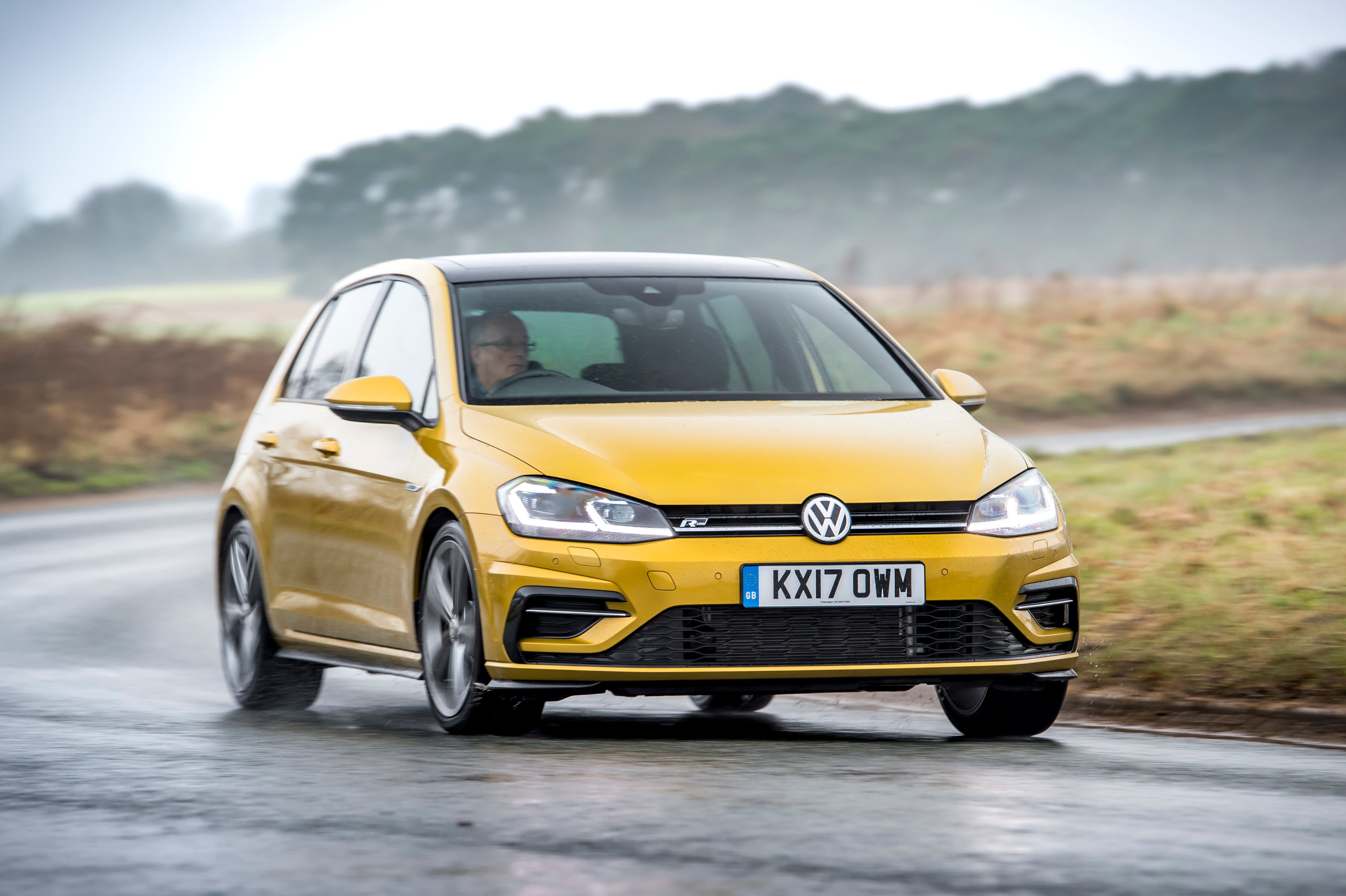 Smartly styled and easy to drive, the Volkswagen Golf is one of the best hatchbacks on the second-hand car market. All models are generously equipped and spacious enough to cope with a growing family of four.
A budget of £20,000 will give you a good choice of high-quality petrol and diesel models, with a manual or automatic gearbox. In keeping with its safe and sensible profile, the Golf gets lots of import safety kit. For example, Front Assist scans the road and will automatically apply the brakes if it detects an imminent collision with another vehicle or a pedestrian.
The interior is among the best in the family car sector, with wide and supportive seats that can be finished in leather or cloth trims. You also get a large boot and the choice of hatchback back or estate body styles. Volkswagen's infotainment systems are also among the best in the business, which means mid-spec models come with smart touchscreen navigation and digital radio - though the previous-generation models have easier-to-use systems than the latest Mk8 Golf.
Honda Civic
Year launched: 2017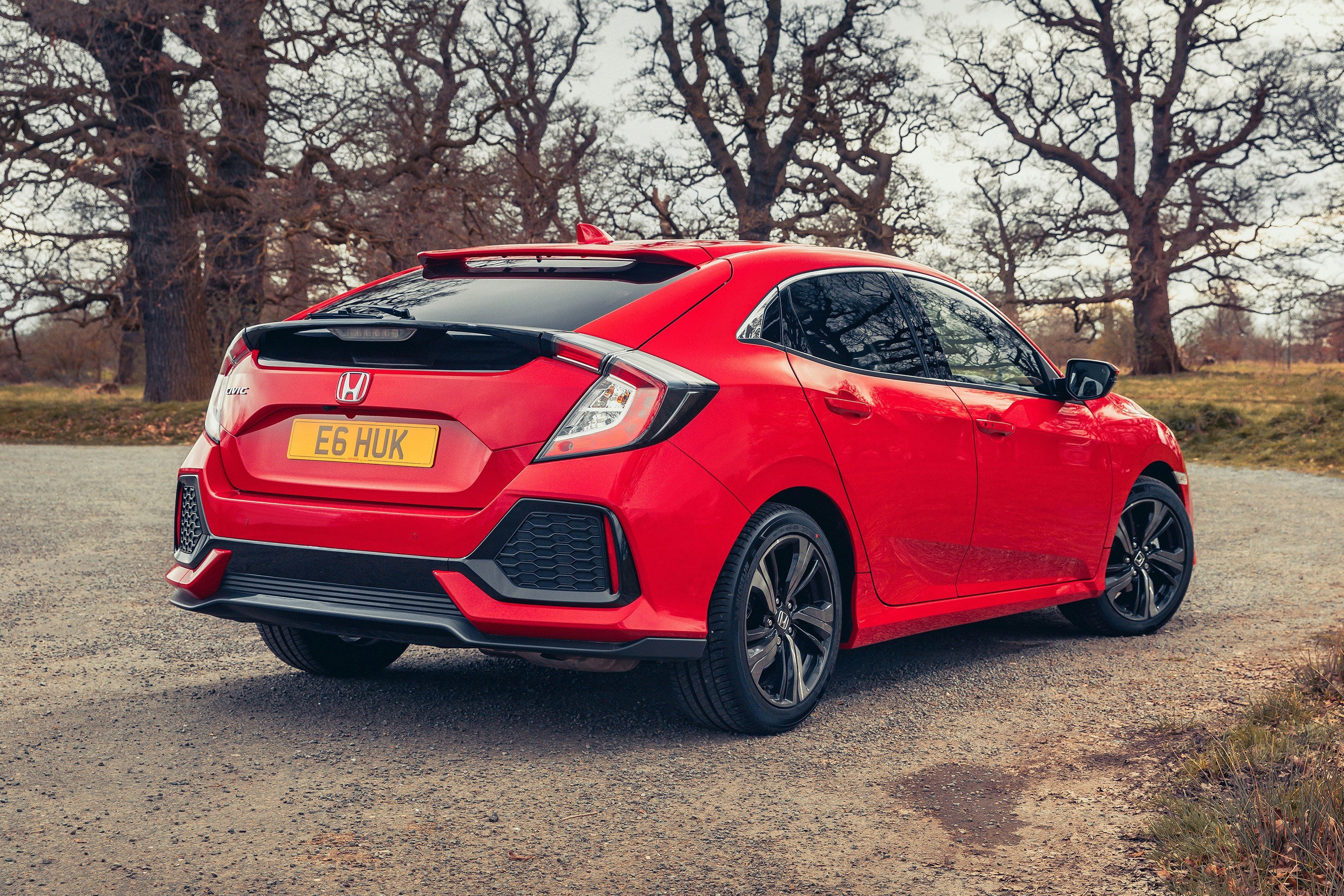 Practical, comfortable and backed by Honda's steadfast reputation for reliability, the Honda Civic is a dependable and affordable family car. And while some people might take issue with the fussy styling, we thank the Civic has lots to offer.
The Civic is a car that does everything with very little drama. The ride comfort is smooth and forgiving over rough surfaces, while the petrol and diesel engines do their thing in a hushed tone that borders silence on the motorway. The steering is also nicely weighted, which means you always have a feeling of being relaxed and 'at one' with the Civic over a long journey.
The interior of the Civic isn't as colourful or as imaginative as some of its rivals, but Honda delivers where it really matters. There is almost 480 litres of boot space and legroom is generous for those in the front and back. Standard kit is also pretty good, but we'd recommend finding a Civic in SR trim to get parking sensors, touchscreen infotainment and a rearview camera.
Skoda Octavia
Year launched: 2013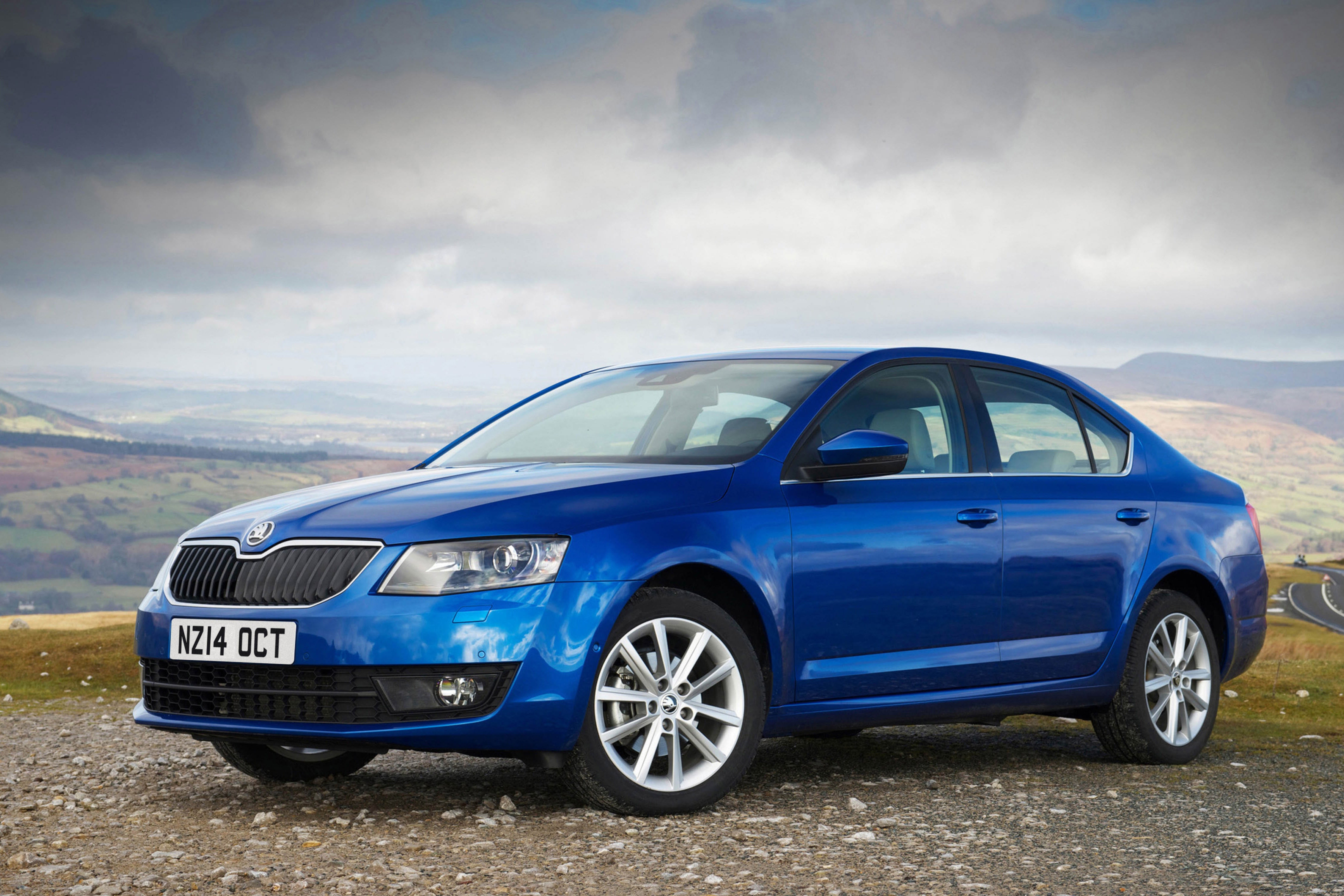 The personification of Skoda's 'simply clever' approach to car-building, the Octavia is a piece of engineering brilliance. What's more, if you have a budget of around £15,000, you'll get a car ridiculously easy to drive and wonderfully practical.
Like a few cars in this list, the Octavia has been replaced with an all-new 2020 model. That's excellent news because there are some cracking dealers on offer right now for petrol and diesel versions of the outgoing Octavia.
The interior has a workmanlike simplicity that's nothing short of brilliant. The boot, for example, is huge at 590 litres. The interior is comfortable and has acres of head and legroom in the front and rear. Equipment levels are also very good on mid-spec models, which means you can get an awful lot for your £15,000.
Kia Ceed
Year launched: 2018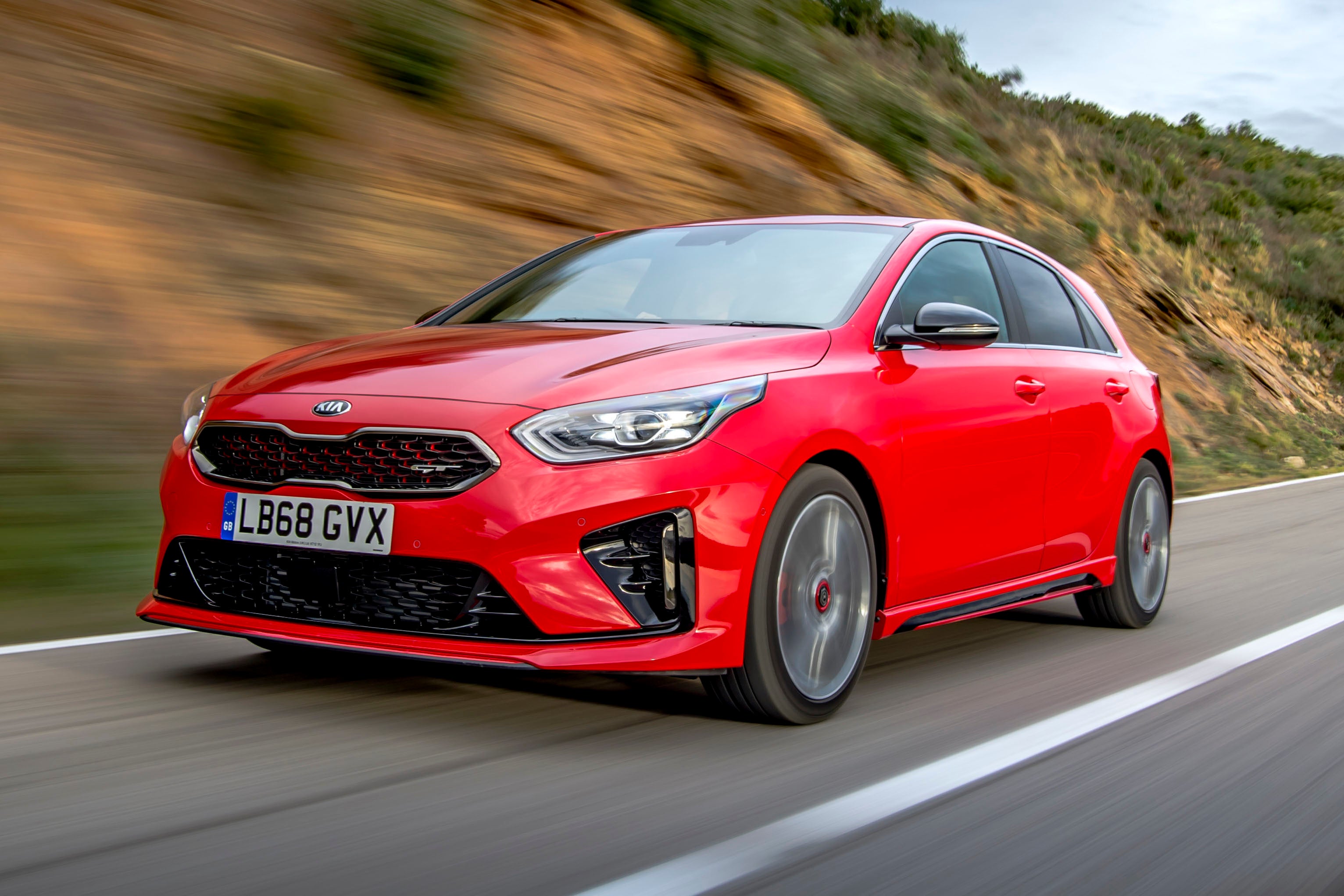 Safe, sensible and good value for money, the Kia Ceed is the only car in this list that will give you the promise of hassle-free motoring for seven-years. With a budget of around £15,000, you'll find a Ceed that's just a few months old with most of its huge warranty still intact.
Few other family cars can provide so much peace of mind for so little. The interior isn't particularly exciting, but it is very well made and comfortable. Even basic models get generous levels of interior space, while the seats have lots of padded cushioning to support your back and lower legs.
The 1.6-litre diesel will be the engine for you if long-distance travel is your thing. The diesel engine is smooth and returns up to 60mpg. There is also two petrols to choose from, varying from 1.0 to 1.4-litre in size. The 1.0-litre is better for fuel economy, returning 50mpg, while the 1.4 will return around 45mpg.
SEAT Leon
Year launched: 2013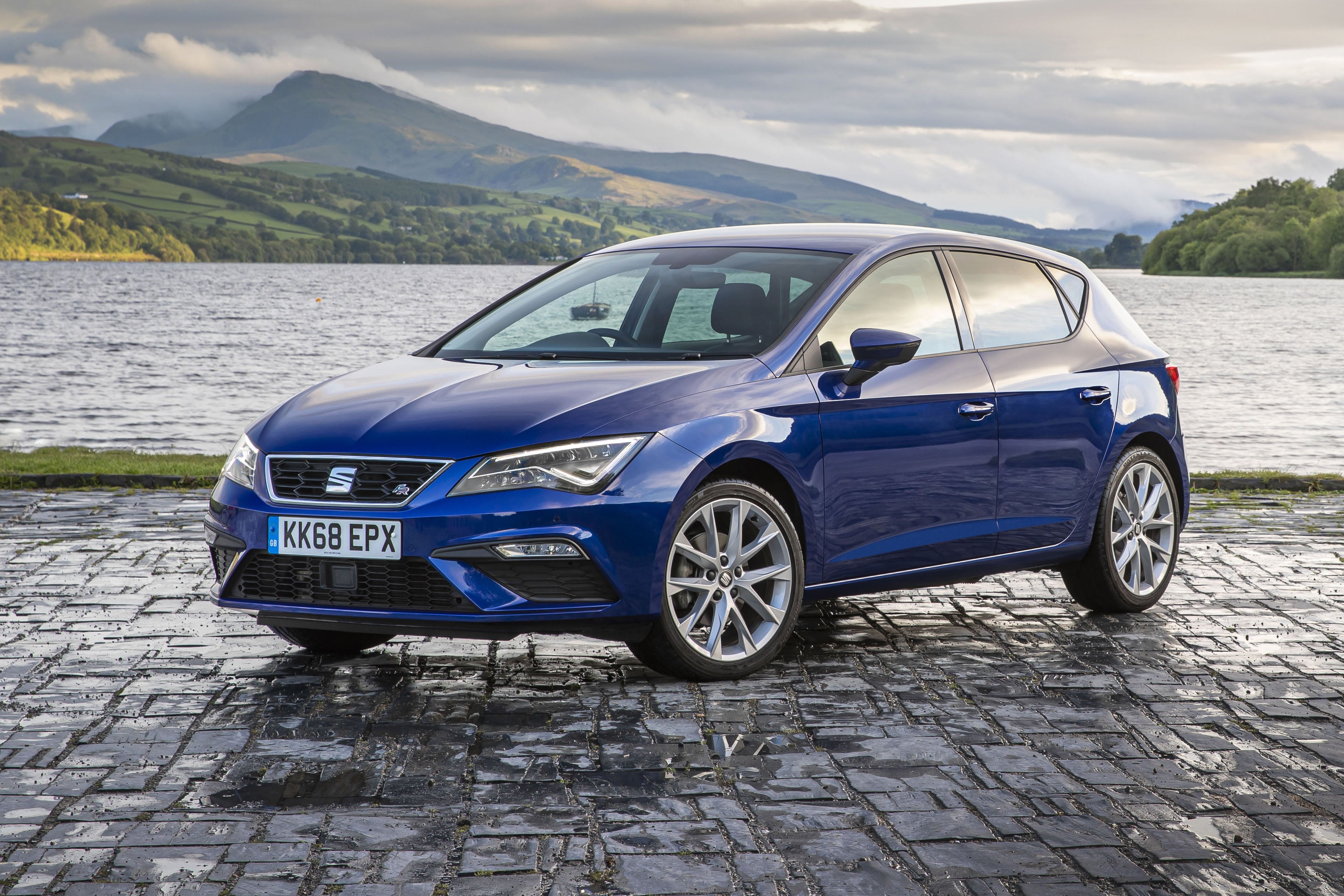 Like the Volkswagen Golf, the SEAT Leon has been replaced with an all-new 2020 model. And this means there are some very good deals to be done for the outgoing car, especially with a budget around £15,000.
The SEAT Leon shares a lot of its oily bits with the Golf. The mechanical platform is the same and many of the petrol and diesel engines have been carried over. The build quality is good, too, which means you can get a Golf-like family car for Leon-type prices.
The Leon is agile and rewarding to drive. The steering is nice and light at low speeds but increases the feedback to match the car's speed. This means the Leon is easy to park, but engaging at higher speeds. You also get a comprehensive choice of refined petrol and diesel engines, with the latter returning up to 79mpg.
A hatchback car has its boot behind the rear seats, positioned as part of the cabin. This is different to a saloon, which has its boot sticking out of the back of the car and forming a separate compartment. Hatchbacks come in a range of sizes – from city cars like the Kia Picanto to small hatchbacks like the Ford Fiesta and family hatches like the Volkswagen Golf. You could even class big, premium cars like the Audi A7 and Porsche Panamera as hatchbacks.
The best hatchback on sale today very much depends on factors like your budget and how much space you need. You can't go wrong with the Ford Fiesta – it's a perennial best-seller in the UK and represents an unbeatable combination of value for money, stylish looks and driving entertainment. If you'd like something a little bigger, we'd recommend the Volkswagen Golf or Mazda 3, or the hybrid Toyota Corolla. The Volkswagen ID.3 is an excellent electric hatchback, while the Skoda Octavia should be the choice of anyone who needs a big boot.
A hatchback is usually a traditional small or family car – a Ford Fiesta or Focus, for example. A crossover SUV is intended to fill the gap between these cars and full-size SUVs, hence the 'crossover' term. An example is the Ford Puma, which is similar in size to the Fiesta on which it's based, but with a higher seating position and more ground clearance.
Ford Fiesta
1.5 EcoBoost ST-2 5dr
Vospers Ford Truro

Cornwall, TR13LN
PCP: £363.43/mo
Representative example: Contract Length: 36 months, 35 Monthly Payments: £363.43, Customer Deposit: £3,148.00, Total Deposit: £3,148.50, Optional Final Payment: £8,981.00, Total Charge For Credit: £3,859.55, Total Amount Payable: £24,849.55, Representative APR: 9.9%, Interest Rate (Fixed): 9.46%, Excess Mileage Charge: 4.8ppm, Mileage Per Annum: 10,000
Ford Fiesta
1.5 EcoBoost ST-2 3dr
Vospers Ford Plymouth

Devon, PL68AY
PCP: £268.18/mo
Representative example: Contract Length: 36 months, 35 Monthly Payments: £268.18, Customer Deposit: £2,220.00, Total Deposit: £2,220.00, Optional Final Payment: £5,850.00, Total Charge For Credit: £2,656.30, Total Amount Payable: £17,456.30, Representative APR: 9.9%, Interest Rate (Fixed): 9.45%, Excess Mileage Charge: 4.8ppm, Mileage Per Annum: 10,000
Ford Fiesta
1.0 EcoBoost 125 ST-Line Edition 5dr
Motorchoice Edinburgh

Midlothian, EH87ND
PCP: £245.33/mo
Representative example: Contract Length: 37 months, 35 Monthly Payments: £245.33, Customer Deposit: £2,325.00, Total Deposit: £2,325.00, Optional Final Payment: £7,373.75, Total Charge For Credit: £3,031.63, Total Amount Payable: £18,531.63, Representative APR: 9.9%, Interest Rate (Fixed): 4.82%, Excess Mileage Charge: 8.6ppm, Mileage Per Annum: 10,000