2022 Honda Civic Type R: price, specs, release date

Written by
Russell Campbell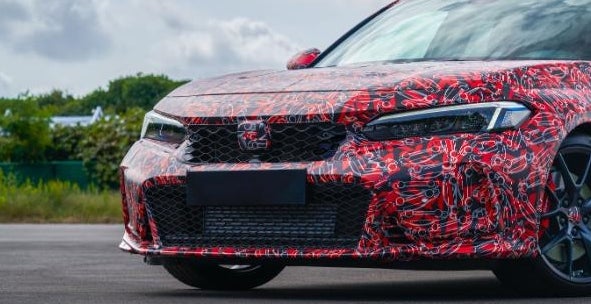 The new Honda Civic Type R has been revealed in camouflage.
It's set to get a hotter version of the turbocharged 2.0-litre engine in the current Honda Civic Type R but the big news is its more sombre styling that's set to open Type R ownership up to a broader church.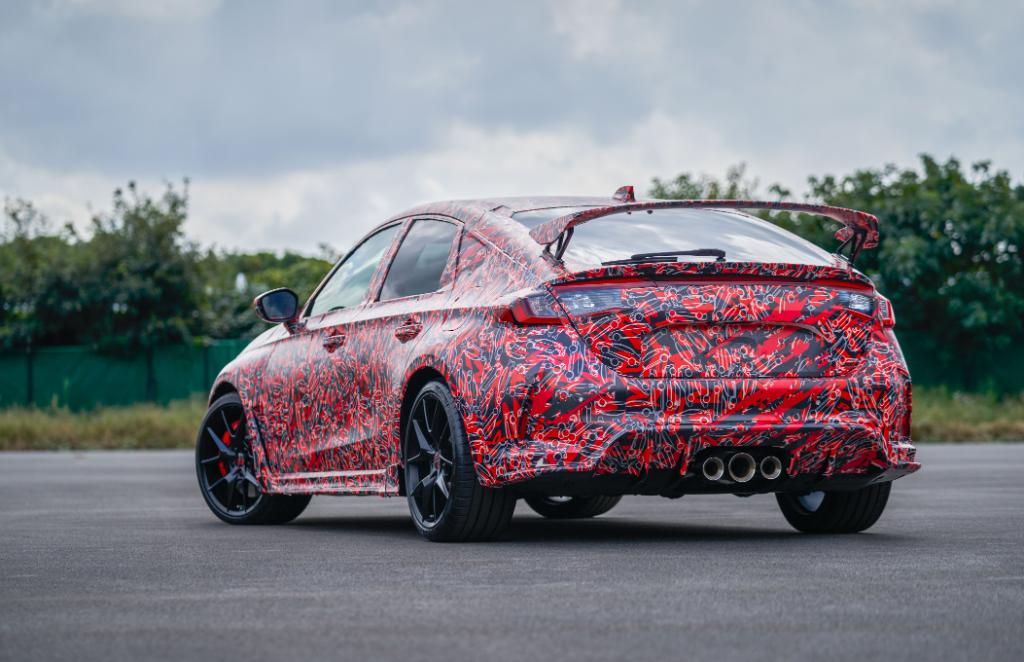 2022 Honda Civic Type R release date
Camouflaged or not, these official pictures of the Honda Civic Type R show a car that looks close to production ready so you can expect it to go on sale in 2022, following the launch of the new version of the standard Honda Civic. Prices for the next gen Honda Civic Type R are set to start from around £33,000.
2022 Honda Civic Type R specs
As you can probably tell by the looks, you shouldn't expect anything too radical from the new Honda Civic Type R – if past Civic Type Rs are anything to go by, it's likely the new model will improve the bits that didn't work on the old car, while leaving the good bits (of which there are many) well alone.
First up, the styling. How many potential Type R owners looked at the current car and thought couldn't park that at the in-laws' house? Quite a few, we reckon.
Under a positive light, the old car looked about as focussed as a hot hatch gets, the less generous may have said it made you look like a boy racer. It certainly attracted them. But it was one of the best hot hatches out there.
Huge boot spoiler notwithstanding, you can expect the new Civic Type R to have subtler styling with fewer try-hard aero elements and bitty design features, and – please – no red pin-striped alloy wheels.
Next in the crosshairs? The interior. There was a lot good about the old Honda Civic Type R's cabin: the driving position was excellent, it had all the right go faster bits – sports seats with lots of lateral support, alloy pedals and a lovely metal gear knob - felt robust and was pretty roomy. However, the infotainment wasn't great and neither was perceived quality, both will look to be improved upon in the current Type R's replacement.
The driving experience is one area the Honda Civic Type R doesn't need fixed, the current model is still streets ahead of newer rivals like the Volkswagen Golf GTI Clubsport in terms of pure performance and interaction.
To that end, you can expect the new car's recipe to include a familiar mixture of a circa-320PS 2.0-litre petrol engine, front-wheel drive with a limited-slip differential and a gearshift so notchily slick, the gods could have engineered it themselves. Worth waiting for? We think so.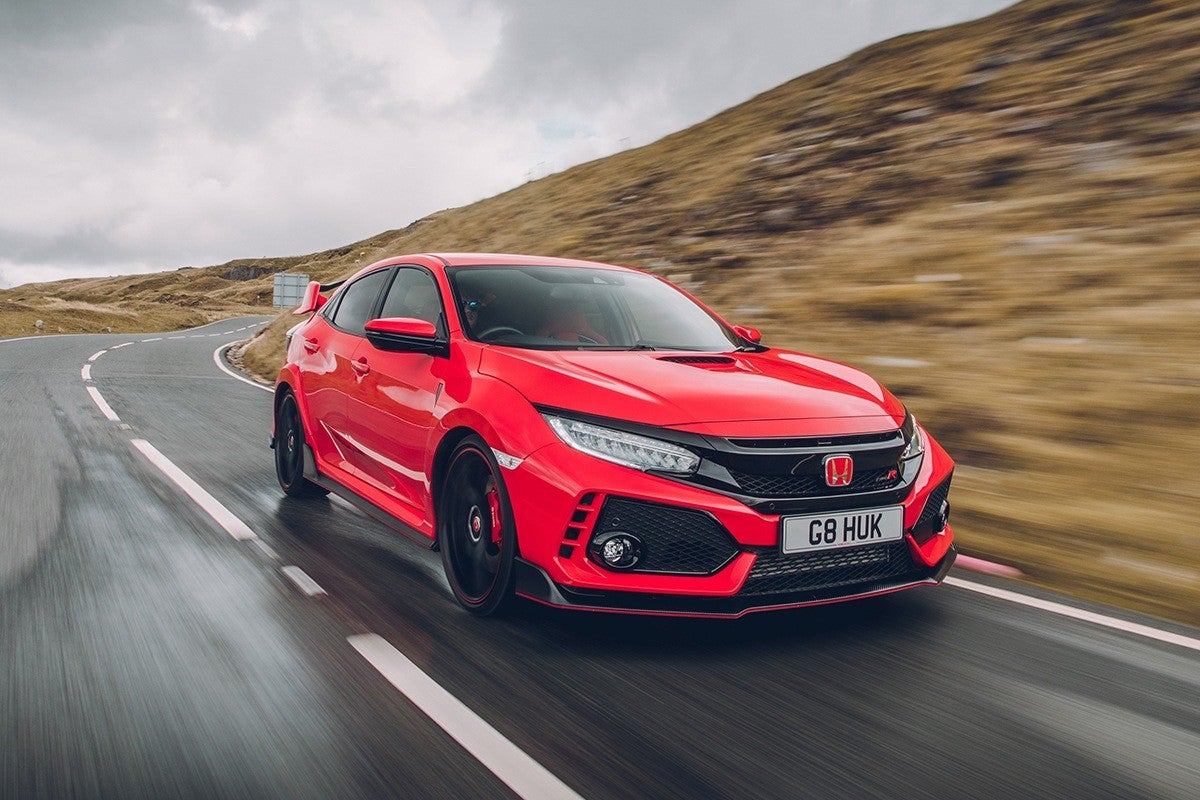 Why now's a good time to buy the old Honda Civic Type R
If you can live with the looks, hot hatches really don't get much better than the outgoing Honda Civic Type R – a car that can demolish race tracks, but also shepherd you and your family up the road in surprising comfort.
Unfortunately, the market is well aware of its abilities so even an early 2017 model with more than 35,000 miles on the clock will set you back £27,000. And if you think that's bad, pre-registered face-lifted cars are currently carrying a £10,000 premium over list price – you'll need £46,000 to get behind the wheel of one of those.
The Honda Civic Type R is loads of fun to drive. It has phenomenal grip, controls that give you the confidence you need to use it and a punchy 320PS engine that eats up straights.
At the time of writing (October 2021), you'd have to say the Honda Civic Type R is overpriced – brand new examples cost £10,000 more than their list value, but this is an artificial price hike caused by the shortage of new cars and you can expect values to stabilise in the near future.
Er yes, the Honda Civic Type R is fast – its 320PS turbocharged engine gets it from 0-62mph in 5.7 seconds and gets it to a top speed of 169mph.
Cars the new Honda Civic Type R has to beat
Honda Civic
1.0 VTEC Turbo 126 SR 5dr
Manufacturer Approved
Drift Bridge Honda Crawley

Sussex, RH108JG
PCP: £390.15/mo
Representative example: Contract Length: 36 months, 35 Monthly Payments: £390.15, Customer Deposit: £3,592.00, Total Deposit: £3,592.50, Optional Final Payment: £9,753.15, Total Charge For Credit: £3,050.90, Total Amount Payable: £27,000.90, Representative APR: 6.9%, Interest Rate (Fixed): 3.54%, Excess Mileage Charge: 5.7ppm, Mileage Per Annum: 10,000
Honda Civic
1.0 Vtec Turbo 126 Sr 5Dr
Manufacturer Approved
Swansway Honda Bolton

Lancashire, BL12ST
PCP: £278.63/mo
Representative example: Contract Length: 36 months, 35 Monthly Payments: £278.63, Customer Deposit: £2,699.00, Total Deposit: £2,699.25, Optional Final Payment: £9,031.93, Total Charge For Credit: £3,488.23, Total Amount Payable: £21,483.23, Representative APR: 9.9%, Interest Rate (Fixed): 5.08%, Excess Mileage Charge: 5.65ppm, Mileage Per Annum: 10,000