2022 Honda Civic Type R: price, specs, release date
2022 Honda Civic Type R: price, specs, release date

The new Honda Civic Type R has been revealed ahead of going on sale in the UK early in 2023.
Powered by a revised version of the turbocharged 2.0-litre engine in the outgoing Honda Civic Type R, the new Civic Type R is set to tempt even more buyers away from the Volkswagen Golf GTI and Ford Focus ST.
With more sombre styling than before, the new Civic Type R is likely to appeal to a wider audience than the Gran Turismo generation that fawned over its predecessor. That's not to say it looks dull, however – you still get spoilers aplenty, wide arches and 19-inch matte black alloy wheels to differentiate it from the regular Honda Civic.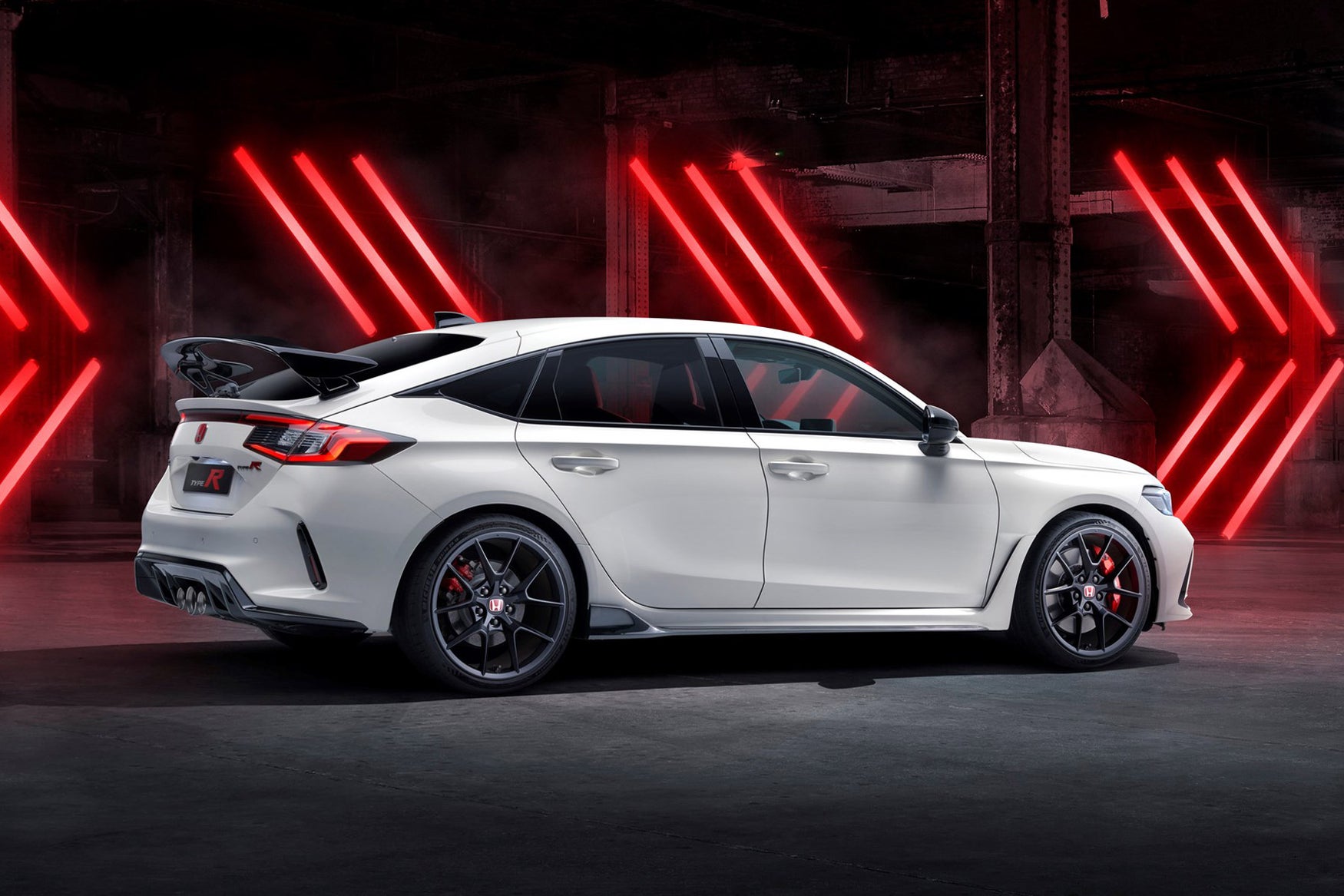 2022 Honda Civic Type R: prices and specifications
Although the new Honda Civic Type R has officially been revealed, the brand's remaining tight-lipped about all the things you probably want to know. That means we haven't been told how quick it is or how much it will cost.
We do know, however, that Honda's shunned hybrid power in favour of an 'evolved' version of the 2.0-litre turbo petrol engine used in the old Civic Type R. There's not even a hint of electrification here – a bold change in strategy alongside the brand's more mainstream offerings (such as the latest Honda Jazz, HR-V and even the cooking-spec Civic).
An updated turbo and revised exhaust system mean the new Civic Type R will be more powerful than before (the old model produced 320PS and 400Nm of torque), while Honda promises the new model is "one of the most powerful per litre cars in its class."
The new Honda Civic Type R will come with a six-speed manual gearbox – again, an optimised version of the transmission used in the old model. That's not necessarily a bad thing, though, as that'd be up there with the Mazda MX-5 if we ever compiled a list of the top 10 gear changes ever.
There'll be an auto-blip function, so you don't have to worry about honing your heel-and-toe skills, while the (again, upgraded) Brembo brakes ensure it'll come to a stop pretty damn quickly.
Orders for the new Honda Civic Type R are expected to be open later in 2022, with prices likely to start in the region of £38,000.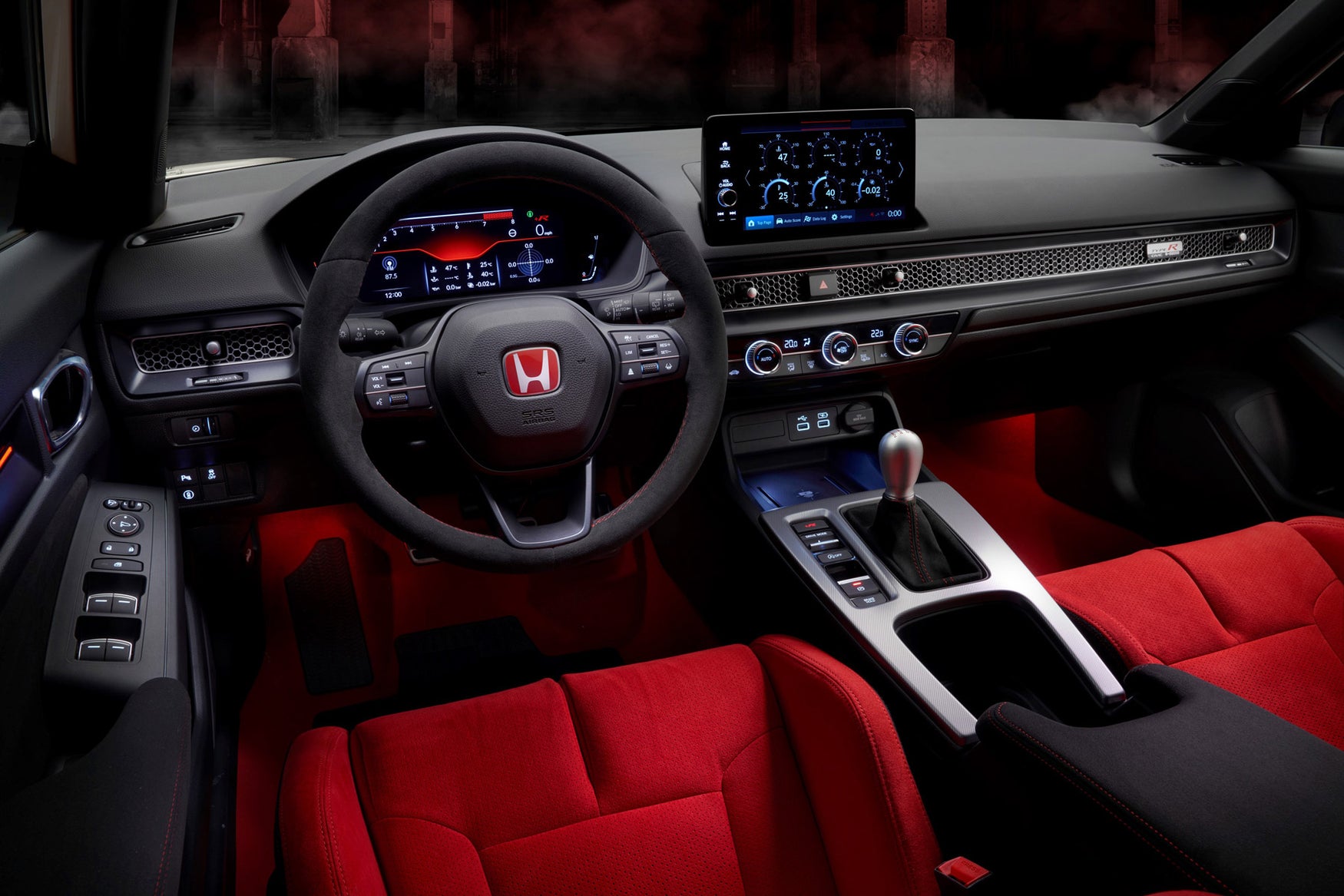 2022 Honda Civic Type R: interior and exterior design
The old Honda Civic Type R was one of the most outlandish hot hatches money could buy in terms of exterior design. It looked like a race car for the road, with jagged spoilers, wide arches and a menacing 'out of my way' front end.
Things have been toned down a little for the new Civic Type R, but that doesn't mean it's going to be mistaken for the regular hybrid model. It's lower and wider in stance than the hatch it's based on, while wide arches flare over the Type R's lightweight 19-inch matte black alloy wheels (these are shod with bespoke Michelin Pilot Sport 4S tyres).
A triple-exit exhaust system (now a Civic Type R trademark) is another less-than-subtle hint at the car's performance credentials, along with the bold colour line-up (including Championship White, Rallye Red, Racing Blue, Crystal Black and Sonic Grey).
Inside, you'll sit lower in the new Civic Type R, while the lightweight front sport seats finished in a suede-like material will apparently combine plentiful support during high-speed cornering with long-distance comfort. We'll see.
The new infotainment system is sure to be an improvement on the old car's setup, while an in-built data logger comes as standard. This uses in-car sensors to collect performance data and relay it to an app on your phone. Key stats include lap times, tyre friction circles and an on-track scoring system.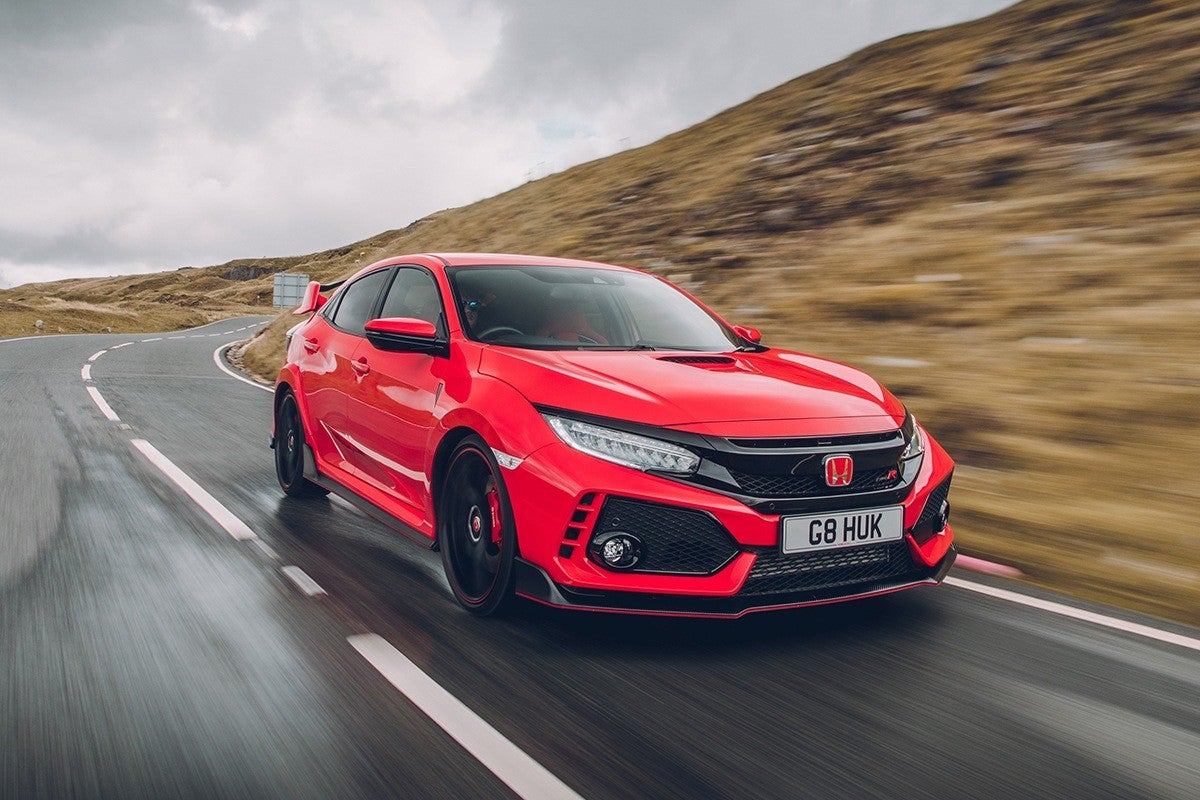 Why now's a good time to buy the old Honda Civic Type R
If you can live with the looks, hot hatches really don't get much better than the outgoing Honda Civic Type R – a car that can demolish race tracks, but also shepherd you and your family up the road in surprising comfort.
Unfortunately, the market is well aware of its abilities so even an early 2017 model with more than 35,000 miles on the clock will set you back £27,000. And if you think that's bad, pre-registered face-lifted cars are currently carrying a £10,000 premium over list price – you'll need £46,000 to get behind the wheel of one of those.
The outgoing Honda Civic Type R is loads of fun to drive. It has phenomenal grip, controls that give you the confidence you need to use it and a punchy 320PS engine that eats up straights.
Yes, the new Honda Civic Type R uses an updated version of the old model's 2.0-litre turbocharged petrol engine.
Although performance figures for the new Honda Civic Type R are yet to be confirmed, it's fair to say it's going to be quick. The old model, with its 320PS turbocharged engine, could accelerate from 0-62mph in 5.7 seconds and had a top speed of 169mph.
Cars the new Honda Civic Type R has to beat