New Ford Ranger/Raptor price, specs and release date
New Ford Ranger/Raptor price, specs and release date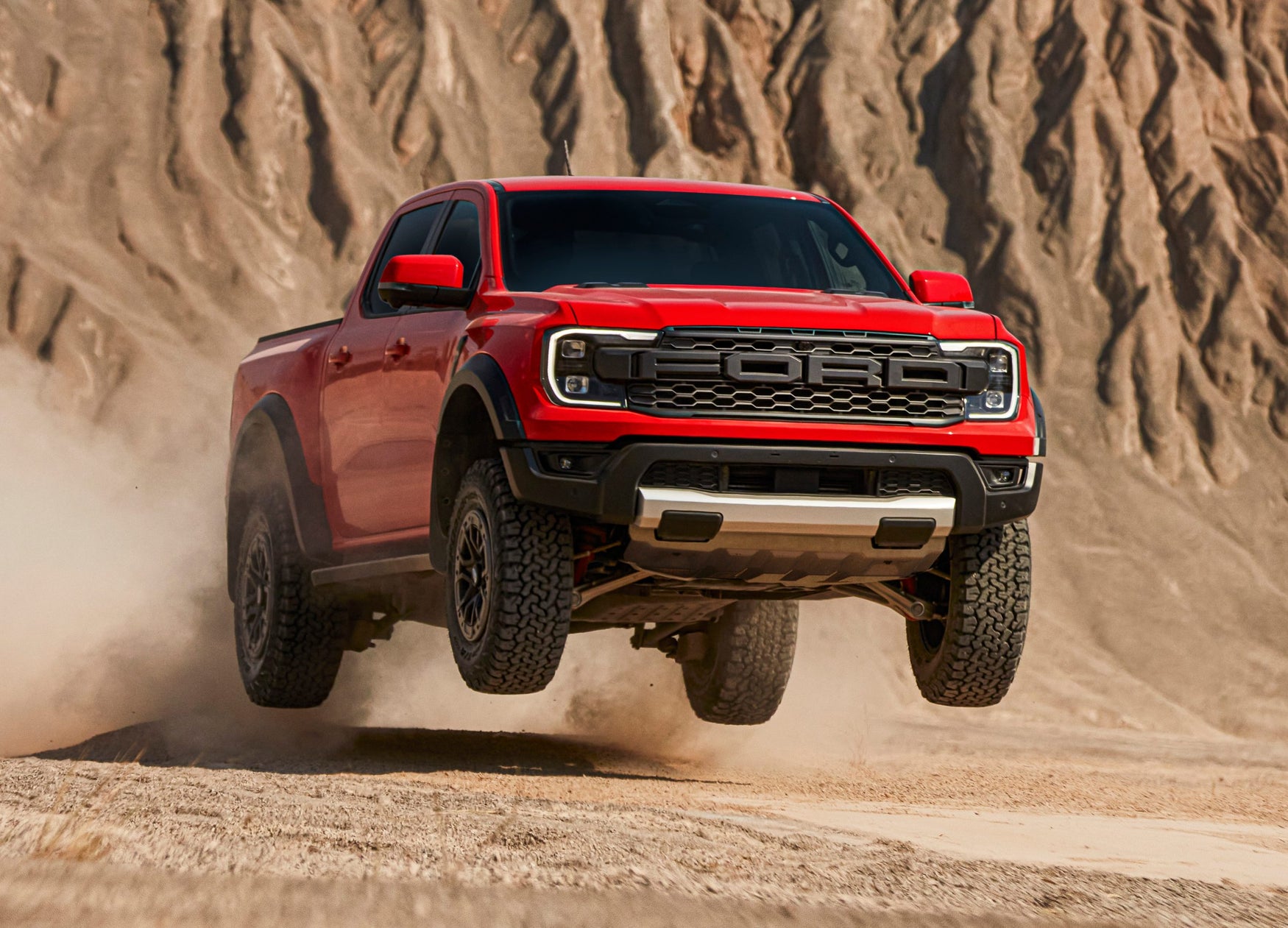 The new Ford Ranger has been revealed, along with a new Raptor model that boasts 288PS from a 3.0-litre twin-turbocharged petrol engine.
The new Ranger gets chunkier looks than the model it replace along with a vastly improved interior with a posher finish and an infotainment-centric design. The Ranger is expected to cost from £30,000, while the Raptor version is likely to cost closer to £50,000.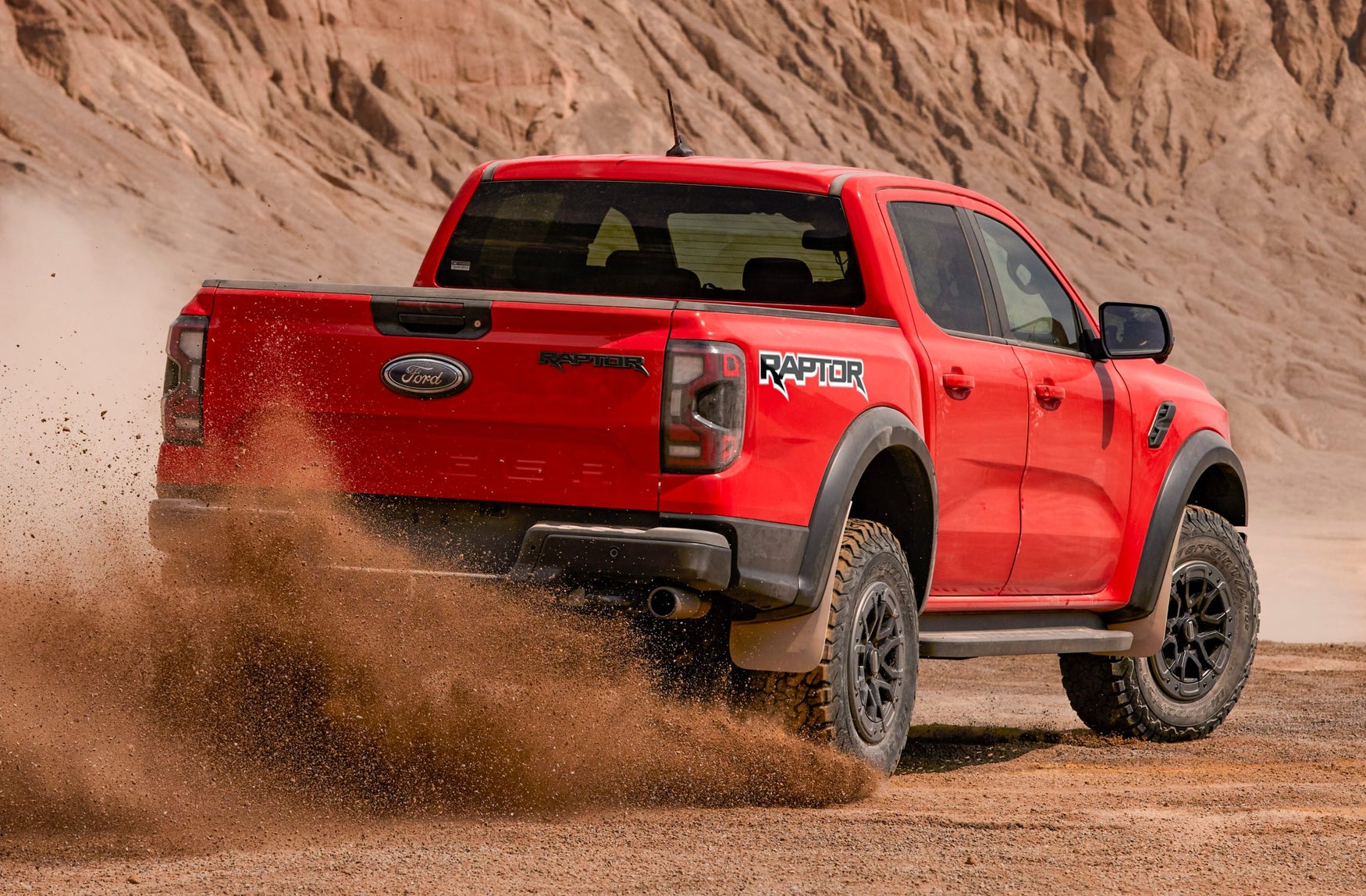 New Ford Ranger Raptor specifications
The big news about the new Ford Ranger Raptor is its engine – it's a twin-turbocharged 3.0-litre V6 petrol producing 288PS and a stonking 491Nm of torque. A version of the current model's 213PS, 500Nm 2.0-litre four-cylinder diesel will also be available.
You can expect the new 3.0-litre petrol model to be significantly quicker (and also thirstier) than the car it replaces, however, Ford has yet to reveal any stats. We do know that the new Raptor will come with an anti-lag system common in rally cars. It keeps the turbos spinning for up to three seconds after you lift your foot off the accelerator, giving you full-bore acceleration without the need to wait for the turbos to spool up to produce boost.
An adjustable exhaust with four modes – Quiet, Normal, Sport and Baja – is another new addition, with the Baja mode producing an ear-drum-bursting noise akin to a straight-through exhaust system. Understandably, it's intended for off-road use only.
Along with the new engine and exhaust, the Raptor gets a stiffer chassis than the standard Ranger and – as before – it comes with a set of fancy Fox Racing shocks with 2.5-inches of travel that should soak up the worst terrain with ease. The final 25 per cent of the suspension's travel serves up the stiffest resistance to stop the truck from bottoming out when you land huge jumps – uniquely, jumping is something the Raptor has been specifically designed for.
The Raptor also gets the new four-wheel drive system fitted to the new Ranger with no less than seven modes to choose from – Normal, Sport, Slippery, Rock Crawl, Sand, Mud/Ruts and Baja.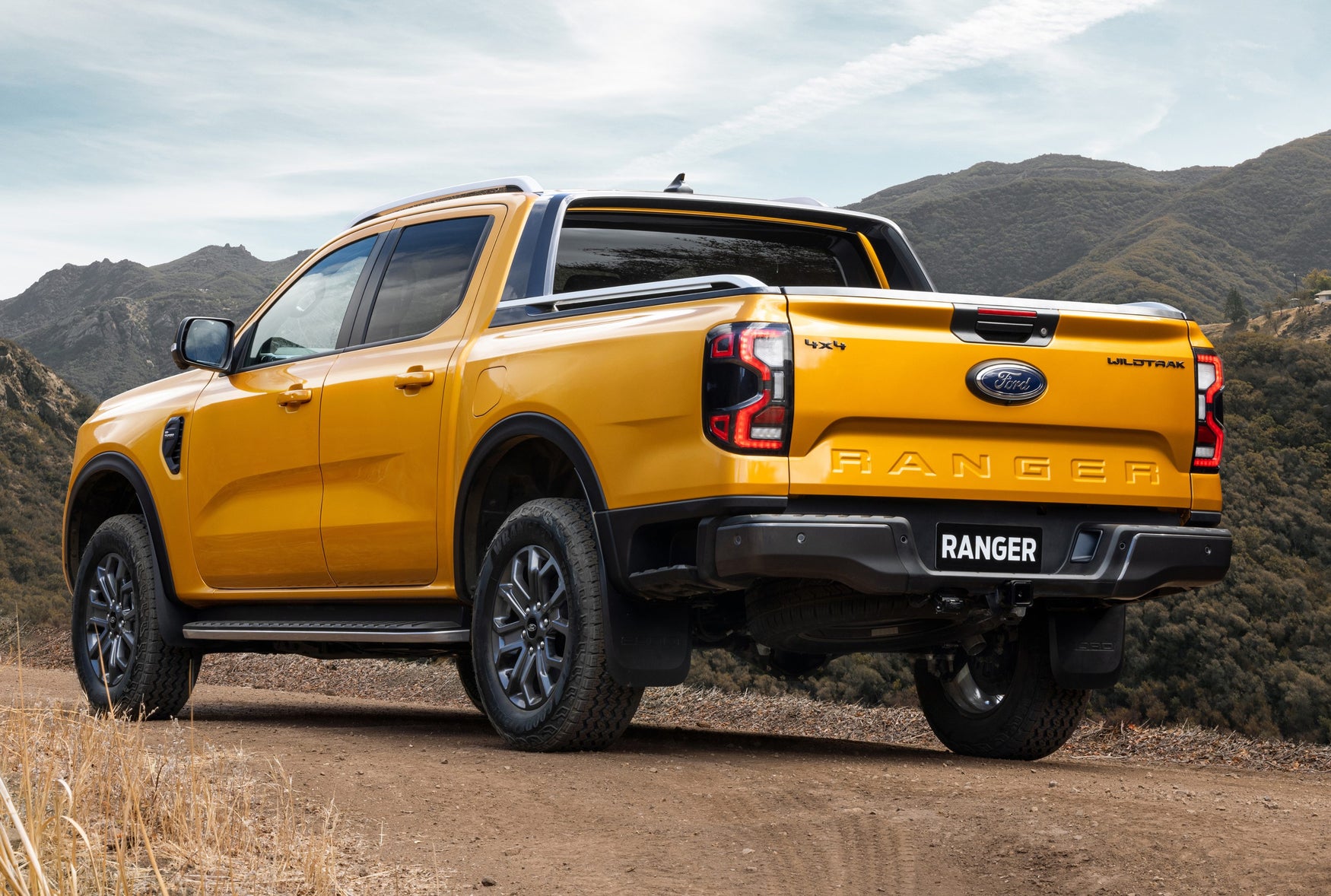 New Ford Ranger price and release date
The new Ford Ranger will go on sale in November 2022, with the first vehicles expected to reach showrooms in December. Prices have yet to be confirmed but expect a basic single cab model to start at £30,000 (including VAT) while double cab models to command around £35,000. The desirable Ranger Wildtrak model will cost more than £40,000 after you have added VAT.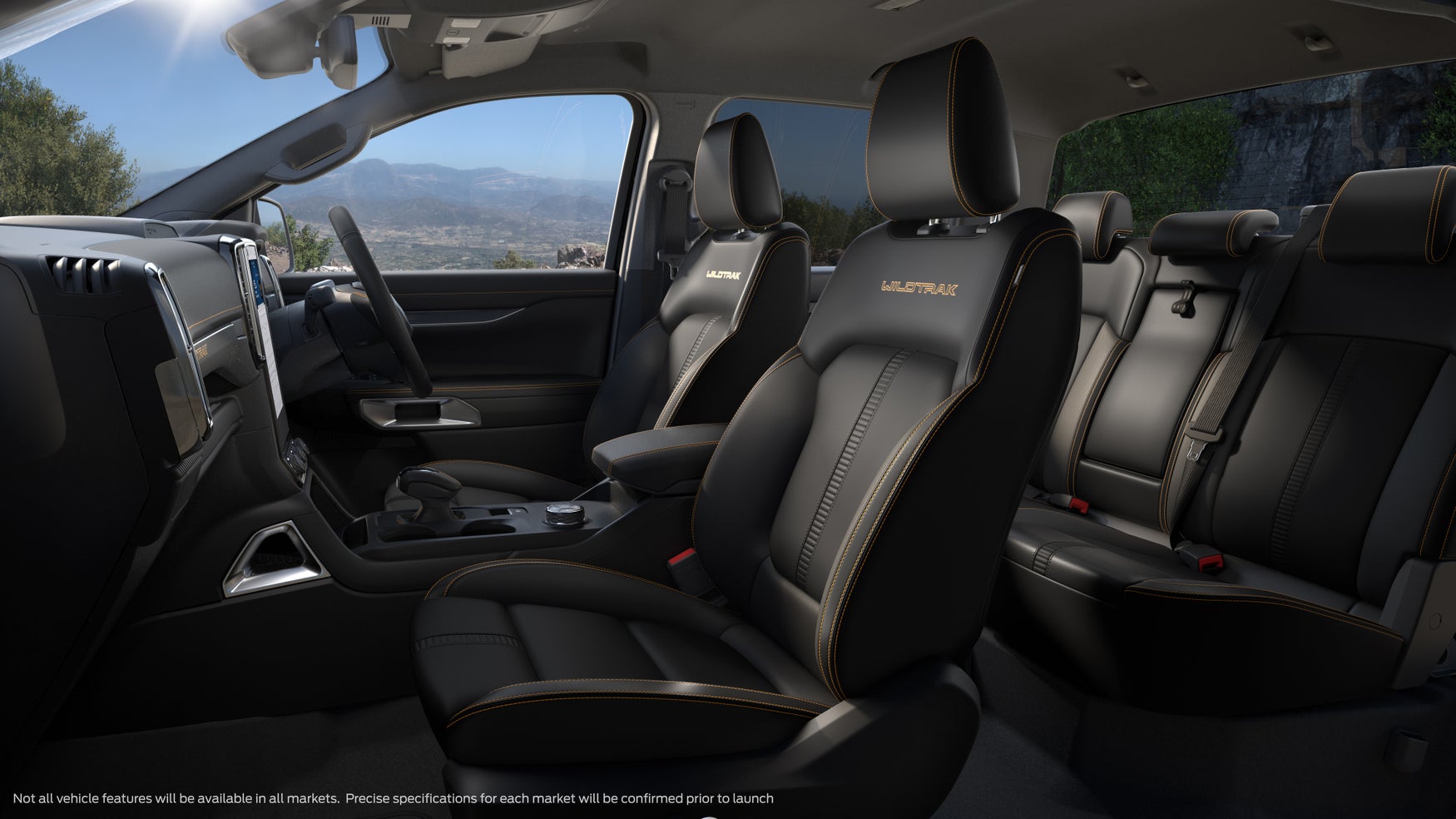 New Ford Ranger styling
The new Ford Ranger is 50mm wider and has a 50mm longer wheelbase than the pick-up truck it replaces – so it is physically bigger. But US-truck inspired styling means it looks even bigger than those figures would suggest. The Ranger is being developed in partnership with Volkswagen and the new Amarok.
The front end, with its bull-bar-esque design, is imposing and around the sides you get flared wheel arches. Steps behind the rear wheels make it clear the Ranger is a utility vehicle and at the back 'Ranger' has been pressed into the bodywork. We think it looks great!
It also comes with features that are new to the Ranger such as computer-controlled Matrix LED headlights and Zone Lighting, which lights up the area surrounding the Ranger so you can see what you're doing when you're working in the vicinity.
If the exterior looks more butch, the interior looks a lot more high-tech than the old Ranger's. The first thing you'll notice is the huge portrait-style infotainment screen that is either 10.1- or 12-inches in size. It's fully connected so you can do things like check the car's range, lock/unlock and start it via an app on your phone. The screen can also be had with a 360-degree camera and gives various off-roading readouts.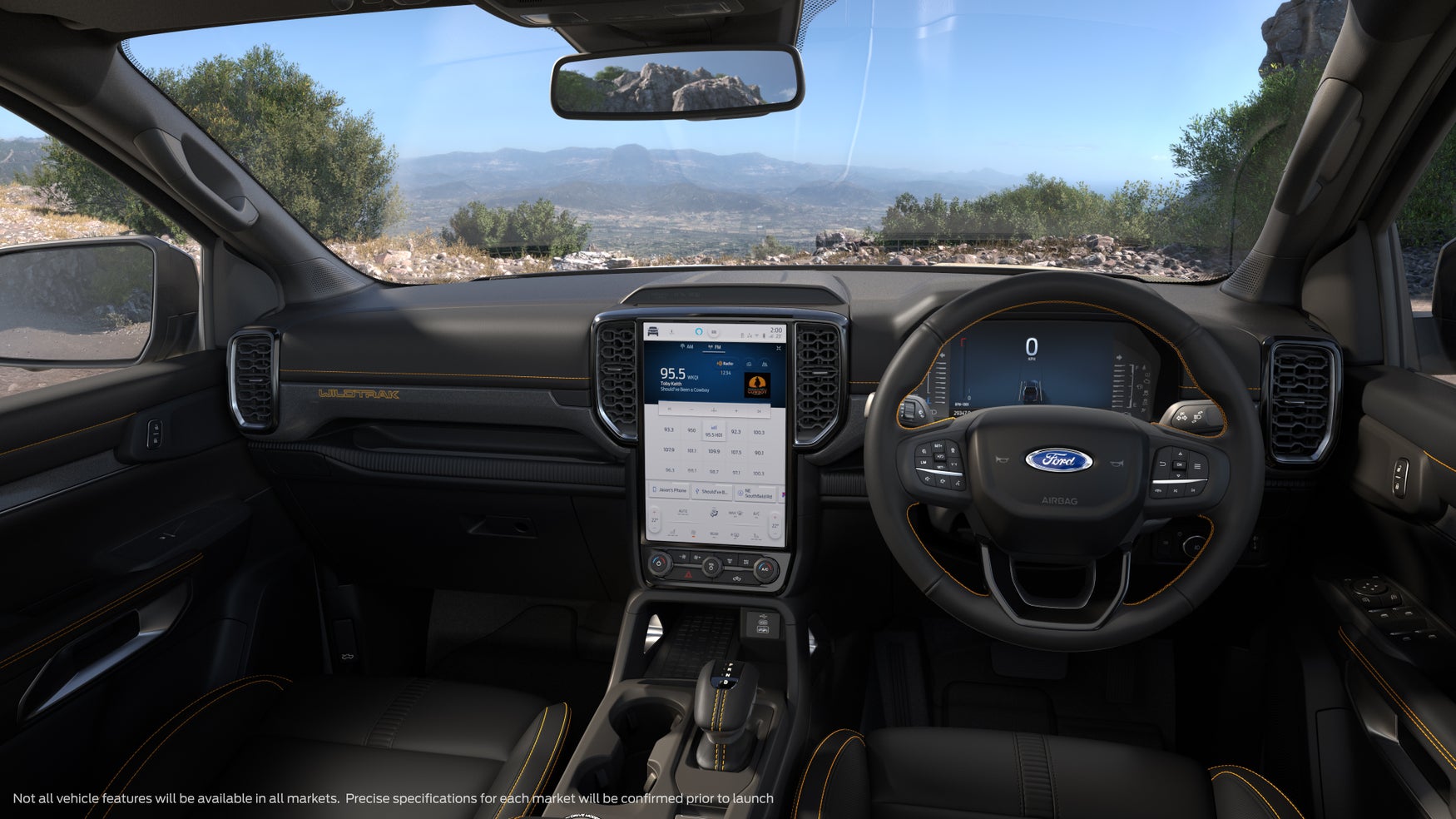 New Ford Ranger practicality and interior
Ford is promising big improvements to the Ranger's interior quality. This means there will be more soft-touch plastics and higher quality cloth materials. High spec Wildtrak models will get soft,heated leather seats, carpeted floors and mood lighting.
If you want a Ranger for the building site, don't worry, Ford will also offer work-focused models with hardwearing cloth seats and rubber flooring that will be easy to wash after a hard day's graft on site.
Making full use of the load bay should be easier, too, the new Ranger's extra width means that sheets of plywood can sit flat and steps make it easier to access the back. Most versions of the Ranger will be capable of carrying in excess of one-tonne, while braked towing capacity will peak at 3.5 tonnes. This means the Ford Ranger will rival the Toyota Hilux, Volkswagen Amarok and Isuzu D-Max for practicality.
Ford will offer a range of load covers for the Ranger, which will allow you to secure tools, equipment and materials with a lockable shutter or factory-fit hardtop. You will also be able to add 12v sockets to the bedliner so you can power tools or recharge electrical items.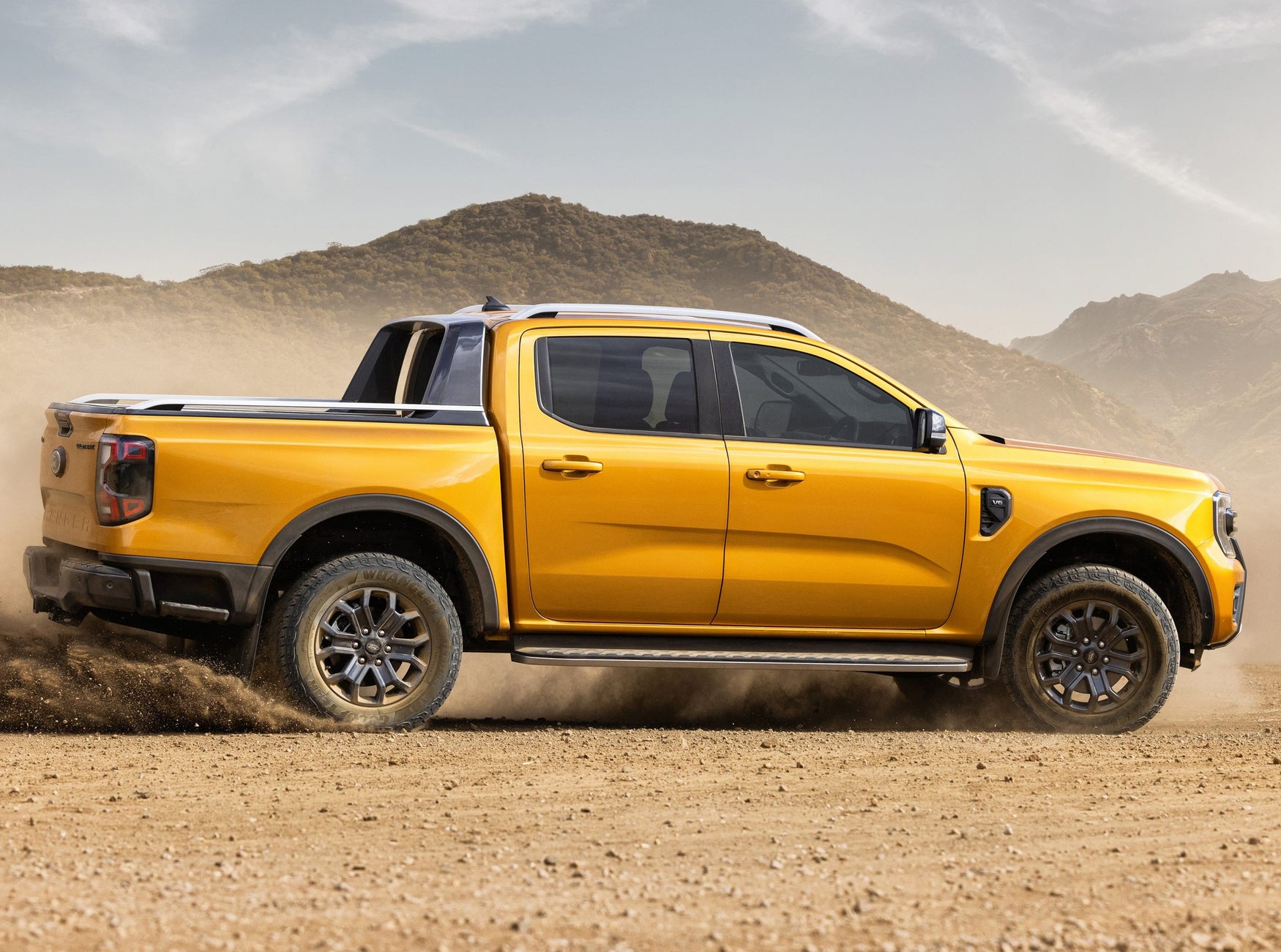 New Ford Ranger engines, power and performance
Ford hasn't revealed too much on engines, only saying that we'll get two 2.0-litre diesels to choose from – a single and a bi-turbo model. There will also be a 3.0-litre V6. We expect it to produce more than 200PS and about 500Nm of torque, giving the Ranger SUV-rivalling performance and lots of grunt for towing and off-roading.
Running costs will be improved, which means the most efficient versions of the new Ranger could return up to 40mpg.
With that in mind, you can have your Ranger with two four-wheel drive systems – a semi-permanent or a full-time system. Break over angles and wheel articulation have also increased. Or you can forget about it and go for the rear-wheel-drive model that will also be available.
The Ranger will get a six-speed manual gearbox as standard, while powerful modes will get the option of a 10-speed torque converter automatic transmission.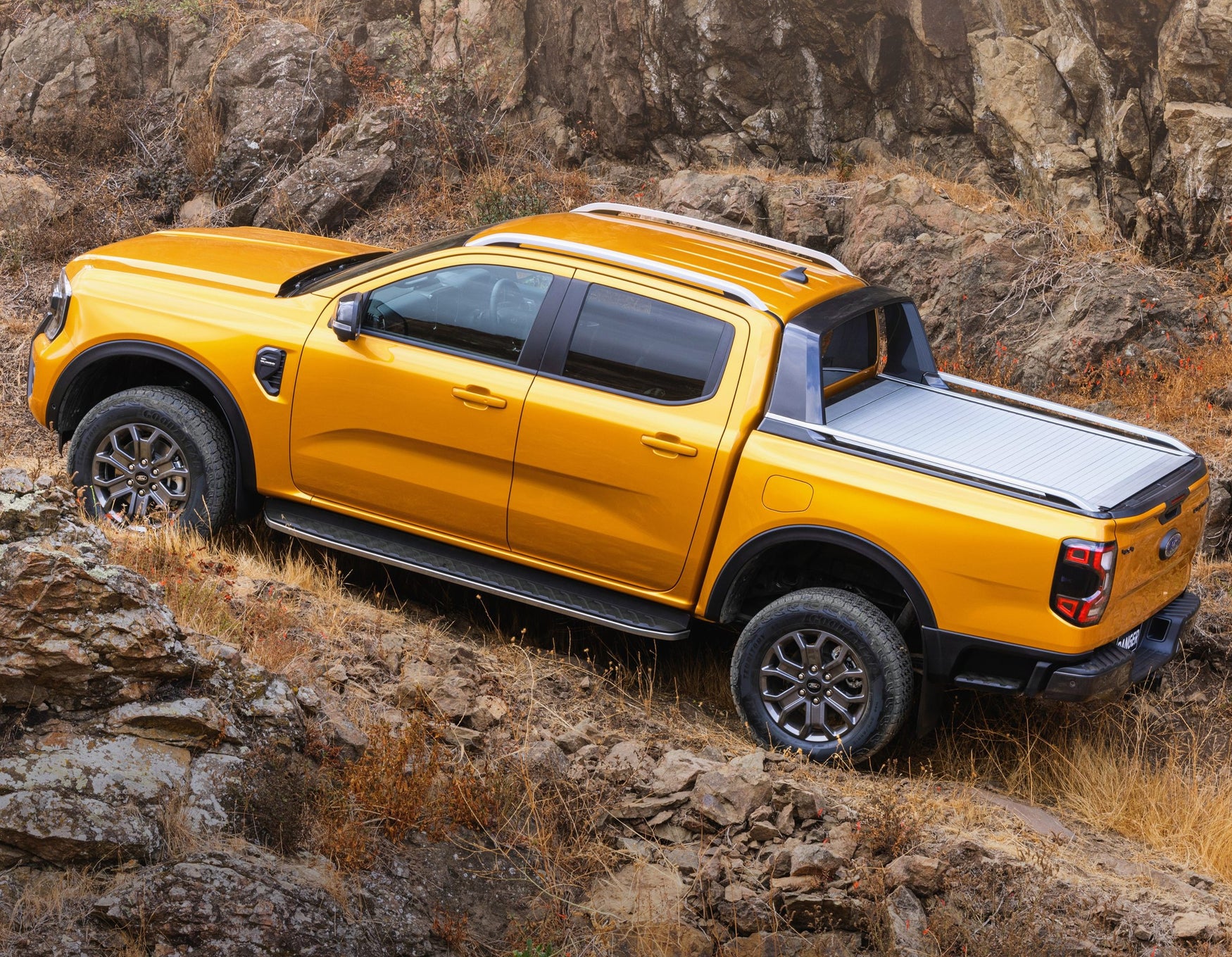 Find a used Ford Ranger for sale
A new Ford Ranger coming out next year can mean only one thing – there are great deals to be had on the current Ranger model.
Less than £18,000 is enough to get you behind the wheel of a 2015 model with less than 70,000 miles on the clock and features like four-wheel drive and a 150PS diesel 2.2-litre diesel engine.
At the other end of the scale, you'll find the Ranger Raptor performance pick-up, which will set you back about £45,000 for a truck with less than 15,000 miles on the clock.
Looking for more new car news?
Volkswagen has revealed the new ID.Buzz electric van and images of the 2022 Amarok pick-up truck, which is being built alongside the Ranger as part of a technical agreement between the two manufacturers.
Dacia is also launching a new seven-seat family car called the Jogger while Mazda has unveiled the new CX-60.
There will be a 2022 Ford Ranger – it will share its parts with the new Volkswagen Amarok.
The 2022 Ford Ranger is set to get butch looks, upgraded infotainment and a more advanced four-wheel drive system.
Yes, the 2022 Ford Ranger is likely to be offered with a powerful V6 diesel engine alongside 2.0-litre four-cylinder diesels.
The trucks the 2022 Ford Ranger has to beat