New Honda CR-V: price, specs and release date
New Honda CR-V: price, specs and release date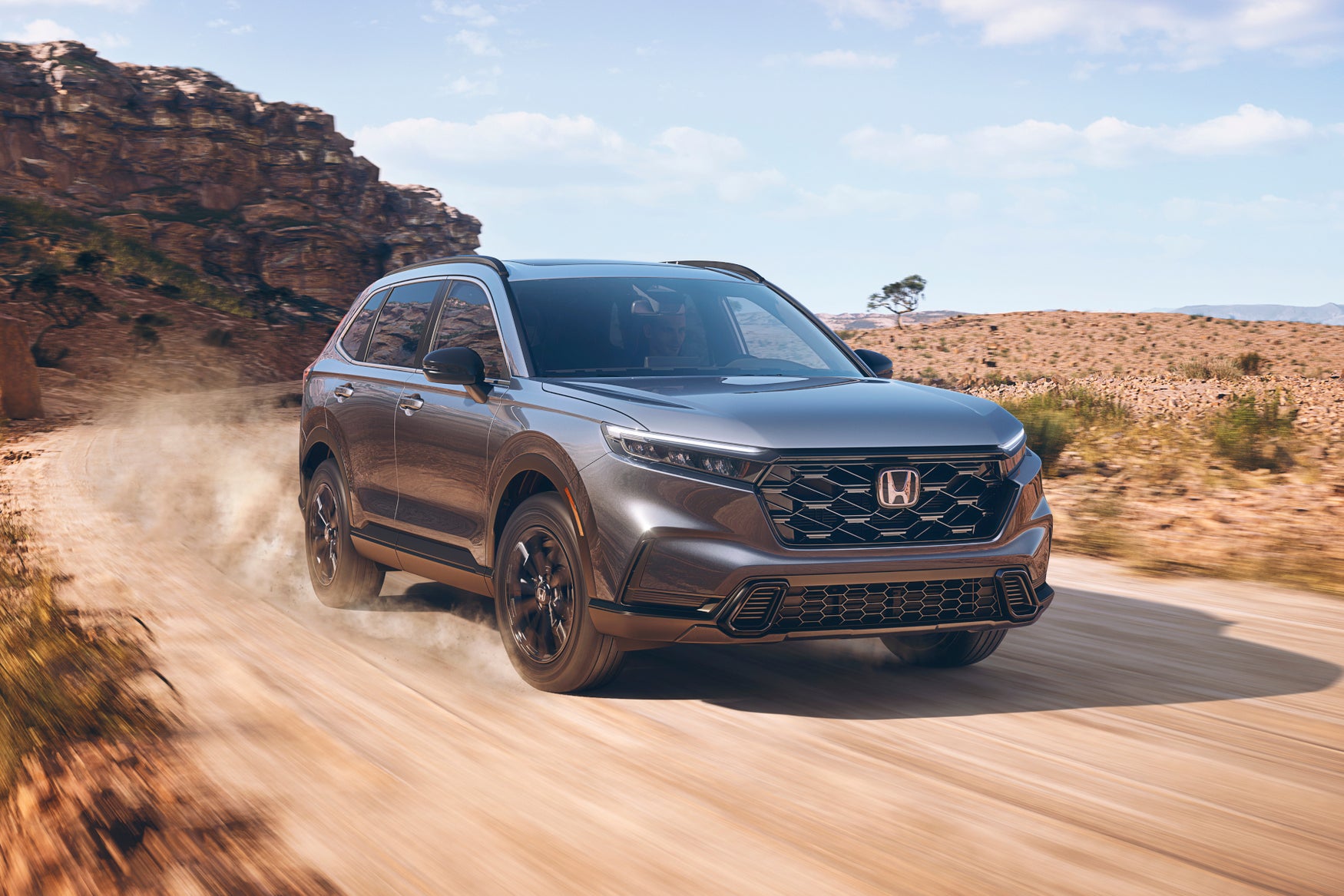 The new Honda CR-V has been revealed in the US ahead of the family SUV's European debut in early 2023.
The 2023 Honda CR-V will go on sale in North American markets first later this year. But the SUV will arrive in Europe in the first few months of next year with very few changes.
Much like the latest Honda Civic, the sixth-generation Honda CR-V will be hybrid-only in Europe, completing the all electric or hybrid core lineup. The current CR-V was originally sold with pure petrol and hybrid options but is also now only available to order as a hybrid. The new hybrid system, however, promises performance and efficiency improvements, plus more towing capability.
Alongside an evolved exterior design, the new CR-V is said to be more quiet and comfortable than before, with an interior offering improved quality and technology. Safety equipment has increased, too.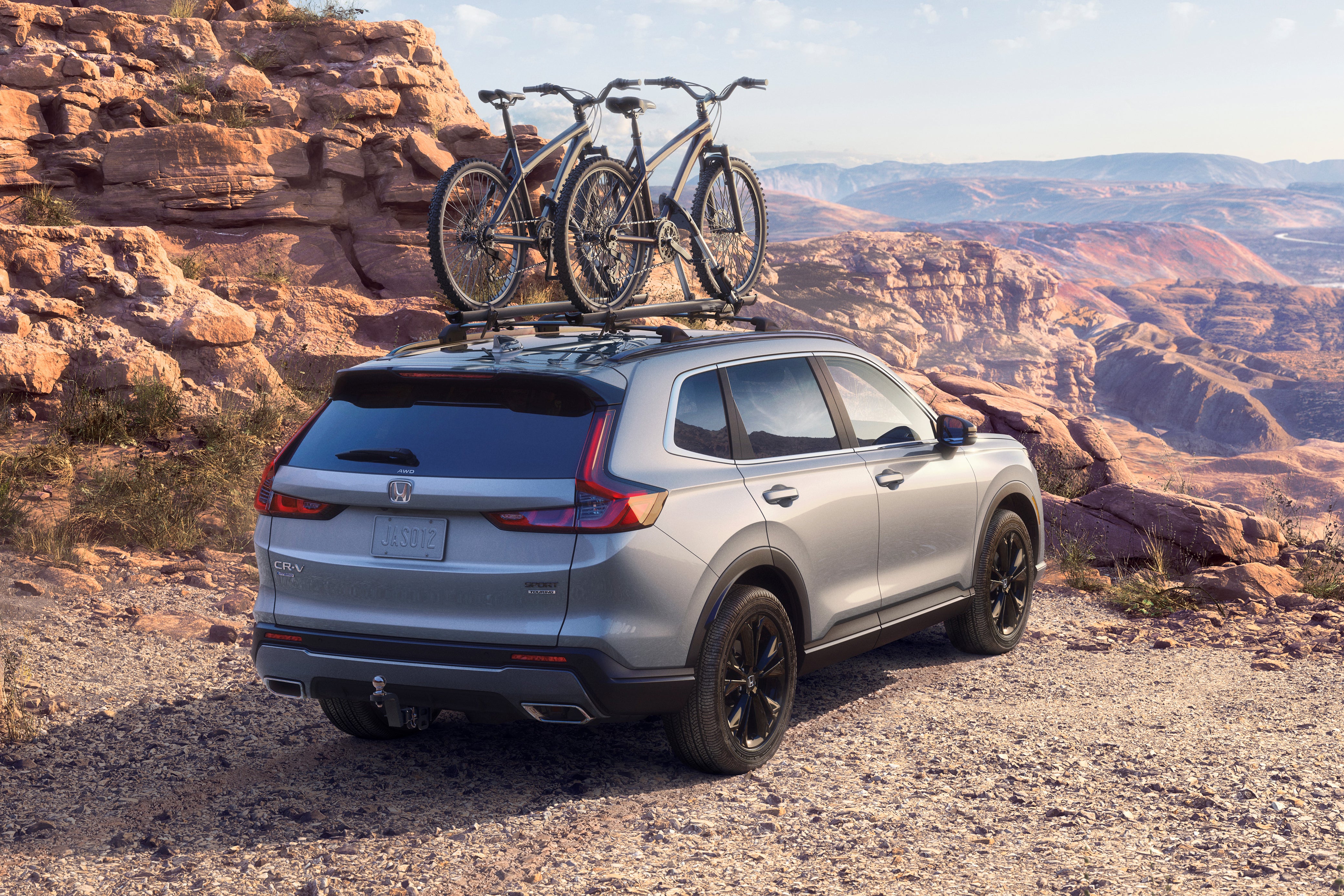 The new Honda CR-V is longer and wider than the outgoing model for improved space and a bigger boot.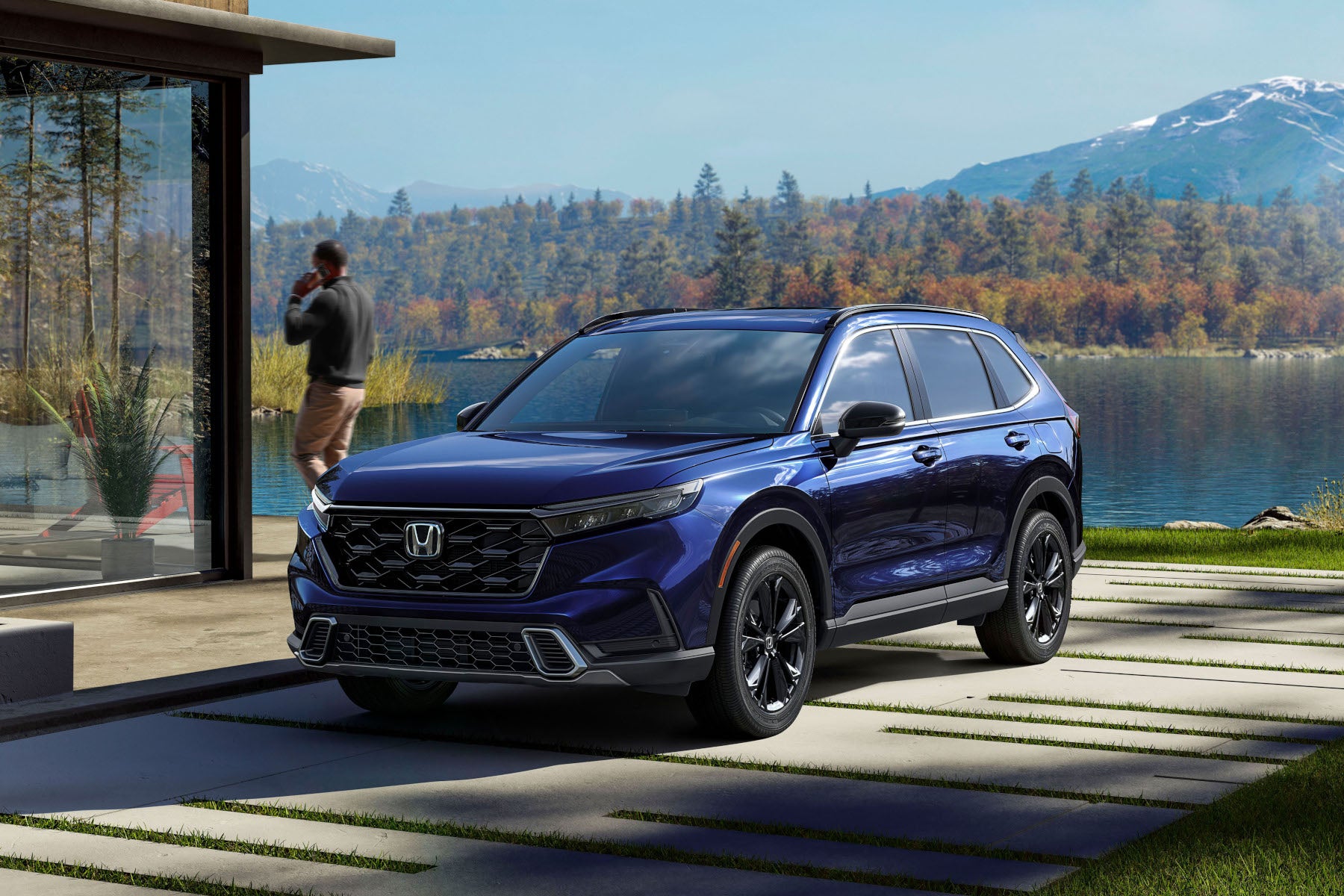 The Mk6 Honda CR-V's exterior look is upgraded, with different exterior designs depending on trim level.
2023 Honda CR-V: price, rivals and release date
The new Honda CR-V has been detailed by the brand with images and key technical info, but we currently have no official word on pricing either in the US or in Europe.
The current CR-V starts at £32,815 for the base S version, rising to £40,910. Expect a slight increase of pricing across the range to reflect the new design and tech, but it remains to be seen if the new CR-V will be offered with the same entry-level variants as today.
In terms of rivals, the key competitor for the Honda CR-V is the Toyota RAV4. Another Japanese family-focused SUV, it's also solely available in self-charging hybrid form in Europe. There's also the Nissan Qashqai, which has recently been made available with a similar e-Power hybrid system.
Further key family SUV rivals to the CR-V include the VW Tiguan, Mazda CX-5, Hyundai Tucson and Ford Kuga. But the old CR-V was available with a small third row of seats, meaning it also serves as a rival to the Skoda Kodiaq, Nissan X-Trail and Land Rover Discovery Sport. It remains to be seen if the new CR-V will get seven seats in Europe, but it isn't in the US.
Market and spec details for Europe and the UK will be detailed in a separate unveil. We don't know exactly when this will be, but expect that to happen in the coming months with the first cars released here in the early part of 2023.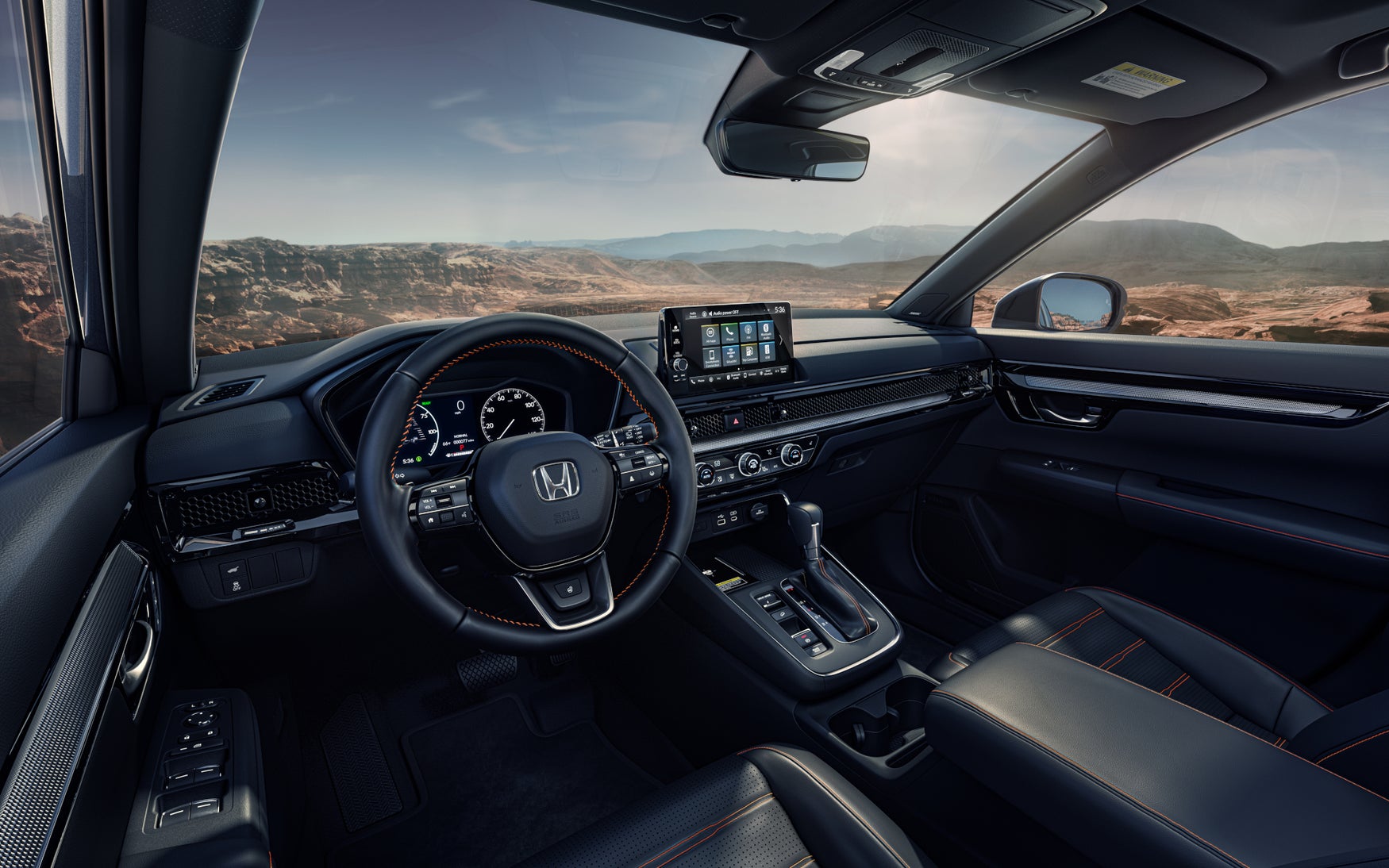 2023 Honda CR-V: Exterior and interior design
The new Honda CR-V isn't perhaps the most radical redesign over the outgoing model, but its gently evolved looks bring it into line with the latest Civic.
It's a simplified, smoother design language with less creases than before. There'a a large front grille in black mesh, slimmer LED headlights and sportier lower intakes, and certain trim elements can be had in black or silver depending on trim level.
At the side there's a single high shoulder line moving front to back, plus rugged plastic body cladding around the wheel arches and sills. At the rear the L-shaped tail-lights are familiar from today's car, but with a gently evolved look overall. Wheel sizes of 18 or 19-inches are available in the US.
More worthy of note is redesigned front pillars and door mirrors to "radically" improve forward visibility, plus an overall increase in dimensions. The new Honda CR-V is now 69mm longer (up to 4694mm), 10mm wider (up to 1864mm) and roughly the same height at 1692mm tall. The wheelbase has also grown by 41mm, which Honda says benefits passenger space and allows the CR-V to have the biggest boot in its history.
The CR-V's cabin looks very similar in design to the latest Civic, which means we can expect an uplift in quality feel and tactile switchgear. Honda claims the top dash panel has been designed to reduce windscreen reflections, while an air vent trim in honeycomb mesh spans the width of the dash. Honda has retained physical climate control switchgear for easy access.
Technology is probably the biggest leap forward. Every version of the CR-V will comes with part digital dials as standard with a seven-inch display. The infotainment screen runs entirely new software (thankfully), with a seven or nine-inch display and Apple CarPlay and Android Auto connectivity. Equipment including wireless phone charging and (on top models) a 12 speaker Bose sound system is also available.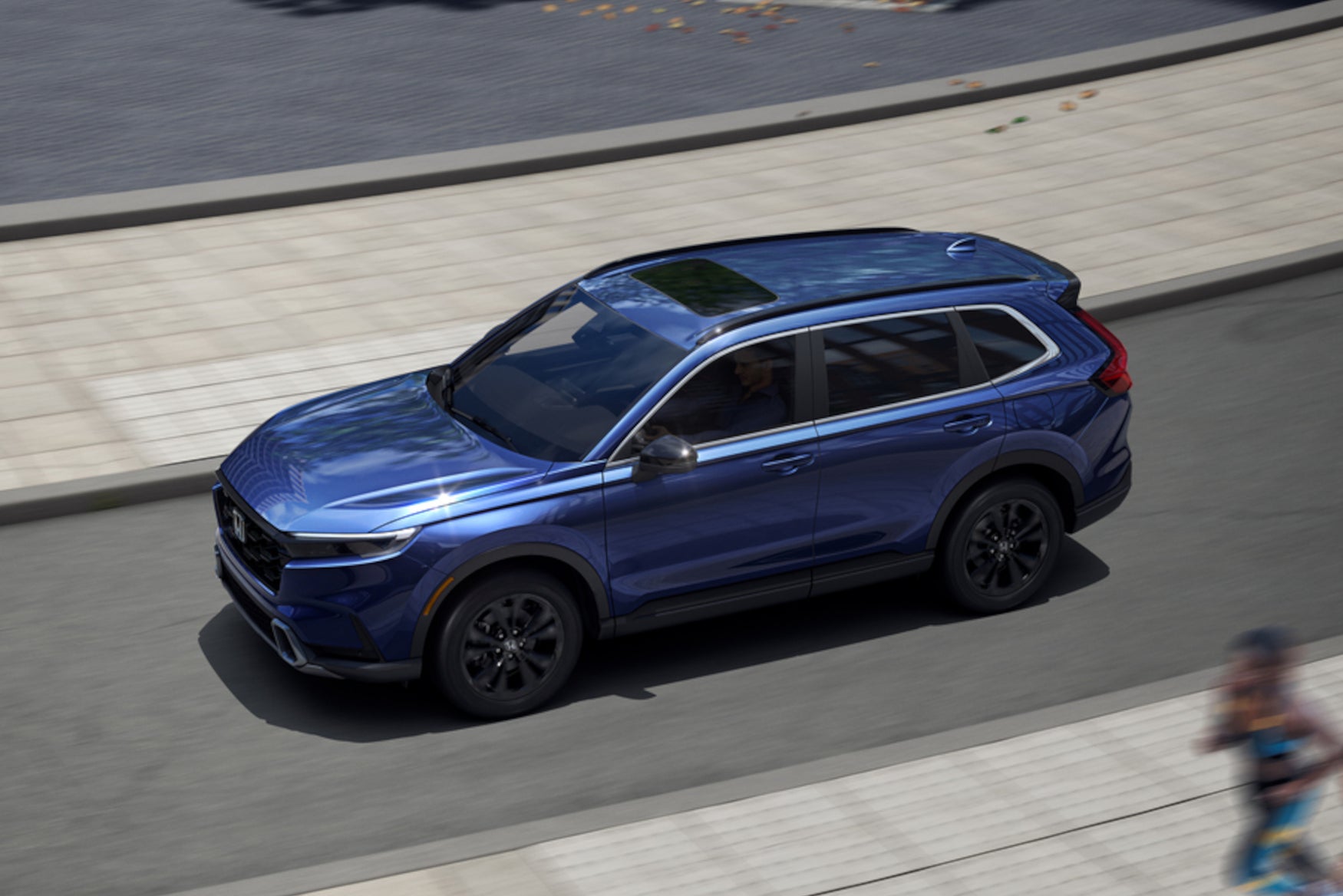 2023 Honda CR-V: hybrid engine, specs and safety
Like the new Civic, the 2023 Honda CR-V will come solely with a self-charging hybrid system. The new generation system is derived from the Civic, but puts out more power to shift the SUV's bulkier body.
Using a 2.0-litre four-cylinder petrol engine mated to two electric motors, it puts out 204PS and 335Nm of torque. It's likely (but not certain) that this will be the identical power unit offered in Europe and the UK. No 0-60mph time is quoted, but the CR-V hybrid maxes out at 115mph.
Again like the Civic, the CR-V's new hybrid system uses the brand's latest e-CVT gearbox with Linear Shift Control. It's designed to reduce the unnaturally high revving of older CVT gearboxes and mimics gearshifts at full throttle. A more torquey motor also helps here.
Expect the option of two or four-wheel drive in the 2023 Honda CR-V. The all-wheel drive system can put up to 50% of power to the rear wheels. Honda also boasts about the new model's ability to tow more, but a Europe-relevant towing capacity is not yet quoted.
Honda claims a big focus has been made on improving the CR-V's safety levels. A new body structure is said to better dissipate energy in a crash, while new generation airbags claim to reduce the chance of a severe brain injury. Knee and rear passenger side airbags are also standard for the first time.
Enhanced driver assists include a new wide-angle front camera and radar system for improved hazard recognition and automatic emergency braking. Blind spot monitoring is standard, while adaptive cruise control with low speed following and traffic jam assist, lane keep assist and traffic sign recognition are also offered.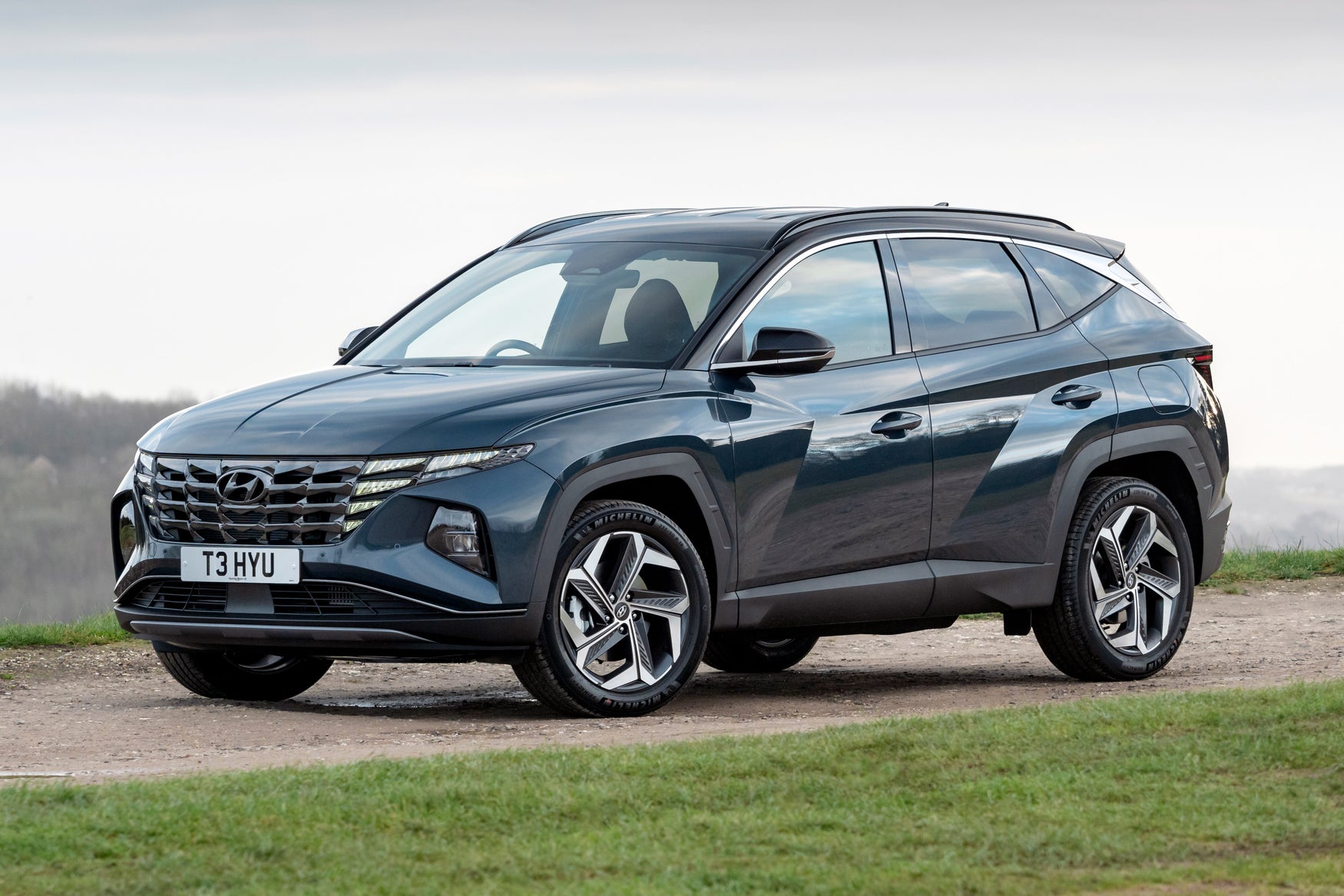 Can't wait for the new Honda CR-V? You'll want to check out the Hyundai Tucson hybrid.
If you like the idea of the new Honda CR-V but aren't prepared to wait until 2023, we'd recommend checking out the latest Hyundai Tucson. The impressive Korean family SUV is available with petrol, hybrid or plug-in hybrid power, plus it has a distinctive exterior design and a tech-laden, high quality cabin with plenty of space.
Looking for more new car news?
We have the latest 2022 new car news on upcoming models such as the new-generation Volkswagen Amarok, the latest BMW X1 and electric iX1 and the new generation Range Rover Sport.
We've yet to drive the new Honda CR-V that'll arrive next year, but the current generation car is still a solid family SUV with a practical interior, a comfortable driving experience and hybrid power.
Honda claims the CR-V model name stands for "Comfortable Runabout Vehicle". It's been used since the mid-nineties, when the Mk1 CR-V was one of the first mainstream, road-biased family SUVs.
The new Honda CR-V might look like an evolution but it's all-new under the skin, with a new body structure to make it safer, a new hybrid system with more power and efficiency and greatly improved interior technology.