New 2021 Mercedes-Benz C-Class: price, release date, interior, engines and specs

Written by
Russell Campbell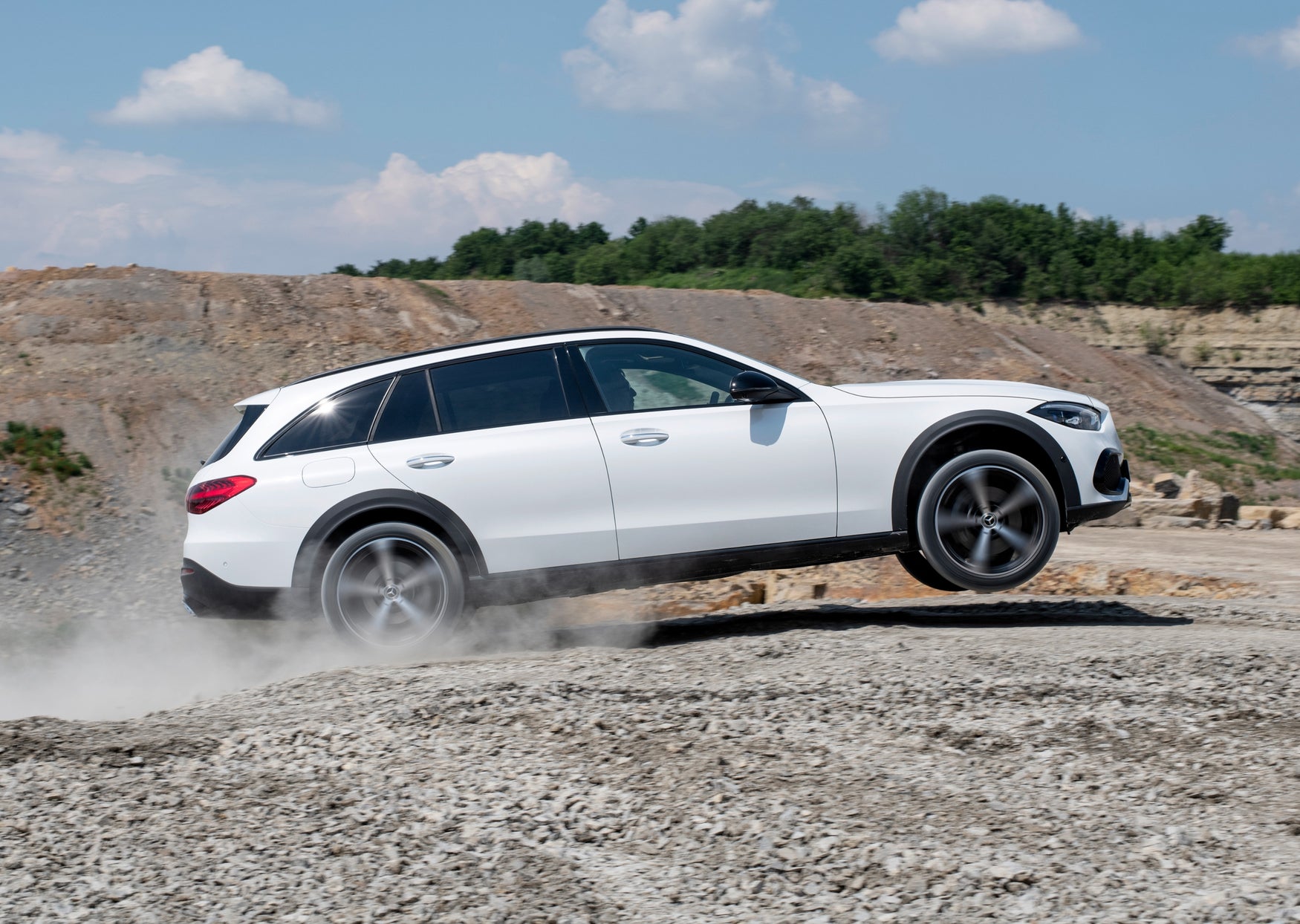 Mercedes-Benz has revealed the 2022 C-Class All-Terrain.
It is a rufty-tufty version of its practical estate car and the second model to wear the All-Terrain badge after the current E-Class.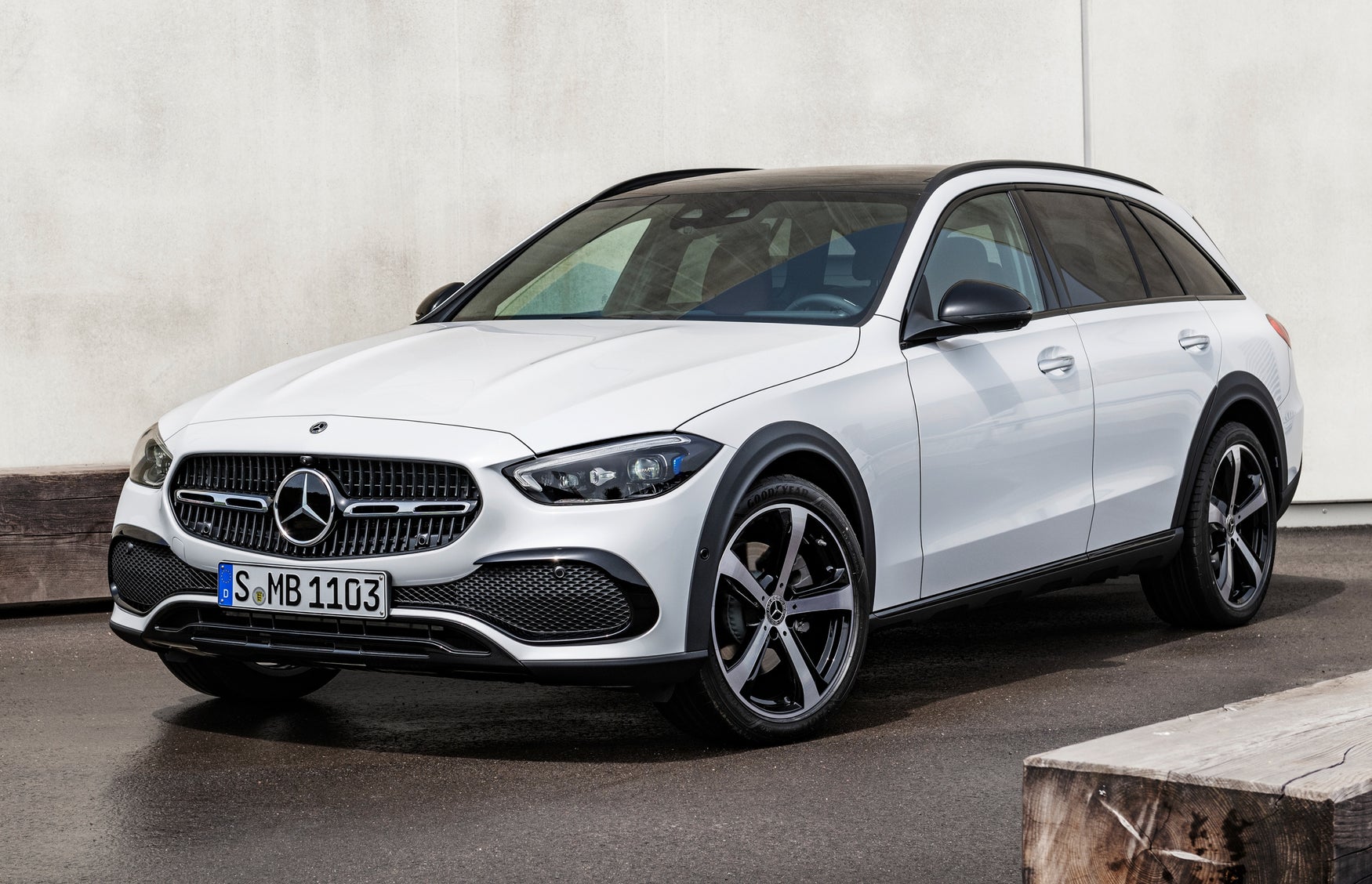 Minor cosmetic changes mark the All-Terrain out from your run-of-the-mill Mercedes C-Class. Durable grey plastic is used for the front and rear bumpers and it also protects the car's wheel arches.
The 40mm raised ride height is small but noticeable and helps keep the bottom of the car from scraping the ground, helpful because the under-body protection is entirely cosmetic. Roof rails are also fitted as standard and you can choose from 17, 18 or 19-inch wheels.
Changes to the interior are limited to an off-road infotainment display which means the 10.25-inch (or optional 12.3-inch) screen can give you information on incline, decline and steering angles.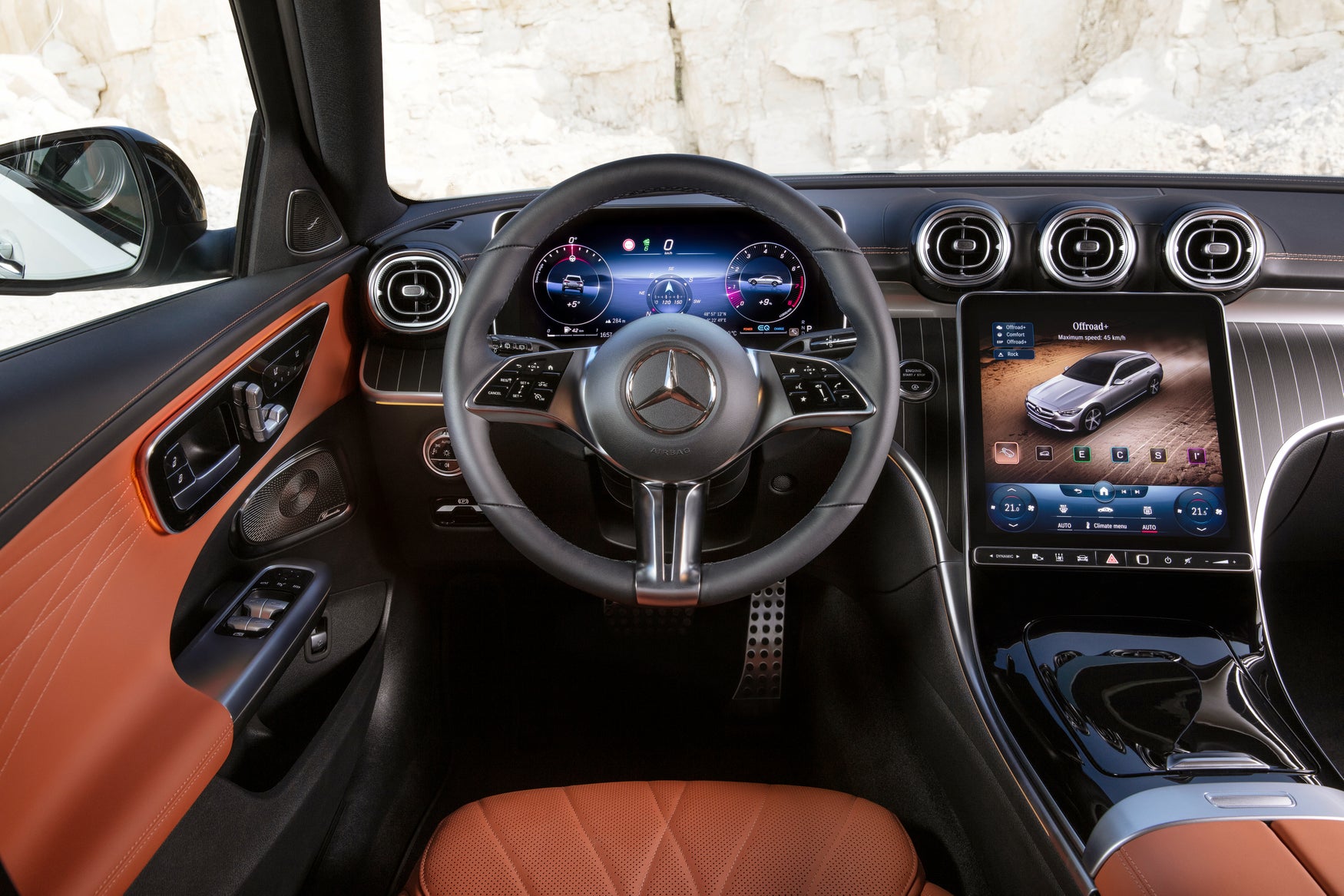 Hardware changes include 4Matic four-wheel drive as standard and the All-Terrain has extra driving modes called Offroad and Offroad+.
The Offroad setting helps the Mercedes grip on dirt roads, gravel and sand. Off-road+ engages hill descent which makes the car easy to control when driving down steep and slippery inclines.
A visit to the options list can make your Mercedes more adaptable than a top-of-the-range Swiss Army knife.
The optional digital headlights have three powerful LEDs and 1.3 million micro-mirrors each, which can light up the road around other vehicles without dazzling other drivers. They have an offroad mode that provides a strong beam of light on unlit tracks.
It's worth considering the Parking Package if you'll make use of the All-Terrain's 1800kg towing ability. It can guide you in to hitch a trailer, as well as being able to reverse the car and trailer in a straight line and around 90-degree corners, automatically.
If you like the sound of all that, you can have the Allterrain in C200 or C220 d four-cylinder configurations. The former has a 204PS 1.5-litre petrol, while the latter has a 200PS 2.0-litre diesel.
The only downside? Mercedes has no plans to bring the All-Terrain to the UK...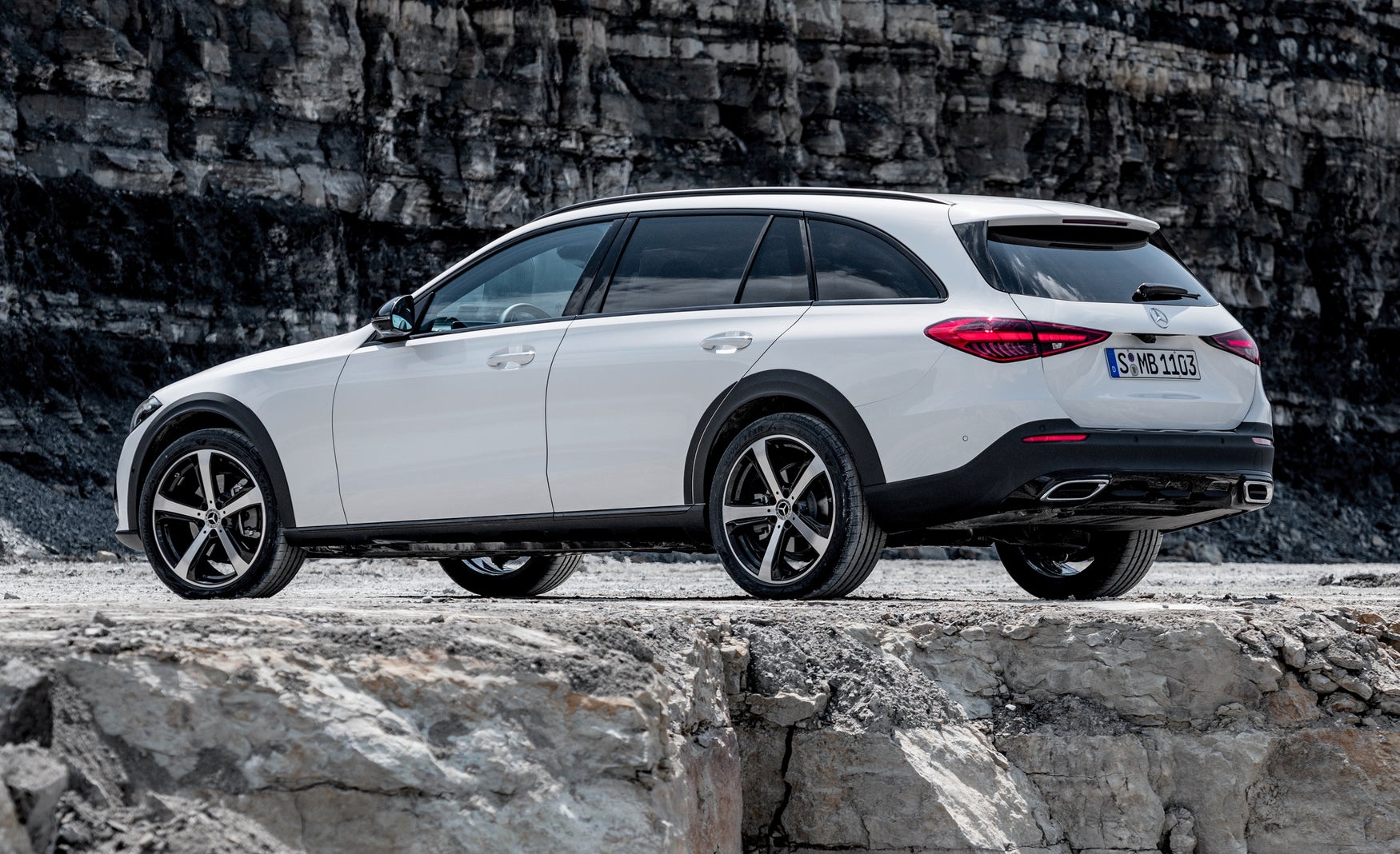 New 2021 Mercedes C-Class price and release date
The 2021 Mercedes-Benz C-Class is on sale now with deliveries expected towards the end of 2021. Prices start from £38,785 for the C 200 Sport saloon and £40,240 for the estate, which is the only model available with Mercedes' £750 tow bar. The range is topped by the £53,425 C 300 d AMG Line estate.
Basic Sport models – which come exclusively with the 200 or 220 d engines – come as standard with a huge 11.9-inch centre display that's hooked up to Mercedes' MBUX voice activation system and a 12.3-inch digital display. You also get a reversing camera, wireless phone charging and heated front seats, while safety kit includes lane-keep assist and a blind-spot warning system. Standard LED exterior lights (including auto-dip headlights) and 17-inch alloy wheels ensure even the entry-level model looks smart and it comes with a comfort orientated suspension setup.
AMG Line models cost an extra £1380, but make the C-Class look sportier inside and out. They get 18-inch wheels, tinted windows, twin exhaust pipes and a body kit, while inside you'll find Nappa leather and a sports steering wheel.
The Premium pack was a popular option in the old C-Class and the same will be true for the new car because you get a lot for your £2750. That includes: 19-inch alloy wheels, matrix headlights that can light up the road around other cars without blinding their drivers, ambient interior lights, illuminated door sills, keyless go, front seats and a steering wheel that adjust electrically, augmented reality sat-nav and a 360-degree parking camera.
Premium Plus models (starting from £46,700) add to all that kit with a panoramic sunroof, head-up display and four-zone climate control. Premium Plus models are also the only models you can have with the £1695 Driving Assistance Package Plus which means the C-Class can accelerate, brake and steer itself in normal driving and emergencies.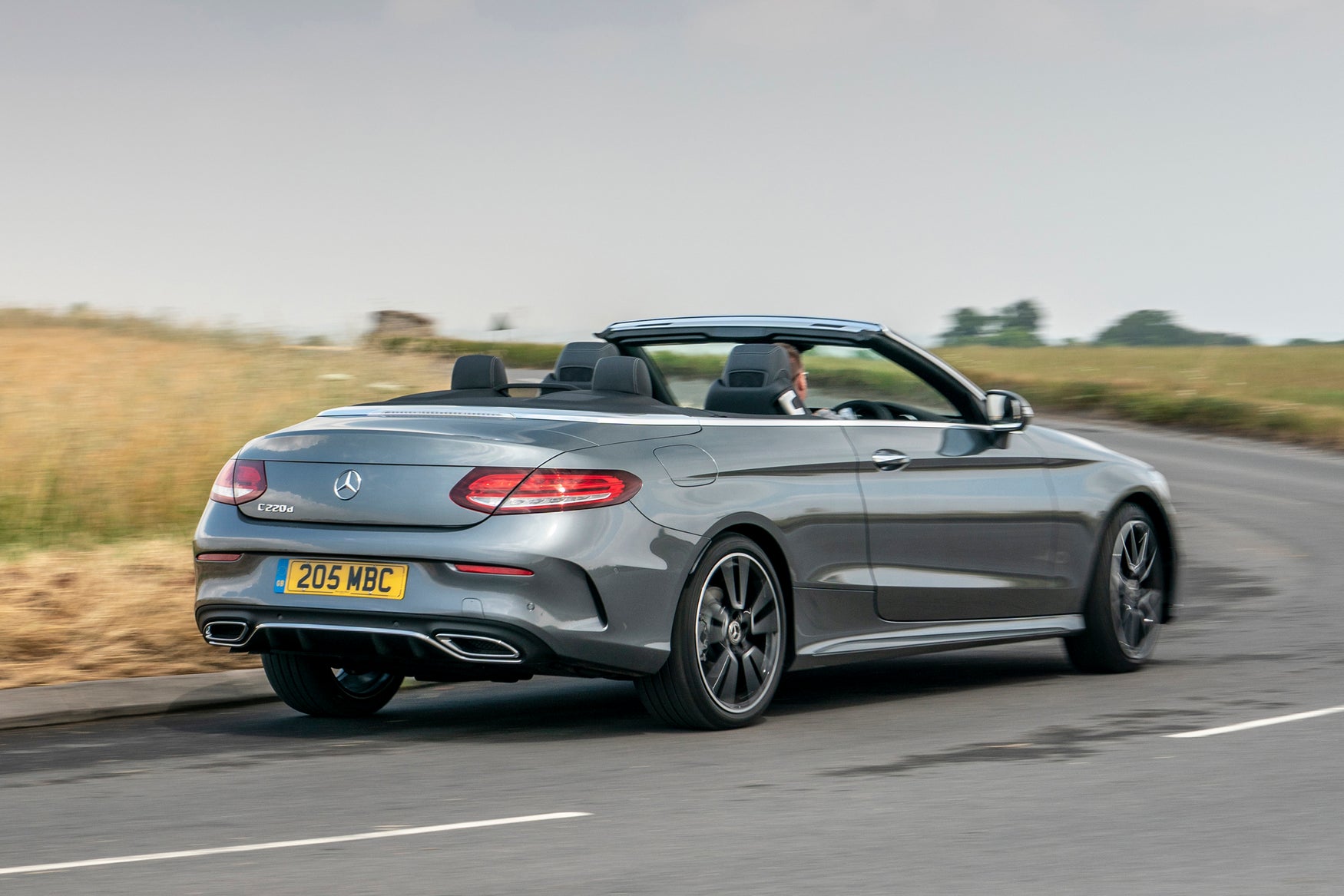 New 2021 Mercedes-Benz C-Class Cabriolet
While you can see official pics of the new 2021 Mercedes-Benz C-Class saloon and estate below, we have yet to see from the horse's mouth images of the new Cabriolet, worry not though, it's coming.
Test mules of the car have been spotted confirming it will get a fabric roof, like the current model shown above, which is easier to package allowing for more boot space and avoiding giving the new Cab an unsightly rear end. It will likely be the most desirable model in the range as a result and if the the current model is anything to go buy, one of the best convertible cars going.
You can expect the cabriolet to avoid the lower-powered engines offered in the saloon and estate – they wouldn't suit its sportier character – and you'll be able to choose from standard rear-wheel drive or optional four-wheel drive.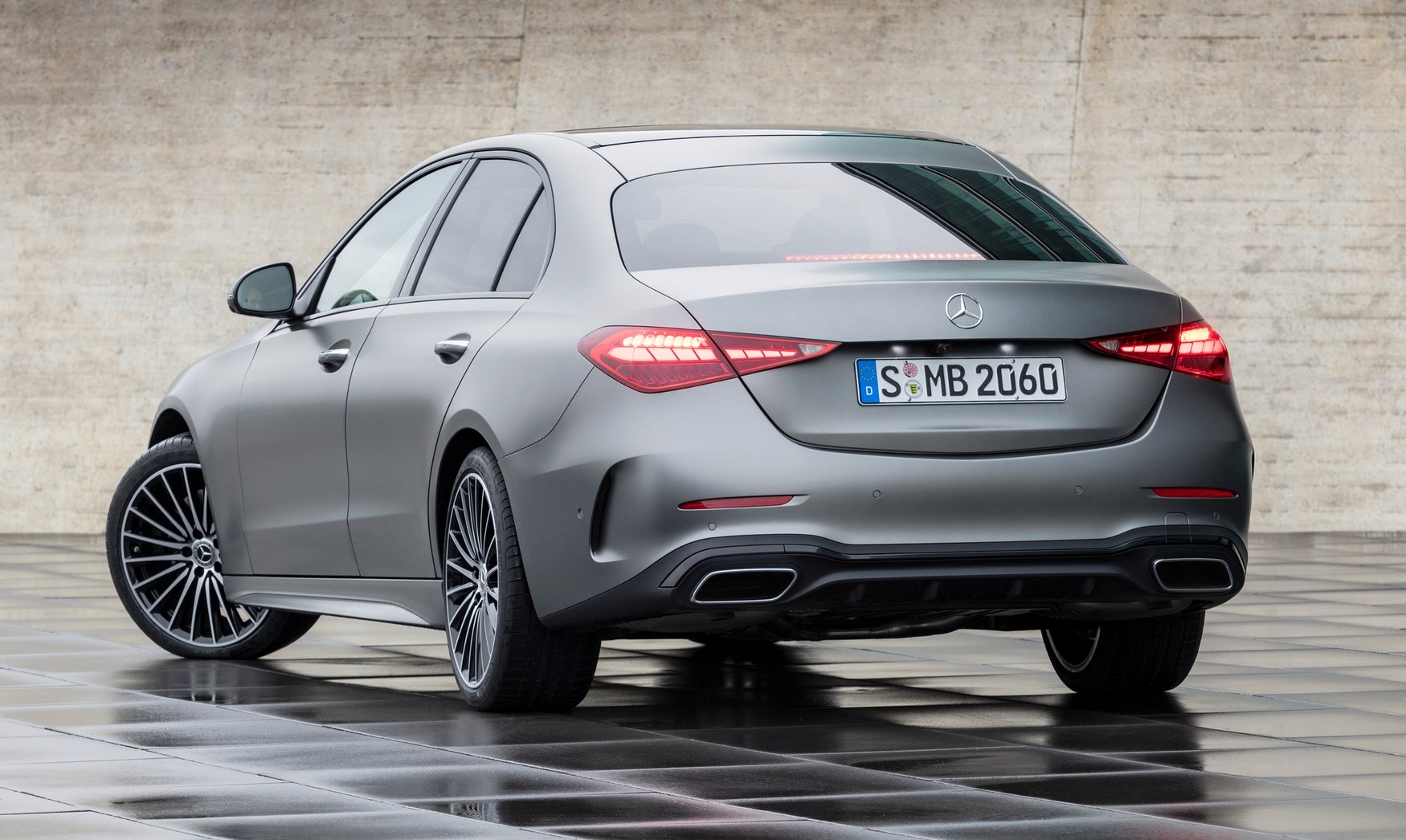 New 2021 Mercedes-Benz C53 and C63 news
Prototype models of the 2021 Mercedes-Benz C53 and C63 have already been spotted testing and their camouflaged bodies hide a dark secret for car fans – they'll both be powered by four-cylinder engines. That's right, the days of V6 and V8 C-Class models are dead.
Rumour has it that the C53 will use a revised version of the 2.0-litre four-cylinder petrol engine that you'll find currently residing under the A35 and A45 hot hatches, tuned to produce 380PS through a nine-speed automatic gearbox. It'll be slightly more powerful than the current 367PS C43 it'll replace and should also improve on that car's 4.7 second 0-62mph time. It'll also have 4Matic four-wheel drive but what it won't have is the current car's sonorous six-cylinder howl.
If that's got you gurning into your keyboard then, we're afraid, the news doesn't get better – Mercedes also plans to butcher the V8 heart of the current C63 and swap it with... a hybrid four-cylinder. It'll also be based on the A45's engine, but expect an electric motor and an electric compressor that will work in tandem with the turbo to up power to at least 500PS.
The result should be explosive performance and an ability to harvest energy that can be fed back into the powertrain. And, if the loss of that V8 rumble is to hard to bear, you can at least take comfort in the fact that the car should return fuel economy significantly better than the 20mpg real-world figure posted by the current model.
New 2021 Mercedes-Benz C-Class exterior styling and dimensions
The new 2021 Mercedes-Benz C-Class is longer (49mm), wider (10mm) and lower (7mm) than the old model, yet remains just as aerodynamic.
To keep Mercedes' famously conservative owners happy, the restyle is a measured evolution of what's come before to the point that you need to look at new and old model side-by-side to put your finger on the changes.
We did and spotted the new C-Class' lower nose and a tidier bumper design than the old model's, while the power bulges that run down either side of the bonnet add a little bit of muscle.
The type of grille you get depends on the model you go for. SE cars get a central star and louvre design, Avantgrade models get a more detailed grille and chrome on the lower bumper, while AMG Line cars get a diamond style grille finish.
You get sleek LED High Performance headlamps as standard while the options list tantalises your need to spend more money with the offer of the Digital Light System.
It replaces your basic LED headlights with a pair of headlight units that have three LEDs each, their light is refracted by 1.3 million micro mirrors. They can light up the road around other cars without dazzling their occupants more effectively than ever. However, their party piece is their ability to project guide lines and warning symbols onto the road – presumably to keep you arrow straight on the tarmac and aware of any incoming hazards. Its clever tech we can't wait to sample.
There no such cleverness around the C-Class' sides. You'll find the old model's slashed creases have been replaced with straighter, more-subtle lines, although it now sports chunkier side skirts and you get a range of alloy wheels to choose from with 17s fitted to SE cars stretching to the 19-inch versions you get on sportier AMG Line models.
Around the back, you'll find the tweaks remain subtle, although its bulbous bottom is accentuated by sleeker tail lights. Rounding off the visual changes is the addition of three new paint shades Spectral Blue, High-Tech Silver and Opalite White.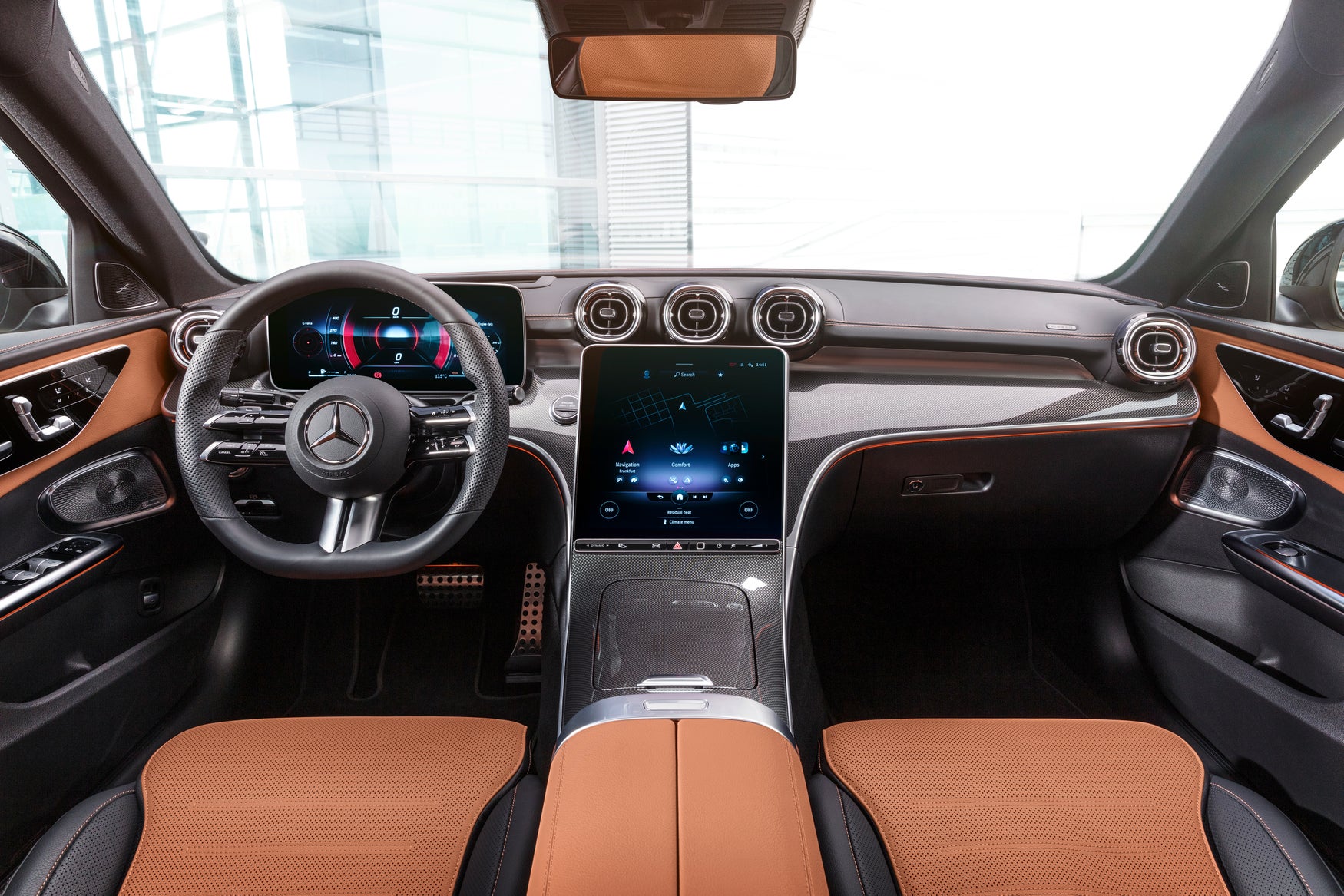 New 2021 Mercedes-Benz C-Class interior
If the changes made to the 2021 Mercedes-Benz C-Class' interior require a microscope to spot, the upgrades made to the interior are plain to see.
It's now dominated by a huge free-standing portrait display that looks suspiciously like the one we first saw fitted to the Tesla Model S. It means there's even less need for conventional buttons to clutter up the sculpted design, instead you get sweeping trim finishes.
The sculpted dashboard gets a stitched leather-look finish in AMG Line models, but you can also choose from carbon-fibre like finishes, aluminium and open-pore wood trims plus mood lighting.
The pretty chrome air vents, meanwhile, have been modelled on an aircraft's nacelles (or engine covers) and follow on from the turbine-style design that you get in the Mercedes-Benz A-Class. All new C-Class cars also get selectable ambient lighting so you can choose from a variety of colourful glows.
Avantgarde models get sports seats with added side support, while massaging chairs are optional across the range and now work on your entire back using eight inflatable chambers. Four motors give a more invigorating 'vibrating' massage and, for the first time, you can also have heated rear seats.
Everything from the interior lighting to the seats and optional fragrance dispenser (Air Balance pack) can be adjusted centrally using Mercedes' Energizing Coach following themes like 'invigorating' and 'relaxing'.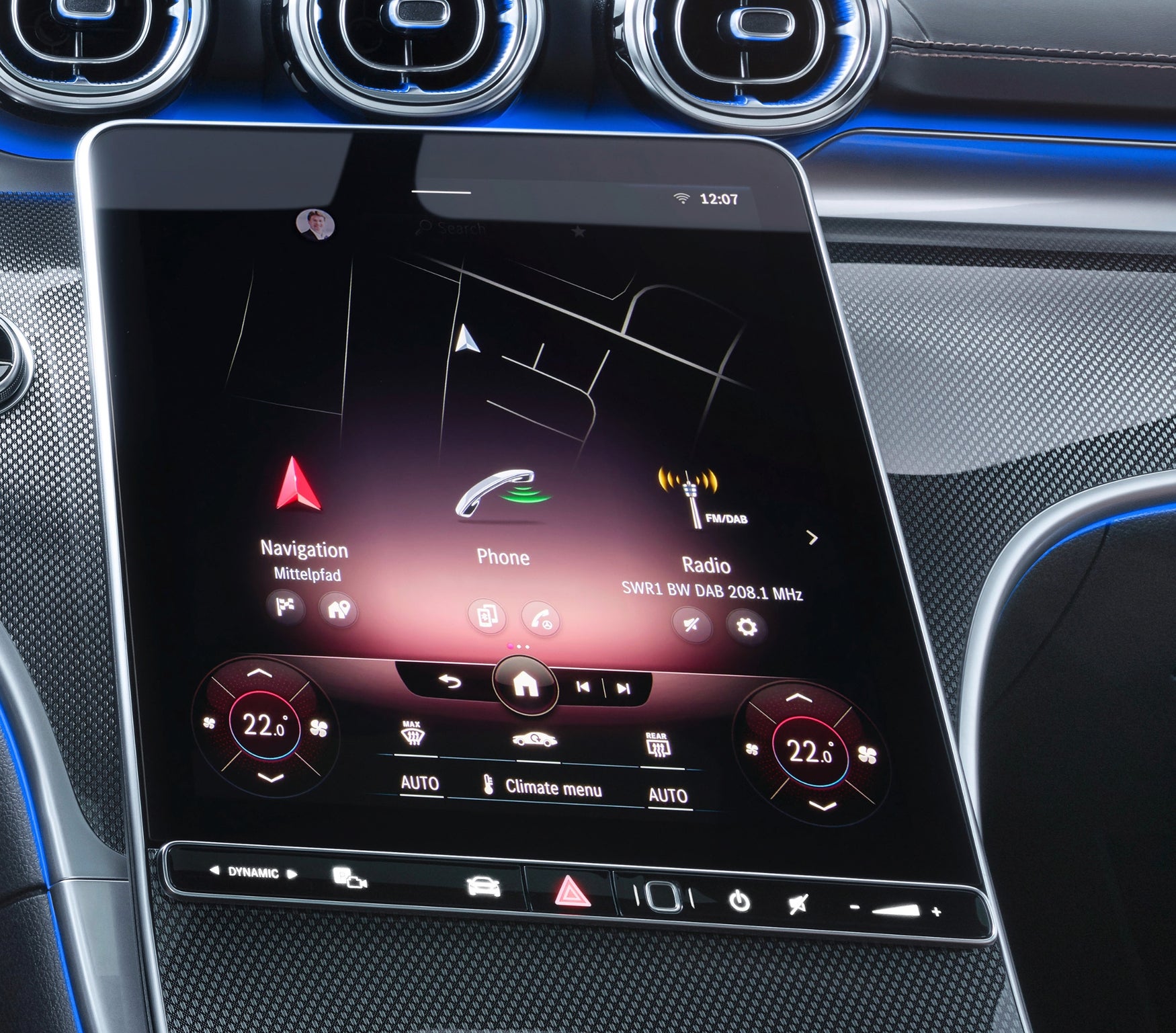 New 2021 Mercedes-Benz C-Class infotainment
The most obvious change in the new C-Class is its huge free-standing infotainment screen which comes as standard in 9.5-inch guise, but can be upgraded to a 11.9-inch version at extra cost. Both have an attractive glossy finish and a display that bursts with colours.
It uses Mercedes' latest MBUX operating system so it operates like a smart speaker, sparking into life when you say the fateful phrase "Hey Mercedes...". In fairness, Mercedes' voice activation system is reasonably reliable and you can expect the system fitted to the C-Class to be one of the best yet. It can save your calendars, previous destinations and emails, all of which can be opened by you via a fingerprint scanner.
Using MBUX you can do everything from making a phone call to setting a destination in the nav and it can recognise voices so if you ask it to turn up the heat on your seat, it'll know to make the driver's seat warmer.
Creepier still, it can link to the smart devices in your house so saying "Hey Mercedes, is there anybody in my home right now?" allows it to communicate to your house's alarm system and report back when the last interior movement was detected...
Ramping up the cool and toning down the creep is the C-Class' augmented sat-nav which appears to make directions hover over the road on the car's central infotainment screen. It can also highlight house numbers and warning signs. It's tech we first saw in the A-Class.
As well as the centre screen all models of the C-Class also get a digital instrument binnacle which is 10.25 inches in size with the option to upgrade to a 12.3-inch version. It floats free of the dashboard behind it and has three display settings Classic, Sporty, Discreet and Assistance Mode.
Classic gets you a conventional two-dial display, while Sport inevitably adds plenty of red and a centrally placed rev counter, while Discreet gives you a pared back look. Assistance Mode tells you exactly what the car's safety features are getting up.
The infotainment onslaught is completed by the optional head-up display which is 9 inches in size. Naturally, all the screens can be updated wirelessly from the cloud.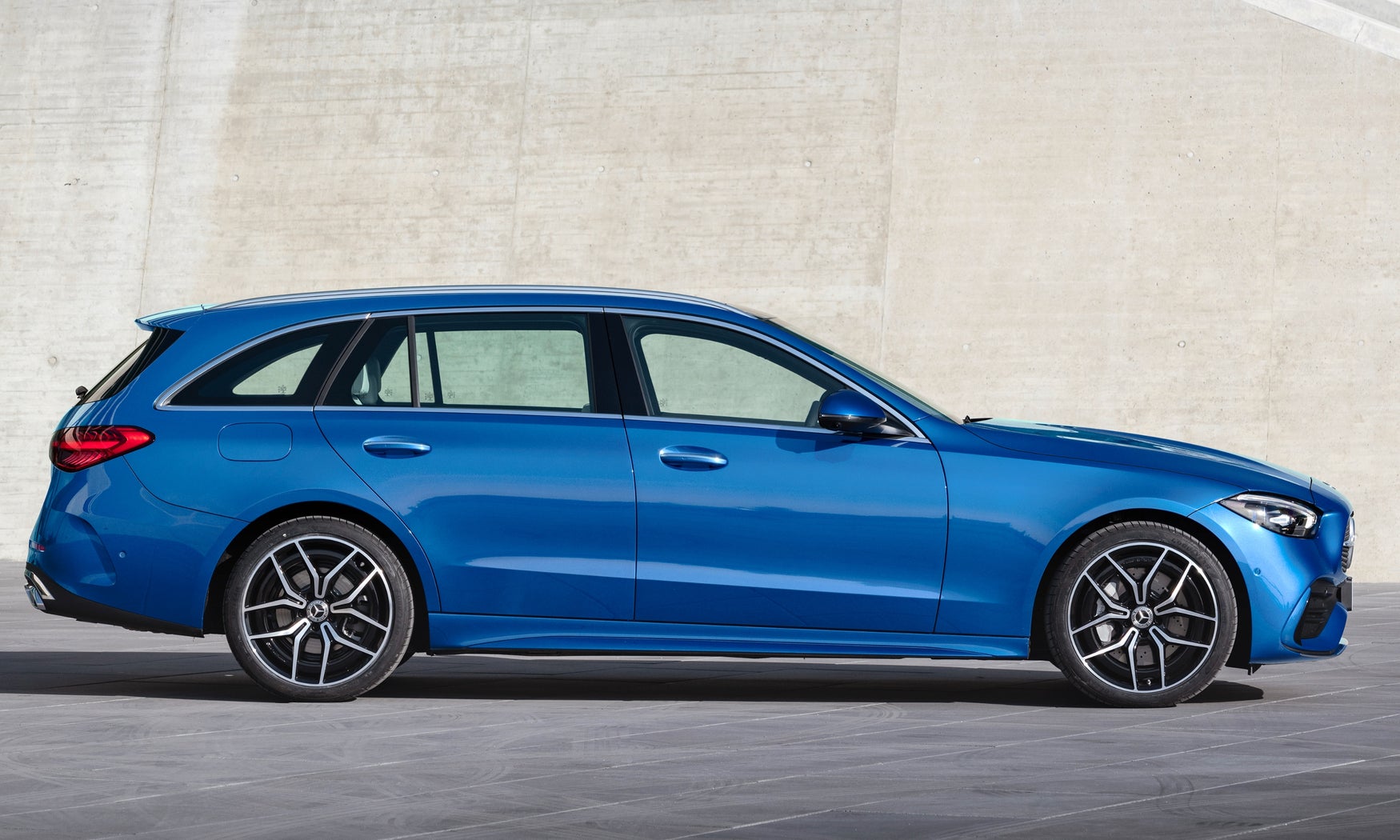 New 2021 Mercedes-Benz C-Class practicality
Mercedes-Benz has increased practicality in the 2021 C-Class across the board compared to the model it replaces so, as well as being longer and wider, it also has a wheelbase that has increased by 25mm – to 2865mm in total.
As a result, rear-seat legroom is up by 21mm and all passengers get more head, shoulder and elbowroom. Boot room in the saloon, meanwhile remains the same as before at 455 litres, which drops to 360 litres in plug-in hybrid models.
Estate versions of the 2021 C-Class get a 490-litre boot which is 30 litres bigger than before and increases to 1510 litres when you fold away the back seats that split 40/20/40. Choose the optional Load Compartment Comfort pack and the back seats fold away electrically.
Mercedes' Easy Pack tail gate comes as standard with the estate and means the boot opens and closes electrically, plus the boot's parcel shelf and dividing net retract like tape measures making them less awkward to remove.
New 2021 Mercedes-Benz C-Class engines
The 2021 Mercedes-Benz C-Class will be available with three petrol engines from launch – the C180, C200 and C300 – the latter two being available with 4Matic four-wheel drive. Diesels include the C200d and C300d.
All models now get mild-hybrid technology with an integrated generator and a 48W power supply to improve efficiency and provide a 20PS electric boot when it's needed. Plug-in hybrid models – both petrol and diesel – will be revealed in the coming months and all versions of the C-Class come with a nine-speed automatic gearbox.
Petrol engines will be the bedrock of the range and kick off with the 170PS C180, which produces 250Nm of torque. It is powered by a turbocharged 1.5-litre four-cylinder petrol that gets the car from 0-62mph in a nippy 8.6 seconds and on to a top speed of 143mph. It can return fuel economy of up to 45mpg under WLTP test conditions.
The C200 is basically the same engine tuned to produce 204PS and 300Nm, meaning it gets from 0-62mph in 7.3 seconds, hits 152mph flat out and returns up to 44mpg.
The C300, meanwhile, uses a 2.0-litre four-cylinder engine that's tuned to produce 258PS and 400Nm, it gets from 0-62mph in 6 seconds dead, hits 155mph flat out and will return 40mpg with a considerate right foot.
It's not the fasted version available from the off though, that honour goes to the 300d diesel. Its 2.0-litre four-cylinder engine produces 265PS and a stonking 550Nm of torque to sweep the C-Class from 0-62mph in 5.7 seconds and to a top speed of 155mph. Despite this sizeable performance, it'll still return fuel economy of up to 56.5mpg.
For the best fuel economy in the range – at least until the PHEVs go on sale – you'll need to choose the C220d, which uses the same 2.0-litre diesel tuned to produce 200PS and 440Nm. It can return up to 58mpg.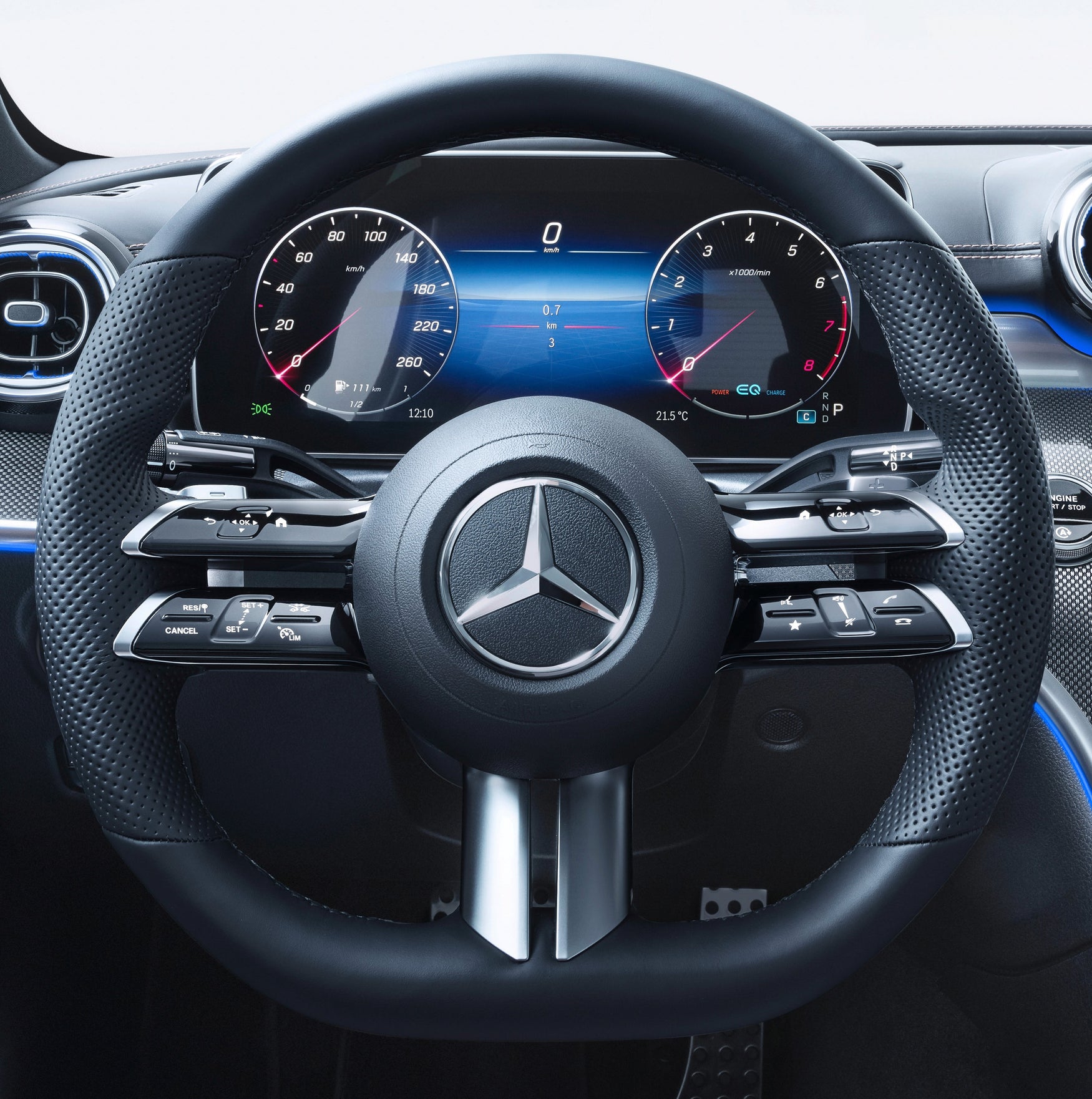 New 2021 Mercedes-Benz C-Class plug-in hybrids
Mercedes will launch petrol and diesel plug-in-hybrid versions of the C-Class in a few months time, however the firm has revealed that both will have a pure-electric range of around 60 miles thanks to a 129PS electric motor that can power them to a speed of up to 86mph.
Their regenerative brakes mean you'll be able to drive using one pedal – the car slowing when you lift your foot off the accelerator – while the accelerator's haptic feedback will warn you when you're about to engage the petrol or diesel engine.
New 2021 Mercedes-Benz C-Class driving
The 2021 Mercedes-Benz C-Class will be designed to strike a balance between comfort and handling. It gets a new four-link axle at the front and multi-link setup in the back and you'll be able to choose between comfort and sports suspension setups as well as being able to add adjustable dampers that allow you to soften or stiffen the suspension on the fly. PHEV models get rear air suspension as standard.
Rear-wheel steering is another new addition to the C-Class. It allows the rear wheels to turn in the opposite direction to the fronts by up to 2.5 degrees reducing the standard car's turning circle by 0.43 meters to 10.64 meters and meaning full lock only requires 2.1 turns of the steering wheel, down from 2.3. As the speeds rise to 37mph and over, the rear wheels turn in the same direction as the front wheels to make the car feel more direct.
New 2021 Mercedes-Benz C-Class safety and self-drive
You can expect the new Mercedes C-Class to get a five-star Euro NCAP rating when it is tested for safety by NCAP later this year. It gets new features like a centre airbag that'll keep you and your front seat passenger from clashing heads in the event of an accident. Another new feature is Pre-Safe Impulse Side which uses airbags in sides of the front seats to push their occupants into the centre of the car and away from a side impact.
Self-drive has also been boosted with the Driving Assistance Package meaning the C-Class' active cruise control now works in town, country roads and the motorway – keeping a safe distance from the car in front automatically. It can also detect a car that's stationary in the road and bring your car to a stop automatically from speeds of up to 62mph.
Finally, Active Steering Assist can keep your car driving in the centre of lane at speeds of up to 130mph – where laws allow – and is said to work better on country roads than the old system.
See deals on the current Mercedes-Benz C-Class
With the new C-Class now on sale, you'll make decent savings on the outgoing model. It's yours for less than £9000 but we would spend a little more to get a decent example. Less than £15,000 is enough to get you a 2015 C250 d with a punch 204PS diesel engine and less than 50,000 miles on the clock. Fancy something newer? Less than £25,000 gets you a 2020 car with less than 10,000 miles on the clock and is fitted with Mercedes' high-tech 195PS 1.5-litre petrol engine.
The new Mercedes-Benz C-Class
Ignoring sporty models like the AMG, the S-Class is the most expensive model Mercedes makes – it's the range flagship sitting above models like the A, B, C and E-Class.
No, while the old model was available with air suspension, take-up was so low Mercedes doesn't offer it on the new model.
The new Mercedes C-Class is on sale now with a starting price of £38,785.00 cars are expected to be delivered to their owners in the next few months.
Read reviews of the cars the new new Mercedes C-Class has to beat
Mercedes-Benz C-Class
C43 4Matic 2dr 9G-Tronic
Mercedes-Benz of Cambridge

Cambridgeshire, CB58SH
PCP: £632.83/mo
Representative example: Contract Length: 36 months, 35 Monthly Payments: £632.83, Customer Deposit: £5,698.00, Total Deposit: £5,698.50, Optional Final Payment: £16,467.83, Total Charge For Credit: £6,325.38, Total Amount Payable: £44,315.38, Representative APR: 8.9%, Interest Rate (Fixed): 8.54%, Excess Mileage Charge: 22.8ppm, Mileage Per Annum: 10,000
Mercedes-Benz C-Class
C220d AMG Line Edition Premium 2dr 9G-Tronic
Manufacturer Approved
Mercedes-Benz of Crawley

Sussex, RH109AW
PCP: £821.65/mo
Representative example: Contract Length: 36 months, 35 Monthly Payments: £821.65, Customer Deposit: £6,749.00, Total Deposit: £6,749.85, Optional Final Payment: £17,556.65, Total Charge For Credit: £8,065.25, Total Amount Payable: £53,064.25, Representative APR: 9.9%, Interest Rate (Fixed): 9.49%, Excess Mileage Charge: 14.4ppm, Mileage Per Annum: 10,000
Mercedes-Benz C-Class
C200d Sport 4dr Auto
Carz Edinburgh

Midlothian, EH151ED
PCP: £323.50/mo
Representative example: Contract Length: 37 months, 36 Monthly Payments: £323.50, Customer Deposit: £2,842.00, Total Deposit: £2,842.50, Optional Final Payment: £7,629.75, Total Charge For Credit: £3,168.25, Total Amount Payable: £22,118.25, Representative APR: 8.9%, Interest Rate (Fixed): 4.37%, Excess Mileage Charge: 9.7ppm, Mileage Per Annum: 10,000