2022 Range Rover: price, specs and release date
2022 Range Rover: price, specs and release date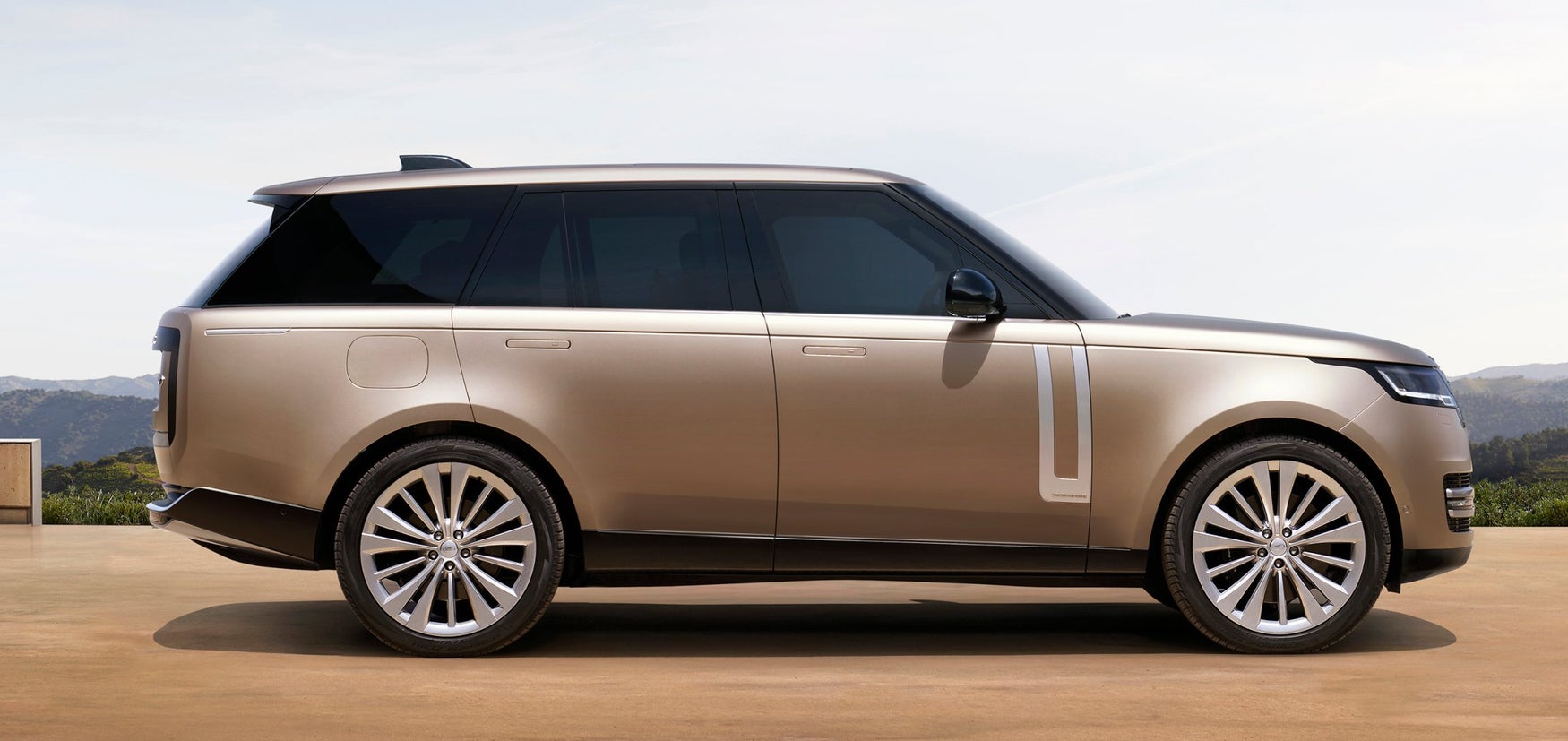 This is the all-new 2022 Range Rover: a car that combines Rolls-Royce-like luxury with the ability to push through almost any terrain you put in front of it.
The latest model gets subtle styling tweaks, more luxury, the option to fit seven seats, plug-in hybrid engines and will be available as a pure electric model from 2024. Read on to find out more.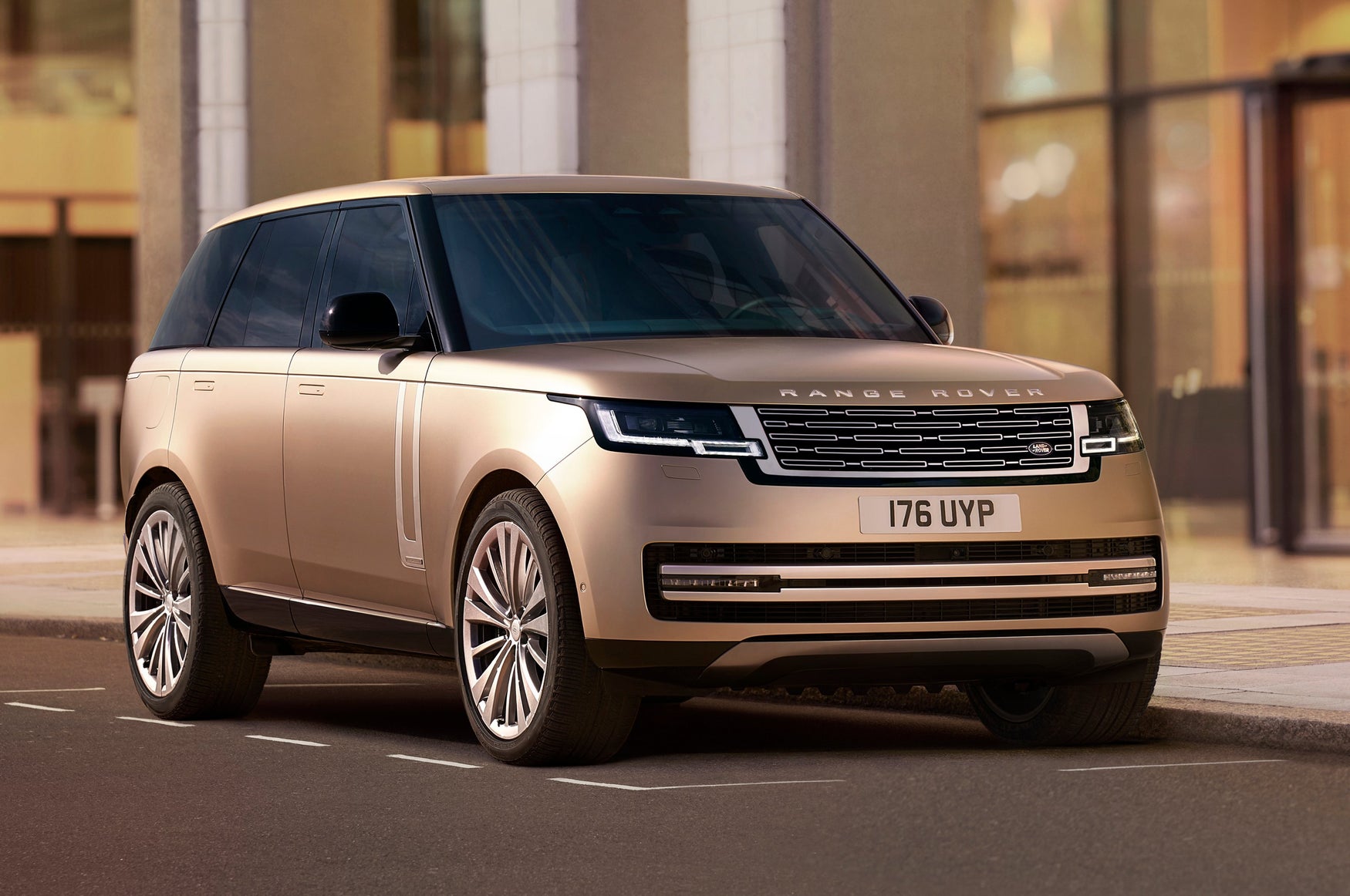 2022 Range Rover price and release date
Even a 'basic' Range Rover starts from £94,000 - that buys you a car in SE trim with the entry-level D300 diesel engine with six cylinders and a healthy 300PS. More power? The D350 strokes the same basic engine up to 350PS and charges you £97,500 for it.
Laugh in the face of wallet-crippling fuel economy? Then you'll want one of the petrol models. You can choose from the six-cylinder P400 with 400PS or do the job properly by snaring yourself the V8 P530 with – you guessed it – a thumping 530PS. The P400 starts from £98,000, the V8? It's only available in top-end trim levels and, because of this, carries an entry fee of at least £129,000.
Prices for the plug-in hybrid P440e and P510e will be revealed in 12 weeks but expect both to cost more than £100,000. Prices for posh SV models will be revealed at the same time, expect their price to start with a two and end with five zeros.
So how does the Range Rover compare to the competition? The BMW X7 starts from £77,000 but is so ugly you'd need to be paid that to buy it, while the Mercedes G-Class starts at £109,000. It's more rugged than the Range Rover (arguably a posh alternative to the latest Land Rover Defender), but not as posh.
High-end Range Rovers push across the county lines of cars like the Bentley Bentayga (£147,000) and Rolls Royce Cullinan (£264,000). Both of which offer more luxury but lack the Range Rover's go-anywhere heritage.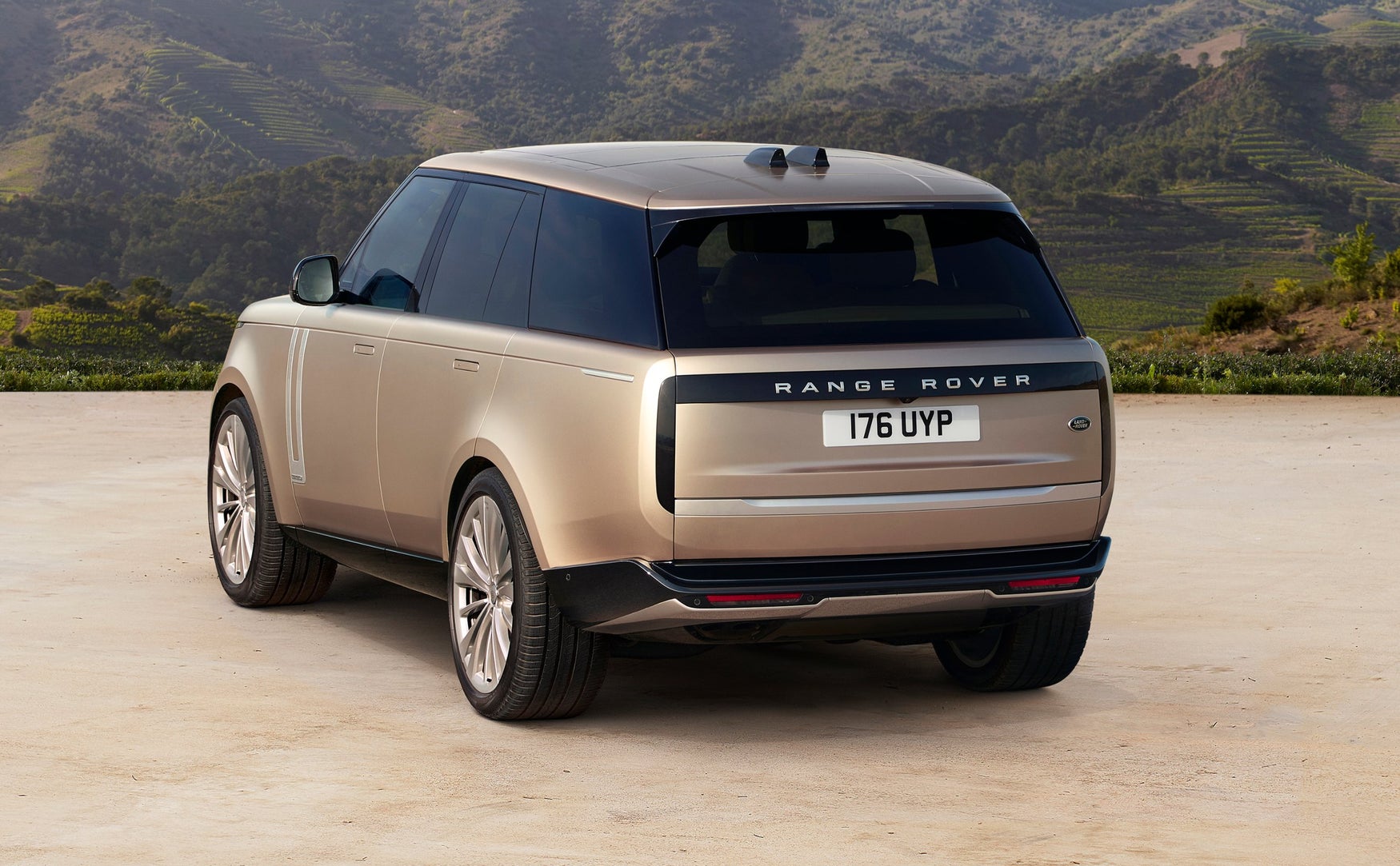 2022 Range Rover styling and design
Land Rover says the new Range Rover should look as at home in front of an opera house as it does parked outside a farmhouse.
One thing's for sure – it looks like a Range Rover. You get the same upright windscreen, low window line and pronounced shoulders that have been on every model so far.
The new car is cleaner though. It's styled to appear like it has been shaped from one piece of metal. That starts with a front-end with components – its headlights, grille and lower bumper – that flow seamlessly into each other. Two horizontal line's below the headlights emphasise the car's width and hide the car's various sensors.
Digital LED headlights are fitted as standard. They can project an image on startup, have scrolling indicators and an effective range of 500m. They can turn off individual LEDs so you don't blind other road users with your full beams and can light up corners based on information from the car's sat-nav.
A new feature is the Range Rover's Manoeuvring Lights that illuminate the area around the car to make it easier to see your immediate surroundings at night.
The modernisation of a familiar shape continues around the sides, where you now get door handles that recess into the bodywork when not in use and flush glass that help reduce the Range Rover's drag coefficient to 0.30Cd – a 0.2Cd improvement on the old model.
There's a contrast-colour detail where you used to see gills behind the front wheels and long-wheel-base models get a subtle 'L' badge in the C pillars.
Taillights and indicators that are only visible when illuminated (because they're hidden behind a smoked glass valance) are the easiest way to spot the new Range Rover from the old model.
The outgoing car's split tailgate remains, however, giving you somewhere to sit while sheltered by the boot lid – it's something that's featured in every Range Rover since the 70s.
In all, you can choose from 12 paint finishes including solid, metallic and 'premium metallic' shades such as Lantau Bronze, Belgravia Green, Batumi Gold and Charente Grey.
SV customers can select from 14 SV unique colours while the SV Bespoke Match-to-Sample service provides limitless scope for custom colours.
In terms of size, the new Range Rover has a wheelbase that's 75mm longer than the outgoing car, while the LWB model adds another 200mm to that. It's also 50% stiffer than the car it replaces and has a 'double-glazed' steel bulkhead that reduces tyre roar from the front wheels by 24%.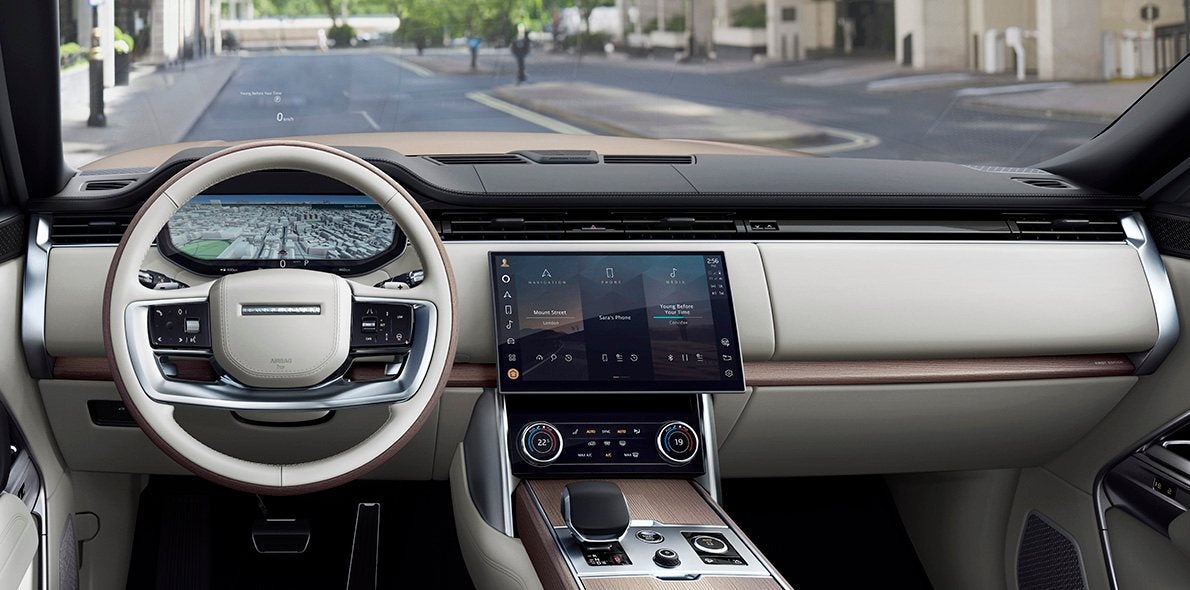 2022 Range Rover interior design and technology
The Range Rover's glitzy exterior carries through to the interior where you'll find a cabin design that is dominated by huge infotainment screens, open-pore woods, your choice of planet-friendly or traditional leather upholsteries and selectable mood lighting.
Eco-friendly upholstery options include Kvadrit – a wool blend that will only be available on top-of-the-range models. Or you can have Ultrafabric, Land Rover's name for man-made leather which is 30% lighter than the real deal and produces a quarter of the CO2 during manufacturing. Even the floor mats are made with one eye on the environment, recycled plastics and fabric offcuts make up 40% of their construction.
Happy to sacrifice a few cows? Fine, leather's still available and you can choose from semi or, for the first time, near-aniline options. The latter is softer than your run-of-the-mill leather but also, according to Land Rover, very durable.
Selectable mood lighting means the cabin even looks good at night – it illuminates the doors, footwells and instruments in your choice of 30 colours.
Along with the fancy materials and lighting, you'll find a cabin that is dripping with technology that includes a ventilation system that can filter out smells, germs and viruses.
Fan of your music? Then you'll want the 1600W Meridan Signature stereo, which has no fewer than 35 speakers including a pair of noise-cancelling speakers in the four main seats' headrests.
The Executive Class rear seats have a centre console that slides into position electrically. Its eight-inch touchscreen can be used to operate the heated and cooled rear seats, which have four-way lumbar and headrest adjustment and can recline by 12 degrees.
Want more luxury? Then you'll want the Executive Class Comfort back seats, which have thicker cushions, heated armrests and a hot-stone massage function. Or you can go one step further again with the Executive Class Comfort-Plus seats that add a heated foot and calve-rest that folds out from the backs of the front seats.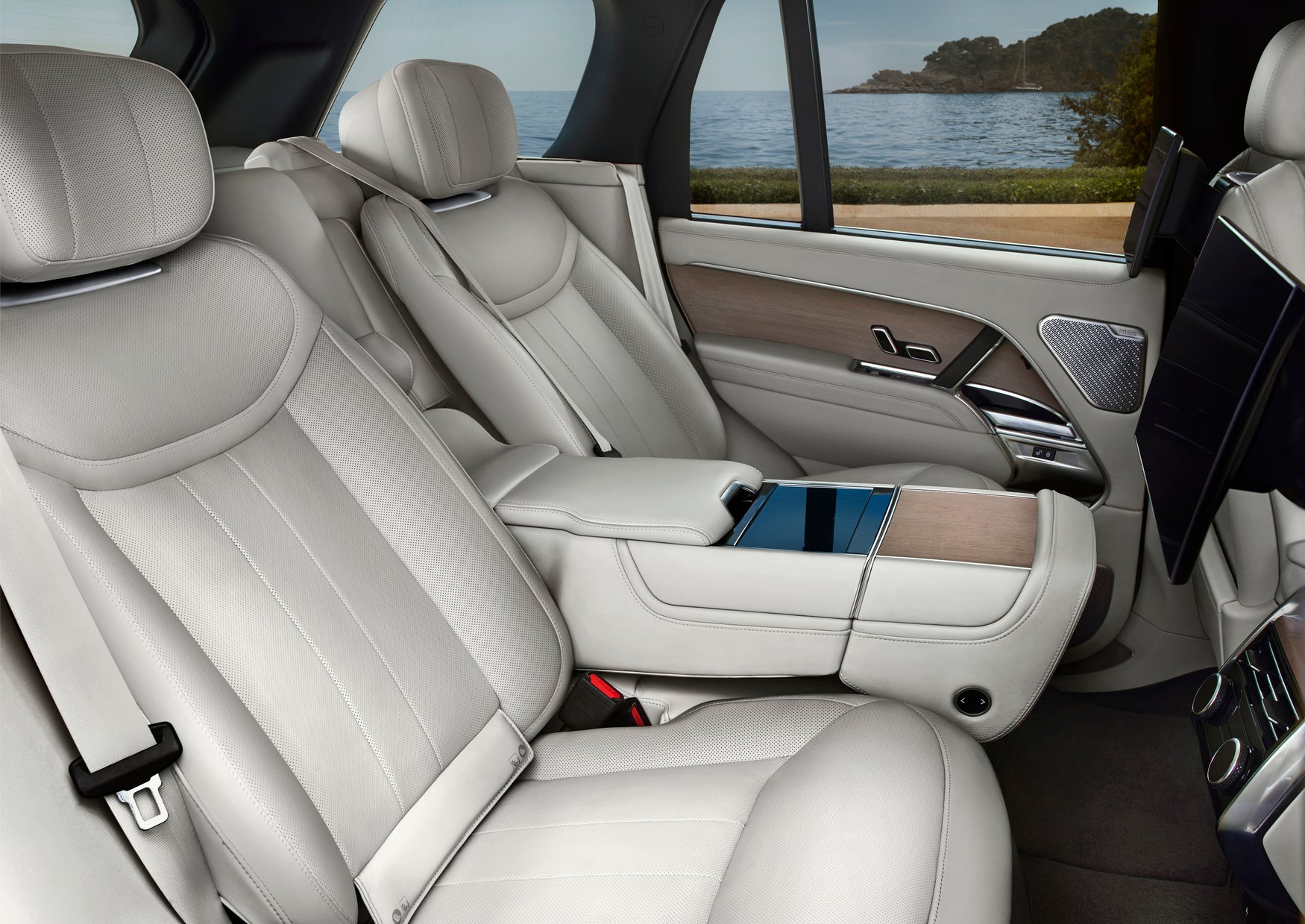 2022 Range Rover practicality
The New Range Rover is available as a four or five-seater, in standard or long wheel-base body designs, and as a seven-seater in Long Wheelbase configuration.
Whichever model you go for, you get loads of room for tall adults in the front and the second row where knee room has increased by 44mm compared to the outgoing car.
Go for a seven-seater and the second row glides out of the way at the touch of a button to give you access to the third row, which rises out of the boot electrically and has room for two tall adults.
Both third-row seats are heated and have 864mm of knee room. You also get individual charging points, cup holders and oddment storage. Fold the third row back into the boot and you can slide the second row back a further 50mm for limo-like legroom.
Stadium seating means each row sits slightly higher than the one in front, so everyone gets an uninterrupted view out the front.
Keeping the interior looking presentable shouldn't be an issue because you get plenty of oddment storage including a large glovebox, bins in each door and a light spraying of cup holders. The storage space under the front centre armrest has a generous 3-litre capacity and you can upgrade it to a fridge that can rapid-chill up to four 500ml bottles at once.
As you'd imagine, the boot is also very practical – not least because its hatchback-style opening makes loading bulky items easier than in one of the Range Rover's posh saloon rivals. The Range Rover has 725 litres of storage space with five seats in place and 1841 litres of luggage capacity with the back seats folded away.
Even with all seven seats in use, the long-wheel-base model has a 312-litre boot capacity – or the same as a small city car like the Volkswagen Up. Fold the back seats away and that grows to 725 litres and with all the back seats folded, you get a mammoth total capacity of 2601 litres.
Want to add a little wow factor to your load bay? The Tailgate Event Suite is just the ticket giving you additional speakers and lighting making the split tailgate that bit more comfortable to sit on.
Want more? Well, you can always specify a pair of leather cushions that bring luxury seating into the mix.
2022 Range Rover infotainment
The 2022 Range Rover comes with the latest version of Land Rover's Pivi Pro infotainment system with a 13.1-inch centre screen and a 13.7-inch display behind the steering wheel.
The centre display is the first screen in a Land Rover to offer haptic feedback that vibrates the screen to mimic pressing actual buttons. Meanwhile, the digital instrument binnacle gives you a choice of styles including conventional dials.
The biggest news is that the Range Rover's infotainment system will be powered by Amazon Alexa – so you can expect it to have terrifyingly accurate voice recognition that responds when you say "Alexa, can you...". It can integrate directly with your Amazon devices at home so you can do things like add to your shopping list or turn on your house's lights from the comfort of the Range Rover's armchair-like seats.
Naturally, wireless Apple CarPlay and Android Auto – which mirror the display of your phone on the car's big screen – come as standard and you also get a 15W wireless charging pad that is cooled to prevent your phone from overheating.
Want to keep the kids happy on long drives? Best specify the Rear Seat Entertainment system, then, which adds a pair of 11.4-inch HD touchscreens that serve passengers in the second row.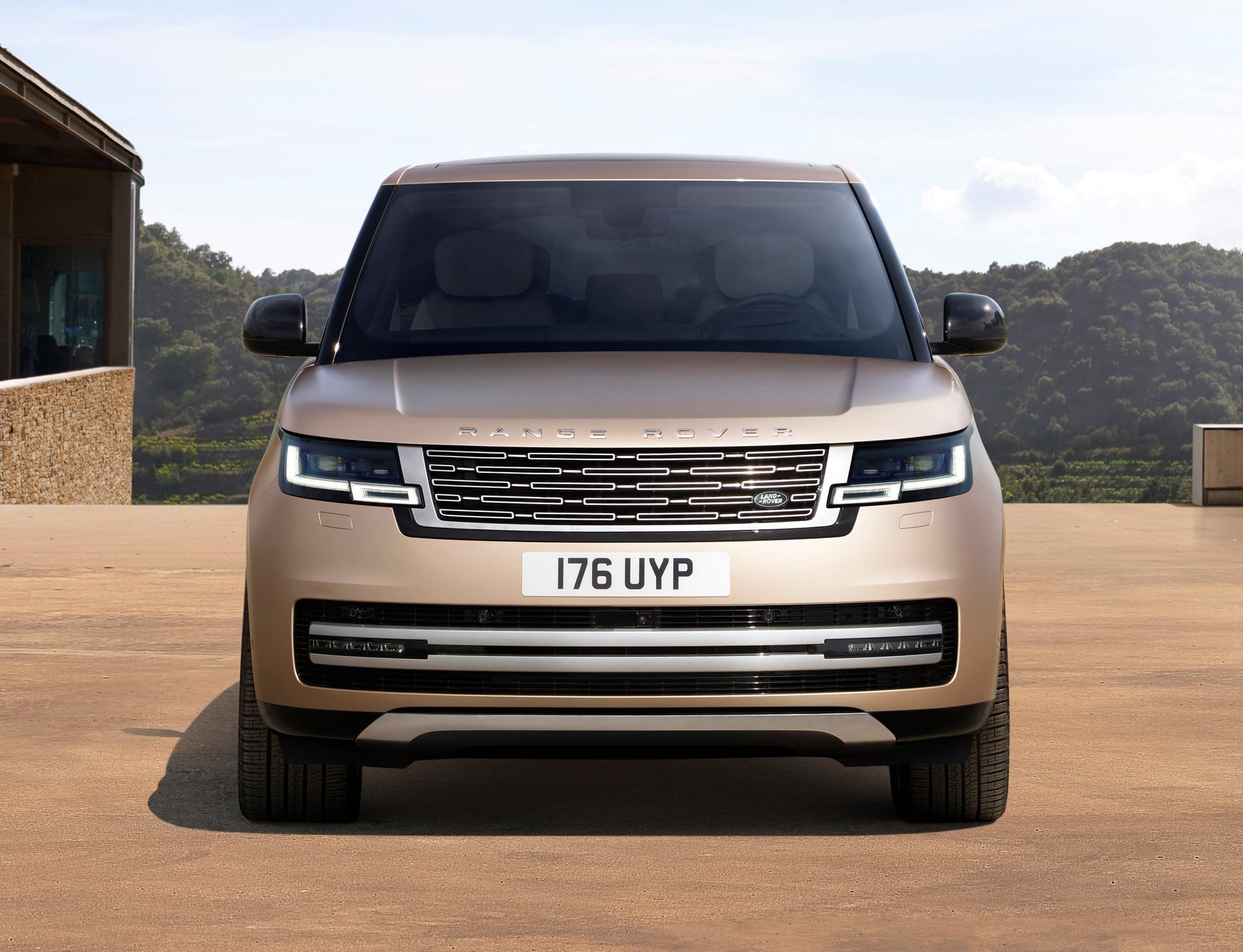 2022 Range Rover engines
From launch, the 2022 Range Rover is available with a choice of six engines – including petrols, diesels and plug-in hybrids – all in combination with an eight-speed automatic gearbox with high and low-range gears.
The D300 and D350 diesels will likely remain the pick of the range thanks to their mixture of lazy power and manageable running costs. Even the D300 has 300PS and a stonking 620Nm of torque from just 1500rpm – it'll get from 0-62mph in an impressive 6.9 seconds. The D350, meanwhile, gives you 350PS and 700Nm of torque for 0-62mph in 6.1 seconds.
Witchcraft – well, a 48V power supply that makes the Range Rover's stop-start work more efficiently – means both diesel models can return close to 40mpg if you're sympathetic with the throttle.
The P400 has the same fuel-saving mild-hybrid tech but returns a nat's breath under 30mpg. The payoff? More performance. With 400PS, the entry-level petrol can get whisk you from 0-62mph in 5.8 seconds, although its torque deficit (it has 550Nm from 2000rpm) means it won't have the instant surging thrust of the diesels.
Next up? The plug-in hybrids, which come in P440e and P510e flavours, both feature a 3.0-litre six-cylinder petrol engine that's boosted by a 105kW electric motor that's integrated into the gearbox and powered by a 38.2kWh lithium-ion battery.
It's a combination that gives the PHEVs a pure-electric range of up to 62 miles – potentially slashing your running costs if you have somewhere at home to charge the car. They're an ideal choice if you do lots of short journeys, where their silent pure-electric mode and regenerative brakes that slow the car automatically make them very relaxing to drive in town.
Charging the battery to 80% will take less than an hour using a 50kW public charger, while a full charge at home using a 7.2kW charger will take five hours.
Predictably the P440e has 440PS and 620Nm of torque, while the 510e has 510PS and 700Nm of torque – getting it from 0-62mph in 5.3 seconds.
If you want to complete the benchmark sprint in as short a time as possible, you'll need the P530 4.4-litre V8, which has 750Nm of torque. It gets from 0-62mph in 4.6 seconds – or about as quick as a top-of-the-range Porsche 718 sports car – and hits 155mph flat out. Suspiciously, Land Rover doesn't quote fuel economy figures for this behemoth, but you'll need to drive like a saint to get 20mpg out of it.
Fuel tank sizes range from 71 (PHEVs) to 90 litres (petrol V8) giving all Range Rovers a real-world range of 500 miles from a tank.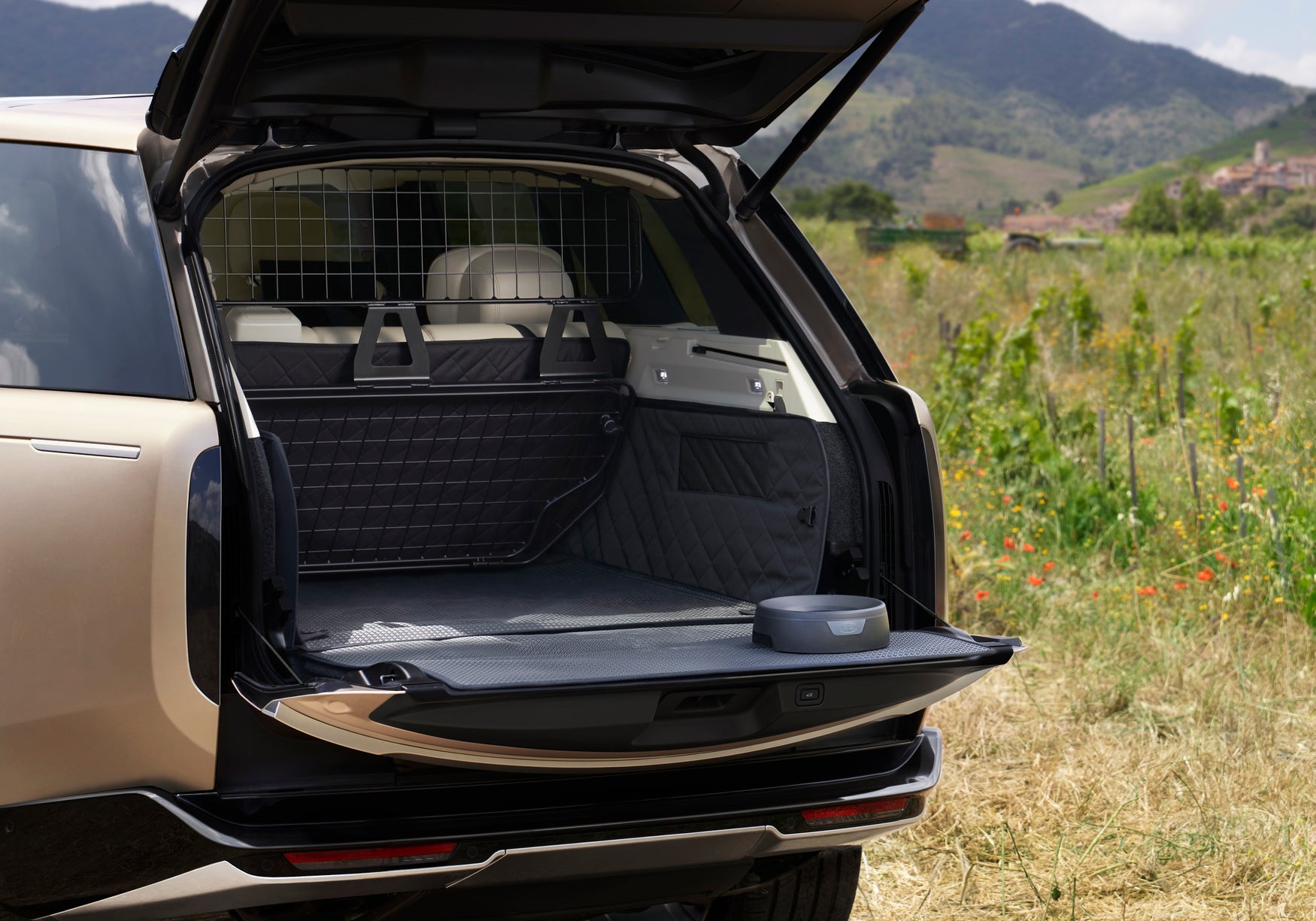 2022 Range Rover driving
In 1992, the Range Rover was the first SUV to offer air suspension and the 2022 model goes a step further, adding Bilstein twin-valve dampers and a five-link rear axle that should be even more cosseting.
To make your Range Rover corner like a hot hatch (or as close as possible), you'll want the Dynamic Response Pro roll-control system. It uses a 48V power supply to counteract corner roll and keep the Range Rover flat in bends, using information from the sat-nav to be as effective as possible.
Navigating the urban jungle should be easier, too, because the Range Rover comes fitted as standard with rear-wheel steering that can turn the back wheels by up to 7 degrees in the opposite direction to the fronts. The resulting 11.4m turning circle is tighter than a Volkswagen Tiguan, or any other Land Rover. At high speeds the rear wheels turn in the same direction as the fronts for increased stability in corners.
Sophisticated four-wheel drive is another Range Rover mainstay and the new model gets Land Rover's new iAWD system. It comes fitted as standard with an active locking rear differential that improves traction on road and off-road.
The Range Rover's Terrain Response 2 program brings all its systems under one umbrella, automatically setting the car up to tackle a variety of terrains – everything from sand or snow to rock crawling, mud and deep-water wades. Or you can just stick it in Auto and let the Range Rover do the rest.
All-Terrain Progress Control keeps the Range Rover at a crawl when you're tackling tricky terrain and Hill Descent Control makes it easy to drop down steep inclines. The Range Rover's air suspension can raise the car by up to 135mm allowing it to wade through up to 900mm of water.
The Range Rover can tow a braked trailer weighing up to 3500kg. If that's how you'll use it, it's worth considering the Advanced Tow Assist system. It makes it easy to hitch and reverse a trailer automatically using the rotary control on the centre of the dashboard and the car's reversing camera.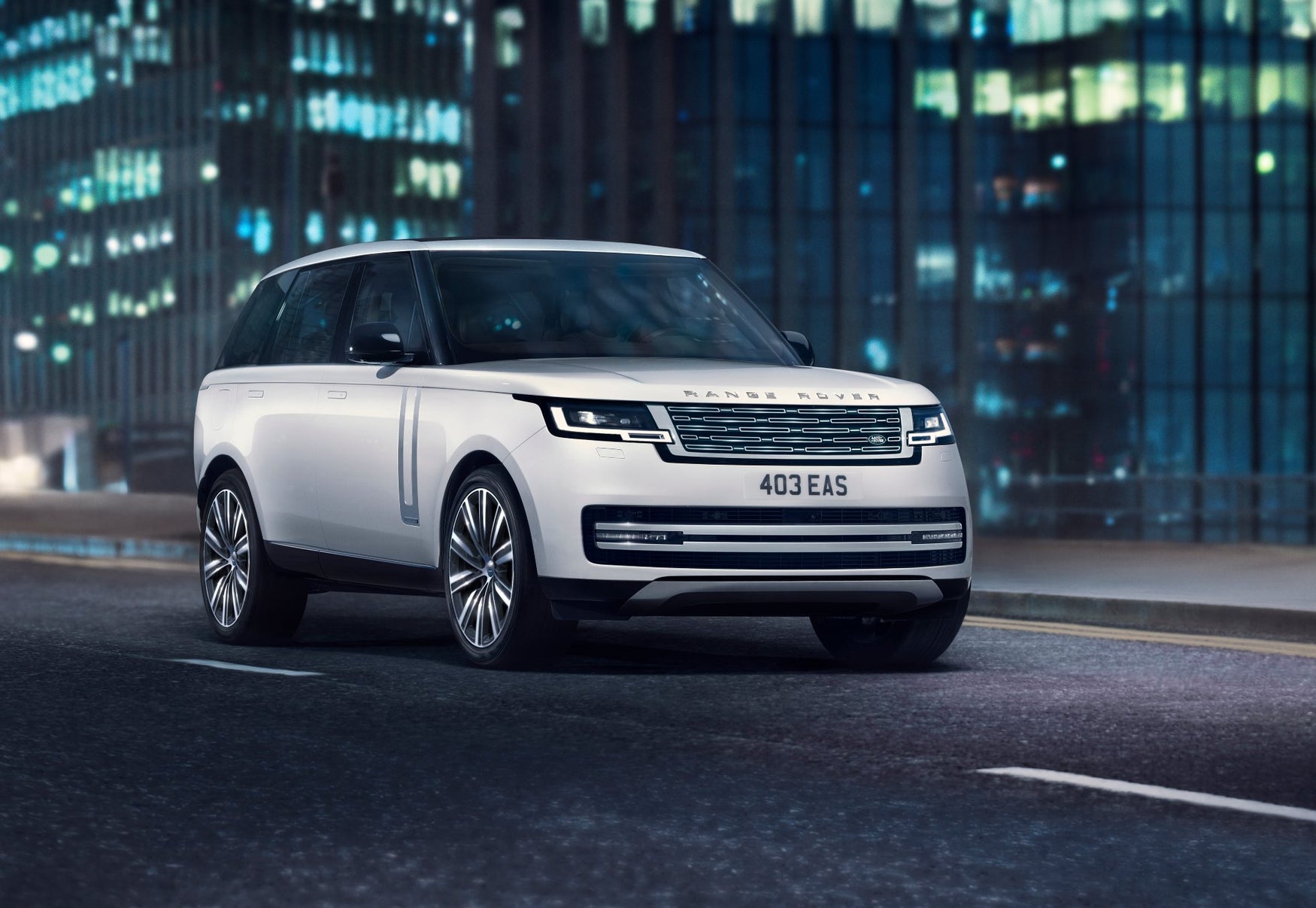 2022 Range Rover SV
The Range Rover may be the world's first luxurious SUV but things have changed since the 1970s and now it has to deal with a long list of uber posh rivals including the Bentley Bentayga, Rolls Royce Cullinan and Mercedes-Maybach GLS.
The highly customisable Range Rover SV is the answer to this problem. It's available in short and long-wheel base form in combination with the D350, P510e and P530 engines and can be easily spotted by its unique grille and ceramic SV boot badge.
Inside, you can choose from plated metals, ceramic and mosaic trim pieces, as well as soft near-aniline leather or non-leather Ultrafabrics upholstery.
LWB SVs are the only models available with the Signature Suite option which gives you 24-way adjustable and massaging row-two seats and a table that folds out electrically from the centre console. Huge 13.1-inch second-row displays are also unique to the SV and come in combination with high-fidelity headphones.
You can choose to have your SV in two design themes called SV Serenity and SV Intrepid.
The former gives you an exterior that is finished in Corinthian Bronze and Silver Satin with 23-inch alloy wheels. Inside, you get mosaic-pattern embroidery.
Intrepid models go for a moodier Anthracite and Graphite Atlas exterior finish, with the option to specify a Narvik Black roof, and get their own unique set of 23-inch alloy wheels. Inside, the cabin is decked out in Ebony leather or Cinder Grey non-leather Ultrafabrics, while the interior ceramic highlights are finished in Black Satin.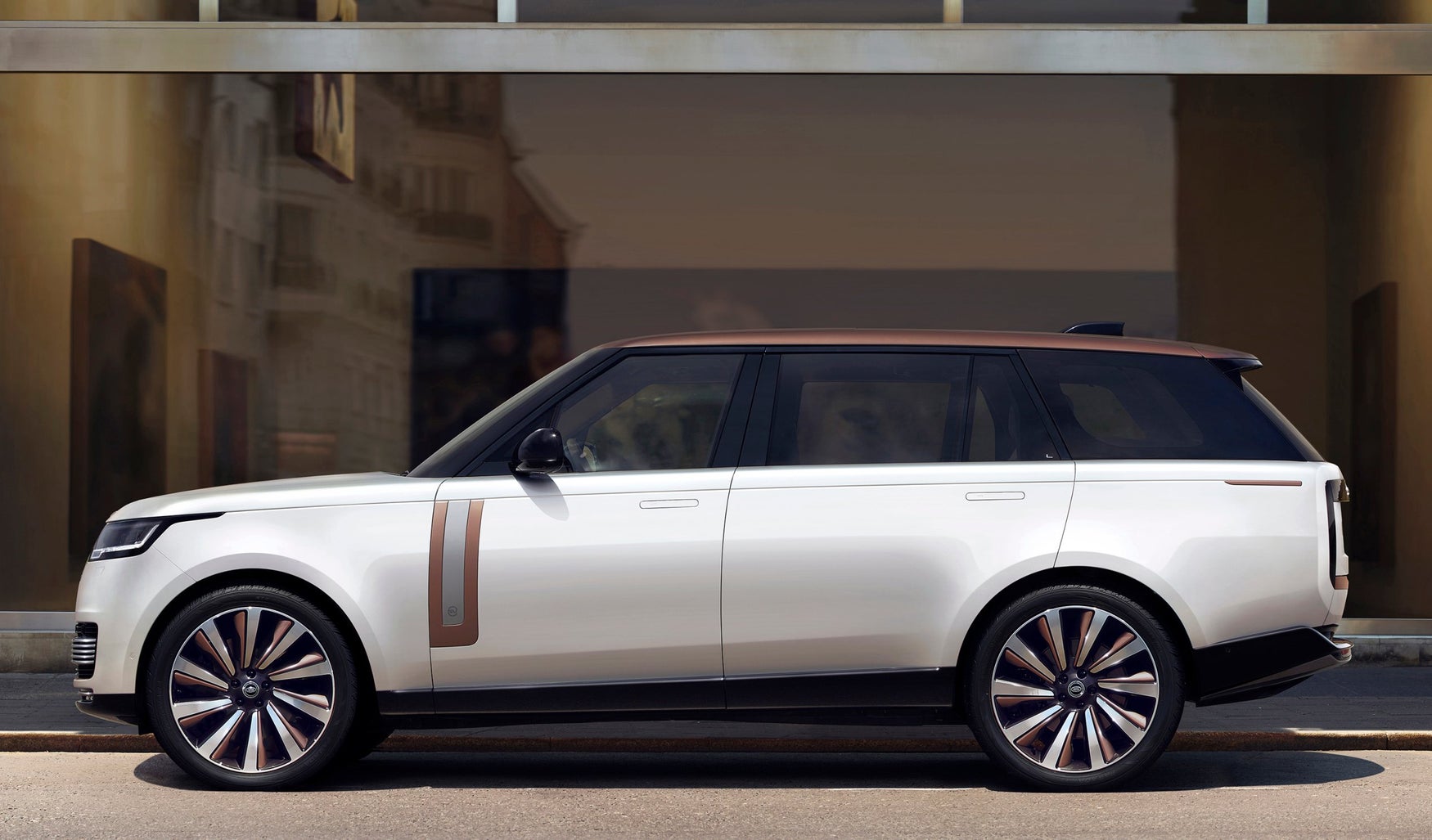 2022 Range Rover build quality and reliability
Reliability has never been a Range Rover strongpoint, something that is borne out by Land Rover's fifth placing in HonestJohn.co.uk's list of the least reliable manufacturers.
To allay your fears, Land Rover has put the Range Rover through 140,000 hours of computer testing before a fleet of prototypes were unleashed on the world tackling desert heat and arctic cold. That said, the convulsing electric cup holder on one of the pre-production cars we saw suggests there are still some teething problems to be ironed out.
On the upside, Ultra Wide Band receivers mean keyless theft should be thing of the past – so no need to spoil your £100k SUV's interior with a £50 steering lock.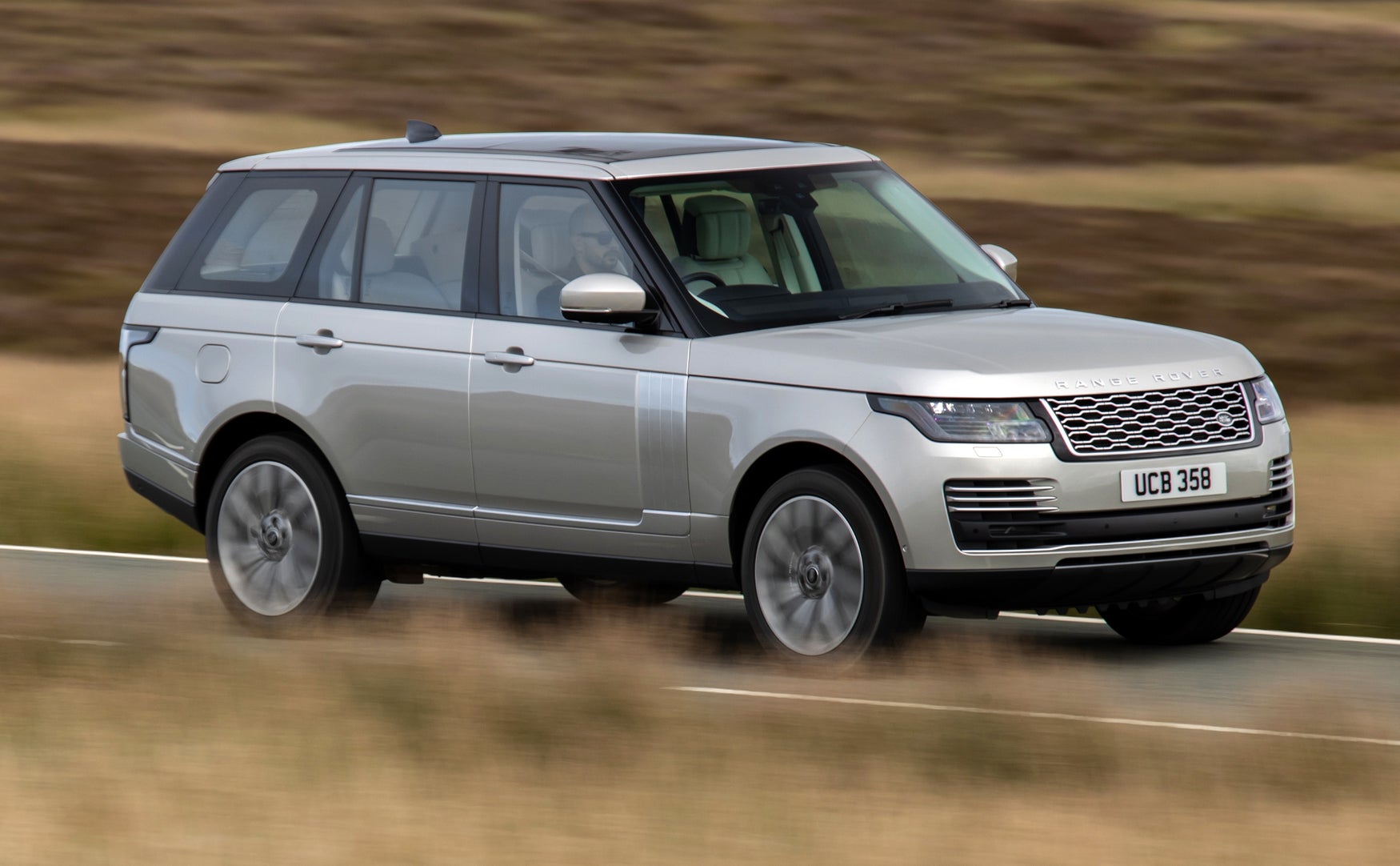 Why now's a great time to buy the current Range Rover
With a new Range Rover on sale now, it's an excellent time to pick up an example of the old model. Just £25,000 is enough to get behind the wheel of a Range Rover but these are complex cars and we would suggest spending more to get a clean example. Spend £30,000 and you could get hold of the 2013 model that's fitted with the desirable 4.4-litre diesel V8 and has less than 60,000 miles on the clock, it's not ULEZ complaint, though, so watch out for that. A 2016 model that is ULEZ compliant will cost closer to £40,000. There's a Range Rover to fit almost any budget from there, with top of the range V8 SV models costing north of £150,000
The new Range Rover went on sale on 26 October 2021 and combines off-road ability and on-road refinement with a luxurious interior that's very practical. The new car features the option to spec seven-seats, plug-in hybrid engines and rear-wheel steering.
The new Range Rover starts from £94,000 for an SE model with a 300PS six-cylinder diesel engine.
SV versions of the 2022 Range Rover offer a high level of customisation and even posher fixtures and fittings than the standard car – prices can exceed £200,000 on these high-spec models.