Best electric cars for £10,000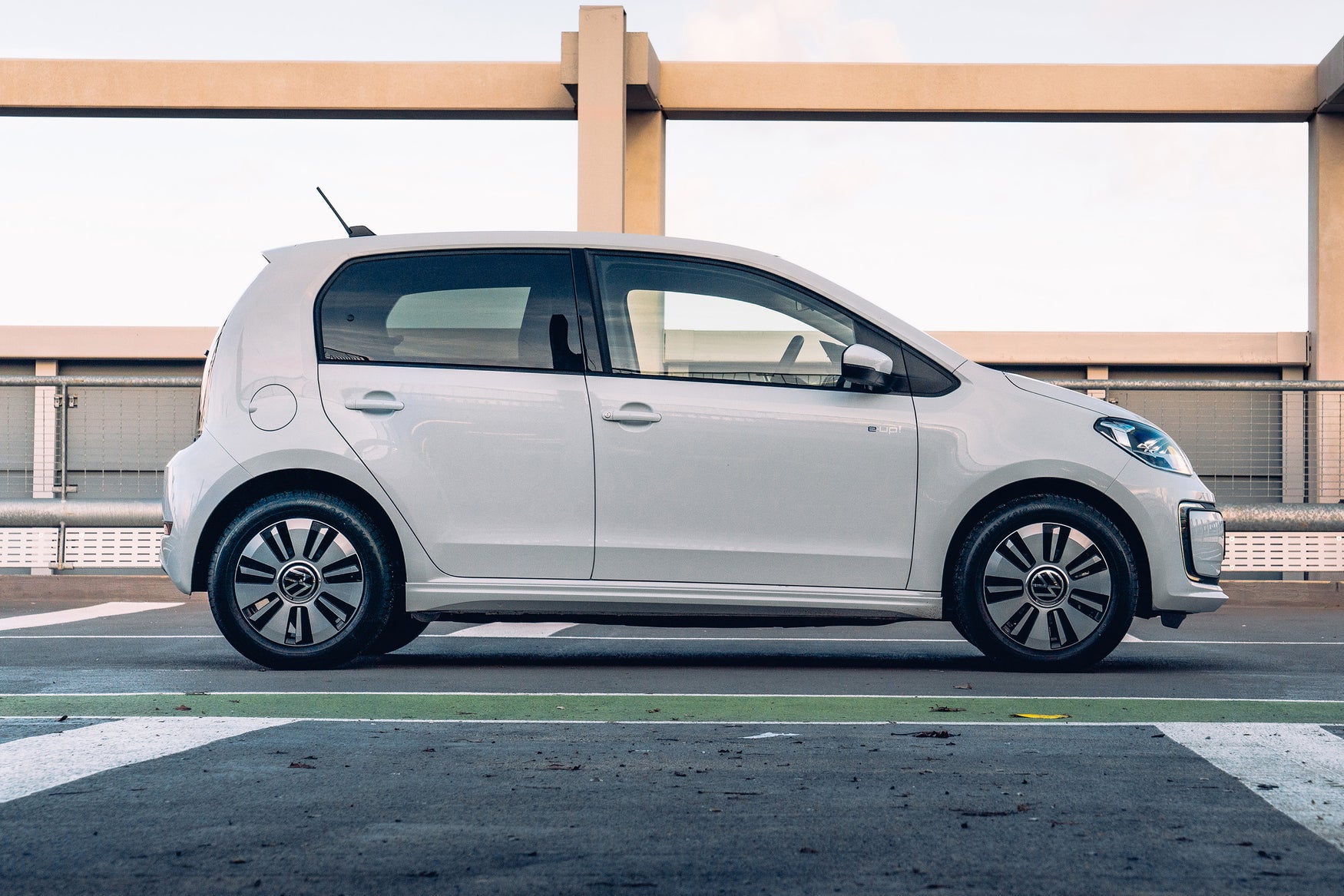 If you're looking for a used car and have a budget of around £10,000, did you know an EV car could be within reach? These make a lot of sense for a lot of buyers - not only are they relaxing and easy to drive, they'll also save you a whole heap of money.
We're not just talking about fuel costs, either - EVs are cheaper to service, free to tax and could save you money on the Congestion Charge.
We've searched through our cars for sale and picked five of the best electric vehicles you can buy today with a budget of £10,000. They range from small electric city cars to those big enough for carrying all of the family.
Smart Fortwo Electric Drive
Year launched: 2006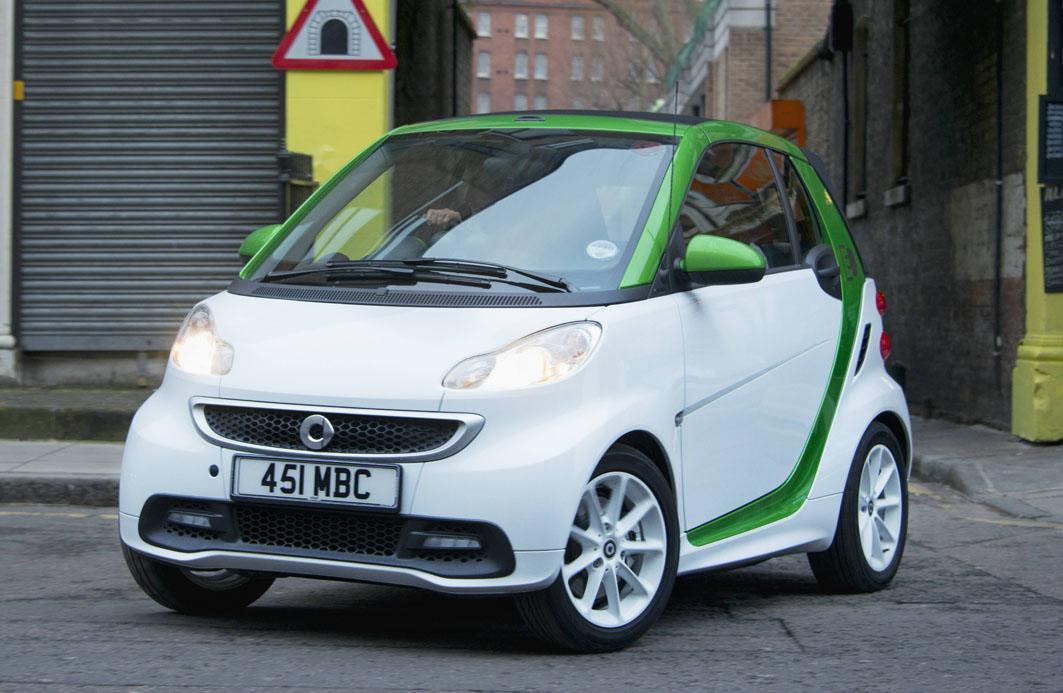 If there was ever a car destined to become an electric urban runabout, it was the original Smart Fortwo. Surprisingly, though, the Electric Drive model never sold in huge numbers and isn't a common sight on the roads today. Still, if you fancy one, they are out there and can be picked up for less than £10,000.
It uses a 16.5kWh battery created by a small start-up company called Tesla (we wonder what happened to them?) to provide a range of up to 84 miles. This limits its long-distance usability somewhat - especially as this figure's been obtained using the old NEDC tests which aren't known for being particularly realistic.
It should be fine for town use, though. And that's where the Smart Fortwo Electric Drive's in its element, anyway, with compact dimensions and eager performance. It was later replaced by the Smart EQ Fortwo.
Volkswagen e-Up
Year launched: 2014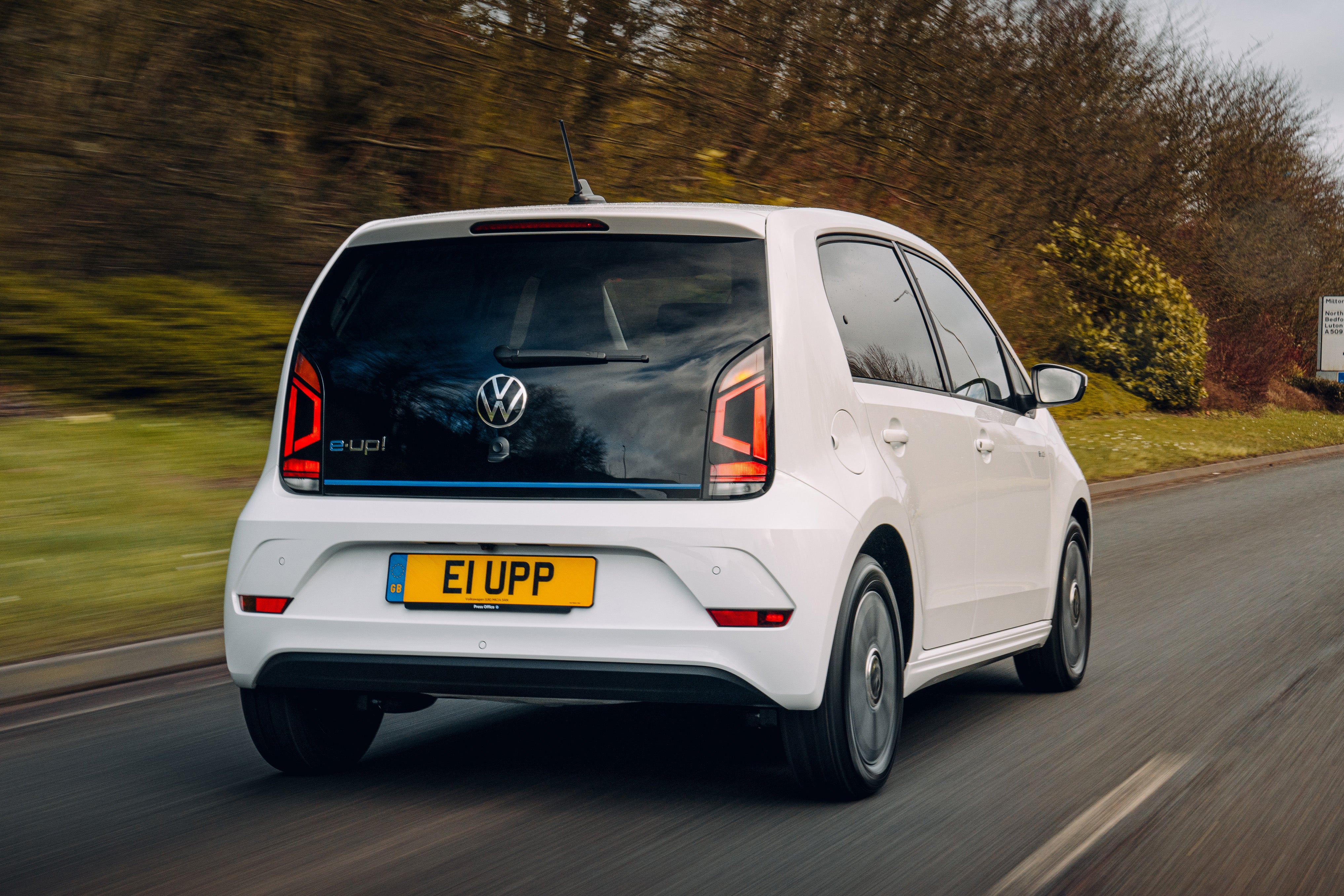 The Volkswagen Up has been around since 2012 yet it remains one of the most likeable little city cars on the market.
It's practical enough to transport four people, has a stylish cabin and is fun to drive, while also representing decent value for money. The same could be said for the electric model, badged the e-Up (there's a Yorkshire joke to be made there but we'll resist).
The original e-Up arrived in 2014 with a range of up to 100 miles and it's just as practical as the petrol model. If you want an electric vehicle that doesn't shout about its credentials, this is it.
Nissan Leaf
Year launched: 2018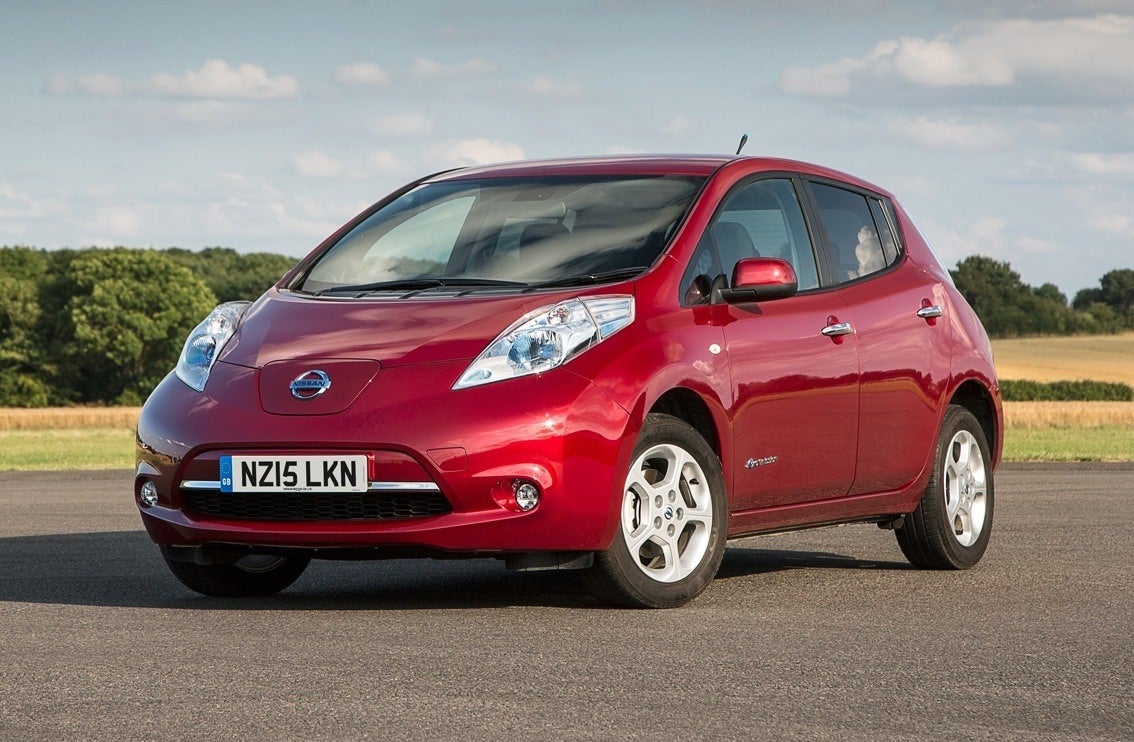 You'd be foolish to overlook the Nissan Leaf in your search for a used electric car. It was arguably the first mainstream electric vehicle to hit the market and its popularity means there are loads of very good examples available.
Around £10,000 will get you a three or four-year-old Leaf with the 24kWh battery, meaning it'll be good for around 80 miles in the real world. Look for the 30kWh model, from late-2015 onwards, for a range of up to 155 miles.
Unlike the Volkswagen e-Up and Smart Fortwo Electric Drive, the Leaf is practical enough to be a replacement for your family car. It's just as usable as a Volkswagen Golf or Ford Focus, as long as you don't need to travel to the other side of the country on a whim.
Kia Soul EV
Year launched: 2014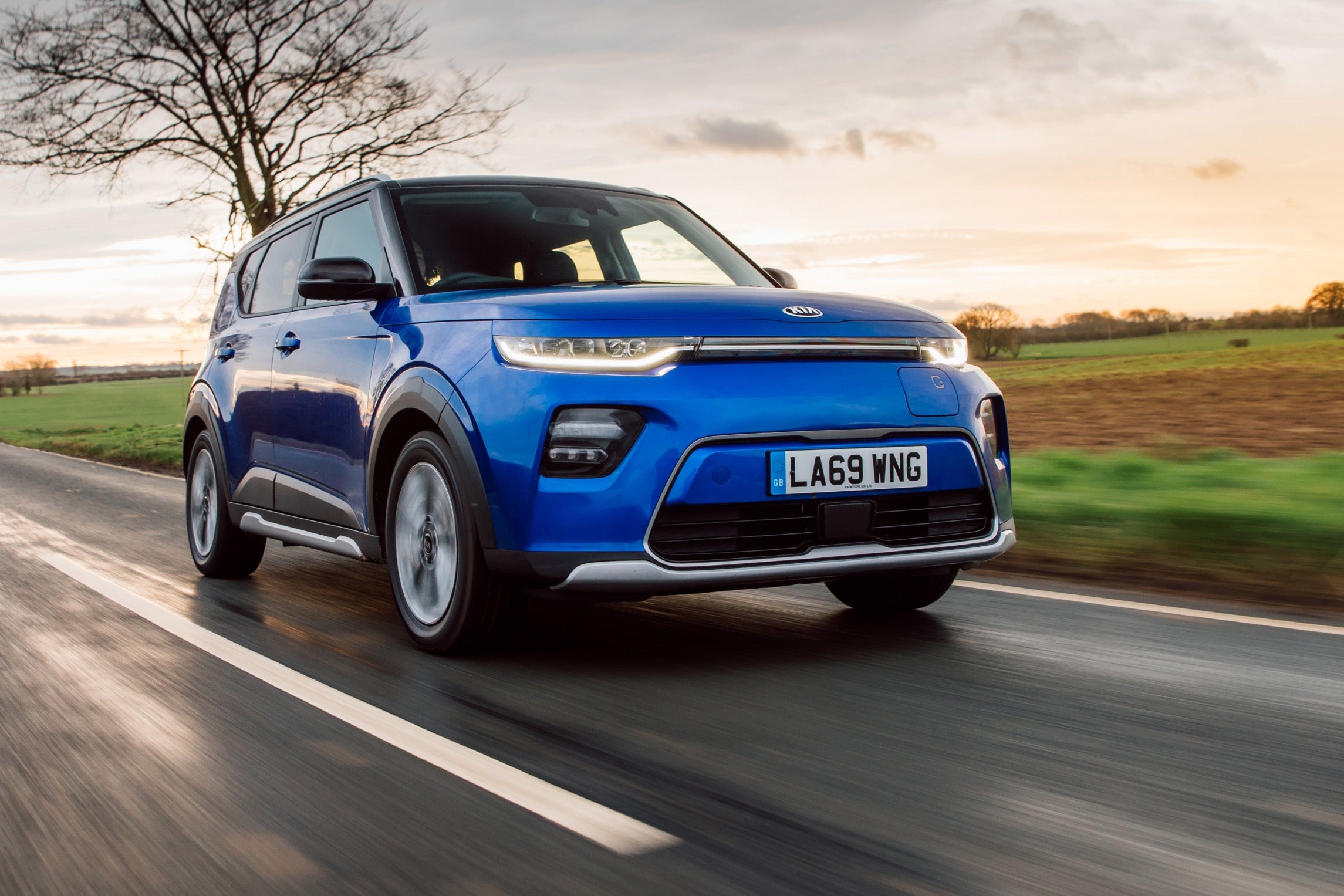 The original Kia Soul EV is a quirky and likeable electric car that was intended to take on the Nissan Leaf and Volkswagen e-Golf when it arrived in 2014, although it never sold in huge numbers. It'll stand out, though, especially if you buy one in the popular Caribbean Blue paintwork with contrasting white roof.
It's just as quirky inside as out, with a two-tone dashboard and eight-inch infotainment system. There's plenty of space for the family, too, with only a small drop in practicality compared to a combustion-engined Soul.
Examples are only just starting to sneak below £10,000, but it's worth searching for one - think of the savings you'll make in fuel, tax and (if you live near London) the Congestion Charge.
Renault Zoe
Year launched: 2013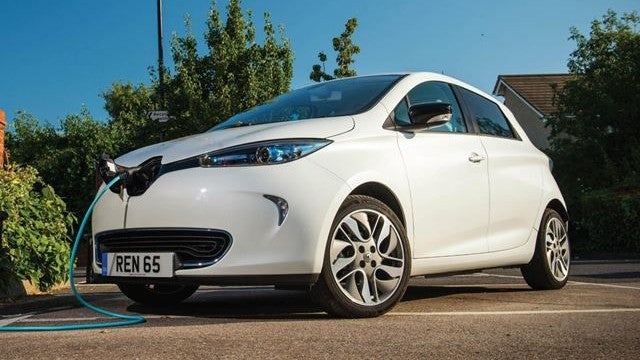 If you're looking for a car to use in the city, an affordable electric vehicle makes a lot of sense. And the Renault Zoe is one of the best.
While it feels a bit of its depth on the motorway, the Zoe's great to drive around town, with an eager motor and an official range of up to 130 miles between charges. It might not be as big as the likes of the Nissan Leaf or Kia Soul EV but that actually goes in the Zoe's favour when you're trying to thread it down a tight back street or into a congested car park.
Just be aware that the most affordable ones won't come with the battery included. That might sound odd, but you can rent one from Renault from just £59 a month. That's equivalent to about one tank of fuel in a petrol alternative - and you won't be responsible for the cost of replacing it if it goes wrong.
This is the question that people ask the most when they are considering an electric vehicle as their next car. Even the most affordable electric cars will be able to travel around 100 miles before needing a recharge. That might not sound a lot if you're a high-mileage motorway driver, but for covering the commute or popping to the shops it's plenty. Some of the best electric vehicles can travel more than 300 miles.
Electric cars can be more expensive than petrol or diesel rivals, but they're coming down in price. You can buy a used electric car from around £5000, while new ones start from around £17,000 (after the Government's plug-in car grant).
We rate the Smart Fortwo as the best used electric car for £10,000. It's really easy to drive and has a nice, upmarket interior. Other cars we like include the Volkswagen e-Up and Nissan Leaf.
Reviews of more of the best electric cars for £10,000
Kia Soul
150kW First Edition 64kWh 5dr Auto
Stockton Kia

Teesside, TS183BP
PCP: £609.68/mo
Representative example: Contract Length: 37 months, 36 Monthly Payments: £609.68, Customer Deposit: £4,244.00, Total Deposit: £4,244.25, Optional Final Payment: £7,240.58, Total Charge For Credit: £5,138.31, Total Amount Payable: £33,433.31, Representative APR: 10.9%, Interest Rate (Fixed): 5.61%, Excess Mileage Charge: 14.9ppm, Mileage Per Annum: 10,000
Kia Soul
150kW First Edition 64kWh 5dr Auto
Gravells Kia Bridgend

Bridgend, CF313SA
PCP: £518.23/mo
Representative example: Contract Length: 36 months, 35 Monthly Payments: £518.23, Customer Deposit: £4,349.00, Total Deposit: £4,349.25, Optional Final Payment: £11,751.00, Total Charge For Credit: £5,243.30, Total Amount Payable: £34,238.30, Representative APR: 9.9%, Interest Rate (Fixed): 9.46%, Excess Mileage Charge: 8ppm, Mileage Per Annum: 10,000
Kia Soul
150kW First Edition 64kWh 5dr Auto
Manufacturer Approved
Chorley Group Kia Blackpool

Lancashire, FY42RP
PCP: £461.53/mo
Representative example: Contract Length: 36 months, 35 Monthly Payments: £461.53, Customer Deposit: £4,348.00, Total Deposit: £4,348.50, Optional Final Payment: £14,038.75, Total Charge For Credit: £5,550.80, Total Amount Payable: £34,540.80, Representative APR: 9.9%, Interest Rate (Fixed): 9.46%, Excess Mileage Charge: 8.61ppm, Mileage Per Annum: 10,000