Electric cars with longest range
Electric cars with longest range 2022


Which electric cars can travel the furthest between charges? We reveal the top 10 electric cars with the longest range.
One of the first questions people often ask when researching buying an electric car is, "how far will it travel between charges?". If you're only pootling around the city or popping to the shops, you probably don't need an electric car that covers huge distances off a single charge. But if you're thinking about swapping your petrol or diesel car and plan to travel further afield, an electric car's range is one of its most important features.
The amount of miles an electric car can manage on a single charge is primarily dictated by both its battery size and the car's weight. Generally speaking, small EVs can't travel the same distance as larger ones because there is not the space for such a big battery within the car's floor. That's not always the case, though, as some smaller electric cars are able to maximise efficiency with great aerodynamics and a high-tech energy management system.
It's also important to note that, unlike most petrol or diesel cars, an EV is actually less efficient at a constant motorway speed than it is in stop/start town traffic. That's because it's unable to recuperate energy through braking and coasting, which in turn charges the batteries. For example, an EV with a claimed range of 200 miles will probably only manage 150 (or less) on the motorway, unless you're willing to spend your journey drafting lorries.
These are the top 10 electric cars with the longest ranges. These are based on official WLTP figures which mean, as long as you don't get too carried away with the throttle, you should be able to get pretty close to these distances in the real world.
Mercedes-Benz EQS
Year launched: 2021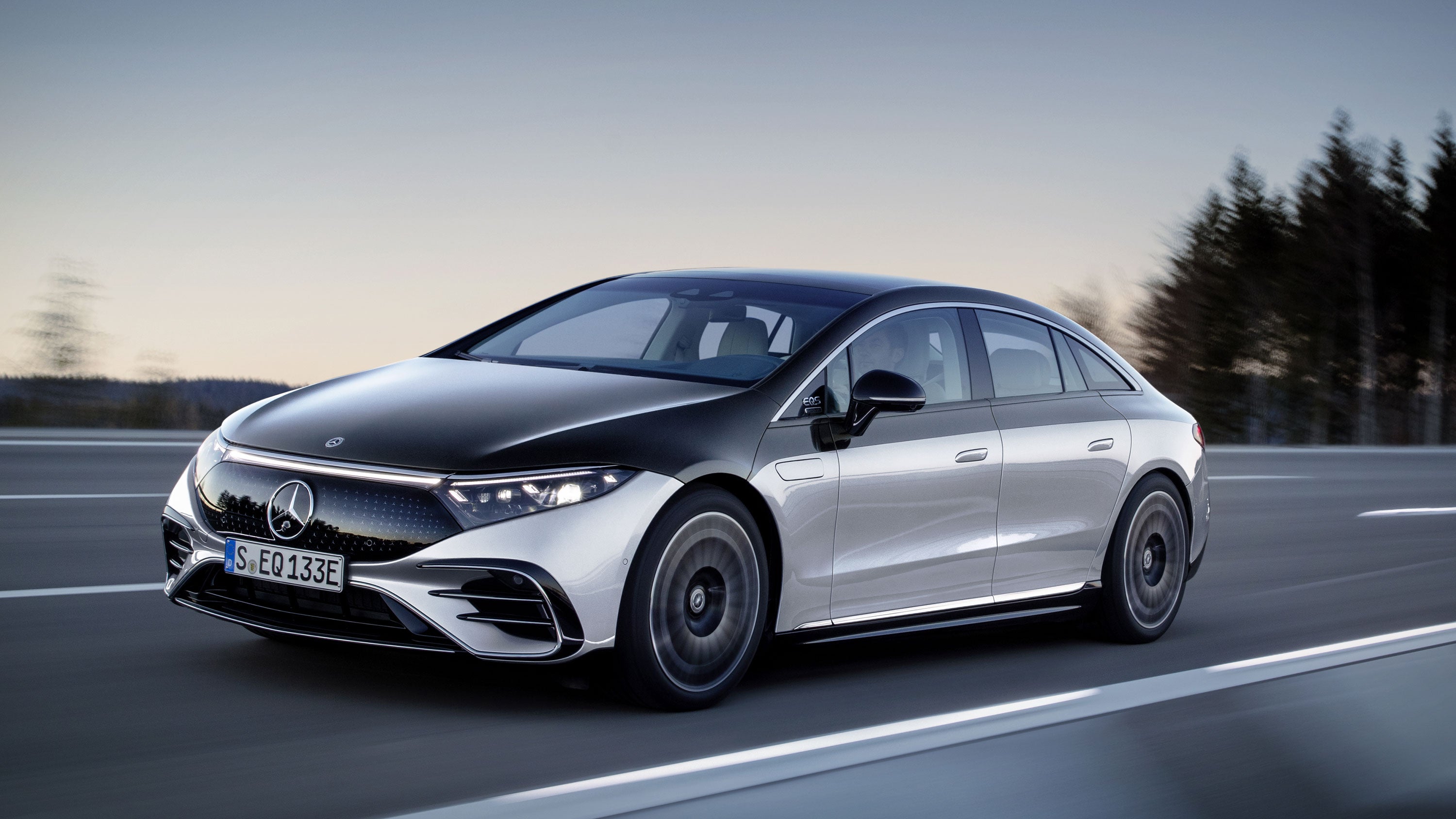 The simplest way to describe the Mercedes-Benz EQS is that it's an S-Class brought into the electric age. And to be considered alongside that all-conquering luxury limo, it needs to be comfortable, refined, loaded with tech and be able to travel far on a charge.
The EQS exceeds on all of those fronts. Focusing on the latter, it promises an incredible range of up to 453 miles on a charge, primarily thanks to its massive 107.8kWh battery. But it's also down to some clever engineering and a razor sharp focus on aerodynamics, making the EQS's body the slipperiest of any production car to date.
What's more, the EQS has some stunning technology on board, including its 'Hyperscreen' infotainment system which, effectively, makes the dashboard one giant screen behind a glass panel. It's also full of the sort of luxury features you'd expect on the best high-end luxury cars.
That headline range figure of 453 miles comes from the 'entry-level' EQS 450+ model, which uses a single electric motor. There will be more powerful models coming with dual motors, but while they'll up the ante with acceleration they are unlikely to be able to travel as far on a charge.
Tesla Model S
Year launched: 2014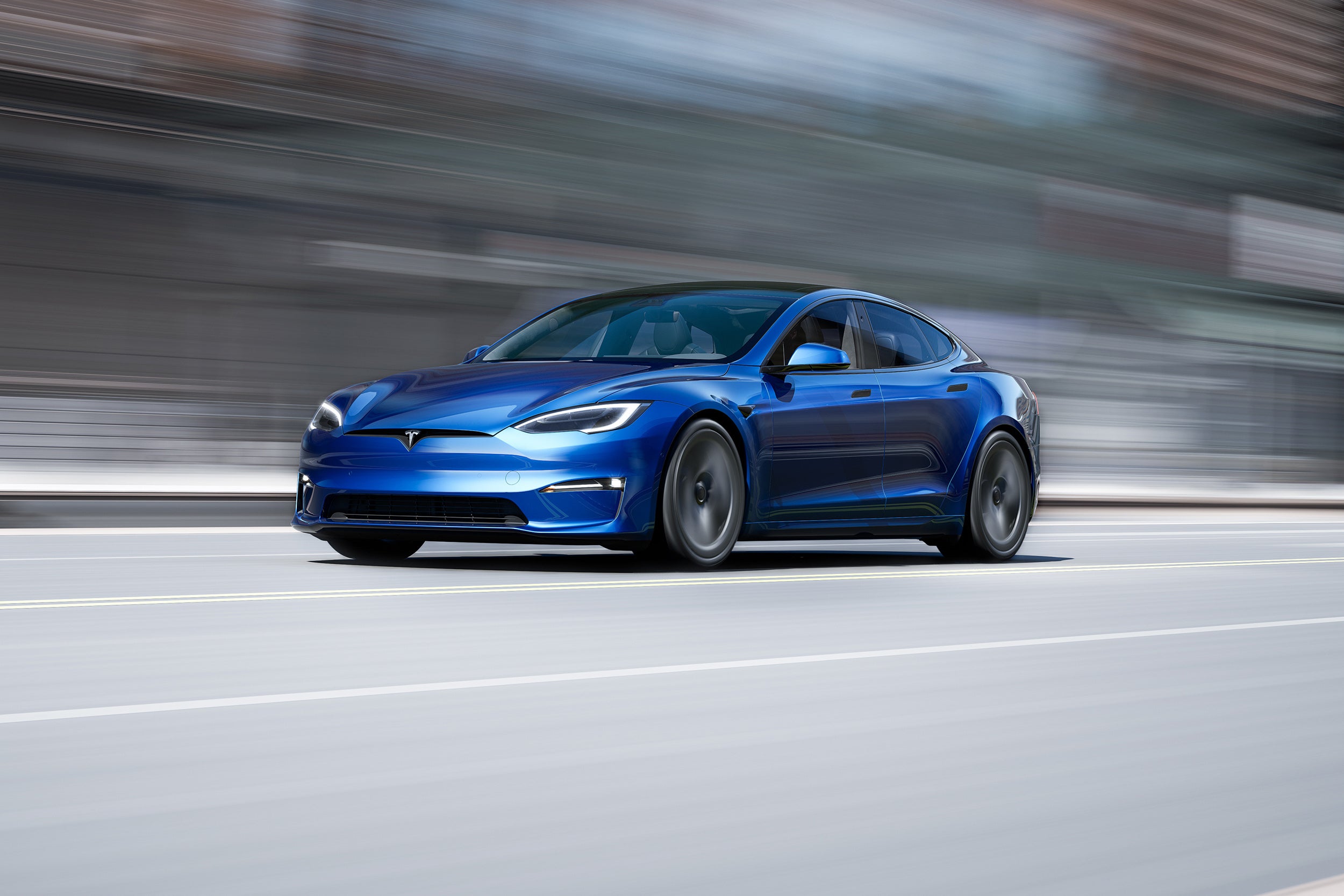 If you're after an electric car that can cover long distances between charging, you can't ignore Tesla. A new Model S will cost you in the region of £78,000 but - as it's been on sale for several years - there are some second-hand bargains available. Early 85kWh models (with a range of up to 265 miles) can be found for less than £30,000.
The latest Tesla Model S Long Range can travel an impressive 379 miles before it needs a top up, according to official tests. That's almost comparable to equivalent petrol or diesel cars, especially when you consider the performance on offer. It'll accelerate to 62mph in 3.7 seconds and can reach a top speed of 155mph.
Later this year, though, an updated Model S will arrive promising both a range increase (up to 405 miles) and even more performance (0-60mph in 3.1 seconds, and that's just the 'normal' version).
As well as the range itself, Tesla's impressive Supercharger network is what marks it out compared with the competition. With exclusive, fuss-free access to a large number of super-fast chargers, Tesla owners often cite it as the main reason for buying one.
Alternatively, there's also the Tesla Model 3, with the Long Range model able to travel up to a claimed 328 miles. It's the brand's most affordable model. Finally, a quick mention for the Tesla Model X: A practical SUV with the Long Range model delivering a claimed 314 miles between charges.
Ford Mustang Mach-E
Year launched: 2020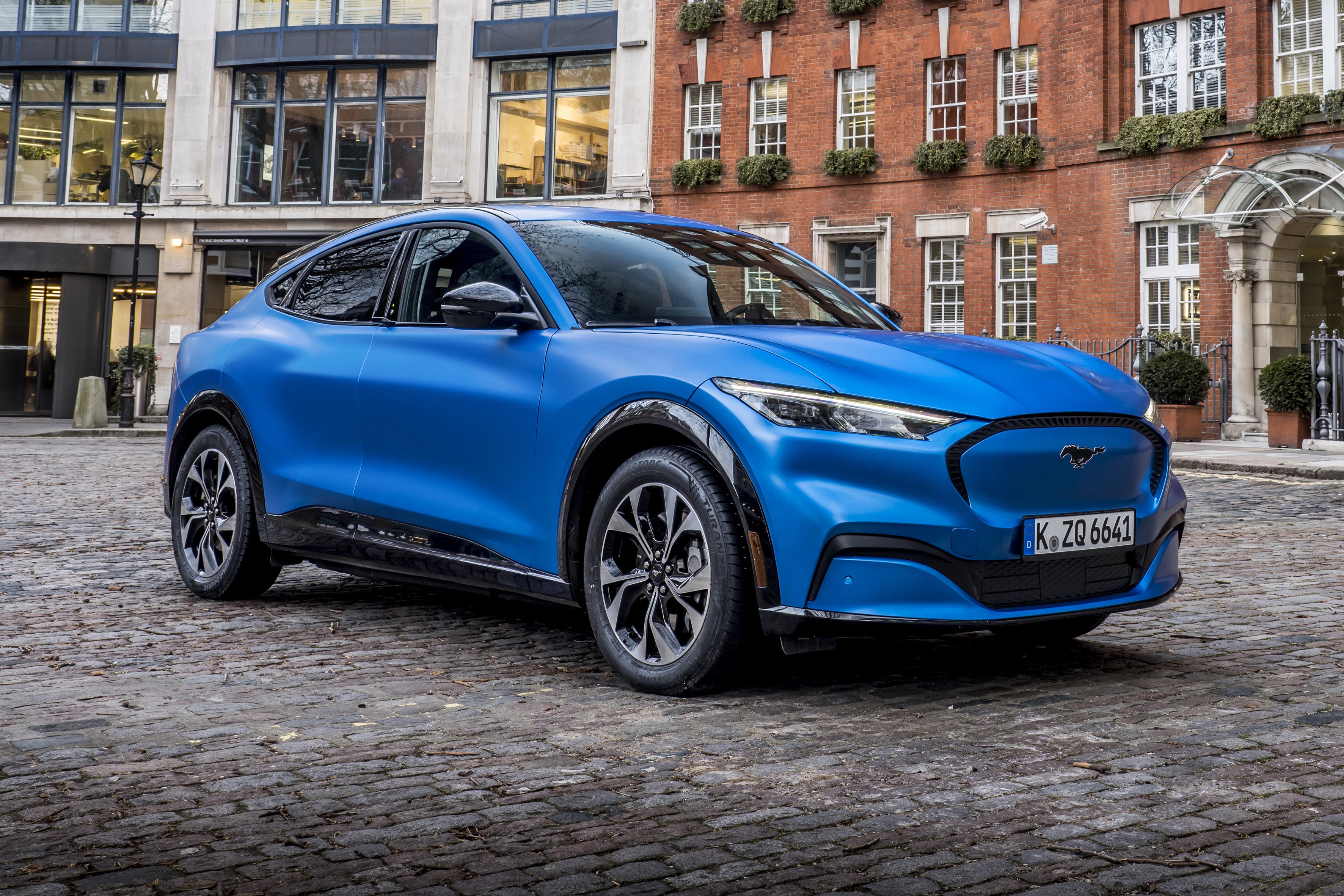 The Mustang Mach-E is Ford's attempt to kick Tesla out of the water. By playing on the heritage of its high performance Pony car brand, the firm has given the Mustang Mach-E some serious badge appeal and a sporty look.
There's a range of models available, including standard and extended-range versions, as well as rear- or four-wheel-drive variants. It's the extended-range rear-wheel-drive Mach-E which can travel the furthest, officially capable of covering up to 379 miles between charges.
Using a connected wallbox provided by Ford, the Mustang Mach-E can be charged at a rate of 38 miles per hour. With peak charging power of 150kW, a high-powered public rapid charger will be able to charge the standard-range Mach-E from 10 to 80% in approximately 38 minutes.
While the Mustang Mach-E isn't cheap for a Ford, its specs and equipment list make it seem decent value compared to similar models with a more premium badge.
BMW iX
Year launched: 2022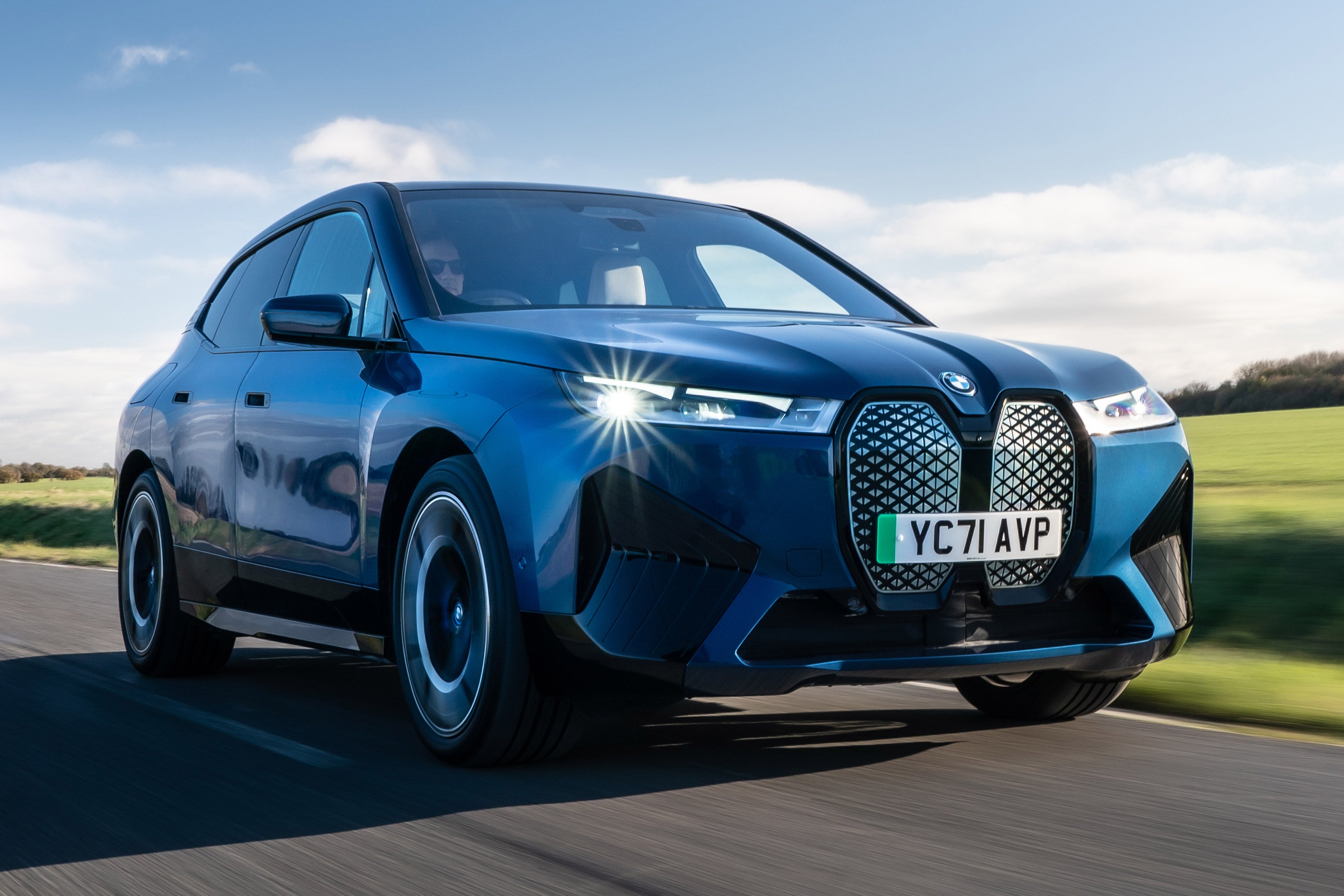 Yes, the BMW iX has a massive grille and a, erm, distinctive exterior look. But while it's that that'll get people talking (bad press is better than no press, surely?) the iX has plenty of substance behind its face.
For starters, its BMW's first bespoke EV since the game-changing BMW i3 hit the market way back in 2013, and it's clear this is no rush job. The interior of the iX is pretty spectacular: like everything else these days it's packed with tech, but elegantly designed, classy and surprisingly practical. It's also really good to drive, with a welcome focus on comfort over sportiness.
It's the iX xDrive 50 model you'll want if maximising range is key. Officially it'll manage 380 miles on a charge thanks to its huge 105kWh battery, and while the Mercedes-Benz EQS manages more, it's not as fast as the 523PS iX, nor is it four-wheel drive and a high-riding SUV. Put all that into consideration, and the iX's figure is deeply impressive.
Kia EV6
Year launched: 2021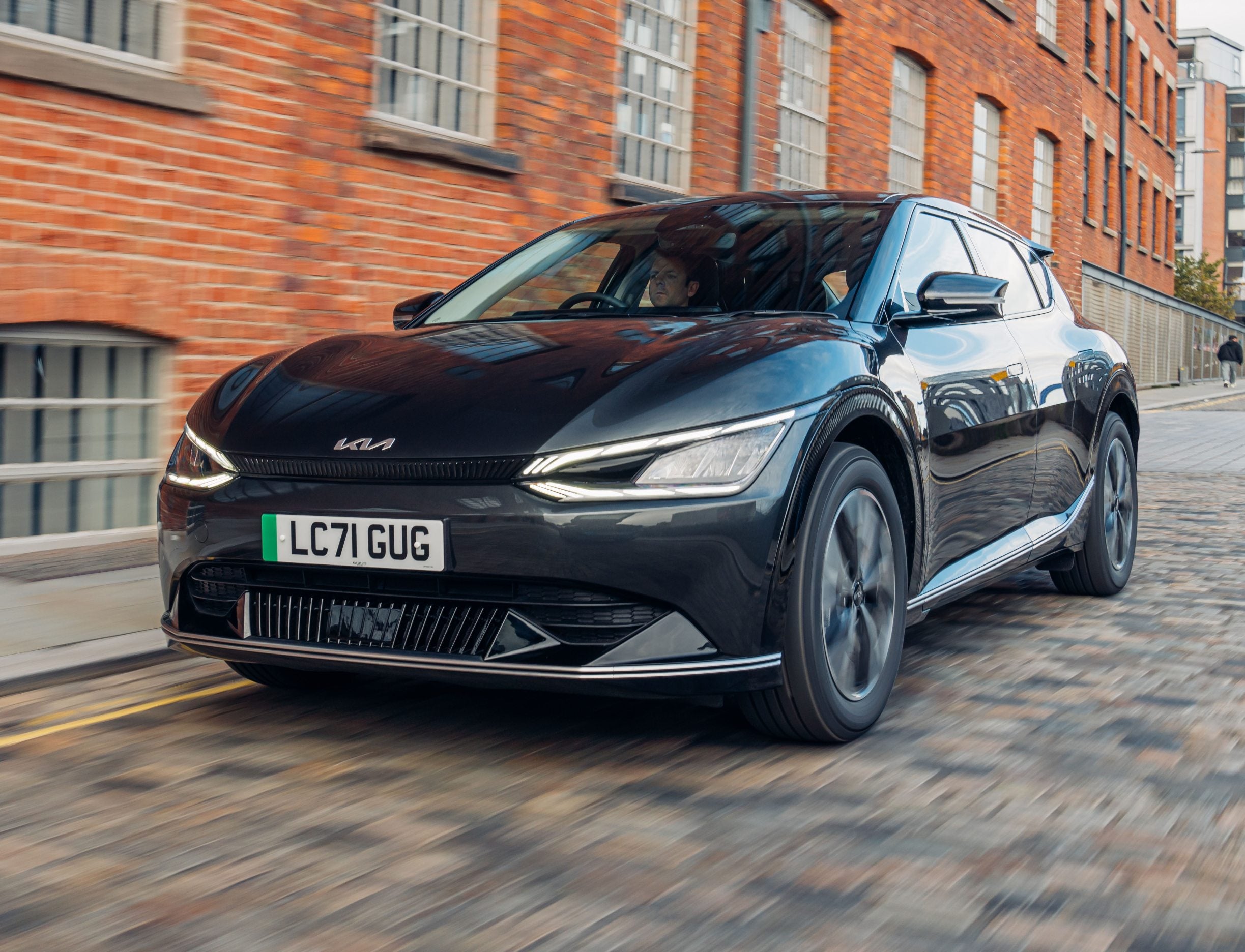 Kia caused a stir when it launched the e-Niro back in 2019, which was not only one of the most affordable electric cars but also blew its rivals out the water when it came to range.
The EV6 is causing a stir for different reasons: mainly due to its impressive technology wrapped up in a really desirable body. Bringing 800V electrical technology to a lower price point, the EV6 can charge at the very fastest charge rates offered by public rapid chargers, while vehicle-to-X tech allows it to both give AND receive power.
The EV6 manages a respectable 328 miles (officially) on a charge in entry-level rear-wheel drive form. While that's not the biggest figure here, it's still very good for the money, while the super-fast charging means you'll be able to top it up in next to no time. All this, and you get Kia's seven-year warranty.
Volkswagen ID.3
Year launched: 2020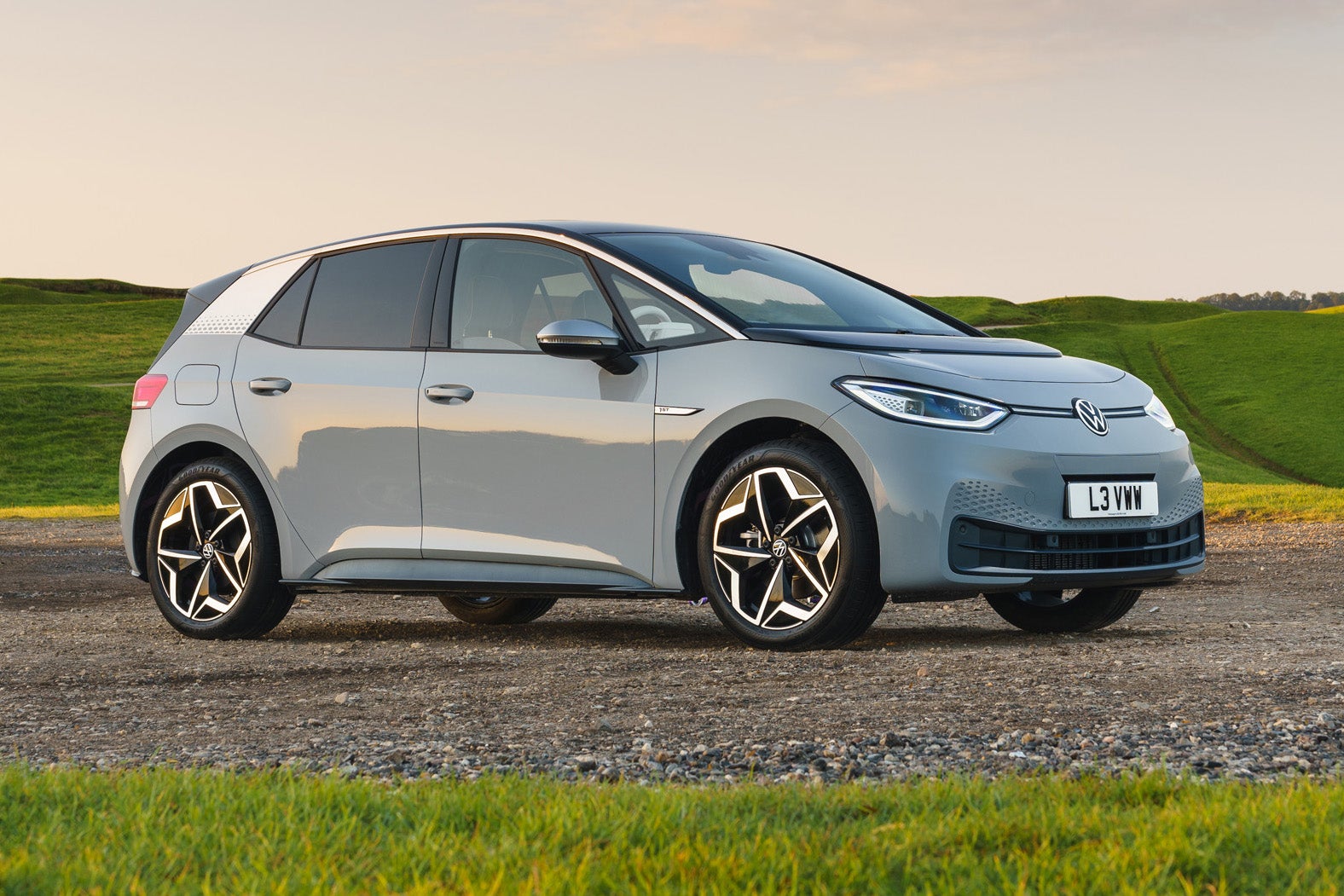 Volkswagen's hit the sweet spot with the ID.3. Designed from the ground up to be battery powered, the ID.3 is the German marque's electric equivalent to its ever-popular Golf, with Volkswagen describing it as its 'most important car of a generation'.
If you're looking for your first electric car, this could just be it. Not only is it easy to drive, but it's also cheap to run. First Edition models can travel up to 260 miles between charges, but the top-of-the-range ID.3 Tour will be able to cover an impressive 336 miles between charges. Hook it up to a rapid charger and you'll get 180 miles of range in just half an hour.
The drive is incredibly quiet and refined, with the ID.3 enjoying VW's typical top-notch solidity. It's very practical too, with plenty of space for a growing family. Our only real complaint is the quality of a few of the materials used in the cabin, with some feeling a little too plasticky for the price. Otherwise, this is an excellent family car and a great first introduction to electric car motoring.
Skoda Enyaq iV
Year launched: 2021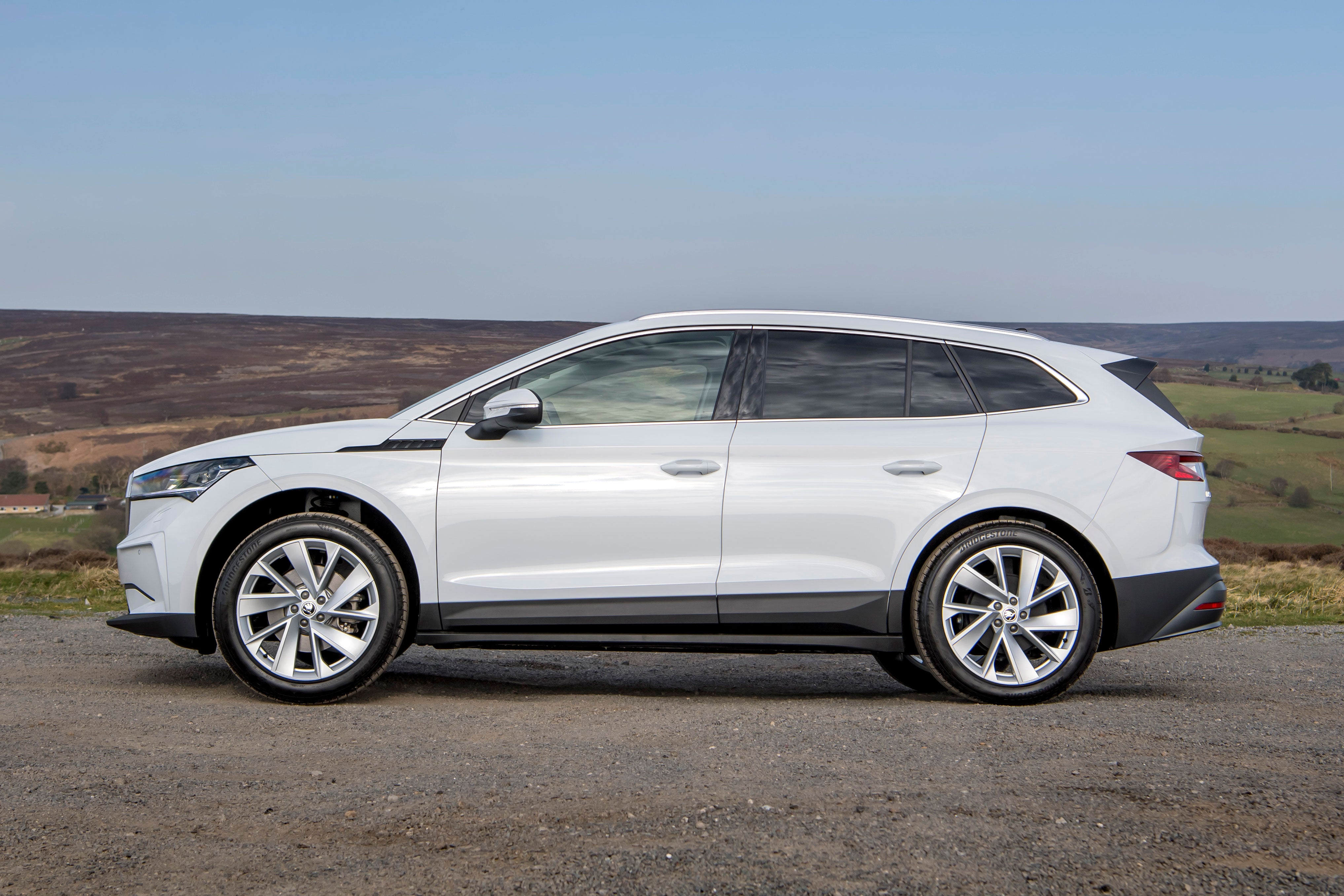 We're big fans of Skoda's Enyaq iV. The brand's very first dedicated electric car (the compact Citigo-e iV was based on a petrol car), the SUV-styled Enyaq iV is easily big enough to be your main family car thanks to its spacious interior and large boot, but it'll set you back considerably less than the likes of the Mercedes EQC.
It should also prove to be a more attractive proposition than both the Volkswagen ID.4 and Audi Q4 e-tron, cars that the Enyaq iV shares a platform with, as it offers more for that bit less.
Perhaps the most obvious difference between these other two is the Enyaq iV's range, with the range-topping Enyaq iV 80 delivering an official range of up to 333 miles, while the smaller Enyaq iV 60 can still travel up to 256 miles between charges. As for charging times, expect to wait around an hour using a 50kW charger, though there's an optional 125kW rapid charging capability that can be spec'd with the Enyaq iV that can add 80% of range in as a little as 38 minutes.
The quality of the cabin is just as nice as the pricier ID.4, with all models getting an ultra-large 13-inch navigation system, while there's some nice touches like a neat little umbrella storage compartment in the driver's door. A great electric car that's at a very attractive price.
Volkswagen ID.4
Year launched: 2021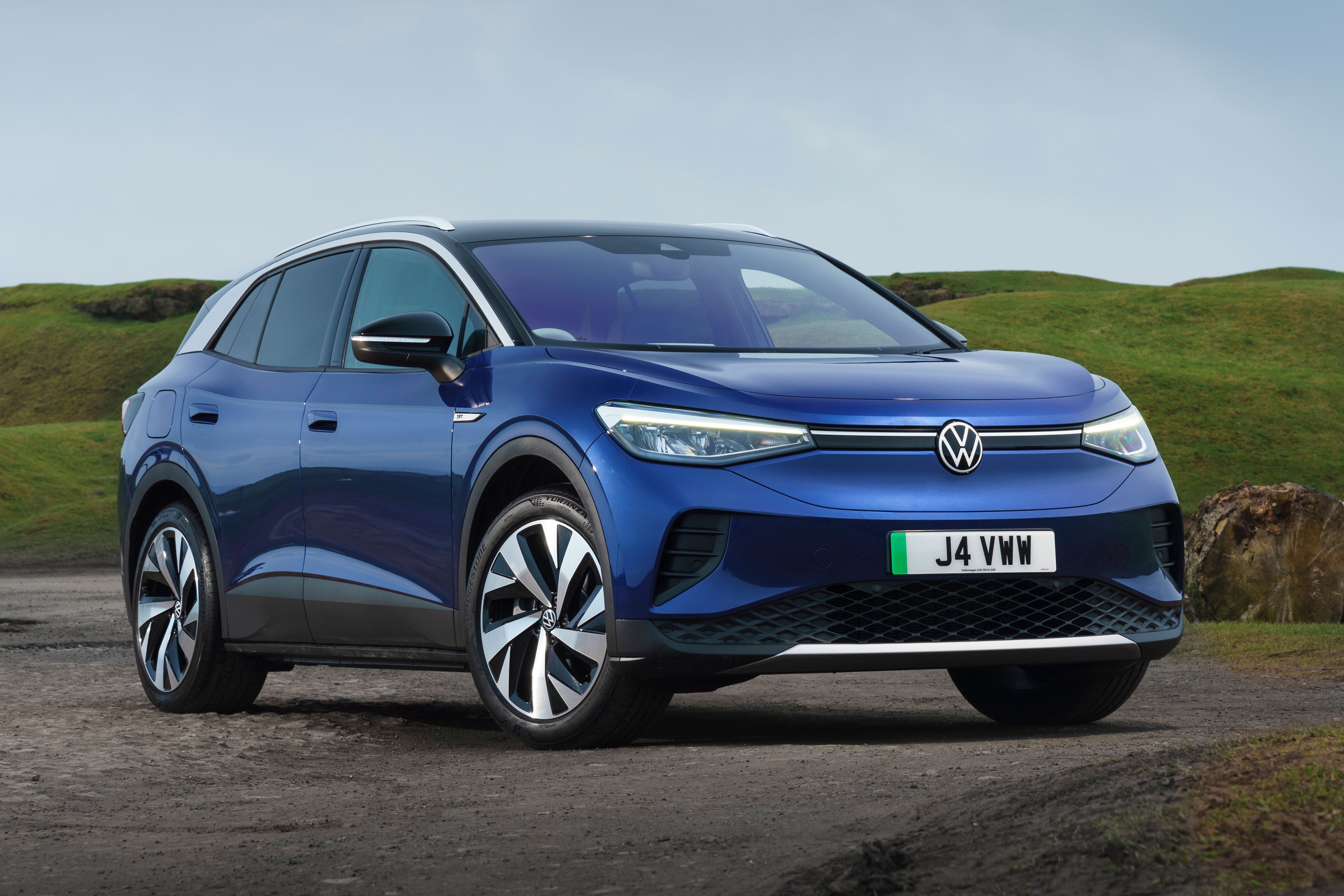 The Volkswagen ID.4 shares the same platform as the Skoda Enyaq iV and Audi Q4 e-tron, with its SUV proportions similar to the Volkswagen Tiguan in size. While it can't quite match the excellent range of the Enyaq iV, plump for the higher powered 77kWh battery pack and it'll deliver a range of up to 310 miles. Even if you opt for the 52kWh battery pack, you can still expect to cover 213 miles in between charges.
As you'd expect for a large family car, the ID.4's cabin is nice and spacious with a very fresh and clean design, while you're spoilt for choice with trim levels. Don't expect a terribly exciting drive, but the ID.4 isn't about flying along twisty B-roads. What you get with the ID.4 though is a very refined and relaxed driving experience that will deliver you in silence to your destination.
Hyundai Kona Electric
Year launched: 2019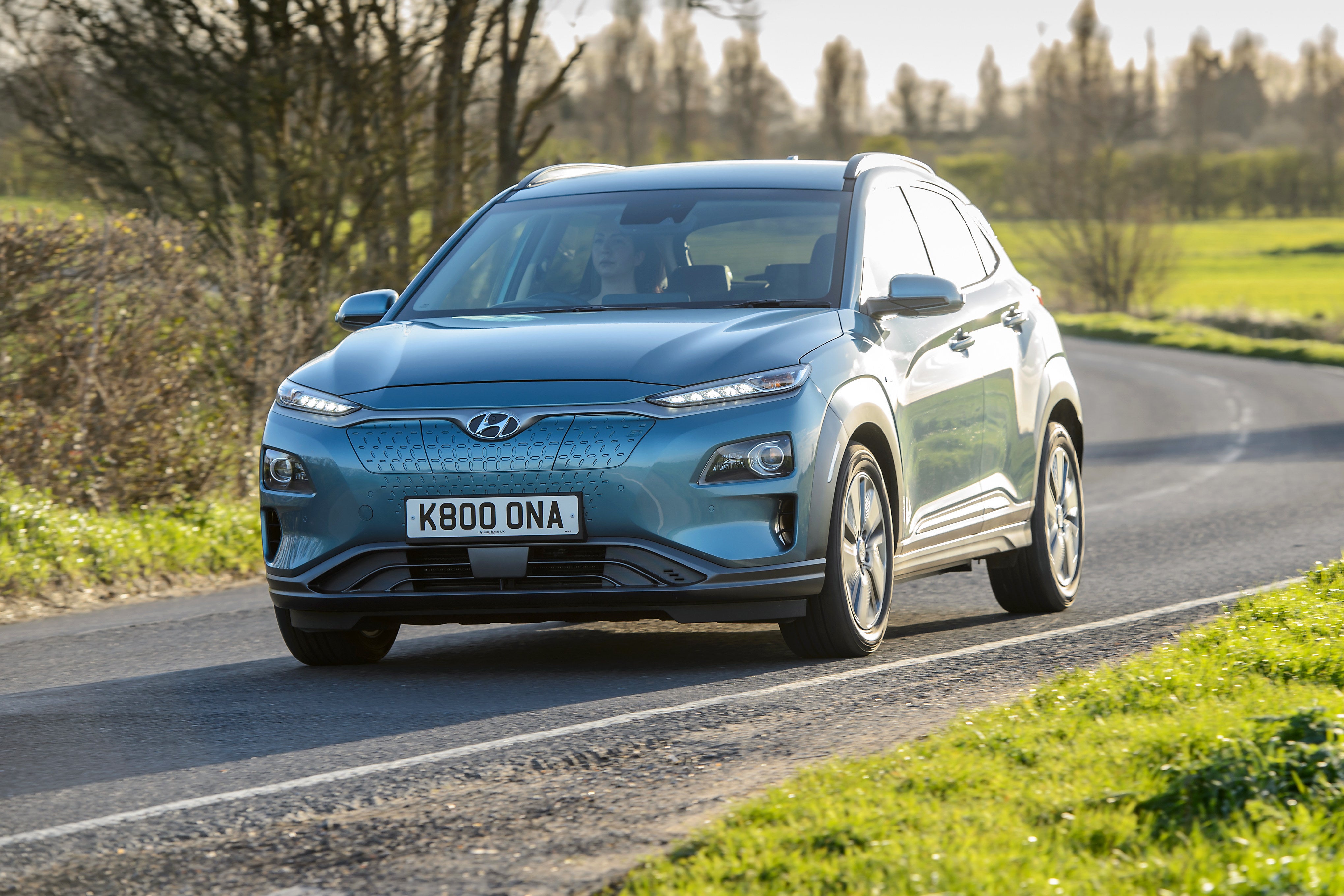 The Hyundai Kona Electric shares a powertrain with the Kia Soul EV and e-Niro, but it's a bit smaller than both - which means it feels a bit more agile and it's easier to park (but, obviously, it's not quite as spacious). It's just been refreshed with the 64kWh battery pack delivering up to a claimed 300 miles between charges. Older models are still very good however if you're looking to buy a used model, with a range of 279 miles before stopping for a top-up (again with the 64kWh battery pack, though there is also a smaller 39kWh battery available).
Charging the 64kWh Kona Electric takes around seven and a half hours using a 7kW home charge point, though if you're using a rapid charging station with a 100kW, expect to be able to charge the battery from 10% to 80% in just under 50 minutes. Combine this genuinely usable range with great value for money and a desirable crossover design, and you've got a car that flies off the shelves. And for good reason.
Jaguar I-Pace
Year launched: 2018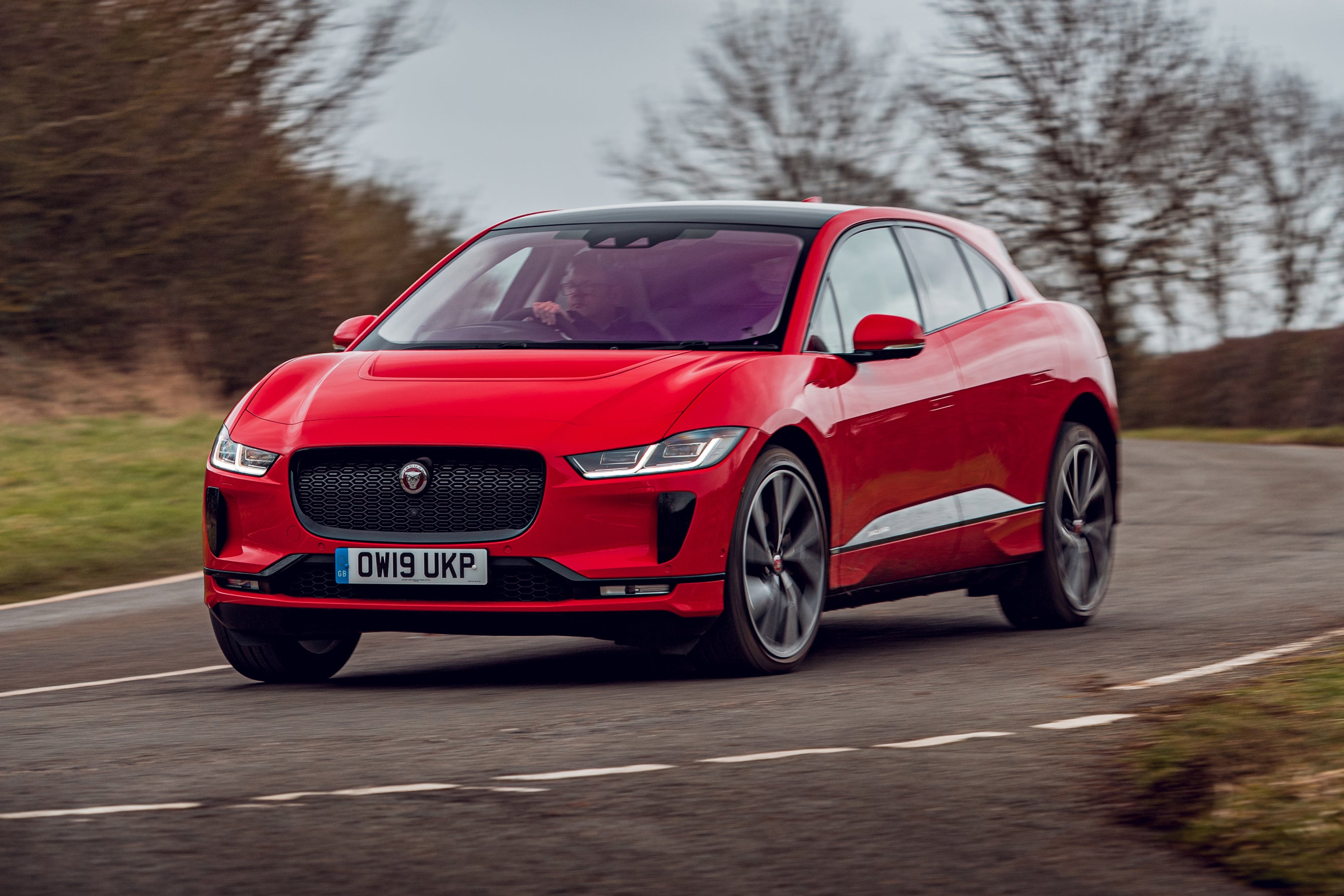 Who'd have thought that British brand Jaguar would be one of the first to take on Tesla with a credible long-range electric SUV? The Jaguar I-Pace features jaw-dropping looks, a useful dose of practicality and an impressive 292-mile range under official WLTP tests. Not only is it quick (0-60mph is covered in 4.5 seconds), it's also one of the most enjoyable electric cars to drive.
A new Jaguar I-Pace will cost you upwards off £65,000 (a top-spec HSE is closer to £75,000) but, as it's been on sale for a few years, you can save a considerable chunk of money by looking for a nearly-new example. And don't forget all the other running cost savings, too: it won't cost you anything in tax and you'll never have to visit a petrol station ever again.
Polestar 2
Year launched: 2020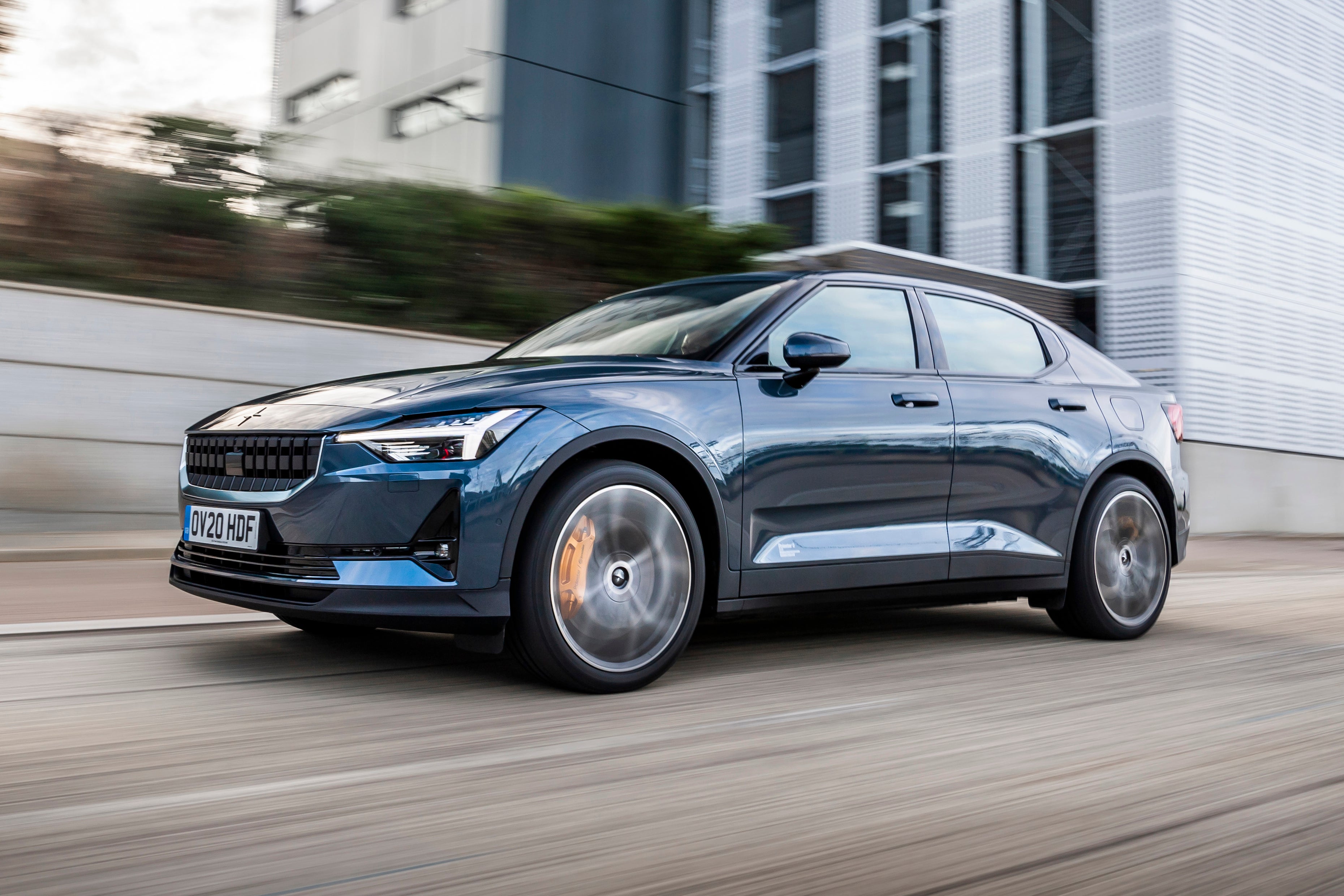 Volvo's electric car spin-off brand launched the Polestar 2 in 2020, with the Tesla Model 3 firmly in its sights. The Chinese-built electric car is based on the same platform as the Volvo XC40 and starts from £46,900 in the UK.
It uses two electric motors to produce a combined 408PS and a hefty 660Nm of instant torque, accelerating it to 62mph in 4.7 seconds. Officially, it can cover 292 miles between charges, which is more than the standard Model 3.
Even more impressive is the technology on offer - it uses an Android-based infotainment system (with Google Assistant, Google Maps and Google Play built in), while its speech recognition system is one of the most accurate we've used.
Kia e-Niro
Year launched: 2019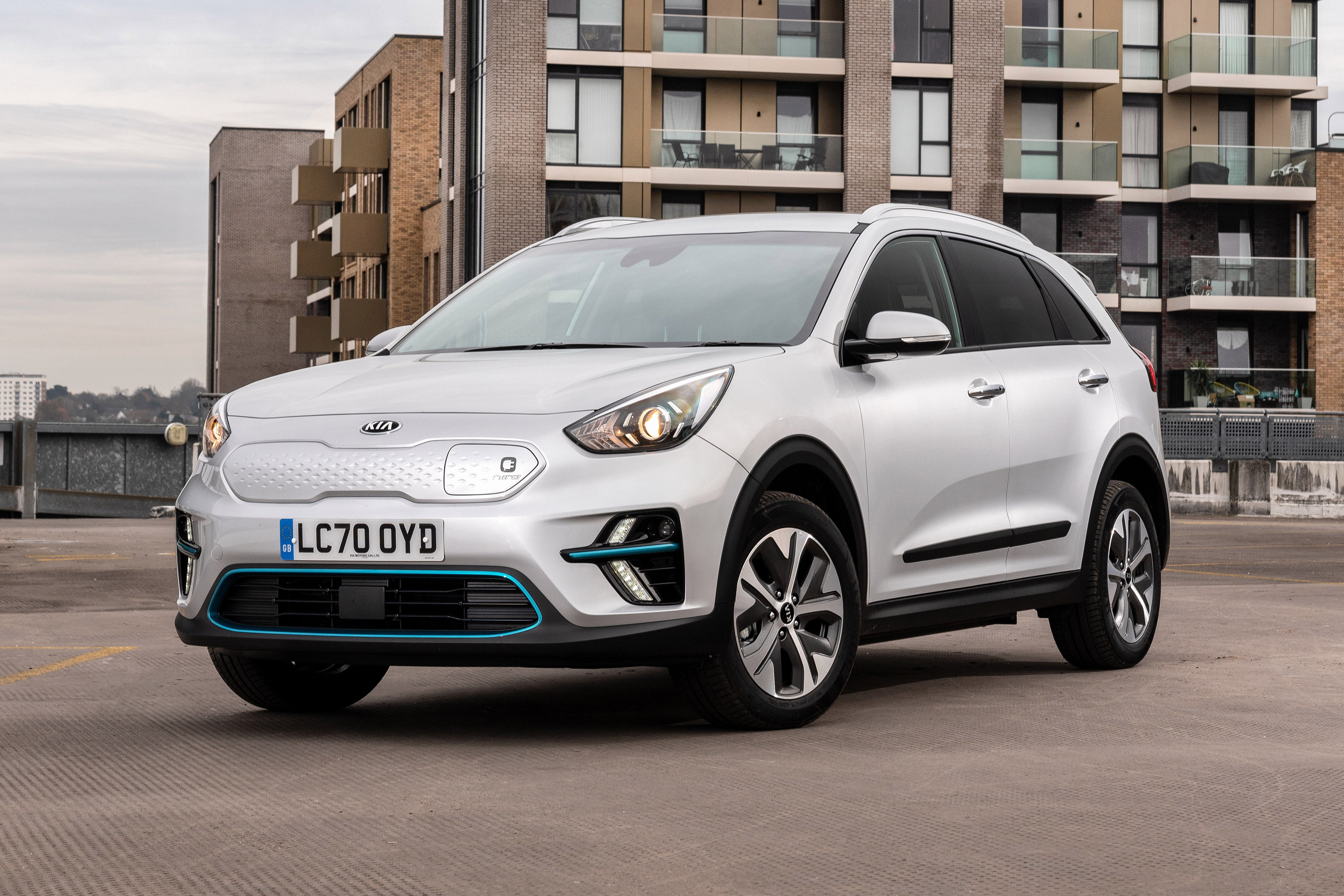 Proving you don't need to break the bank for an electric car capable of covering mega miles, the Kia e-Niro is an incredibly sensible introduction to the world of green motoring. New ones start from around £30,000 (although, obviously, you can save cash by looking for a nearly-new example) and it's practical enough to use as your main family car. Being a Kia, it comes loaded with standard equipment - with top-spec models having such luxuries as heated (and ventilated) seats, a 10.25-inch navigation system and a premium sound system. It even comes with a seven-year transferable warranty.
So what about the stats? Well, go for one with the 64kWh battery pack (that's most of them) and it can officially travel for up to 282 miles between charges. That's more than enough to travel from Birmingham to London and back.
Officially speaking, the Lucid Air is the electric car with the longest range, promising to be able to travel up to 520 miles on a charge. However, it's not yet on sale in right-hand drive or in the UK. When it comes to cars you can actually buy now, the Mercedes EQS 450+ tops the charts with its 453-mile figure. v
In short, an electric car is a vehicle that uses an electric motor and a battery. This means you need to plug it into a socket to recharge, rather than refuelling with petrol or diesel. Today there are lots of electric cars (also known as EVs) to choose from.
Electric cars are a lot more affordable than they used to be. You can find a used electric car from around £5000, while new ones start from around £17,000 (after the Government's plug-in car grant).
More reviews of electric cars with long ranges