Best electric cars for £20,000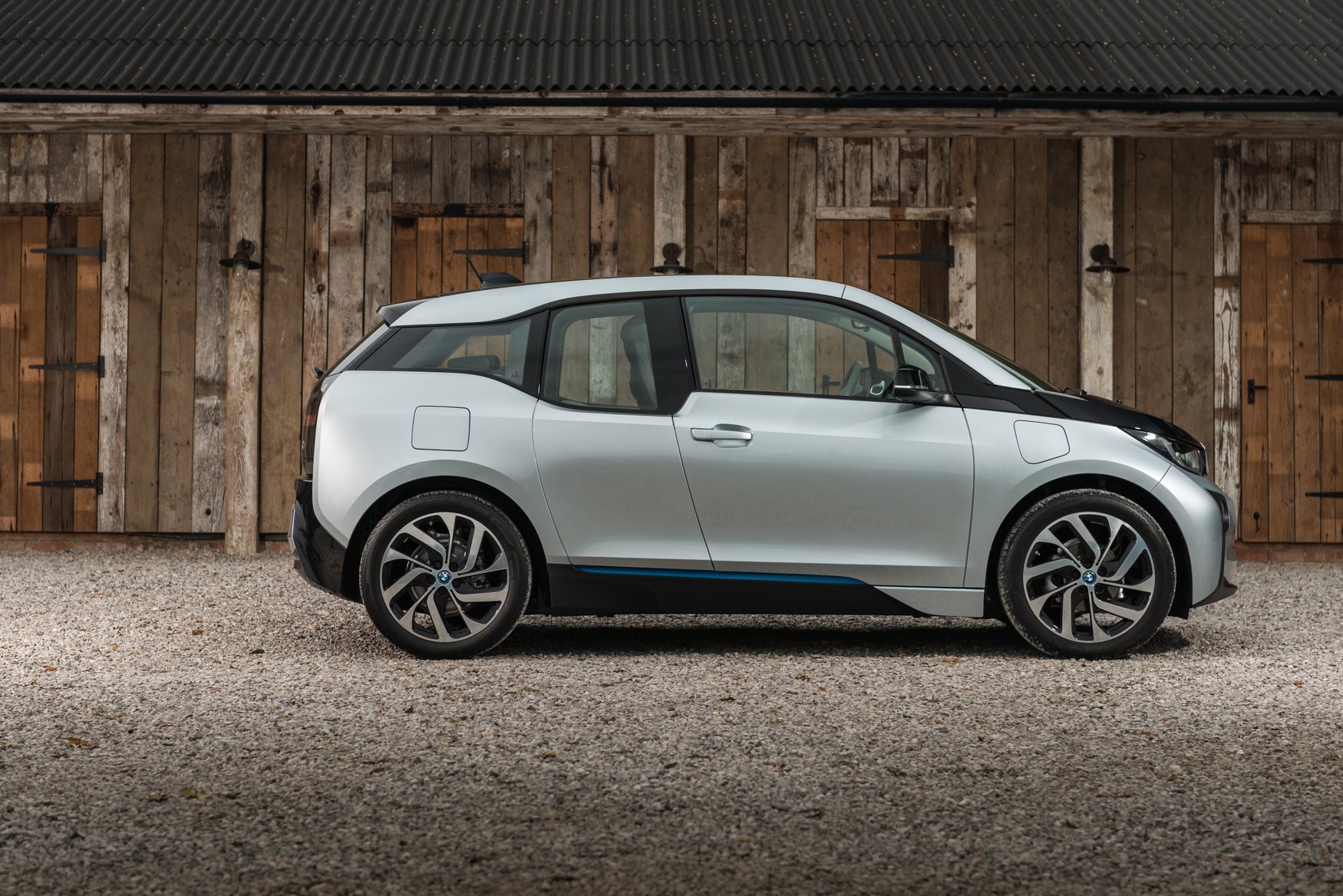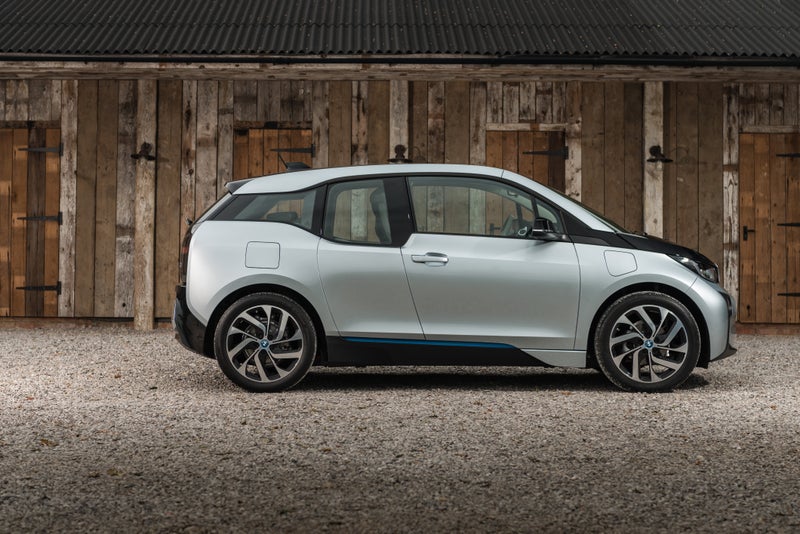 From electric city cars to vehicles for transporting all the family, we've shortlisted 10 of the best EVs on sale now for under-£20,000.
The attraction of an electric car is obvious: not only are they free to tax and cheap to run (you'll never have to visit a petrol station ever again), but they're also fun to drive and good for the environment.
While electric vehicles are traditionally seen as quite expensive to buy, you don't necessarily need a huge pile of cash to get a good one. Buying a nearly-new example is a good way of saving money, and there are plenty of very good ones around for less than £20,000. Our team of used car experts have formed a list of the top 10 on the market today.
Smart EQ Forfour
Year launched: 2019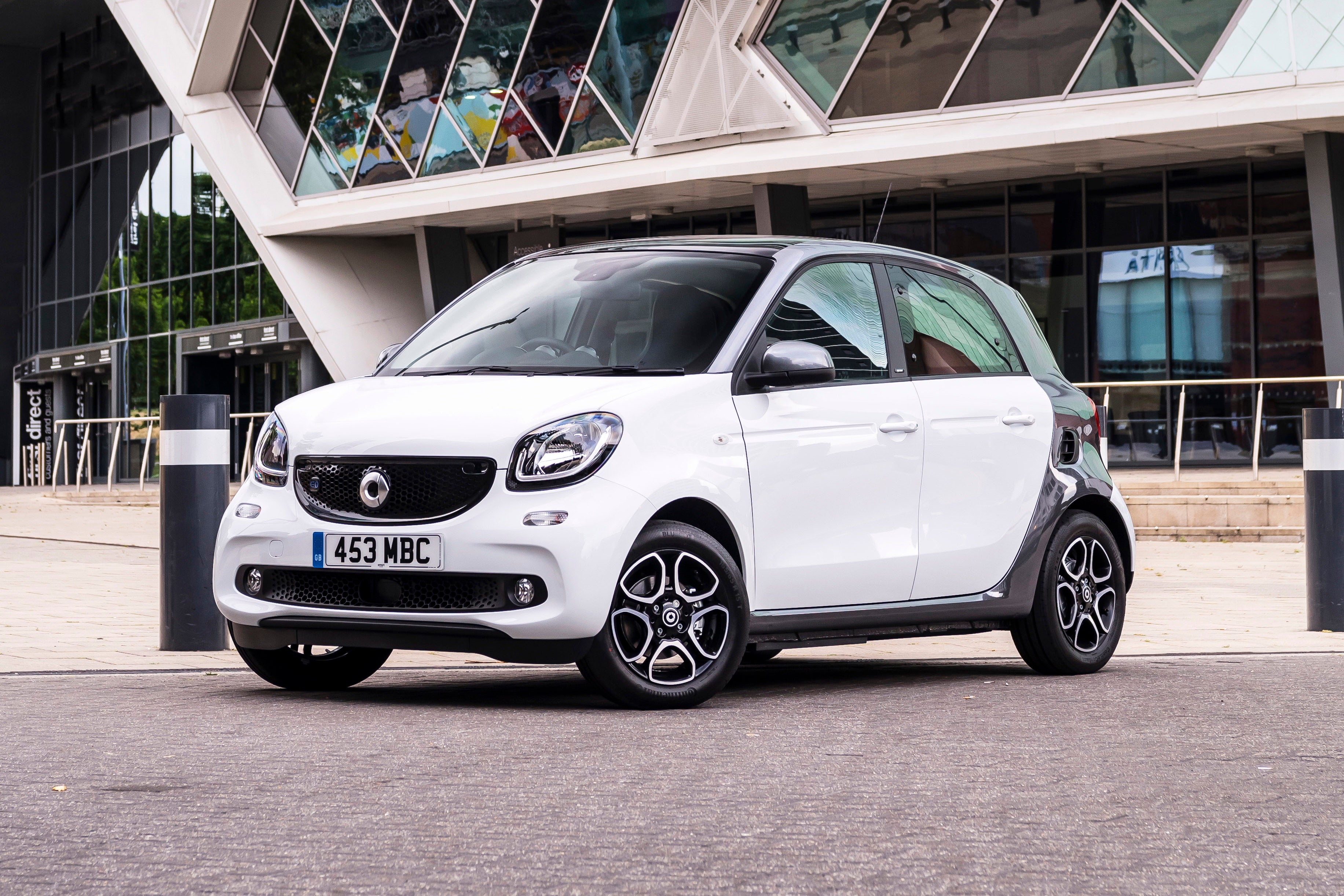 Smart has been selling trendy urban runarounds for decades. Sure, you might picture a little two-seater with a tiny boot, but the brand also sells the EQ Forfour- a four-seater competitor to the Volkswagen e-Up and Renault Zoe.
It uses a 17kWh battery which can be charged in just 2.5 hours using a 7kW home charger. A rapid charger will do it in just 45 minutes.
With a range of 81 miles, you won't want to cover a long journey in the Smart Forfour EQ. But that's missing the point - it's at its best around town, and 81 miles is sufficient for most commutes.
Hyundai Ioniq Electric
Year launched: 2016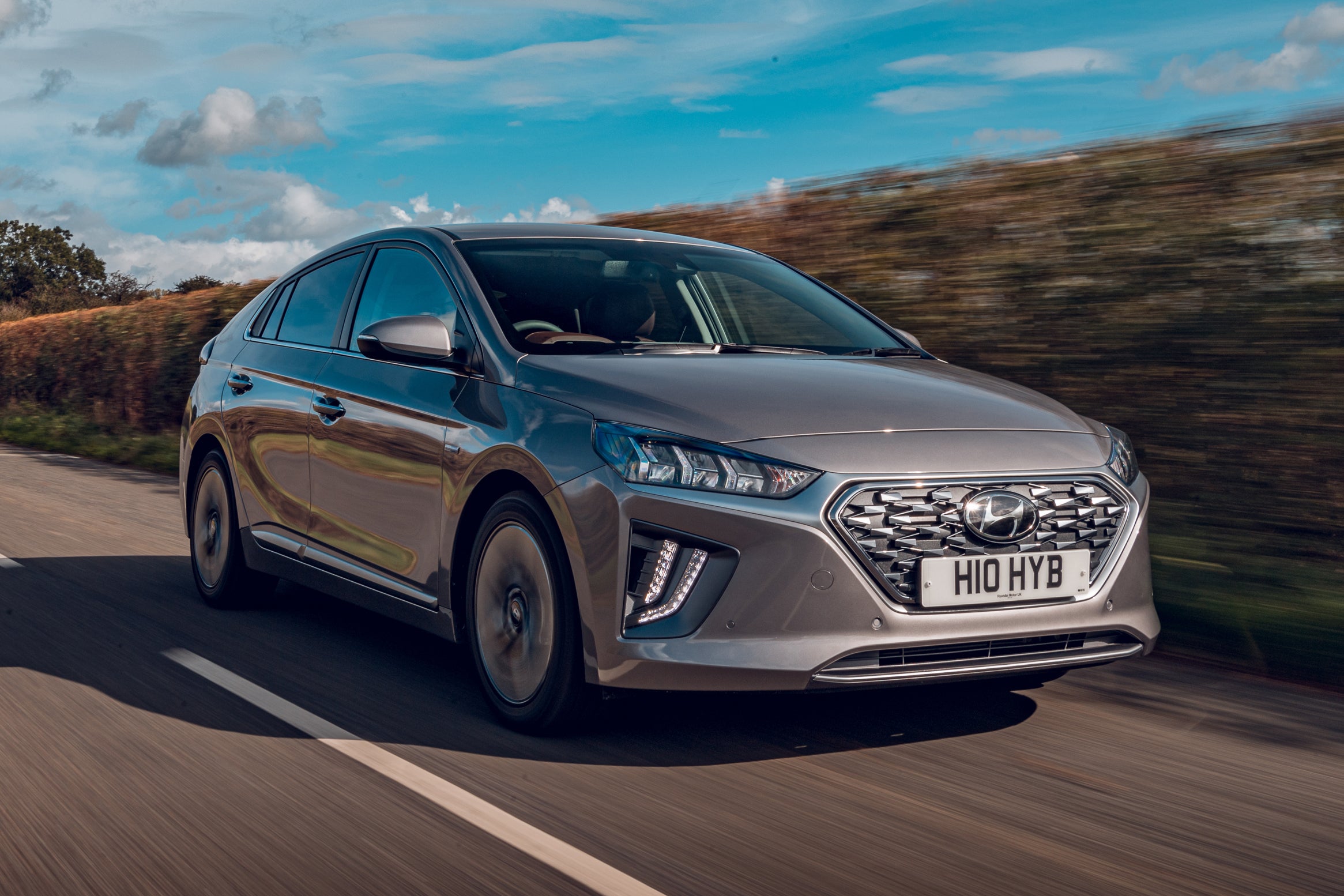 When the Hyundai Ioniq went on sale in 2016, it took the unusual step of offering customers the choice of hybrid, plug-in hybrid or electric variants. The latter's a rival to the popular Nissan Leaf, appealing to family buyers thanks to its high levels of practicality and a transferable five-year, unlimited-mileage warranty.
Our budget will get a three-year-old example with the 28kWh battery, meaning you can expect to travel around 127 miles between charges. Like most electric cars, the Hyundai Ioniq is pleasant and easy to drive, with impressive levels of refinement.
As is usually the case with Hyundai models, the Ioniq Electric is very well equipped. Standard equipment on a mid-spec model, for example, includes heated/ventilated leather seats, front parking sensors and 16-inch alloy wheels.
Volkswagen e-Up
Year launched: 2014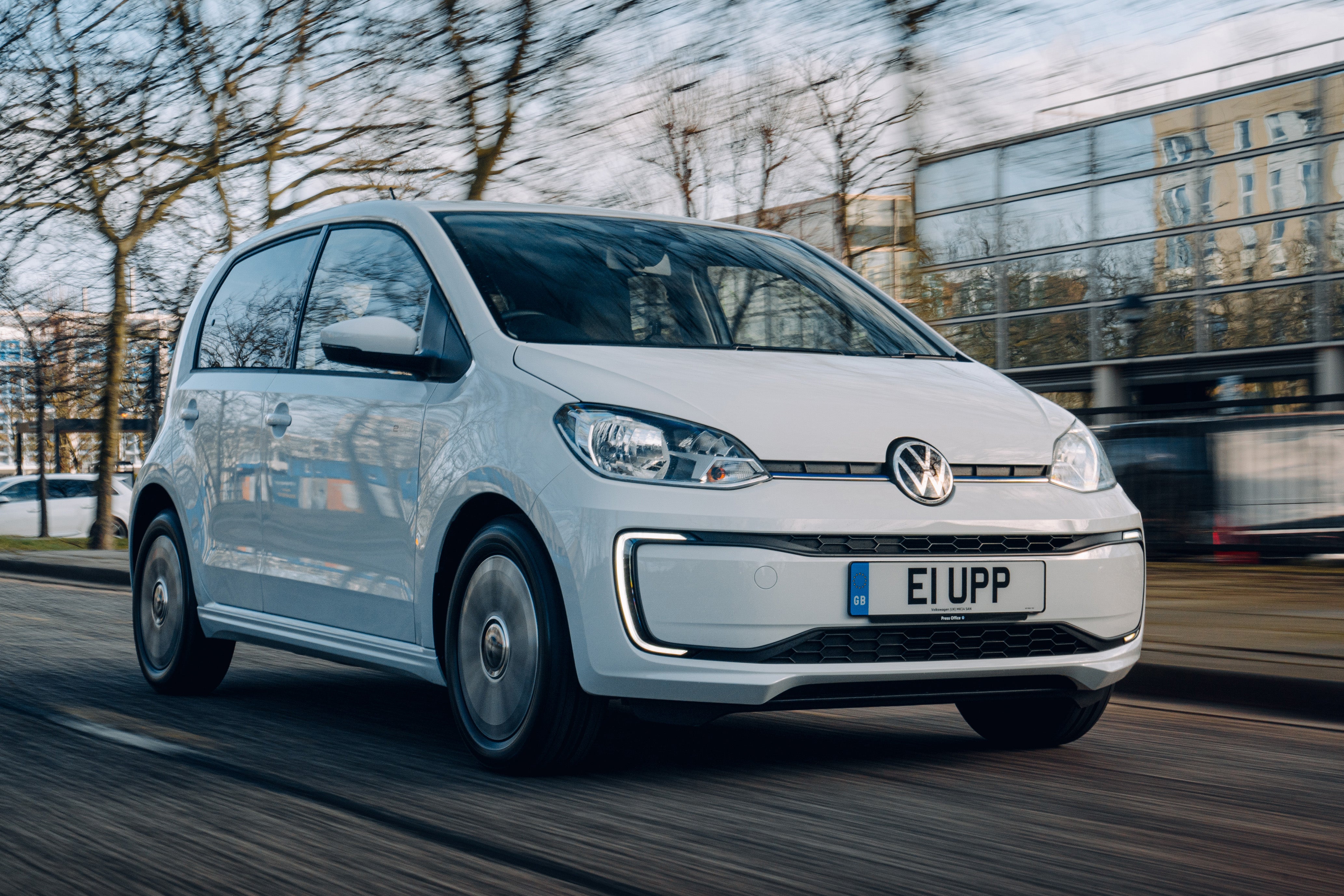 The Volkswagen e-Up electric city car has recently been updated and it can now travel much further than before from a charge. That's because the e-Up's battery pack has been upgraded from 19kWh to 32kWh in capacity, increasing its official range from 83 miles to 159 miles.
You can pick up a nearly-new example for under-£20,000 - meaning the latest model with its larger battery pack is well within reach.
There's lots to like about the Volkswagen e-Up. It's fun to drive, with compact dimensions, yet surprisingly spacious inside. There's enough room for four adults and - despite being on sale since 2014, it still looks modern and minimalist.
BMW i3
Year launched: 2013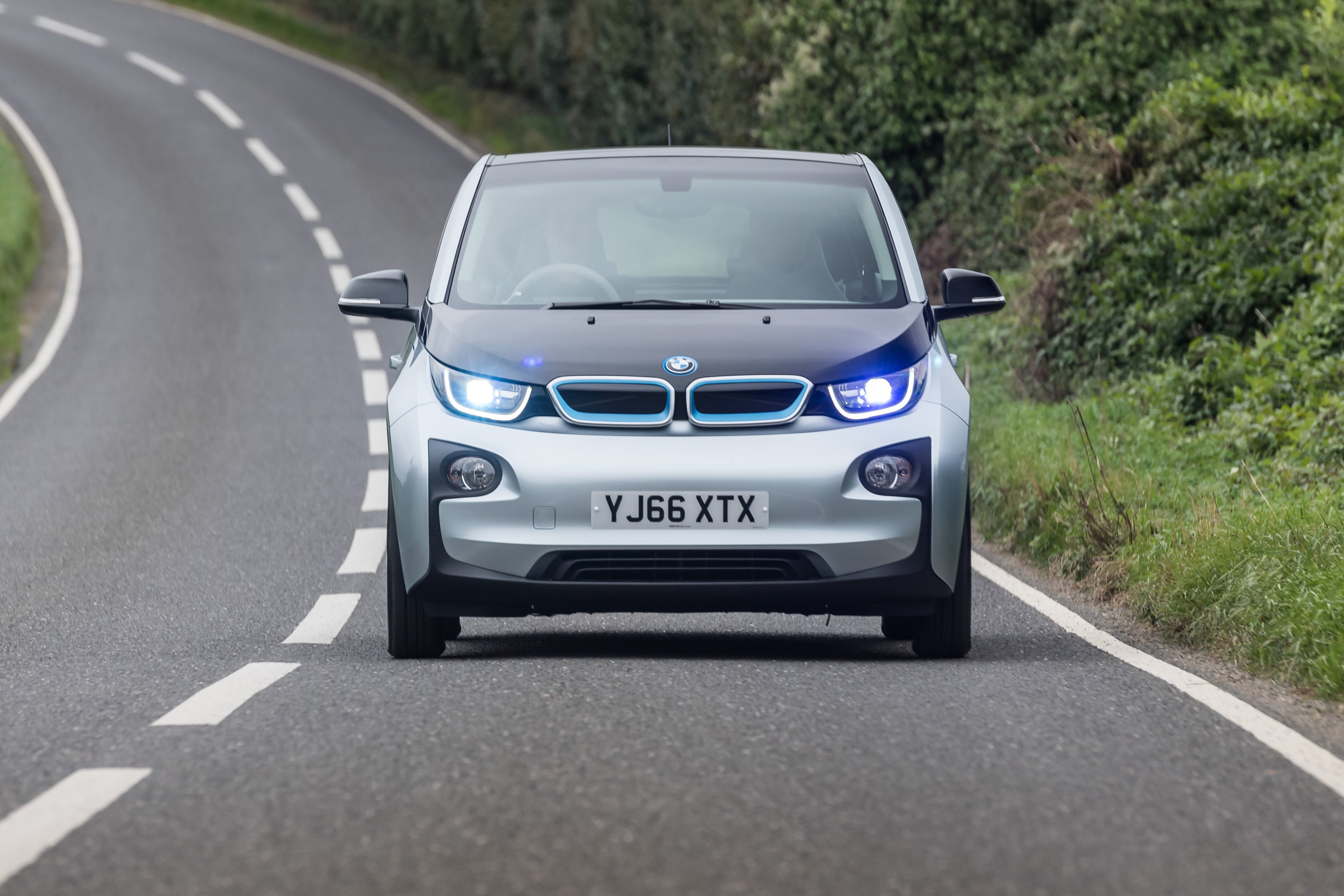 Despite being on sale since 2013, the BMW i3's futuristic looks mean it still turns heads today. It looks more like a concept car than an actual production model, while its rear-hinged doors and rather blocky dimensions mean it's surprisingly practical.
In true BMW form, the i3 is a lot of fun to drive. Its electric motor and carbon fibre body mean it's surprisingly quick off the line, and very agile around town.
A £20,000 budget will get you a three-year-old i3 with the 33kWh battery. This provides a range of up to 195 miles, which is quite a lot more than most buyers will need from an electric city car.
Renault Zoe
Year launched: 2013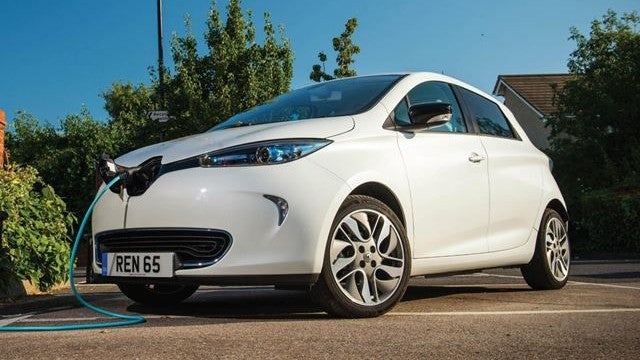 The Ford Fiesta-sized Renault Zoe ticks a lot of boxes for a lot of EV buyers. It's a perfect introduction to electric motoring, with a range of up to 186 miles and a relatively low purchase price - especially if you buy one with the battery leasing option.
This allows you to rent the batteries from Renault (with prices starting from £59 a month), without having to worry about long-term maintenance costs. When you consider how much you'll save in petrol and car tax, that monthly outlay's very reasonable.
A £20,000 budget will get you a nearly-new example. It'll be great to drive, with an eager motor and compact dimensions making it a doddle to park on a congested high street.
Kia Soul EV
Year launched: 2020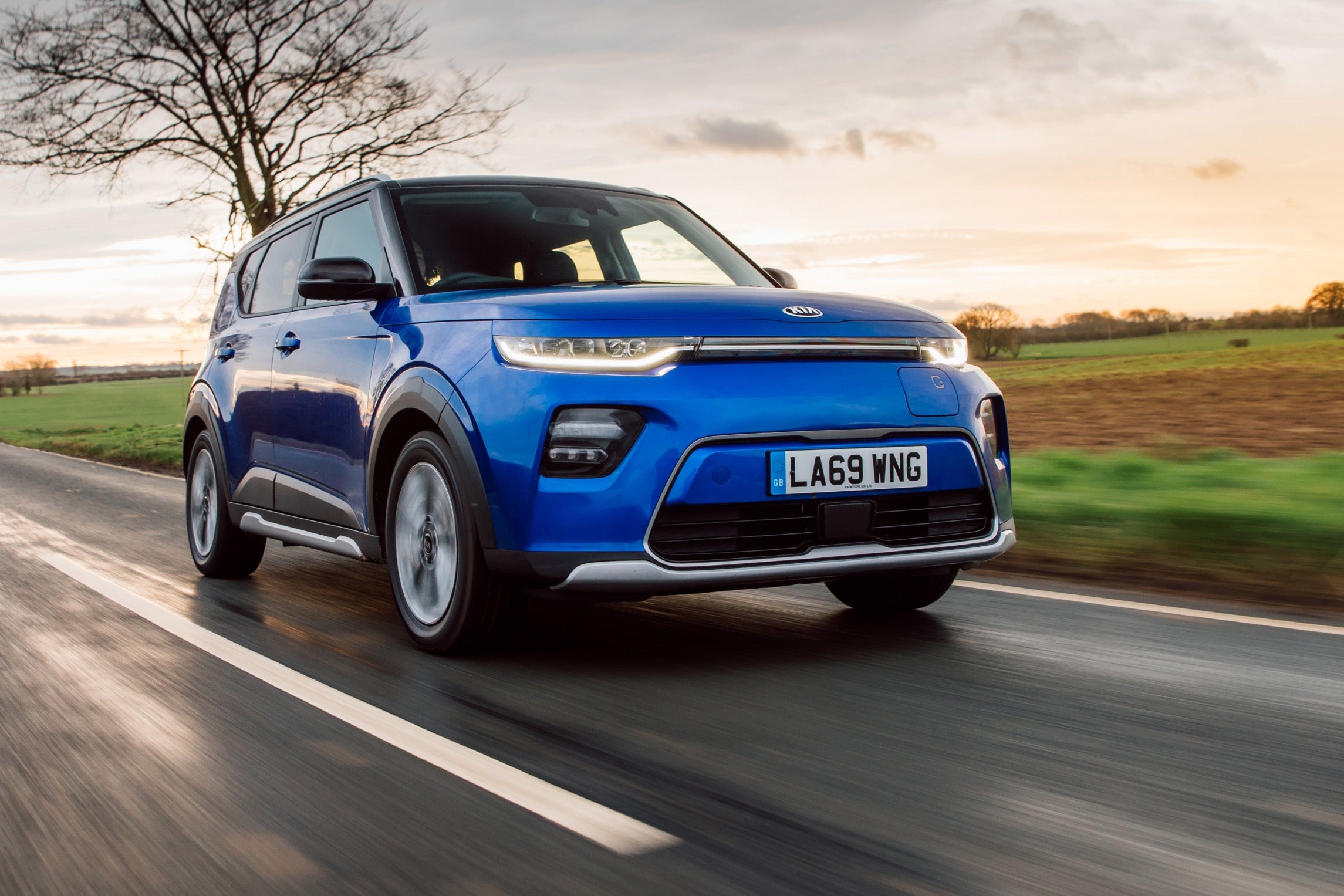 You won't find huge numbers of the Kia Soul EV on the used market - it was never as popular as the Nissan Leaf or Volkswagen e-Golf, but we love its bold styling and practical interior.
It's extremely well equipped. Things like an eight-inch navigation system, a reversing camera and heated seats are all standard kit. A £20,000 budget will get a two-year-old model with low miles on the clock, not to mention Kia's transferable seven-year warranty.
Officially, the Kia Soul EV can travel 132 miles between charges. This is according to the old NEDC tests, meaning you'll be looking at significantly below 100 miles in the real world. Look for a new Soul, with the powertrain from the e-Niro, if you want to travel further afield - although it'll cost you more to buy.
Skoda Citigo-e iV
Year launched: 2020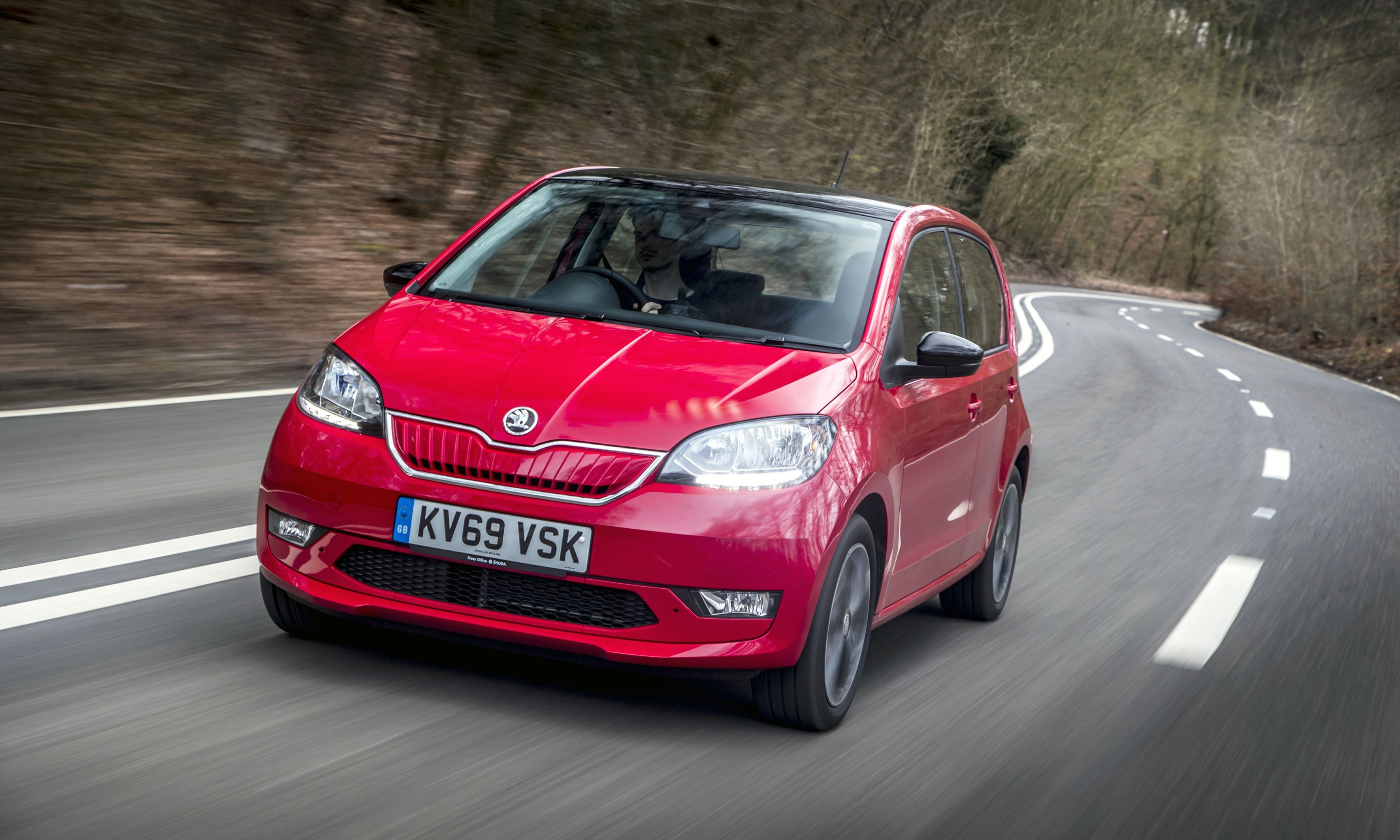 We reckon the Skoda Citigo-e iV is one of the best value electric cars on the market today. A £20,000 budget will get you a new one, but we'd recommend looking for a nearly-new example so you can get a high-spec model for the same money with lots of extra equipment fitted as standard.
The Citigo's 37kWh battery provides a range of up to 170 miles, while its 83PS electric motor results in punchy performance. It's a really fun little car to drive around town, thanks to its nimble handling and excellent visibility.
It's also a packaging triumph. You can fit four adults in the Citigo, even though it has one of the smallest footprints of all the electric cars in this list, and access is easy thanks to its five-door layout.
Mercedes-Benz B-Class Electric Drive
Year launched: 2015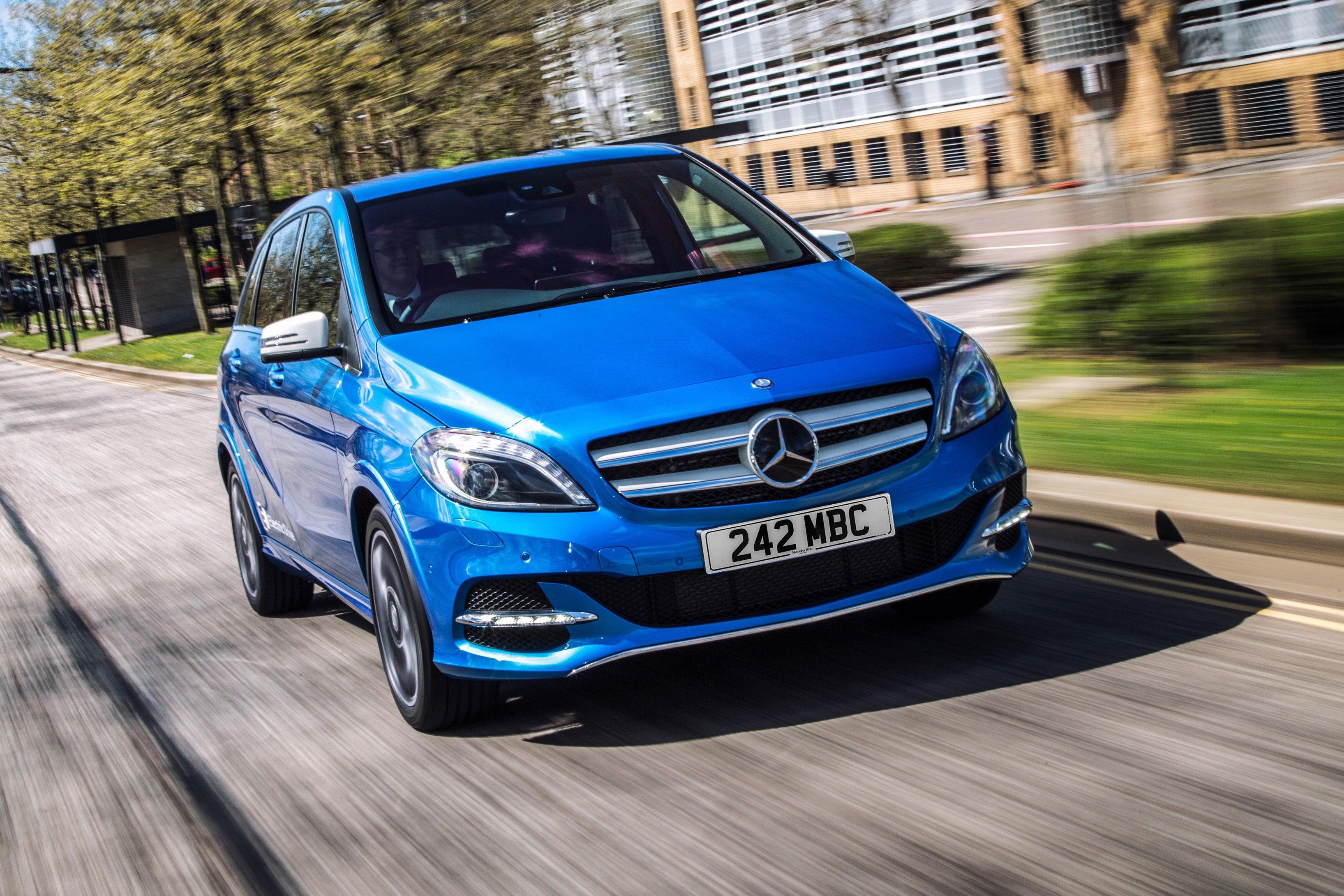 While BMW went a bid mad and launched the totally bespoke BMW i3, Mercedes-Benz decided to adapt one of its existing cars for its first mainstream electric vehicle. The result is the B-Class Electric Drive, a catchily-named and versatile hatchback. It's got a sliding rear bench and a huge boot, capable of lugging up to 486 litres of luggage. That makes it one of the most practical electric cars on sale this side of £20,000.
Talking of which, our budget will get you a late example with low miles and full service history. Two trim levels are available: Sport and Electric Art. The Sport comes with 17-inch alloy wheels, a reversing camera and an eight-inch media system with Apple CarPlay, while the Electric Art adds features like 18-inch matt black alloy wheels, blue contrast stitching on the Artico leather seats and blue exterior highlights.
The B-Class Electric Drive's powertrain was co-developed with Tesla, with a claimed range of up to 124 miles thanks to a 28kWh battery which can be recharged in just 3.5 hours using a dedicated home charge unit.
Volkswagen e-Golf
Year launched: 2014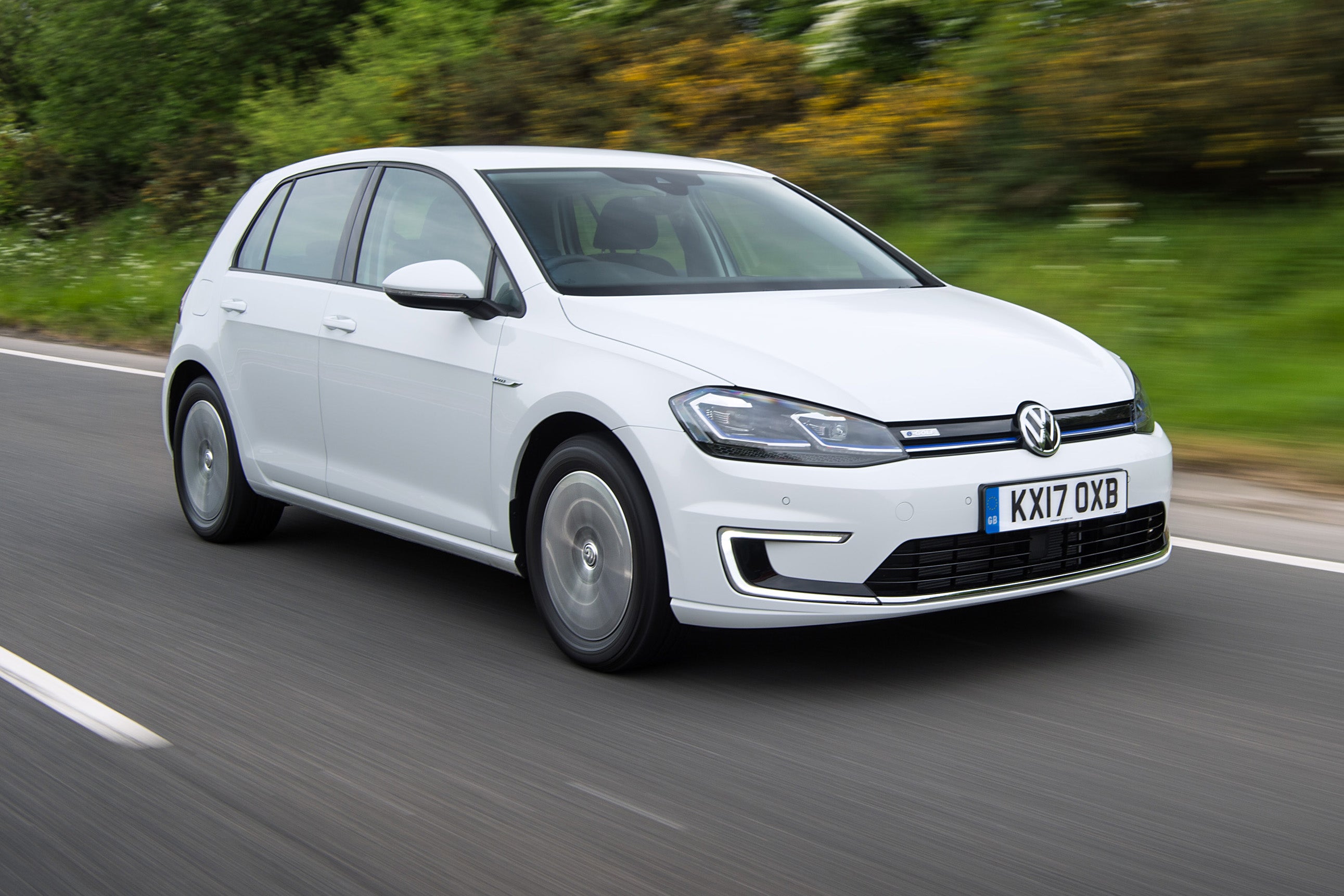 For newcomers to electric vehicles, the Volkswagen e-Golf is a superb option. It's just like a normal Golf - meaning you get an upmarket interior with plush materials and oodles of 'feel-good' factor. It's just as practical, too, with a more useable boot than smaller electric cars like the Renault Zoe or Volkswagen e-Up.
By replacing the petrol or diesel engine with an electric motor, the e-Golf is even more refined than a standard Golf. It's even more fun to drive, too, with instant responses and darty handling, thanks to the positioning of the batteries under the car's floor.
A three-year-old example will be in reach with a budget of £20,000. The standard e-Golf can officially cover up to 186 miles on a charge - although in the region of 125 miles is more realistic, admits Volkswagen. Look for one with the optional heat pump if you wish to travel further. This recycles heat from ambient air and waste heat from the drivetrain, reducing the heating system's electric power consumption.
Nissan Leaf
Year launched: 2018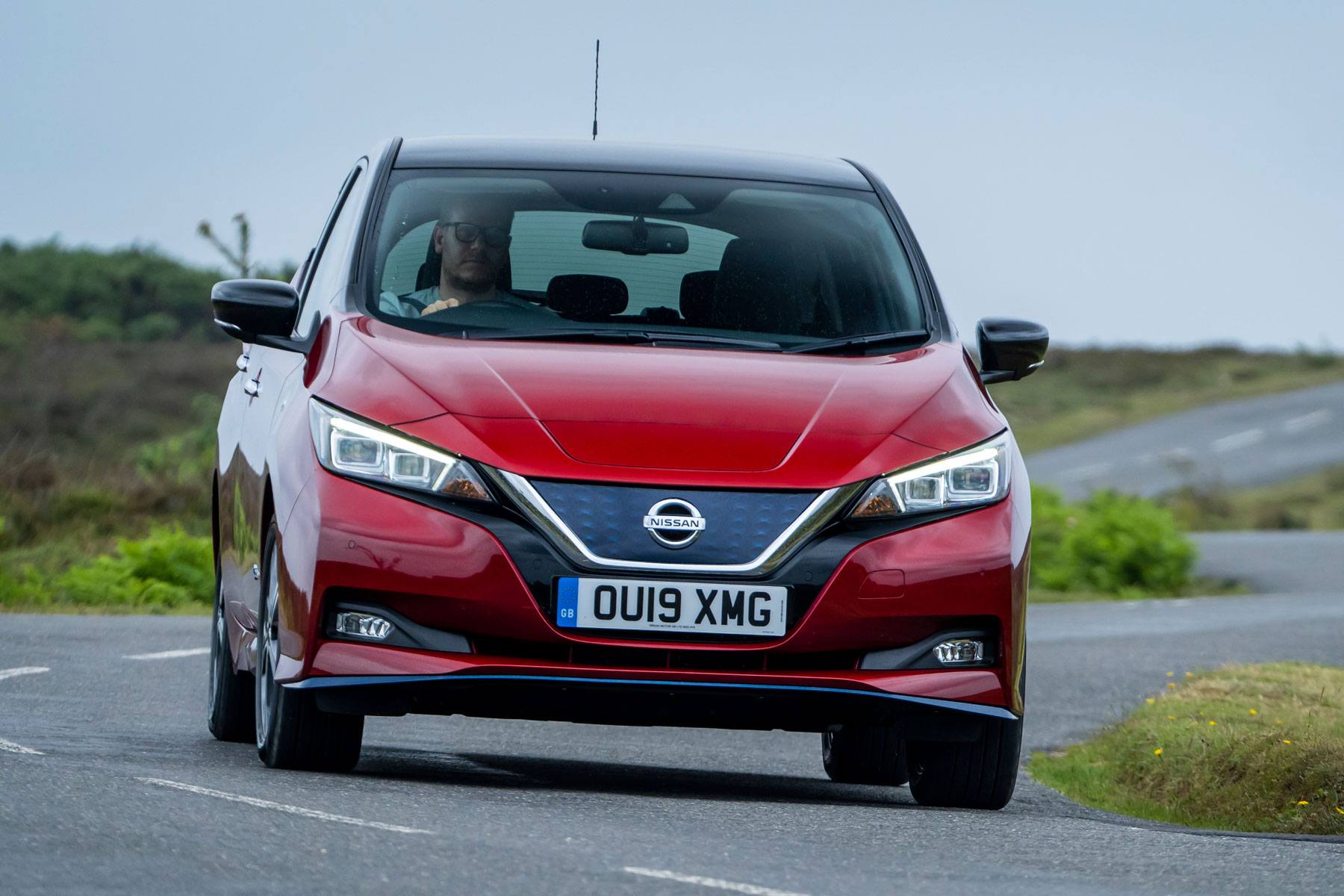 No electric car shortlist is complete without the Nissan Leaf. It's one of the most popular electric vehicles on the market, and for very good reason. It's a reliable and practical car that's easy to drive, while a nearly-new example represents particularly good value for money.
A £20,000 budget will get you a two-year-old example with the 40kWh battery, meaning you'll be able to travel up to 168 miles between charges according to official WLTP figures (which, with some gentle driving, are fairly achievable in the real world). Look for a high-spec Tekna model for such luxuries as heated leather seats, a heated leather steering wheel and a Bose premium sound system.
One of our favourite features of the Nissan Leaf is its clever e-Pedal. This is essentially really severe regenerative braking - so, as soon as you lift off the accelerator, the car will slow down and pump the recovered energy back into the battery. With this switched on, you can often resort to one-pedal driving, particularly around town.
An electric car is one that uses an electric motor rather than a petrol or diesel engine. Obviously, rather than refuelling with petrol or diesel, you'll need to plug an electric car in to a power socket to charge it.
Electric cars can be more expensive than petrol or diesel rivals, but they're coming down in price. You can buy a used electric car from around £5000, while new ones start from around £17,000 (after the Government's plug-in car grant).
Electric cars are making an increasing amount of sense for a lot of people. If you cover a lot of miles around town or commute to a set location every day, you'll probably be in a strong position to drive an electric car. They're easy (and fun!) to drive and, of course, provide exceptionally cheap running costs.
Reviews of more electric cars for £20,000
BMW I3
125kW Range Extender 33kWh 5dr Auto
Manufacturer Approved
Marshall BMW Hook

Hampshire, RG279RW
PCP: £306.18/mo
Representative example: Contract Length: 36 months, 35 Monthly Payments: £306.18, Customer Deposit: £3,013.00, Total Deposit: £3,013.50, Optional Final Payment: £10,281.46, Total Charge For Credit: £3,921.26, Total Amount Payable: £24,011.26, Representative APR: 9.9%, Interest Rate (Fixed): 9.9%, Excess Mileage Charge: 7.66ppm, Mileage Per Annum: 10,000
BMW I3
125kW Range Extender 33kWh 5dr Auto
Manufacturer Approved
Marshall BMW Bournemouth

Dorset, BH125WB
PCP: £306.69/mo
Representative example: Contract Length: 36 months, 35 Monthly Payments: £306.69, Customer Deposit: £2,893.00, Total Deposit: £2,893.50, Optional Final Payment: £9,358.09, Total Charge For Credit: £3,695.74, Total Amount Payable: £22,985.74, Representative APR: 9.9%, Interest Rate (Fixed): 9.9%, Excess Mileage Charge: 7.41ppm, Mileage Per Annum: 10,000
BMW I3
125kW 33kWh 5dr Auto
Lookers BMW Crewe

Cheshire, CW16XH
PCP: £304.44/mo
Representative example: Contract Length: 36 months, 35 Monthly Payments: £304.44, Customer Deposit: £2,879.00, Total Deposit: £2,879.85, Optional Final Payment: £8,935.19, Total Charge For Credit: £3,271.44, Total Amount Payable: £22,470.44, Representative APR: 8.9%, Interest Rate (Fixed): 8.9%, Excess Mileage Charge: 6.84ppm, Mileage Per Annum: 10,000