New Citroen Ami: price, specs and release date
New Citroen Ami: price, specs and release date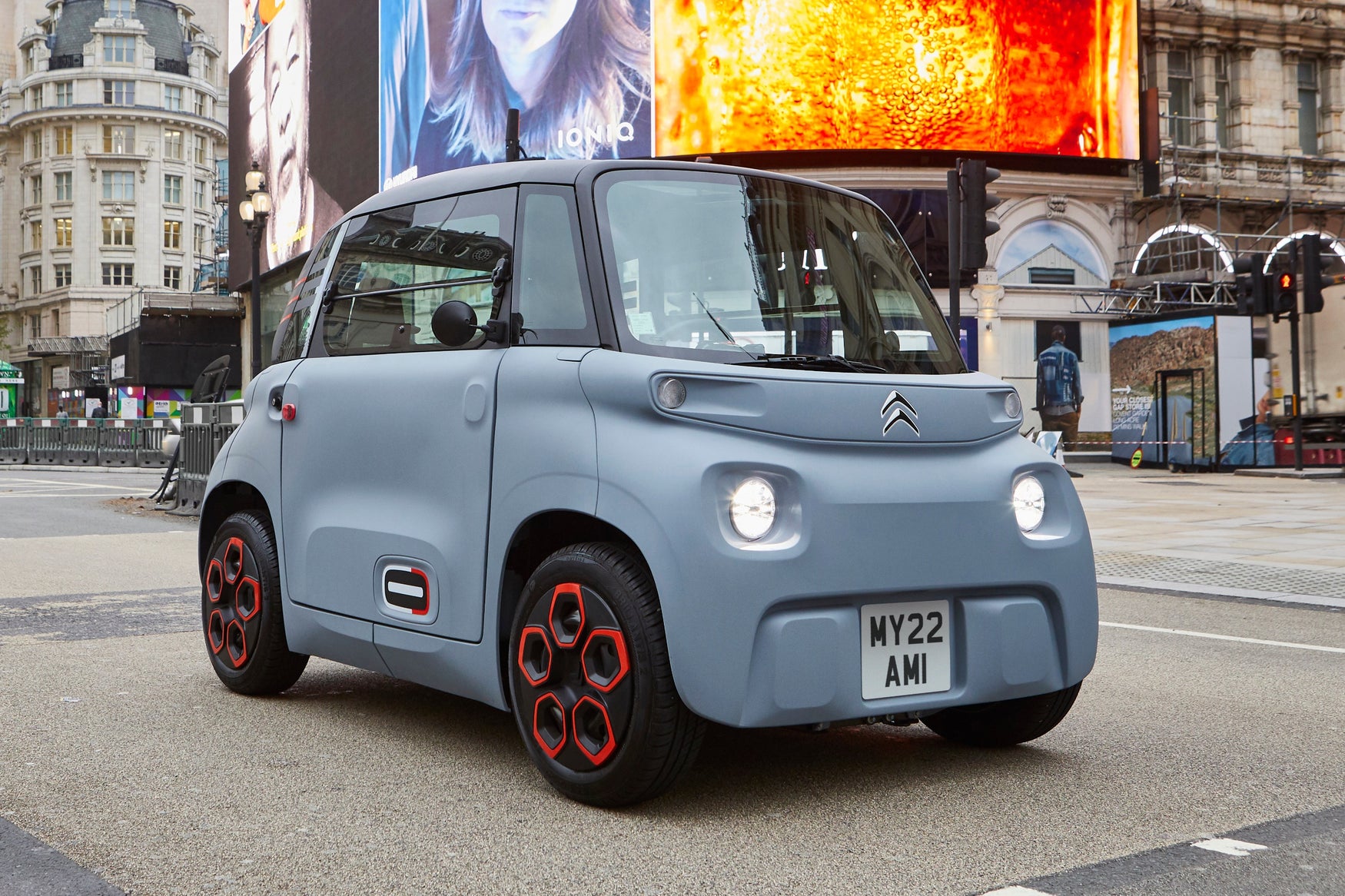 Citroen has unveiled the all-new Ami electric city car. The Ami will be one of the cheapest new electric cars when it goes on sale with prices starting at £7695.
The Citroen Ami is available as a city car or small electric van. The Ami is on sale now and rivals the Skoda Citigo-e iV, Renault Zoe and Volkswagen e-Up. Deliveries are expected to start in late-2022. Citroen has clocked up over 2000 orders for the Ami electric car already and its £7695 starting price means it is officially the UK's cheapest new electric vehicle (EV).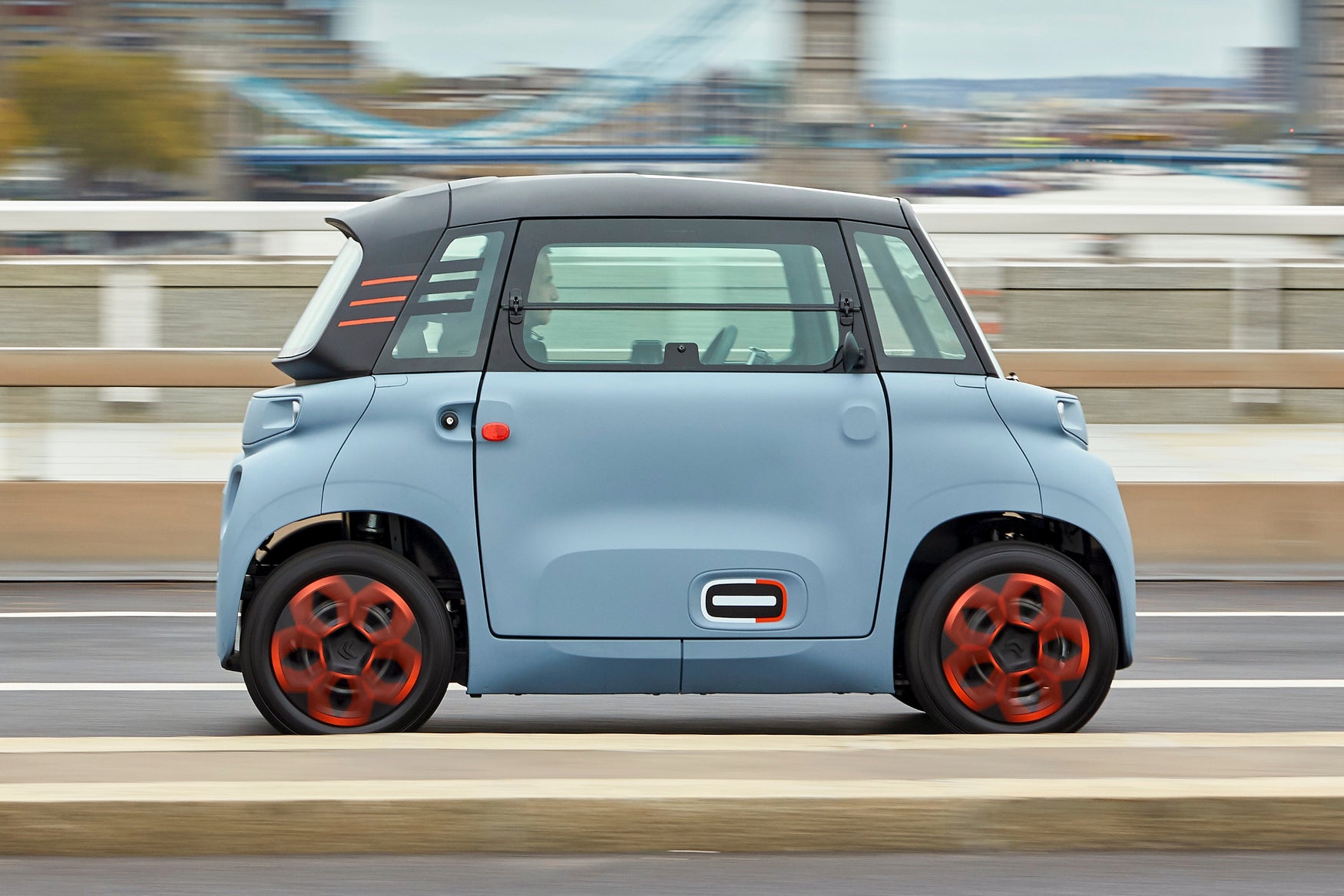 New Citroen Ami price and release date
The Citroen Ami is the cheapest new EV in the UK with prices starting at £7695 after you've deducted the electric car grant. The Ami is also available as a single-seat small van but the prices for the My Ami Cargo van are a little more expensive than the car at £7995.
The Ami electric car is on sale now. Citroen says it has already received more than 2000 orders and the first vehicles should reach UK showrooms before the end of 2022.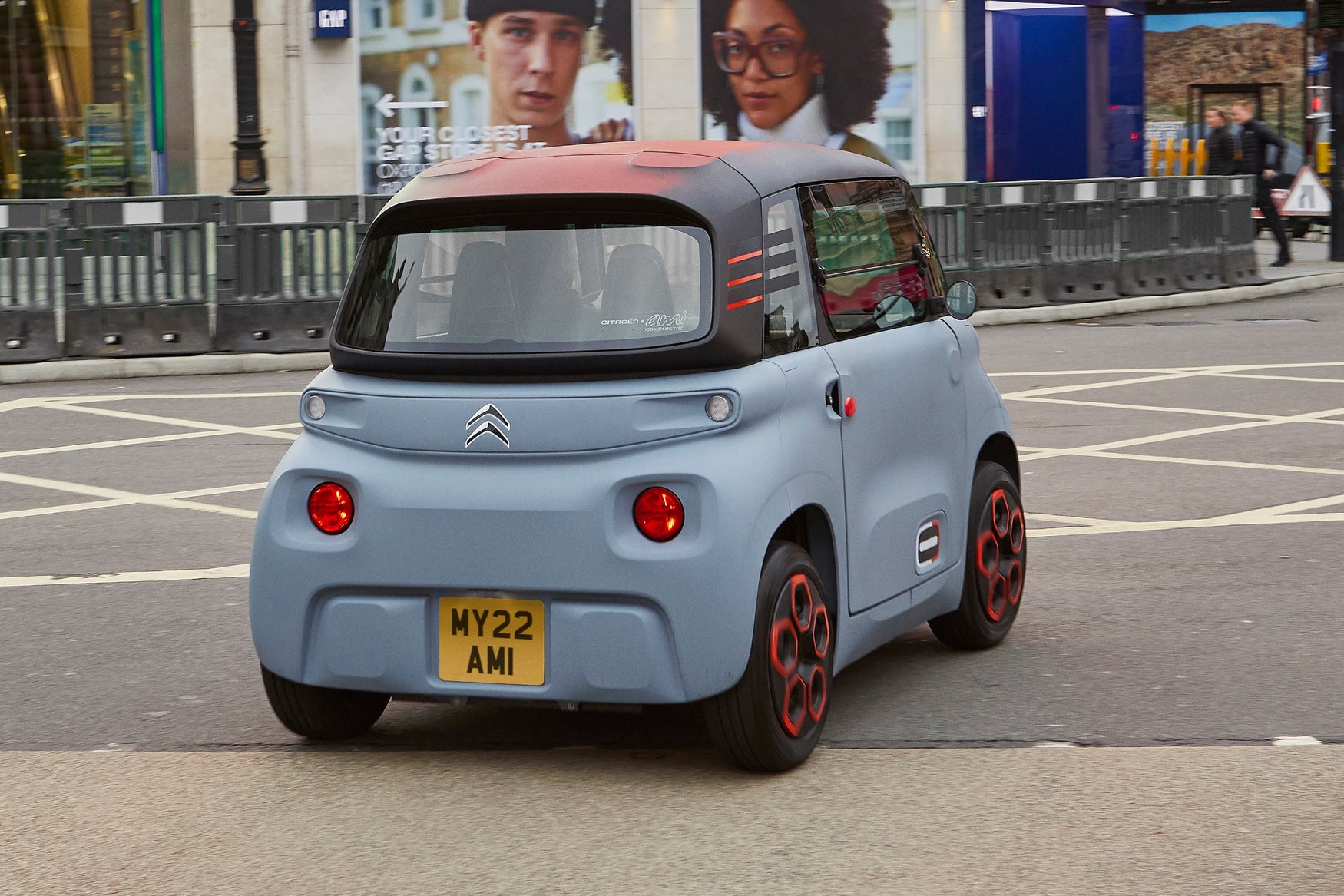 New Citroen Ami styling
At 1.4 metres wide and 2.4 metres long, the Citroen Ami has been designed for city life. Its short overhangs and boxy shape should make it apt for navigating narrow streets or gliding into the smallest of urban parking spaces.
The pintsized Citroen Ami is classed as a quadricycle. As a result, drivers as young as 16 can drive one with a full 'Category AM' 50cc motorcycle licence - perfect if you want to get some road experience before booking your driving test.
Being an electric quadricycle, the Ami doesn't have to meet the same safety standards as a normal-sized car, which explains why Ami doesn't have any bumpers. You do get LED headlights, which are set quite high to protect them from any bumps or scrapes that may come their way as you dice your way through city-centre traffic.
The colour packs start at £400 and let you customise the wheel trims, rear pillar decals and dashboard storage boxes. You can also add a rear spoiler and body stickers; however, we are not sure how useful these will be with the Ami's top speed of 28mph.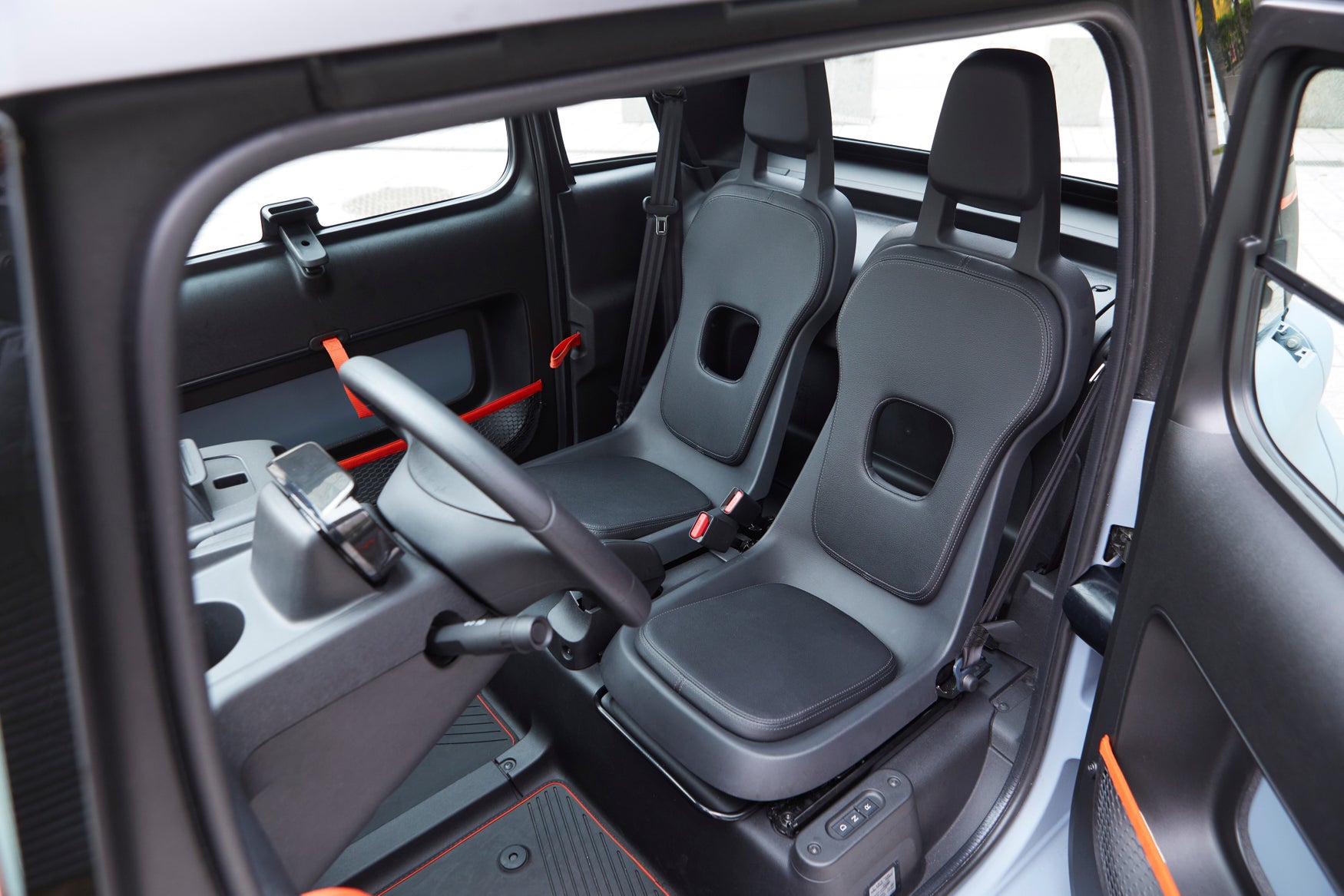 New Citroen Ami practicality and interior
The Citroen Ami is a cheap small car that's designed to transport two people with zero tailpipe emissions at the lowest possible cost. As a result, the interior is a little back to basics, with a small dashboard that features a cupholder and a storage box with a lid.
Citroen will not offer the Ami in right-hand drive, which means you'll need to adapt to having the steering wheel on the left. On the plus side, this does mean you'll exit the car at the kerbside when you park up.
Measuring just 2.4 metres long, the Ami is over a metre shorter than the Volkswagen Up. As a result, you do not get a boot or any rear seats. The thin doors also have windows flip up and down like the classic Citroen 2CV.
Even by the Smart EQ Fortwo standards, the Ami is small but its boxy shape should provide ample head and legroom for two large adults to travel in quiet comfort. All versions are fitted with a digital speedometer, panoramic glass sunroof and a USB charging port. You also get a docking station for your mobile phone so you can use it as a sat nav to find your way around town.
There are no speakers or infotainment options, which means you'll have to make conversation with your passenger or travel in silence as the electric motor whirrs you along. You do get a storage box and some door nets for carrying loose items, though.
Things are even more sparse in the My Ami Cargo van, with the passenger seat replaced with a loadspace (pictured below) that provides up to 400 litres for parcels, boxes or a toolbag. You also get a plastic load cover that can double up as a desk so you can transform your Ami Cargo into the world's smallest office.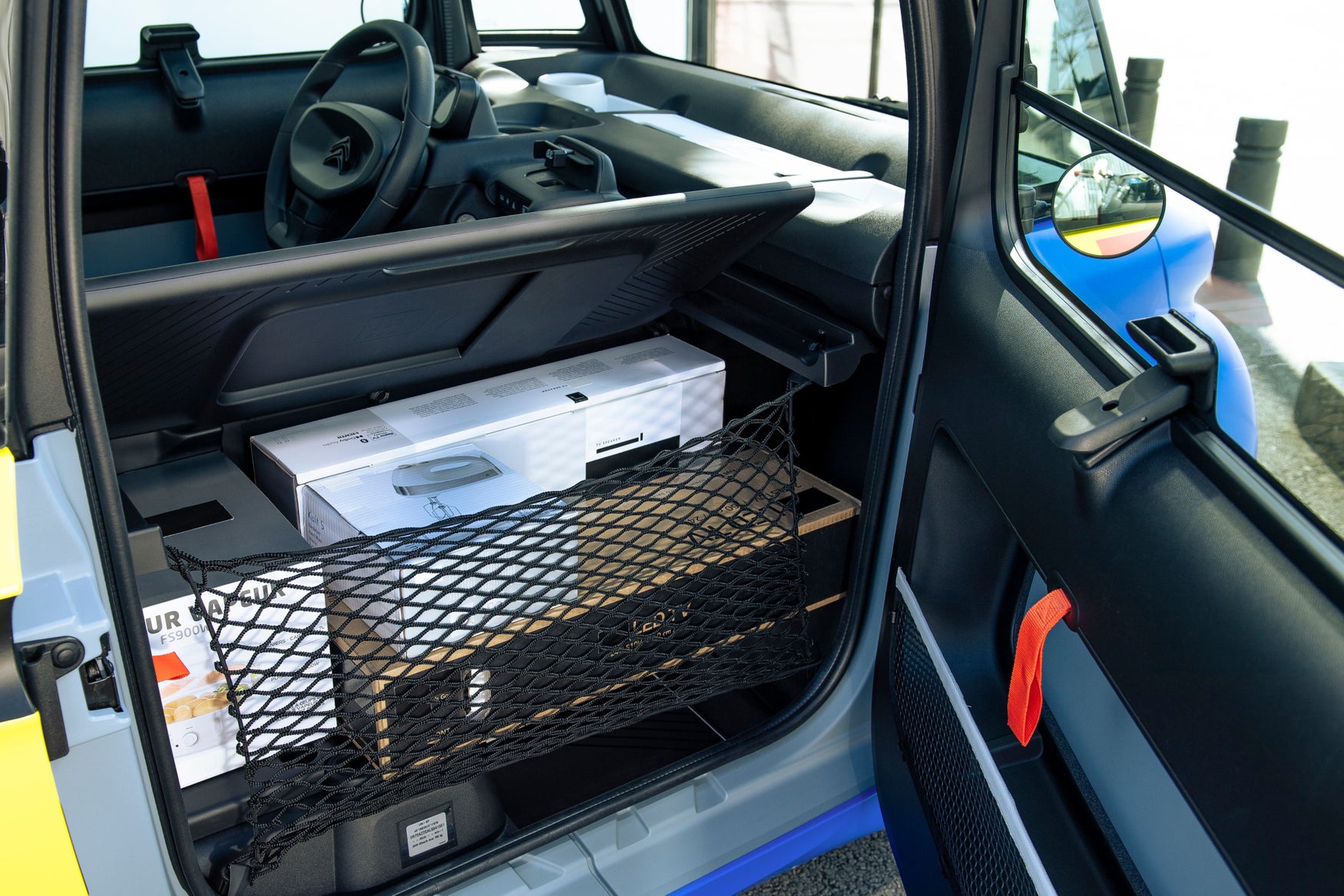 Citroen Ami range, power and performance
The Citroen Ami is powered by a 6kW electric motor and a 5.5kWh battery that will travel up to 46 miles on a full charge. A cable is built into the passenger door frame, allowing the battery to be connected to a Type 2 connector and recharged in three hours from a home wallbox or a public charging point.
The Ami isn't suitable for use on the motorway The top speed is limited to 28mph and it's unlikely to ever get a Euro NCAP crash rating owing to the fact it's classed as an electric quadricycle and doesn't have the same level of safety tech as a small EV like the Volkswagen e-Up and Skoda Citigo e-iV.
Citroen hasn't released any performance figures for the Ami, but it should be nimble with its low weight and electric motor providing meaningful urban road performance. The Ami's 7.2 metre turning circle will also make it super agile, which means you'll be able to perform a 180-degree bend without having to perform a three-point turn.
Being electric, the Ami is exempt from clean air zone charges. It'll also be ridiculously easy to park, which means it'll fit into the narrowest of car parking spaces.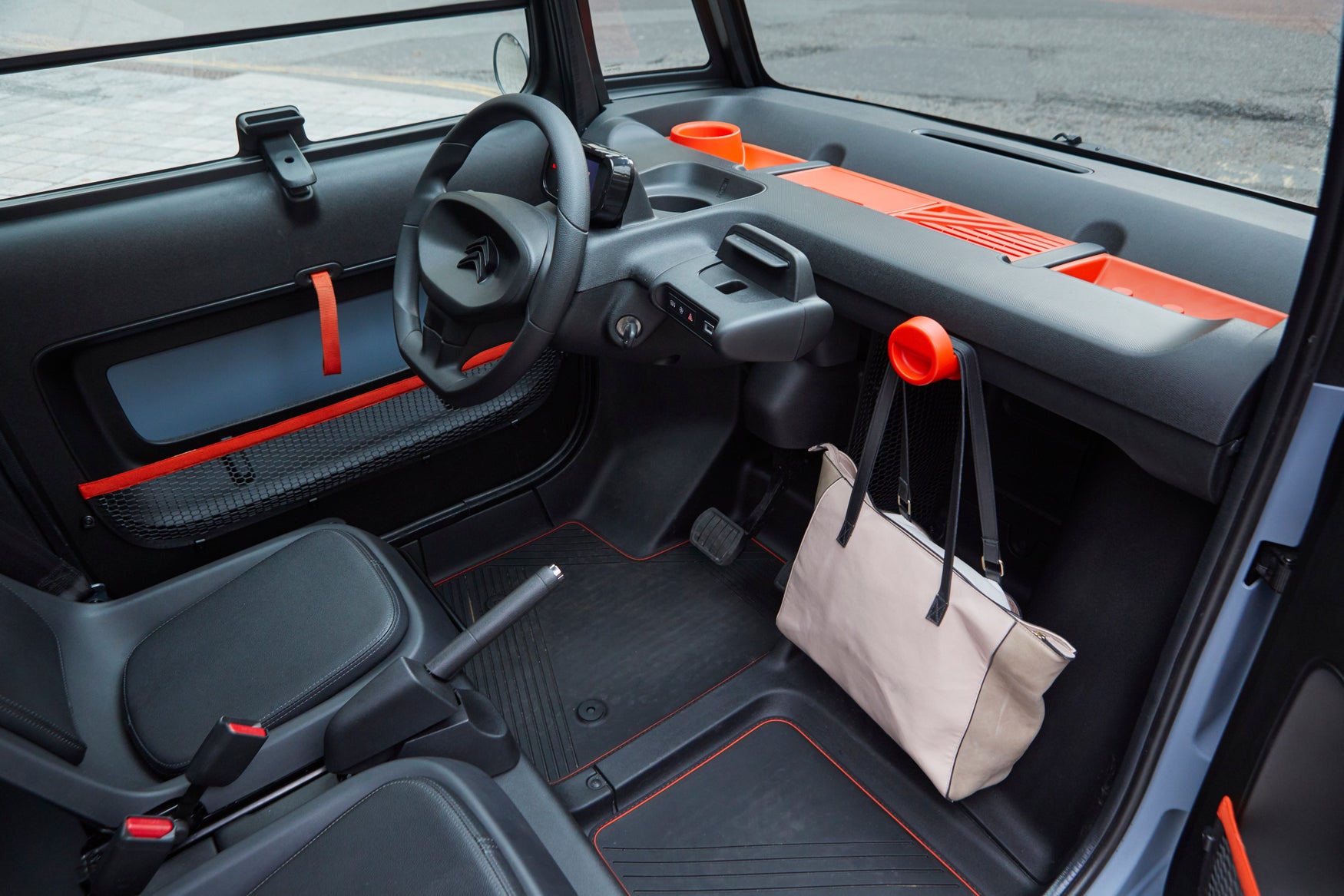 Prices for the Citroen Ami electric car start from £7695 for the passenger car and £7995 for the Ami Cargo van.
The Citroen Ami has an official range of 46 miles and a full charge takes three hours from a home wallbox or public charger.
No, the Citroen Ami doesn't have a boot. You can specify a storage box with a lid in the dashboard but there is no space to store anything behind the two front seats.