New Ford Focus price, specs, release date
New Ford Focus price, specs, release date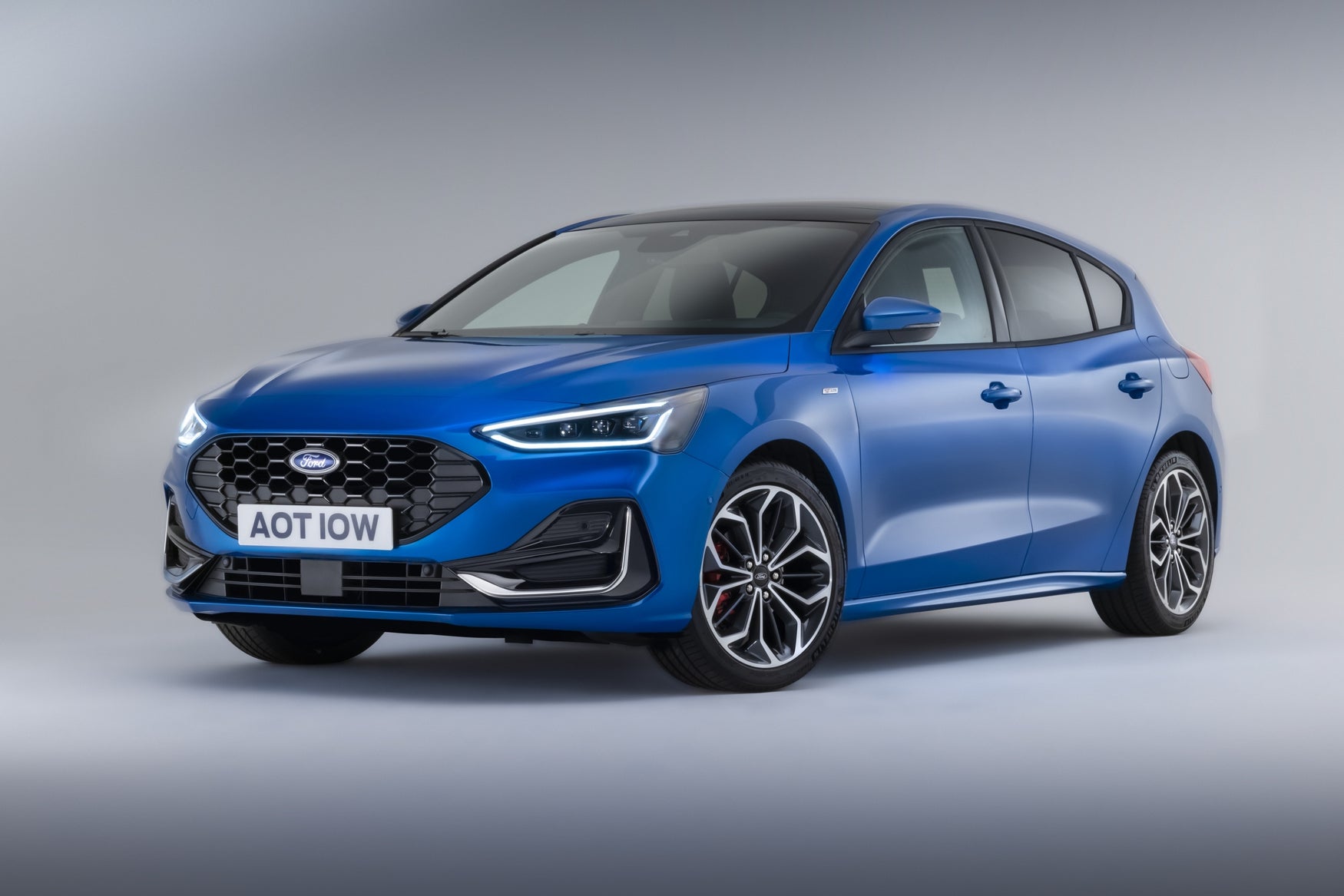 Ford is broadening its family car appeal with a new and updated Focus. The 2022 Focus will go on sale in the summer and be available as a hatchback, estate or ST hot hatch.
The 2022 Ford Focus has been unveiled with new hybrid engines, improved touchscreen infotainment and higher levels of standard equipment. The new Focus will rival the Vauxhall Astra and Mazda 3 when it goes on sale in the summer, with prices starting at £22,965 for the 1.0 EcoBoost petrol hatchback.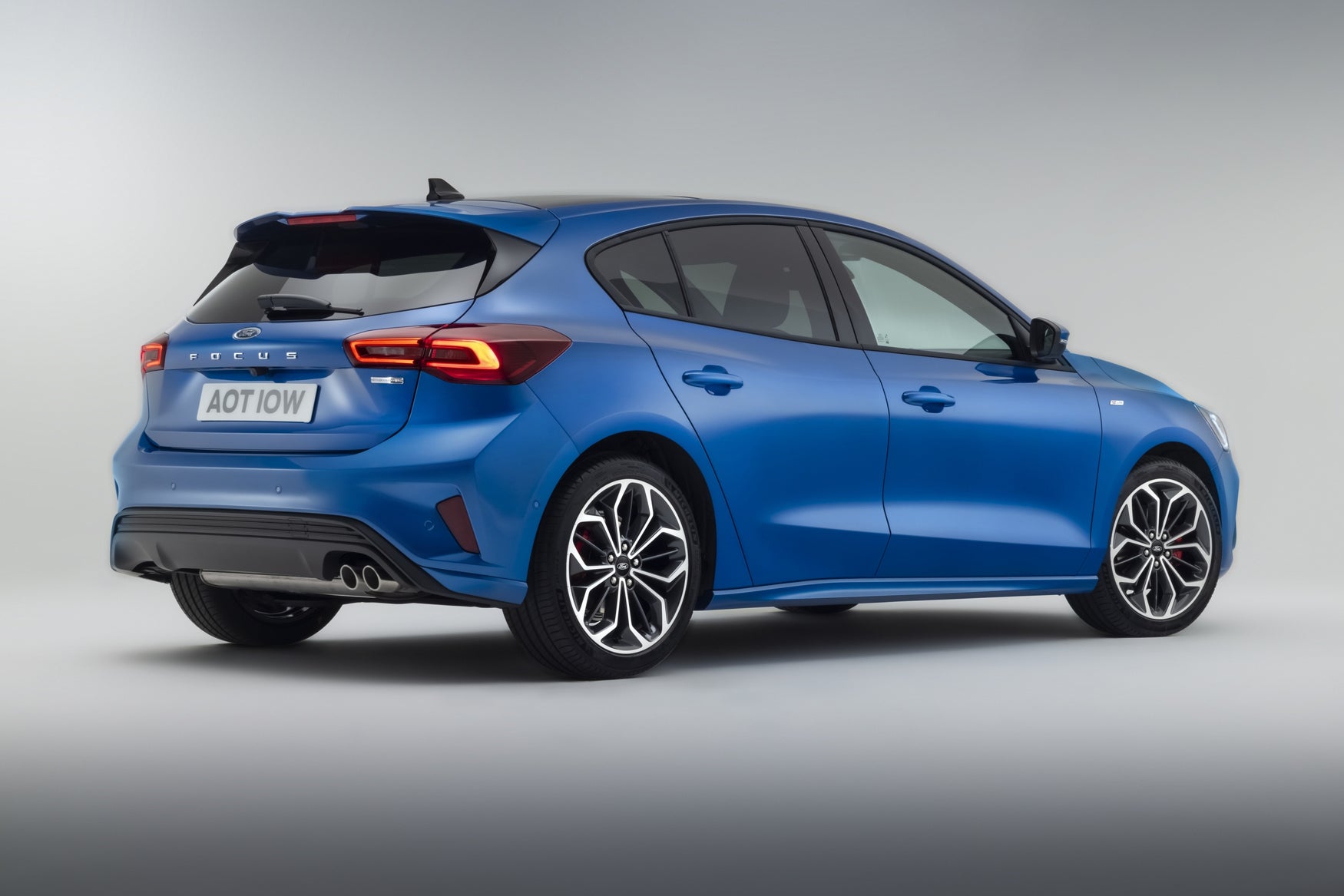 New Ford Focus price and release date
Prices for the Ford Focus will start from £22,965 for the hatchback and £24,125 for the Focus Estate. There will be eight trim levels to choose from and the line-up will include the rugged, SUV-inspired Focus Active and potent Focus ST hot hatch.
The Focus 1.0 EcoBoost hatch in ST-Line trim will set you back at least £25,045 while a plush ST-Line Vignale model will start from £27,245. The fast Focus ST will be priced from £34,385.
The new Focus was due to go on sale in early-2022; however, Ford has admitted that it is struggling to source parts for the new model due to the war in Ukraine. This means the new Focus will probably not reach showrooms until mid-2022.
In a statement to heycar, Ford said: 'As a result of the ongoing conflict in the Ukraine, one of our suppliers of parts for the updated Focus has indicated that they are not able to satisfy demand for parts.
'These parts relate to the 13.2-inch SYNC4 screen that was part of the updated Focus reveal. Supply of these parts are being moved to a new location in Europe but until this is up and running, the 13.2-inch screen with SYNC4 will not be available to customers.
'We will continue to build the updated Focus with the 8-inch screen. We apologise to customers for the inconvenience that this will cause but trust they will understand the exceptional circumstances.'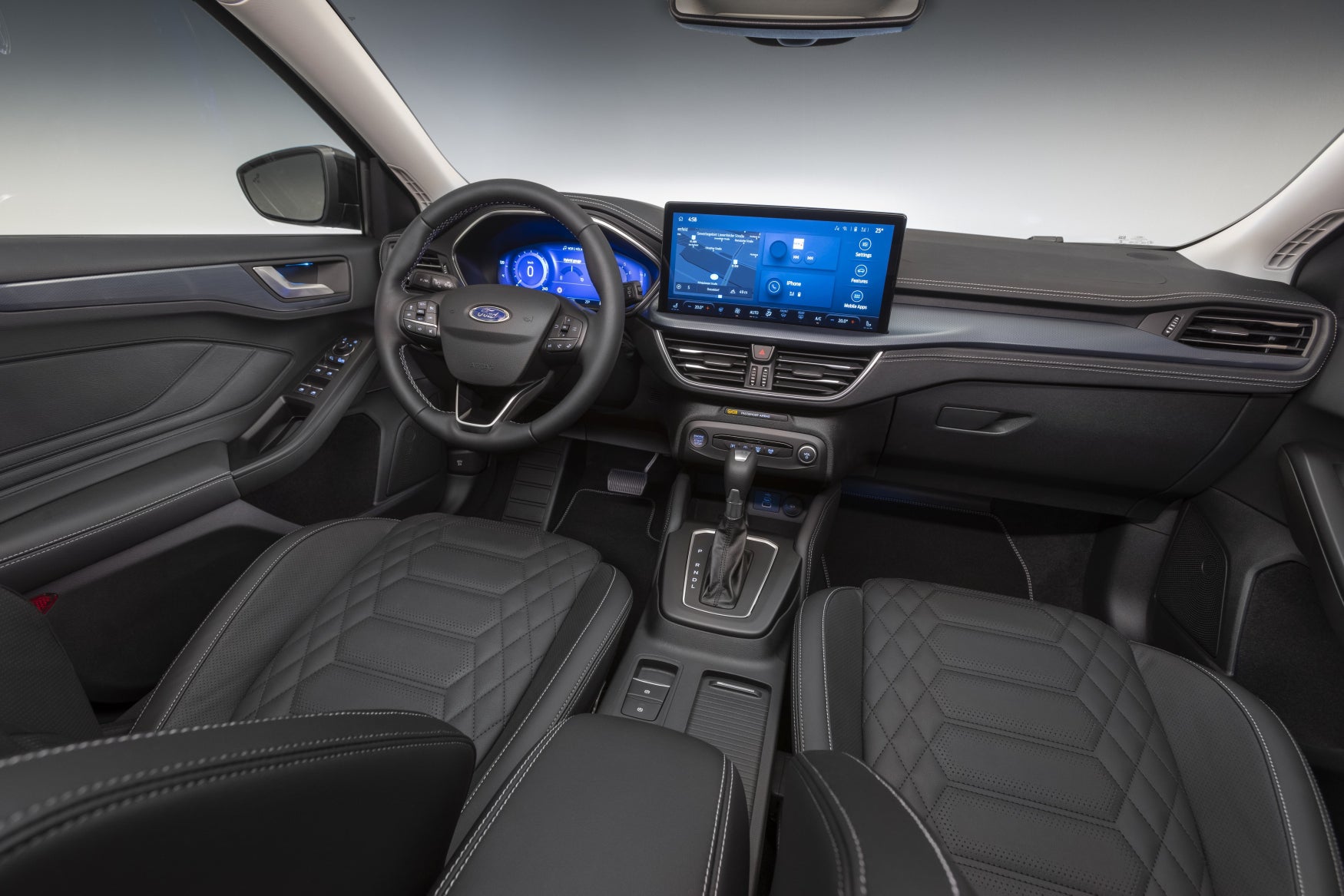 New Ford Focus styling
The new 2022 Ford Focus is more of a model refresh than an all-new car from the ground up, but there are some notable changes. The bonnet has been redesigned to raise the height of the nose. The famous Ford 'blue oval' badge has also been moved to the lip of the bonnet, while the air vents and grille have also been made larger and wider at the front.
All models get LED headlights with an integrated fog light function. The rear LED tail light clusters have also been redesigned, with a LED light signature that makes the back of the new Focus strikingly similar to the Mercedes-Benz A-Class.
Performance-inspired ST-Line models get sharper styling, with a trapezoidal upper grille that's surrounded by a gloss black honeycomb finish alongside wide side vents and a deeper lower grille. You also get side body skirting, a rear diffuser and a rear spoiler.
The rugged Focus Active takes inspiration from the design of the Kuga SUV with a wider upper grille, taller side vents, raised ride height and black plastic body cladding. The luxury-focussed Vignale spec adds satin finishes to the upper grille and side vents in place of the body colour finish.
Most versions of the Focus are fitted with alloy wheels as standard. Wheel sizes start at 16-inch for Trend and Titanium trim levels before growing to 17-inch for Active models. Sporty ST-Line versions of the Focus will run on 17- or 18-inch wheels depending on spec, while the Focus ST will feature huge 19-inch alloys and bright red brake calipers.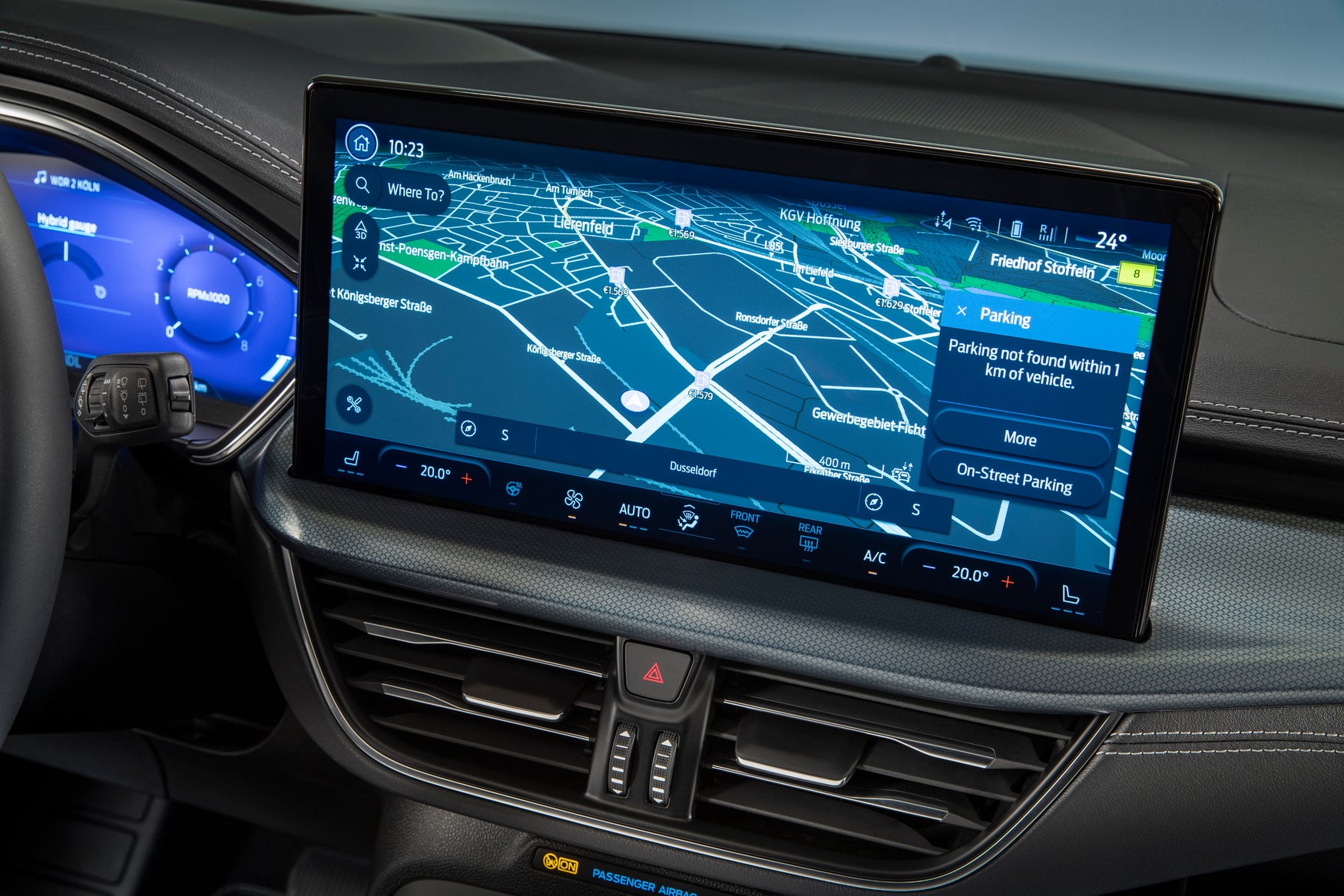 New Ford Focus practicality and interior
The new Focus is available as a family-friendly hatchback or practical estate. Ford hasn't released any boot size details but we expect the 2022 model to mirror the old Focus. This means the hatch will provide 375 litres with the rear seats in place while the estate will extend storage to 728 litres.
In 2022, Ford has introduced a handy 'wet zone' with wipe clean carpet and side trims for storing muddy boots or coats. You also get a vertical divider, which means dirty shoes will not rattle around the boot space when you navigate a corner.
Ford has completely redesigned the infotainment in the Focus for 2022, introducing its new 13.2-inch SYNC4 system. The new tech will be miles ahead of the old SYNC3 system, says Ford, with a high definition touchscreen and live information services.
Physical buttons for the heating and ventilation have been replaced with touchscreen controls, which means the dashboard of the new Focus will be clutter-free and minimalist in design. The system also features completely wireless Apple CarPlay and Android Auto connectivity, so you won't have to plug your smartphone into the car to mirror its display on the touchscreen display.
Ford says it has improved the voice control for the infotainment system, which means you'll be able to set the navigation or change the radio station with the power of your vocal cords.
The navigation will be connected to live streaming traffic and weather services, which means you'll be automatically rerouted if there is a delay on your route or adverse weather along the way. Live parking data should also make it easy to find a space when you reach your destination, too.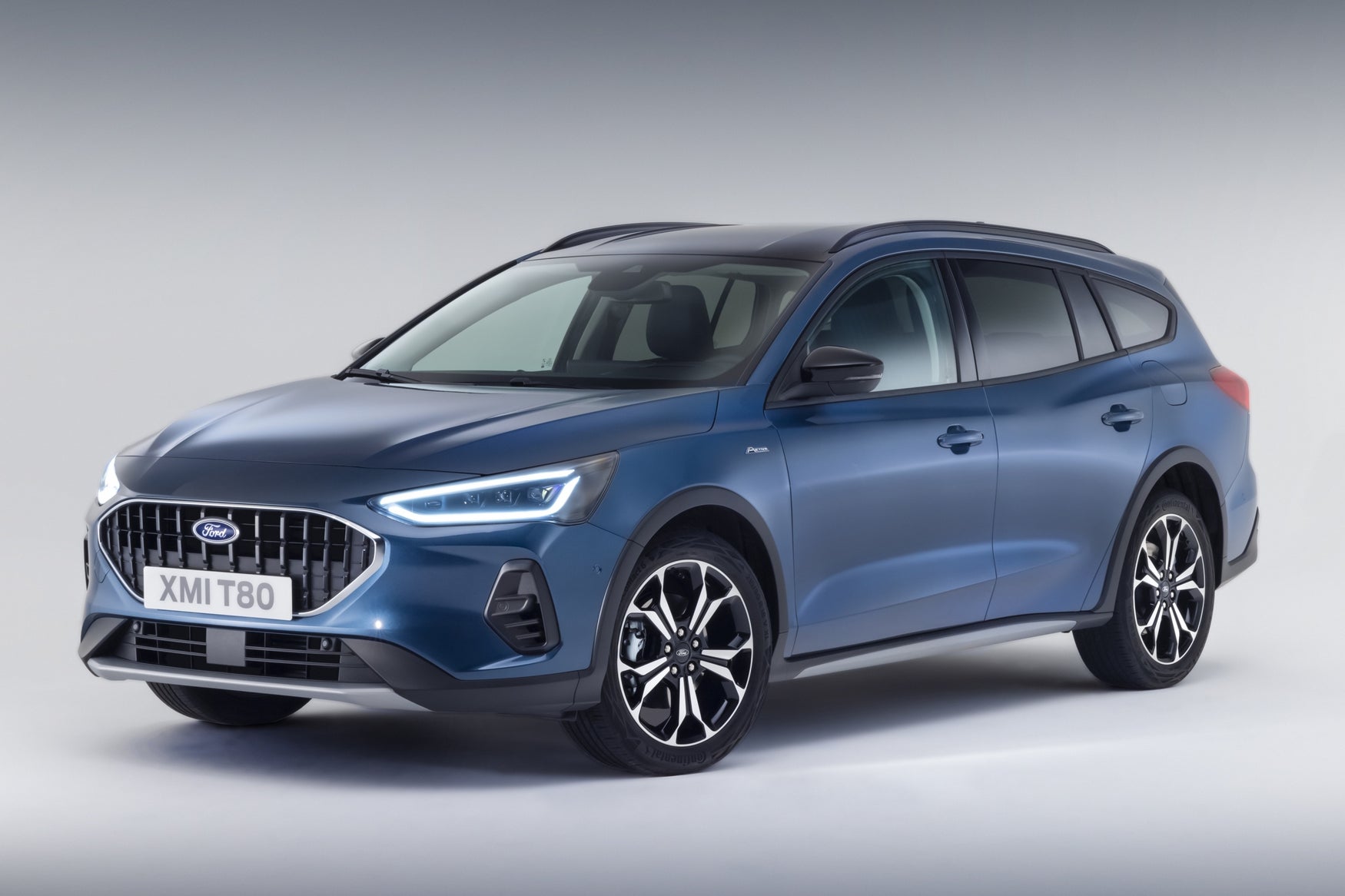 New Ford Focus engines, power and performance
The 2022 Ford Focus is offered with petrol, diesel or mild-hybrid petrol engines. Most engines will be paired with a six-speed manual gearbox, but you'll get the option of a seven- or eight-speed automatic transmission.
The Focus line-up will start with the familiar 125PS 1.0 EcoBoost petrol engine that is identical to the engine found in the Fiesta, it'll return 47.1 to 52.3mpg. A mild-hybrid version of the 125PS EcoBoost petrol will also be available, improving advertised fuel economy to 47.9 - 52.3mpg.
The 155PS 1.0 EcoBoost petrol will be the most powerful engine, for those who don't want to venture into Focus ST territory. Advertised fuel economy for the 155PS motor will not be all that much different from the lesser-powered engines, however, with Ford claiming 49.6 to 53.3mpg.
Hot hatch fans who want a Ford that can rival the Volkswagen Golf GTI or Hyundai i30 N will be able to order the 2.3 EcoBoost petrol engine with 280PS. Official fuel economy will be just 35.3 mpg or less but the Focus ST will be capable of covering 0-62mph in less than six seconds.
The only diesel option in the Focus line-up is the 1.5 EcoBlue engine. It is the most efficient on paper at 56.5 - 61.4mpg and its 120PS should make it powerful enough for most motorway drivers.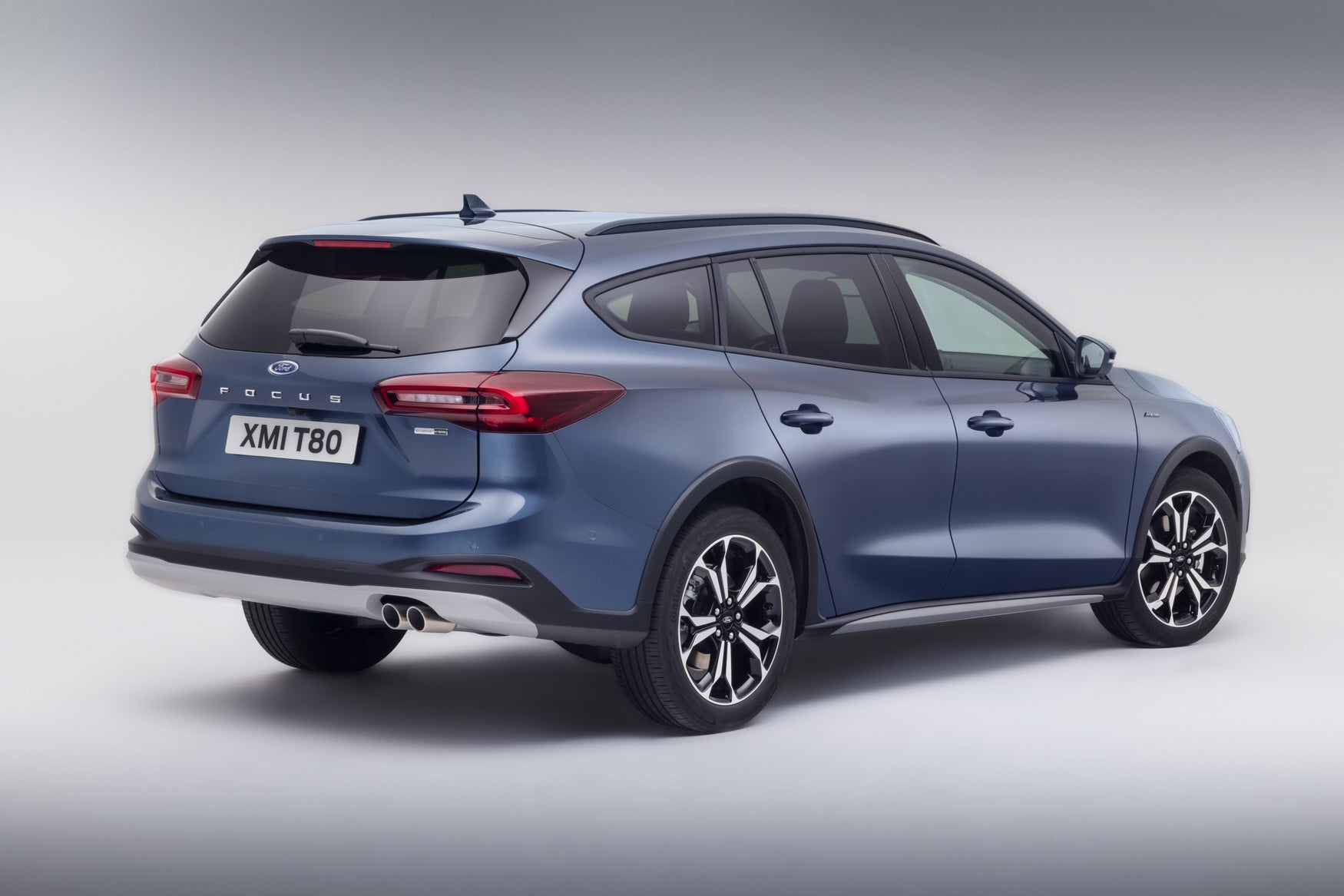 Find a used Ford Focus for sale
Delays to the new Ford Focus means there are some attractive deals on the current Focus model.
Less than £8,000 is enough to get you behind the wheel of a 2015 model with less than 80,000 miles on the clock, while a budget of £10,000 will get you a newer model in the desirable Titanium spec.
Nearly new 1.0 EcoBoost models with mild-hybrid tech can be found for under £23,000 with delivery mileage. However, if you want a Focus ST model then you'll need to pay £30,000+ for a model from 2021.
Looking for more new car news?
Ford has unveiled an all-new Ranger pick-up truck while Volkswagen has confirmed a new Amarok is on the way for 2022. BMW has also given us a sneak peek of the new M3 Touring while Toyota has confirmed it is launching its first-ever electric car, the bZ4X.
Prices for the 2022 Ford Focus 1.0 EcoBoost hatchback in Trend trim start at £22,965 while the Focus Estate petrol will be priced from £24,125.
Yes, Ford has admitted that a parts shortage caused by the conflict in Ukraine has temporarily halted factory orders for the new Focus. These parts relate to the 13.2-inch SYNC4 screen that was part of the 2022 Focus update.
Ford will launch a new Focus ST hatchback and estate in mid-2022. The updated Focus ST will be powered by a 2.3-litre EcoBoost petrol engine, develop 280PS and be capable of reaching 62mph from a standstill in under six seconds. Prices will start at £34,385.